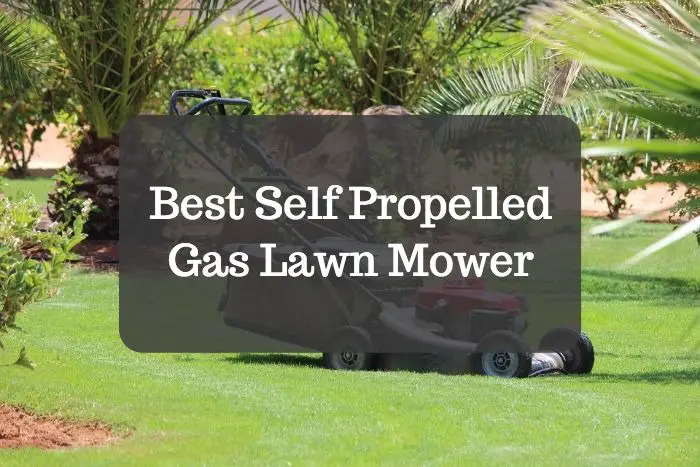 We are reader supported. When you purchase through links on our site, we may earn an affiliate commission. Also, as an Amazon affiliate, we earn from qualifying purchases.
So, you have finally hit the button and decided to upgrade to the best self propelled gas lawn mower to maintain your lawn. Nothing can make your Sunday better than using a self- propelled mower that moves effortlessly, unlike the old mower that you had to push around the yard.
While we congratulate you on making a wise decision, it's only half the battle won! As you start searching for self propelled mowers, you will be bombarded with a variety of options. Please bear in mind that there so many things that go into choosing the perfect mower for your yard
With a sea of various brands and models, it can be tough for you to narrow down your choices. To make your task easier, we have taken the stress work out of searching for the right product. Read on to find pour unbiased review of some of the top-rated and best-selling Self-Propelled Gas Lawn Mower.
After spending hours reviewing, analyzing and comparing the products, we feel that the Troy-Bilt TB490 (learn more) offers the best value for money. Although slightly heavier, it comes with a powerful 190cc Honda GCV engine, 8 inches front and 11 inches rear wheels, 21-inches cutting deck and a 1.9-bushel catcher, designed to deliver an excellent performance.
| | | | | | | | | |
| --- | --- | --- | --- | --- | --- | --- | --- | --- |
| Features | Troy-Bilt TB220 | Craftsman M215 | Lawn-Boy 17732 | Honda HRS216VKA | Lawn-Boy 17734 | PowerSmart DB8620 | Troy-Bilt TB490 | Craftsman M310 |
| Dimensions | 36.7 x 24 x 17.8 inches | 39 x 24 x 17.8 inches | 40.5 x 22.3 x 37.7 inches | NA | 40.5 x 22.3 x 37.7 inches | 32 x 22 x 17 inches | 40.4 x 24 x 17.8 inches | 40.4 x 24 x 23.5 inches |
| Engine | 159cc OHV engine | 159CC OHV | 149cc Kohler XTX engine | Honda GCV160 | Kohler XTX 149cc OHV Engine | 196 cc engine | 190cc Honda GCV Series ACS engine | 163cc Briggs & Stratton |
| Deck cutting | 21-Inch | 21-Inch | 21-Inch | 21-Inch | 21-Inch | 20 inch | 21-Inch | 21-Inch |
| Rear, Back wheels | 8 x 8-inch | 7 and 11 inches | 7 in, 8 in | 8 inch | 7 inches Front / 8 inches rear | 8 inch | 8 in, 11 in | 8 in, 11 in |
| Height range | 1.25-3.75 inches | Up to 5 inches | 1.25 – 3.75 inches | 1 – 4 inches | 1.25 – 3.75 inches | 1. 18 to 3. 15 in | 1.25-3.75 in | 6 different setting |
| Warranty | 2-year limited warranty | 2-year limited warranty | 2-Year Full Warranty | 2-Year Full Warranty | 2-Year Full Warranty | 2-Year Full Warranty | 3-year limited warranty | 2-Year Full Warranty |
---
This 3-in-1 Self-Propelled Lawn Mower (learn more) comes from the house of Troy-Bilt, which boasts over 75 years of American heritage. Powered by a robust 159cc OHV engine, this machine is capable of accommodating small to medium lawns with ease. The exterior of the mower looks well built and the sturdy construction speaks highly of the brand. The reasonably sized front and rear end wheels add more comfort to mowing the lawn, while the handle gives a good grip.
It comes equipped with a 21-inch steel deck for cutting and mulching grass ranging from 1.25-3.75 inches in height. There's a dual-lever high adjustment tool for enhanced capability. Users can choose from the 3 different options that enable you to perform a lot of activities such as bagging, mulching, and using the side discharge with the gas catcher included with the product. It comes backed by a two years limited manufacturer warranty.
Product features and specifications
Measures 36.7 x 24 x 17.8 inches
Weighs 75.9 punds
159cc OHV engine
8×8″ front & rear tread wheels
3-in-1 mulching capabilities
Dual-lever height adjustment
21-inch steel deck
2-year limited warranty
User/ Customer reviews
Most users have confirmed that the product is super light and it took them about 10-15 minutes to understand the instructions and assemble the product. People are impressed that the manufacture also includes oil in the kit to get the mower started. The elderly and women particularly like the product as it requires no hard work to propel the machine forward and it mulches grass effortlessly. 
Conclusion
If you had been using a traditional mower until now, be prepared to be pleasantly surprised and impressed with the lightweight, usability, and user-friendliness of this machine. Overall, this is a great lawnmower that will last for a long time.
---
If you have great trust in US manufactured products then you must check out this self-propelled mower by Craftsman, a company that has manufacturing locations right in America. The strong and robust 159CC OHV gas-powered engine is equipped with an auto choke and recoil to give you a no-fuss performance. What we like best about this product is that you get three amazing capabilities rolled into one. So, you get the mulching ability, along with side and rear discharge. With the front-wheel drive, you can tip up, turn and maneuver around with ease.
The mower comes with a 21-inches cutting deck that enables you to mow many wide areas of the lawn with just fewer passes. This means you save a lot of time mowing a large-sized lawn or yard. The dual lever comes handy to adjust the height settings to let you trim grasses of six different heights. We love the 8 inches front and 11 inches rear wheels with zag treading that further makes the movement much easier. The product comes equipped with a two-year manufacturer's warranty, so you can have your peace of mind.
Product features and specifications
Measures 39 x 24 x 17.8 inches
Weighs 83 pounds
159CC OHV gas engine
3-in-1 capabilities
Front-wheel drive
Dual-Lever Adjustable Cutting Height
8-inch front and 11-inch rear tires
21″ Cutting deck
Made in the USA
User/ customer reviews
Most people were able to assemble the mower easily and use it straight out of the box. People find it easy to start with just one pull and the multiple speed make it effortless to mow a large lawn in less time than expected. A few users have cautioned that the engine displacement is not effective enough to handle a self-propelled mower as the machine refuses to move by itself even on the slightest incline.
Conclusion
If you are looking for a good quality self-propelled lawn mower in budget then the Craftsman M215 is a great option. At this price, you get features that you can expect only in high-end machines. Overall, this product scores good points from us.
---
When you want your lawn or yard to look aesthetically pleasing but don't want to work hard, let the Lawn-Boy take care of it. This self-propelled lawnmower is beautifully engineered and designed to make mowing easier with a plethora of improved features. It comes powered by a Kohler XTX OHV Engine to give you good speed and powerful performance. The rear-wheel drive has enhanced traction and better control at mowing at all directions effortlessly. It can also move smoothly on hilly terrains.
The Lawn-Boy 17732 (learn more) comes equipped with a 2-point height-of-cut system that enables you to quickly adjust the cutting heights from one end of the mower. We love the 21-inch steel deck that is both lightweight yet durable. It provides superior quality cutting along with mulching capabilities. We are impressed with the 3-year Tru-Start Commitment which says the mower will start in 1 or 2 pulls, or else the manufacturer will fix it for free.
Product features and specifications
Measures 40.5 x 22.3 x 37.7 inches
Weighs 66 pounds
CARB Compliant
Kohler 149cc Torque/ OHV Engine
2-Point Height-of-Cut System
3-in-1 Discharge Ability
Large bag capacity
3-Year Tru-Start Commitment
2-Year Full Warranty
User/ Customer reviews
Buyers rely on the Lawn-Boy 17732 as it has got three big brands from the Landscaping sector and the product stands well up to the expectation.  Most users have said that the engine starts on the first or second pull and the use of gas is very economical. The cutting and mulching abilities are also highly praised by customers. A few people have cautioned about the front wheel height adjustment which appears to be a design flaw.
Conclusion
The powerful engine, superb features, and manufacturer's warranty are hard to beat. There seems to be a slight design flow which we hope the makers will take care of that soon, although it can be easily fixed by the users. Overall, we feel this product gives you a win-win deal.
---
When it comes to maintaining a yard or lawn, you can't ignore Honda and this Self Propelled Lawn Mower is an excellent choice. Equipped with a powerful Honda GCV160 engine, nothing works more efficiently at cutting or mulching grass. It comes with an auto choke and standard side-discharge to give you a reliable and adaptable design. There are six different mowing heights from one to four inches for user convenience. The 21 inches heavy-duty steel deck and 2-in-1 side discharge further make this product extremely useful.
The HRS216VKA comes equipped with large 8-inch wheels that are capable of smooth movement even on rough and hilly terrains. There are ball-bearings in the rear wheel for enhanced durability and the quick release handle adds more convenience to your mowing experience. Handles can be adjusted to suit the height of different individuals. The mower can also be folded down for easy storage when not in use. We are happy to know that the manufacturer stands behind the product with a 3 years residential warranty.
Product features and specifications
Honda GCV160 engine
Weighs 83 pounds
Large 8-Inch Wheels
Quick Release Handle
21 in. heavy-duty steel deck
2-in-1 mulch/side discharge
3 year residential warranty.
User/ Customer reviews
Most people have said that this is a sturdy and well-built machine with a powerful engine, however, some are of the opinion that the quality of the engine is not as good as older Honda models. Users were able to start the engine at one or maximum of two pulls. A few users have cautioned to not use the mower on damp or wet grass, or else the machine will halt on you.
Conclusion
If you are looking for a reliable machine that is tested and proven to do a brilliant job then opt for the Honda Side Discharge Gas Self Propelled Lawn Mower. However, based on customer reviews, we feel that the mower is best for plain surface, not for hilly terrain.
---
If you thought a heavy-duty machine and ease of use don't go hand in hand then you must check out the Lawn-Boy 17734. Despite being strongly built and extremely well-engineered, handling the mower is not at all complicated. It is equipped with a Kohler 149cc OHV engine that can cut through tough and tall grasses like breeze. No more pulling cords as the machine start with a simple turn of a key and once you get going, there's not much effort needed. The real wheels are capable of providing exceptional traction and self- propulsion under any situation.
The mower comes fitted with a sturdy 21-inch deck that features a Tri-Cutting system to give you precise cuts. With one machine, you get the power of three as it is capable of mulching, bagging, and side discharge too. The two-point cutting height system enables you to adjust the height to suit your needs. We are impressed to find that the mower is covered with a 2-year manufacturer warranty and a 3-year Tru-Start Commitment. If there are any issues with the machine, it will be repaired free of cost.
Product features and specifications
Measures 40.5 x 22.3 x 37.7 inches
Weighs 72 pounds
Electric start and Self-Propelled
Kohler XTX OHV Engine
Two-Point Height of Cut
Larger Bag Capacity
3-in-1 Discharge Ability
3-Year Tru-Start Commitment
2-Year No Worry Warranty
User/ Customer reviews
Users are impressed with the electric start feature that adds an extra dose of convenience to this self-propelled gas lawnmower. People also find the machine easy to assemble and use, plus there's the option to electric start or pull to start the mower. Most customers have praised the support department for providing solutions and replacements immediately.
Conclusion
If you are in the market for a lawnmower that really takes the 'work' out of mowing and helps you keep your lawn or yard well-maintained then check out this one by Lawn-Boy. Overall, it delivers a good price to performance ratio.
---
The compact PowerSmart DB8620 equipped with a 196cc engine is the best self propelled gas lawn mower for a smart sized yard. It is designed in a way to maneuver brilliantly even in the tight spaces, tough corners, and turns. It comes with 3-cutting systems that include mulching and side discharge capabilities. The highly efficient design and wheel drive mode make it easier to run the mower on rough and hilly terrain. The deep-dome deck design along with the sharp blade enables better mulching ability.
 Although lightweight at just 86 lbs, the mower is extremely durable with a sturdy steel deck. The 8-position adjustable height ranging from 1. 18 to 3. 15 in further adds to the user convenience. You can change the height as per the length of the grass and also suit your height. The 8-inch rear wheels make it much easier to move the mower on all types of terrain. The manufacturer backs up its product with a solid 2-year warranty that reflects the brand's dedication and commitment to quality.
Product features and specifications
Measures 32 x 22 x 17 inches
Weighs 83 pounds
8-position height adjustment
196 cc engine
Sharp and solid blade
20-Inch Steel mowing deck
3-In-1 side discharge
User/ Customer reviews
Those who have bought the lawnmower are impressed with the solid construction and powerful engine that delivers an amazing performance. Most people find that the motor starts with just one pull and it maneuvers perfectly in the tight spaces. A few users have cautioned that the machine is too powerful for the feeble and elderly.
Conclusion
If you are looking for a lawn mower that is small and compact, yet capable of delivering a powerful performance then check out the PowerSmart DB8620. At this price, you get a well-designed product capable of meeting your varying needs.
The Troy-Bilt TB490 is a perfect example of how the best self-propelled residential gas lawn mower should be. It brings for you great power, quality build, and convenience rolled into one smart machine. Equipped with a 190cc Honda automatic choke system (ACS) engine, the TB490 produces great cutting speed with good runtime and fuel efficiency. It boasts a self-propelled four-wheel drive with 8-inches front and 11-inches rear wheels suited for all types of terrain.
The TB490 is hefty with 95 pounds but why do you need to worry about the weight when the machine is self-propelled. The TriAction cutting system gives a clean cut and 3-in-1 mulching abilities let you adjust the height for cutting, mulching, or bagging. The side discharge with 1.9-bushel grass catcher is another useful feature that helps you dispose of the cut grass in the lawn to decay and improve the fertility of the soil. The ergonomic handle gives a comfortable grip and lets you work at a stretch without feeling tired.
Product features and specifications
Measures 40.4 x 24 x 17.8 inches
Weighs 95 pounds
190cc Honda GCV series engine
TriAction cutting system
3-in-1 mulching capabilities
Comfortable Handle
8″ x 11″ wheels
21-inch steel deck
3-year limited warranty
User/ customer reviews
Some users are so impressed with the product that they go to the extent of calling this the 'Rolls Royce' of the lawn mowers market. People living on hilly terrains find it useful as the self-propelled works really well on hills and steep surfaces. A few customers have mentioned that the machine is really heavy and damp grass gets caught in the front and rear drive areas.
Conclusion
If you want to turn the monotonous chore into fun, choose this Troy-Bilt TB490 (shop now) that brings you the perfect combination of power, performance, and price. It can last for years when you take good care and give you excellent value for your money.
---
If you are looking for a self-propelled land mower made in the USA then rely on the Craftsman, a company that has been building lawn and yard equipment since 1927. It is powered by a 163CC OHV Briggs & Stratton gas engine that is designed to start with just a pull. The 3-in-one capabilities of the Craftsman M310 enables you to mulch grass, side discharge, and rear discharge the cuttings with ease. The rear-wheel-drive has enhanced traction to pull through hilly and rough terrain, and self-propelled ability allows you to move effortlessly.
With a full tank, the Craftsman M310 (shop now) can give you 94 minutes of runtime which is enough for the weekly grass cuttings. If you move with a constant speed of 2.5 MPH, you may expect to mow about 35,997 square feet. There are six different height settings ranging from 1-inch to 3.5 inches to tackle most of the grasses with ease. It also includes 3-handle positions to adjust to the height of most individuals. While there are numerous options to discharge the cuttings, if you choose to bag them, the product comes with a Dust Blocker bag for your convenience.
Product features and specifications
Measures 40.4 x 24 x 23.5 inches
Weighs 85 pounds
163cc Briggs & Stratton
8″ Front & 11″ Rear wheels
3-in-1 Capabilities
6 different height settings
21 inches deck width
2-year warranty
User/ Customer reviews
People are extremely impressed with the Craftsman brand and they were happy that the M310 stood up to expectations, except that it uses plastic in some parts of the construction. Most buyers are happy that the mower is lightweight and find it easy to assemble the machine in about 5 minutes. A few users have cautioned about the plastic parts at the side that snap off after sometime.
Conclusion
While we love the maneuverability and advanced traction on the hilly terrain, the plastic construction takes a few points away. Overall, we feel this product delivers a great performance but leaves some scope of improvement in the construction part.
---
Best Self Propelled  Gas Lawn Mower: Buying Guide
Lawn mowers have come a long way from what they used to be. Although the self-propelled lawn mowers may look similar to your grandfather's mower, they vary a lot of in terms of features. If you are wondering what makes the self-propelled versions so special then here are a few benefits.
Light and portable
Unlike the old traditional mowers, these machines tend to be very lightweight, thus highly portable too. As it is operated by an engine, you don't need to push it and there will be no traces of irregular grass cuttings. The handles come with a foam grip to reduce fatigue and help you work longer without any strain.
Enhanced Safety
The self-propelled machines are capable of achieving both forward and backward momentum. This saves you from having to push the machine and ensures your safety. The models come in all shapes and sizes with features like zero-turn, blades, cub cadet, and auto choke to boost efficiency. 
Time-Saving
Compared to other traditional machines, the self-propelled ones help you complete the task at a shorter span of time. These devices are equipped with super sharp blades to help you cut tall grasses in less time.
Sustainability
You can use a self-propelled lawn mower to maintain a large square-shaped garden or a small to medium-sized yard. When you are operating in a small space, make sure you stay extra cautious with the speed settings.
Things To Consider When Buying A Self-Propelled Lawnmower
Set Speed
Each self-propelled model comes with a specific set of on-off controls. However, when you operate the machine on diverse types of terrains, the actual speed will not be reflected. You must check the set speed as this will enable you to determine the speed at which the mower can keep going constantly.
If you have a small to medium-sized yard then we would recommend that you choose a single-speed mower. For the large-sized yards that have diverse topographical features, consider getting a variable speed lawnmower.
Mulching Blades
You can find the sharp mulching blades in both standard and commercial self-propelled lawnmowers and the blades may be used without any deck variation. They added extra convenience to mowing. If you don't want to worry about bags, get the model that comes with mulching abilities.
Washing Port
This is another useful feature that makes it easier to maintain and clean the self-propelled lawn mowers. In several models, the washing port is located underneath and covers a considerable part of the blade area. It also ensures that your hands stay at a much safer distance while cleaning.
Hydrostatic Drive
If you are impressed with the smooth operating experience of self-propelled lawn mowers then this is due to the hydrostatic drive system and cruise control. The hydrostatic motors often work on the hydraulic mechanics to give you a powerful yet smooth run. With the cruise control feature, you can set speed to work with the mower.
Swivel Wheels
If you wonder what makes the high-end machines look so different than the standard ones then it is little features like the swivel wheels. This ultra-design not only enhances the appearance but also improves the maneuverability. With different brands, you will find different features such as sizing and mounting. Although swivel wheels will bring about a significant rise in the price, it's a convenient feature to have if you have a large yard.
Wheel Size
The standard self-propelling models come with 8 inches both in the front and back. However, if you choose a high-end model, you will find higher wheels ranging from 9 to 12 inches for enhanced traction and pivoting. Besides the size of wheel, also make sure the wheels are good quality to sustain in the rough and hilly terrain.
Safety Blades
If you have kids and pets at home, you would want some additional safety features such as a safety blade to override synced with the alarm sensors. When the mower is idle, the blades will not work until you reset the alarms. This feature has now become necessary for all self-propelled machines. Other sensors are also used for detecting large objects.
Recoil Starter
This is a critical feature you can find in most lawn mowers and it combines both manual and mechanical power for an easy start-up. Many users prefer having a recoil starter instead of pulling the cord, which requires power. Almost anyone can start a mower that comes with a recoil starter.
Variable Speed
We prefer lawn mowers that come with different speed setting options to help you guide the mower properly by using the lever or bar. Most of the self-propelled models have a low or high-speed setting option. You must always look for a lawn mower that enables you to adjust the speed based on the movement. If the yard has an uneven growth section, you will need mowers that come with a standard speed setup.
Electric Starter
If you don't want the hassle of having to pull the cord every time to start the mower, we suggest that you look for machines that come with an electric starter. These mowers can be started with just the push of a button, so it adds a lot of convenience for the weak and elderly.
Safety Tips To Remember When Using A Self-Propelled Gas Lawn Mower
Inspect the lawn or yard before beginning the mowing process and remove any large rocks or stones that may get stuck in the mower. If not removed, they may fly and cause accidental injury.
Make sure you wear protective clothing and gear when operating a lawn mower. You must wear snug and comfortable clothes, avoid jewelry, and flowing hair as this increases the chances of anything getting caught in the machine. Also, wear eye goggles and slip-resistant footwear.
The blades used in self-propelled machines are capable of causing injury, hence we recommend that you maintain a safe distance from the blades. You must also request the bystanders to stand at a distance while you are mowing. If you see someone approaching you, switch off the machine quickly.
If the machine is clogged due to wet grass or something, use a stick to remove. Never use your bare hands close to the engine to avoid accidental injury.
If you need to make any adjustments in the blade, you must first switch off the lawn mower. Never leave the machine running in an unattended condition.
Check all parts to ensure that all the bolts, nuts, and screws and secure, before starting the self-propelled lawn mower. Never operate the mower without the protective shield.
Related Questions
Which one is better – rear or front propelled lawn mowers?
The front-wheel-drive lawn mowers are suitable for level and plain terrains, as the front wheels allow users to tip up and move with ease. The rear-wheel-drive adds more traction ability to the center of the mower, hence they are more useful in the hilly and rough terrain.
Will I damage a self-propelled mower by pulling it?
You may push a self-propelled lawn mower without damaging the transmission in any way. However, please bear in mind that the self-propelled mowers are slightly heavier than their standard counterparts, hence you will need to put in a lot of effort to push.
Related Article:
8 Best Riding Lawn Mower For Tall Grass
How Long Should I Wait To Mow The Grass After It Rains?
5 Best Mowers For Zoysia Grass
Will Mowing Wet Grass Ruin Lawn Mower