6 Best Futon Mattress For Sitting And Sleeping
There are many things that go in the favor of futon mattresses – they are comfortable, easy to clean, flexible to use, versatile, and affordable too. If you are looking for a good quality mattress that can adjust to the contours of your body and give you good sleep without burning a hole in your pocket then a futon mattress is the solution.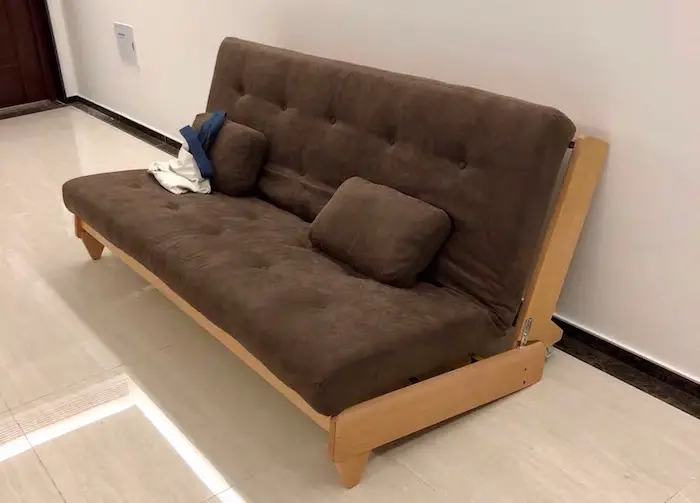 If you are in the market to buy a new futon mattress, the different options, brands and numerous features can leave your perplexed. It typically comprises of three different parts – a frame, mattress fillings, and the outside cover. The price you pay for a specific mattress will depend on the combination of these three factors and of course, the quality of each.
In this comprehensive guide, I hope to take the guess-work out of your buying decision by narrowing down the list for you. I have created a list of 6 best futon mattress for sitting and sleeping, along with the feature highlights, benefits and shortcomings of each product to help you make the right choice. Read on to also find out buying a guide on things to consider when buying a futon mattress.
Best Futon Mattress For Sitting And Sleeping
The Au Natural futon mattress (see Amazon) promises to take comfort and luxury to a different height with 100% cotton batting. The product is hand-stuffed to create a very firm yet comfortable plane that conforms as per your body shape. As individual human attention goes into the making, this guarantees that there are no tears or lumps formed within. The outer shell is made from highly durable cotton/poly that ensures that the seams will not split and the tuft holes will not grow deeper.
The mattress features a thickness of 6-8 inches that stays consistent with use. It also comes in different types of non-removable casings to fit any décor. The edges of the mattress are also hand-wrapped to make them of the same height as the layers in the middle. Whether you use this product for a sofa-cum-bed, a couch or a queen-size bed, it delivers good performance while sitting or sleeping.
Pros
15 exciting color options
Fits most body types
Suede look
Ships tightly wrapped in a box
Improved sleep
Sturdy and solid mattress
Value for money
Made in the USA
Cons
Has a strong odor, but it goes in about a week
Summary
If you have a constant backache, sleep issues, or you just don't like the bounciness of a spin mattress, consider replacing it with a futon mattress instead. The Au Natural not only looks great but also promises to improve sleep by relieving backache so that you get up fresh the next morning. Despite being soft and extremely comfortable, the mattress promises to stay solid and last for long. Overall, a recommended buy!
---
This dual memory foam mattress from the house of Mozaic promises (see Amazon) to help you save both space and money by delivering great performance at an affordable price. This is a handmade product that can be used on a couch, sofa, or bed to add dollops of comfort to your interiors. It is made from superior grade gel memory foam for optimal comfort, support, and extended life. The product comes in different colors to match with your home décor and create a much-sophisticated look.
The mattress measures about 54 inches wide, 75 inches long, and 8 inches thick, hence they can be perfectly used on sofa or bed frames. It comes covered with a cotton twill that stays durable for years and comes in many color options. As the mattress is extremely flexible, it can be used both in an upright or flattened position.
Pros
Come compressed in a box and gets puffy in a few days
Feels very comfortable to sit or sleep on
Made in the USA
Add comfort and style to your interiors
Make a great addition for living room or bedroom
Offers good value for money
Cons
Heavy and needs two people to move
Summary
As this futon mattress comes in numerous colors and sizes, you can get the one that suits your style and home décor to wow your family and friends. As they are well constructed using high-quality materials and stitched to perfection, they can be used regularly as a sofa or bed for years. The mattress is not only soft and comfortable, but it can also last for a long time. This is definitely a good investment.
---
With city houses shrinking in size, we need a versatile futon mattress that can serve as a perfect solution for a condo or studio apartment. When you need a cool yet functional mattress that can be used in multiple ways on a sofa, bed, or couch, DHP has the solution for you. This sturdy mattress comes well-built with 15-gauge coils that are independently cased. They comprise of high-quality foam and polyester layering between the coils and cover to provide optimal comfort.
The tufted design of the mattress indicates that it is strongly built and can retain its original form for several years to come. Besides adding to the style and comfort, the equal weight distribution ability of the mattress relieves the pressure points in the back, shoulders, neck, and hip area. Each coil reacts independently according to the pressure applied on the mattress, hence its conforms really well to the shape of the body. The product easily fits any standard frame and comes in linen or microfiber outer cover to match your home décor.
Pros
Flaunts a good 8 inches thickness
Microfiber mattress cover
Fluffy and comfortable bed to sleep on
Sturdy construction that lasts for long
Cons
Too heavy to be used as a sofa and bed every day
Summary
DHP has created a beautiful solution for small spaces and it looks great in theory, however, it appears impractical to use the mattress as a sofa and bed every day. Bending it too much can damage the springs and even spoil the foam inside it. I would recommend that you avoid bending it too much and it should last for several years. At this price, the product offers good value for money.
---
If you want a mattress that looks great, feels comfortable and stays durable, the Royal Sleep Futon Mattress fits the bill perfectly. It is made from wrapped coils that are encased independently to match the contours of your body and give you a comfortable sleep. The wrapped coils are topped with a thick and plush microfiber cover to add to the comfort level. As the mattress is highly flexible, it fits almost any type of frame it is placed over and regains its original shape when unfolded.
The mattress comes compressed in a box but it soon turns bouncy and fluffy in a few days. When you don't need an extra guest bed, you can easily fold the mattress and store it away. The manufacturer stands behind the product and offers a one year warranty. Maintaining the mattress is also easy as you can clean it with a damp cloth or use a steam cleaner to remove dust, dirt, and kill germs.
Pros
Solid construction and feel comfortable
Cover can be washed and replaced
Good customer support
Affordable price
Versatile and highly flexible mattress
Cons
Comes in limited colors
Heavy to handle
Summary
One of the best things about this mattress is that even if you use it for sitting at a stretch for several days, the structure does not get deformed. When flattened in the bed style, the mattress stays solid and firm. The product arrives fast and well packaged. If you have any issues, they have solid customer support that is ready to help at any time. Overall, I think this product is worth the money you spend on it.
---
When you want to buy a futon mattress blindfolded, the Serta Cypress ( see Amazon) can be the ultimate choice. For its attractive looks and durability, it is one of the 6 best futon mattresses for sitting and sleeping.  It comprises of an innerspring unit, CertiPUR certified foam and cottonique fiber by Wolf Corporatio. What I appreciate about the product is that it is made without ozone depleters, heavy metals (mercury and lead), or flame retardants. The foam used in construction is created without any phthalates or formaldehyde. They have a VOC (volatile organic compound) emission to prevent damaging the quality of indoor air.
The core of this 8-inches mattress is made from 255 superior grade innerspring unit that can provide a firm and sturdy support system. The spring unit is bordered by two 1-inch pieces of foam to provide flexible and body-conforming comfort. The 18 polyester nylon tufts further add more stability to the construction of the product. It is shipped in a compact box and once it's taken out of the box, it bounces back in original shape to snugly fit the frame.
Pros
Sturdy and well made
Made in the USA
Low priced
Khaki color blends well with any décor
Lasts longer than wool futon mattresses
Cons
Has a funny odor that goes away after sometime
Bending the mattress in a sitting position takes a lot of effort
Summary
When you want a mattress the looks great and lasts longer too, put your money in the right place and buy the Serta Cypress Double Sided Innerspring Futon Mattress. It's that perfect foam bed you can give your son for his college apartment or accommodate guests when they drop in unexpectedly. If you are seeking comfort and durability without shelling out a lot of money, go for this full futon mattress by Serta Cypress.
---
This deluxe futon mattress comes from the house of Artiva that has more than 15 years of experience in designing and manufacturing futon mattress in Southern California. Each product is made in the USA and they feature 23-lace hand-tufted designs to support the back for a good night's sleep. Made of solid fabric, cotton fillings and innerspring, the mattress features 8-inch thickness that provides full support to the body while sleeping.
This is a multi-functional futon mattress that not only saves space but also serves as a sleeping mattress, spare bed or sofa mattress. The product comes compressed in a bag and takes a few days to bounce back to its original shape and get fluffy. They are available in five different color options to ensure that they match with any type of home décor.
Pros
Highly supportive mattress
Retains its shape well
Quality constructions
Has a longer life
Good combination of foam and springs
Made in the USA
Cons
Emits a bad odor for the first few days
Too thick to bend easily
Summary
The mattress is both firm and soft at the same time, the perfect combination you need to sleep or sit on while watching TV or playing. As the mattress is durable and well-constructed, you don't have to worry about kids bouncing on it. Even if you use it as a guest bed on the sofa or couch, your guests will be extremely comfortable. If you are looking for the USA made mattress that bends easily and looks great, Artiva Futon Sofa Mattress is the answer.
---
Futon Mattress Buying Guide
Now that you know our list of 6 best futon mattress for sitting and sleeping, here's some information that will help you choose the suitable one for you. Take look at the benefits of buying a futon mattress and the key things you need to consider buying ordering one.
Benefits Of Buying A Futon Mattress
Today you can find Japanese futon beds across the globe with a few alterations, but there is a reason why they have become so popular worldwide. The concept of futon beds brings us closer to what our ancestors did – sleeping on the floor, comfortably and waking up without any backache or sores. Let's take a look at a few benefits of buying a futon mattress that has turned it into the new trend.
1. They save a lot of space
One of the biggest benefits of using a futon mattress is that you get to save a lot of space because they are so easy to store away when not in use. Thus, if you are looking for a portable bed, a guest bed for occasional use, or something you can fold away and turn into a couch for sitting during the day, futon mattress is a winner.  Unlike the air beds, they don't take a lot of space and you can store it away in the cupboard in the morning to free up some floor space in a small house. Now, isn't that a very convenient and practical solution for all apartments?
2. They ensure better health
Do you know that one of the reasons why our ancestors lived a long and healthy life is that they slept on the floor? As a result, they did not suffer from spinal problems or backaches so early in life. A quality futon bed can not only improve your sleep but also prevent health problems in the long run. As the mattress adapts to the contours of your body, it gives you a more snug and comfortable night's sleep. Cleaning a futon mattress is also easier so that would ensure less dirt, dust mites, or bacteria on your bed. As a result, you will suffer from fewer allergies.
3. They can be used interchangeably
It's much easier to customize the futon mattress to meet your specific needs than any other regular mattress. You can improve the appearance of your mattress and accentuate the décor by simply using a new slipcover. You just need to unzip and replace a new cover to bring a pop of color to your house interiors. 
4. They offer ultimate comfort
The futon mattresses are less expensive – true but that doesn't come at the price of comfort. Some of the modern brands with inner springs and independent coils can compete with some of the most high-end brands in terms of comfort. Just make sure you pay attention to the features of the product before buying one, and you will have no issues on the comfort front. 
5. They are reasonably priced
This is something I absolutely love about futon mattresses – you get so much at a reasonable price. When compared to traditional mattresses, futon outperforms them in comfort, portability, style, and durability. You have the option to spend less than $100 for a decent mattress for your dorm or invest in a more high-end product for your new bedroom, the choice is yours! You just need to be a smart shopper. Take a look at our 6 best futon mattress for sitting and sleeping to find what is best for you.
6. They are versatile
This goes in continuation of what I have mentioned above. Futons can work both as a sofa or bed, so you can enjoy the benefits of two furniture without having to spend separately. Unlike a traditional sofa-cum-bed, these are extremely lightweight and portable. Installing or storing them away is a breeze, whether you do it alone or with someone's help for the large size mattresses.
Things To Consider Before Buying A Futon Mattress
While all of the above 6 best futon mattresses promise good investment, you will still need to evaluate your specific requirements and then choose what is right for you.  There are several things that you will need to consider to ensure that you get a good and comfortable night's sleep. Please bear in mind that a mattress need not necessarily be expensive to meet your needs. A less expensive mattress can also do a fine job if it follows these requirements.
1. The right thickness
A typical mattress comprises of the core, the stuffing, and the outside cover.  If a mattress is 4 inches thick, it can do a fine a job. For a memory foam futon, slightly less in thickness may also be fine, and for a poly batting futon, consider buying a thicker one (6-8 inches). Our list of top six futon mattresses have an average of 8 inches thickness and it's perfect for ultimate comfort.
2. Style and design
With so many new styles and designs in the market, it may be tempting to buy the one that is trending in the market, but will it meet your requirements? Depending on whether you want to set the mattress on a frame or place it on the floor, you will need to select the product accordingly. Most of the mattresses are easily bendable to be used both for sitting and sleeping, so check this feature before buying one. Most of the above-mentioned products come in different colors, so buy the one that matches your home décor.
3. Storage and portability
If you want a mattress that you roll out every night and store away in the day to make some space, you may want to choose a futon that is lightweight, without too much core. The same applies to people who want a mattress that they can carry from one place to another while camping or in college. There are some models with a core that can also be rolled up easily, so remember to double-check the flexibility before placing your order.
4. Number of folds
The number of folds indicates how flexible a mattress is. Some of them can be bi-folded or tri-folded to use in different types of furniture or just store away in a box. You will need to choose which type of mattress suits you best depending on the frame on which you wish to place the futon. If you are unsure about this, look at the number of folds in your existing futon and purchase a similar.
5. Usage
If you are purchasing a futon mattress for regular use, consider buying the one that comes fitted with innerspring coil, as this provides proper support needed every day. Those who wish to use their futons on specific occasions may opt for the cotton and foam batting. These styles of futons work fine to provide an adequate amount of comfort as they are durable and do not change shape. The later is also much lighter than the innerspring mattresses, so they are highly portable too.
6. Durability
If you want to extend the life of your futon mattress, you need to add a good cover that will ensure durability. As the cover directly comes in contact with your skin and takes a lot of beating in the form of sweats, dirt, pet dander, and debris, it is important to be durable. If you wish to use your futon as a  sofa, you may get the aftermarket synthetic fabric covers. They are reasonably priced, durable, and most importantly come in exciting designs.
7. Choosing the right frame
If you wish to use the mattress on a frame then the quality of the frame also matters significantly. You would not want a huge difference in terms of quality between the two. If you are looking for something that will last for years and stay in good shape then opt for the wooden frames. They may cost a bit higher but you will not have to worry about replacing them for years.
Metal frames are great for decoration purposes but they are not as durable as their wooden counterparts. As the metal frames come in different designs and are reasonably priced, they are a more popular option. Another practical choice is the wood composite or particleboard frames that come with a restrained budget. They are not only aesthetically good, but also extremely sturdy and supportive than the steel or wooden options.
Related Questions
How long do the futons last?
Their lifespan varies depending on the materials they are made up of and how you treat the mattress. On average the western style futons can last for 5-8 years while the Japanese style ones may last for more than 10 years with proper maintenance.
Is it possible to get the futon refilled?
Yes, they can be refilled however it's difficult to get them back to the original form. While it's possible to do this yourself, I would recommend that you get the mattress filled by a professional only.
Do I need to sleep on floor if using futons?
No, this is not necessary. Although the Japanese futon mattresses were built to be used for sleeping on the floor, they can fit perfectly on any type of bed or sofa frame.
What's the difference between bi-fold and tri-fold futon mattresses?
The Bi-fold futons are typically larger and they have a fold running through the middle. They are easier to set up and they can sleep more people. The tri-fold futons, on the other hand, are smaller than an ottoman mattress that can be easily stacked away beneath the frame. They are more versatile and take less space but are hard to sleep on.
What are the common futon sizes available?
The common sizes for western-style futons are a chair, twin split, twin lounger, full, loveseat, queen, full lounger, queen split, and queen lounger.
What are the different materials used for a futon and which is the best
There are five common materials used for making futons are they are cotton, polyester, foam, wool, and metal springs. Cotton is probably the best material because it is natural and does not cause allergies, but it is also more expensive. If you are looking for a low-cost futon, opt for the polyester-based one, however, please be warned that they may cause allergies and even retain more heat than others.