Are you in the market looking for the best wooden futon frame? Then you have come to the right place! Wooden frames have become a preferred choice for futons over the years and the two main options are light pinewood and hardwood. While the solid hardwood tends to be on the expensive side, they are also much more durable. As long as you take good care of your futon frame, it is bound to last for years.
The immense popularity of wooden futon frames has led to the production of affordable models made of particleboard, softer wood, and other types of manufactured wood that are not very durable. However, they score high in terms of aesthetics and cost less upfront so they are a good solution for those looking for a cheaper solution.
On the downside, the wooden futon frames are heavier than their metal counterparts, hence it is harder to move them from one room to another. It may also be difficult to reposition the frame from the couch or sofa to bed and flatten it to bed again when needed.
Besides wood, some of the other materials used for making the frames include metal, plastic, and canvas. Despite the various options available, the wooden frames are considered the most reliable and durable than the other materials available.
The frame base may be in the form of mesh or slats to support the futon mattress. Some frames may come with handles welded on the sides to help in opening and closing it. In some models, you can find sliding drawers at the bottom for additional storage space.
The frame finish also comprises of the materials (plastic, steel, chrome or wooden legs) used or their blend to make a highly functional and aesthetically pleasing product. Below, we have reviewed some of the best wooden futon frames to help you choose a product depending on your specific requirements and space restrictions.
If you live in a small apartment or house, it's important to make the best use of what you have. Maximize your limits by investing in multipurpose furniture that can serve as a sofa or couch for the living room and easily convert into a guest bed when you have guests drop in unexpectedly. This is where the Nirvana Futons Arden Futon Frame (see Amazon) comes across as a good choice.
This futon furniture is one of the most affordable and stylish wooden frames you can buy to equip your home. This user-friendly frame offers a high degree of utilization and convenience. The flexibility with which it can be changed in seconds to become a sleeping or sitting arrangement makes it worth spending money on.
The frame is made from solid hardwood that is derived from an environment-friendly plantation to save the environment. Both the back decks and seats are designed in a way to inspire a sophisticated and elegant feel in the house. The perfectly applied finish coats the frame well and the gorgeous texture is perfect to complement and accentuate any type of décor.
What we like best about this futon frame is that it provides an exceptional level of comfort to the users. It has enough space to easily accommodate a full-size mattress and an amazing thickness to support the back while sleeping. You can assemble and set up the frame yourself, without any professional help.
Pros
Cons
– 100% hardwood frame, no wood veneer or particleboard
– Sturdy and heavy-duty wooden frame
– Goes from upright to reclined and bed position with ease
– Comes with an exclusive 5-year limited manufacturer's warranty
– Can sustain a lot of weight when used as a sofa or bed
– Wooden slats are far apart
– There's no locking mechanism for sitting or flattened positions
Summary
 As this full-size futon frame is made from pure hardwood material, it grabs a lot of attention and positions itself as one of the best wooden futon frames you can buy. It is tougher and more durable than other futon frames available and the multiple stage finishing ensures that the beautiful color finish lasts for long. Overall, we think that the Nirvana Futons Arden Futon Frame is worth every penny!
---
This is a simple and no-frills full-size futon frame made of hardwood to add strength and durability to the product. Whether you are looking for a couch or bed for your college apartment or dorm, this unique product can meet both the needs effortlessly. It can be easily converted from a sofa to a bed and vice versa in a matter of seconds.
We appreciate the fact that the futon frame comes with four adjustable positions so you can make it upright to serve as a sofa or bend slightly to make a recliner, couch or bed. It comes with a set of two sturdy wheels at the back for more comfort and stability.
The product does not include the mattress so you will need to purchase it separately (see my reviews here). Although extremely simple and reasonably priced, the clean and elegant lines add a modern look to the product and it goes well with any urban décor. Assembling the product is not too hard and there are instructions available to guide the customers. Let's take a look at some of the main advantages and downsides of the product.
Pros
Cons
– Made In The USA
– 5 years manufacturer's warranty
– 5 positions to use the bed in various ways
– Has a smooth and unfinished tulip poplar
– Two adults can sleep on it comfortably
– Takes about 90 minutes or more to assemble
Summary
This wooden futon frame looks well-constructed and durable enough to last several years. We would not call it an example of best quality workmanship but the versatility and flexibility offered are more than what you pay. Setting up is easy if you have some experience with tools. If not, we would recommend that you seek the help of someone who knows how to do it well. Overall, it offers good value for money.
---
The third position in our list is bagged by another model from the Nirvana family and this time it is Nirvana Futons Westfield Wood Futon Frame. The product is made from 100% solid and heavy-duty wooden futon frame that sports a finished seat and gorgeous back decks.
If you are looking for a strong and sturdy frame that can last for several years, this product from the house of Nirvana fits the bill perfectly. This multi-position futon mattress can easily convert into a couch, sofa or queen size bed.
The product does not include any mattress and only ships the wooden slats that need to be assembled according to the instructions. The natural wood grains adds a deep character and vintage look to the product. It exudes sweetness, warmth and adds more sophistication to the interiors.
Performance-wise, this futon frame scores good points as it effortlessly converts into a sofa, recliners, lounger, or bed. The frame is sturdy and features an anti-slip system that provides the utmost safety. The manufacturer stands behind the product and offers an exclusive 5-year limited warranty.
Pros
Cons
– Easily accommodates a full-size futon mattress
– Wooden handles provide support
– Eco-friendly frame made from hardwood sourced from sustainable plantations
– Setting up the frame is easy
– Looks decent and lasts long
– Takes about 90 minutes to assemble
– The wooden handles may not be comfortable for tall individuals
Summary
When you want to make the best use of less space available in the house, this is an amazing product that can be used as a couch and bed, without looking out of place. The attractive finish and design blend well with the décor of any home or office. However please bear in mind that you will only get the frame and will have to buy a mattress separately (see my mattress reviews). At this price, we think it's a great deal!
---
This cottage-styled and white-colored wooden frame takes things to a different height altogether and promises to add oodles of elegance to your living room or small apartment. The frame is made from pure solid hardwood with the seat and back decks featuring a satin white finish.
You can conveniently use the frame in three different positions – upright, reclined, and flattened. Hence, you can use it as a sofa, bed, or couch. However please bear in mind that the product does not include any mattress or pillows. You will need to buy them separately. 
Besides the elegant design of the frame, we also love the sliding drawers fitted with the frame. It offers additional storage space, which makes it an ideal choice for small apartments.  The foot accents and crown moldings make it a nostalgic little piece that adds warmth and comfort to the interiors.
The frame is shipped in two different boxes that may arrive separately, so don't get anxious. Assembling the product is easy by following the instructions provided. The manufacturer offers a 5-year limited warranty which makes it a risk-free purchase.
Pros
Cons
– Cottage like appearance
– Sofa height seating for comfort
– Environment-friendly futon frame
– Gorgeous satin white finish
– Storage compartment at the bottom
– Take more than 1 hour to assemble
– Requires at least two people to set up everything
Summary
This is a stylish and smart futon frame that adds a quaint and nostalgic feeling to the house. Unlike the traditional frames, this one offers the ability to store things in the drawer. Thus, you save a lot of space in the house and it eliminates the need for extra shelves or drawers. The product durability coupled with manufacturer's warranty covers any damage in the product. Overall, a recommended buy.
---
This product (see Amazon) stands fifth in our list of best wooden futon frame, and it is made from 100% solid and heavy-duty hardwood. It comes attached with many special features and the multi-stage finishing makes the product even more durable and gorgeous to look at.
This multipurpose sofa frame extends both sides with adorned arm decks to let users display any decorative item or just place food and drinks. So, this product not only serves as a bed and sofa but also does the work of a central table. It can also easily accommodate a full-size mattress.
While the side handle extensions of the Brentwood wooden futon come handy and look cool, they may cause obstruction for tall people while sleeping. The product needs to be assembled as per the instructions provided but it can be done easily.
Watch television or just relax on the couch with your pet. The sliding drawers can be used as additional storage space to keep magazines and papers. The product does not include any mattress or pillows, only frame. It comes equipped with a 5-year limited manufacturer's warranty to offer a no-risk purchase.
Pros
Cons
– Made from 100% solid hardwood
– Multi-stage finishing ensures durable colors
– Multi-position futon can be used as sofa, recliner, and bed
– Finished seat and back decks
– Provides sofa height seating
– Heritage finish done by expert artisans
– Two adults and two kids can sit together
– Identical parts can make assembly difficult
– Tall People may not be able to sleep comfortably as the handle obstructs
Summary
Brentwood wooden futon frame is a well-constructed product that exudes quality workmanship and a great finish. Besides being durable and sturdy, the product is also highly affordable for those who don't want to invest separately in a bed, sofa, and lounge. As multipurpose furniture, it saves a lot of space in the house and gives users good value for money.
---
The brand Nirvana has created its own niche and you can guess its popularity from the fact that this is the third Nirvana model securing its position in our list of the best wooden futon frames. Made from heavy-duty and solid hardwood, this is a premium white painted frame that looks bright and adds a positive vibe to the home.
The multi-stage finishing ensures that the colors stay intact and last longer. The sturdy construction of the frame is also more durable than the cheap tubular metal frames. As a highly functional and flexible model, the full-size futon can be used in three different positions – sofa, bed, and lounger. Thus, you get three different furniture at the price of one.
The clean and minimalistic design of the futon frame makes it perfect for college apartments, forms, RVs, or small houses. It helps you save a lot of space and still make room for guests when they drop in unexpectedly. As there are no handles on the frame, it can easily accommodate tall people.
The premium painted white finish of the product gives it a neat and clean look. Simple design and uncluttered lines make it perfect to meet your decorating needs. The manufacturer stands behind the product and offers 5 years warranty on your purchase.
Pros
Cons
– Quality construction and highly durable
– Three-position futon size
– Seating flexibility
– Minimalist design and space saver
– Frame matches with any decor
– Needs two people to assemble
Summary
If you want a good sofa-cum-bed without any frills and at a reasonable rate then this Nirvana futon frame is a good match. The white finish and armless design make a great combination for those who want a spare guest bed that they can use as a lounger or sofa when there are no guests. Overall, we feel this product offers good value for money.
---
Now, that we have reviewed the six best wooden futon frames available online, let's take a look at some of the common types of woods used for making futon frames and things you need to consider when buying one.
Different Types of Woods Used For Making Futon Frames
A wooden futon frame does not have the luxury of hiding beneath any fabric or foam, hence it must look beautiful without any imperfections. The type of wood used highly influences the cost and durability of the frame. There are some types of wood that can take a lot of beating while some are too light to handle the stress of converting a futon into bed and vice-versa several times.
#1. Mahogany: The most popular option is Mahogany, a medium to hardwood derived from the tropical forest, and it works great for craving purposes. The color of this expensive wood ranges from tan to reddish-brown. The wood has uniform pores, medium grain, and less defined annual rings. Besides being great in aesthetics, Mahogany is also a durable hardwood that can maintain its shape despite shrinkage and swelling.
#2. Maple: This is a light-colored medium-to-hard wood option used for making futon frames. The specialty of this type of wood is that it has diffused and evenly sized pores that provide a smooth texture and even grain. Maple wood is not only durable and resistant to stains, but it can be finished to resemble cherry, walnut or other pricey hardwood.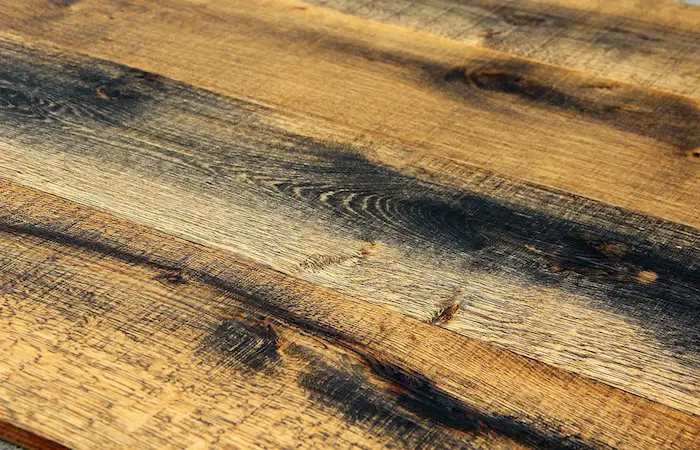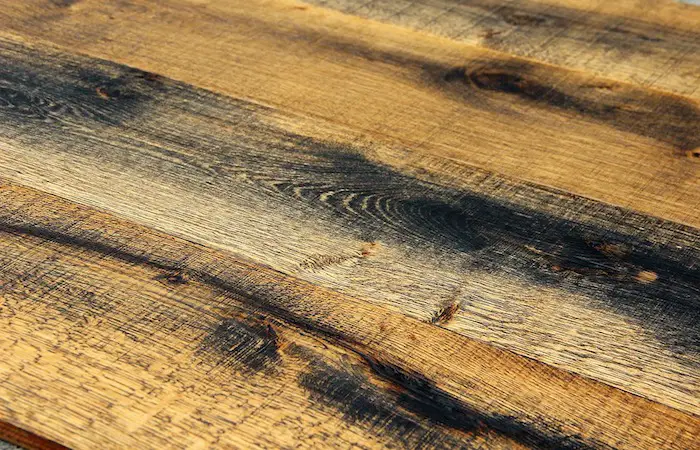 #3. Oak: This is another popular type of wood used for making a sophisticated and durable futon frame. This is a hard, heavy, and open-grained wood that comes in two varieties – Red oak that is pinkish in color and White oak that has a slight greenish hue. The large pores and prominent rings give oak wood a strong grain and coarse texture. 
#4. Beech: This is a pale and heavy, medium-to-hard wood used for making futon frames, stools, and chairs. It has a fine and tight grain, large medullary rays, and the appearance is similar to beech or maple woods. The wood is shock resistant and takes stains well. While this hardwood is sturdy, strong, and good for polishing, it may not be as durable as other types of hardwood. It is also not as expensive as other hardwood varieties.
#5. Pine: This is a type of softwood that grows in different parts of the world and their varieties are used for making beautiful wooden furniture. In the US, you can find furniture made of Ponderosa Pine, Sugar Pine, and Eastern White Pine. The wood has a knotty characteristic that lends a unique personality to every furniture piece made of this material. Pinewood has a natural grain texture and neutral shades which is unlike any other variety.
Things To Look For In A Futon Frame
While the type of material used for making the futon frame is one of the most important aspects and hardwood is much appreciated, there are other things that require equal attention. The best frames are a combination of various things such as sturdy materials, good arms and legs, support in the middle and so on. Here are some of the things that need your attention.
Size
For many customers, the purpose of buying a futon is to use as a solution for an extra guest bed or couch. As futons are available in different sizes ranging from twin to full and queen sizes, we recommend that you consider the space available at your home to decide which one will be suitable for you. The chair futon typically serves as a twin size bed, loveseat-style works as a full-sized bed and couch-style serves as a queen-sized bed.
Style
The futon frames have evolved a lot from what they used to be and today you can find a plethora of styles ranging from modern to mid-century modern and the traditional styles. Some of the models may come with mattresses or pads stitched to the frame, and you will need to choose the color and type of fabric. Other options include frames with or without arms, frames that can be reclined to a lounger position, and so on. Most of the frames available are slightly lower than a standard couch and others may be lower to the floor.
Finish
The futon frames may be made of metal or wood, but some of the models come equipped with strong plastic legs. The solid wooden frames are much more expensive than other types of woods such as birch, ebony, and oak. Some of the wooden frames may have a white satin finish to make the frame look aesthetic and match the décor.
Related Questions
What is the price of a wooden futon frame?
The hardwood frames are slightly expensive than others and they can be more than $500 for just the frame. Some of the high-quality frames can be as expensive as over $1000 while there are others made of particle board or compressed wood that may cost less.
How long is a futon frame?
The average size of a futon frame is 54 x 75 inches (full size) and it serves great as a sofa format with the mattress to add comfort. Queen size futon is about 5 inches shorter, and the twin size and much shorter. Make sure you consider the space available before choosing a futon frame for your apartment.
How important is the choice of the frame?
The choice of wood is important because it provides support to the structural framework. The more heavy-duty and hard a wood is, the more durable and sturdy the frame will be. A futon frame typically comprises of six different parts – the seat section, the back section, two arms, and two stretcher rails that are connected together.
How to ensure a wooden frame's longevity
You must check the frame to ensure that it has metal-to-metal connectors. If the screws and bolts go into the wood directly, this may strip the frame over a period of time. As a result, many futon frames use barrel nut and hex bolt connections. This provides sturdy support that guarantees that the frame will last for long.