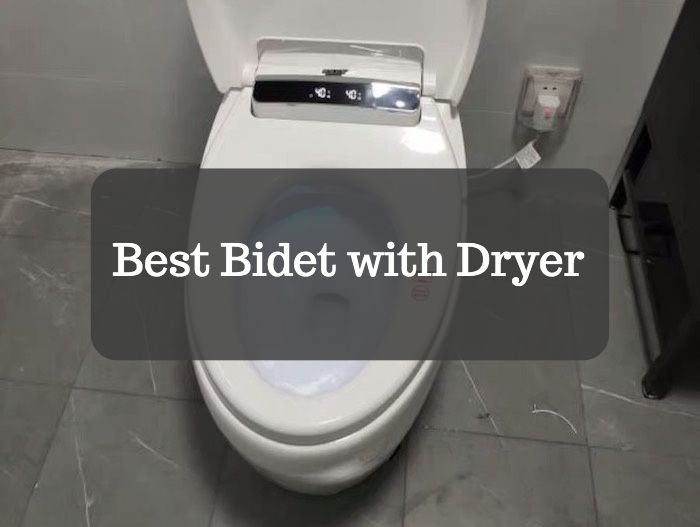 We are reader supported. When you purchase through links on our site, we may earn an affiliate commission. Also, as an Amazon affiliate, we earn from qualifying purchases.
If you are tired of running out of toilet paper all the time despite of stocking on them like crazy, consider switching to a smarter and more efficient solution. Do it like the Europeans and get rid of toilet paper dilemma by using bidets instead. These toilet attachments are designed to clean your bottom with water.
In times like this, the sales of bidets have increased in manifolds as people find it a more hygienic, effective, and reasonable solution than using toilet papers. While many people feel that the technology is reserved for the rich, the truth is they are much more affordable than you think.
The newer bidet models are easier to install and simpler to use than before. They also come in a wide range of styles, features, and budgets to pick from. If you are looking for the best bidet with dryer, expect to be confused with more than a dozen options available.
Our review team has made your job easier by doing the research part for you. We have reviewed several different bidets with dryer and compared them with each other to come up with a narrowed down list. Read on to find our unbiased reviews of the shortlisted and top-rated products.
If you don't have the time to read this until the end, we suggest that you choose the BioBidet BLISS BB-1700 which comes with a plethora of functions and features suitable for different users. It also comes backed by a 3-year manufacturer warranty.
| | | | | | | |
| --- | --- | --- | --- | --- | --- | --- |
| Product | WOODBRIDGE BDI-01 | SmartBidet SB-2000 | Luxe Bidet | Lotus Smart | BioBidet BLISS | TOTO SW3046#01 |
| Dimension | 22 x 17 x 7 inches | 20.6 x 19.4 x 7.28 inches | 20.5 x 15.1 x 4.3 inches | 20.6 x 18.1 x 7.28 inches | 23 x 20 x 10 inches | 20.94 x 15.06 x 4.81 inches |
| Weight | 15 pounds | 11.9 pounds | 11.79 pounds | 11.9 pounds | 15.77 pounds | 15.15 pounds |
| Elongated Seat | Yes | Yes | Yes | Yes | Yes | Yes |
| Water Pressure | 5 levels | 5 levels | NA | 5 levels | Adjustable | 5 levels |
| Water temperature | 5 levels | 3 levels | 4 levels | 3 levels | Adjustable | Adjustable |
| Seat heating | 5 levels | 3 levels | 4 levels | 3 levels | Adjustable | Adjustable |
| Nozzle positions | N/A   | 5 levels | N/A | 5 levels | 3 levels | Adjustable |
| Night Light | Yes | NA | Yes | NA | Yes | Yes |
| Sensors | Yes | Yes | Yes | NA | NA | Yes |
---
This is a plush and contemporary bidet seat with an air dryer, designed to fit almost all WoodBridge One-Piece Toilet, elongated toilet seats, and other compatible toilets. It comes from the house of WOODBRIDGE that has been manufacturing kitchen and bathroom products for more than a decade.
This elongated front bidet toilet seat with stainless steel nozzle material and self-cleaning nozzles come with mounting and connection hardware for easy installation. It is designed to use warm water that is adjustable to 5 temperature levels to give you hygienic posterior wash, pulsating wash, and feminine wash.
We love features like a quick-release seat for effortless cleaning and energy-save mode to consume less power. It also comes with bright LED night light with that glows and auto activates in the dark to make your toilet seat more welcoming. It comes backed by a 2-year limited manufacturer warranty.
Product features and specifications
Measures 22 x 17 x 7 inches
Weighs 15 pounds
Warm air dryer
Heated seat
Heated water
Stainless steel nozzle
Built-In LED Night Light
Safety On/Off Sensor
Certified to Personal Hygiene Device Standards
Mounting and connection hardware included
2 Years Warranty
Users/ Customer reviews
Those who have got the bidet seat have said that it's sturdy, well-built and flushes really well, plus the DIY installation was easy with the basic instruction, while some others took the help of a local plumber. People are happy with the neat and modern look, along with the convenience it brings to cleaning.
A few users have warned that the height is not comfortable; while others have pointed out that theirs is no manufacturer website to contact in case of issues.
Conclusion
If you have been looking for a well-designed and sturdy bidet with a dryer that can fit elongated seats and looks luxurious then the WOODBRIDGE BDI-01 is a great choice. However, you must bear in mind that this is a new experience that may take time to get used to. Overall, we feel this is worth your money and the need of the time.
---
Save the cost of toilet papers and make your toilets more hygienic with the SmartBidet SB-2000, a toilet seat that is specially designed to fit the elongated seats. It comes with multi-wash functions with oscillation and self-cleaning nozzles to hygienically clean feminine parts, posterior wash for his/ her back, and a turbo wash.
The bidet seat comes with 5 different adjustable water pressure, 3 temperature levels, and 5 nozzle position levels. The heated seat has safety on/off sensors that get activated when someone is seated. The 3-in-1 ABS Nozzle can be activated to self-clean with a nozzle light for a more hygienic purpose.
The warm air dryer can be also be adjusted as per the requirement to eliminate the use of toilet paper. The bidet seat can be used in an energy-saving mode and the soft closing lid makes it a convenient and comfortable choice.  DIY installation the process makes it easier to set up the bidet seat on your toilet.
Product features and specifications
Measures 20.6 x 19.4 x 7.28 inches
Weighs 11.9 pounds
Fits Elongated Toilets
Electronic Heated Toilet Seat
Warm Air Dryer
Remote control panel
Heated seat (3 levels)
Energy-saving mode
Skin sensor activated
User/ Customer reviews
Most people love the overall design and ease of installing the thing in their toilet, although there is some adjustment period to know what is right for you such as water temperature, pressure, and nozzle position.
Users feel that the heated seats are extremely comfortable in cold winter days and the availability of warm water to wash makes it more hygienic and comfortable. A few customers have said that they had difficulty reaching the controls while seated.
Conclusion
If you are looking for a bidet dryer to bring more luxury and comfort to your toilets then SmartBidet SB-2000 works as promised. At this price, you not only get the benefits of a high-end bidet but also enjoy paperless cleaning that saves you a good deal of money. The amazing features and performance make it a good deal.
---
The name suggests that this elongated electronic toilet aims to take luxury to a different level. Despite its minimalist style design, the bidet is equipped with some really powerful functionalities to make it extremely useful. The ivory color goes well with any home décor to give your bathroom a royal upgrade.
Whether you are seeking an all-season warm seat to beat the cold or a hot-cold water massage for utmost comfort, this bidet does a great job. The handy side control panel allows you to adjust the temperature for the water spray, the toilet seat, and air dryer to your liking. As you stay longer, the sensors further adjust ad per your body temperature.
We love that the toilet seat memorizes your settings so that next time you can clean with only one touch. It also comes with UV Sterilization that takes care of the hygiene factor by killing up to 98% bacteria. The multi-function nozzle further comes with 3 wash modes and adjustable positioning.
Product features and specifications
Measures 20.5 x 15.1 x 4.3 inches
UV Sterilization
Multi-function nozzle
3 different wash modes
Slow-close lid
Illuminated Night time lighting
High-Quality Construction Inside Out
Sensory Adaptation Heating System
18-month limited manufacturer warranty
User/ Customer reviews
Most people feel that the installation part for the bidet is like a breeze and several customers were able to do it themselves while others asked for help from the local plumber. Some users have said that the warm toiler seat felt even better than the car seats. While maximum users are happy with the product, a few customers have warned that it started leaking after installation.
Conclusion
Although there are mixed reviews for this bidet seat, we feel that the issues in the earlier models have been fixed and the customer service is also helpful when there are any issues. With their easy returns, this is a no-risk product you can order and test for yourself. Overall, we think it's a good investment.
---
When we set our eyes on the Lotus Smart Bidet, it impressed us with its stylish and sleek appearance. When it's cold outside or you fear running out of toilet papers all the time, switch to this more hygienic and a smarter option that comes with a heated seat and dryer with precise temperature control.
The bidet toilet seat comes with functions that add comfort and cleanliness to your bathroom. There are preferred settings for different types of wash such as warm water wash, rear wash, turbo wash, feminine wash, and child wash. The nozzle position can be easily adjusted to jet wash automatically after each use.
There are two sizes to fit both round and elongated toilets. The eco-friendly and energy-saving mode consumes less energy and the air dryer eliminates the use of toilet paper, resulting in savings. The manufacturer stands behind the product and backs it with a 2-year manufacturer warranty.
Product features and specifications
Measures 20.6 x 18.1 x 7.28 inches
Weighs 11.9 pounds
2 sizes – round and elongated
5 level air dryer temperature
3 level heated seats and water temperature
5 level oscillation and nozzle position
5 level adjusted water pressure
Soft Closing Seat and Cover
User/ Customer reviews
Users feel that this innovative bidet toilet seat is much better and more hygienic than using toilet paper and wipes for cleaning. People love that the seat comes with a remote to make specific adjustments as needed.
Customers have also said that the nozzle squirts water in the right places to get you completely clean. A few users have warned that the dryer is not that strong and takes time to dry up completely.
Conclusion
You can bid goodbye to toilet papers by installing the Lotus Smart Bidet ATS-800, which not only enhances the value of your bathroom but also adds a lot of comfort and convenience to it. With different wash options, we feel this product is built for everyone in the family.
---
The new era of cleansing technology is here and this premier bidet toilet seat presents users with an unmatched experience. It blends the latest level of unparalleled cleanliness with an exclusive inside-out nozzle design. It enables users to achieve the highest level of personal hygiene.
The BioBidet BLISS (see more) comes with a brilliant innovation of hybrid water heating technology that is both effective and reliable.  The 3-in-1 stainless steel nozzle offers different types of vortex wash and feminine wash for better cleanliness. It also includes adjustable heated water and toilet seat for added comfort.
The hybrid heating technology brings you the benefits of patented vortex water stream. You can feel the difference in every wash with the pulsating massage and oscillation wide clean technology. We also love the eco-friendly mode that enables you to save both energy and toilet paper.
Product features and specifications
Measures 23 x 20 x 10 inches
Weighs 15.77 pounds
Exclusive Nozzle System
Powerful Warm Air Dryer
Automatic Deodorizer
Warm Slow Closing Seat
Hybrid Heating Technology
Stainless Steel Nozzle
3-year manufacturer warranty
User/ Customer reviews
Many users find this bidet with dryer a boon during cold days and all the benefits that we have mentioned above, but it's mostly useful for people with irritable bowel syndrome and other diseases that make them spend a lot of time in the toilet. They have said that this seat helps in eliminating pain. A few users have suggested that the on/off buttons should be separate and the drying fan is not much use.
Conclusion
If you are looking for a bidet toilet seat, this one is surely going to be a life-changing experience, especially with those with conditions that make them use the toilet frequently. Overall, we feel this is a well-built toilet seat with innovative design and features that can make life easier, healthier, and more comfortable. We recommend.
---
The TOTO WASHLET electronic luxury bidet toilet seat promises to convert your trip to the bathroom into a spa-like experience. At just the touch of a button, it releases a gush of warm water in varying temperatures and pressure as per your preferences to give you a hygienic wash.
With an instantaneous and continuous supply of warm water, it provides a refreshing clean for everyone in the family. The air-in wonder wave technology with pulsating and oscillating functions provides gentle and effective cleaning. It also comes with air deodorizer and strong air filters to neutralize the bathroom odor.
The SoftClose heated bidet toilet seat provides a warm toilet seat surface and adjustable dryer for convenient cleanup. It also includes a remote control to easily adjust the personalized water settings. TOTO's PREMIST technology uses the incoming water to prevent toilet bowl waste from building up and keep it clean.
Product features and specifications
Measures 20.94 x 15.06 x 4.81 inches
Weighs 15.15 pounds
Corded-electric power
Elongated design
Instantaneous Water Heating
Air-in Wonder wave
Air Deodorizer and Dryer
Ambient Temperature: 32˚F/1˚C to 104˚F/40˚C
User/ Customer reviews
Most customers have said that this particular product has a lot going in its favor, from heated seats and water to self-cleaning features and deodorizer. Users have particularly praised the deodorizing option that does a great job of absorbing the foul smell. A few customers have mentioned that the product is comparatively pricey and the outer lid is made of flimsy plastic material.
Conclusion
 If you wish to transform your bathroom and add a more plush feeling to it, we recommend that you get the TOTO SW3046#01. You may find it difficult to get used to initially but after some time, you will wonder how you ever lived without it. Although expensive, we feel that the TOTO SW3046#01 S500E is worth the investment.
---
Top 7 Misconceptions About Bidets
#1. Toilet papers are cheaper
The cost of toilet papers is staggeringly high and you will be shocked to know that on an average day, Americans use nearly 34,000,000 papers. By getting a bidet seat or attachment, you can cut down your toilet paper expenses by 75 percent.
#2. They are messy
There might be a lot of joke revolving around the use of bidets but they are not water guns that soak an unsuspecting user. The contemporary toilet seats are designed to adjust the pressure and position for a comfortable experience.
#3. They are unhygienic
Well, we know those who have used toilet papers all their life may find the switch difficult but it's actually more sanitary than toilet paper. Washing your bottom with warm water and drying up leaves you cleaner and fresher without any irritants contacting your skin.
#4. They take up a lot of space
If you think your bathroom may not have enough room for a bidet seat then you are sadly mistaken. Most of the contemporary bidet designs are sleek, slender, and compact. They not only take less space, but can be easily installed by self.
#5. They are for women only
Contrary to the belief that these special toilet seats are meant for women to ease menstruation and pregnancy, they are also a more hygienic option for men. The warm toilet seats and warm dryers are as useful for men as they are for women.
#6. They need a plumbing changes
You do not require making any extensive plumbing changes at home in order to install a bidet. It can be easily attached to a standard GFCI outlet by simply utilizing the existing water connection.
#7. Bidets need soap to clean
This is another common misconception that the bidets need soap with water for cleaning. The truth is abrasive soap can irritate the genitals, causing infection. So, warm water is enough to clean and sanitize thoroughly.
Related Questions
Do you dry after using a bidet
If you have a traditional bidet then you will need to dry after using it. However, when you use a bidet with dryer, it helps you dry out completely with warm air. After you have dried up, you may use the self-rinsing option to clean the bidet for the next use.
Can bidets get poop on them
These toilet seats use the fresh water that you get from the faucet and not from the toilet bowl. Plus, it is designed in a way to ensure that the poop water does not spray back at you. The modern bidets are not only functional but affordable as well.
See Also:
7 Best Rain Shower Head And Handheld Combo
5 Best Toilet Bowl Cleaner For Calcium Deposits
Can You Use Dishwasher Pods For Laundry