6 Best Mattress Topper for Futon 2023 Reviews
Do you want to experience the joy of sleeping on clouds, but your mattress is not comfortable enough? There's no need to replace the entire mattress because you can add more fluffiness to your existing mattress by simply putting a topper on it. A small investment can convert your standard mattress into a luxury you get to enjoy in five-star hotels.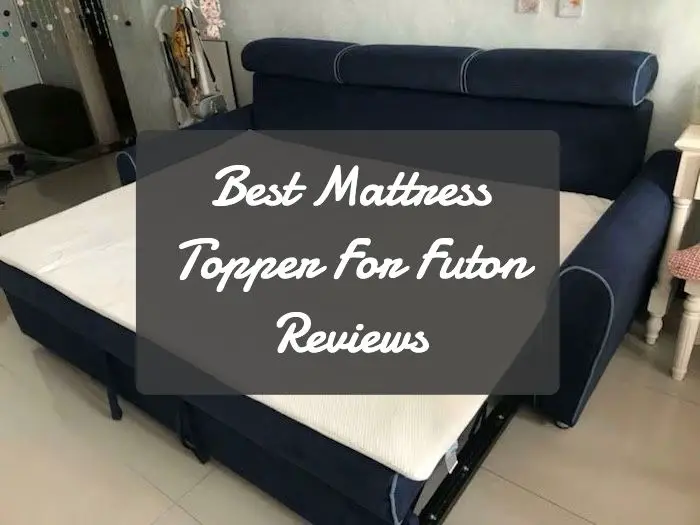 So, if you are in the market looking for a comfy topper, expect to find a wide variety of models to meet different requirements of customers. We know it can be baffling for you to pick the right one from so many brands and models on offer. In this guide, we have reviewed the 6 best mattress topper for the futon to help you find the product that suits your requirements.
For those who are in a hurry to purchase, we have the cut the chase for you. After reviewing several products and comparing them with each other, we found that EMOOR Japanese Futon Mattress (learn more) does a good job both as a topper and an extra tatami mat for guests when needed. It is made of breathable fiber and lasts longer.
| | | | | | | |
| --- | --- | --- | --- | --- | --- | --- |
| Features | Novogratz Mattress Topper | EMOOR Japanese Futon Mattress | Linenspa Mattress Topper | LUCID Mattress | Linenspa Mattress Topper | Zinus Mattress Topper |
| Price | $$ | $$$ | $$ | $$$ | $$$$ | $$$ |
| Thickness | 1.5-Inch | 1-1.2 inch | 2-3 Inch | 2-3 Inch | 2-3 Inch | 1.5-4 Inch |
| Material | Memory Foam | Breathable polyester fiber | Gel Infused Memory Foam | Gel Infused Memory Foam | Gel Swirl Memory Foam | Green Tea Memory Foam |
| Dimensions | 72″L x 43″L x 1.5″H | 75″ x 28″ x 1.2″ (Available in 3 sizes) | 74 x 52.5 x 2 in (Available in 8 sizes) | 74 x 52.5 x 2 in (Available in 7 sizes) | 74 x 52.5 x 3 in (Available in 6 sizes) | 74.5 x 53.5 x 3 in (Available in 5 sizes) |
| Weight | 8 pounds | 3 pounds | 10.1 pounds | 9.55 pounds | 4.41 pounds | 11.22 pounds |
| Color | White | Grey | Light blue | Light blue | White and blue | Light green |
| Rating (1-10) | 7.8 | 8.4 | 8.3 | 8.2 | 7.5 | 8 |
Futons are multipurpose but one way to ensure your sitting arrangement becomes the most luxurious bed is to level it up with a Novogratz Memory Foam Topper. This 1.5-inch layer of opulence and comfort comes from the makers of Novogratz who are known for their eclectic and bold interior design. With a small investment, your futon sofa will turn into a plush bed you will love to sleep on or offer to your guests.
This stylish topper perfectly fits your futon to enhance its appeal and add dollops of opulence to your interiors. Made from 100% polyester, we love how the memory foam adjusts to the contours of your body to give you a cozy feeling. It helps in alleviating sleep issues, motion disturbance, and relieves pressure points. Pair this product with Novogratz Protector and futon sheet for an ultimate sleeping experience.
Product Features And Specifications
Measures 72″L x 43″W x 1.5″H
Weighs 8 pounds
1.5-inch of comfort
Wrinkle resistant
100% Polyester
Lightweight and soft
Not machine washable
User/ Customer Impression
People who have bought this mattress topper are full of praise for this wonderful product as it fits the mattress well and makes a comfortable extra bed for guests. Users find this a small addition that converts their futon mattress into a soft and plush bed.
Buyers find this mattress topper an affordable solution they can give to their kids staying at the college dorm or sharing an apartment. It provides good comfort without breaking the bank, hence people find it a good choice at a cheaper price.
Conclusion
If you have difficulty falling asleep in a hard futon or you get a body ache every morning after waking up, get this soft and comfortable topper to level up the plush quotient and relax in style. Overall, we feel that this product is just as advertised and delivers good value for money.
---
Whether you are looking for a topper for your home bed, child dormitory, or camping cots, the EMOOR Japanese Futon Mattress Topper has got you covered. REDCAMP is a well-known name in the world of professional outdoor equipment, and they aim at developing the best quality outdoor gears and equipment at affordable prices.
The REDCAMP mattress comes in three different sizes, and they can be folded and carried easily from one place to another. Made of 100% cotton material on top and anti-slip gel fabric at the bottom end, the product ensures full comfort to the users. It is filled with quality breathable polyester fiber to give this gray-colored Japanese futon topper great for use on the floor or bed.
Product Features and Specifications
Available 3 sizes in 28″x75″, 32″x79″, and 39″x79″.
The thickness is 1″- 1.2″.
Weighs 3 pounds
100% cotton fabric
Breathable polyester fiber
Do Not Wash – Hand or Machine
Lay flat to dry
User/ Customer Impression
There are mixed reviews from people who have bought this product. Some people are extremely happy with the difference it creates on the bed. However, users have mentioned that it's thin and mostly meant for those who prefer to sleep on the floor.
Some customers have also mentioned that when they returned the product because it was too thin for them, the customer care helped them get a thicker size for their camping cot. Buyers are happy to not only get their money's worth but also enjoy a more comfortable sleep.
Conclusion
The EMOOR have products of different sizes and thicknesses. While this Japanese Futon Mattress Topper is well-liked by most people, this may be thinner than you prefer. Talk to the friendly customer support to help you with choosing the right product and at the end of the day, you will be happy with your choices.
---
Are you looking for extra comfort while sleeping? Then get this Linenspa Gel Infused Memory Foam Mattress Topper that is 2 inches thick and promises to give you a good night's sleep. It perfectly conforms to the curves of your body and hugs snugly. Whether you want to rejuvenate an old mattress or give guests a comfortable bed to sleep on, this is a good option.
The mattress topper is made from 100% polyurethane memory foam and gel beads that can regulate the temperature and dissipate heat. This prevents overheating while you are asleep, this results in less discomfort. Memory foam also distributes the body weight evenly to give you relief from pressure points and align the spine. The toppers are easily available in 2 and 3-inch variations to meet the requirements of different people.
Product features and specifications
Measures 74 x 52.5 x 2 inches (Available in 8 sizes)
Weighs 10.1 pounds
Memory foam and gel beads
100% polyurethane foam
2 inch and 3-inch profiles
3-year warranty
Infused with cooling gel
Relieves pressure points to induce sleep
User/ Customer Impressions
Most buyers seem happy with their purchase as it delivers the kind of comfort and plush feeling they had been hoping to receive, but remember that you need to give the topper some time to get to its original shape after opening the package. Users find it a cheap and small investment they make towards upgrading an old mattress or improving the quality of their guest bed.
It's natural for the topper to go flat and depress when you sleep on it, and most customers are okay with this feature of memory foam but some find that the topper takes forever to regain its original shape. If a 2-inch topper does not seem as plush, you may want to buy the 3-inch profile for a more comfortable and plush experience. Some people have cautioned that they did not feel any cooling effect and the topper was rather warm.
Conclusion
If you have been thinking to upgrade your mattress but don't really want to replace one yet, this topper is a nice and affordable solution you can try. While it may not give a commendable cooling effect like other models, it still manages to gives your old or cheap mattress a fresh lease of life and improve the comfort level.
---
When you want to sleep better, LUCID understands your needs and offers an ultra-plush and well-ventilated gel-infused memory foam mattress. It earns a respectable position in our list of 6 best mattress topper for futon due to its quick-response memory foam and unique ventilated design that promotes airflow to create a comfortable sleep climate. The infused gel beads add extra plush feeling and regulate the temperature.
We love LUCID's therapeutic memory foam that helps in aligning the spine and relieves pressure points. It comes with contouring qualities that enable you to sleep soundly and wake up the next morning without any back pain or stiffness. Unlike traditional toppers, this one is well-ventilated and the added breathability gives you a more comfortable sleep. The new foam smell goes away after some time and the product goes from flat to full inflated shape in 48 hours.
Product Features and Specifications
Measures 74 x 52.5 x 2-3 inches (Available in 7 Sizes)
Weighs 9.55 pounds
The thickness is 2″- 3″
Memory foam material
3-year warranty
Ventilated design
Infused with gel
User/ Customer Impressions
Those who have bought this memory foam mattress are full of praise for the level of comfort and plush feeling offered by this topper. While some people have remarked that it makes them feel like they are sleeping on a cloud, others have mentioned that the topper is so soft that it makes navigating difficult and they have to roll out of the bed from both ends.
The sinking feeling is well-liked by a few users but there are some who would not want their topper to sink so deep that they can almost feel the mattress. Finally, people are happy with the speed at which the topper inflates once it's out of the box and the smell also goes away pretty quickly.
Conclusion
If you are unhappy with your current mattress that feels too rigid, we would recommend that you get the LUCID Gel Infused Memory Foam Mattress (see details) that delivers what it promises. It may not be the 'perfect' one size fits all for every buyer, but overall we are pleased with its comfort and durability. A good buy at this price!
---
Linenspa goes by the motto that comfort does not have to be expensive or complicated, and their Gel Swirl Memory Foam Topper perfectly fits into that description. The memory foam adjusts as per the shape of your body and it is infused with gel to regulate the temperature and create a cooling effect. We love the way this product conforms to the body curves to align the spine can give you relief from the pressure points.
Our team was also pleased to find that the manufacture ensured there are no harmful chemicals used in making the topper, hence it meets all safety standards. Let the topper sit outside for at least 48 hours after opening the package to allow the smell to dissipate and product to inflate completely to its full shape. The topper is available in three different profiles and it is backed by a 3-year warranty against any manufacturing defects.
Product Features and Specifications
Measures 74 x 52.5 x 2-3 inches (Available in 6 sizes)
Weighs 4.41 pounds
Light and breathable
The thickness is 2″- 3″
Built to last
Complies with safety standards
Contemporary blue swirl design
User/ Customer Impressions
There are mixed customer reviews for the product's comfort and durability. While the product gets good marks from most users for being a bang-on comfort level, it seems to have some durability issues. People have mentioned that using this topper has helped them get relief from back pain and other sleep-related issues.
However, we cannot ignore the fact that some users are disappointed with the durability of the product. There are instances when the product developed cracks after 2-3 months or use but the customer service is helpful with replacements and refunds.
Conclusion
The Linenspa 3-inch is the ultimate plush and comfortable topper you need to feel like you are sleeping on the clouds. If 2-inches doesn't meet your needs, the 3-inches will surely make you much happier. So, no need to get rid of the old bed. Just add a new topper on it and enjoy the kind of baby sleep you have always wanted.
---
Here comes an all-new and innovative green tea memory foam mattress topper that promises to help you wake up every morning feeling rejuvenated. Forget sore eyes and sleeplessness, because this fantastic product snugs you tightly and alleviate back pain issues to help you sleep in comfort. We love that the mattress comprises of castor natural seed oil and green tea extracts to prevent the growth of bacteria and remove any bad odor.
As a certified high-quality memory foam, the Zinus topper (shop now) scores high points in terms of content, durability, and performance. The product comes compressed in a box and takes about 48 hours to inflate and dissipate any smell. Factors like cold weather can affect the time needed to inflate fully. The product is backed by a 5-year limited warranty, and it comes in twin, full, short Queen, Queen, and King size.
Product Features and Specifications
Measures 73 x 52 x 3 inches (Available in 5 sizes)
Weighs 11.22 pounds
The thickness is 1.5″- 4″
CertiPUR US certified
Includes green tea extracts
Comes vacuum packed
5-year limited Warranty
48 hours to inflate
User/ Customer Impressions
Most people purchased this product because they wanted an inexpensive fix for their old mattress before they could buy a new replacement. Users are happy that the product inflates really well after it comes out of the box and measures exactly 3-inches of plush comfort. People also like its multipurpose use as a bed topper, guest bed, or addition to camping cot.
Some customers have cautioned that if you want soft and firm support then this may not be the product for you. It almost makes you sink in the bed, which may not be comfortable for all. You may want to look for options that come infused with gel beads. Others feel that their bed with topper is better than it did when it was brand new.
Conclusion
If you want your bed to feel like the one in five-star hotels but don't have the budget for one, then simply use this topper to get a similar experience at a fraction of the cost. While we cannot guarantee the durability of this product, you will enjoy your new soft and comfortable bed while it lasts.
---
Things To Look For In The Best Mattress Topper For Futon
While all the above reviewed 6 best mattress topper for futon are good options to consider, here are a few things you may want to look for in the product that meets your needs to the fullest.
Mixing comfort and cushioning with support: How firm you want your bed to be is a matter of individual preference. The topper is meant to provide a level of comfort and softness, without sinking due to your weight.
Supposed to have a smooth exterior: The topper has rigid feathers or seams poking at you through the cover then this will keep you from enjoying a comfortable night's sleep.
Should regulate body heat: An important feature of a good topper is to regulate the body heat so that you don't sweat in bed. You should feel cooler in the summer months and warmer in winter.
Low on maintenance: A good and easy-care quality topper should be low on maintenance. It should not require more than occasional fluffing to stay comfortable. Check the instructions before washing.
Related Article: How To Deep Clean A Futon Mattress?
Related Questions
How to choose the perfect mattress?
If you want to add cushioning on your firm mattress, get a thicker topper that will solve the purpose. Those who want to get relief from pain should look for toppers made of memory foam or latex. If you and your partner seek different levels of comfort, get a softer or firmer topper that's half the bed size and put them together.
What to choose if you want to avoid overheating?
Memory foam and latex toppers are known to trap body heat and make you sweat. So, if you want to avoid overheating, buy wool toppers that are warm in winter and wick away heat in the summertime to keep your cooler. Gel-infused toppers also help in dissipating heat and regulating body temperature.
I am sensitive to odors. What should I do?
If you are sensitive to odors then we would recommend that you avoid buying memory foam toppers as they tend to retain the odor for weeks, even months. Some people have even reported that memory foam odor gives them headaches and breathing problems.
See Also:
Can You Put A Futon Mattress On A Bed Frame?
6 Best Wooden Futon Frame Reviews : A Detailed Guide
How Long Does A Futon Mattress Last?