4 Best Waterpik and Flossers for Bridges for 2023
If there are gaps between your teeth, bridges are no doubt one of the best options to help you gain that perfect smile. However, achieving that picture-perfect look is not that easy because cleaning dental bridges can be quite challenging.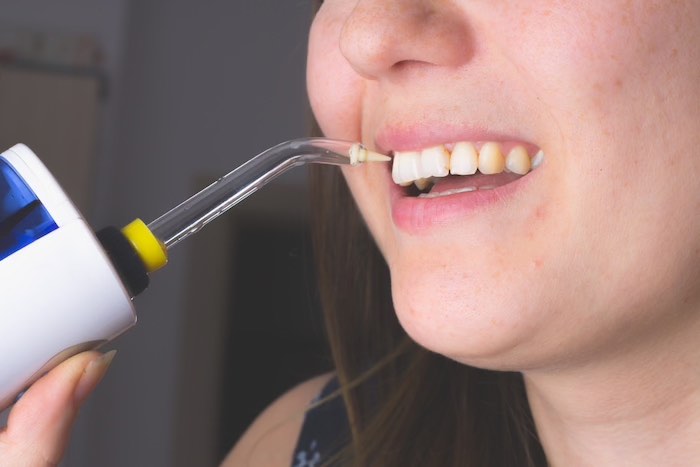 You need to clean both in-between the teeth that support the bridges as well as under the bridge itself. Hence, it becomes very important to take proper care of them if you have them. Thankfully, there is a wide range of tools that can help you do that daily cleaning easily.
Water flossers, for example, are very effective at helping get rid of large amounts of plaque that get stuck between your teeth. As a result, they serve as a great investment for maintaining good care of dental bridges after they've been placed.
Waterpik is a well-known brand that makes good quality water flossers for dental bridges and is guaranteed to improve your smile. However, there are other brands that can bring just as much quality to the table; and in today's post, we bring you some of the best water flosser options for bridges. Our team has handpicked these products after careful review and analysis of a wide variety of products.
Read on to find a complete review of each product selected by our team. If you are in a hurry to order. we simply suggest that you go with our editor's pick: the Waterpik WP-660 water flosser (see Amazon) that is fast and effective at removing 99% of plaque from the affected areas.
This cordless water flosser by Waterpik offers an easy and effective to floss your teeth. It can thoroughly clean bridges too and removes 99.9% of plaque from treated areas. It is 50% more useful and effective than dental floss for boosting your gum health.
Waterpik is a clinically proven brand with all of their products, and this is the only water flosser brand that earned the American Dental Association's (ADA) Seal of Acceptance. This flosser lets you enjoy brighter gums and healthier teeth with just one minute of use per day. It also includes a USB charger that magnetically connects to the unit and fully charges it in just four hours.
There is an LED battery indicator that indicates when it's time to recharge, and it is also compatible with global voltage variations (100-240VAC, 60/50Hz). We love the convenient cordless and waterproof design that allows for it to be safely used in the shower. It also comes with two pressure settings, ranging from 45 to 75 PSI, for a custom clean and ultra-quiet operation.
Product features and specifications
Measurements: 3.13in. x 5in. x 9.13in.
Weight: 1.3 lbs.
1 lithium-ion battery required
50% more effective
Battery-powered
Removes up to 99.9% of plaque
Electronic pressure control
Cordless
2 classic jet tips (JT-450E)
2-year manufacturer's warranty
User/Customer Reviews
Most people love this new and improved Waterpik flosser that operates quietly, not making too much noise like its predecessor. Users have also said that this is a dependable and deep cleaning method to thoroughly clean the insides of the mouth. A few customers have informed that this device needs to be refilled in-between cleaning sessions.
Conclusion
This is a well-designed water pick (see Amazon) to clean your bridges and allow you to enjoy a nice daily cleaning routine. It is compact, cordless, and waterproof, so you can easily use it while bathing or showering. It also helps remove 99.9% of plaque.
Most importantly, this Waterpik water flosser (cordless select dental oral irrigator) is worth every penny.
---
The second product from Waterpik is the WP-669 Water Flosser, and it offers a highly effective and easy way to floss your teeth. It removes about 99.9% of plaque from treated areas, such as around implants, braces, and other types of dental work. It is 50% more effective than regular flossing when it comes to improving your gum health.
This is a clinically-proven, tried-and-tested product that earned the American Dental Association's (ADA) Seal of Acceptance. It promises to give you healthier and brighter gums noticeable after using for just minutes per day. Its advanced technology offers enhanced pressure with 10 settings as well, ranging from 10 to 100 PSI for a custom clean.
This water flosser comes with a built-in timer/pacer that pauses at the 30-second and 1-minute marks to help you keep track of your flossing time. We love the fact that the flosser comes with multiple tips, too: 3 classic, 1 orthodontic, 1 plaque seeker, 1 pik pocket for periodontal pockets, and 1 toothbrush tip. For those who want to avoid anything flashy, this model also avoids any chrome in its design, so it blends in well against your other bathroom décor.
Product features and specifications
Measurements: 4.7in. x 3.8in. x 10.35in.
Weight: 1.96 lbs.
Built-in timer/pacer with pauses
Delivers 1400 water pulses per minute
Capacity: 22 oz.
Provides 90 seconds of use at maximum water capacity
No refilling required
3-year warranty
Compatible with 120VAC/60Hz outlets
User/Customer Reviews
Several individuals who have used this product have said this is a literal 'pressure washer' for your teeth and that it cleans the hidden dirt and germs away to give you a nice, clean mouth. A few users have said that the product is pretty loud when it operates, but it performs well. A few customers have also stated that the price point is really good.
Conclusion
The Waterpik WP-669 Water Flosser is a well-designed product that not only cleans the teeth, but it also keeps your gums healthier. It works well to remove bad breath and keep your mouth feeling refreshed and nice. Overall, we feel that this flosser offers a good price to performance ratio.
---
From one of the next best brands compared to Waterpik, the next product on our list is a OralFree water flosser. This flosser is highly regarded for its easy portability and relatively quiet operation. Furthermore, it has a compact form, so it will not clutter up your space.
This unit is so small that you can easily put it inside your travel bag and go wherever you like with it. With ease of portability, you are able to not only address the issue of dental hygiene in general, but you can also ensure that your mouth feels clean and fresh later on while you're out and about, if needed. Water flossing also helps in controlling plaque and cleans teeth better than regular flossing.
This SodaBlue cordless water flosser also works well for people wearing braces and cleans between the teeth thoroughly. It uses 40-110 PSI with a water pulse of 1200-1800 times/min for a perfect, germ-free cleaning. It also comes with a 360° "swivel" head so you won't be dribbling all over the unit either.
Product features and specifications
Measurements: 9.76in. x 4.76in. x 2.99in.
Weight: 14.07 oz.
1 lithium-ion battery required
Water pressure: 40-110 PSI
Charging time:  2.5 hours
Water tank capacity: 300mL
ABS body material
1-year manufacturer's warranty
User/Customer Reviews
Many people have mentioned that they were recommended by their dentist to use this product and it helped them keep their braces cleaner. Some people have warned that you will need to use it with caution on your first time as the water pressure can be a bit too much at first. Customers have also said that the product is just right to be able to hold with ease.
Conclusion
The OralFree water pick cleaner is a compact unit and designed for easy portability wherever you go. It has a sturdy body, and the water pressure is good enough to keep your braces clean—however, you may need time to get used to the pressure. At this price, this water pick-style flosser offers a good value for the money.
---
Last but not least on our list of the best water picks for bridges is this cordless water flosser from OPERAN, yet another great brand. This amazing flosser comes with six jet nozzles that can be fully rotated to meet your diverse needs for long-term use. It also has a full-angle, rotatable nozzle to floss your teeth at any angle.
This water flosser comes with a built-in 2500mAh lithium battery that eliminates the need for frequent charging with how long it lasts. It has a detachable 300 mL water tank that makes it much easier to clean the water reservoir as well. It also features an internal leakproof drainage design.
There are five different cleaning modes—soft, low, medium, high, and super-high—for this water flosser, so it is very suitable for people who have sensitive teeth or for those who wear braces. It also helps in fighting a number of oral problems. Additionally, the design of this model prevents damage from water leakage, so it can also be used in the shower, if you preferred.
Product features and specifications
Measurements: 0.8in. x 0.8in. x 0.8in.
Weight: 1.1 lbs.
6 jet nozzles, fully rotatable
IPX7 level of waterproofing
5 cleaning modes
35% better than a regular flosser
User/Customer Reviews
Those who have shifted from regular flossing to water flossing have said there is a marked difference in how this product gently cleans their braces. People also love the fact that the product comes with numerous attachments to be able to choose a different one for each family member to avoid hygiene concerns. A few customers have warned that using a water pick has a bit of a learning curve.
Conclusion
This cordless water flosser for teeth is designed to give you a professional tooth cleaning service right at home. With 5 different cleaning modes and 6 different jet tips, there is something available for everyone. Overall, we feel that this flosser gives you a good price to performance ratio.
---
Related Questions
Why does food get under my dental bridge?
Your dental bridge is a 'floating prosthetic tooth' that is connected to two dental crowns on both sides. As there is space underneath that prosthetic tooth, it becomes much easier for food to get trapped around or under a bridge. You need to be sure to get regular checkups to ensure that your dental bridge is still fitting well.
Can I use mouthwash with a bridge?
Water flossing will help you maintain keeping your teeth strong and keeping your gums healthier. You need to floss every single crevice to ensure a healthy smile. If you wish, you can also use fluoride or antibacterial mouthwash once a day.
See Also:
BioBidet USPA 6800 Vs. TOTO C200 – Which Brand Is Best?
What Does A Bidet Feel Like? READ THIS FIRST!
4 Best Water Flossers For The Shower
Can You Install TOTO WASHLET On Any Toilet?