To be precise, the average futon mattress size is 54 inches x 75 inches (full size) because they serve best as sofa and guest bed. They can also be used on bi-fold, tri-fold frames and platform beds. You can take some 15 inches off the width to get a twin size or add 5 inches extra on both sides to make a Queen size futon.
While it's hard to find a King size futon, but there are some custom or special models that may be built in the California King size measuring 72" wide and 84" long. The standard king size futons are much wider than the California King but the same length as a Queen futon.
The depth or height of the futons may change significantly and it may range between 6 and 10 inches, with some of the thickest one being 12 inches in height.  Although the height/ depth may change, the length and width remain almost the same.
Please bear in mind that these standards are specific to the American futons. The traditional futons used in Japan are shorter and thinner as they have small apartments. So, the futons come handy as they can be folded and stored away in the morning.
The Japanese futon means the same as sleeping on the floor with only a thin mattress serving as a cushion for your body. The Western-style futons, on the other hand, comprises of a mattress with a low frame that can be folded to be used as a sofa and flattened to become a bed. As a side note, I wrote an article about the Best Futon Mattress For Sitting And Sleeping which you can find here
Here are a few examples of the different types of futon mattresses and their size:
Full Size – 54 inches width and 75 inches length
Queen Size – 60 inches width and 80 inches length
Twin Split – 39 inches width and 54 inches length/ 21 inches width and 39 inches length
Full Split – 54 inches width and 54 inches length/ 21 inches width and 54 inches length
Chair  – 28 inches width and 54 inches length
Ottoman – 21 inches width and 28 inches length
Twin Tri-fold – 39 inches width and 75 inches length
Now, let's take a deeper look into the different sizes of mattresses and their various aspects. This will help you decide what type and size of mattress will suit your requirements perfectly.
Full-Size Futon Mattresses
Also referred to as Double size, the modern or American-style Full futon size mattresses are designed specifically for the single sleepers who need more space than a Twin futon can offer. They are slightly wider than the twin beds. The Full XL size is almost the same as a Full mattress, just 5 inches long.
The full futons are multipurpose as they can be used as a bed, sofa, or couch. They not only look stylish but also save a lot of space in the living room, bedroom, or office. They can also be used as a comfortable guest bed for unexpected guests arriving without any notice.
Besides being highly versatile, these mattresses are also extremely affordable and they can last for really long. Customers can choose from the different types of material used for making full futons, and these include cotton and foam, innerspring/ coil, and memory foam.
Queen Size Mattress
This size is considered as the golden standard in the industry for mattresses, and the same also applies to futons. They have a good width that makes them suitable for sharing, hence they are often known as couple beds. This size has a significant length that can accommodate even the tallest people with ease.
If you are looking for a size upgrade from the twin futon then a Queen size will work just fine for you. This is the most affordable and practical solution for couples who want a comfortable sleep without sacrificing a lot of floor space.
Most of the Queen size futons are well-built and highly durable to last for years. Their form stays intact and compact so you can enjoy a good sleep every night. As they are light and soft, they can also be folded and used as camping beds.
The different materials used for making the Queen mattresses can impact the size and style of the product. Some of the common materials used are cotton and foam/ memory foam/ innerspring and coil. A queen size futon mattress is anytime a good substitute for a low-cost regular mattress.
Twin And Twin XL Futon Mattress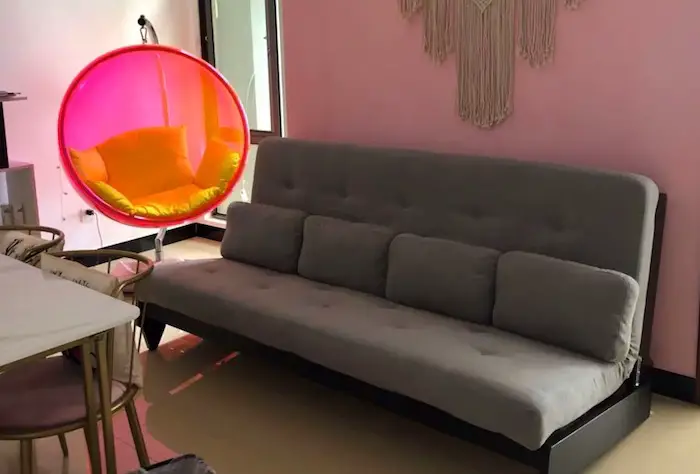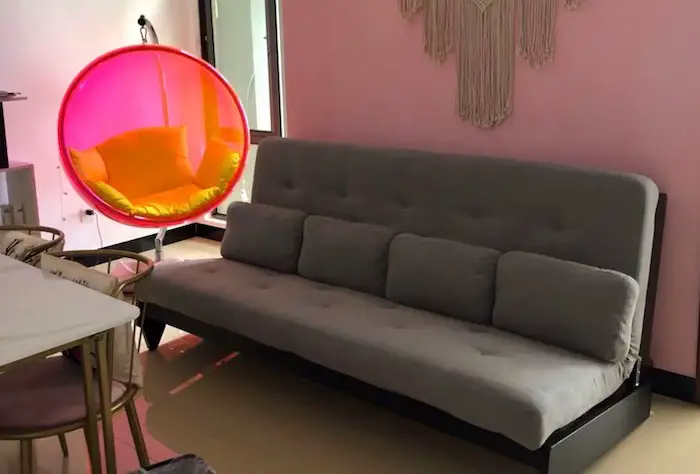 The twin size futons are the smallest and most affordable of all standard futon sizes available. They are mainly created for single sleepers who live in a small room or apartment. Twin futons are the perfect option for students and bachelors who need something comfortable to sleep on but don't want to spend a lot of money for a bed.
The Twin XL size futon is almost the same in width as the Twin futon, just that they are 5-inches extra in length. Don't let the name 'twin' fool you because the mattress cannot accommodate two people. They are not meant for sharing by two people but can only make a comfortable bed for one. As the futon mattress are foldable, they do not take a lot of storage space. Hence, they are the most compact and affordable bed for singles.
King Futon Mattress
King futons are not very common and they are mostly custom ordered by couples who want ample space for each one to sleep peacefully. For example, if one of them is a light sleeper and the other stays active, plenty of space will ensure that they don't disturb each other. They are undoubtedly one of the most spacious standard futon mattress money can buy.
The King size futon can be used as a bed, sofa, or couch, hence it has multipurpose use at home. It's difficult to find a more versatile bedding solution that is firm, durable, and extremely comfortable to sleep on.
These large size futons are made from materials like cotton and foam/ innerspring and coil/ and memory foam. They are not only affordable but also extremely durable so that they can survive for many years without losing their shape or getting damaged.
Questions To Answer Before Buying A New Futon
If you are planning to buy a new futon mattress and frame, you will need to look into various aspects to ensure that you purchase something that matches your requirements. Here are a few questions that you must answer to rule out any mistakes.
What is your budget allocation?
The futon mattresses can vary widely in terms of price and you will realize that a futon of the same size may range between $100-$300. You will also need to buy a frame if you don't have one already or you plan to sleep on the floor. There are some brands that include a combo set of frame and mattress that may cost somewhere between $200 and $500. So, plan your budget accordingly and remember to not skimp the quality to save a few dollars.
Will you use the futon as a primary bed or guest bed?
It's true that the futon mattresses are designed for multipurpose use, but let's be practical. The way you use the mattress will determine how long it will last and how well it will perform. If you plan to use the futon as a primary bed for all nights then we would recommend that you look for something that is durable and sturdy enough to take the daily pressure.
On the other hand, the futons that serve as guest beds don't need to be expensive or durable because they are used less often. They are less susceptible to wear and tear that further impacts the bed's pressure-relieving and body conforming abilities.
What type of frame style do you prefer?
Unless you have a frame already, you may want to get a new frame to place the mattress on. However, please bear in mind that each style of frame has its own set of pros and cons. The bi-fold frames are the best space-savers and they are also cheaper. They do not provide as many positions as the tri-fold frames or higher-end loveseats.
What types of material do you prefer for your mattress?
If you are looking for something very basic and affordable then opt for the ones that come with cotton padding layers. They are good at maintaining a neutral temperature throughout the mattress. Many sleepers find the futon mattress made from polyfoam or memory foam more comfortable as they give a sinky feeling. If you have a higher budget and wish to buy the most comfortable and expensive futon mattress available, get the one that comprises of innerspring/ coils.
What is your body weight?
If you wish to use the futon mattress frequently for sleeping and sitting, it is necessary to take your body weight into account. Those who are on the heavier side will feel more comfortable on a thick futon mattress equipped with coils and foam layers. The thinner mattresses are more suitable for lighter people with less body weight. If you plan to share your bed with someone then you will need to take into account the body weight of both individuals.
What is your height?
The presence or lack of arms in a futon frame can affect the sleep of those who are exceptionally tall. If you or the person for whom you are buying a futon are tall then we would recommend that you get an armless frame for utmost comfort.
Does the futon mattress come with a warranty?
There are many models that do not come backed by any manufacturer warranty and ones that do usually have an average span of 5 years. Some brands offer different warranties for the frame and bed duo set.