Best Mattress For Dust Mite Allergy 2023 Reviews
What if I tell you that the mattress you are sleeping on is probably covered with dust mites and their feces? Yikes! I know it sounds disgusting but these microscopic organisms and their wastes are not visible to the naked eye, hence you unknowingly end up sleeping surrounded by it. If you have difficulty sleeping every night and wake up with watery eyes, sore throat, and running nose on a regular basis then now you know what's causing these.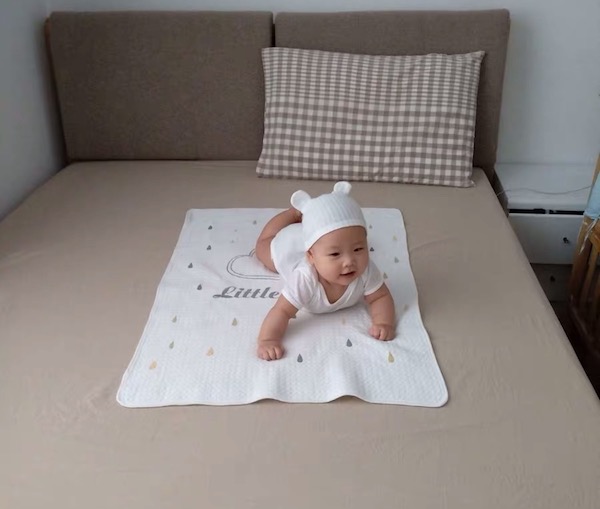 One of the best solutions to improve your sleep is to get the best mattress for dust mite allergy. The type of mattress you sleep on has a significant impact on your overall health and daily life. To reduce the symptoms of dust mites allergy, you need to minimize the critters' poop, which is the biggest culprit behind your allergies.
The dust mite feces accumulate with dust in the coil mattress and this results in creating allergic reactions that are linked to fatigue, headaches, and morning depression. If these symptoms sound familiar to you and you have been sleeping on coil/ spring mattresses then it's time to upgrade. In this article, we have created a list of best mattresses for dust-mite allergy to help you make an informed decision. Let's check them out.
Mattresses Comparison Chart
Lucid is a popular mattress brand that is committed to improving the way people sleep and their 10-Inch Full Hybrid Mattress is one of the best available in this category. The memory foam layer is infused with bamboo charcoal to remove odor and regulate the temperature to create a favorable micro-environment on the mattress. It also keeps moisture away from the bed to create a naturally hypoallergenic setting
The presence of aloe vera aids in creating a calm and relaxing atmosphere that promotes daily freshness and you wake up feeling energetic. On the comfort department too, the mattress excels as the coils are well aligned to provide firm support while being extremely plush and comfortable. Similar to the other products offered by this brand, this mattress also promises to offer the utmost comfort at a reasonable price.
The product comes compressed and fitted in a box to easily carry it through narrow staircases and hallways. The manufacturer stands behind the product and offers a 10-year warranty against any type of manufacturing defects. It also comes with a 100 nights risk-free trial so you can return it and ask for a refund if not fully satisfied.
Pros
Cons
– Come with a breathable cover
– Bamboo charcoal adds a cool effect on the top layer
– 5-inch edge support
– Independently encased coils for airflow
– Hybrid construction relieves pressure points
– No chemical smell
– Has a plush feeling
– Slightly firm than many people expect
Summary
If you have been suffering from dust mites allergies, you can significantly counter these problems by using this hypoallergenic mattress. It not only removes moisture and makes it unfavorable for dust mites to thrive on the surface but also alleviates body aches. If you have been sleeping on a traditional mattress and waking up red eyes all this time, consider making this switch for a better lifestyle.
---
This plush mattress from the house of Classic Brands belongs to the category of cheap memory foam mattresses, but the quality offered at this price is more than awesome. What we like best about this product is that we get so much at a cheaper price. While the average mattresses are rarely close to 13 inches, this memory foam mattress exceeds the mark and offers 14-inches thickness to give you ultimate comfort throughout the night.
The thickness can be divided into 9-inch high-density base foam, 2 inches cool gel support foam, and 3 inches cool gel memory foam. The high-density gel memory foam is combined with the pressure-relieving memory foam to provide premium-level comfort to give that sleeping-on-cloud like experience. The product also comes with knit sides for improved breathability and corded waterfall edge to provide more comfort.
The mattress also conforms to your body beautifully while the cool gel controls the temperature to create a naturally hypoallergenic environment that is resistant to dust mites, mold, bacteria and allergens. The product is also CertiPUR US certified to score high in the department of performance, durability, and emissions. The manufacturer stands behind its product and offers a 10-year warranty to give you a risk-free purchase.
Pros
Cons
– Antimicrobial and resistant to allergens
– Setting up is easy
– Comes well-packed in a box
– Includes two bonus pillows
– Improves sleep quality
– Gives you a sinking feeling
– Difficult to put back into the box if you want to return
Summary
This is a one-of-a-kind mattress that will give you a comfortable sleep like you have not had for years. It may take a few days for your body to get accustomed to this product, so allow that break-in time. Once you get used to it, there is no looking back. However, please be warned that this may not be suitable for the side sleepers but for others, this will prove to be a good investment, so go ahead!
---
When you want to make no compromises with comfort levels, discover the 12-inch Chime Express memory foam mattress from Ashley Furniture's stable. This thick layer of high-grade memory foam beautifully contours to your body shape and sleeping pattern to deliver amazing support and relieve pressure points. The breakdown of the layers includes 8 inches core, 2-inches transition foam, 2-inches thick foam, and stretch knit cover for enhanced breathability.
This product is made from hypoallergenic material to keep the mold, pollen, pet dander, and dust mites at bay, hence it is suitable for kids and adults with allergies. This queen size mattress comes compressed inside a box for portability and once you open it, the mattress regains its original shape and fluffiness in a few days. The layer of foam over the mattress provides a plush feeling and reduces any motion transfer to ensure undisturbed sleep.
The Ashley Signature foam mattress also does not require a lot of maintenance. Just put a thin mattress protector over it and you are good to go. Remember to not use any dry cleaning solution to clean the mattress as the chemicals can damage the fabric and inner materials. Vacuuming is the best way to get rid of the dust, debris and pet dander over the mattress cover. Let's take a look at the pros and cons.
Pros
Cons
– Unboxing from 1inch to 12 inches is a dream
– Easy to set up
– Reasonably priced
– Solid and firm mattresses
– Perfect for big guys
– Doesn't sink in parts
– Prevents dust mites and germs
– Strong chemical smell
– Too hard for some people
Summary
Ashley Furniture has been one of the best brands when it comes to making mattresses and they have proved it again with this 12-inches Chime Express Memory Foam Mattress. They deliver what they promise and the product exceeds the expectations in terms of performance. Buyers looking for a sturdy, yet comfortable mattress to prevent dust mites allergies will love this product. Overall, a thumbs up from us!
---
If you are looking for a comfortable yet affordable sleeping solution that can also prevent dust mite allergy, checkout the DynastyMattress Cool Breeze, a multi-layered memory foam mattress. This 12-inches thick mattress comprises 3-inches of gel foam, 4-inches of Airflow foam, and 5-inches of high-density foam for a solid base. The product is CertiPUR-US certified and comes covered with luxurious white cover and brown suede on the corners. Other features include zipper, fire barrier, and washable cover.
The Cool Breeze DynastyMattress boasts an innovative design and has numerous gel beads inside the high-quality memory foam to deliver ultimate comfort, better air circulation, and pressure relief to get a good night's sleep. It comes with two airflow foam layers that ensure temperature regulation of the mattress so you don't get uncomfortable while sleeping. The sleep cool technology controls excessive sweating, which in turn checks the growth of dust mites, bacteria, and mold.
The mattress comes rolled compactly in a box and it soon expands from 4 inches to 12 inches in a matter of hours or one day at max. Customers get a 120-day free trial with this mattress so you can return the product if you are not fully satisfied with it. The manufacturer stands behind the product and offers a 30-year warranty so that speaks a lot about quality. Here are some of the pros and cons to help you make the right choice:
Pros
Cons
– Controls temperature correctly
– Includes free pillows
– Retains its original shape even after several years
– Comparatively low priced
– Has a chemical smell that goes away slowly
– Rotating it is a pain
Summary
The Cool Breeze DynastyMattress is an entry-level foam mattress that is ideal for budget-conscious customers. The excellent temperature regulation ensures that dust mites and allergens cannot thrive in the environment. When you want a comfortable sleep without breaking the bank, this 12-inch mattress fits the bills just fine.
---
In 2015, Sleep On Latex (Learn more) saw a dream of producing the best mattress for dust-mite allergy, made from all-natural materials, no polyester, no fire retardants, and no synthetic latex foam. The result was the Pure Green Mattress, made in their Chicago factory using 100% natural latex foam, organic cotton, and wool. Today, the mattress has set a new standard in the field of Latex Mattresses and the design team has beautifully crafted it for beauty, durability, comfort, and ease of use. 
The mattress offers medium-firmness, which works great for the back sleepers and side sleepers who like sleeping on a firmer mattress. It is also good for couples that have different sleep preferences. At the base, the mattress features a 6-inches layer of 100% natural latex foam which is durable, supportive, and strong. This is topped by a 2-inches comfortable layer of natural latex foam. The two pieces are combined together to form a durable piece that is covered with a 1-inch wool-made quilted cover.
What we like best about this brand is that they have a complete and extensive system to create their own mattresses from scratch. They design, sew, quilt, assemble and even package the products in their Chicago factory. This gives them full control over the quality of products. Furthermore, the product is shipped in one-piece and does not require any assembling. Now, let's look at some of the benefits and downsides.
Pros
Cons
– Comes compactly compressed in a box
– Mattress expands to full-size seconds after opening
– Firm and sturdy yet has a sink-y feel to it
– Breathable fabric controls the temperature
– Works great to prevent dust mite allergy
– Alleviates back pain and sleep issues
– Too heavy to carry upstairs
– Strong smell that takes time to go away
Summary
If you are looking for a medium-firm mattress that stays sturdy but still gives you a plush and comfy feel while sleeping then this is a good brand. As the product is designed in their own factory, they have good quality control and manufacturer is responsive to complaints/ suggestions. Made from all-natural materials, the mattress is not only breathable but also prevents the growth of dust mites, mold, and allergens. Overall, the Pure Green Natural Latex Mattress is a great buy.
---
When you want to get back to the good old days of sleeping like a baby, you need a really good mattress like the one offered by LUCID. Their 12-Inch Full Latex Hybrid Mattress (Shop now) promises to give you cooler sleep, which means you don't sweat a lot while sleeping and this prevents the growth of dust mites. The combination of supportive coils, responsive latex, and plush memory foam also provides great relief to the users. The 6.5 inches individually encased steel coils are sandwiched in the middle to provide motion isolation and enhanced edge support. They also help in improving the airflow and conforming to the individual sleep pattern of individuals.
This medium-firm and durable mattress is also topped with a double tone, circular-knit fabric cover for better protection. Plus memory foam layer is further topped with natural latex layer to give you the perfect combination of sink and bouncy feel. The breathable aspect of latex makes the mattress hypoallergenic and suitable for those who are allergic to dust mites, mold, and bacteria. The product comes compressed and rolled up in a box so it can be easily carried through the hallways and stairs.
Setting up the mattress is easy, and once the box is opened, the mattress quickly expands to its full size. It comes with 100-nights risk-free use so if after using a few days, you don't feel comfortable in the mattress, you can send it back and request for a refund. The product also comes backed by a 10-year warranty against any manufacturing defects, hence it can be with you for a long time.
Pros
Cons
– Can be used on all type of frames
– Inflates in a couple of hours
– Improves sleep and reduces back pain
– Good value for money
– Attentive customer support
– May not be suitable for weak and fragile people
Summary
The breathable fabric and cooling system make it one of the best mattresses for dust mite allergy. The foam is comfortable but you won't sink into it as there is a spring system underneath that adds bounciness to the bed. It conforms wells to the contours of the body and provides little motion transfer. At this price, this mattress offers more than you could ask for. We recommend the LUCID 12 Inch Latex Hybrid Mattress for back and stomach sleepers, and for the occasional side sleepers.
---
If you wish you could have that great hotel bed at home, it's time to throw away the old mattress and bring home the Live & Sleep Ultra Queen Gel Memory Foam Mattress. This is a 12-inches thick gel memory foam mattress that provides solid support of any high-density foam mattress and pampers your body with a 3-inches thick breathable layer on the top. The body contouring gel not only conforms as per the shape of the body but also provides pressure-relieving benefits. It gives the ultimate sleeping experience you could ask for.
The gel memory foam combines with the visco-elastic memory foam for form a super comfortable and cooler sleeping material to improve sleep and correct other sleeping issues. Unlike the closed-cell foam, this mattress has a porous and breathable texture. The open-celled structure of the foam beds is also self-ventilating as air flows through the layers, regulating the body temperature while you are sleeping. As the memory foam used in the mattress is naturally hypoallergenic, this prevents the growth of dust mites, allergens, bacteria, and mold.
This 12-inch mattress is adjustable base friendly so it can be easily paired up with an adjustable base to suit health and lifestyle requirements. As the mattress is extremely flexible, it can retain its original shape and integrity after bending numerous times for the adjustable base. The product is designed in the USA and ships in a compact box. It comes with a 30-day free trial and a full refund guarantee. The manufacturer also backs up the product with a 20-year warranty.
Pros
Cons
– Works great for heavy people
– 12-inches thickness is amazing
– Well-made and firm support
– Very comfortable
– Keeps you cool and prevents allergies
– Rounded corners that cannot fit on a rectangular frame
Summary
This is an ultra-comfortable and affordable luxury foam mattress that offers great value to the users. The foam layers combine together to form a comfortable and firm mattress that can support people in all sleeping positions. The unique design is good at handling heavier sleepers and the foam isolates motion while at the same time minimizes the sinkage. Thus, the Live and Sleep mattress offers the classic memory foam that can snugly hug your body without giving you the feeling of being trapped. All in all, a good purchase.
---
Founded by Neal Van Patten, a fourth-generation mattress manufacturer, the Sunrising Bedding Mattress is a natural latex mattress that promises to deliver utmost comfort to the users. Although the product is designed and created with the objective to deliver the highest level of comfort, it is available at a reasonable price. The manufacturer buys materials at a low price directly from the supplier and this cuts the middle man from the cycle.
Unlike other traditional mattresses that come with overwhelming choices such as springs, no springs, polyfoam, or gel foam, the Sunrising Bedding Mattress combines just wool and cotton for the cover. Each product comes with three different layers of latex and one ten-inch cover that is designed to give you a plush feel and ultimate support. For years, Sunrising Bedding has been selling quality mattress designed for providing comfortable sleep and alleviating pain in the pressure points.
If you are new to sleeping on a latex mattress, it might take you some time to get accustomed to it, but you will eventually start feeling the health benefits. There are two types of firmness levels (medium and firm) available for different types of sleepers. The product is made in the USA and comes with a 10-year warranty, which is enough assurance of the quality.
Pros
Cons
– Well constructed mattress
– Quilted cover made of organic cotton and wool
– Setting up easy with clear instructions
– Compatible with adjustable beds
– Easy to haul the bed
– Comes with all latex benefits
– No off-gassing or chemical smell
– Expands only about 9.2 inches
– Lacks edge support
Summary
We like the comfort level and the plush feel of the Sunrising Bedding natural latex mattress. Although it lacks in terms of heat transfer and edge support, the firmness and support is spot on. The outer cover is breathable, which keeps the dust mites and other allergens at bay. Besides providing support, the latex mattress offers enhanced durability so you can use the mattress for years to come. Overall, we feel this is one of the best mattresses for dust mite allergy.
---
The BedStory (see details) weaves together a beautiful layer of foam, latex, and independently encased coils to offer the right balance of softness and firmness. It provides adequate support for back sleepers, stomach sleepers, and side sleepers. The use of foam ensures maximum comfort without making you sink in the bed. The hybrid design ensures that you get a perfect balance between softness and firmness. Latex is a natural and breathable material that keeps dust mites and other allergens away. The separately encased coils minimize the sensation of movement, so the sensitive sleepers do not get disturbed when their partner moves.
As the mattress is made of natural fabric and the coils are spaced properly, this allows good airflow within the mattress. So, the person sleeping on it stays cool and does not sweat a lot at night. This restricts the growth of mold and mildew. The mattress is compressed and shipped in a box, with instructions on how to set it up. Once you open the box, it takes between 48 to 72 hours for the mattress to expand completely. It may take longer depending on other factors like cold weather.
The foams used in making the mattress are CertiPUR-US Certified, hence they are durable and eco-friendly. The product also meets the CFR1633 Standard, which means it is also fire resistant. The manufacturer backs the mattress with 10 years warranty and after-sale service, so this is a risk-free purchase for you.
Pros
Cons
– Flawless design
– Setup is a breeze
– Lightweight mattress
– Gives you good sleep
– Solid edges hold up really well
– Heavy people sink too deep
– Not As advertised
Summary
This is a well-constructed mattress that is both firm and soft to support your back and make you feel comfortable at the same time. The stay-cool feature of the product prevents dust mite allergy, so if you are prone to allergies, this is a good mattress for you. At this price, we feel this is a good buy and with the manufacturer's lifetime after-sale service, you are in the safe hands.
Now, that we have reviewed the top 10 best mattresses for you, let's take a quick look at the buying to help you make the right choices.
Customer Buying guide
When you are out in the market to purchase a mattress, maybe after 5-10 years of using the old one, you will find that the market has changed significantly. Not only the price, but the materials, technology, and other features have undergone a lot of changes. This is where you need a reliable guide to help learn the new trends and choose the best mattress that suits your requirements. We have already created the above list to help you narrow down your choice and with this guide, we wish to help you hit the bull's eye.
Tips to Choose Hypoallergenic Mattresses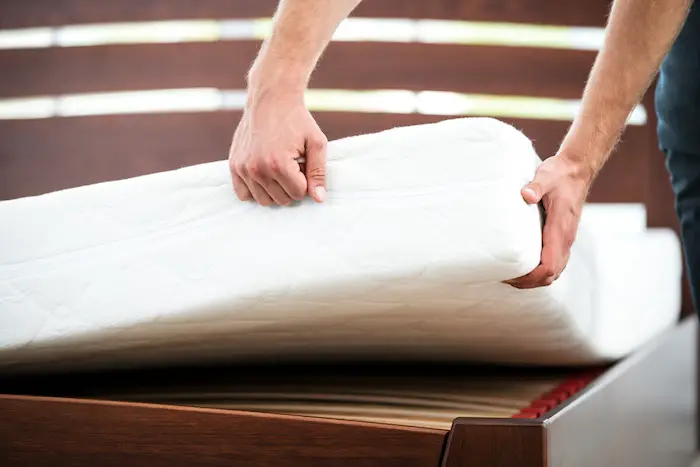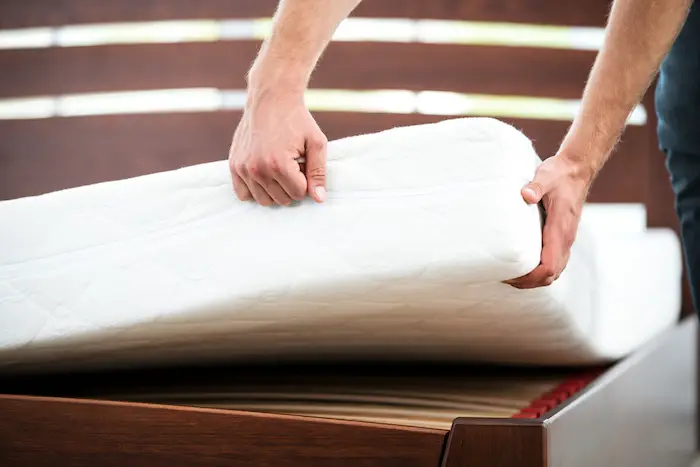 Human beings shed about a pound of dead skin per year and half a pint of sweat every night. Gross, but true. Dust mites and other allergens thrive happily and multiply in these conditions, and a traditional mattress can be home to more than 10,000 of them. If you are prone to allergies and find it difficult to sleep or stay asleep at night then we would recommend that you buy a hypoallergenic mattress. Here are a few tips to help you choose the right product.
#1. Dust mites, mold and mildew resistant
The presence of mold, mildew, and dust mites are one of the primary reasons that disturb sleep and cause allergies. We shed skin cells every night and this accumulates on the mattress along with sweat, hair, pet dander, and body oil to cause allergic reactions on the skin and respiratory tract. The traditional mattresses tend to have poor ventilation and the airflow is further restricted by sheets, blankets, and pillows. Thus, we recommend that you get mattresses made of natural or pure latex as they are largely organic materials, hence hypoallergenic in nature.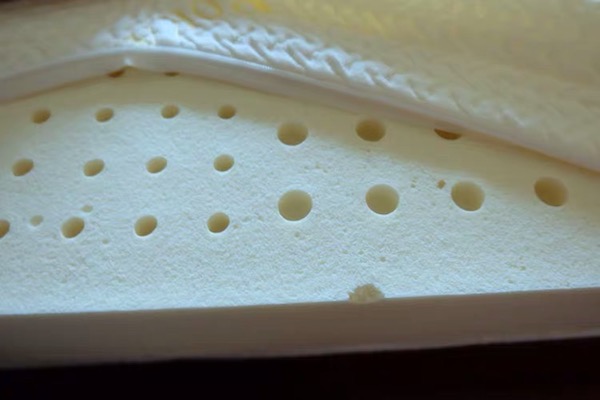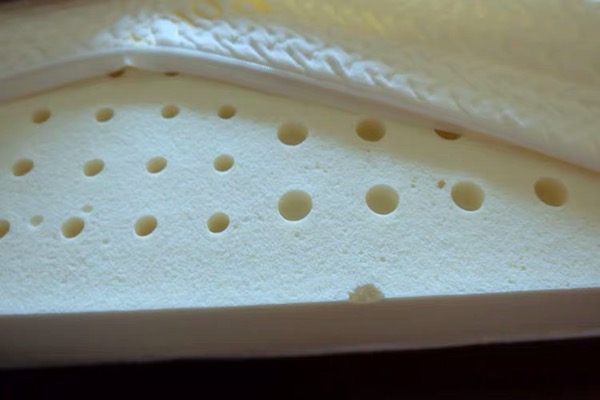 #2. No Harmful Chemicals
If you suffer from chemical sensitivities, be careful when choosing a mattress to ensure that it is as chemical-free as possible. Most of the mattresses today are made from petroleum-based polyurethane, however, they are harmful only if they contain formaldehyde. Check the product description to see whether or not the product is CertiPUR-US certified. If the mattress has this certification, this means it is not harmful. Just like poly foam, memory foam is made from elastic polyurethane foam, but it is harmful only if it contains formaldehyde.
#3. Hypoallergenic and Antimicrobial
The traditional mattresses are usually full of materials that can harbor allergens, hence we recommend switching to a hypoallergenic mattress to enjoy an allergen-free environment. We would suggest that you choose products made from natural materials as they have an open-cell structure. This eliminates the risk of allergic reactions. Look for terms like 'antimicrobial' or 'antibacterial' because they are made of materials designed to prevent the growth of dust mites and allergens.
#4. Look For Hand Tufted
When looking for the best hypoallergenic mattress, we recommend that you look for products that are button-tufted by hand. This helps to keep the different layers of the mattress anchored together without the need for chemical adhesives that are responsible for that strong chemical smell when you open the box. This approach also decreases your chemical exposure while sleeping and improves the quality of indoor air.
#5.  Use cotton materials
When buying a hypoallergenic mattress, look for the use of cotton materials as they are useful in keeping the dust mites and allergens under control. We recommend that you buy a product like this that has cotton covers on the outside and has pillows and duvets made of hypoallergenic material. If you have severe allergies, you may consider buying cotton hypoallergenic sheets.
#6. Get a mattress protector
It is not possible to wash the mattress, so we recommend that you buy a breathable mattress protector made from natural fabric that can reduce potential allergens and heat retention. Check to ensure that the cover is CertiPUR-US certified and resistant to dust mites, molds, and other triggers. Look for mattress covers made of a material such as cotton or wool as they can provide optimum breathability. This also discourages the growth of dust mites and allergens that can cause respiratory issues or other health problems.
#7. Natural fire retardant
Most of the traditional mattresses employ unhealthy fire retardants such as antimony, decabromodiphenyl oxide, and boric acid to keep the price low. These harmful chemicals can seep through the mattress covers and get absorbed by the skin. Continuous exposure to these chemicals can make their way into the main bloodstream, umbilical cord blood, or even breast milk. We recommend mattresses that use wool as this is a natural fire retardant. The strong fibers of wool can stay compact for years due to their moisture-wicking ability. It is also pesticide-free and chemical-free, hence ideal for the allergy sufferers.
#8. Look for certifications
When seeking a hypoallergenic mattress to prevent allergies, we recommend that you look for the relevant certifications. While the manufacturers who sell organic mattresses claim that their products are safer and chemical-free, be wary of false claims. It is tough to determine whether a product is partially or fully chemical-free as there are numerous labels that make diverse claims. If you see the term 'natural' printed on the product without any standards or certifications then the term is meaningless. To get eligible for the USDA Organic seal, the mattress may be made of 95% certified organic materials and made without any harmful chemicals.
Common Allergens in the Bedroom
The bedroom is our haven where we retire after a long day to rest, relax and connect with friends before we call it a day. This little paradise is often surrounded by invisible enemies that can jeopardize our relaxing time. Here are some of the common allergens found in the bedroom.
Dust: Not always visible, but dust comes in through open windows, dirty shoes, and clothing. Another common source of dust is dead skin cells shed by a human, which is inevitable.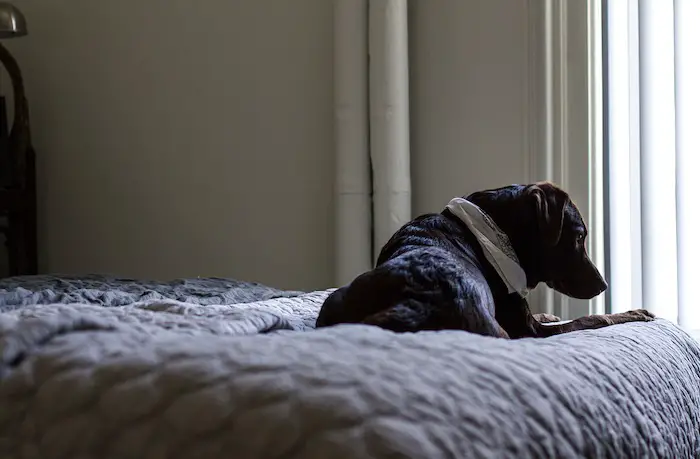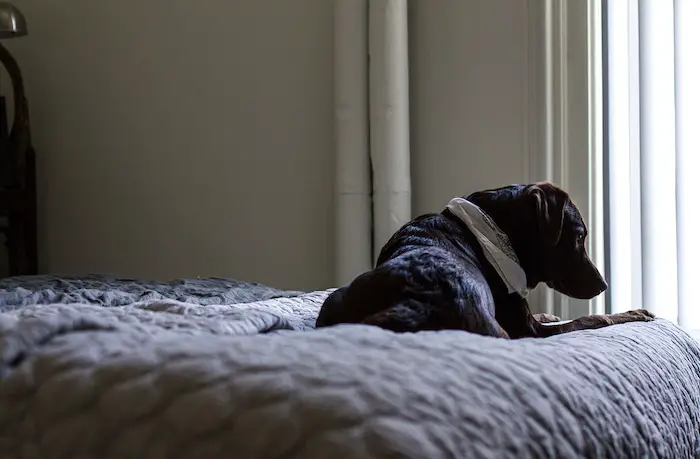 Pet Dander: Your furry friend is cute for sure, but he is also a source of allergen in your bedroom. Pet dander comes from the fur, saliva, and urine, and the allergens have the ability to stay airborne for several hours.
Pollen: This is a seasonal allergen that appears in the month of spring and fall. They typically comprise of spores, which are the reproductive parts of plants. They can latch on to clothes, shoes, and even come indoors through windows, doors, and vents.
Dust Mites: These are the most notorious critters that cannot be seen by the naked eyes but they burrow in the dusty places. Their microscopic poop is the biggest allergy irritant that can make it difficult for you to fall asleep.
Mold and Mildew: Damps and humid conditions offer the best breeding ground for mold and mildew to spread quickly. They release spores that are one of the biggest sources of allergens. Bacteria can also thrive in damp conditions, causing allergies.
At times, the mattress itself may have the potential to cause allergic reactions, even if it has been treated in chemicals and flame retardants. Some people may be allergic to natural latex or memory foam, so don't expect a product to be inherently allergy-repellent. If you are sensitive to allergies, look for a mattress that is clearly labeled as hypoallergenic.
Related Questions
What's the worst mattress for allergy sufferers?
The coil and spring mattresses are the worst types of allergy sufferers because the innerspring system can easily trap dust mites, dead skin cells, and dust mite feces. Mold and mildew can also thrive in the cavity of the spring coils, and this explains why the traditional mattresses may weigh about 10 times their original weight after several years of use.
Is memory foam good for asthma sufferers?
Yes, memory foam mattresses are a good alternative for the traditional coil/ spring beds. Due to its unique style of construction, foam mattresses are not easily penetrable by dust mites. There are several memory foam beds that come with removable covers that can trap dust mites, pet dander, and pollen. These covers can be easily washed in a washing machine to protect the mattress as well as your health.
What is the best mattress for allergy sufferers?
If you are prone to allergic reactions, consider getting the natural latex or memory foam mattresses without any coils or springs. Avoid any fluffy pillow-tops as they serve as favorable grounds for dust mites and their feces to accumulate. We suggest buying a hypoallergenic mattress to reduce symptoms such as itchy eyes, sneezing, and stuffy nose.