When the summer holiday comes to an end, everyone starts thinking of back-to-school organization ideas for their homes. While play areas and kids' rooms are the biggest considerations, the reality is that back to school organization involves virtually all areas of your home.
From the time you wake up in the morning and rush your kids to the school bus, to when the kids come home and where they do their homework, you must stay organized. We understand the hassle of keeping things tidy and how hectic it can be. That's why we have compiled 10 ways to organize your home.
1. Organize the Kitchen (Your Home's Headquarters)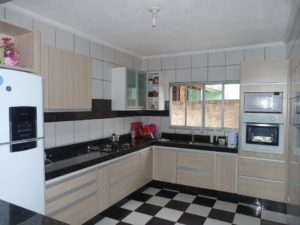 The kitchen is one of the most busiest places in most homes. If you count the number of times your kitchen is frequented, you will be surprised. The kitchen is called the headquarters of a home for a reason. This room can serves as a place for eating a hurried breakfasts, scene for grabbing a cup of coffee, or doing homework while awaiting dinner.
The kitchen needs to be organized according to your family's needs and lifestyle. For instance, sections of your refrigerators should take into consideration the ages of your kids. Have a section for packed lunches if you have younger kids. If you have a teenagers, set aside a pantry shelf that  that can also be accessed by them as well as little ones as smaller children need to be able to get snacks easily without asking for assistance.
2. Make Your Living Room a Neutral Territory
During back-to-school time, many family rooms are cluttered with books, toys, school supplies, and family belongings. To keep this room organized, make it a neutral territory. This can be a place where parents and kids can unwind, share conversations, enjoy television, and conduct family affairs without worrying about disturbing other family members. Use essential organization and storage for magazines, video games, and books, and other materials. Also, have built-in entertainment systems to cater your family's entertainment needs.
3. Place Essential Organizers In Every Room 
During an average school day, a lot of routines are followed in every room from your mudroom and entryway to your laundry room and basement. You can ensure that each room in your home is de-cluttered during the summer by putting organizers in every room. Assess the clutter and items that pile up, and then invest in organizers for each room. You can procure organizers for the kitchen, bathroom, laundry room, and kids' bedrooms. This will make it easier for you to restore order and maintain a free-flowing system when back-to-school time comes.
4. Keep Your Home's Point of Entry Organized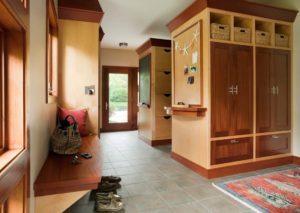 Believe it or not, how quickly you get out of the house rests chiefly on how organized its entry point is. Assess the foyer, utility room, mudroom, or whatever space is the point of entry for your home. This is the place that gets the most family traffic in the mornings and evenings.
It is the area where backpacks, hats, shoes, and coats are left by kids when they come home from school, and it should be organized.
Ensure that the place where parents' personal belongings (such as wallets, keys, and smartphone chargers) are kept is well-partitioned and organized so that you won't have to hunt for them when you're in a hurry. Try to get your kids into the habit of keeping their belongings in their designated areas to avoid searching for them in the morning when the kids are in a hurry.
5. Start Off Small and Gradually Work Up to Whole House Organization
Organizing your home for a back-to-school schedule is like any other routine; you have to start small by de-cluttering areas with piles of artwork, old homework, and crafts from last year to make room for new things. Keep all valuable and important things on an archive shelf. You can also frame a few pieces of art and display them in your home while scanning others to store them in electronic format to keep your home clutter-free.
6. Give Enough Attention to Your Laundry Room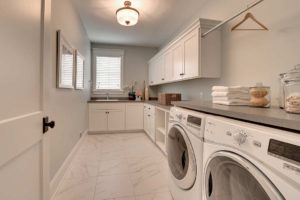 While many people may argue that bathrooms are the dirtiest of all the rooms, the laundry room takes the trophy, especially if you have school-aged children. Back-to-school time means that all the playground uniforms pile up here, waiting for laundry time.
To keep the laundry room organized, have an individual hamper for each family member to avoid mixing clothes. Have cabinets or shelves fitted here to organize cleaners and detergents.
7. Organize Kids Closets
One of the greatest hassles when it comes to back-to-school organization is finding school uniforms in the closet. They always have a way of hiding in between other clothes. So, before embarking on the summer holiday, sort out old clothes in your kids' closets. Whether out of season, too small, or too old, these clothes can be given to younger siblings or donated to charity. This will help eliminate the "Mom, have you seen my school shirt?" questions. Organize clothes by sport, school function, and other category to save the time your kids would otherwise spend searching for an outfit to wear for the day. See more: 7 Smart Ways to Organize Your Kid's Closet
8. Organize Separate Areas for Work and Play
During school days, your kids will need places to do their homework, read, study, and play. Designate an area in which the kids can study, show their creativity, and be productive. If possible, keep media equipment, games, and televisions out of sight. This means devising a "play" area in another room to help kids avoid the temptation of goofing off while doing their homework. If you have a study desk area that is shared by family members, organize the space to allow each person to have his or her own spot and a storage location for supplies and belongings.
9. Get Your Bathroom in Order
If you look at the time spent in the bathroom by all family members, you will understand that there is a need to keep this room organized. In fact, after the kitchen, your bathroom and that of your kids should be given considerable attention in terms of organization. Determine which things to keep in your bathrooms and which things have overstayed their welcome. Organize toiletries for your kids and use fun-colored plastic bins to store younger kids' bathing essentials. Have built-in shelving for your older kids and teenagers where they can keep their styling products, makeup, and other accessories.
10. Now, Enjoy Your Organized Home
Every kid either hates or loves going back to school after the summer holiday is over, but an organized and well-kept home will benefit everyone, especially when school schedules are tight. Organize your home this season to help free up time. That way, you will have more time to spend with your family, attend your kids' events, and play with your kids in the backyard.
If you have learned something from reading these helpful back-to-school organization tips, now is the time to put it into practice!