8 Best Cheese Options for a Chicken Sandwich
Grilled chicken sandwiches are one of those perfect summer delicacies that are just to die for! Most of us don't even mind standing outside in the sunny, hot weather to relish this delicious treat. Some of the perfect companions for a summer BBQ chicken sandwich are tender seasoned chicken, cheese, lettuce, tomatoes, and crispy bacon to add a delicious and fatty crunch.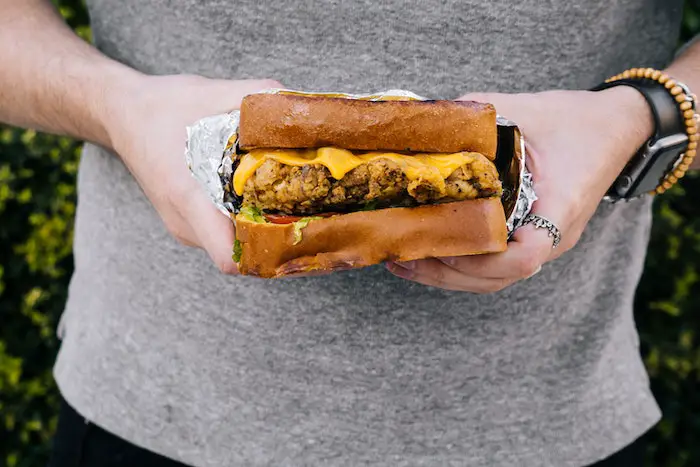 This amazing dish is truly versatile and all of its different variations incorporate different types of cheeses to enhance the taste and bring out the best possible flavor. Cheese is undoubtedly one of the most important ingredients that lend a prominent flavor to the final sandwich.
The best part of such a versatile meal is that you get to play with a wide range of options when it comes to choosing cheeses. You can go from the "plain Jane" simple ones all the way to the more sophisticated cheese choices available around the world to suit your sandwich's flavor combo.
In this post, we have composed a list of some of the best cheeses for a chicken sandwich. Read on to find out more about their unique tastes and flavors and how they can best pair with your ideal chicken sandwich.
#1. Brie
Brie is one of the most delicious cheese varieties that is best served warm and melty. The finest chefs like to use this decadent, melted cheese as a secret tool to create delicious chicken sandwiches. You may also choose to pair it with sweet apple butter for a nice complementary flavor.
#2. Mozzarella
Talk about mozzarella and the first thing that comes to mind is pizza. However, trust me when I say that this cheese can be just as satisfying when you put it between two slices of freshly grilled bread. This scrumptious selection of cheese pairs very well with scallions, veggies, cream cheese, and other seasonings.
#3. Goat Cheese
If you plan to grill your chicken and melt the cheese on top at the end, soft cheeses may not be so favorable. This is when you need the creaminess and bold texture of goat cheese. Goat cheese will give you a sensation like no other thanks to its unique flavor and fantastic texture. You can also combine the flavors of goat cheese and Brie with thick-cut crispy bacon to kick those flavors up even more intensely.
#4. Muenster
This is yet another variety of cheese, and it's one that has a slightly nutty flavor and adds a lot of texture to anything ranging from sandwiches and burgers to omelets. You can even pair this cheese up with salami and crispy fried potatoes for a delicious snack.
#5. Gruyère
Mostly known as the perfect cheese to pair with French onion soup or use in a classic fondue, Gruyère is a semi-soft, richly flavored cheese that reacts well to heat. It also pairs nicely with salty or sweet foods, such as a chicken sandwich or stuffed French toast.
#6. Provolone
This is the undisputed star of many sandwiches out there, and its rich and nutty flavor helps in complementing other bold flavors out there. It can also be paired well with cheddar, red onion, poblano chiles, mayo, tomato, and Dijon between two slices of bread.
#7. Old Canadian Cheddar
This is another go-to cheese for those who want restaurant-style, grilled cheese on their chicken sandwich. It has a nice, sharp, and tangy flavor with the ability to melt and give you that perfectly gooey texture with every bite. This version also goes with the classic Canadian combination of cheddar and bacon, and it also can pair well with some spicy Korean kimchi.
#8. Monterey Jack
This is a softer variety of cheese that comes with a comparatively milder flavor. Monterey jack cheese is a delicious alternative to cheddar, and it is typically used with chicken, roasted poblanos, chile relleno dishes, and can even be included alongside mushrooms layered between two slices of bread for a Mexican-inspired sandwich.
Other Things to Consider
Having listed some of the best types of cheeses you can choose for your chicken sandwich, here are some additional options for choosing healthy meats and a healthier variety of cheeses for calorie-conscious individuals.
So, first things first:
Healthier Meats
Two ounces of sliced beef can have around 1 gram of saturated fat, and the same size of beef cut from a Sunday roast with trimmed fat may contain 3 grams of saturated fat. When compared to chicken, the amount of saturated fat in 2 ounces of grilled chicken is nearly 0.5 grams. As a result, chicken and cheese make a much healthier combination compared to using beef as your primary meat choice.
Besides chicken, ham can also be a healthier meat option if you were to order the variety that has lower amounts of saturated fat. If you go for ham, we suggest that you choose the extra-lean ham that has far less fat than a single slice of regular ham.
Healthier Cheeses
If you are diet-conscious or calorie-conscious, we suggest that you familiarize yourself with the saturated fat content of the cheeses that are widely available. One ounce of cheddar cheese has about 9.4 grams of saturated fat, yet an ounce of Swiss and an ounce of Parmesan have 7 grams.
Ricotta made from skim milk has considerably less fat with only 2 grams in every one ounce. You may also substitute cheeses that are low in saturated fat while preparing dishes that have a mix of both meat and cheese. Examples of healthier alternatives with less fat that you may want to select are ricotta and parmesan if you are using beef or fattier meat.
Low-Fat Cheeses
If you are specifically looking for low-fat cheeses, we recommend Colby, which has only 1.2 grams of saturated fat. Also, an ounce of Swiss cheese has only about 0.5 grams of saturated fat. These varieties of low-fat cheeses may be used to substitute for higher-fat cheeses, and their use will help minimize the total amount of saturated fat in your recipes.
5 Tips for Making the Perfect Chicken Sandwich at Home
If you want to create a restaurant-style chicken sandwich right at home, we have some good tips to help you out. Read on to learn about some of the little things that can bring about big differences in your final meal.
#1. Let the chicken soak in buttermilk overnight
If you want your chicken to be soft and gooey so that it melts in your mouth, let it sit in a brine solution overnight. We suggest using buttermilk, which is a slightly acidic version of regular milk. You may also use any other acidic marinade—such as pickle juice or vinegar—that has a higher salt content.
When the chicken sits in the brine solution, the salt helps in dissolving the protein structures in the meat and starts loosening them up. This allows for the retaining of more moisture as the meat cooks. Also, brined meat loses 30-40% less moisture, so this will also keep the fried chicken far more tender by comparison to non-brined chicken.
#2. Remember to make cuts in the raw meat
Remember that the more cuts a piece of meat has, the tastier it will get because the sauces will penetrate more easily into it. Use a pair of kitchen scissors or a sharp knife to make cuts on the meat before marinating it in the sauce to bring out the best flavors.
#3 Use cornstarch for breading
To make your chicken extra crispy, we suggest that you add some cornstarch to your breading. This is a secret ingredient to make your chicken sandwich taste better. It also absorbs moisture and is gluten-free, making the dish overall healthier for those with digestive concerns.
Also, before frying, make sure you keep the marinated chicken in the fridge for another 30 minutes. This will bind the layers together even more and keep the crispy coating on the chicken during the entire frying process.
#4. Grate some cold butter
Besides cheese, make sure you also use softened butter to spread on the bread of your sandwich. If you do not have softened butter, you can simply grate cold stick butter and spread those shavings over the top and bottom of your bread slices before toasting to make the taste even better.
#5. Use an air fryer
We strongly suggest air frying your chicken for your sandwich instead of deep-frying it because this makes the chicken much more delicious and healthier, too. Using an air fryer to prepare the chicken for your sandwich can save you about 200 calories and 16 grams of saturated fat.
Also, remember to check that the chicken is fully cooked before removing it from the fryer. We suggest that you take its temperature using a meat thermometer. Make sure your chicken is always cooked to 165°F.
#6. Add your wetter sandwich ingredients last
Last but not least, make sure you spread the butter or cheese to the edges of each slice of bread to create a seal for the "wet" sandwich fillings. You may also try packing your high moisture ingredients such as pickles, tomatoes, and cucumbers separately if you're not planning to eat your sandwich immediately. Add these ingredients to the sandwich only when you are ready to eat to avoid any sogginess, and toasting the bread for your sandwich may also help avoid making the textures less appealing.
Related Questions
What goes best with a chicken sandwich?
To make your meal more filling and delicious, you can pair up your chicken sandwich with a green salad, a fruit platter, vegetable platter, cheese platter, chips, dill pickles, or macaroni salad.
What are some other popular meats I can use instead of chicken?
Besides using chicken for such a sandwich, you can also use other forms of poultry (like turkey) if you're primarily wanting a leaner protein source for your sandwich. If calories and fat are not a problem, you can't go wrong when using beef and simply making a burger since all of the same toppings always tend to be delicious when mixed together.
What condiments taste best with a chicken sandwich?
To bring out the best flavors of your chicken sandwich, you can pair up any number of these condiments in your sandwich to meet your specific taste requirements: chipotle mayonnaise, guacamole, pesto, honey mustard, and teriyaki sauce. Each of these sauce bases has its own set of other toppings that pair well to give your sandwich a delicious and cohesive theme with its flavors.
See Also:
What Does Demi-Glace Taste Like?
Is Greek Yogurt Chunky?
Is Defrosting Meat In The Sun Bad?
Do You Still Season Meat After Marinating?
Does Pancetta Smell Bad? Read This First!