4 Best Dutch Ovens For Deep Frying For 2023
When you are in the mood for a quick bowl of French fries or fritters, nothing works better than an enameled, heavy-bottomed Dutch oven. Yes, contrary to what some people may think, you can deep fry food in a Dutch oven better than any other cast iron cooker.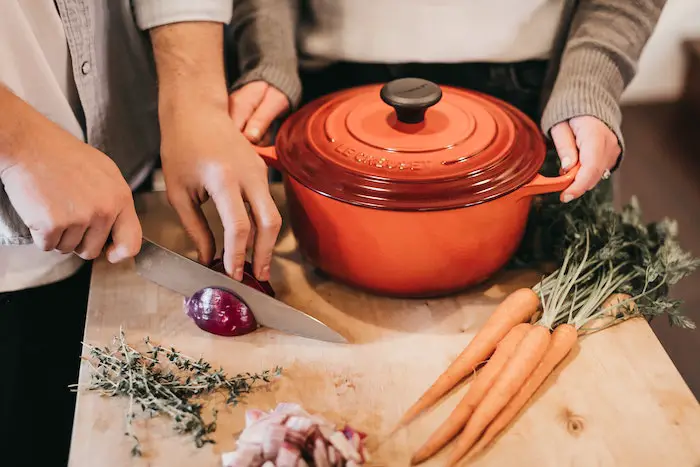 To use a Dutch Oven safely, you must always remember to heat up the pan slowly instead of putting it on a high setting. You should also remember this while heating oil to the desired temperature in order to avoid scorching the pan and maintaining steady heat.
Besides deep-frying, a Dutch oven can also be used for simmering soups, caramelizing vegetables, and baking bread. Hence, this is a versatile piece of cookware to have in your kitchen. As they don't come cheap, you need to be careful about choosing the right product from the various models available.
To make it easier for you, our review team has spent hours studying and analyzing the numerous products available online and comparing them with each other. After careful analysis, we have shortlisted some of the best Dutch ovens available online.
Read on to find the detailed reviews of each product handpicked by the team. If you are in a hurry to order then we recommend the Crock-Pot Artisan Round Enameled Cast Iron Dutch Oven (see Amazon) for its convenient design, multi-functionality, and compatibility with all types of stovetops.
When you want to cook in style in the most trusted and safest cookware designed for deep frying, check out the Le Creuset enameled cast-iron Dutch oven. It sports a long-lasting and colorful exterior enamel body that prevents cracking or chipping.
The cookware comes with 45% larger handles that give you a good grip, also when you have gloves or mitts on your hands. Made from sturdy and durable cast iron, the cookware is able to maintain an even distribution and retention of heat.
The lids are tight-fitting to encourage steam to circulate within and return moisture back to food. There is an ergonomic composite knob that can easily withstand a maximum temperature of 500ºF and the stay-cool handles are designed for easy lifting of the pot.
Product Features
Measures 10 x 10.75 x 4 inches
Weighs 11.44 pounds
5-1/2-quart French oven
Easy-to-clean and durable enamel
Compatible with all cooktops
Enameled cast iron
Light-colored smooth interior enamel
User/ Customer reviews
People are impressed with the elegant appearance of the pot while cooking or even when it is displayed. Some users have said that the light-colored inner walls let them look at what is going on at the bottom while cooking. Customers have also mentioned that the cookware retains heat really well and heats oil good enough for deep frying.
Conclusion
This is a well-designed and sturdily built cookware that looks great and also performs equally well on the stovetop. Baking or deep frying different types of dishes in it feels like a dream and the results are incredibly good. At this price, you get a versatile cooking pot that can be used for traditional as well as contemporary meals.
---
This attractive Dutch oven is made from superior porcelain enamel and heavy-duty cast iron to give it strength along with elegance. It sports a capacity of 5.5 Qt and comes with a lid to let you bake, boil, sauté, simmer, braise, and roast with ease.
The combination of enamel with cast iron ensures an even heat distribution along with improved heat retention to make cooking easier and safer. The cooking surface does not react to your food or absorbs the odor, making the cookware perfect for deep-frying, baking, or storing.
Thanks to the perfect-fitting lid, the steam does not escape and your food stays hot for longer. There are comfortable and wide handles too that let you enjoy a more secure and easy grip. The oven is compatible with different cooking surfaces and safe to use at a maximum temperature of 540 degrees F.
Product Features
Measures 9.8 x 8.2 x 3.8 inches
Weighs 6 pounds
Puricon Enameled Cast Iron Dutch Oven
Thoughtful and Practical Design
Quality Dutch Oven, Large Capacity
Round Ceramic Read Pot
Oven-safe to 540 degrees F
Handwashing with warm water
User/ Customer reviews
Many customers have said that they enjoy cooking in this Dutch oven as it can be used on the stovetop and then transferred directly into an oven without having to change pots. Those who have baked in the cookware have mentioned that the bread came out crispy and nice. A few have warned that the outer enamel chipped after a few months of use.
Conclusion
Puricon is a well built Dutch oven that looks great and works as expected when cooking or serving the cooked food. The pot feels heavy and sturdy so you can be assured that your investment will last for a good time. Maintaining the pot is easy as you just need to wash it with hot soapy water after soaking for a few minutes.
---
This is a 7-Quart Scarlet Red Artisan cookware from the house of Gibson Home, and it offers a non-stick surface that works best for deep frying. It also serves as an efficient slow cooker with a self-bating lid that creates an unremitting basting environment for even cooking.
We love how the Crock-Pot allows a wide range of cooking techniques and distributes heat evenly in order to ensure that food cooks to perfection. It also includes stainless knobs and oversized handles to give you a good grip and ensure proper mobility.
The cookware works on electric, gas, ceramic, and induction cooktops, along with the conventional oven. It can safely sustain a maximum temperature of 450 degrees. The best thing about using this product is that it can go from the stovetop, into the oven, and then to the tabletop with ease.
Product Features
Measures 13.5 x 12 x 10.75 inches
Weighs 4 pounds
7-Quart Scarlet Red Artisan Crock-Pot
Non-Stick Surface
Oversized handles and stainless knobs
Easy clean and rust-free
User/ Customer reviews
People love the way the pot looks and comes in exciting colors to add to the décor of your kitchen. Most users have said that they are able to use the cookware for deep-frying, baking, and a lot of other stuff, making it versatile in use. A few customers have mentioned that the instruction booklet says not to machine wash, hence it is wise to wash by hand.
Conclusion
This is a spectacular enameled cast iron Dutch oven that can sustain a lot of heat distribute heat evenly to give a perfect taste to every meal. It has a non-stick cooking surface and the exterior looks absolutely gorgeous. At this price, it is one of the best Dutch ovens money can buy.
---
When you wish to cook and serve in style, without having to use too many cooking pots, this enameled cast-iron Dutch oven comes in handy. It has a gorgeous deep blue color with a well-fitted lid and side handles. The cookware is also oven safe even at a high temperature of a maximum of 400 degree Fahrenheit.
As the cookware is made of cast iron, it is capable of good heat retention and ensures that heat distributes uniformly throughout the cooking area. The enamel has a non-stick finish and you can use the 5-quart cast iron Dutch oven to bake bread, roast meat, slow-cooked stews, and more.
As the Dutch oven comes in a wide range of attractive color options, you can choose the one that complements the kitchen décor. The manufacturer suggests users always use mittens, hot-pads, or potholders while removing or moving the cast iron cookware from the oven or stove.
Product Features
Measures 13.3 x 10.23 x 4.76 inches
Weighs 12.68 pounds
5-quart cast iron Dutch oven pot
Dual side handles
Non-stick enamel finish
Oven safe up to 400 degrees
Hand wash only
User/ Customer reviews
Customers can't help falling in love with the extremely glossy and attractive exterior that looks good on any kitchen countertop. Some people have said that the pot holds heat really well and it can be used for deep frying to perfect texture and taste without requiring a lot of cookware. A few users have said that the cooking pot does not help in holding the steam like competitor products.
Conclusion
AmazonBasics is a versatile and sturdy Dutch oven that can bake bread and let your deep fry with equal ease, so you have multi-purpose cookware at your disposal. This is definitely one of the kitchen essentials if you enjoy cooking a lot. Although some people think it's not so durable we feel that it offers a good value for money as long as it lasts.  
Related Questions
How to remove stains from your Dutch oven
First, fill the cookware with water to the mark where it covers the stains or food stuck on it, and then bring the water to boil. Now, add a few spoons of baking soda and allow the mixture to bubble away. You may use a spatula or wooden spoon to scrape off any blackened bits.
Why is Le Creuset so pricey
The Le Creuset is pricier than any other enamel coated cast iron cookware and has some fair reasons behind it. This is an old company that boasts about having a good reputation to an extent that they can easily trade on it. So, buying a Le Creuset pot is more like getting a pot for life.
See Also:
8 Best Pressure Canners For Glass Top Stove
8 Best Cookwares For Indian Cooking In USA
How To Toss Wings In Sauce?
Cheese Curds Vs. Mozzarella Sticks: Here Are The Difference