6 Best Air Fryers for Indian Cooking in USA For 2023
Healthy eating is perhaps one of the top priorities in every individual's life today. So, what if you are a fan of Indian food? How to enjoy the delicious pakoras, spicy potatoes, and tikka kebabs without indulging in too much oil? Yes, you got it right – the key lies in getting the best air fryer for Indian cooking in USA.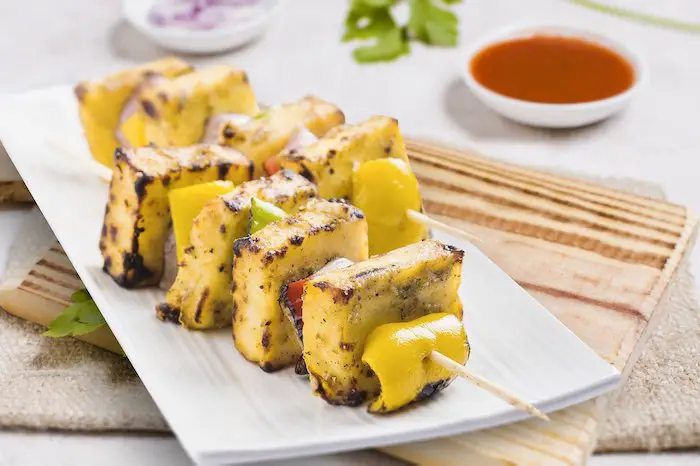 The best thing about air fryers is that you can cook a variety of Indian dishes using minimal fat and still enjoy the same authentic taste. As an advanced technology, it also considerably reduces the cooking time and prepares your meals in a more efficient manner.
If you are on a diet and trying to lose weight then buying an air fryer is one of the wisest investments you will make to achieve your objective. With an air fryer, you can eat to your content without having to reduce your food portion in order to check fat intake.
Getting an air dryer for Indian cooking in your USA kitchen is a great idea, but finding that perfect product is not an easy job. As the market is flooded with a wide range of brands and models, it's tough for an average customer to choose among them.
Don't be stressed because we have made the job simpler for you. We have scoured the Internet to find the top-rated products in terms of technology, efficiency, and design. After spending several hours reviewing, comparing, and analyzing the products, we have handpicked a few worth considering.
Read on to find our detailed review of each product that we have shortlisted after careful analysis. If you are in a hurry to order, we recommend the GoWISE USA 1700-Watt 5.8-QT 8-in-1 Digital Air Fryer that has a sleek and contemporary with a touchscreen menu, 8 cooking presets and lots of other cool features.
Designed in California, this square air fryer by COSORI is built to fit on your countertop and save some real estate. Made from stainless steel material, it features a non-stick basket and comes with racks, 5 skewers, and 100 different recipes that you can try.
The air fryer also comes equipped with a preheating function that is hard to find in other competitor models. It quickly improves the texture of food in just 2-5 minutes. The best part is 360°air circulation that helps in frying food using a little or no oil at all.
So, while you get the same authentic taste as a traditional deep fryer, the air fryer uses 85% less fat and food contains fewer calories. There are also 9 presets smart function that are suitable for most cooking needs and ensure a more even frying with independently controlled temperature.
Product Features
Measures 12.36 x 12.36 x 12.83 inches
Weighs 9.98 pounds
One-Touch LCD Panel
Adjustable Time & Temperature
Alarm Function
1 dual-layer rack and 5 skewers
9 presets and auto shut-off feature
User/ Customer reviews
Those who have used for the standard version and this one have remarked that this is a significant improvement over the earlier version with better features and performance. Some people have said that you can fit in more food in the square basket, and the fried food tastes different in a more pleasant way and feels healthier too.
Conclusion
Whether you are an Indian living in the USA or someone who enjoys cooking Indian dishes in their American kitchen, we strongly recommend this product. With COSORI Air Fryer (shop now), you can indulge your heart out in the pakoras, kebabs, steaks and vegetable fries without increasing your fat intake or cholesterol level.
---
This smart air fryer by Phillips is the ultimate solution for modern day cooks as it gives you the benefit of wi-fi connectivity with Alexa, proscenichome app, or Google Assistant at your command. Making healthy Indian delicacies gets easier as you can control the temp, schedule timings, adjust and monitor the process at your convenience.
By downloading the proscenichome app, users get access to a dozen custom recipes online at their fingertips. It works as a wonderful assistant for those who are learning how to cook as the air fryer does everything for them, plus it lets you customize your recipes and save them on the app.
This unique air fryer comes with a non-stick basket made from aluminum and with Teflon coating. It is easily detachable and dishwasher safe to make it a low maintenance product. The uses the advanced hot air technology to transfer high intensity waves in order to penetrate food from all sides and cook evenly.
Product Features
Measures 12 x 12 x 12.7 inches
Weighs 15 pounds
Non-stick and dishwasher safe basket
One-Touch LED Panel
Non-stick Basket
Auto Shut-off
Dishwasher safe
8 menus multi-functions
User/ Customer reviews
People who love Indian fritters but are also health conscious are extremely impressed with this air fryer that lets them enjoy what they love without any guilt. A few users have said that the basket is really big to fit in a lot of food, but it can be loud. Customers love the way this appliance looks and performs to give you crunch munchy fries in minutes.
Conclusion
If you are looking for an ultimate air fryer that lets you cook a lot of food with precision and perfect uniformity, then you must check out the PHILIPS Essential. This is a beautifully built appliance that looks great, and the touchscreen LED displays indicate the type of food you can prepare, plus the wi-fi connectivity makes it hassle-free.
---
The MICHELANGELO air fryer (see more) is truly called the magician of the kitchen for its amazing ability to work as a slow cooker, pressure cooker, steamer, and air fryer in one appliance. It combines air fryer and pressure cooker functions to convert your kitchen into an arena of cooking possibilities.
So, if you want the fritters and kebabs to come out crisp yet tender then MICHELANGELO's advanced technology using minimal oil can make this possible. The air fryer lid gives your food a golden finish with a crispy detail that tastes almost like an authentic oil fried one.
This combo appliance with 9 preset smart programs also gives you the freedom from having to memorize the recipes, as you can put the food on auto pilot. On the safety front, there are more than 11 built-in safety functions that include temperature control, automatic pressure, safety lock, overheat protection, and more.
Product Features
Measures 20.9 x 12.6 x 12.5 inches
Weighs 18.26 pounds
Unique Patented Technology
Capacity Meets Versatility
Advanced safety protection
Accelerated cooking time
Healthier Delicious Foods In One Pot
User/ Customer reviews
Users are thoroughly impressed with the latest design and advanced technology of this air fryer pressure cooker that combines smart cooking with a crisping machine for best benefits. Customers love the large capacity, non-stick copper pot, and smart cooking process that help in cooking a plethora of dishes within minutes.
Conclusion
The MICHELANGELO pressure cooker and air fryer combo (see Amazon) is easy to use and comes with a plethora of benefits that make cooking fun. Its sleek design helps in saving the kitchen counter space and lets you enjoy more functions at one place. Overall, we feel this is one of the best investments you will love to make.
---
This NINJA DZ201 Foodi 6-in-1 electric air fryer reduces the use of oil in traditionally deep-fried delicacies by 85 percent, while still maintaining the same authentic taste. It uses a dishwasher-safe and BPA-free frying pan instead of a fry basket, and the pan can easily cook food for 6-8 people.
If you love Indian food and enjoy hosting guests often then the one-touch preset function can help you cook a variety of dishes such as chicken, fish, steaks, shrimp, meat, drumsticks, French fries, and vegetables. Due to its compact size, the air fryer can easily fit into your kitchen countertop without taking a lot of space.
With this air fryer, the cooking time is considerably less than a conventional oven, with authentic taste and crispiness for all types of fried foods. We are impressed to know that the product comes backed by lifetime assistance from the MIMODAY customer support team.
Product features
Measures 10.5 x 10.5 x 11.8 inches
Weighs 14.47 pounds
160 E-Recipes
Nonstick Pan and Tray
LED Digital Touchscreen
2-year Warranty and lifetime support
User/ Customer reviews
Customers who have used the product have said that it is capable of cooking a variety of food items such as steaks, shrimps, potatoes, and wings to perfection. People have mentioned that as this is a huge basket, it can easily fit several wings at once. A few users have also said that unlike other holed baskets that are tough to scrub, this removable basket can be cleaned with ease.
Conclusion
This great looking and well-built air fryer let you cook a wide range of fried foods without having to sweat in a hot kitchen. With the help of advanced technology and multi-functions, you can make several Indian delicacies in less than half the time. Overall, we think this is one of the best air fryers to enjoy fried dishes in a healthier way.
---
When you want to enjoy your favorite Indian fried foods minus the calories then you must check out the GoWISE USA 1700-Watt. This 8-in-1 Digital Air Fryer is designed in a way to let you bake, fry, grill, and roast using just a little to no oil at all. From crispy fried chicken and pizza to steak and fries, this appliance has you covered.
This sleek and contemporary looking air fryer comes with a built-in touch screen menu that features 8 cooking preset functions. It also sports a wide temperature range that spans between 180 Fahrenheit and 400 Fahrenheit, with a cooking time of only 30 minutes.
There is a Start/Stop button that lets you adjust the temperature and time in between a cooking cycle. It includes a non-stick pan and a removable basket outfitted with a cool-touch handle to prevent any kind of accidental detachment. Customers also get a recipe book that contains 50 recipes that are specific to GoWISE air fryer.
 Product Features
Measures 13.5 x 12.5 x 11.5 inches
Weighs 4 ounces
5.8 qt cooking capacity
Feeds 4 people
Touchscreen display
50 recipes and a recipe app
1-year warranty and forever support
User/ Customer reviews
Most users have said that this air fryer looks spectacular and does a great job at helping you cook fried dishes with less oil. Some people have also mentioned that while this product is indeed wonderful, you need to make sure that you follow the simple instructions that come with it, or else you may end up damaging it in the long run.
Conclusion
The GoWISE USA 1700-Watt (see Amaozn) lets you enjoy your indulgent streak of Indian cuisine in your American kitchen, while it takes care of the calories. With a recipe book full of exciting recipes, you can enjoy something new for breakfast, lunch, or dinner. Overall, we feel this is a perfect gift for yourself or someone you love.
---
This sleek and smart Ultrean 8.5 Quart Air Fryer (see Amazon) equipped with 360-degrees rapid air frying technology lets you enjoy mess-free cooking using 80% less oil or fat. As a large family size multifunctional all-in-one cooker, this appliance can roast, grill, and fry your favorite Indian meals.
The large capacity of cooker lets you cook meals for up to 6-8 people and there are 7 cooking presets that let you do other work while the food auto cooks. With a bonus Ultrean recipe cookbook, you can find new and exciting recipes to treat your family and friends.
For the user's safety, the air fryer comes with overheat protection and auto shut-off to prevent any cooking/electronic mishaps. The manufacturer stands behind the product with a one year warranty and lifetime customer support to assist you in case of any concerns.
Product Features
Measures 18.31 x 14.02 x 15.22 inches
Weighs 18.96 pounds
Detachable Nonstick Basket & Pan
Dishwasher Safe & Easy to Clean
LCD display and soft buttons
Lifetime Support and 1-Year Warranty
Easy to Use and Safe
User/Customer reviews
Most users have said that they bought it to use for side fries but ended up using it extensively for making a lot of other things. People not only love the sleek and stylish appearance of the unit but its performance also feels impressive. Some customers have also said that it works faster and better than their jetstream oven.
Conclusion
If you are in the market looking for a compact air fryer that can fit perfectly on the countertop and cook a lot of Indian deep-fried delicacies using less fat or oil then this is a good choice. At this price, the kind of performance offered by Ultrean 8.5 Quart Air Fryer is absolutely unbelievable.
---
5 Things To Consider Before Getting An Air Fryer For Indian Cooking In USA
If you are thinking of getting an air fryer to cut back on fat or oil while ensuring that your Indian deep-fried fritters and kebabs come out perfectly crispy, then here are a few things to consider. While all the products mentioned above are carefully selected, take a look at these aspects before finalizing one:
The right size
Please be aware that not all sizes will sit well on your countertop and if you go for a very small size, it may not be enough for your needs. Hence, check the capacity and dimensions before choosing a product. Most average fryers in the market can accommodate 2 pounds of food.
Watts consumption
No matter how good an air fryer is, it won't be of much use unless your kitchen outlet supports the kind of watts consumption it requires to function. For a standard air fryer, the kitchen outlet should support between 800 and 1500 watts.
Temperature control
The air fryers usually cook at a higher temperature to ensure that the food cooks well without absorbing too much oil. However, let's not forget that the ability to control temperature can have a decisive effect on your final result so choose wisely.
Safety
We can't emphasize enough how important the safety features are when you deal with an air fryer. Hence, we suggest that you look for a properly insulated air fryer with cool-touch handles or grips so that your hands don't get burned when trying to take the basket out.
Extra features
There are some air fryers that can be used as a more versatile kitchen appliance. So, look for units that can also be used as a pressure cooker, rotisserie cookers, instant pot, or oven. This can save you the hassle of having too many appliances on the countertop.
Related Questions     
Can I put my air fryer on a countertop
Yes, absolutely. They should ideally be kept on a level and heat-resistant countertop with an exhaust vent that operates properly. You must also ensure that there is a 5-inch space behind the air fryer while using it.
What you must never put in an air fryer
An air fryer works best for making fried foods, cookies, bacon, and also preparing frozen food. However, you should be careful about not putting over-seasoned food items in the fryer. You must also avoid wet batters and cheese items.
See Also:
5 Best Range Hoods For Indian Cooking
6 Best Mixer Grinders For Indian Cooking In USA
9 Best Blenders For Diverse Indian Foods