7 Best Water Filters For Apartments for 2023
When you move into apartment, there are a few things that will need your immediate attention and one of them is safe drinking water. Buying a good quality water filter is one of the most important investments you will make to ensure a healthy home for your family.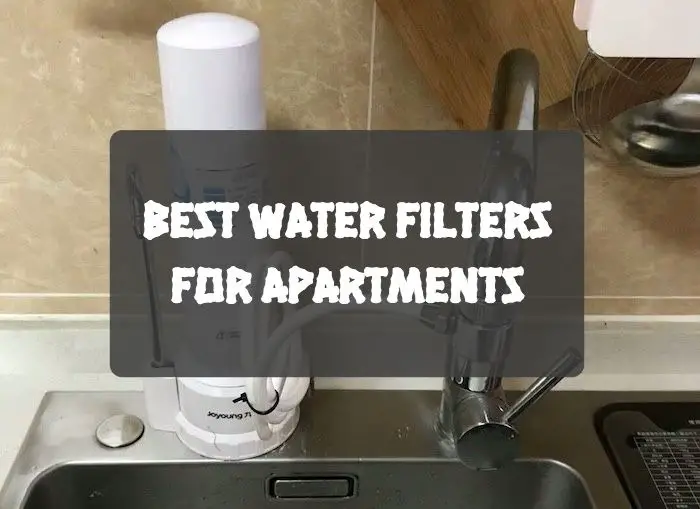 There are many perks associated with filtering tap water. It not only removes contaminants, sediments, chemicals, pesticides, heavy metals, and makes tap water healthier to drink, but also improves the taste. A better tasting water may encourage you to drink more often and stay hydrated.
If you are in the market looking for the best water filters for apartments, it's natural for you to get confused with a wide range of options available. It is not an easy job to pick one product from a plethora of different filtration methods, features, and price points.
The requirements may also change depending on whether you are a small apartment dweller, a renter, a bachelor, or a large family. We have done hours of research to hand pick a few models for people with different needs. Read on to find out unbiased reviews to help you make a quick decision.
If you don't have the time to read till the end, we suggest that you go with our editor's pick – Home Master TMAFC-ERP Artesian RO Water Filter System. It comprises 7 stages of filtration to remove 98 percent of chemicals, minerals, and contaminants to yield up to 2000 gallons of fresh, tasty, and healthy drinking water.
| | | | | | | | |
| --- | --- | --- | --- | --- | --- | --- | --- |
| Features | Apex | Cleanwater-4less | Aquagear | Engdenton | Home Master | Culligan | AQUASPREE |
| Dimensions | 6 x 6 x 14 inches | 5 x 5 x 9.5 inches | 11.5 x 11.4 x 6.6 inches | 5.8 x 4.8 x 3 inches | 12 x 16 x 20 inches | 3.5 x 5.5 x 6.8 inches | 12.2 x 11.8 x 21.2 inches |
| Weight | 5 pounds | 3.55 pounds | 3.02 pounds | 1.55 pounds | 14.5 pounds | 0.8 pounds | 9.2 pounds |
| Style | Countertop system | Countertop system | Water Filter Pitcher | Faucet Mount | Undersink | Faucet Mount | Countertop system |
| Manufacture | Made in the USA | NA | Made in the USA | NA | Made in the USA | NA | NA |
| Filter capacity | Up to 750 gallons | 10,000 gallons | 150 gallons of water | 320 gallons | 2000 gallons | 200 gallons | 500 gallons |
---
This countertop water filter comes from the house of an American manufacturer committed to providing customers with safe and healthy drinking water since 1997. It is designed to remove tap water contaminants such as sediments, mercury, chlorine, and radon. It can also filter out Giardia cysts, Cryptosporidium, and pesticides that are responsible for water-borne diseases. The filtered water is not only healthier but also tastes much better. Each product has the capacity to filter up to 750 gallons of clean and delicious drinking water before you need to replace the filter.
We love that the Apex water filter is designed to sit on your countertop without requiring any extensive installation. It can be easily connected to any standard kitchen faucet using necessary hardware that ships along with the product to enable you to do that installation work. If you have moved to a new apartment, this is a safe and cost-effective solution to wasting money on disposable bottles of filtered water. It also saves the environment as it eliminates the need for plastic bottles. APEX strictly follows the National Safety Foundation's standards for water filter safety.
Product features and specifications
Measures 6 x 6 x 14 inches
Weighs 5 pounds
Adheres to NSF and the FDA guidelines
Do-it-yourself installation
Up to 750 gallons of drinking water
Cleaner and smoother drinking water
User/ Customer reviews
Users are happy that APEX filter does not strip water of all essential minerals, but instead adds some to keep water ph level between 7.3 and 8.5. People are happy with the taste of the water and how easy it is to install the filter unit. A few users have cautioned about the unit not opening up when it was time to replace filter after six months of use.
Conclusion
If you live in a small apartment, this compact shaped countertop filter (shop now) is a great option for you. It takes less space and gives you freedom from disposable plastic bottles. What's more? The water tastes much better too. You get a lot more than what you expect at this price.
---
If you are a bachelor and need a quick fix that requires less installation work for safe and healthy drinking the check out this countertop water filtration system. It has a stainless steel finish on the exterior that looks great in the kitchen.  The filter system mainly comprises of granulated activated carbon that reduces 97% chlorine, and effectively filters volatile organic compounds (VOCs) and other sediments (sand, dirt). It also removes any bad odor and improves the taste of drinking water.
The product includes pre-filters and easy instructions to do a quick DIY-installation. It comes with a stylish diverter valve that can be straight away attacked to any standard tap, without the need for any extensive installation work. You do not require any additional tools and the filter gives you 10,000 gallons of fresh drinking water to liberate you from having to use plastic bottles. The manufacturer stands behind its products with the promise of solid customer service since 1979.
Product features and specifications
Measures 5 x 5 x 9.5 inches
Weighs 3.55 pounds
Easy-to-install Diverter Valve
Granulated Activated Carbon
Stainless Steel finish
97% Chlorine reduction
Countertop Water Filter Housing
Lifetime customer service
User/ Customer reviews
Most buyers are happy with this smart and sleek water filter that needs no extra installation work to perform. People love the taste of filtered water and the unit easily filter about a gallon of water in a minute. Unlike other small water filters, the water flow is really good as the faucet forces water through it. A few users have cautioned about leakage in the lower housing unit and filter spitting carbon chunks.
Conclusion
If you are temporarily living in an apartment and need a simple but good unit that can give you clean and healthy drinking water without the hassle of extensive installation then this countertop water filtration system (learn more) works best. At this price, you get a sturdy and well-designed water filter that offers good value for money.
---
When looking at the best water purifiers for apartments, a few things to consider are portability, compact design, durability, and you will find them all in this Aquagear Water Filter Pitcher. Made in the USA, this stylish and premium water filter used 100% FDA-approved, food-grade, and BPA-free materials for construction. We are impressed to know that the filter is pure vegan and fully recyclable, which makes it environment-friendly. The filter is also rigorously tested to meet and exceed NSF Standards for reducing contaminants like chlorine, mercury, copper, and lead.
If you are renting an apartment, the Aquagear Water Filter Pitcher is a quick and easy solution as it requires no installation work. It comprises of three high-quality filters to give you 150 gallons of clean and healthy drinking water. The filters last 3-4 times longer than the competitor products, thus brings you good savings and reduces 2000% more contaminants. It also removes other sediments while keeping a good trace of healthy minerals such as magnesium and calcium. The manufacture provides same-day customer support and lifetime-guarantee for replacing filter pitcher if it breaks.
Product features and specifications
Measures 11.5 x 11.4 x 6.6 inches
Weighs 3.02 pounds
Removes over 50 VOCs
100% BPA-free, vegan, and recyclable
Five-stage filtrations
Triple Capacity Filters
Lifetime customer guarantee
Same-Day support
Made in the USA
User/ Customer reviews
People love the built and compact design of the water filter which makes it perfect for a kitchen with less counter space. Users have mentioned that the installation is quick and easy, and the water tastes much better than what you get in bottles. A few users have cautioned that the chlorine smell remains in the water and filtration becomes slow after a few months of use.
Conclusion
If you have just shifted to a new city apartment and are looking for a quick solution for filtering water before you get a more expensive water purification system then this is a good choice. It is certainly more cost-effective than buying water bottles from the supermarket. However, we don't think this can be a long term solution or usable if you have a large family. Good for bachelors or couples.
---
If you give ease of use priority over other things then we would recommend that you choose the Engdenton faucet water filter. Made from high quality and food-grade stainless steel material, this product is sturdy ad lasts for long. It contains the latest activated carbon fiber filtration technology to remove dust, dirt, sediments, prevent bacterial growth and improve the taste of water. The swivel 360-degree design of the filter enables users to adjust the faucet angle to enjoy a clean and purified water fountain at home
We are impressed with the performance of the product as it gives you fast water flow – 8 cups of clean water in a minute. Installing this faucet water filter is a breeze, and it works great for small apartments that do not have much space in the kitchen countertop. However, this filter can only be attached to the standard faucets so make sure you check your faucet type before ordering. The maximum life span of Engdenton water filter is 320 gallons and it can last for 6 months.
Product features and specifications
Measures 5.8 x 4.8 x 3 inches
Weighs 1.55 pounds
Stainless-Steel housing
0.5um filtration accuracy
10 times filtration ability
0.5 GPM high water flow
Swivel 360 degree
304 stainless steel
ACF technology and filter design
User/ customer reviews
People are impressed by this all-metal water filter which makes it look attractive and matches the kitchen décor. Users are pleased with the performance as the water comes out clean and odorless, but with a better taste. Many customers have mentioned that the pressure is so good that they had the water splashing out of glasses and cups.
Conclusion
If you are looking for a stylish and durable faucet water filter that can be directly installed on the tap without comprising with counter space then the Engdenton is a good choice. The filter is not only well-built but also comes at a great price.
---
If you are looking for the best RO water purifier system then look no further than the Home Master TMAFC-ERP Artesian. The innovative design and advanced 7-stages filtration system provide solutions for the most common issues associated with traditional RO systems. The unit is capable of removing up to 98 percent of hazardous chemicals, sediments, and contaminants responsible for waterborne illnesses. It also adds essential minerals like magnesium and calcium that lends a great taste to water. It is capable of giving you 2000 gallons of clean and purified water before you need to change the filter.
The water purifier comes equipped with an inbuilt non-electric permeate pump that boosts water production by 50 percent and the water flows much faster. It also reduces water wastage by 80 percent, thus it is also environment-friendly. Made in the USA, the product includes an innovative all-in-one design wherein the filter is incorporated into the filter housing, so the entire filter is disposable after 12 months. The annual Filter changes are quick, painless, and easy to do by self. We love the fact that the manufacturer stands behind the product with a 5-year limited warranty.
Product features and specifications
Measures 12 x 16 x 20 inches
Weighs 14.5 pounds
Built-in non-electric permeate pump
Five-year limited warranty
Long-lasting filters
Improved RO system
2000 gallons of clean drinking water
Made in the USA
User/ Customer reviews
People who had been wasting a fortune on water bottles find this a cost-effective, healthier, and eco-friendly alternative. Most users have mentioned that they were able to do the installation by self with a few tools and there weren't many plumbing changes required. The clean water and delicious taste from this RO filter are highly appreciated.
Conclusion
Good quality speaks for itself and it holds true in this case. If you are choosy about the quality of water and need an RO water filter then this is a great choice. Overall, it has everything you could possibly ask for in the best water filtration for apartments.
---
If you have a small kitchen and don't want to use any countertop real estate for a water filter then take a look at the Culligan FM-15A. This is a faucet mount water purification kit that is compactly designed and can be directly installed over any standard faucet without the need for tools. You just need to pull the diverter valve stem when you need unfiltered tap water to do the dishes and pull it again to switch to healthy drinking water. Besides removing the unwanted chemicals and minerals, this water filter can also reduce giardia cysts, cryptosporidium, sediments, and bad tasting odors.
When it comes to performance, we are impressed to find that this advanced filter mount gives 0.5 gpm water flow rate at 60 psi. The unit includes a FM-15RA filter cartridge that is capable of giving you a full 200 gallons of filtered water or two months of clean drinking water before you need to replace the filter. If you are worried about the authenticity of this tiny device then let me assure you that it is properly tested and certified by the NSF International and complies by the ANSI Standard 42 and 53. The water purification kit includes adapters to fit into all standard sink nozzles.
Product features and specifications
Measures 3.5 x 5.5 x 6.8 inches
Weighs 13.4 ounces
200-gallon water filter
2 year limited warranty
No-tools-needed installation
Pressure Range: 30-100 psi
Temperature Range: 40-100 degrees
User/ Customer reviews
Most users who were looking for a quick solution to avoid lugging heavy water jugs from the store found this product extremely useful. People are happy with the ease of use as it takes just a few minutes to install the system and you are done. Customers also find the water flow and taste really good. A few users have mentioned that the replacement filters are expensive but that's why they generate profit out of a very reasonable product.
Conclusion
If you don't want to get into elaborate water purifications systems and wish to get a device you can mount directly on the faucet without compromising with the kitchen counter space then this is a good solution. At this price, you get good value for money.
---
This countertop water filter comes from the house of AQUASPREE and it involves a seven-stage filtration system to bring you a reliable source of healthy and pristine alkaline water. We are impressed to discover that this unit recreates nature's method of purifying water. Each drop of water is gravity fed and slowly comes in contact with the filters, minerals, magnetic fields, and ionizers to remove traces of heavy metals, minerals,  VOCs, sediments, and contaminants. The unit houses a ceramic filter that works in sync with the magnetic device and maifanite filter to give you safe drinking water.
By opting for this eco-friendly, recyclable, and BPA-FREE filtration unit, you not only save the planet from more wasted plastic bottles, but also ensure your family's health. The compact design of the water filter makes it easily portable and you can keep it anywhere in your kitchen, office, cabin or dorm. We love the fact that this filtration system requires no complicated installation or plumbing work. The upper tank holding capacity is 2.1 gallon and the storage tank is 3.2 gallons. The ceramic filter has a life span of one year or 1000 gallons.
Product features and specifications
Measures 12.2 x 11.8 x 21.2 inches
Weighs 9.2 pounds
7-stage filtration system
Countertop water purification system
Eco-friendly, renewable source, BPA-Free
Meets WHO standards
User/ Customer reviews
Many users have remarked that their family members have started drinking more water as the filtered water tastes so good. People find it extremely easy to set up the unit and the idea of having multiple filters at work is highly relieving. A few users have cautioned that the unit is bulky for a small kitchen as it takes a lot of counter space.
Conclusion
We love the simplistic yet stylish design of the purifier, however, it takes a good amount of real estate, hence it works best for large apartments with spacious kitchen. If you are looking for a robust and well-built filtration unit to get clean and safe drinking water then this is the right solution. Overall, it gets a thumbs up from us.
---
Best Water Filter System For Apartment – Buying Guide
As cities expand and people flock to the metros for better education and job opportunities, the apartments shrink in size to accommodate the increasing population. Unless you rent or buy a really spacious apartment, expect your city apartment to have a small kitchen. Hence, your most space-saving and cost-effective water filter option is a countertop water purifier. Let's take a look at the things you need to consider before buying one.
Things to consider before buying the best water filtration system for apartment
Type of filter:
When you are in the market for a countertop purifier, you will need to choose between the two types of filters – water filter pitcher and faucet filters. The pitchers are not connected to the faucet and you need to fill tap water manually. You can keep them on the kitchen counter just like other appliances but the biggest disadvantage is that you lose some real estate.
Faucet filters, on the other hand, are directly attached or mounted on the faucet. These devices are highly efficient, easy to install and use. Unlike pitchers, you don't need to fill water regularly, hence it saves time and effort. The biggest downside of using faucet filters is that you can't tell how much water they have already filtered, hence makes it hard to guess the time for periodic maintenance.
Size of the water filter:
This is an important factor to consider because they come in all shapes and sizes. When looking for a countertop pitcher filter, make sure there is enough space in your kitchen to accommodate a new device. In case of a faucet filter, it may be fitted beside the faucet, on the sink or kept on the countertop.
Some of the filters have very small capacity so it can be fitted anywhere. Others may be too large to accommodate on the kitchen counter. When determining the size of the water filter, consider both the capacity of water it can hold and the amount of countertop space you are able to sacrifice for the unit.
Filtration Capacity
All the best water filters we have reviewed above are capable of removing chemicals, heavy metals, sediments, and bad odors. However, all filters are not created equally to be efficient at removing the same elements in tap water. Some are better at removing chlorine while others do a good job of adding essential minerals to the water. There are some models that may do a better job of reducing odor.
To choose the best water filter for your apartment, buy a water test kit that will tell you that pH level of water available in your area. It measures water's hardness, mineral concentration, and level of contaminants. Once you know the harmful elements in the water, you can look for a suitable filter system that removes them.
Filter Maintenance
Installing a water filter is just the first step to ensuring good drinking water. No matter what type of filtration system you use, they will require regular maintenance to stay in optimum condition. You must keep an account of the amount of water used and replace the filters at regular intervals.
Some of the expensive models will require the filters to be changed in every four months, while the cheaper ones will give you a time span of eight months or so. In some models, multiple filters are used for various stages of filtration and you will need to eventually change all of them.
Ease of use
As water is something that you need all the time, you must consider the ease of use of the filtration system. As a rule of thumb, the faucet filters are more convenient to install and use than the pitcher ones. Unlike the pitcher models, the faucet filters are installed close to the tap so you just need to turn on a switch to start getting filtered water.
Pitcher filters may be a hassle to use as they need to filled with water manually. If the tank capacity is slightly bigger, this will not be too much of a daily hassle. However, even 5 gallons of water can be consumed faster in a large family or a busy office. So, consider these points before choosing a product.
Related Questions
How to find out if the water is clean enough to drink?
If you are using the communal water then you should be able to find an online report regarding the water quality in your town/state. Those who are using water from private sources should be able to tell the difference by smelling or simply looking at the clarity of the water.
A popular way of knowing the water quality is by investing in a home water-quality testing kits like this that are easily available at local medical shops. These kits contain strips that will change color when they come in contact with water, depending upon the level of contaminants.
What happens if I don't change the water filters?
If you don't change the water filters on time or as specified by the company, you will notice that they start to wear out. As time passes, it will become less effective at filtering out the impurities and the health of your family may be compromised. 
Related Articles:
Best Air Purifier For Small Room Reviews
Can An Air Purifier Help You Sleep Better?
Can I Use Air Purifier With Window Open?