If someone in the family has cold or flu, it's normal for others to fall sick too because the microscopic bacteria and viruses are airborne. As the air contained within a home is restricted with nowhere to go, others breathe this contaminated air and fall sick. Does that mean we have no way to escape?
Thankfully there is a solution. You can circulate the air within the house and remove bacteria and viruses with an air purifier. Yes, these devices not only filter out the dirt, dust, and pet dander but are also capable of capturing the air-borne microscopic germs.
So, if you want to look for the best air purifier for bacteria and viruses then you have come to the right place. We have reviewed some of the top-rated products based on their features, performance, and customer reviews to help you make your choice.
If you wish to learn about what you should control the spread of germs within the house then take a look at the useful tips and information below. Now, grab a cup of coffee and read on to find unbiased reviews of the air purifiers handpicked by our team.
Those who don't have the time to go through all the reviews, we recommend that you choose the IQAir HealthPro Plus (learn more) as it is capable of filtering germs as small as 0.003 microns and cover an area of up to 1125 square feet. It can remove 99.5% of the bacteria and viruses to give you a healthy indoor environment.
---
This is a medical-grade air purifier from the house of IQAir and is equipped with the HyperHEPA filtration technology capable of trapping ultrafine particles as small as 0.003 microns. It can remove microorganisms that are ten times smaller than a virus. Numerous performance tests have revealed that the IQAir HyperHEPA filters are capable of removing about 99.5% dust and germs to give you unparalleled protection from the airborne bacteria and viruses. We are impressed to find that the medical-grade filters used in the product are 100 times more effective than the HEPA air purifiers.
Besides its powerful filtration capacity, the IQAir air purifier (learn more) also covers an impressive room size up to 1,125 sq ft. The company's patented 3D UltraSeal technology perfectly seals the filter frame to ensure that air does not escape. It includes a maintenance-free motor and a new edition fan capable of delivering up to 300 cfm air flow using just 27 watts at a low setting and maximum of 215 watts at the highest setting. With sophisticated and easy to use controls, this air purifier is designed to ensure a healthy and safe environment in your home.
Product features and specifications
Measures 16 x 15 x 28 inches
Weighs 35 pounds
Swiss-made purifier
Triple-Seal technology
New Edition fan
Even Flow Diffuser
Removes ultrafine particles
Covers up to 1,125 sq ft
Rated no. 1 for allergies and asthma
User/ Customer reviews
Most buyers are happy with the results as the purifier removes chemicals, dust, and airborne bacteria and viruses with great effect. Users have mentioned that the filters last for a long time depending on use, so this is a cost-effective product and electricity consumption is also low. People love the compact design of the model and the ease of with it can be moved due to caster wheels.
Conclusion
If you are looking for a powerful air purifier (see Amazon) capable of cleaning the air in the entire house and reduce air-borne germs to the extent that you see an improvement in your family's health then invest in this product. At this price, this is a really well-built and great performing product.
---
If you wish to create a happy and healthy haven for your family then consider safeguarding the environment with IQAir medical-grade air purifier. Fitted with a powerful HyperHEPA filter, it is capable of filtering out ultrafine particles including bacteria and viruses. This Swiss-made model contains an activated carbon filter in the GC MultiGas that has the power of 100 gas masks combined together. With its superior filter design, the product is often rated as the best in the industry to remove gases, chemicals, and bad odors.
The well-designed cylindrical form of the GC MultiGas cartridges ensure maximum contact between the air and the filtering agent. Triple-seal technology protects the filter frame and prevents air from leaking out. Users get up to 300 cfm of good airflow, free of allergens, viruses, chemicals, and VOCs. As a medical-grade air purifier, it is 100 percent more powerful than standard HEPA air purifiers and capable of trapping particles as small as 0.003 microns. It gives you a coverage of up to 1,125 sq ft, which is enough for most houses.
Product features and specifications
Measures 16 x 15 x 28 inches
Weighs 29 pounds
Covers up to 1240 sq ft
HyperHEPA filters
Medical-grade air filtration
Triple-Seal technology
27 watts-215 watts use
New Edition fan
Delivers up to 300 cfm
User/ Customer reviews
People who are allergic and live in areas with a  high level of pollution and germs find this product extremely useful in turning the house into a safe sanctuary where they can breathe with ease. Users have said that they have experienced a reduction in those incessant sneezes in the morning, frequent illness and bad odors lingering in the house. People are also happy with the sophisticated controls, schedule times, and speeds that enable them to turn the machine on/ off depending on the requirement. 
Conclusion
If you have respiratory problems or live in an area with high pollution then consider investing in IQAir (learn more) to ensure a safe and healthy environment for your family. Although slightly more expensive than other competitor products, it delivers an unmatched and powerful performance that justifies the price.
---
When you want the best air purifier to remove bacteria and viruses, you need something more powerful like the Medify MA-14 medical-grade filtration (shop now). It comes fitted with a H13 true HEPA filter that is rated higher than other true HEPA filters and is capable of removing 99.97% of ultrafine particles in less than an hour. With the medical-grade Medify, you can protect your family from lint, pollen, dust, mold, lead dust, dust mites, smoke, dander, bacteria, and disease-carrying viruses more effectively than before. It boasts coverage of up to 117 sq. ft. in 15 minutes, 200 sq. ft. in 30 minutes, and 470 sq. ft.in an hour.
This MA-14 medical-grade filtration system comes with three different fan speeds, and easy controls like sleep mode, and blue night light. The lightweight design of the air purifier makes it easy to move the device from one place to another. We love the filter replacement indicator that tells you when it's time to change the filter. We are impressed to find that the product comes backed by a USA registered Lifetime Warranty, which makes it a no-risk purchase.
Product features and specifications
Measures 12 x 8 x 8 inches
Weighs 4.4 pounds
H13 HEPA filter
Covers up to 470 Sq. Ft.
Traps 99.97% pollens, dust, and germs
CADR of 120
3 Fans Speeds
Optional night light
User/ Customers reviews
Users find this tabletop air purifier smart looking and easy to use out of the box. Most people have said that they experienced an immediate improvement in the air quality after installing this device. People with severe allergies who prefer to sleep with the air purifier working find that the ambient night light and whisper mode doesn't interfere with their sleep.
Conclusion
If you are looking for a medical-grade air purifier that actually does what it promises and can potentially reduce bacteria and viruses in indoor air then you must consider buying the Medify MA-14. Overall, this product delivers a great price to performance ratio, plus the lifetime warranty takes the stress out of your buying decision.
---
This smart, sleek, and stylish air purifier from the Blue Pure stable (see Amazon) is built on a 3-part filtration system to capture about 99% of common airborne pollutants such as allergens, mold spores, odors, virus, pet dander, and dust mites. It includes two washable pre-filters with each unit designed to capture large particles like pet hair and dust particles. The activated carbon filter absorbs any bad odor caused by pets, smoke, cooking smells, VOCs, wildfire smokes, and so on. We love the fact that the two pre-filters are washable hence it reduces the maintenance cost of the product.
The Blue Pure 121 is designed in a way to draw air from all sides and the enhanced filtration ensures that no pollutants escape the 400 cubic ft/min CADR cleaning power. It can easily cover a large room between 600 and 700 square feet. Even if you use the air purifier on the highest speed setting, it consumes only 60 watts energy, hence the product is highly energy efficient. The advanced air filter ensures a higher airflow with a low noise level.
Product features and specifications
Measures 13 x 13 x 28.2 inches
Weighs 18.2 pounds
3-part filtration system
Up to 700 sq ft
3 Fan Speeds
Recyclable filters
Replacement every 6 months
Removes 99% of pollutants and allergens
Two washable pre-filters
User/ Customer reviews
Those who have used the product have remarked how useful it is at removing the strong stinking smell and reducing the allergens in the air. Some users have mentioned that within weeks the pre-filter was coated with immense amount of dust which shows that the product works really well. A few users have cautioned that it isn't very effective on VOCs but otherwise improves air quality.
Conclusion
If you are looking for a compact and stylish air purifier from a reputed brand, Blue Pure 121 does a great job. With two pre-filters and a carbon filter, it is capable of removing allergens, pollutants, and bad odor in a large room. Overall, we feel that this product has everything it needs to be one of the best air purifiers for bacteria and viruses.
---
With the highest CADR value, medical-grade H13 HEPA 3-stage filtration, and area coverage of up to 3,700 sq ft, Medify MA-112 (learn more) has all the ingredients to be the most effective air purifier to fight against bacteria and viruses. The model intakes air from both sides and releases clean and purified air in 360 degrees to promote good airflow. There is a simple touch panel that has buttons to allow for simple settings and adjustments such as fan speed and programmable timer. You can set an eight-hour timer to run the device only on a specific period and save energy.
The Medify MA-112 has four fan speeds so you can adjust them as per the air quality or run the device on auto mode to allow the sensors to adjust itself. The unit is capable of cleaning 1,250 sq ft in 15 minutes, 2,500 sq ft in 30 minutes, and 3,700 sq ft in an hour. When you turn on the sleep mode, lights become dim and fan speed slows down for a low noise operation. We love the design of the hidden wheels that makes it easier to move the product from one room to another. The product is Energy Star certified and  the manufacturer stands behind the product with a USA registered lifetime warranty
Product features and specifications
Measures 13 x 15 x 28 inches
Weighs 32 pounds
H13 HEPA filter
CARB, ETL & Energy Star certified
110 Volt units
Highest CADR 950
Touch screen panel
4 fan speeds
USA registered Lifetime Warranty
User/ Customer reviews
Users have expressed their satisfaction on how well-built this air purifier is and how quickly it improves the air quality within the house. People with allergies have not only experienced improvements in their symptoms and reduction of bad odor, but also improved sleep. A few users have mentioned that the product is not that effective in removing VOCs.
Conclusion
If you are looking for a powerful air purifier capable of improving air quality in a large space then we recommend the Medify MA-112. Although it comes with an ionizer too, it can be turned on or off as needed. It works best for large living areas, offices, and the basement. Although the product is expensive, the performance is worth every penny.
---
If you have several family members then you need an air purifier that is capable of cleaning the air faster and the Alen BreatheSmart does a great job in this regard. It is capable of purifying the air in a range of 700 sq ft in every 30 minutes, which two times faster the competitor purifiers on high speed. The sleek and compact design makes it possible to fit in any space in the bedroom, living area, office, or basement. Equipped with a true high-quality HEPA filter, it is capable of capturing 99. 97% of airborne particles as small as 0. 3 microns. However, the filters need to be changed every 3-5 months.
The Alen BreatheSmart ( learn more) does a commendable job at removing dust, dander, allergen, mold spores, bacteria, viruses, and bad odor. The HEPA Silver filter is highly effective at trapping germs and fungi and other diseases causing microscopic organisms. We love the special 'lights out mode' that you can activate when you go to sleep and the lights will turn off to give you peaceful sleep. When it comes to energy consumption, it surprises us with 36 Watts even on turbo speed. So, at the lowest setting, you use only 50 cents per month for electric consumption.
Product features and specifications
Measures 19 x 16 x 28 inches
Weighs 21 pounds
Covers up to 700 Sqft
True HEPA Filter
4 Fan Speed Settings
115V Power Supply
99.97% of airborne particles
36 Watts electric use
User/ Customers reviews
There are mixed reviews for this product because many people have said that they experienced a difference in their allergic symptoms, and there are others who were not impressed. Again, while some people feel that it does not interfere with sleep, some others caution that they make a disturbing whiny noise and emit a slight smell.
Conclusion
One of the things we like best about this air purifier is that it's so much moiré sleek and compact. It does not take up a lot of space, hence they are best for city apartments that get a lot of pollution from roads, vehicles, and so on. Overall, we feel this is a nice little product for those who have less to moderate allergies.
---
Are you looking for a whisper quiet air purifier capable of removing bacteria and viruses? Check out this product from the house of Pure Enrichment which is equipped with a true HEPA filter capable of removing about 99.97% of pollen, dust, pet dander, mold spores, smoke, and odors. The UV-C lights have the ability to destroy microscopic organisms such as bacteria, fungi, and viruses. The fan has three-speed settings and it makes negligible noise (30dB only) on the lowest setting. It works silently at night to remove germs and sanitize the air.
The PureZone air purifier (learn more) comes with instructions that allow you to set up the product in a few seconds and use it out of the box. It comes with an optional shut-off timer that enables you to program the unit in a way that it shuts down automatically after 2, 4 or 8 hours to save energy. We love the stylish design of the air purifier that takes less space and has an intuitive control panel on the top. The device is capable of purifying the air in an area of 200 sq ft. It is backed by a 5-years manufacturer warranty.
Product features and specifications
Measures 10.8 x 7 x 12.5 inches
Weighs 6 pounds
3-stage air purification
Removes 99.87% of germs
True HEPA filter
3-speed fan
UV-C Light Mode
2-, 4, and 8-Hour Timer Settings
User/ Customer reviews
People who have bought the product have tested it with almost everything starting from pet dander to forest smoke, and this tiny device has delivered a reasonably good result every time. Most users have said that the product is super silent but some have cautioned that it starts making a slight sound after some months of use.
Conclusion
If you are looking for an air purifier for a studio apartment or a large room then this is a good product. It does a good job of removing bacteria, viruses, pet dander, bad odor, and chemical smell. However, please be warned that the capacity of the product is limited and it cannot clean very polluted air or completely remove airborne germs.
---
This is a cylinder-shaped tabletop air purifier that comes fitted with a true HEPA H13 filter that is capable of capturing 99.97% of ultrafine particles as small as  0.1 microns. The three-stage filtration comprises of a pre-filter, a HEPA filter, and an activated carbon filter that can effectively trap the airborne particles, micro-organisms, pet dander, and bad odor. Each filter lasts for at least 2100 hours of use, after which you must replace them to ensure that they keep working in optimum condition. The device is capable of purifying the air in a room of up to 194 sq ft size.
We love the way this device is compactly engineered to remove impurities in the air without taking a lot of surface area. With intuitive features and user-friendly functions, this air purifier does a great job of keeping your indoor air healthy and germ-free. It operates with very low noise and dim light in sleep mode to ensure that it does not interfere with your sleep. The child lock lets you keep the device locked if you have small kids and pets in the house. It is backed by a 1-year manufacturer warranty.
Product features and specifications
Measures 7.9 x 7.9 x 12.8 inches
Weighs 6.85 pounds
True HEPA H13 Filter
Removes 99.97% Of Microscopic Particles
Covers up to 194 sq ft
Night Light
Smoke Odor Eliminator
Child Lock Function
User/ customer reviews
Most users rank this little device with A grade because it successfully removes the dust particles, microorganisms, and germs. People are happy that it has a very low humming sound and takes care of an entire room at night. Those who have allergies or pets in the house have experienced a significant improvement in the symptoms after using this product. 
Conclusion
If you are looking for a reasonably priced air purifier that can clean the air in your bedroom to give you a peaceful night's sleep then look no further. Overall, this is a great product you can invest in for your family's overall health.
---
Tips To Reduce Bacteria And Viruses In Your Home
Germs don't just lurk in your kitchen and bathroom, but they thrive in the most unexpected places in your home. Here are a few tips to sanitize the house and take care of both the germs that are airborne and stay on the surface. By keeping the house cleaner, you can reduce the pressure on your air purifier and help it last longer.
1. Start with the kitchen sink
While you may think that the trash can or dust bin is the dirtiest and germiest area in the kitchen, a lot of bacteria thrive on the kitchen sink, sponge and scrubber. The biggest source of germs come from the tiny pieces of raw meat and other food particles that stay stuck around the corners in your kitchen sink.
Make sure you clean and disinfect the kitchen sink thoroughly with a good disinfecting antibacterial cleanser. To sanitize the sponge, put a wet sponge in the microwave and run on high heat for 2 minutes to kill any bacteria.
2. Don't forget the kitchen counter
Simply cleaning the sink may not be enough and you need to also take care of the countertop too. No matter how tired you are after cooking dinner, spare a few minutes to wash the countertop with hot soapy water to remove any grime and gunk that become breeding ground for germs.
Disinfect with a solution made of one cup of bleach mixed in a gallon of water, and let it air dry. Also, remember to clean the cutting board and knife. If the cutting board can develop cracks or ridges, replace it to prevent bacteria from thriving in those cracks.
3. Keep the towels clean
If a towel is used by only one person, wash it weekly and don't forget to sanitize with hot water and disinfectant if someone is sick. Remember to wash the gym towels after each workout and replace the hand towels frequently or after you have guests in the house. Wash towels in hot water to kill any germs and air dry completely before using it again.
4. Clean the laundry area
Most people live under the illusion that their washing machines are the most sanitized places in the house, but it's not. A dirty laundry area can add bacteria and viruses in your washer as well as future loads, not to mention the bad odor adding to your woes.
To keep the laundry area clean and sanitized, run an empty washer with a cup of bleach once every week. To keep your clothes germ-free, make sure you run the dryer with wash load at the highest temperature setting that the fabric can sustain.
5. Remove bedroom germs
To get rid of the bedroom germs, make sure you wash the bed linens in hot water at least once weekly, and more frequently if someone is sick. Always clean the soiled items such as the clothes with stains or mud separately from other laundry items, especially the bedsheets. Make sure you keep the snacks and food away from the bedroom as the crumbs attract a lot of bacteria and mold.
6. Sanitize the living room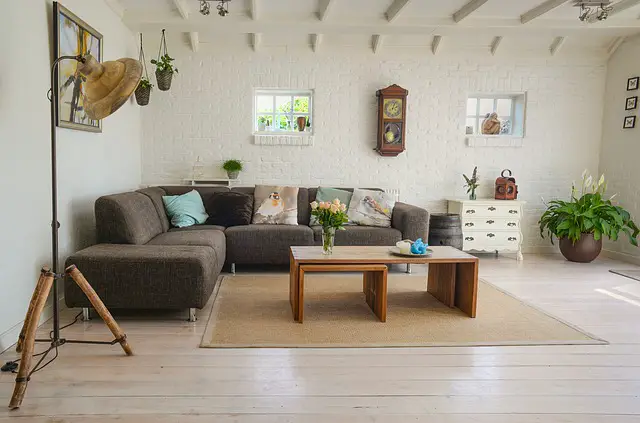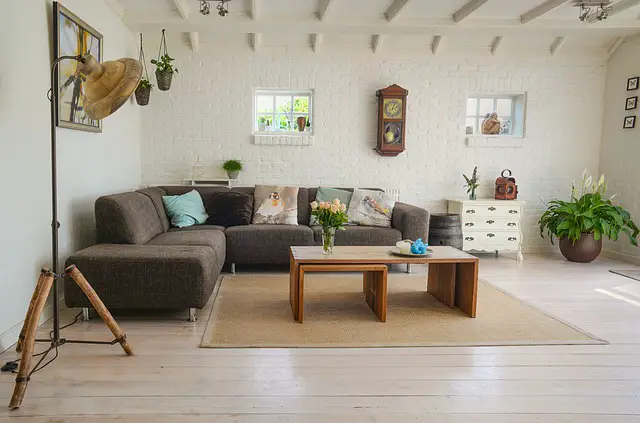 This is an important area of the house where family members come together to watch TV and relax (sometimes with pets cuddling with them). Guests will also spend time in the living area so it gets a lot of outside germs.
Make sure you sanitize every corner of the living room by cleaning spots like coffee tables, telephones, video controllers, TV remotes, and sofa covers. Clean the surfaces with disinfectant wipes, use a damp microfiber cloth to remove dust from TV and wash the sofa covers and rugs once a week. Vacuum clean the carpet and other areas to keep the living room germ-free.
7. Don't miss the home office
Almost every house, no matter how small will have an office corner with desktop/ laptop, printer, and telephone. These are a breeding ground for bacteria and viruses, especially if you love snacking while you work.
You will be surprised to find the kind of dust and dander within your keyboard. Remember to shake it out often in order to clean and use a vacuum cleaner to suck out the stubborn dust and germs. You may then use a disinfectant wipe to clean and wipe the computer screen using a damp microfiber cloth.
8. Disinfect the railings and knobs
Some of the gunkiest spots in the house are railing handles, doorknobs, light switches, faucets, lamps, and cabinet handles. The germs in hands get transferred to these spots and spread quickly, so don't forget to sanitize them while cleaning the house.
Use a nice disinfectant or antibacterial cleanser to wipe these spots at least once a week, and clean more often if someone in the house is sick or you have guests.
9. Cleaning the Kids rooms
Kids and germs seem to be inseparable because no matter how much you try, kids love to do all the dirty stuff. While the top air purifier for bacteria and viruses takes care of the airborne hazards, make sure you wipe down the surface with a disinfecting spray.
If you have a small baby in the house, you must disinfect the diaper changing area, plastic toys, slats, and crib rails. Spray a disinfectant on all these spots, leave for about 30 seconds and then wipe down with a wet cloth or paper towel.
10. Take care of the fridge
Besides the airborne germs and other obvious areas, there are several other much-ignored breeding grounds of bacteria and viruses. One such example is the fridge, so we suggest that you disinfect the fridge by cleaning the inside walls, shelves, and doors with hot soapy water once a month.
To get rid of the stinky smell, prepare a mixture of half white vinegar and half water, and clean the interior with it. Alternatively,  you may create a paste of water and baking soda to clean the fridge and then let the interior area air dry before use.
11. Getting rid of germs in bathroom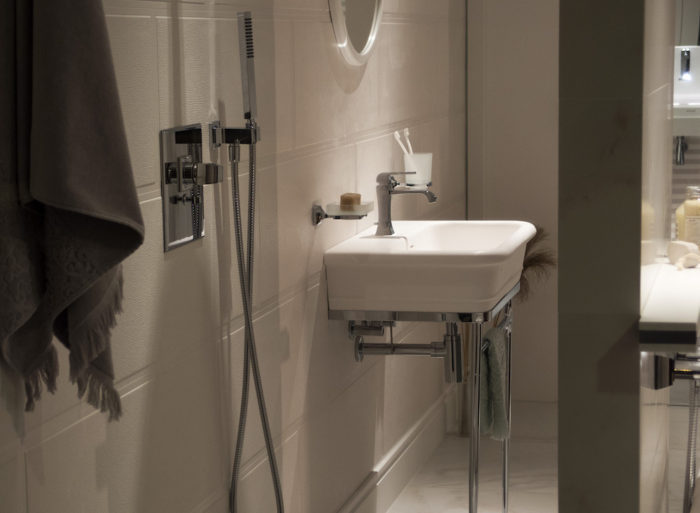 Germs don't just thrive on the bathroom floor, but also under the shower, faucet, cabinet, bathtub, towel rings, and so on. To disinfect these areas, create a solution by mixing two tablespoons of a liquid dishwasher, two tablespoons of ammonia, and one part of warm water. Rinse with water
You may also use a paste of baking soda and water to get rid of the stubborn stains and ugly hard watermarks in the tub or sink. Always use a squeegee to remove water from the wall tiles to prevent hard watermarks from forming.
Related Article: How To Clean Bathroom Floor Without Mop?
12. Tackle the toilet germs effectively
Always remember to put the lid of the toilet down when you flush in order to prevent the germs from spreading all over the bathroom. Clean the toilet bowl weekly and always keep the lid down. You must also use a damp cloth and an all-purpose bathroom cleaner to disinfect the seat, lids, and bowl area.
If you don't prefer using chemical-based toilet cleaners, consider using diluted bleach which works best for disinfecting against bacteria and viruses. Use a mixture with one part of white distilled vinegar and nine parts of water in a spray bottle to clean the surface and degrease.
13. Sanitize the carpets and hallways
When you or guests walk into the house wearing shoes, it's an open invitation to bacteria, viruses and other germs. To save your carpets, rugs, and floors, keep the shoes at the door. If you must wear shoes inside, keep a rug at the door to clean shoes before walking in.
Vacuum clean the carpets and rugs once a week and mop the floors with a disinfectant cleanser once to twice a week as needed.  Don't forget to vacuum clean the top shelves, under the bed, ceiling fans, and other hard to access areas.
Related Questions
What should I look for in the best air purifier for bacteria and viruses?
We suggest that you look for air purifiers that come with a powerful HEPA filter to remove bacteria and viruses that lurk in the corners. Most of these models we have mentioned above have multi-stage filtration to give you a healthier home.
Who should get an air purifier?
People who are highly sensitive to allergens, those who have asthma and difficulty in breathing must buy an air purifier. It helps in preventing cold flu, cough, and cold. It also effectively reduces the likelihood of any airborne diseases.
Can I leave an air purifier on overnight?
Most of the products come with a programmable timer that allows you to set a timer when the device will shut down automatically. As the modern air purifiers are Energy Star certified, you will not be consuming a lot of electricity even if they run overnight.
See Also:
Can I Use Air Purifier And Diffuser At The Same Time?
7 Best Air Purifier For Vocs And Formaldehyde
Do Air Purifiers Remove Pet Hair?