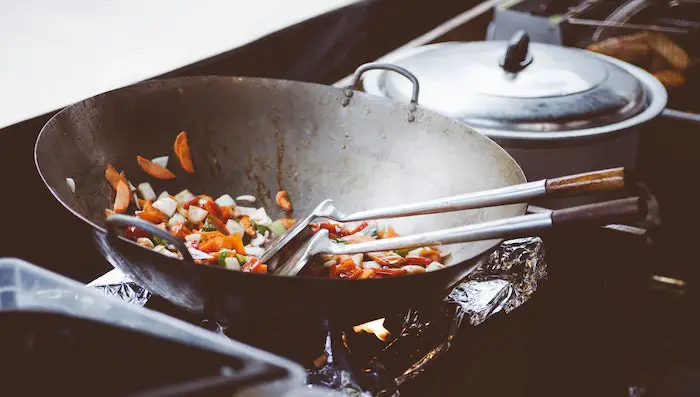 We are reader supported. When you purchase through links on our site, we may earn an affiliate commission. Also, as an Amazon affiliate, we earn from qualifying purchases.
Fried rice, chowmein, scallion pancakes (葱油饼), wonton soup, dumplings and hot pot may look simple but these irresistible dishes have intricate cooking methods. If you are a fan of Chinese cuisine and enjoy experimenting with oriental spices in the kitchen then you must look for the best range hoods for Chinese cooking.
Whether you like it or not, but you cannot deny that eating Chinese food and cooking them are two different ball games altogether. Anyone who has spent hours laboring in the kitchen over a hot stove and breathing in the smell of sautéed vegetables and aromatic spices will tell you how intense it can be.
Due to an intricate method of cooking, it results in more grease, more smoke, and also requires a more extensive clean up after the food is prepared. Well, don't get scared or intimidated by Chinese cooking and it certainly doesn't mean that you have to give up your passion.
With a range hood that's capable of sucking up a large amount of grease and food odor, you can considerably reduce the cleanup work. However, with so many brands and models available online, finding that perfect kitchen equipment is easier said than done.
To make it easier for you, our review team has spent hours reviewing, analyzing, and comparing the products with each other to come up with the top-rated ones. Read on to find the unbiased and detailed description of each product handpicked by our team.
If you are in a hurry to place your order then we suggest that you go with our editor's top pick – FOTILE JQG7502.G 30″ Range Hood (see Amazon). This is a uniquely built wall mount/under cabinet hood with side draft design and a powerful motor capable of covering an area of 6 sq feet for improved airflow and elimination of cooking odor.
| | | | | | | | | |
| --- | --- | --- | --- | --- | --- | --- | --- | --- |
| Product | #1. FOTILE JQG7502.G | #2. FOTILE JQG7505 | #3. FOTILE Pixie Air UQG3002 | #4. Proline PLJW 101.36 | #5. Proline PLJW 109.42 | #6. ZLINE range hood | #7. IKTCH range hood | 8. Futuro Range Hood |
| Size | 30″ | 30″ | 30″ | 36″ | 42″ | 34″ | 42″ | 22″ |
| Noise level | 58dB | 38 dB | 37 dB | NA | 63 dB | NA | 60 dB | NA |
| Installation Type | Under-Cabinet or Wall-Mount | Under-Cabinet or Wall-Mount | Under Cabinet | Under Cabinet Mount, Wall Mount | Under Cabinet Mount, Wall Mount  | Built-In | Under Cabinet | Built-in |
| Material Type | Tempered Glass, Stainless Steel |  Tempered Glass, Stainless Steel | Stainless steel | Stainless Steel | Brushed Stainless Steel | Stainless Steel design | Stainless steel | Stainless steel |
| Control Console | Mechanical buttons | Motion Activation, Touchscreen | Motion Control and Touchscreen | Touch controls | Push Button | Push Button | Sensing/Touch Control | Advanced electronic controls |
| Special features | Folding Oil Filter  | Hands-free On and Off, Touch Screen | MOTION CONTROL | Stainless Baffle Filters | Stainless Baffle Filters | Timer/Auto-Shut-Off | Remote Control | wireless remote control |
| Highest CFM | 850 | 620 (EQUIV. 1000) | 850 | 1000 | 1000 | 1200 | 900 | 940 |
| | See Price | See Price | See Price | See Price | See Price | See Price | See Price | See Price |
This range hood from the house of Fotile comes with an advanced side-draft filtration that always has a 90-degree open baffle plate to minimize the spread of odors or fumes. It has the capacity to easily filter up to 6 square feet of space for improved airflow.
The JQG7502 comes equipped with a robust dual motor that can reach 380 Pa velocity with a noise level of 58dB to remove all cooking fumes without being too loud. With a 3 level speed setting, it works well for all types of cooking styles. It also comes with a memory function that lets you adjust the air volume.
We are impressed with the unique impeller design that enables the range hood to achieve 92 separation of fumes and grease that drips into the large collection tray. Cleaning the unit is also easy as the filter or grease tray can be easily removed. The product is covered by the best warranty services spread across 50 states.
Product Features
Measures 29.88 x 18.25 x 17.44 inches
Weighs 57.9 pounds
Baffle Plate keeps open
Speed Memory Function
Mechanical Buttons
850 CFM
Hassle-free installation
User/ Customer reviews
Users are extremely impressed with the fact that the fan can go up to a maximum of 850 CFM to get the food odor out of the kitchen in no time. Customers have also said that the drip tray at the bottom is easy to clean as you can directly put it into the dishwasher. A few people have warned that the hood is not resistant hence needs a screw to remain open.
Conclusion
This is a well-built range hood with an excellent suction capacity to remove all the strong food odor, even if you do a lot of Chinese cooking at home. When you turn it to a medium or low setting, you can hardly hear a thing. At this price, this is one of the best investments you can make to keep your kitchen clean and odor-free.
---
The next product on our list also comes from the house of Fotile and this 30-inch under cabinet or wall mount range hood us just what you need to ventilate your kitchen and remove all bad odor. It comes with a 90° automatic open baffle plate that controls kitchen fumes and improves airflow.
This is the industry's first-ever side-draft range hood that comes with dual DC motors sporting an optimum static pressure at 540Pa and an improved extraction rate by 30%. Even though it provides a much better extraction odor rate, the noise level is reasonably low.
With the help of infrared connectivity, users can operate the range hood by simply waving their hands. This enables you to turn it on or off without any fingerprints on the surface. There are four adjustable airflow speeds that include a stir fry mode and the centrifugal motor lets you separate about 92% grease and 98% odor.
Product Features
Measures 18.25 x 29.9 x 17.45 inches
Weighs 57.9 pounds
Wall Mount / Under the Cabinet
Hands-free On and Off
Touch Screen panel
Better oil and grease capture
Over 3,500 independent service providers
User/ Customer reviews
Users are impressed with the functionality of a baffle plate that opens automatically when turned on to manage ventilation and remove odor. Customers are happy to know that the oil tray is easily detachable and also dishwasher safe. Some people have warned that although there is a limited lifetime warranty on motor, the customer support needs to be improved.
Conclusion
Those who have a special affinity for Chinese dumplings, soups, and steaks will love the suction ability of this range hood that leaves almost no smoke in the kitchen, hence no false alarms. If you have been using range microwaves then you will find this one to be a game-changer in the true sense of the word. Overall, we feel that if your budget is not too tight then this is a nice hood to buy.
---
Here comes the next one from the FOTILE stable, and we have a special place for this Pixie Air UQG3002 model with a stainless steel range hood. Despite having a maximum static pressure listed as 400, the range hood has a noise level as low as 37 dB, making it extremely powerful yet quiet.
It comes equipped with WhisPower aerodynamic technology that boosts the suction power to a maximum of 850 CFMs without consuming too much energy. It easily covers a 4-6 burner cooktop and also automatically detects any noxious fumes or harmful organic gasses.
You just need to wave in order to turn the range hood on or off, thus saving the stainless steel exterior from any smudges. The detachable oil tray is easy to clean, plus the product comes backed by a five-year limited manufacturer warranty on labor and parts.
Product Features
Measures 29.8 x 22.1 x 8.3 inches
Weighs 61.9 pounds
Made from stainless steel
Air management system
5 years manufacturer warranty
4 fan speeds motion control
User/ Customer reviews
Users have tested the range hood on dishes like steak that produce a lot of smoke and the equipment was able to suck up all the smoke and odor. Customers are impressed with how quietly the unit operates and how nicely it eliminates all the strong odor and fumes from the kitchen. Some people also like the LED lights that make it easier to see while cooking.
Conclusion
The powerful suction ability, low noise, and great design make the FOTILE Pixie Air UQG3002 beyond the expectations of any user. Not only does the design look elegant, but the efficient performance keeps your kitchen clean and odorless even after you extensively cook Chinese dishes. 
---
This wall/ under cabinet 36-inches range hood by Proline comes equipped with a 1000 CFM blower that is capable enough to provide better air ventilation. The professional range hood comes with touch controls and stainless steel bafflers to remove all fumes and odors produced by cooking Chinese dishes.
We love the fact that the appliance can be used as stand-alone or attached with an optional chimney section for maximum ceiling heights of up to 126″. It comes with a blower and fan that is properly installed and factory tested to work efficiently.
There is an electronic EZ Touch glass control, plus a four-speed blower that makes it easier to ventilate without making a lot of noise. The brushed stainless steel exterior with double-wall construction looks extremely sophisticated and there are also two LED lights for better visibility.
Product Features
Measures 24 x 36 x 18 inches
Weighs 92 pounds
Two LED Lights
Made from Stainless Steel
1000 CFM
Under Cabinet Mount, Wall Mount
DBL Wall Construction- 2 Heat Lamps
User/ Customer reviews
Most customers have said that the Proline Wall/Under cabinet looks gorgeous and the capture area is also good enough. People have said that the touch controls are really impressive and LED lights are bright enough to help you cook with ease. Some customers have also warned that although the unit makes less sound, it tends to vibrate a lot at the highest setting.
Conclusion
The Proline Wall/Undercabinet Range Hood boasts good workmanship and a powerful motor that helps in eliminating any unwanted cooking odor from the kitchen. The elegant and sleek exterior with touch controls makes it one of the most sought after range hoods for Chinese cooking, available in the market.
---
This Proline range hood comprises a 1000 CFM 4 speed blower that you can adjust depending upon the type of cooking you do at home. When you are making intricate Chinese dishes, running the fan at the highest setting can help you get rid of any food odor or cooking fumes in the kitchen.
Despite the high fan capacity and powerful motor, the noise level of this appliance is considerably low even at the highest setting. The sleek control panel is easy to use with push buttons that are under the rim of the hood to help you enjoy an easy operation.
There are three LED lights that are more than enough to brighten up the entire cooktop to help you see things clearly and offer an energy-efficient solution for kitchen. We are impressed to find two heat lamp sockets that you usually find in a few selected models only. 
Product Features
Measures 24 x 42 x 18 inches
Weighs 95 pounds
Stainless Baffle Filters
2 Heat Lamp Sockets
110v 60hz (USA and Canada Certification)
Easy to Clean and Maintain
User/ Customer reviews
Most users have mentioned that the product comes very well packaged and the installation is straightforward with all hanging brackets provided. People have also commented on how this appliance is good at removing a good amount of air to ensure ventilation and is extremely quiet while doing it. A few customers have warned that the grease tends to bypass the filter if the rear light sockets are not covered.
Conclusion
This is a reasonably sized and commercial looking range hoods that perform efficiently and delivers what it promises. Due to its capacity and size, you may also use it on an outdoor BBQ grill unit or inside your kitchen. If you do some serious Chinese cooking and don't want your guests to smell what you are having for dinner then the Proline Wall/Undercabinet Range Hood is a perfect choice. 
---
If you have a large family or entertain guests often, you will need a higher capacity range hood such as this one by ZLINE. This 34 inches range hood houses a high-performance dual motor that is capable of blowing air at a speed of 1200 CFM, plus there are 4 adjustable speeds with a timer or auto-shutdown feature.
The ZLINE range hood (see Amazon) is made of high-quality stainless steel material that adds longer-lasting durability, and still functions quietly. The baffle filters efficiently remove the grease and they are dishwasher safe too. It also comes with directional lighting that makes it easier to see when you are cooking.
As the grease condenses from smoke, it is collected in the baffle filter for easy disposal. Taking care of the range hood is simple as you just need to use a good cleaning solution and wipe off using a microfiber cloth to get the shine back.
Product Features
Measures 34 x 21 x 14.2 inches
Weighs 59 pounds
Made from Stainless Steel
1200 Cubic Feet Per Minute
4 Speed with Timer/Auto-Shut-Off
Dishwasher-safe Baffle Filters
Directional Lighting
Three Year Parts Warranty
User/ Customer reviews
Those who have bought this range hood are in love with the appearance and performance of it. A few customers have said that the fan makes some noise at the highest setting but that is understandable as the motor is extremely powerful. Customers have also mentioned that the 3 lights design help them see better while cooking.
Conclusion
The ZLINE 34 in. 1200 CFM Range Hood (see Amazon) is an awesome product that can be installed with ease and delivers an efficient performance as promised to keep your kitchen clean and odor free. It has low maintenance and comes backed by a good warranty period to make it worth the price.
---
This 42-inches under cabinet range hood comes from the Iktch stable and it is equipped with an exhaust system capable of 900 CFM air flow. The powerful dual motor removes a lot of smoke and nasty cooking fumes to make your kitchen cleaner and more breathable for you.
Despite the powerful motor and heavy-duty exhaust system, the range hood does not make too much noise and the maximum level is only 60dB. There are four adjustable speed for the motor, and it helps in ventilating the kitchen thoroughly to get rid of aroma or stink.
We are impressed by the modern gesture sensing and touch control panel that gives a sleek and stylish appearance to the range hood. The full body stainless steel exterior blends well with the kitchen décor and give you a more sophisticated restaurant-like look.
Product Features
Measures 41.7 x 19.68 x 5.9 inches
Weighs 42 pounds
Two LED lamps
Cost effective maintenance
4 Speeds Touch Control LCD Display
Remote control
Easy to clean filters
Users/ Customers
Users are elated at how a mid-priced range hood can have so much power and controls work with just a gentle push of the button. People call it a modern and sleek machine that is capable of sucking up the indoor kitchen fumes and bad odor. Most customers have said that the installation is pretty straightforward but you must ensure that the damper does not shut.
Conclusion
If you are looking for a powerful and efficient range hood without going off budget then we would recommend the IKTCH 42 Inch Under Cabinet range hood (shop now). Despite being medium ranged, this unit is capable of removing large amounts of odors, grease, and toxic pollutants from the kitchen, without being too loud.
---
The last yet not the least on our list is Futuro In/Under-Cabinet Range Hood, an ultra-quiet appliance with a contemporary look and powerful performance. Built and designed in Italy, this plush kitchen range hood boasts the most premium-grade AISI 304 stainless steel construction.
The range hood includes dishwasher-safe filters that collect a lot of grease and can be easily cleaned after use. Despite an amazing capacity of 940 CFM and 4-speed settings, the range hood is ultra-quiet at the highest setting. It comes with a remote control to adjust the speed.
Besides the guarantee on quality, the product comes with a user manual and all essential mounting hardware needed for installation. The manufacturer backs up the product with a one-year standard US warranty and one day shipping.
Product Features
Measures 12 x 22 x 11 inches
Weighs 20 pounds
Made in Italy
AISI 304 stainless steel
Ultra-quiet 940 CFM blower
Includes wireless remote
1-year warranty
User/ Customer warranty
There are some mixed reviews from customers regarding the Futuro In/Under-Cabinet Range Hood. While some customers have warned about damages in the transit, they have also appreciated the responsiveness and quick action taking ability of the customer support. A few users have warned that the fan went loose after a few weeks but it can be fixed and works fine.
Conclusion
When you are looking for a perfect ventilation solution for your kitchen where you enjoy cooking all types of delicacies, especially Chinese, we suggest the Futuro In/Under-Cabinet Range Hood. It not only includes advanced electronic controls, but also comes with wireless remote control for ease of use. Overall, we think this product gives you good value for money.
---
Buying Guide: Things To Consider Before Choosing A Range Hood For Chinese Cooking
Cooking Chinese food means you will be searing vegetables at high temperatures until they are crunchy and crisp, hence produce a lot of smoke. While all the products reviewed above are capable of handling a large amount of smoke, here are a few things to consider ensuring that you choose the most suitable product.
Size
This will depend on the area of your cooktop. Do you use a small induction stove for cooking in your apartment of a large cooktop with 4-6 burners? Or, do you want a range hood to cover an outdoor BBQ grill? Choose the size based on your specific requirements. Large hoods are slightly expensive but a small hood will not be worth the investment for a big cooktop.
Exhaust system
There are typically two types of exhaust systems – ducted and non-ducted or non-vented system. The ducted system directs the fumes and dirty air out of the house, while the non-ducted exhaust system filters the air and returns it back to the kitchen. The latter is less efficient and requires more maintenance with regular cleaning and filter replacement.
Power
If you are into Chinese cooking most of the time, you need a powerful motor capable of handling the excess fumes due to stir frying and steaming. A range hood's power is measured in cubic feet per minute or CFMs, and it may range anything between 100 cfm to 1000 cfm. We suggest choosing a model with a higher rate of cfm if you cook for a large family.
Noise
This is an important aspect to look into because homeowners often complain that the range hood produces a lot of noise and vibration on the highest setting. So, choose a range hood after carefully checking the unit and ensuring that it does not make too much noise while operating. Check out the user and customer reviews to find the products that are reasonably quiet.
Build and design
The range hood should be made of heavy-duty stainless steel material that can be vouched for durability as it will be directly installed over the cooktop. The design should also complement your interior décor and look good with the kitchen or kitchen island. If design does not matter much to you then look for something that is more efficient and cost effective.
Ease of installation
The ducted range hoods require professional installation as there is much set up require, however the ductless versions can be installed by self, without any expert help. However, when you are in doubt, we suggest that you always refer to the user manual and call the customer support for advice.
Price
The price is an important factor to consider when you are working with a budget. Please bear in mind that the cost of a range hood may vary widely depending on the features, design, and style. The type of material, power of the motor, built-in lighting, sensors, automatic shut-off, and other special features can also impact the overall pricing.
Related Questions
Can I vent a kitchen without a hood
While there are multiple ways to ventilate a kitchen such as using a window fan, exhaust fan, or portable HEPA air filter, nothing works as effectively as a range hood. The range hood not only improves the air ventilation in the most compact kitchens but also eliminates a large amount of cooking fumes and odor within minutes.
Which is better – a ducted or ductless range hood
The ducted range hoods quickly vent out all the cooking smoke and odor to the outdoors, which makes them easier to maintain that the ductless versions. The ductless ones require more power to run as they suck in the fumes or dirty air, blow them through filter and then back into kitchen.
Can I vent a range hood to my attic
Yes, you can but it is not a good idea to do so. Ideally, you should vent the range hood outside via a duct through the roof. Venting it to an attic or any other indoor area may cause a lot of damage due to excessive moisture buildup.
See Also:
5 Best Range Hoods For Indian Cooking
5 Best Odor Eliminator For Indian Curry
4 Best Trash Cans For Odor Control