16 Best Coffee Tables For Sectionals 2023: A Detailed Guide
When a guest walks into your house, the first place they usually notice is the living room and the way it's done says a lot about your personality and taste. The sectional sofas including L-shape, U-shape, and corner sofas have become the new trend in modern homes. They can add character, oomph, and elegance to any decor.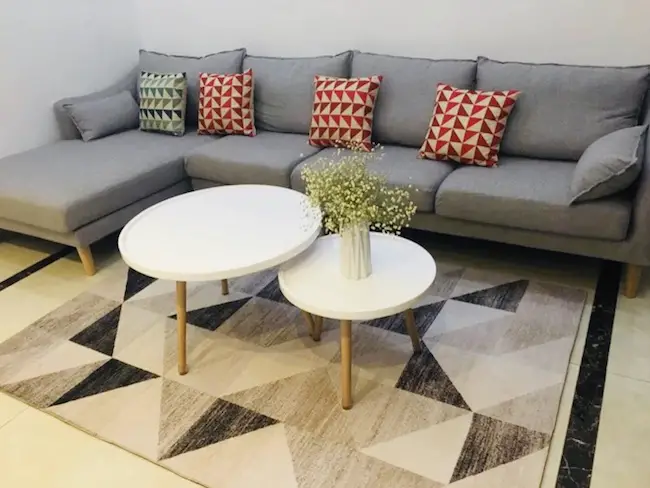 Sectionals not only look better than the traditional sofas but they also offer as much seating, if not more. Plus, they are super snugly when it comes to comfort. The biggest challenge, however, is to buy the right coffee table for sectionals as the wrong one can be off-putting.
You must choose the best coffee table that is proportionate to the scale and size of your sectional sofa to create a perfect balance of space. Some of the important factors to consider include the width, height, and weight of the sofa.
For example, a bulky oversized coffee table would go just fine with a large and heavy sofa sectional, while a slim and sleek table would perfectly complement a clean-lined couch. Read on to find details of the best coffee table sectionals, key things to consider, and so on. Before that let's take a look at the best coffee tables sectionals handpicked for you.
BEST COFFEE TABLES FOR L-SHAPED SECTIONAL SOFAS
This multifunctional coffee table by Furnitela ticks all the boxes: great quality, style, and functionality, without breaking the bank. It is made with beautifully finished solid wood and it is extremely versatile. Its unique design gives you three coffee tables in one; by changing the legs you can adapt the storage space and even turn it into a high-low table for sitting on the floor. It is also one of those timeless designs that blends perfectly with almost any style and décor, from modern, to farmhouse or classic. For those who hate complicated assemblies, look no further, with this coffee table you literally just have to twist in the legs and the assembly is done. 

Less is more, and this beautiful rustic coffee table by FOLUBAN reasserts our belief in this saying. It strips off all the unnecessary elements from the table and focuses on the minimalist approach. The simple and tasteful design creates a clutter-free space that induces a sense of relaxation. Made from MDF wood, this rustic table features a clean-lined steel frame in matte black finish. The thick tabletop and rustic looking metal tubes are easy to assemble and take down when needed.
This smart and stylish coffee table is for those who value functionality more than anything else. It features a high-density wooden panel that comes with a rich brown grain finish. The sides are supported by a black steel frame that adds optimum stability to the product. This not only creates an attractive appearance but also blends well with other furniture.
If you want to create an illusion of space and have more real estate around the house, invest in the SMARTYK glass coffee table (see Amazon). This solid and sturdy piece is made from high-quality and thick tempered glass and the edges are also tempered. You can see the carpet or floor color through the glass and a quick wipe can remove messes or fingerprints to make it an attractive focal point in the house.
This elegant and stylish coffee table spells luxury like none other and it is designed to enhance the overall setting of your home or office. The contemporary design creates a warm and welcoming ambiance, plus it adds enough real estate to keep drinks on the top. It comes with a sturdy iron-made metal base to infuse stability and durability with modern appeal.
Ditch the traditional table approach and get this modern cocktail metal table that can be bunched together to custom make a large or small piece. The product comprises of a tempered glass top with sturdy metal construction and black finish. It requires assembly and can be easily put together to create a beautiful masterpiece. The lower shelf creates a shadowbox effect, which serves perfect for keeping books and collectibles.
This mid-century coffee table boasts a rustic appeal and a much larger real estate than you can imagine. Made from high-grade particle board material, the table has an amazing finish and looks smooth. All parts are waterproof and properly labeled to make it easy to assemble at home. There is good storage space with a drawer and lower shelf. The tabletop is big enough to accommodate coffee mugs, glasses, and even a laptop.
Bring a piece of nature indoors with an amazing product from the Urban Nature Wood collection. Made of solid pine with a distressed finish and a sturdy metal frame, this beautiful coffee table is one-of-a-kind in itself and perfectly matches sectionals. The round shape allows ample free space around the table and a bottom shelf makes room to keep magazines and other stuff.
I recommend using glass coffee tables in small living rooms to create an illusion of space. This tempered glass piece from the house of Best Choice Products is just what you need to add a contemporary appeal to your home décor. The elegant design and sturdy construction come together to create a functional coffee table that offers ample space on the top and good storage area too. It comes with special rubberized feet to protect the floor from damage.
This is one of my favorites among the best coffee tables sectionals and it's unique yet simple design makes it so gorgeous. Made from high-grade mango wood, this coffee table comes with a distressed finish. The natural color, wood grain, and knots make it different from any other coffee table you can find in the market. The tabletop is spacious enough to display decorative items and other things. The table can be easily cleaned by wiping with a dry cloth and it can last for years.
BEST COFFEE TABLES FOR U-SHAPED SECTIONAL SOFAS
This antique design square coffee table (see Amazon) is just what you need to add some old world and rustic charm to your living room. Made from reclaimed elm wood with a wax finish, this beautifully crafted wooden coffee table is a unique sculpture handmade by skilled craftsmen. It has a grainy pattern and patina, with an unmatched texture to add depth, durability, and clarity to your interiors. It can be used at home or office to add elegance and a sense of timelessness to any space.
When you buy this coffee table by Safavieh, you don't just buy a product but also bring home a 100 years tradition and legacy. The table boasts a white and chrome finish that can add a classic look to any interior and it can beautifully blend with other furniture. There is a bottom shelf made of tempered clear glass and it can be used for keeping magazines. Made from high-quality wood and metal, this gorgeous coffee table perfectly suits a living room, family room, study, den, or library.
If you want your coffee table to become the centerpiece of your living room and a conversation starter too then get the Modway Gridiron stainless steel coffee table. The bold accent of the table adds an air of sophistication to any space. It blends mid-century design with a contemporary appeal to present grate-inspired details, tubular pattern, and sleek lines. This exotic metal coffee table can take your décor to a new level and serve as a stylish yet functional display.
Do you wish to infuse a bit of nature into your house? Bring home the Hampton Square Coffee Table from the house of International Concepts. The product is made from solid wood and features a real estate equal to the butcher block surface. There are a tabletop and a bottom shelf that is slightly elevated from the ground. As this is a part of nature's handwork, each item comes with its unique pattern, grain, and color. Each finished product reflects the natural structure of the tree from which the wood is derived and this makes every table so special.
This two-tier, robust and sturdy coffee table (check price) is one of the best choices for U-shaped sectionals. Made from eco-friendly particleboard, this coffee table is wear-resistant, waterproof, and made to last for long. It comes with a wide tabletop and a lower shelf to keep your room clean and tidy. The classic appearance of the round table adds a personal taste to the décor. The thick metal base adds a solid and sturdy feel to the product.
This oval coffee table made from tempered glass exudes a contemporary appeal and enhances the value of any space. The tabletop is made from 8mm thick tempered clear glass and the distance between the top and bottom shelf is 10. 75 inches. The steel frame is powder-coated for enhancing durability and attractive appearance. Further, there are four-floor levelers to provide stability to the table. Most importantly, the oval shape saves space and gives more room to walk around.
Now that you know the best coffee tables sectionals to match with different styles and shapes of sofa, let's take a look into the buying guide.
HOW TO PAIR A COFFEE TABLE WITH YOUR SECTIONAL SOFA?
The biggest difference between the traditional sofas and sectionals is that the latter comprises of many separate pieces that can be arranged as per your liking. Thus, the same pieces of a couch can be put together to create multiple combinations. This gives you more liberty regarding the décor of your living room and deciding how to place the furniture. 
The sectional sofas are also much more convenient as they allow you to enjoy more options to place the pieces to create a sense of space. You can also put them separately in different rooms as per your needs. Here are some of the common types of sectionals and tips on how to pair the best coffee tables sectionals with them.
Square Or Corner Sectionals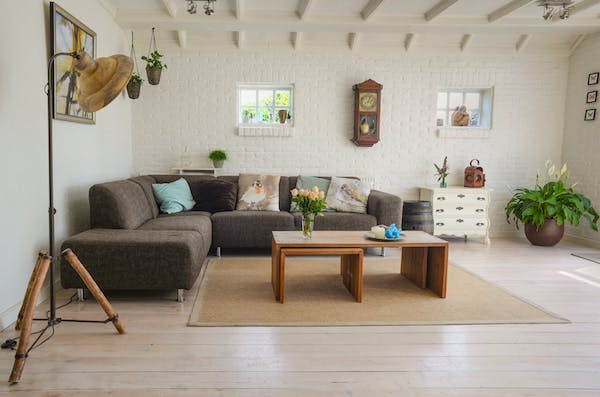 This is the most common style of sectional sofa that is widely used. It comprises three pieces and there are two arms on each end. The sofa works great for small and large spaces, and it can be placed at the center or pushed to the corner.
For a square or corner sectional sofa, we suggest using a square, rectangular or round shaped coffee table. Bear in mind that the coffee table should not extend beyond the length of the sofa and everyone seated on the sofa should be able to reach the table easily. Thus, any negative or extra space should be filled.
To pair the right coffee table with a square or corner sectional sofa, choose a coffee table that is about two-thirds the length of the sofa. It should not be more than a few inches higher or lower than the sofa height. For a more impressive look, opt for a contrasting coffee table depending on the shape of your sectionals.
L-Shaped/ Chaise Sectionals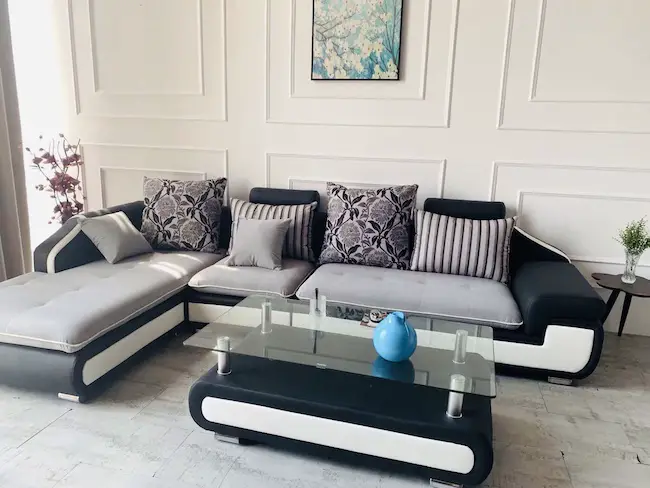 Both the L-shaped sofas and chaise sectionals sport a trendy L-shape that adds an air of sophistication and elegance to any living room. Obviously, it has one side longer than the other hence it is important to consider the space available before getting an L-shaped sofa.
This style of the sectional sofa is perfectly complemented with an oval, square, or rectangular coffee table that can cover up the negative spaces. In some styles of L-shaped sofa, odd-shaped coffee tables or ottomans may also serve the purpose.
U-Shaped Sectionals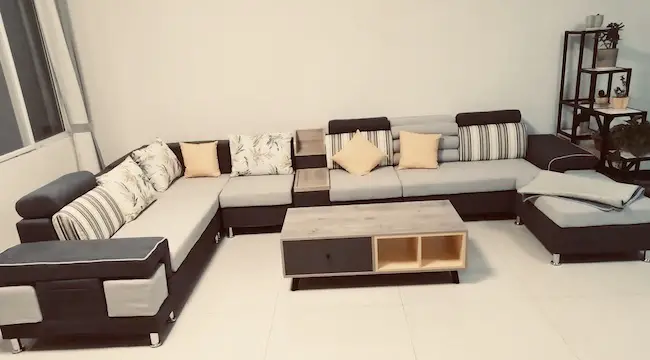 If you have a large and spacious living room, a U-shaped sectional can make the best use of space and provide maximum seating. With two equal extended sides, they lend a cozy and casual look to space. The biggest USP of this sofa is that everyone seated on it can face each other during a conversation.
The length of the sofa is a deciding factor when it comes to choosing the shape or style of the coffee table – rectangular, square, or oval. As long as the negative spaces get filled, the table serves a good purpose. Sometimes the U-shaped sofa may be very large-sized, and you may need to add a side table to balance the proportion and scale.
Depending on the type of sofa, remember to pair them up with coffee tables that make it easy for people seated to access things placed on the sofa. It should also cover up the extra spaces to create a snug and stylish feel.
KEY THINGS TO LOOK FOR IN A COFFEE TABLE
Sometimes it's the smaller things that bring about a big difference and completely change the appearance of a space. In living rooms, this change can be brought about by the right coffee table that perfectly suits the sectionals. Here are the key things to look for and remember when buying a coffee table.
Choose the right size
The size of the coffee table you choose should perfectly complement the size of the sofa. If you have a medium sectional sofa, a large coffee table would look out of place. Similarly, a tiny-winy table in front of a huge U-shaped sofa would appear odd.
You must ensure that there is enough legroom and space for people to walk around after the table is placed. The height of the coffee table is also an important factor to be considered. As a rule of the thumb, look for tables that are not much taller than the height of cushions placed on the sofa. A very tall table will prevent people from seeing others that are sitting on the other side.
Nevertheless, the size of the coffee table is a very personal choice and you will need to match your needs and space available. Experts recommend leaving out some reasonable distance between the table and couch for the sake of convenience and appeal.
On average, about 20-inches of space between the table and cushions is enough to have some breathable space between the furniture. For the sake of balanced looks, measure the distance between the inner legs of the sectional sofa and look for a table that is slightly less than that.
Remember that less is always more when it comes to doing up the house so don't make your space look crowded. If there is a lot of space in the room after placing the sectionals, consider getting a large square or rectangular coffee table. If a sectional is already too big for space, get a smaller table instead.
Also, remember that sectional sofas provide the option of separating the pieces and arranging them in numerous ways. So, if the room allows you, consider placing the pieces of sectionals in different positions and locations to create good space to keep the coffee table.
Take care of the symmetry
Yes, symmetry of how you place the furniture plays an important role in how the area will shape up and look, so it's important to take care of this aspect. If you have a sectional sofa with two equal sides, consider buying a rectangular or square coffee table.
This will save you space because the table will almost perfectly fit to the size of your sofa. Besides that, pairing a square or rectangular table with U-shaped sectionals also makes it easily accessible by everyone sitting around. This fosters a comfortable environment for the guests.
Know when to go round
Sometimes a round coffee table may work just fine with the U-shaped sectional sofas. The oval shape of these tables may complement sectionals with equal edges more than rectangular or square-shaped ones.
With an oval coffee table, you can create more space around the sectionals, which is a major concern for U-shaped sofas. Thus, the navigation around tables becomes more convenient and the access of people to the table also becomes easier.
PARAMETERS TO CONSIDER WHEN DECIDING THE SHAPE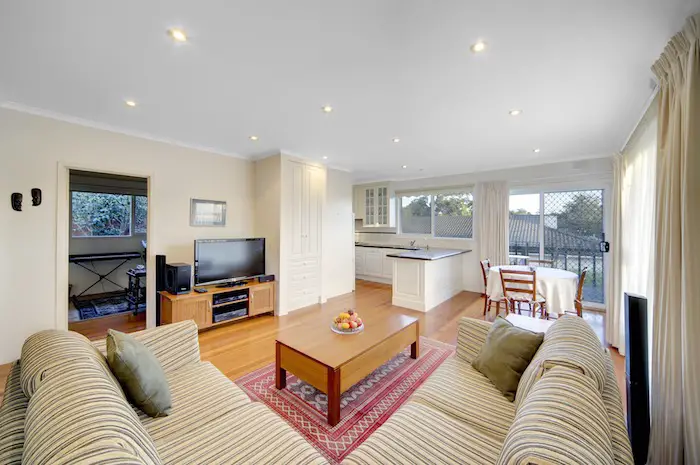 We have already mentioned the recommended style and shape of the best coffee tables sectionals for the L-shaped and U-shaped. However, let's not forget that the sectionals can be arranged in different ways. Here are some important parameters to consider before making a purchase.
Room size
Choose a coffee table that suits the size of the room. For example, if the room size is large, you may choose large coffee tables of different shapes. Compact spaces limit your choices and you will need to work with what is best and doesn't look overstuffed.
Sofa or sectional size
It's a no brainer that sectionals are large and take more space than traditional sofas. So, the number of pieces in a sectional will determine how crowded your living area already is. So, choose a coffee table based on how much extra space is available.
Available corners
Corners are inevitable and they are often the most neglected part of any room. If there are too many corners in a room, you may want to use them to your advantage. While this mostly works for smaller rooms, this strategy may also be applied to larger room sizes.
Other furniture
If you already have some furniture in the living room, you may want to consider them when choosing a coffee table for your sectionals. Are the other furniture squares or rectangles? Are they old-fashioned or contemporary looking? Finding the answers to these questions will help you determine the right size and style of the table.
COFFEE TABLES SECTIONALS – DOS AND DON'TS
While we agree that buying a coffee table depends a lot on personal preferences and there is no one-size-fits-all product, there are certain coffee dos and don'ts that you must follow. Taking care of these points will ensure that you put your money in the right place.
DOS
1. Use some space for hidden storage
Coffee tables come with a smart secret and that's easy hidden storage – something that we can't get enough. Whether you want to hide away kid's toys in a jiffy or store old books and magazines, the storage area in coffee tables makes room to stash the clutter.
2. Try different angles
While rectangular and round are the most common options that come to the mind when thinking of coffee tables, we suggest that you think out of the box to try something new. If the sectionals are too big, group a few tables in a straight line or use some corner tables to make more room for keeping drinks. You should be able to easily move the extra tables to make more space when needed.
3. Free-up small spaces
If you have a small living room, try to remove any extra clutter to create some real estate. Having some free area in the room creates an illusion of spaciousness. To do this try to choose pieces that come with open and elevated bases. You may also invest in glass or mirror surfaces to have some light in the room.
4. Use an ottoman in the place of coffee table
This is another good décor tip for smart house owners who want to kill two birds with a single stone. You can use an ottoman in the place of a coffee table to keep your drinks and incorporate it as extra seating when required. Check out this leather ottoman by Christopher Knight Home that boasts a smart square shape and comes with a storage option too.
DON'TS
1. Don't pick an over-sized table
Sectional sofas are already bulky and in most cases, there is little space left in the middle or front, so you need to get something that fits perfectly in that available space. Anything that's oversized will appear out of place.
2. Don't get a super small table
This is the other side of the point mentioned above. Just like an oversized table is a no-no, getting a super small one will also leave much to be desired. A table is used for several things and there should be at least enough space for everyone to put their drinks.
3. Don't opt for a too wide table
Another aspect to consider is the right length of your sectional coffee table. Make sure the table width is not more than your couch's width. The best rule is to measure the distance between the armrest and chaise. Choose something that measures less than that distance.
4. Don't choose a tall table
Again, the height of the table is of great importance. It should not be too tall to keep banging on your knees as you move around. Similarly, it should also not be too short to make you stop every time you need to grab the remote.
QUESTIONS TO ASK BEFORE BUYING A COFFEE TABLE
WHERE DO YOU WANT TO USE THE COFFEE TABLE?
Coffee tables for the living room and family room differ slightly in their nature of use. The delicate and fragile tables are good for the living rooms, while the family room calls for a more sturdy table that has options like drawers. Similarly, glass tops and delicate surfaces are not suitable for family rooms. If you want to pair with couches, take a look at the best coffee sectionals mentioned above.
DO YOU WANT TO USE THE COFFEE TABLE AS A CENTERPIECE?
A centerpiece is something that grabs the attention of customers as soon as they enter the room. If you want your coffee table to be that thing that stands tall and big in the room, then look for that perfect combination of size, style, material, finish, and color.
WHAT MATERIAL DO YOU PREFER FOR A COFFEE TABLE?
When looking for a coffee table, you will be presented with a wide range of choices in terms of materials. Although wood is the most important and obvious material to some, you don't need to restrict yourself with it. Glass and acrylic materials can make a small room look more spacious, while a hint of metal can add contemporariness. Leather is also a good option for easy maintenance and safety when you have kids at home.
DO YOU NEED EXTRA FEATURES FOR ENHANCED FUNCTIONALITY?
The functionality of your coffee table should depend on how you intend to use it. Most of the designs come with a flat surface on the top supported by a base, but there are many other additional features too. Some of the extra features include drawers, compartments, and additional shelves for storage. Some models come with surfaces that can be raised for eating or working. Wheels and casters also come handy if you have a large living room.
See Also:
Can You Put A Computer On A Metal Table?
3 Best Pressure Washers With Adjustable PSI
Can Silicone Bakeware Go In A Toaster Oven?
Can You Put A Peloton On Carpet (Here's The Answer)