Savory burger patties, sausages, and kebabs…do they make your mouth water and feel a craving for them any time of the day? Well, you need the best food meat grinder attachment for KitchenAid to be the home master chef of ground meat delicacies for family dinners or get-togethers.
6 Best Meat Grinder Attachments For KitchenAid For 2023
I am sure you are thrilled with your new KitchenAid stand mixer and the various things it is capable of doing by simply changing the attachments. If you are a meat lover then you have hit the jackpot as your KitchenAid can help you try a variety of recipes using boneless chicken, pork belly, and so on.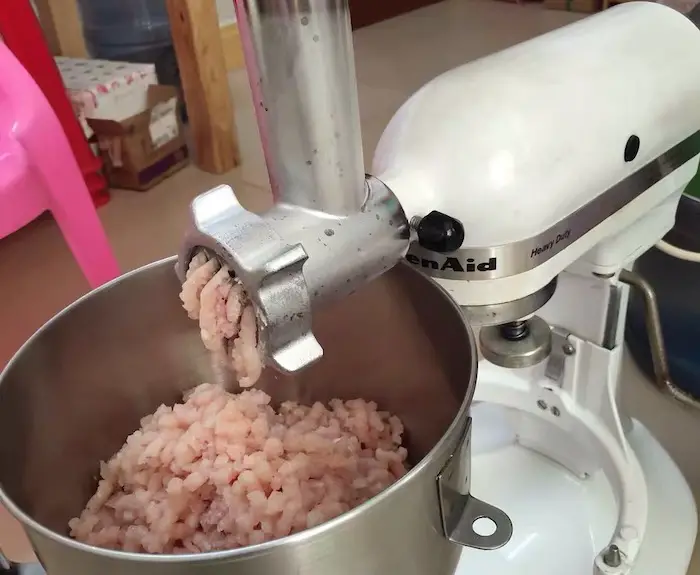 So, if that brings you to the market looking for the best quality meat grinder, expect to get confused with a wide range of options available. There are several third-party manufacturers that make meat grinder attachments of diverse styles to fit a KitchenAid stand mixer.
We know you may not have the time at hand to go through each product, compare and analyze them to pick that perfect one. Hence, we have made your task lighter by doing the homework for you. After spending several hours scouring the Internet and reviewing products, we have handpicked the six best products for you.
Read on to find the review of each product including what we like and what we didn't like about them. If you don't have the time to read until the end, we suggest that you look at the quick summary below.
Quick Summary
Gvode Metal Food Grinder Attachment is a sturdily built and well-designed accessory that works great with all models of Kitchen Aid stand mixers. The product includes 3 grinding blades, sausage making kit, food trays, and stuffer tubes for a complete solution for non-veg delicacies.
This Food Meat Grinder Attachment scores extra points for fitting a variety of stand mixer models, and offer good grinding performance for meat and a lot of other ingredients. At this price, this is more than what you could probably ask for.
The Kintar Meat Grinder Attachment comes with four grinding plates and two stuffer tubes to make it easier to create a variety of fresh and innovative types of food. It can transform your KitchenAid stand mixer into a more useful and versatile kitchen appliance. Overall, it offers good value for money.
The premium KitchTree food grinder attachment is a great investment you can make for delicious food and fun family times. This is a good investment you can make to have homemade sausages, patties, and bread crumbs at home. Overall, it gives you a good price to performance ratio.
This Cofun Food Meat Grinder Attachment works amazingly well to help you cook a variety of food items with ease. As a non-commercial unit, it has a decent capacity and delivers a good performance. All in all, it is acceptable for the price.
If you don't prefer using third party attachments with the KitchenAid Stand Mixers, we suggest that you check out the KitchenAid KSMMGA, a metal food grinder that is dishwasher safe and helps you make some of the best burger patties. Overall, we feel that it gives you good value for money.
Best Food Meat Grinder Attachment For KitchenAid: Things To Remember
Please bear in mind that the needs of every individual may different based on the number of people you are cooking for, the type of meat you mostly eat, the kind of dishes you wish to cook frequently and so on. Before we move over to the detailed reviews of each product, let's look into the things to consider.
Capacity
You will find meat grinder attachments of varying capacities available in the market. In general, the capacity is measured in pounds of meat it can grind per hour. So, if you have a large family or you host friends get-togethers often then you would want to get a product with the highest grinding capacity to save time for other things.
Build or make
Most meat grinder attachments are made of stainless steel or metals that have a higher resistance to damage or corrosion. So, always stick with attachments and accessories that are more durable and reliable. You must also find out what the chopper is made of – steel, metal, or plastic.
If opting for plastic, we suggest that you go for ABS plastic that is denser, more robust, non-toxic, and hypoallergenic. The material used in construction should be food grade and must not have any parts that can compromise your food safety.
Ergonomics
The attachments may include grids, blades, grinding plates, stuffer tubes, food tray, sausage maker kit, and so on. Talking about ergonomics, these parts should be easy to assemble and affix to the KitchenAid mixer to perform. The disassembly should also be simple and convenient.
Besides being more ergonomic, the attachments should also be safer for use so that you don't harm your fingers while handling the sharp grinding blades or plates.
Noise
Most of the meat grinder attachments will make noise while operating. However, there are some models noisier than the others. So, you may need to take into account the features along with noise level when choosing an attachment.
Versatility
This is an indispensable aspect to look for when choosing a meat grinder attachment. Most of the products out there can not only grind meat but also chop vegetables and make chicken sausages. We suggest that you choose as per your needs and the type of dishes you cook frequently.
Size of the grid
This aspect of the meat grinder needs special attention as it refers to the size of holes that you need, based on the food to be made. It is often measured in inches or millimeters. For example, you would need a plate with very fine holes (3mm) for making pies, 6 mm for ground beef, and 12 mm average holes for sausages.
There may also be bigger holes for shredding large pieces of pudding. Thus, it is ultimately your choice of how you plan to use the grinder attachment.
Attachment parts and accessories
Most of the meat grinding attachments will include three grids, a pusher, a blade, and a kit for making sausages or kebabs. If you look at the more expensive attachments, they might come with some additional accessories such as a burger kit or a tray.
You might not need them all at a time, but having them handy can be good if you love experimenting with new recipes. Now, let's move on to the individual reviews of each item:
This is an upgraded version of Gvode food grinder attachment (see Amazon) that is specifically designed to fit Kitchenaid Stand Mixers for faster and efficient grinding – it can grind up to 2 kg of meat in a minute. Made from high-grade aluminum alloy, this meat grinder attachment also comes with a stainless steel food tray for safer and healthier food.
The multifunction accessories include two cutting blades, four diverse sizes of grinding plates, and three sausage fillers to cater to your diverse cooking requirements. You can not only grind meat but shred cheese, fruits, vegetables, make bread crumbs and much more for savory pizzas and sausages.
What we like
Includes uniquely designed sausage stuffer tubes
Improves the stuffing efficiency
Comes with a 100% money-back guarantee
All parts are easily detachable for cleaning
Easy to assemble and fix to your mixer
Less noisy than other attachments
What we don't like
---
This food meat grinder attachment comes from the house of Antree and is designed to perfectly fit all types of KitchenAid stand mixer models. Made from POM Food grade material, the grinder has a high level of sturdiness and heat resistance, much more than other cast-iron metal products. It is best used for preparing ground beef for burgers and sausages.
The kit includes two-sided stainless steel coarse plates for grinding raw/ cooked meats, cheeses, vegetables, making fresh breadcrumbs. There are two size sausage stuffer tubes to make delicacies like Italian sausage, bratwurst, boudin sausage, and chorizo. The manufacturer backs up the product with a 12-month worry-free Service.
What we like
Saves time in grinding various types of meat
Fits all Household KitchenAid and some Cuisinart Stand Mixers too
Comes with a worry-free warranty
Also includes a sausage filling machine
What we don't like
Again, not dishwasher safe, although easy to clean
---
This beautifully designed Kintar meat grinder (see Amazon) is made to fit all types of Kitchenaid stand mixers with a simple attaché and detach mechanism. It is made from a premium quality aluminum alloy that is much superior to the plastic grinders available in the market. It can grind meat, shred vegetables, cheese, and also make crumbs.
This food grinder attachment set comes with various accessories such as the meat grinder device, two sizes of grinding blades, four sizes of grinding plates, sausage stuffing holder, food pusher, two sizes of sausage stuffing tubes, and cleaning brush. While the product is not dishwasher safe, it can be cleaned thoroughly with warm water and soap.
What we like
Various types of grinding plates
Fits very well and easy to use
Grinds meat more evenly and saves time
Works efficiently to make your favorite dishes
What we don't like
Some users have warned grinder produces a powdery substance that contaminates the meat
---
The premium KitchTree food grinder attachment is perfectly compatible with the KitchenAid stand mixers and also some Cuisinart models. It comes with four different types of grind plates, and two sausage tubes that make it easier to cook a variety of delicacies at home. The attachment is highly efficient and heat resistant to health safety.
Besides being easy to use, the KitchTree food grinder attachment is also easy to install and clean with the help of a cleaning brush, warm water and soap. The manufacturer stands behind the product and backs it up with a 12-month worry-free and long-term warranty.
What we like
Grinds food efficiently and quickly
What we don't like
Made from durable materials for safety and health
Can be used for both raw and cooked meat
Can also be used for making sausages and shredding vegetables
What we don't like
Don't work so well for the small size of meats
---
This meat grinder by Cofun(learn more) is specially designed to fit all types of KitchenAid stand mixers easily and perform a good job. You can take apart the various parts for easy cleaning, and attach them back again after cleaning is done. With its smart German design and efficient technology, the model can grind about 10 lbs of meat in just 5 minutes.
The attachment unit comprises two grinding plates, two sausage filler tubes, one cutting blade, and a retainer ring to enhance the unit's flexibility and capability. Most parts are dishwasher safe so cleaning and maintaining the product is hassle-free, plus it is backed by reliable customer service.
What we like
Dishwasher safe, hence easy to clean
Lifetime after-sale service
Make fresh homemade meatballs
Unit is easy to assemble and clean
What we don't like
Stuffing meat is difficult
Hopper is shallow
---
If you prefer to stick to a KitchenAid attachment then we recommend the KitchenAid KSMMGA (learn more), which is engineered, designed, and tested by KitchenAid. You just need to attach the metal food grinder to the mixer and let it do all the work for rustling up some of the most mouthwatering delicacies.
With the large food tray that comes with the unit, you can easily process more ingredients in a single batch. You may also pre-chill the grind to get a cold grinding temperature for certain types of meat. All the grinder parts are designed to easily fit in the storage case for easy access.
What we like
Easy to use and clean
Makes the best quality freshly ground burgers
Great build quality
Good value for money
Dishwasher safe parts
What we don't like
Machine feels underpowered
Small pieces of sinew can bound the cutting blade
---
Final Verdict
If you are health conscious and prefer grinding raw/ cooked meat at home to turn them into sausages or burger patties then the above mentioned food meat grinder attachments are worth the money. While all the products mentioned above are recommended by us, take a look at customer reviews, pros and cons of each product before buying.
See Also:
Kitchenaid Pasta Press Vs Roller: Here's The Difference
KitchenAid Professional 5 Plus Vs Artisan
Kitchenaid Pro 500 Vs Pro 600: Which Is Better?