Ask any mom and she will tell you how crazy mornings can be from making baby food and fruit shakes to chopping onions and shredding cheese. Thank God for the food processor that works like a second pair of hands to help you grate, pulse, shred, chop, and slice at lightning speed.
As different people have different reasons to cook, the best food processor for different uses also varies accordingly. For example, some people cook to feed a large family, singles cook to save money, couples cook to impress the significant other, while a few others cook for the love of it and post Insta stories.
No matter what's your reason to cook, a food processor not only lightens your tasks and saves you time but also makes you swell in pride for your creations like a pro chef. Yes, you can make restaurant-quality dips, dressings, peanut butter, or things like kneading pasta dough and grind raw meat.
So, if you are in the market looking for a new food processor, there are few things you will need to look into. First, determine the size that is suitable for your needs – small, medium, or large? Next, consider the main uses of a food processor in your kitchen, then look into the motor power, blades, safety, and container size.
To further make it easier for you to choose the most suitable model, we have reviewed dozens of products in each category. Read on to find a detailed review of our recommended product for different uses.
Editor's Top Picks
---
#1. Best Food Processor For Weaning
Weaning your little one from liquid to a solid diet is an important milestone. You will see yourself doing a lot of grinding, blending, pulsing, and crushing food to give you're a semi-solid diet comprising of smooth purees before moving to more solid food.
While there are many baby grinders and blenders available, why waste your money on something that may become not-so-useful after a few months? We suggest getting the best food processor for weaning so that you can continue using the unit even after your baby moves on to eating solids. We recommend the Infanso Baby Food Maker Food Processor
This is a 7-in-1 organic food processor with blender, steam cooker, defroster, chopper, disinfector, reheater, and auto-cleaning functions. It includes one large 20oz capacity cup that fits all the functions to help you make three nutritious homemade meals within minutes. You may serve one and refrigerate the two for later use.
The healthy baby food maker not only saves time but also offers weaning advice along with new exciting recipes for your baby to enjoy and develop eating habits. From smooth puree of fruits and vegetables to chunkier textures of fish, pulses, and meat, this unit can do it all with ease.
Made from BPA-free, phthalate, and lead-free materials, the food processor is safe for your baby. Furthermore, the unit has anti-dry function and overheating protection for the safety of your family. We also love the auto-clean function that activates by one press of the button
Product features and specifications
Measures 11.6 x 5.5 x 10.2 inches
Weighs 5.85 pounds
100% baby-safe and 0% BPA material
Phthalate and Lead-Free
20oz capacity large cup
Auto clean function
7 in 1 Organic Food Making Machine
1-year warranty
User/ Customer reviews
Users are happy that the unit makes a lot of baby food enough for 3-4 feedings at once to save time, and it can be used for pulsing and pureeing various kinds of foods, vegetables, and whole foods. Busy moms love the auto clean functionality that saves them mold horrors and gives them much-needed respite in their crazy lives. A few users have warned about blades rusting after a few months of use.
Conclusion
If you have a baby or toddler in the house, the Infanso Baby Food Maker will make your life a lot easier. The compact design also takes less space on the kitchen counter so you won't mind having it sit there for your daily needed. Overall, it gives you great value for money. 
---
#2. Best Food Processor For Raw Cakes
Raw cakes are having a moment and the trend is expected to grow in the future. Also referred to as conscious desserts, the raw cakes are free from gluten, wheat, dairy, refined sugar, and soy. So, if you are vegan or prefer a raw food diet, the raw cakes are a great alternative to gluten or dairy items.
The best part is that you just need the best food processor to prepare raw cakes from superfoods and naturally sourced ingredients. After reviewing many models, we recommend the Breville BFP800XL Sous Chef Food Processor. Read on to find a detailed review.
Turning nuts into butter or pulverizing hard fruits is a breeze for Breville BFP800XL (learn more) with its three feed chute and 8 precision tools. With 5 multi-function discs and three different blades, the unit delivers swift action for consistent mixing, chopping, and processing of soft to hard ingredients.
We like the 5.5-inch extra-wide feed chute that cuts longer slices of vegetables and makes processing much faster. It also includes a mini-feed chute that stops the long thin ingredients from tipping over at the time of slicing. There are 24 settings that let you select the thickness of your slices from 0.3 mm to 8.0 mm.
Talking about power, the Sous Chef comes with a high torque 1,200 W motor to handle all types of jobs with ease. It comes with two BPA free processing bowls for different needs and the LCD display lets you see the adjusted settings. Extra accessories include plastic spatula and stainless steel blades.
Product features and specifications
Measures 11 x 8 x 18 inches
Weighs 26 pounds
Feed Chute Safety System
Non-Skid Rubber Feet
Solid Die-Cast Metal Base
Direct Drive Motor
Voltage: 110 to 120 Volts
16 cup large bowl; 2.5 cups small processing bowl
User/ Customer reviews
Most users have said that they absolutely love how the unit sits together to feel really solid and delivers a powerful performance like a beast crushing, chopping, and slicing whatever you put into it. People also like the handy storage option to keep all the accessories in one place. A few customers have said that the unit is not dishwasher safe so you will need to clean it all by yourself.
Conclusion
If you want something really powerful in your kitchen to prepare raw cakes from frozen fruits, nuts, and vegetables, you will need a monster like the Breville BFP800XL. Although the model is slightly more expensive than other products in its category, the versatility of the unit makes it worth every penny.
---
#3. Best Food Processor For Idli Batter
If you love Indian food and wish to prepare the perfect idli batter (not too fine, not too coarse) then you will need a food processor with powerful motor and ultra-sharp blades to grind soaked rice and lentils. We have reviewed over a dozen products to help you choose the right one for your US kitchen.
For all those who love South Indian idli and dosa, we recommend the Breville BFP660SIL Sous Chef 12 Cup Food Processor to prepare a homemade batter with the right consistency. Read on to find the complete review.
Breville's Sous Chef 12 features a heavy-duty induction motor with direct drive control to deliver a smooth batter. It pulses hard ingredients to form a pulp, grate cheese, chop herbs, and slices/ dices nuts, vegetables and fruits like a pro. It also has overload protection to ensure that the unit does not falter.
The container boasts a 12 cup capacity so you can create large batches of idli or dosa batter at once. Made from BPA-free plastic, the work bowl also has a safety braking system. There is also a large 5-inches wide feed chute that eliminates the need to cut most ingredients in advance.
While the 1000-watt motor offers great versatility in a compact design, the momentary pulse button helps with even processing and maximum control. We love the safety functions that prevent the motor from operating unless the lid is correctly locked over the bowl.
Product features and specifications
Measures 9.5 x 7.5 x 17 inches
Weighs 15.9 pounds
12 Cup size container
Multiple Chute Options
Adjustable Slicing Disc
Micro-serrated S-Blade
Voltage: 110 to 120 volts
Heavy-duty induction motor
User/ Customer reviews
People are thoroughly impressed with this food processor that has a solid base that stays in its place while you grind, pulse, or chop, or slice. Users love the bowl design that does not include a hole and the gasket fits perfectly on the lid to prevent spilling of liquid. A few users have warned about the 12-inches long cord that makes it difficult to use in standard kitchens.
Conclusion
This is a well-built food processor from the house of Breville. Although it does not include any specialty blades, the ones it has does the job really well. We love the ability to adjust grind almost anything into a smooth paste (required for idli batter) and the adjustable slicing disc. Overall, you get a good price to performance ratio.
---
#4. Best Food Processor For Dates And Nuts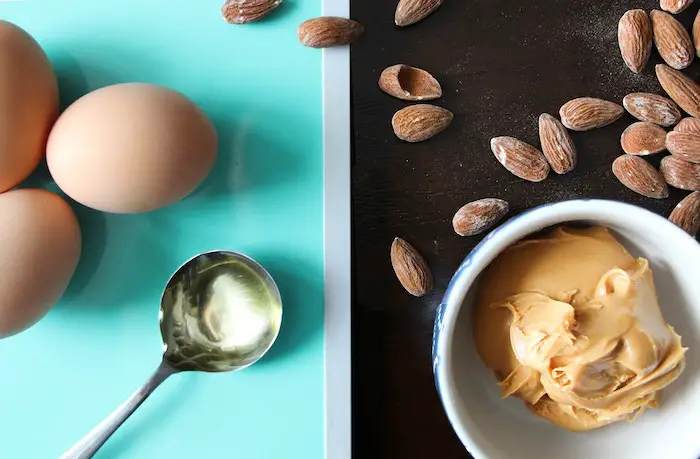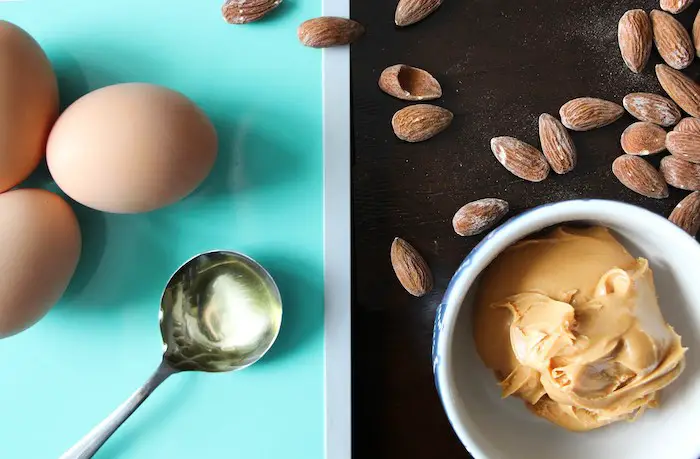 Do you wish to make the perfect almond butter or peanut butter at home? This is a great way to reduce packaged food consumption and take care of your health too. For this, you will need a food processor with robust motor and very sharp blades capable of chopping and pulverizing hard ingredients.
While most high-end units are capable of handling nuts, seeds, dates, and other tough items, we feel that the Breville BFP800CBXL Food The processor does a really good job. Read on for the complete review.
This Breville unit is the Swiss army knife of food processors with multiple functionalities and outstanding features like 5 multi-function discs and 3 super sharp blades. The 5.5-inch super-wide feed chute saves you time as you don't need to precut most vegetables and fruits.
If you plan to make nut butter, knead the dough, or slice carrots, this unit delivers spot on every time like a dedicated workhorse. With 8 precision tools and 3 different feed chute options, the Breville BFP800CBXL promises to bring chef-like professionalism to your kitchen.
The product comes with two BPA-free processing bowls of size 3.8L and 600ml. There's an LCD display at the front with count-up and count-down timer. It also includes an accessory storage box to accommodate all attachments and clean utensils when not in use.
Product features and specifications
Measures 10.25 x 8.00 x 17.75 inches
Weighs 23 lbs
High torque 1,200 W motor
S-Blade System Extra-wide feed chute
Variable Slicing Disc with 24 settings
Accessory storage box
Non-Skid Rubber Feet
Solid Die-Cast Metal Base
User/ Customer reviews
Customers are impressed at the advanced design with improved processing control to take care of the smaller ingredients and also the safety feature that prevents the motor from running until the bowl, lid, and chute are positioned correctly. A few users warned about the customer support system not delivering a satisfactory service like before.
Conclusion
When you want a super-powerful food processor capable of working on anything thrown at it without overheating or failing to deliver desired results, Breville BFP800CBXL is your go-to choice. Although more expensive than other models, the advanced features and functions speak for themselves. This is definitely an investment that you will be proud to make.
---
#5. Best Food Processor For Kugel
If you are a fan of Kugel, the traditional Ashkenazi Jewish dish that's often cooked during holidays, why wait for special events to recreate the savory dish. As a fan of Kugel, I am glad that there are certain food processors that can help you make the best kugels like a pro.
The best part of kugels is that you just need a few ingredients and a good food processor to make it perfectly every time at home. We recommend the Braun FP3020 12 Cup Food Processor. Read on to find a detailed review.
Made in Europe with advanced German engineering technique, this 12-cup food processor houses a 600-watt motor that operates quietly. The DualControl system comes with 11 pre-set speed functions that give you control over the performance and ensure quick results.
With 7 attachment blades, this food processing unit is capable of whisking, kneading, slicing, and chopping. It also comes with an extra juicer attachment. Out of the 12 cups, 9 can be used for wet grinding (wet ingredients). The parts except the base are removable and dishwasher safe, making it easier to clean.
The compact design of Braun FP3020 ensures that it takes less space on the kitchen counter. It comes with additional accessories that include a kugel Potato Latkes blade, top-rated S blade, and a few other attachments. The manufacturer stands behind the product with a one year warranty.
Product features and specifications
Measures 14.9 x 11.3 x 15.4 inches
Weighs 9.8 pounds
Powerful 600-watt motor
DualControl system
Dishwasher safe
One year warranty
7 Attachment Blades
User/ Customer reviews
Those who have upgraded to Barun from other brands like Cuisinart and KitchenAid find this one better than their previous units. Users have mentioned that the containers do not leak when grinding wet items thus there's no risk of mold. Some customers have also said how quiet this unit is despite the powerful motor.
Conclusion
If you are enthusiastic about making the perfect Kugel at home, the Braun FP3020 can give you perfect results every time. We love the quiet performance of the unit, most importantly the adjustable speed that gives a kind of luxury to the users. Overall, we feel that it's a great food processor worth every penny.
---
#6. Best Food Processor For Coleslaw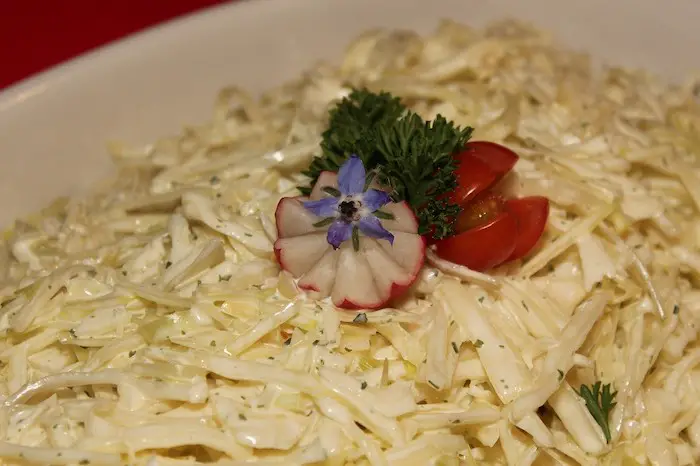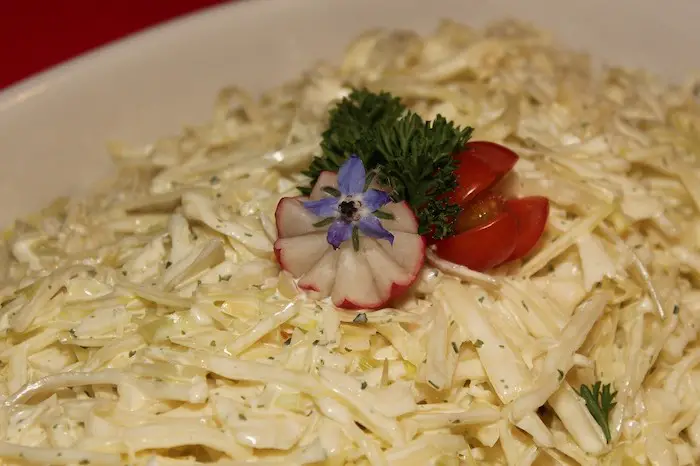 Do you dream of making the perfect Coleslaw like the Dutch? This requires finely shredding cabbage and doing it manually may take a lot of time, plus the results will not be a restaurant like. Hence, we suggest using a good quality food processor with sharp blades that can share an entire cabbage within minutes.
Most food processors out there are capable of shredding, only a few can shred so fine to make perfect Coleslaw. After reviewing several products, we recommend the Hamilton Beach ChefPrep 10-Cup Food Processor. Read on to find the complete review.
This compact-designed 10-Cup Food Processor from the Hamilton Beach saves you a lot of counter space and also time by helping with various activities like chopping, shredding, pureeing, and so on. It houses a robust 525-watt motor that delivers good speed and powerful performance.
There are two reversible slicing/shredding discs that can help you shred items like frozen cheese, cabbage, and other veggies for salads. The stainless-steel chopping blade does a great job of finely chopping fruits and vegetables to shorten your cooking time.
There's an oversized Feed chute that lets you add large-size fruits and vegetables for the six versatile functions like fine shred, coarse shred, chop, puree, slice, and crinkle-cut. The plastic components of the unit are BPA-free and the bowl is dishwasher-safe to keep the maintenance work easy.
Product features and specifications
Measures 9.72 x 7.84 x 15.12 inches
Weighs 7 pounds
525-watt food Processor
Dishwasher safe parts bowl
6 versatile functions
2-speed options
2 reversible slicing/shredding discs
Stainless-steel chopping blade
User/ Customer reviews
People love the large bowl and the oversized chute that allows them to shred three carrots at once and make peanut butter and homemade dog food with ease. Users are impressed with the rubberized suction cups at the bottom that holds the unit steady while it's running. A few users have mentioned that the unit can't take a lot of loads so it's better to not stress it too much.
Conclusion
If you are looking for a compact and simple food processor that can shred veggies like magic to help you make Coleslaw and other delicious dishes then this Hamilton Beach unit is a good choice. Although not the most powerful food processor from the company, it does a decent job without eating a lot of counter space. Overall, we like this product for small and quick daily use.
---
#7. Best Food Processor For Vegetarian
You will be surprised to know that there are more variations in vegetarian food than anywhere else. All you need is the right food processor that can shred, chop, slice, and puree the fresh and colorful veggies to make delightful salads, hummus, pestos, curries, shakes, and so on.
We scoured the market to find the best food processor that can bring more creativity to your kitchen and make vegetarian food delicious. After reviewing many products we suggest the Cuisinart DFP-14BCNY 14-Cup Food Processor. Read on to find the complete review.
Whether you are looking to quickly make a dinner or a lavish weekend treat, this large capacity Cuisinart DFP-14BCNY can perform a lot of activities with ease. It comes with a stainless steel standard slicing disc, a chopping/mixing blade, and a medium shredding disc for shredding, chopping, slicing quickly.
With a 720-Watt motor, this large capacity food processor comes with intuitive on and off buttons for single-touch operation. The Lexan work bowl can accommodate 14-cups of food, and the extra-large feeder helps in chopping/ shredding multiple veggies at once. Please note that the slicing and shredding blades are not adjustable.
The removable parts of the food processor are dishwasher-safe so it doesn't take much effort to keep the unit clean. It also includes a user manual and recipe booklet that comes handy for trying new vegetarian dishes. The manufacturer stands behind the product with a 3-year warranty.
Product features and specifications
Measures 11 x 7.9 x 14.8 inches
Detachable disc stem
Weighs 18 pounds
Made from ABS Plastic
14 cup capacity bowl
Heavy-duty 720 watt motor
Extra-Large Feed Tube
On, Off, Pulse controls
User/ Customer reviews
Users are loyal to Cuisinart due to its immense motor power and ability to dice, slice, chop and puree fruits and vegetables in a jiffy. People the beautiful shapes and finely shredded veggies that make salads a visual delight. The considerably quiet operation of the unit is also highly appreciated by customers. A few users have warned about the unit not being able to handle enough pizza dough.
Conclusion
If you are looking for a tough and versatile food processor capable of performing a lot of activities and making your kitchen job easier then the Cuisinart DFP-14BCNY is a great choice. At this price, you get durability and good performance backed by a solid warranty. No doubt a great deal!
---
#8. Best Food Processor For Acai Bowl
There's something about the smooth, rich, and creamy acai bowls that make them so addictive. To make the perfect restaurant-like bowl, you need a good quality food processor to mix Brazilian Acai, frozen bananas, and blueberries. They are often topped with fresh fruits, honey, and granola.
Whether you want to make a healthy breakfast to kick start your mornings or enjoy a midnight snack, the food processor lets you make perfect an acai bowl in minutes. We recommend the Hamilton Beach 10-Cup Food Processor & Vegetable Chopper with Bowl Scraper. Read on for the review.
With this Hamilton Beach with bowl scraper attachment, you can save the frustration of having to stop the operation to scrape the food stuck on the side walls using a spatula. The unit is designed to keep the ingredients closer to the blade so that you can puree and chop with better precision.
The 10-cup capacity bowl is capable of handling large volumes of food to make acai bowls enough for a small family. There's a large feed chute that can easily fit large foods such as a full block of cheese that has been chilled for at least 30 minutes. This helps in reducing the food preparation time.
The 450 watts motor has two speeds that help you pulse ingredients in both low and high speeds. Made from a reversible stainless steel disc, this versatile food and vegetable processor performs a wide range of functions that include shredding, slicing, chopping, pureeing, and mixing.
Product features and specifications
Measures 10.25 x 8.43 x 15.47 inches
Weighs 5.79 pounds
BPA-free and dishwasher safe parts
10 Cup Capacity
Bowl Scraper Attachment
Powerful 450-watt motor
Compact design
Stainless steel S blade
User/ Customer reviews
Most users feel that this is a great food processor for those who like cooking a wide range of healthy stuff that needs pureeing fruits and vegetables into a smooth pulp. People also love the innovative scraper that ensures that the big chunks of nuts and garlic cloves don't stay stuck on the top. A few customers have warned about leaking issues if you overload them with wet ingredients.
Conclusion
Hamilton Beach has done it again with one more amazing food processor that common people find an easy and affordable solution to feel like the house chef. With so many versatile functions, good capacity bowl, and a powerful motor, you will love your homemade acai bowl, ice cream, smoothies, and shakes more than ever before.
---
#9. Best Food Processor For Raw Meat
Do you want to make the perfectly grounded meat to make burger patties? You don't need to invest in an expensive attachment, stand mixer, or any dedicated meat grinder. With the right type of food processor, you can make meatballs, sausages, and patties right at home.
With so many food processing units out there not everyone is capable of grinding raw beef, pork, or chicken. After reviewing dozens of products, we feel that the Mini Food Chopper LINKChef Food Processor is just what you need to add that professional touch to your meals. Read on for full review.
Although the product has 'mini' in its name, let's not underestimate the power because the 250w motor allows you to blend, chop, mix, mince, and pure a lot of ingredients within minutes. With a sharp and long-lasting stainless steel with locking feature, this unit to be your pal for everyday meal preparations.
The pulse button gives you quick and ultimate control to get that perfect texture of ingredients, which is perfect for making vegetable salad, meat stuffing, and tomato ketchup too. The compact and lightweight unit takes less space on the kitchen counter and it's resistant to rusting and scratch.
The dishwasher-safe work bowl comes with secure and BPA free transparent lid to let you see inside. We like the anti-slip rubber mat at the bottom which prevents the unit from moving around while the motor works. The product is backed by a solid 36-month warranty and a friendly customer service.
Product features and specifications
Measures 6.4 x 6.4 x 9.2 inches
Weighs 2.79 pounds
Powerful 250w motor
Pulsing button for ultimate control
4 bi-level blades
1.2L Robust Stainless Steel Bowl
500ml Food Capacity Silver/ Black
3 Year Warranty
User/ Customer reviews
People love the unit's compact design with great power that crushes and slices ingredients super fine, plus it is easier to clean after use. The stylish design and durability of the stainless steel bowl are also highly appreciated by the users. Customers also find this food processor extremely useful for mincing and grounding raw meat.
Conclusion
This mini food processor from the house of LINKChef is what you need to bring versatility to your kitchen without sacrificing a lot of counter space. From the stylish exterior to powerful performance, everything about this little food chopper is praiseworthy. Overall, we feel this is a must-have for any small kitchen.
See also:
4 Best Food Processors With Dough Blade
6 Best Mixer Grinders For Indian Cooking In USA