4 Best Gazebos For Winter For 2023
Come winter and all you need is a nice, comfortable, and cozy place to relax. While the outdoor time gets limited due to the mercury dropping, you can compensate for that by adding one of the best gazebos for winter to your backyard.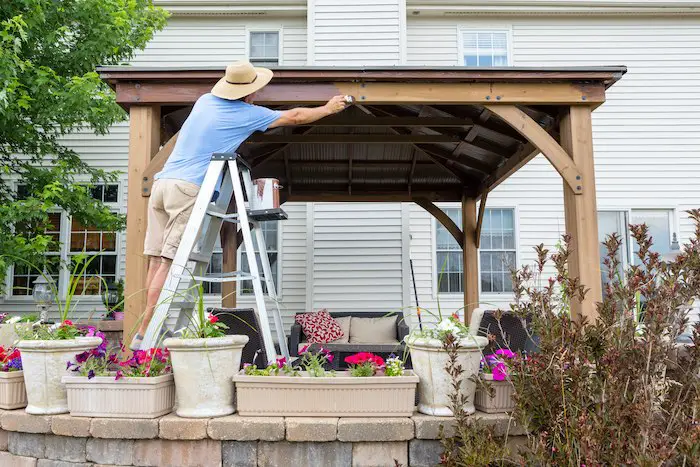 You may want to look for a gazebo that shields cold air, shelters when it's snowing, and maybe the option to allow the sun's rays to come in for a warm spot to relax during the day. However, choosing a suitable gazebo as per the weather to suit your needs is not child's play.
With so many different types and styles of gazebos, each having its own set of merits and disadvantages, it requires a good amount of research to find that perfect one. Does that make you sweat, because you lack the time?
Relax, because we have ensured that buying a gazebo doesn't become too hard for you. We have spent several hours searching, comparing, and analyzing different types of gazebos available online to help you find the product which fits your bill.
Before, we get into the reviews of handpicked gazebos selected by our team, let's take a look at the quick summary to help those who are too busy to read this until the end.
Quick Summary
The Sunjoy Chatham Gazebo is an elegant looking unit made of a sturdy aluminum frame and metal steel roof. There is a vented roof to ensure good airflow and comfort in every season.
The timeless and classic design of the Sunjoy Galvanized Steel Hardtop Gazebo makes it stand apart from the crowd, while at the same time it comes with all features required to make winters pleasant.
Kozyard Alexander Permanent Gazebo boasts a charisma of its own with a stylish exterior, sturdy construction, and private curtains/ mosquito netting for protection against wind and bugs.
You don't need to take the Sojag 500-7156980 Hard Top Sun Shelter after summer because it can also protect you from winter rains, snow, and shield the cold wind. Just follow some of the tips mentioned below to prepare your gazebo for winter.
Best Gazebo For Winter: Tips To Make Your Gazebo Winter Ready
While we suggest that you choose one of the gazebos mentioned below as they are more capable of withstanding cold and wet weather. Here are some tips to make your gazebo-time warmer and more comfortable.
Install a glass panel window system to enclose your gazebo for winter to create a room with a lovely view.
Use an electric infrared heater to keep the inside warm without having to worry about smoke and fumes.
Have a fire-pit located close to the gazebo to enjoy family dinners and hold a barbeque party with friends.
Take your winter gazebo experience to another level by installing a hot tub or outdoor spa, but this will require some professional installation.
Use natural fabric furniture and have lots of fleece blankets and rugs to make the interior as warm and comfortable as you can.
After enjoying the sunny weather and airy days outdoor in summer, you don't need to give up enjoying family time in your Sunjoy Gazebo. The frame is made of powder-coated steel and has a hardtop to shield you from rain and even snow during winter. The package includes a mosquito screen for outdoor comfort.
This elegantly designed Chatham gazebo adds more charm and tranquility to your backyard. You may add lounge chairs and lavish cushions for a perfect outdoor dinner seating arrangement for parties. For extra fun on winter days, you may even install it over a hot tub to build your personal oasis right in your backyard.
What we like:
Installation is time-consuming but pretty easy if you have some technical knowledge
Looks good and built sturdy to last for long
Comes with a mosquito net in the package to go with the gazebo
What we don't like:
The assembly guide is not that good and the instructions are pretty vague
---
The next product on our list is also from the house of Sunjoy, and this what you need to create your own cozy and comfortable corner in the backyard to read a book or entertain your friends. We love the clean lines and details that make it gorgeous and a perfect addition to facelift your property.
The powder-coated rust-resistant steel frame and stylish pattern under the canopy lends a designer touch to it. It has a large canopy at the top to provide the much-needed shade in summer and protection during winter. It comes with an integrated hanging rod system that can be used both for privacy curtains and mosquito netting
What we like:
Hardtop roof is durable and long-lasting
Comes with a ventilated roof for maximum airflow and comfort
Can be easily bolted down when required
Covers resist wind and snowfall too
Looks extremely sturdy and gorgeous
What we don't like:
Complex to set up, professional assembly is required
Parts are not available
---
When you wish to enjoy resort-like ambiance and comfort right at home, this gazebo by Kozyard Alexander is a great choice. It shields you from outdoor winter elements and adds life to your dull backyard. Due to the classic design of the gazebo, it beautifully complements different styles of patio furniture.  
Made from high-grade and non-rusting aluminum material, the patio gazebo is designed for stability and durability. It gives you a shaded area to relax by the swimming pool, and spend cozy evenings in winter. It also includes a mosquito net to keep your quality time with family and friends bug-free.
What we like:
Comes with an advanced water gutter design
Has a galvanized steel roof for sturdiness
Strong anchoring stand with pre-drilled holes
Cupola with mosquito net inside
Sidewall for privacy and protection in winter
What we don't like:
Takes at least two people to assemble
---
You can't help falling in love with this Sojag Hard Top Sun Shelter works great in winter too. While in the summer, it protects you from the sun's heat and UV rays, you may also use it in winter as it shields from rain and snow. It's that perfect space to create sweet memories with family and friends.
The gazebo sports a powder-coated aluminum frame and a galvanized steel roof to provide a new wave of outdoor living for your family. It also includes a nylon-made mosquito netting that not only keeps away bugs but also protects you from adverse weather elements.
What we like:
Charcoal and rust-proof aluminum frame
Galvanized sturdy steel roof
Nylon-made mosquito netting
Replacement parts and accessories are easily available
Can be used in winter as the roof can handle heavy snowfall
What we don't like:
The gutters don't work well and there are leakages at joints
Final Words
With the rising trend to use outdoor spaces for enjoying family time and entertaining friends, opting for one of the above-mentioned gazebos can help you make the best of your investment all the year-round. As the weather gets cold, there are endless options to turn your gazebo into a warm shell sitting pretty in your backyard or garden.
See Also:
6 Best Cast Aluminum Patio Furniture
8 Best Patio Umbrella With Solar Lights
Can You Use A Patio Heater Under A Covered Patio?