8 Best Patio Umbrellas with Solar Lights For 2023
Are you for energy-conservation and looking to breathe life into your outdoor area too? There can't be a better time to invest in the best patio umbrella with solar lights. They not only face-lift your patio or backyard but also keep your outdoor area well-lit for a party or small get together.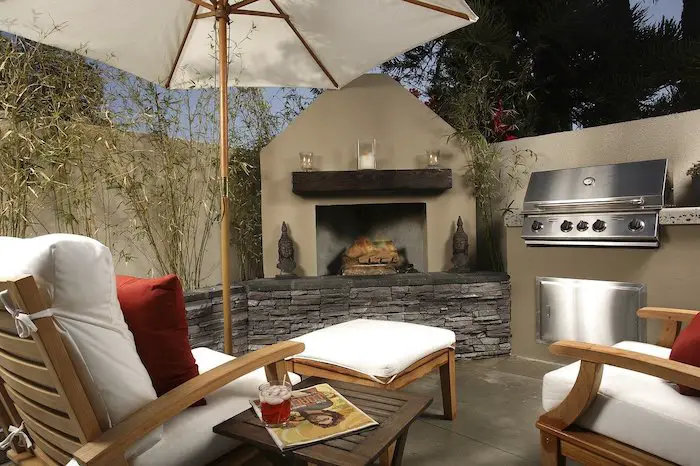 A solar umbrella is undoubtedly one of the best outdoor accessories you can consider for your home, particularly for the poolside, deck, or patio. They are not only versatile in use but also come in a plethora of sizes, colors, and designs.
During the day, the solar umbrellas serve to protect the skin from strong UV rays, and at night, they generate energy-efficient light to create an ever-lasting impression on your guests.
So, if you are looking to get a new patio umbrella powered by solar lights, then you are in the right place. We know it can be baffling to choose out of so many different options available online; hence our team has done the homework for you.
We have spent hours reviewing dozens of products available online and comparing them with competition to find a few handpicked for you.
Quick Summary
Smart and stylish, this Sunnyglade patio umbrella looks great when installed on the patio, and has a solid base to provide good stability. It also includes an air vented top and a polyester canopy fabric for prolonged life and appearance.
This Sundale outdoor patio umbrella comes with a handy push-button tilt and crank opens/closes system that can be easily managed by both kids and adults. It comes with an easy hook & loop strap for easy protection and storage of the umbrella.
This solar-powered patio umbrella comes with a built-in light sensor that helps you light up any outdoor area instantly after the sun goes down. On a fully charged battery, the LED lights can last for about 8 hours at night.
 With the easy push-button of the Best Choice solar powered patio umbrella, you can adjust your shade at any time of the day and the tilt system provides good coverage. With 24 solar-powered LED lights, you get a considerable amount of brightness for 6-7 hours.
This three-tier solar powered patio umbrella by EliteShade Sunbrella comes with a 5-year warranty for a non-fading top. It is 20% stronger and more durable than other competitor products in the market.
This is a heavy-duty, solar-powered LED patio umbrella that comes with a dual top canopy made of polyester fabric. The easy hand-crank system makes it easier for children as well as the elderly to use the patio umbrella.
The cordless solar patio umbrella by POOCCI serves as a perfect outdoor decoration and it come with a remote control and 8 different modes to use. The light strips and battery box are waterproof, plus it comes backed by a 12-month warranty.
With 104 LED lights and 8 lighting modes, the WIKIWIKI Patio Umbrella is just what you need to add more face value to your backyard, patio, or garden. As the solar panel and lights strips are water proof, there are no extra maintenance costs involved.
Who Should Get This
People with a backyard or patio can add more comfort and coziness to space with this solar-powered umbrella that can be used both during the day and night. You may also place it beside the pool, in a garden, or deck to beautify the space.
These umbrellas have solar panels that absorb the sun rays during the day and get recharged to power the LED lights that illuminate at dusk. People who like lounging on the patio at night or enjoy dining in the backyard with family and friends will love this elegant addition to their property.
Best Patio Umbrella With Solar Lights: Things To Consider
Here are a few factors that differentiate between a good and a bad product. Taking these aspects into consideration will help you narrow down the search and find the most suitable solar light.
Choose the right size
A small umbrella is a large patio or a large umbrella in a tiny patio is a misfit. So, choose the size accordingly as per the outdoor space available. The number of family members at home or the kind of gathering you usually have at home can also be used as an important factor.
As a rule of thumb, the diameter of the patio umbrella should be about 6 feet larger than the table below. That extra amount of space is considered to cover the seating arrangement around the bale.
It should have UV resistant fabric
The material that a patio umbrella is made of plays an important role in durability and performance, hence it's worth considering. We suggest that you look for Polyester ones as this is synthetic fiber perfect to make a canopy, plus it does not deteriorate under sunlight.
Besides the patio umbrella, the polyester material is also used in a wide range of outdoor products. It also prevents the color or dye from fading, hence the products stay durable and looking like new for longer. Even if a product looks attractive and low priced, don't go for it unless it has UV resistant and anti-fade fabric.
The lighting of patio umbrella
Most of the solar-powered patio umbrella available in the market use LED as their light source as it is more long-lasting and energy-saving, compared to other options like metal halide bulbs, incandescent, or halogens. In the case of incandescent bulbs, the LEDs are 10 times more energy efficient.
Let's not forget that solar power conversion for electricity is not that high or efficient, so using energy-saving bulbs can sure that they last for longer. Furthermore, these lights are more soothing and a perfect companion for patio umbrellas.
Ease of maintenance
As the patio umbrella is an outdoor accessory, there will be a lot of scum and dust on the canopy. If not cleaned well and left neglected for a long, the dirt can damage the strength and waterproof ability of the polyester material.
Although cleaning with water is the most common method, we suggest using a dilute vinegar solution and some liquid soap to scrub away the dirt. The acidic quality of the vinegar solution dissolves the dirt and makes the patio umbrella look new.
Other accessories and functions
Besides the usual lighting and tilting capabilities, you may want to check for some additional accessories and functions such as music via the smartphone, built-in Bluetooth speaker, and so on.
Stylish, sleek, and solar-powered, this Sunnyglade LED Lighted patio umbrella (see Amazon) is made of 100% polyester canopy fabric that is UV-resistant, water repellent, and fade resistant too. You may use it to enjoy sunny weather and the 24 LED Lights (3 on each of the 8 steel ribs) let you relax comfortably in a well-lit area at night.
The umbrella has a smooth crank opens/closes system with a handy push-button tilt that can be easily handled by the elderly and kids too. It comes with a strap used to protect and store an umbrella when not in use. It looks great and enhances the appearance of your garden, backyard, patio, deck, or pool.
What we like:
9-foot diameter size fits multiple individuals
Sun-Resistant aluminum pole
Solar panels that efficiently power the lights for 6 hours
The crank and tilt mechanism works great
What we don't like:
Can get damaged if accidentally left out in the rain
---
To help you make the most of your outdoor time, Sundale offers this elegant solar powered 32 LED lighted patio umbrella. It features a convenient crank open and close system along with an easy push-button that both kids and the elderly can use. There are 4 LED lights in each of the 8 steel ribs, to make the night time in the patio more comfortable.
The product comes with a rust-resistant bronze aluminum pole and 8 steel ribs that offer extra support to the structure. The canopy has good air ventilation to ensure stability. Made from a 100% polyester fabric, the canopy is fade resistant and water repellent. It not only keeps the patio or backyard well lit but also protects from bad weather.
What we like
Fashionable fabric, slim and elegant design
Adds more ambiance to your outer area  
Durably crafted from waterproof polyester shade
A solar panel provides a glowing light that lasts 9-12 hours
What we don't like:
The fabric fades slightly when kept out in the sun for too long
---
This beautiful solar powered patio umbrella comes from the house of Suplit and it does a great job of adding grace to any backyard or patio. The umbrella's light turns on automatically as the sun goes down, and lights perfectly fit the 7.5ft to 9ft area to keep the area well lit without the need for any electric outlet.
You may use upgraded solar panels that are 30% larger than the ordinary ones, and there are about 22 solar panels that provide hi-speed charging for battery. On a full charge, the lights can last more than 8 hours at night for a party. The product comes backed by a 12-month warranty and solid customer service.
What we like:
No need to manually turn on/off the lights
Additional batteries not required
No tools or wiring system required for installation
What we don't like:
Takes a couple of days to get fully charged
---
This solar-powered LED lighted patio umbrella from Best Choice comes equipped with 24 solar-powered lights for use both day and night. Even at night, the LED lights can run for about 6-7 hours on a full charge without the need for any batteries or electrical outlets.
Made from a high-quality fade-resistant, water-repellent and UV-resistant fabric, it is built to last for several years. The push-button tilt system adds more convenience and there is a wind vent to keep the ambiance cool under the umbrella. Setting up the umbrella system is hassle-free, and you can open or close with minimal effort.
What we like
Switch to turn lights on or off
Can easily cover a six-seater patio set
Setting up and assembly is super easy
What we don't like
LED lights don't work when the sunlight is not enough
---
When you want to 'wow' your guests, this patio umbrella with a three-tier design comes across as a great fit. It comes with a double switched hub light and about 80 rib lights that account for more lights than any other LED umbrella in the market. The entire unit is powered by a battery that can be recharged by solar energy.
Made from fully solution-dyed acrylic material, this Sunbrella is mildew resistant, oil-resistant, and water repellant. The top canopy is covered by a warranty against any fading. With a solid crank open system, this patio umbrella is about 20% more durable than other products in the market. The aluminum pole has a rust-free powder coating for more durability.
What we like:
Easy to open or close by the crank handle
3-Layers wind vented canopy allows wind and heat to escape
Easy to tie-up patio umbrella with strap
Multipurpose umbrella works great for home or commercial areas
What we don't like:
Too tall and heavy for short heighted people
---
This solar-powered LED patio umbrella by PURPLE LEAF features a double-top canopy design that's perfect for residential and commercial use. It also includes a distinctive handle design with a crank system, plus a 360-degree rotation for better functionality and control.  
Made from a polyester fabric that is water-repellent, UV-resistant, and fade-resistant, the umbrella comprises heavy-duty ribs that feature LED light tubes. It also features an anti-oxidation spray paint that offers good durability. The double top design comes with both wind and heat ventilation for added comfort.
What we like:
Enough coverage to provide shade around
Strong, durable, and a solid mechanism
Easy opening mechanism
Comes with a nice sturdy stand
What we don't like:
No screws or instruction on how to install
Customer support can be improved
---
Elegant and stylish, this solar-powered patio umbrella comes from the house of POOCCI. It uses solar power to brighten up the nights and even days when there's not much light for you to entertain your guests. It's a perfect addition to a patio, deck, or garden to create an ambiance for a romantic dinner.
The lights turn on automatically as the natural light goes dim, even during the day. As the product comes with remote control, you can also set the timer and dim the brightness as required. The manufacturer stands behind the product with a year warranty.
What we like:
Energy-efficient lighting for outdoors
Protects multiple people from the sun at once
Includes wind vents, crank, and tilt mechanism
Easy height and angle adjustment
Looks great and complements any patio area
What we don't like:Can't hold up in the strong wind
---
If you wish to add a touch of warmth and light to the outdoors, check out this patio umbrella by WIKIWIKI. It comes built with 8 lighting modes that can be adjusted to suit the various moods. The designer LED lights that come with the product are parallel and they can be measured and cut as per your specific requirement.
The unit comes with a solar panel that can be clipped and tilted to absorb the sun easily. Built-in sensors with the light help to turn them on or off automatically. As the solar panel and light strips are waterproof, there's no fear of water entering the solar panel, plus the product is backed by a 12-month warranty.
What we like:
Solar-powered lights can turn on for 6 hours a day
Waterproof design can withstand rainy seasons
Inexpensive lights provide a warm atmosphere
Very easy to install and lightweight
What we don't like:
Instructions are written in a foreign language
---
Final Words
Outdoor times sent with family and friends on good weather are precious, and the best solar powered patio umbrella help in making these moments more beautiful. These products not only protect you from the harsh sun but also use the sun's rays to power the LED lights that illuminate at night. Each of the carefully chosen products reviewed above give you the best value for money.  
See Also:
4 Best Gazebos For Winter
Can You Use A Patio Heater Under A Covered Patio?