When you live in higher altitudes or places where the wind can whip and tear through your property, it is important to have durable buildings. A greenhouse can make life so much easier for people in these climates. From growing fresh herbs to delicate flowers, these outbuildings are convenient, and necessary in some cases.
These structures come in several styles, allowing people the opportunity to create a functional and beautiful building. If you love sunning yourself while you work, then these lovely rooms make a great pick. You can put in a small table with chairs for enjoying afternoon tea or a strong cup of Joe every morning. Sip on some hot chocolate on a cold winter's morning while tending to new seedlings. From reading to orchid growing, there are tons of things you can do with a durable greenhouse.
The size of your greenhouse may not seem like a big deal, but areas with the highest winds can take down the tallest structures. The design of the unit is important because the more curves, the better the air will flow over the surface. With impact-grade products, the Home Depot offers consumers greenhouses that take the abuse Mother Nature throws at it. We cover five of their top structures for high-wind zones in this article.
If you want to forego the details, then consider picking the Riga 7-foot by 10-foot German Hobby model. This compact unit offers maximum headroom and natural light with a tough wood frame and polycarbonate shell. The size is small enough to withstand heavy winds, and the design resists snow packs with a unique style.
Quick glance chart – Top Greenhouses for Wind
| | | | | | |
| --- | --- | --- | --- | --- | --- |
| | Riga 7-foot by 10-foot | Exaco Royal Victorian | Palram Victory | Riga 9-foot by 10-foot | Monticello |
| Size | 7 ft. 8 in. x 10 ft. 6 in. | 7 ft. 9 in. x 10 ft. 2 in. | 11 f.t 10.1 in. x 10 ft. 0.5 in. | 9 ft. 8 in. W x 10 ft. 6 in. L | 8 ft. 5 in .x 8 ft. 5 in. |
| Door opening | 30 in wide by 72 in Height | 28.5 in wide by 72 in Height | 45.7 in wide by 81.5 in Height | 30 in wide by 79 in Height | 48 in wide by 71 in Height |
| Maximum wind resistance | 80 miles per hour | 80 miles per hour | 55 miles per hour | 55 miles per hour | 65 miles per hour |
| Vents | 2 | 2 | 2 | 2 | 1 |
---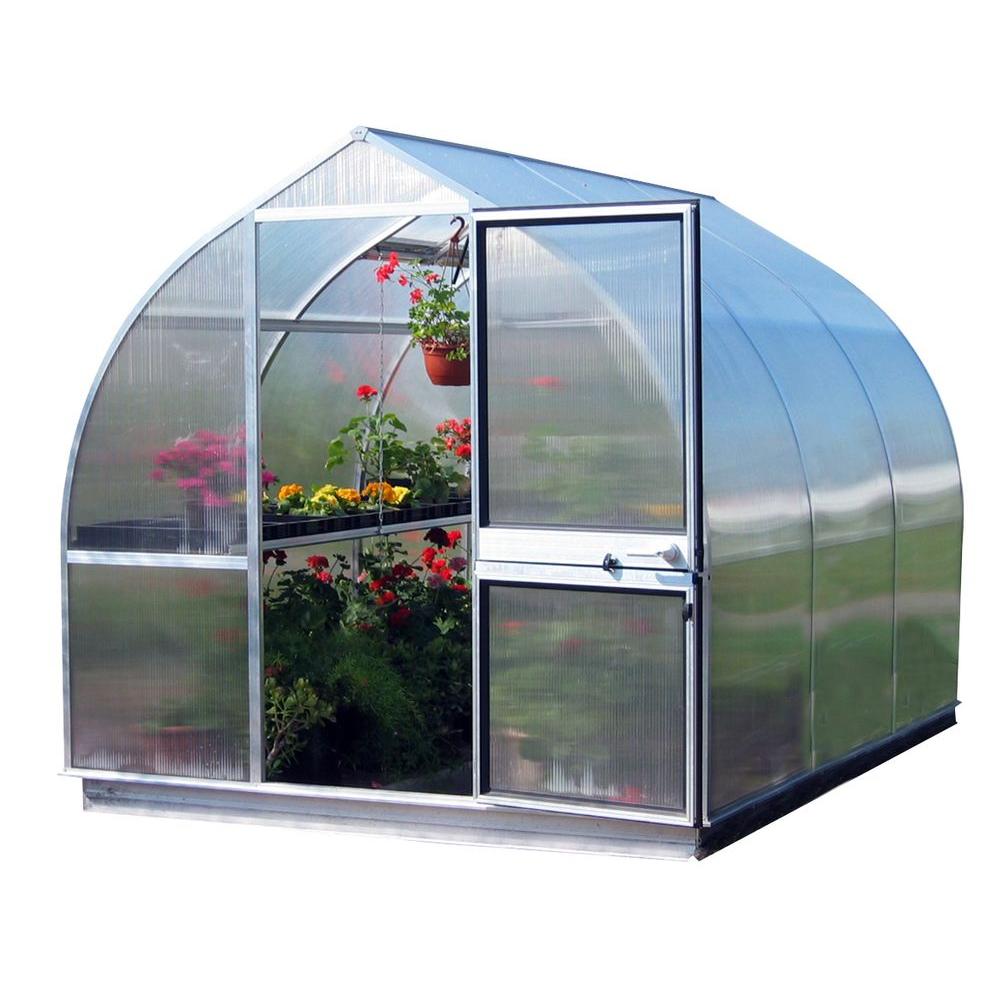 When you need a structure that will let you plant seeds, tend to delicate plants, and grow abundant varieties, then you may prefer this option. The Riga model greenhouse from Home Depot comes in a variety of sizes. This particular model is larger than seven feet by ten feet.
The shape of this model provides exceptional rain, snow, and hail protection. The design ensures most of the precipitation bounces or slides off the roof. The frame consists of a robust aluminum structure with durable 8-millimeter polycarbonate sheets for the walls.
Product benefits and specifications
Includes two shelves
Wide back window and roof vents
Stylish Dutch barn door
15-year warranty on the frame and 10-year warranty on the panels
Affordable
Polycarbonate panels use a UV coating to prevent damage
Automatic back window opener
Will withstand 80 mile per hour winds
Robust door latch and hinges
Shelf construction adds strength to the fram
Roof design allows for maximum standing height
Cons
Door is one of the smallest on the list
Maximum snow load is 25 pounds
Buyer's remarks
Many consumers find this model affordable and durable. Buyers often comment on the ventilation in this structure. People living in colder climates use this product with outdoor heaters with great results.
One consumer says they use their greenhouse for a chicken coop. The best part is the structure is movable once you build it. It takes about three strong people to lift the unit onto a truck to move it to a new spot.
Conclusion
We appreciate the additional ventilation for this model. The larger windows and automatic openers make this item convenient. The lightweight model means we can use this greenhouse in areas where weight limits are important. Versatility is another perk of purchasing this model Riga greenhouse.
---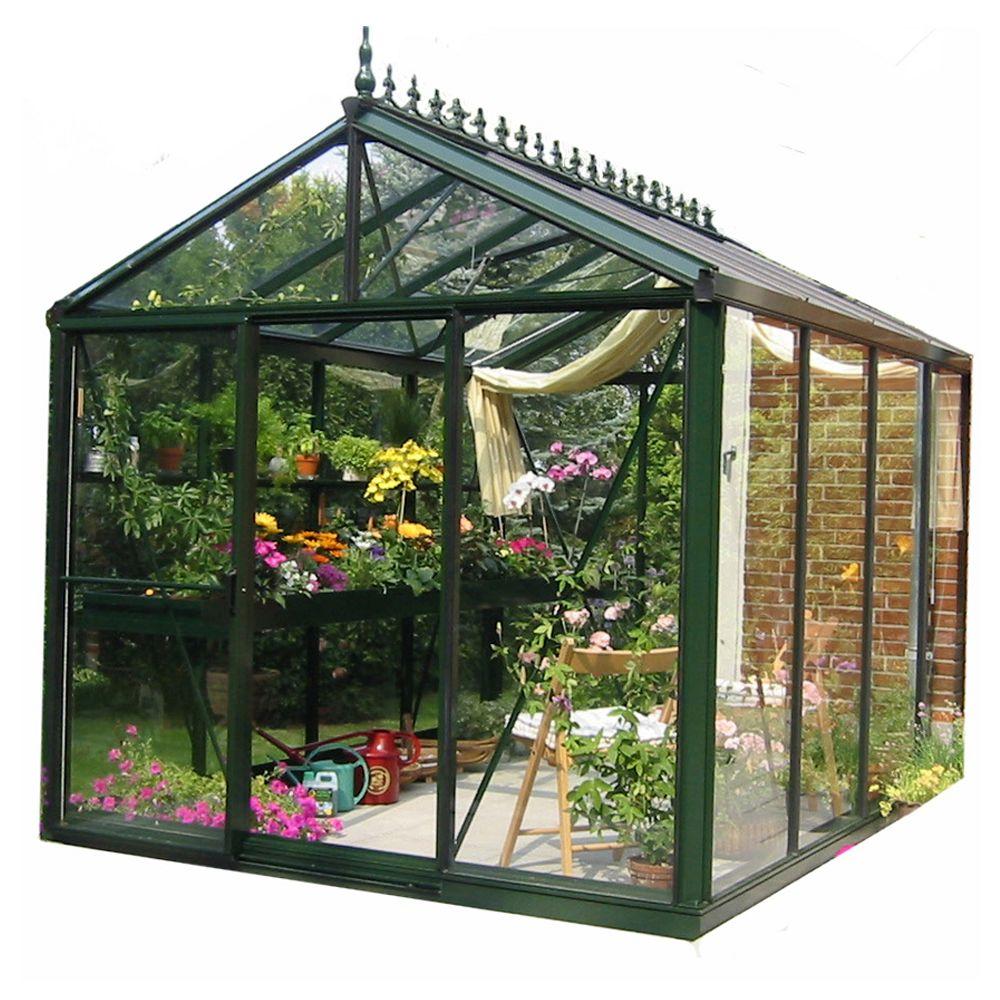 Do you live in a rugged climate? If you know you want a heavy greenhouse that will stay where you put it, then the Exaco model may be helpful. This model weighs over 1,000 pounds when complete. It comes with ground anchors to secure it in place.
If a Victorian design is your favorite, then you will appreciate the delicate details the Home Depot includes on this model. The hunter green hue and the spikes on the roof give this model an Old English feel. With one big window you can install in the back or side of the unit, and three roof windows, you always have enough airflow in this greenhouse.
Product benefits and specifications
Nine feet of room in the center of the structure
Tempered 4-millimeter glass with rubber seals
Two sun shades with rods to allow easy opening and closing – both sides work independently
Irrigation hose
One manual roof window and two automatic opening units
Can install several types of floors for this model
Large seed bench – 4 inches by 20 inches
Small storage shelf – 1-inch by 4.5 inches
Great rating on the Home Depot site
Cons
Requires at least two strong people to assemble
Must follow directions in order to erect correctly
Pictures may be difficult to comprehend
Buyer's remarks
Consumers seem to like the windows and bench in this model. Some people feel the Belgian instructions are difficult to follow. The pictures are not so helpful either. Some people struggle with getting the corner brackets on the frame when the walls are complete.
Overall, many buyers appreciate the design and heavy-duty structure of the Exaco greenhouse. One person says they put this against the house and added equity according to their property agent. Quality is the main selling feature of this model.
Conclusion
We have three things we love most about the Exaco greenhouse. The weight of the structure means you will not have to worry about the wind blowing it over. Another thing we appreciate is the misting system that comes included in the kit.
You can also install a sink, or spigot, so you can wash your hands and water plants. Finally, the windows open on their own when the heat gets too high, and there are several of them. The bad part is it requires several people to assemble.
---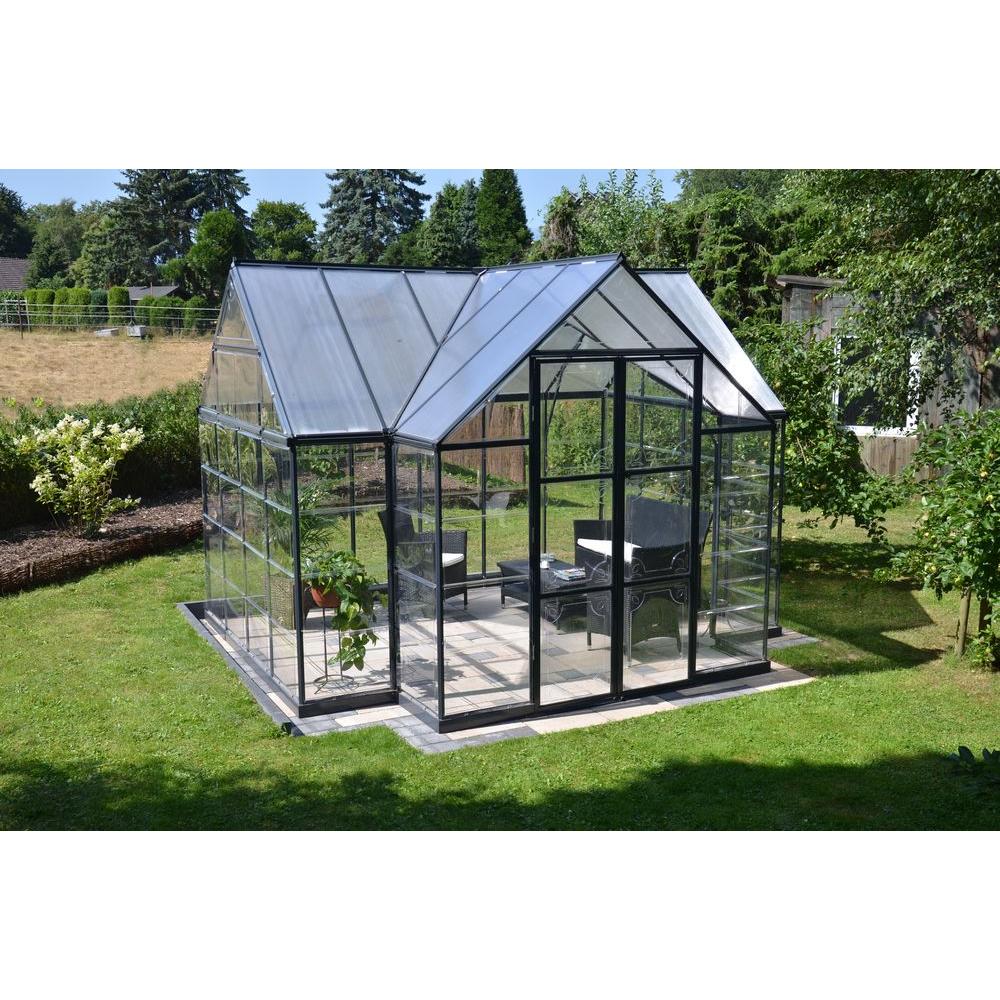 When you need an elegant structure to go along with a stunning outdoor space, then you may want to choose the Palram Chalet greenhouse. This spectacular design features a high-vaulted entrance that opens up to a wide interior in this 10-foot by 12-foot orangery.
This unit offers buyers a ton of perks. Gutters ensure the rain goes where you want it. The model comes with a galvanized steel floor to prevent rust and provide a solid foundation for the durable aluminum frame.
Product benefits and specifications
Dual-door opens flat against the building for moving large objects
Clear polycarbonate walls allow 90 percent of light to enter the greenhouse
100 percent UV protection to minimize harmful sun damage
Integrated gutter system
Non-yellowing walls
Over 106 inches of headroom in the center of the unit
Twin-wall construction provides additional strength for areas with high winds
Parts come with pre-drilled holes and grooves for the dual wall panels
Cons
Instructions are not the easiest to follow
May need Tapcons to attach the frame to concrete
Buyer's remarks
One of the things people seem to enjoy the most about this greenhouse is the ability to slide the panels into the grooves for quick assembly. Many consumers suggest checking the level and square of the structure as you go along. Getting too far out of alignment may cause issues when putting the roof together or installing the windows.
Buyers like this model because it cleans up quickly. One person says this greenhouse can withstand a severe hailstorm. Some people suggest the model was flimsy before assembling, but they were extremely happy with the complete product.
Conclusion
We like the way you can open the doors wide on this model. The gutters and the high ceiling make this greenhouse very appealing. The design of the Palram Orangery is beautiful and will fit in a variety of garden designs.
---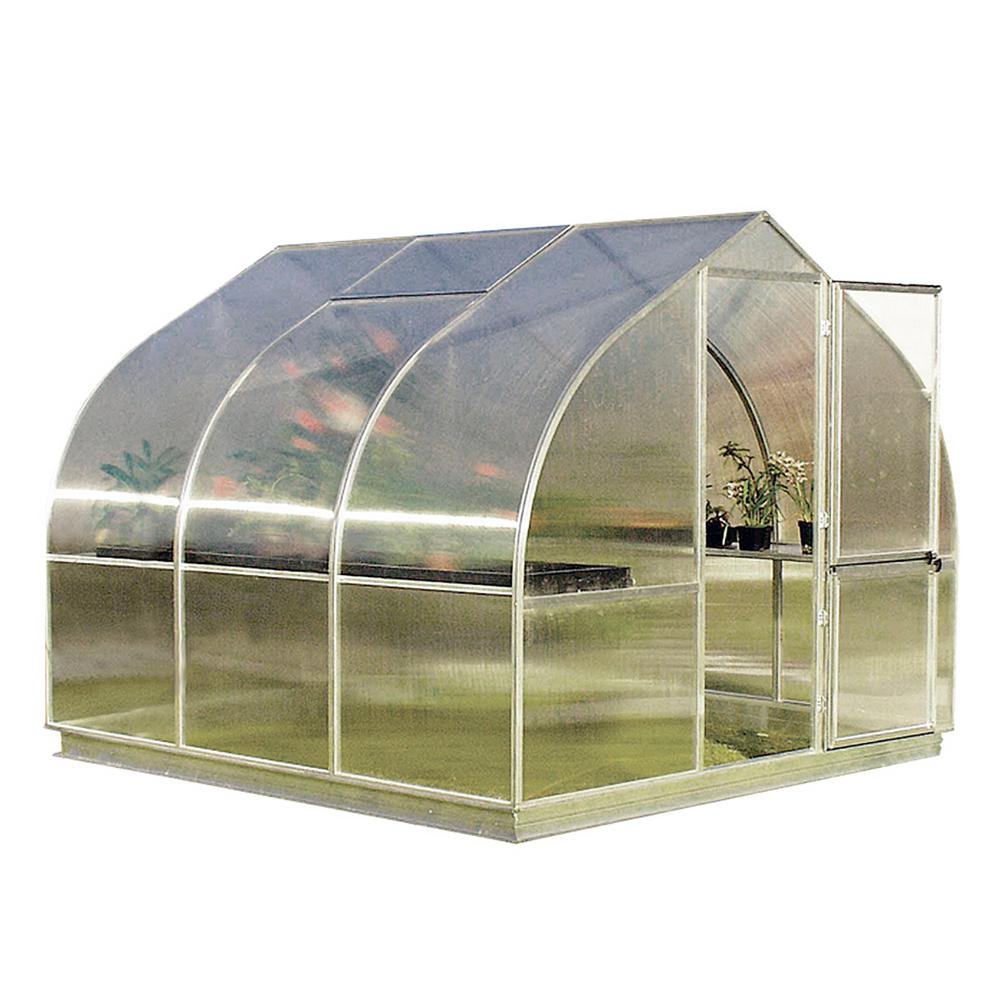 When you need, or want, a premium greenhouse for your yard, then we think the Riga nine by ten model is the best pick out of the five options on this list. With exceptional quality and high-grade materials, this greenhouse will last for at least a decade. The stainless steel hardware is durable and resistant to rust.
The panels are 8 millimeters thick on the sides, and 10 millimeters for the back and front walls. The walls use a polycarbonate material with dual glaze for ultimate protection against ultraviolet light. We love how the roof design prevents snow buildup on the top. It means one less thing to clean off and worry about in the winter.
Product benefits and specifications
Resistant to hail and wind damage with the curved roof design
Allows consumers to grow vegetables and fruits all year long
Automatic window openers to release excess heat
Dutch door locks on the bottom while letting you keep the top open for additional airflow
Robust aluminum frame is lightweight yet durable
Large back window opens for cross-ventilation
Thick gaskets around openings to ensure the greenhouse seals when you want it to
The kit includes two shelves
Fits about 500 cubic feet of storage space
Cons
Door opening is only 30 inches wide
May be difficult for one person to assemble, but not impossible
Buyer's remarks
Consumers use these greenhouses for a variety of reasons, from gardening to workshops and outdoor smoking areas in the winter. This model Riga is one of the largest on our list, making it a great size for storing sensitive items you do not want to freeze.
You may add a heater to this unit in the winter without worry about anything overheating. The automatic opener will pop up the roof window to vent out excess heat. Users can install electricity in this model with no issues.
Conclusion
We like this Riga greenhouse the most because it has a little bit of the qualities of all the models on this list. The greenhouse is sturdy, great for vegetables or animals, excellent for growing plants year-round, and it cleans up nicely when you make a mess.
---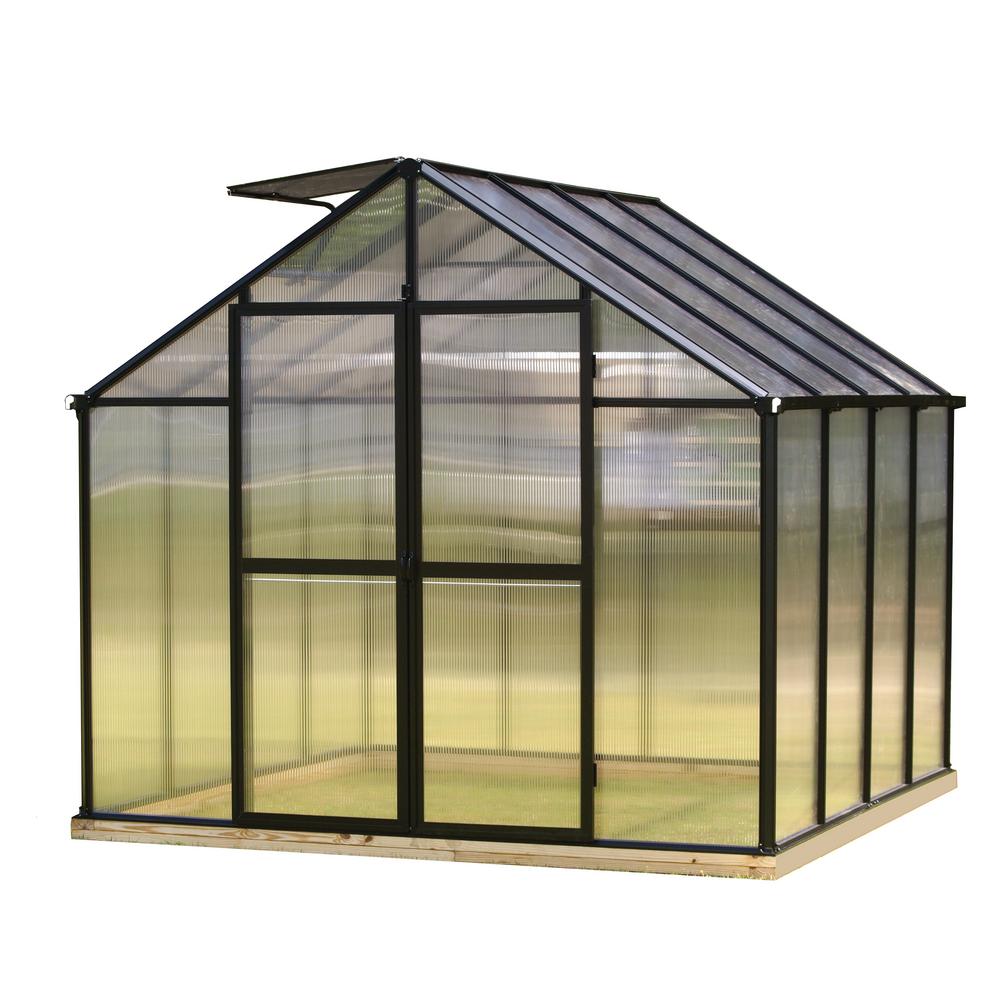 When you live in a place where windstorms, hail, tree branches, and debris are often blowing around your yard, you may want a greenhouse that can protect your stuff. Whether you need to store plants, garden equipment, work tools, craft and hobby items, or extra holiday decor, this greenhouse can serve many purposes.
The eight-foot by eight-foot size is large enough to handle a garden full of starter plants yet small enough to withstand winds up to 65 miles per hour. The paint goes on with electrostatic charges, so there is no worry of it chipping away as soon as the rain hits.
Product benefits and specifications
Premium aluminum frame
Commercial-grade wall materials with impact resistance
Flush door design lets you avoid the lip of most greenhouse designs to prevent tripping
Dual doors you can lock
Double gutters
Expandable design
Patented assembly design
Auto-opening roof vent
Cons
Requires two people to assemble
Only seven-and-a-half feet high in the center of the building
Buyer's remarks
Most buyers prefer this model for growing crops all year. The ability to install a structure that will protect plants during high wind season is important to most buyers.
There are a couple of complaints about this model. One, people would prefer if the parts have labels to make them easier to find. Second, the instructions are not always clear.
Conclusion
We prefer this model because you can use it for so many things. A lot of people like to use it as a chicken coop. The automatic vents keep animals from overheating. Plus, you can run electric to the Monticello without any issues. The dual door means better ventilation when you need it. Our favorite part is you can expand this model by four feet at a time to increase the size.
Top two greenhouse questions and answers
Does the greenhouse come with a floor
No. Most of the models do not have a floor. The Riga models come with a galvanized steel base.
How long does it take to assemble a greenhouse
Each model is different, so the assembly time will differ. Some models come with pre-drilled holes while others use slide grooves. The manufacturer's instructions should give you an idea of the total construction time.
See Also:
Best Way To Grow Sunflowers Indoors
How Much Light Do Succulents Need
How To Care For Succulents Outdoors