6 Best Knee Pads for Housework for 2023
When you are scrubbing the floors, it always helps to have a comfortable pair of knee pads. Working on plumbing, fixing tiles, cleaning grout, and smoothing concrete mean spending time on your knees. When you install carpet or plant flowers in the garden, you have to kneel. Staying in this position for long periods can be painful or difficult without protective padding.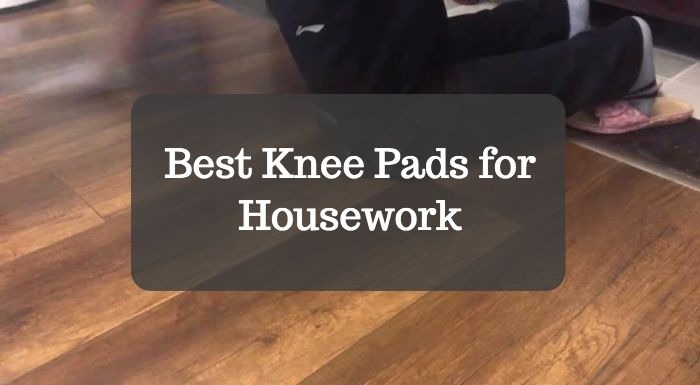 People with knee problems can protect their knees and make impossible tasks doable with a quality pair of knee pads. Some people prefer foam, while others may enjoy a pair of gel pads. We cover both types in this article.
The way the product fits is another consideration when choosing a knee pad. Whether you want something that straps on tight, or a pair of pads that hold themselves in place might be important to you. Some models provide support while some offer stabilizing qualities.
If you just want to grab a pair of knee pads and go, then we suggest picking the McGuire Nicholas brand. This model is comfortable with extra support. Plus, they are affordable and great for keeping your knees from slipping in wet conditions.
Comparing knee pads for house cleaning
| | | | | | | |
| --- | --- | --- | --- | --- | --- | --- |
| | ToughBuilt | REXBETI | QEP | Bradz | McGuire Nicholas | ProLock |
| Shell | Hard plastic | Polyester, rubber, and acetate | Gel | Neoprene | Hard plastic | PVC |
| Pad | Gel | Gel | Gel | Gel | Gel | Foam |
| Cap Style | Hinged | Hinged | Scratch-resistant | Self-supporting | Non-marring | Hard foam |
| Color | Black and yellow | Black and orange | Black | Black | Black with yellow | Black |
| Weight | 2.45 pounds | 2.4 pounds | 0.4 pounds | 3.5 pounds | 1.1 pounds | 0.998 pounds |
---
When you purchase a home that needs a lot of repairs and upgrades, then you are likely to spend time fixing floors and working on your knees. The ToughBuilt Gelfit knee pads are fantastic for minimizing the lateral damage to the knees while you pull out nails or trim tile. You can shift back and forth and move sideways with no worry about hyper-extending the knee.
People who like home projects may find these protectors comfortable for wearing all day long. You can plant flowers, dig out a honeysuckle bush, or lay a new path while using these pads with foam and gel padding. The contoured design and thigh grips reduce pressure on the ankles that are common with others.
Product characteristics and perks
Auto-leveling to prevent knee strain
Shaped padding for extreme fit and comfort
Lateral stability to minimize sideways movement
Thick foam and gel padding and hinged design
Holds shin off the ground to reduce pressure on the lower legs and feet
Additional supports on the thighs help stabilize the pads
Velcro closures make adjusting a breeze
Insulated pads keep the knees warm when working outside
Non-slip grips ensure the knees stay secure in any weather or wet conditions
Impact-resistant shells provide protection in case of falls and against rocks, concrete, and wood
Cons
May be too bulky for jobs requiring tons of movement
May not be the best for people with arthritis
Consumer opinions
Many buyers say these knee pads are excellent for roofing jobs. Most people appreciate how the product is great for any surface. They say the pads do not leave scratches and smudges on metal, tile, or wood.
If you have bamboo flooring, then you might like that these knee pads do not damage the material. Some people feel it is important to use another layer of protection for laying wood floors. A towel, thin blanket, or piece of carpet can work to provide a barrier between your pads and the flooring if you want more security.
Conclusion
We like the ToughBuilt pads for three reasons. The combination of gel and foam lets you wear these pads for hours doing any household job. The shin lifting mechanism helps save your ankles from soreness. Finally. the straps on the thighs help keep the sideways motion down.
---
Whether you use knee pads for working outside, or you wear them inside, you may appreciate secure products. The REXBETI Pro Stabilizing protective gear is excellent for long-term use. When you have a house, you will spend hours working on projects like laying decking, sealing the driveway, and inspecting the roof. With the right support, these jobs may get quicker and easier.
When refinishing projects are your hobby, then kneeling and squatting over wood pieces can be a daily task. Making this part of building more comfortable can help you get more done. The ergonomic style of these knee pads minimizes the stress on the knees, reducing leg tiredness.
Product characteristics and perks
Durable structure and design
Premium gel and foam construction for long-lasting comfort
Stiff shell gives additional support and minimizes sliding
Ergonomic design provides fatigue-reducing qualities
Hinged design keeps thigh straps secure
Velcro straps make the pads easier to manage
Adjustable straps let you personalize the fit
Cons
Bracing material may fall out
Velcro seams do not hold up to constant use
Consumer opinions
Many buyers say these knee pads have comfortable straps. The wider size of these buckles makes it easier to maneuver them out of the way of the bend of the knee. Most consumers like the gel liners. They say they can use these pads without having tired knees at the end of the day.
Conclusion
We like the REXBETI Knee Pads because they are thick and last a long time. The gel interior makes sure you can always have the cushioning you need to protect your joints. These pads use a hard insert that helps provide additional strength when you twist and turn.
---
If you prefer to wear knee pads to clean the grout, then those that do not weigh a ton may be beneficial. The QEP protective gear weighs just a quarter of a pound. These light pads use a neoprene and memory foam construction to provide exceptional comfort while protecting your knees.
The pads use several layers of material to provide additional strength. The fasteners hook onto huge loops, making it quick to secure them in place. Since there are no thigh or shin buckles, these pads may be most comfortable for wearing for an hour or two at a time.
Product characteristics and perks
Ten layers of padding
Ultra-thin memory foam core
Large cup size
Secure design to keep joints level and safe
EVA material is durable and light
Impact protection
Fast remove straps
Non-damaging exterior material
Cons
May not hold up as well as hard shell designs
The strap goes behind the knee making it bulky and uncomfortable for some users
Consumer opinions
Most people say these pads are large enough for overweight or tall users. They have a lot of thick layers providing plenty of cushioning for kneeling. You can use these pads outside, but the soft material is not so forgiving on concrete and other abrasive surfaces.
Consumers say these pads get a little sweaty at the back of the knee, but the straps hold tight. One suggestion is to close the straps when you are not using the pads. Closing them will minimize the amount of debris that gets between the fibers.
Conclusion
We like the QEP knee pads for household chores. We think the soft cap is excellent when you are working in the garden. You can move from the soil to the wheelbarrow without standing up to get to the stuff you need. We appreciate the multiple layers of padding because the pads keep us from feeling little pebbles and sticks.
---
Do you work on projects that have you up and down a lot? For example, refinishing antiques or working on crown molding can have you doing a lot of bending and kneeling. When you work on baseboards or stair treads, you can be on your knees a lot.
The Brad knee protectors also cover your shins. When you jump up and down to get the next tool, you do not have to worry about slamming your lower leg into the hammer, saw, or drill. These knee pads use a hard plastic cover to protect the entire bottom part of the leg.
Product characteristics and perks
No straps across the back of the knee – fully self-securing design
Pockets for screwdrivers and pliers on each side of the brace
Two calf extensions for longer leg lengths
Can wear for fishing, hunting, working, general household chores, and even skateboarding
Waterproof design
Velcro strap closures
Replaceable hard plastic inserts
Comes with three protective patches for additional protection
Easy to wash clean when using in muddy or wet areas
May purchase leather inserts for these pads
Cons
Not for lower leg lengths over 19 inches
One of the heaviest items on our list
May be painful for the feet since the bottom of the pads sit on the top of the foot and ankle
Consumer opinions
Most buyers love the tool pockets on the sides of these pads. However, they empty real fast when you forget to take out your tools before you start kicking the carpet. One of the biggest complaints is the bottom strap is always loose.
Many people appreciate the lack of buckles behind the knee. They say there is no more cutting off the circulation in the leg with this brand. The only problem is some people find they are not long enough for tall users.
Conclusion
When you need lower leg protection, then we like these pads. The ability to use them at work, at home, or while in the bush is helpful. The leg covers provide additional protection should you walk in snake territory. The Bradz protector goes from the ankle to the knee.
---
When you want a versatile set of pads you can use to work on the car, fix the faucet, and keep you comfortable when hunting, then you may want to pick up the McGuire Nicholas knee pads. The grip factor on the surface of the pads is exceptional. The material helps prevent you from slipping and sliding since it holds tight to most surfaces, wet or not.
With great impact protection, you can feel secure that if you fall or slip while wearing the knee pads, you will protect your joints. The gel cup inside the hard cap makes it comfortable to wear these pads while you wait for the right shot or want to keep from disturbing the fish.
Product characteristics and perks
Non-slip pads are durable
Impact resistance
Protective hard cover will not damage soft surfaces
Editor's Top Pick
Affordable product
Long-lasting design
Duck bill style removes pressure on the shin to make long use less harmful to the legs
No tangle straps with perforations to reduce moisture buildup
Pads weigh less than one-and-a-half pounds each
Cons
May not fit larger knees
Velcro can wear out quickly with extra use
Padding may flatten fast
Consumer opinions
Many people say the cap of the pads holds up well. They do not like the lack of additional straps to secure the protector. Some people say they get blisters on the back of the knee from the strap sliding while working.
Consumers like the thickness of the padding. Many people say it holds up to long hours of working. Diesel mechanics like these protectors because the grip holds tight when working in oily or greasy conditions. They work well for exterior chores when it is raining.
Conclusion
Overall, we feel the McGuire Nicholas knee pads are the best item on our list. For the price and comfort, you cannot get a better pair of protectors. The only drawback is the straps on this product tend to rub the back of the knee. We suggest wearing these with work pants or jeans to minimize friction.
---
If you work with plumbing, go fishing, or hunt a lot, then you may appreciate a great pair of waterproof knee pads. The ProLock protectors' hard foam core prevents water damage when gardening or working outside. You may like these pads for fixing pipes and working in flooded areas.
Product characteristics and perks
Comfortable for getting up and down a lot
Great for wet areas like muddy flowerbeds
One strap to prevent tangling
Rubber material resists damage and wear
Easy to clean design
Thick padding stops you from feeling tree roots or broken glass
Cons
Not as durable as the other products
May need more adjustment holes for the strap
Consumer opinions
Buyers like these pads for exterior chores. They say the protectors are easy to hose off when the job is done. They like the versatility of this product. The pads are comfortable for long hours of use.
Conclusion
We like the rubber strap on these knee pads. It seems to hold up to moisture well. The ProLogic knee pads are tough, durable, and light to wear. We agree they are great for exterior jobs.
---
Top Two Questions About Knee Pads for Cleaning
Are these knee pads good for working on concrete
Yes. Generally, all the hard knee pads are excellent for working on concrete. However, we do not suggest using the QEP pads for this application since the exterior is softshell.
Can you wash knee protectors
Yes. The Bradz knee pads are the easiest ones to wash. You can submerge the others, but it will take several hours for the gel or memory foam to dry completely.
Related Article:
5 Best Washing Machine For Heavily Soiled Clothes
Bissell Crosswave 1785w Vs 1785a (Here's The Difference)
Concrobium Mold Control Reviews