6 Best Pasta Makers For Ramen for 2023
A bowl of piping hot noodles is every ramen lover's dream, but do you have to go to a restaurant each time to realize that? With the best paste maker for ramen, you can craft your own homemade wheat-based noodles fresh from scratch, without any nasty preservatives.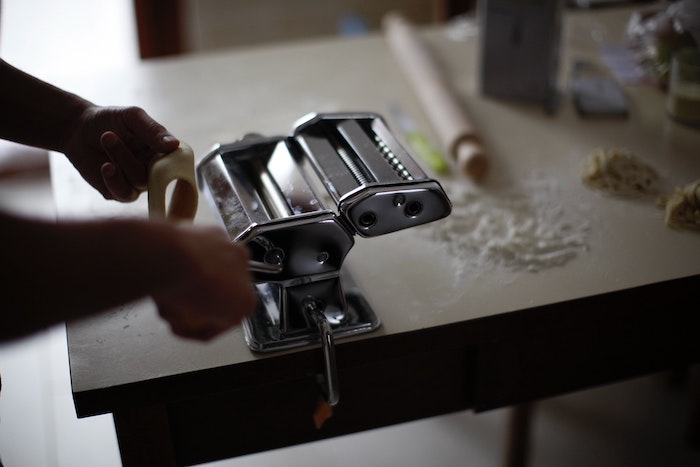 The biggest advantage of making your own bowl of ramen at home is that you can back on the calories and fat. Instead, you can load it up with healthy alternatives to make a wholesome and filling meal. Complement your ramen with soup or spinach, tofu, or a bit of pork to add chewiness.
If that makes your mouth water already then let's not wait any more time and take to you our reviews for the best pasta makers available online. We know the myriad of choices can be confusing for so we have spent hours reviewing and comparing products to create a handpicked list exclusively for our readers.
Read on to find the complete and unbiased review of each product selected after careful analysis. If you are in a hurry to order then we suggest that you opt for the KitchenAid KSMPRA Pasta Roller & cutter attachment set that is trusted by millions around the world. It has a trusted brand name and works perfectly with any KitchenAid stand mixers.
If you have the knack for making ramen at home then you must check out the Emeril Lagasse Electric Pasta and Ramen Noodle Maker. It only takes a few hours as you simply need to add flour to the blend and start kneading the mixture until you have a nice dough ready.
In just 10 minutes' time, this noodle maker can help you prepare 3-4 servings of noodles. There are 13 different styles in which you can make your noodles – spaghetti, fettucini, macaroni, and more. After the noodles are extruded, you only need to boil them in hot water for 90 to 120 seconds.
To improve upon your pasta, add some eggs, spices, or vegetable juice to the dough mixture that should be a little dry when you finish kneading. We love the fact that all the parts in the noodle maker are dishwasher safe, and it also includes several tools that can be used to clean the pasta maker.
Product features and specifications
Measures 13.4 x 9.84 x 9.84 inches
Weighs 1 pound
Removable parts
Fully Automatic
13 different noodle shapes
2-3 servings of noodles
Dishwasher-safe parts
User/ Customer reviews
Users are thrilled with the ease with which they can make a variety of noodles and dumplings using this pasta maker. Many people have also said that the product takes less real estate on the kitchen counter so that's a good thing with those who have a small and compact kitchen area. A few users have warned that the pasta molds are made of plastic instead of traditional metal ones.
Conclusion
Even though the Emeril Lagasse Electric Pasta and Ramen Noodle Maker (see Amazon) looks slightly daunting, it is easy to use, produces different styles of pasta and noodles in no time. The best part is that it is extremely easy to clean after use. As the parts are made of plastic, we can't say much about durability but the outcomes are nice and this appears to be a good buy.
---
This compact pasta maker from the house of Philips kitchen appliances is capable of automatically kneading and extruding 2-3 servings of fresh noodles or pasta in a few minutes' time. The machine comes with three classic shaping discs for making Penne, Fettuccini, and Spaghetti.
The well-made shaping discs ensure a dual extrusion process to produce smooth and good quality noodles and pasta consistently. Users can change or improve the flavor as per their taste by changing the flour or experimenting with different ingredients like herbs, eggs, carrot juice, and spinach.
Besides the trusted reputation of Philips, this pasta maker also features a space-saving design that lets you keep it on the kitchen counter along with other appliances. It also includes a smartly designed storage area to keep the various shaping discs.
Product features and specifications
Measures 13 x 5 x 10 inches
Weighs 13 pounds
Fully automatic
Long Kneading Tube
Compact and Modern Design
Easy Operation and Cleaning
Unique Stirring Bar Design
User/ Customer reviews
Several users have said that their noodles came out perfect only when they followed the instructions closely about the quantities. Many people have also mentioned that this pasta maker is extremely easy to use even for a beginner. A few customers have mentioned that the resulting pasts and noodles did not taste as they expected.
Conclusion
If you want to make perfect homemade pasts at home, we strongly suggest that you follow the instructions that come with the Philips Compact Pasta Maker. It also includes a user manual and a free recipe book that comes with the machine. Overall, we feel that if you are looking for a trusted brand name and quality service then this pasta maker is the way to go.
---
The next pasta and noodle maker on our list also comes from the house of Philips and it promises to give you flavorful delights in just 10 minutes. Users can experiment with different ingredients such as various types of flours, egg, vegetable juices, and herbs to get amazing results.
This Philips machine comes with four shaping discs that let you produce various shapes of noodles and pasta such as fettuccini, penne, spaghetti, lasagna, and so on. The kit also includes a noodle cutter, a measuring cup, and a noodle cutter for your ease of use.
Four shaping discs to create various types of pasta and noodles: Spaghetti, fettuccini, penne and lasagna/Dumpling; Pasta/noodle cutter, cleaning tool, and measuring cup. As the parts are dishwasher-safe, you can easily dismantle the unit, clean, and again set it up in no time.
Product features and specifications
Measures 12.4 x 13.5 x 8.5 inches
Weighs 14.7 pounds
Dishwasher-safe parts
Easy to setup
Shaping discs and cleaning tools
15 pasta and noodle dishes
Recipe book by experts
User/ Customer reviews
Many users are delighted with the ease and quickness with which you can prepare noodles and pasta using this machine, so you have more time to experiment with styles and try new sauces. People have also mentioned that the machine is not loud while functioning and looks really well-made. A few customers have warned that the warranty is not adequate enough.
Conclusion
The Philips Pasta and Noodle Maker Plus (shop now) is a great-looking and well-performing pasta and noodles maker that can help you make homemade delights for years. At this price, you have a well-built kitchen appliance that will make your family members and guests really happy. So, it's a small price you pay for good memories.
---
This 3-piece pasta roller and cutter attachment set (learn more) is completely designed, built, and tested by the KitchenAid team. It is created in a way to perfectly fit with any KitchenAid stand mixer available in the households. We love the unique and convenient design that includes a front pocket for easy access.
There is a pasta roller that can easily roll out six-inch sheets with about 8 inches thickness. It also includes a spaghetti cutter that can put the pasta sheets into the shape of the classic noodles. Plus, the Fettuccine Cutter comes in handy to shape the pasta sheets into perfect Fettuccine noodles.
Made from high-quality stainless steel material, the attachment parts come useful for smooth rolling and cutting of pasta dough. With a gorgeous Italian design and a beautiful color combination this kitchen appliance also looks great on the counter.
Product features and specifications
Measures 9.7 x 3.8 x 2.2 inches
Weighs 1.3 Kilograms
Made from stainless steel
Rolls 6-inch sheets of pasta
Made in Italy
User/ Customer reviews
Most people are in love with this pasta maker for ramen as it allows you to use both your hands to work with the pasta dough and reduces the preparation time. Several people have mentioned that cleaning the pasta maker is extremely easy. A few customers have warned that the fettuccine attachment requires some extra cleaning, which may be cumbersome for some people.
Conclusion
If you have a KitchenAid stand mixer then this KSMPRA Pasta Roller & cutter attachment set is just the thing you need to make perfect pasta and noodles. This set is a great time saver as you get to do a lot more in less time and have delicious food on the table pretty fast. Overall, we feel that the pasta maker and cutters are totally worth the price.
---
This is the original world-acclaimed Atlas Pasta Machine from the house of Marcato. It can roll and cut the pasta dough to make classic style fettuccine, lasagna, and tagliolini at home. Made in Italy, this well-designed set comes with a pasta machine, hand crank, clamp, user manual with instructions.
The pasta machine is capable of making three different shapes of pasta, and it can be attached to a pasta drive motor or 12 different accessories that are sold separately. For best results, remember to roll the dough up to 10 thicknesses and 150-millimeters width for a consistent texture.
The Marcato Atlas Pasta Machine is often referred to as the 'Ferrari' of the pasta world. It can be easily wiped with a cloth or dry brush. We are impressed to know that the company stands behind the product and backs it up with a 10 years manufacturer warranty.
Product features and specifications
Measures 8 x 7 x 8 inches
Weighs 3 pounds
Full aluminum rollers
Up to 15 pasta shapes
Optional motor
12 extra pasta accessories
User/ Customer reviews
Several users have urged others to not be intimidated by this machine as it can make good quality pasta and really fast too. People who have used the pasta maker have also mentioned that it is hassle-free to clean this unit after use. There are brackets that can be easily removed for a more thorough cleaning. A few customers have warned that you don't put the crank all the way in properly, it can fall so you have to be careful about it.
Conclusion
This is a great-looking and highly functional pasta maker that you will love to have in the kitchen counter and make homemade pasta with them anytime you like. Replete with different pasta shapes and cutting accessories, this is a complete set that you will love to invest in. Overall, we feel this is a great buy.
---
If you dream of making the perfect pasta every time consistently, you need the smoothest roller like the one made by iSiLER. Their 150 Roller Pasta Maker is designed to give you impeccably chewable pasta each time without squeezing or tearing of the dough so that you enjoy authentic homemade meals.
The pasta maker comes with a regulating knob that allows you to adjust the thickness with nine different settings. So, you can select your own desirable thickness for making dough sheets, ranging from 0.3 to 2.6 mm. You can also modify the taste and texture of pasta by making adjustments.
The pasta rollers and cutters are made from a premium-quality aluminum alloy that does not contain any toxins and comes with the guarantee to last for long. There is also a sturdy table clamp that comes in handy to ensure that the appliance does not move around while you are using it.
Product features and specifications
Measures 7.9 x 6.1 x 7.7 inches
Weighs 4.45 pounds
Adjustable thickness
Food-grade material
Innovative and sturdy design
Easy to clean
2 widths for various pasta styles
User/ Customer reviews
Most beginners have said that they found this pasta maker extremely useful and easy to use with simple settings and instructions. Several users have said this is the perfect pasta tool for making different shapes and styles of pasta. Customers have also applauded the cutter that is made from good quality material for best results.
Conclusion
This is the best starter pasta maker for ramen you can get for your family that loves eating pasta. It comes with all the tools and accessories you need to roll out perfect noodles and cut them in shapes of your choice. At this price, this is one of the best kitchen appliances you can invest in to spend quality time with your family and friends.
---
Tips For Making Perfect Ramen At Home
There's no other joy than being able to make that perfect ramen right at home. But how can you ensure that you get that restaurant-like taste every time. Here are some interesting tips to help you make that savory bowl of ramen that your family loves.
Remember that noodles and broth are most important, and if they are done perfectly then you don't really need the extra toppings. So, we suggest that you focus on getting a bowl that's packed with richness, flavor, and aroma.
If you want that restaurant-like flavor in your broth then remember that it comes only from adding a lot of ingredients.  So, you will need to add a lot of bones to get a rich stock and includes several ingredients to create a thick broth.
The broth does not have to be seasoned as it mixed with a seasoned base that could be tamari, liquid from meat, tamari, soy sauce, dashi, or any of the many other types. So, never add salt to the broth and let the seasonings come only from a single source.
For the same reason as above, seasonings are never added to broth separately. Ramen noodles are also never cooked in salty water, and this distinguishes it from the technique of cooking Italian pasta. The seasoned soup base is enough to add the required flavors to the noodles and broth.
Cooking the noodles perfectly is a very important aspect of making ramen at home. It is almost like Italian pasta and needs to be cooked thoroughly. If the noodles are undercooked, they will be tough and chewy in texture. On the other hand, if they are cooked more than needed, the noodles will be soggy and tasteless. So, always keep your eyes open when making ramen to ensure that you get perfect noodles every time.
Related Questions
What pasta is best used for making ramen
While choosing the best type of noodles remains on the personal preference of a person, some of the common types are somen, soba, and udon noodles. To be called ramen, the noodles must contain alkaline water, also referred to as kansui. The water ratio impacts the texture of noodles from thin to thick.
What other things can you make with a pasta maker
You can use the pasta maker to produce a lot of other delicious eatables such as crackers, cookie dough, egg roll wrappers, flatbread, cake icing, pie crust, and laminated dough for pastries. 
See Also:
4 Best KitchenAid Spiralizer Attachment
KitchenAid Pasta Press Vs Roller: Here's The Difference
5 Best KitchenAid Pasta Attachments
KitchenAid Professional 5 Plus Vs Artisan
7 Best Desk Lamp With Wireless Charging