The 5 Best Pillows for Sleeping in a Recliner for 2023
Recliner chairs are one of my favorite places to sleep. I love putting my feet up, leaning the seat as far back as it will go, and taking a nap in my living room.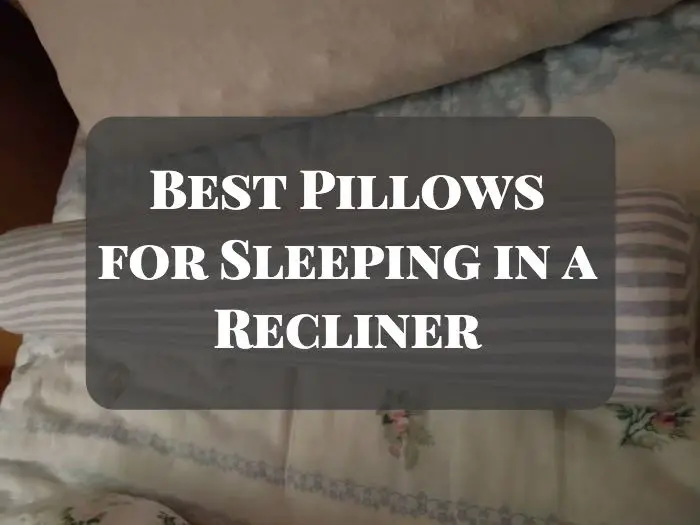 Of course, even the best recliner isn't as comfortable as a bed. Sometimes, I'll wake up with a crick in my neck or soreness in my lower back. Since I'm not about to stop taking naps in my recliner, I decided to find a pillow to help me relax.
If I could only buy one of these pillows, I'd go with the K Ka Ua Neck Roll Pillow. I love that you can use the cushion for your neck, your back, or anywhere else where you need extra support.
---
The LoveHome lumbar support cushion is a curved memory foam pillow that straps onto the back of your chair. This flexible design takes the pressure off your back and makes it easy to sit in one place for long periods of time.
LoveHome cushions are much larger than other lumbar support pillows; this makes them a great choice for using with a recliner. However, the straps might not fit around the back of a large chair, so you may need to use the pillow without them.
The 3D mesh fabric covering the cushion is breathable and comfortable to the touch. The cover is removable and comes in eight different colors ranging from neutral gray to bright pink.
Features:
Ergonomically designed for the lumbar area
Memory foam contours to the shape of your back
Breathable mesh cover can be removed and washed
Two large straps hold cushion in place
Comes in 8 different colors

Customer Impressions:
Many LoveHome customers found this pillow to be comfortable, effective, and easy to attach to their chairs. However, several customers thought the pillow was too large or too small for their back.
Conclusion:
Whether or not this pillow works for you depends on the curve of your back. This cushion is best used for minor lumbar support in a chair that is otherwise comfortable.
---
Qutool's memory foam cushion is a comfortable take on the classic lumbar support design. This large pillow covers almost the entire back of your chair and can be rotated to focus on either lower or upper back support.
The cushion comes with two adjustable straps and an additional two extension straps that can be used to fit larger chairs like recliners. You can also use the cushion without any straps at all.
The pillow is covered by breathable mesh fabric in an attractive shade of black with a white border. If the pillow ever gets dirty, simply unzip the cover and run it through the wash.
Features:
Provides both upper and lower back support
Filled with soft yet sturdy memory foam
Features a washable mesh cover
Strap extenders fit larger chairs

Customer Impressions:
Customers love how much extra support the Qutool cushion offers compared to other lumbar support pillows on the market. However, the shape of the cushion doesn't work with chairs that already have an ergonomic curve.
Conclusion:
I personally like the Qutool cushion (show now) more than the LoveHome design. The cushion is longer, but it's also more supportive and comfortable to lean against.
---
KEEPMOV travel pillow (shop now) is versatile and comfortable. The sturdy memory foam design retains its shape well and supports the neck from a variety of different angles.
The pillow is made to fit any neck size and features an adjustable rope lock. Once you've positioned the pillow around your neck, tighten the cord until the angle and tightness are comfortable. You should then be able to sleep leaning back or with your head tilted to one side.
Phixnozar also designed their pillow for taking a nap at your desk or on a table. Just flip the pillow over and lean against it for a quick bit of midday rest.
Features:
High-quality memory foam provides stable neck support
Hollow design lets you sleep on a table or desk
Rope lock lets you adjust cushion size and angle
Soft fabric cover feels good against your skin
Comes in 3 different colors
Sold with an eye mask for restful sleep

Customer Impressions:
Customers who love this pillow praise it for offering great neck support in nearly any sleeping position. Users who didn't like the pillow thought that the memory foam was too stiff.
Conclusion:
Phixnozar's travel pillow is sturdy and stable. I love how many different uses it has; with this cushion in your bag, you can take a nap almost anywhere.
---
MLVOC knows that many travel pillows are hot, stuffy, and itchy. In response, they created a pillowcase made from silky-smooth magnetic therapy cloth. The inner part of the pillow is cool to the touch, and the outer part is covered in breathable composite gauze.
This travel pillow uses a three-point curve to create neck support. Tighten the rope lock to adjust the angle and keep the pillow attached to your neck while you sleep. When you're not using it, the pillow collapses into an included travel bag.
Features:
Three-point design provides ergonomic neck support
Curved memory foam supports your neck from different angles
Covered with magnetic therapy cloth and soft composite gauze
Cover can be removed and washed between uses
Available in 3 different colors
Sold with matching eye mask and ear plugs
Customer Impressions:
Customers think that this pillow's fabric case is extremely soft and breathable and that the memory foam is squishy but supportive. A few customers thought the pillow was too big for their neck even after tightening the adjustable rope.
Conclusion:
I like the cover on the MLVOC cushion more than one on the Phixnozar travel pillow. The memory foam is soft and pliable, so this pillow is a good choice for anyone who thought the Phixnozar was too tough.
---
No matter how you like to sleep, K Ka Ua (see Amazon) has you covered with this reliable neck roll pillow. The simple tube design fits comfortably behind your neck, in the curve of your back, or anywhere else where you need support.
The pillow is made from a single piece of squishy yet sturdy memory foam. The cushion fits inside a removable case made from bamboo and polyester fabric. Bamboo cloth is smooth, hypoallergenic, and environmentally friendly.
The neck roll pillow is available in three different sizes, so choose the one that best suits your sleeping habits. You can also purchase extra pillowcases for laundry day.
Features:
Provides support for any part of the body
Made from comfortable and durable memory foam
Bamboo cover is soft and hypoallergenic
Available in 3 different sizes

Customer Impressions:
This pillow was designed to be versatile, and customers agree that it works for nearly any sleeping position. The few customers who didn't like their pillow thought that the memory foam was either too firm or too soft.
Conclusion:
Neck roll pillows like this one are the perfect supplement for a recliner chair. Identify the area that needs support, position the pillow, and drift off to sleep. I particularly love the soft feel of K Ka Ua's bamboo cover – it really makes this pillow stand out from the rest.
---
Getting Comfortable in Your Recliner
Even if you have an amazing recliner chair, relaxing isn't as easy as you might think. If you wake up from your naps with a sore neck or back, you should try these tips for a better recliner experience.
Is Sleeping in a Recliner Good for You?
If you love recliner naps, you might be on to something; sleeping in a recliner has a surprising number of benefits.
Adjustable angle lets you get comfortable

Reclined position takes pressure off hips and spine

Elevated head leads to better breathing

Raised legs create better blood circulation

Lumbar support helps with most back pain
There are actually some medical symptoms that can be reduced by sleeping in a recliner instead of in a bed. Acid reflux and respiratory problems are usually less extreme when you sleep with an elevated head or chest. Back pain can be avoided by letting the chair help you sit up, and staying in a slightly elevated position might be the perfect way to heal from certain surgeries.
You probably don't want to sleep in your recliner every night. If the angle isn't perfect, it could put an unnecessary strain on your spine, knees, or hips. But if you can't sleep because of back pain or general discomfort, a night on the recliner could be exactly what you're looking for.
Tips for Sleeping in a Recliner
Even if you're sleeping in a recliner to elevate your head, you should still lay the chair as flat as possible. This removes the most pressure from your spine and lets it decompress overnight.
Sleeping in a recliner works better if your feet are also elevated. Your goal should be to maintain healthy blood flow, and that means putting every part of your body on a level plane.
Once you have your recliner at the right angle, make sure that your neck and lower back feel supported. If they don't, look for a support pillow that can take the tension off of these areas.
You can sleep on either your back or your side when you're using a recliner. Remember to adjust the angle relative to your sleeping position.
When to Use a Pillow with Your Recliner
Recliners are designed to take the pressure off your hips and spine. But no two recliners are the same, and yours might not be providing the support you need.
Extremely soft recliners often let your head sink too far into the upholstery. If your head is less elevated than your chest, you could experience respiratory issues. The simple solution is to use your favorite neck support cushion to lift your head back up.
Some people wake up from a recliner nap with pain in their lower back. Lumbar support cushions will usually solve this problem, but you might also want to adjust your reclining angle.
In general, use pillows to support any area that feels tense or uncomfortable while you're trying to sleep. A combination of support cushions and your favorite bedroom pillows should be enough to help you get a good night's rest on any reclining chair.
Related Questions
Can I sleep in a recliner?
Many people sleep in recliners to reduce back pain. If you choose to sleep in a recliner, make sure that the position does not restrict your blood flow.
How often should I wash my recliner pillow's case?
If you sleep on the pillow every night, you should wash the case once every few days.
See Also:
The 5 Best Pillows For Sleeping In A Recliner
5 Best Pillow For Bad Posture
Can You Bring A Pillow On A Plane
11 Best Pillow Shops On Etsy
4 Best Pillowcases For Sleeping With Wet Hair