When building the home of your dreams, the septic system may not be the first thing you think of but it has an important role to play in the house structure. To keep it safe and running smooth, make sure you buy appliances (washing machines, dishwashers) that do not overwhelm the septic with water or debris.
If you are looking for the best washing machine for septic system, consider products that are front loading as they use 1/3 the amount of water used in standard machines. For those who prefer top-loading more than the front-loading version, opt for appliances that use less water and conserve energy.
The key to using washing machines without harming the septic system is to ensure that you don't stress it out with too much waste. Some of the main features you need to look for in a washing machine for septic safety are Energy Star, Load Auto-Sensor, Energy Guide Label, and Front Load.
We know it may be a tough choice for you to pick one from so many brands and models out there. Hence, we have done the research work for you and handpicked some of the top products designed to keep the septic system healthy.
After testing and reviews numerous septic safe washing machines, we feel that the LG Electronics High-Efficiency Energy Star machine does a remarkable job at doing a huge load using less water. It has a lot of features that also consume less energy and removes stains effectively without crushing the septic.
---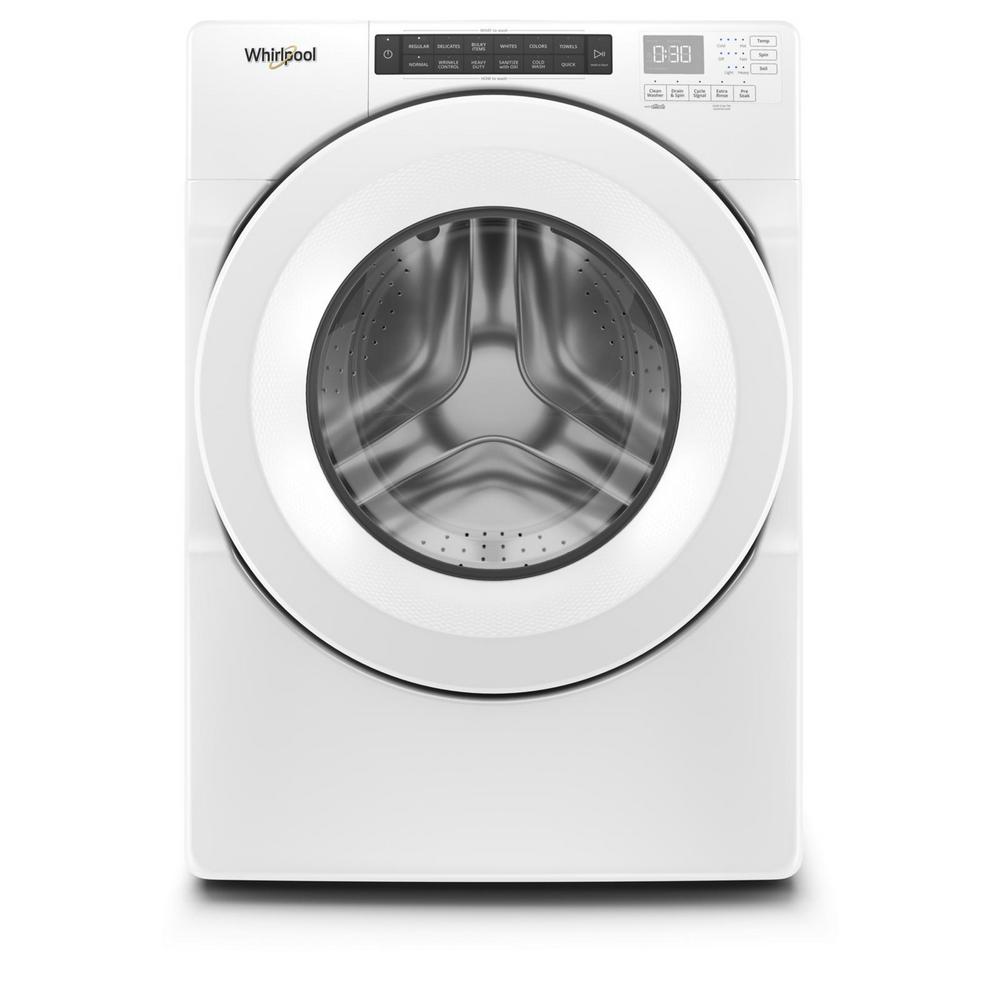 If you have a large family, here's a 4.3 cu. ft. capacity front load washing machine that allows you to do a lot of laundry at once. You can use the washer guide to help you choose the right cycle and customize up to 35 different combinations using the easy to use and intuitive controls. It has an Energy Star certification to help users conserve natural resources such as water and save money on electricity bills. There are separate compartments for detergent, fabric softener, and bleach so that they get dispensed at the right time.
We love the presoaking option that lets you eliminate the step of soaking the clothes outside the washer. This saves a good amount of water and time. For busy people, there's a Quick Wash cycle to do small loads in just 15 minutes. The space-saving design enables you to do flexible installation even in tight spaces. The manufacturer recommends running the AFFRESH cycle after every 30 washes to maintain your washer in the best condition.
Product features and specifications
4.3 cu ft capacity
Front Load Washer
37 wash cycles
Weighs 210 lb
Stackable design
Touch control
Stainless Steel Drum
User/ Customer review
Most customers are happy with the sturdy construction and solid built of the washer. People are happy with the savings in terms of time, water, and energy. However, a few users have cautioned that the machine makes a lot of noise while drying and the customer representatives are not very good at resolving issues.
Conclusion
If you are concerned about the septic system in your house and want a machine that can clean a heavy load without wasting too much water or energy, then Whirlpool Front Load Washing Machine (shop now) is a good choice. Overall, we love the efficiency of this machine.
---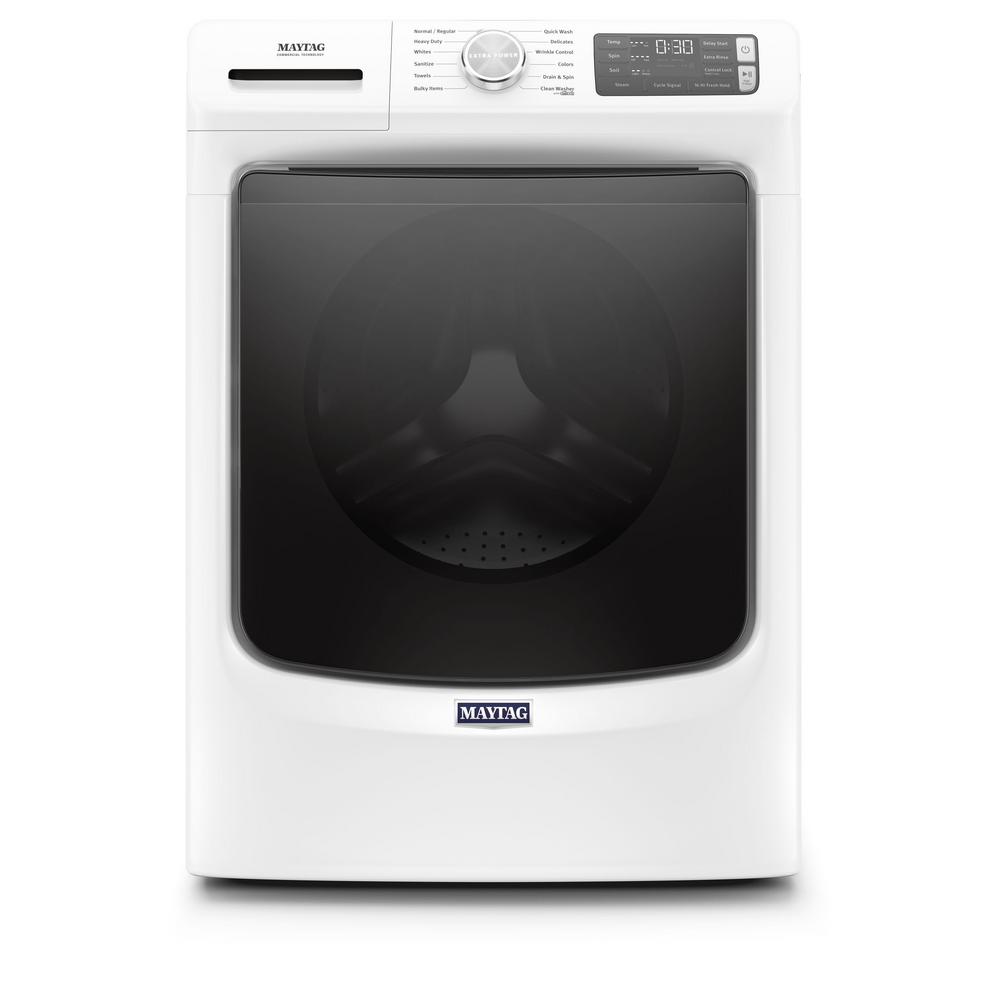 When you want a washing machine that can handle a heavy load without wasting much water or impacting the septic system then check out the Maytag Front Loader. This is one of the most powerful washers in the industry with a heavy-duty cycle and extra power button to fight stains effectively. We love the Fresh Hold option that keeps your washed clothes smelling nice inside the tub for 16 hours. There's an internal heater that gives an additional boost to the detergent and clothes come out cleaner without having to use a lot of detergents.
The washer also has the Steam functionality that allows steam to permeate through the fibers and give your clothes a thorough cleanup. The advanced vibration control feature adjusts and redistributes the unbalanced load to reduce noise. Users can also customize the numerous wash cycles like the Sanitize Cycle, Quick Wash Cycle, Wrinkle Control cycle to meet their specific requirements. We are happy to know that the manufacturer stands behind its product with a 10-year warranty on parts.
Product features and specifications
4.8 cu. ft. capacity
Weighs 220 lb
10-year limited parts warranty
Extra Power Button
Stackable White Front Load
Steam and 16-Hour Fresh Hold Option
Energy Star Rating
12 wash cycles
Stainless Steel Drum
User/ customer review
People are happy with the design, make and performance of the product, but the most loved aspect is the machine's ability to hold washed clothes for a long time without making them smelly. People are also immensely pleased with the customer support who are very friendly and go out of the way to solve problems. A few users have mentioned that the washer is big and heavy, so you will need someone's help in moving it.
Conclusion
This washing machine is not only capable of handling huge loads but also ensures that each cloth comes out really clean. The customize options are a bonus and different water temperature settings work great. This is a perfect example of you get what you pay for.
---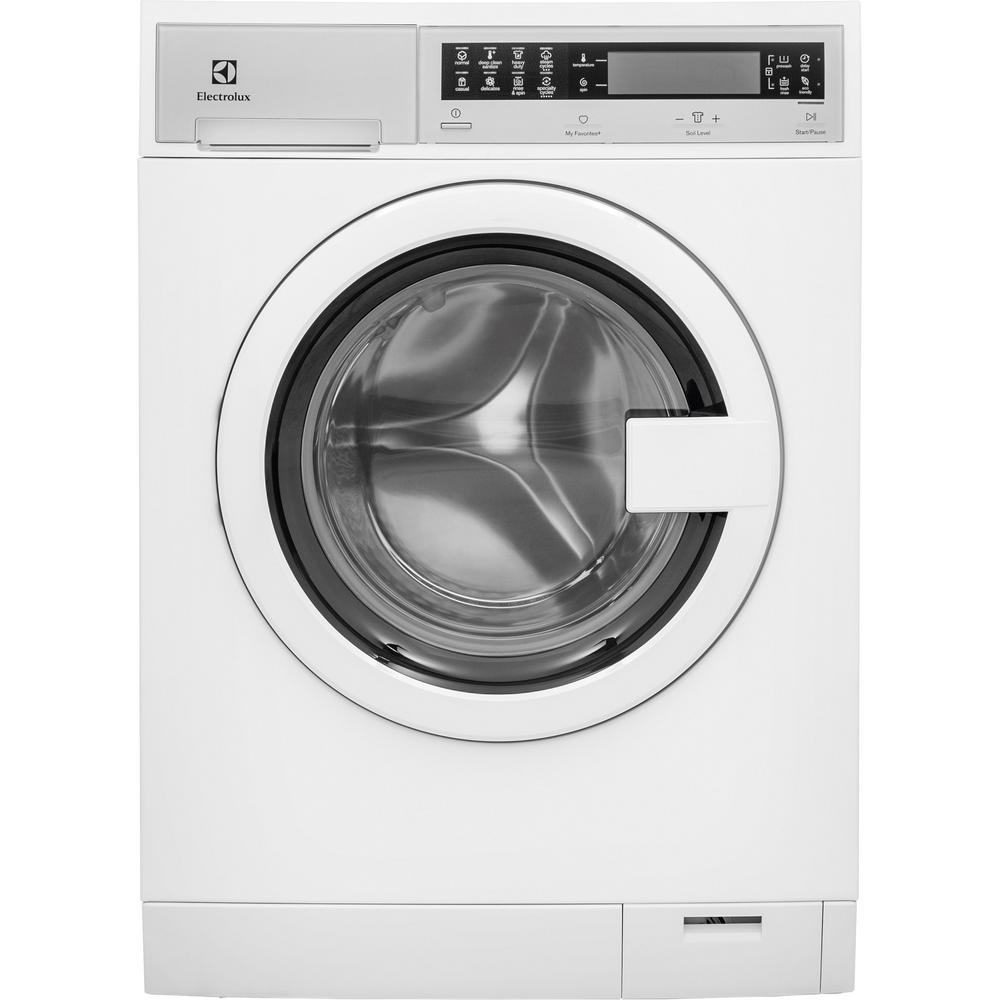 If you are looking for a washing machine that has a steam option and is compact too then you must check out the Electrolux IQ Touch front load washer. This is an Energy Star rated appliance that delivers efficient performance without consuming a lot of water or energy. It comes with 14 specialty wash cycles such as delicate, fast wash, and eco-friendly that can be customized to meet your specific needs. Steam helps in penetrating the fibers and removing stains to leaves your clothes looking clean and smelling nice.
The IQ-touch in the name is due to the intuitive design and unique knobless controls that make the machine extremely user-friendly. The washer is so sleek and compact that it can easily fit into any space and the super-quiet operation ensures that your baby can sleep while it washes. It comes with a 'delay start' feature that lets you adjust the washer timing as per your needs. All parts including the stainless steel drum are durable and rustproof.
Product features and specifications
2.4 cu ft capacity
Weighs 180 lb
Steam function
Left Swing door style
14 wash cycles
Stainless steel drum
IQ-touch controls
Perfect Balance System
One-year limited warranty
User/ customer review
Users are happy to find their dirtiest whites come out whiter and in great shape, plus the machine takes less time to dry clothes. Most people feel that the steam function works really well and that the machine delivers a performance similar to the expensive units. A few customers have complained about the short warranty period and the customer support not being efficient.
Conclusion
If you are looking for a smart and efficient washer that can easily fit into a compact space and help you save energy then the Electrolux IQ Touch is a good choice. It deep cleans clothes, removes germs, and doesn't take a lot for maintenance. Overall, a great buy!  
---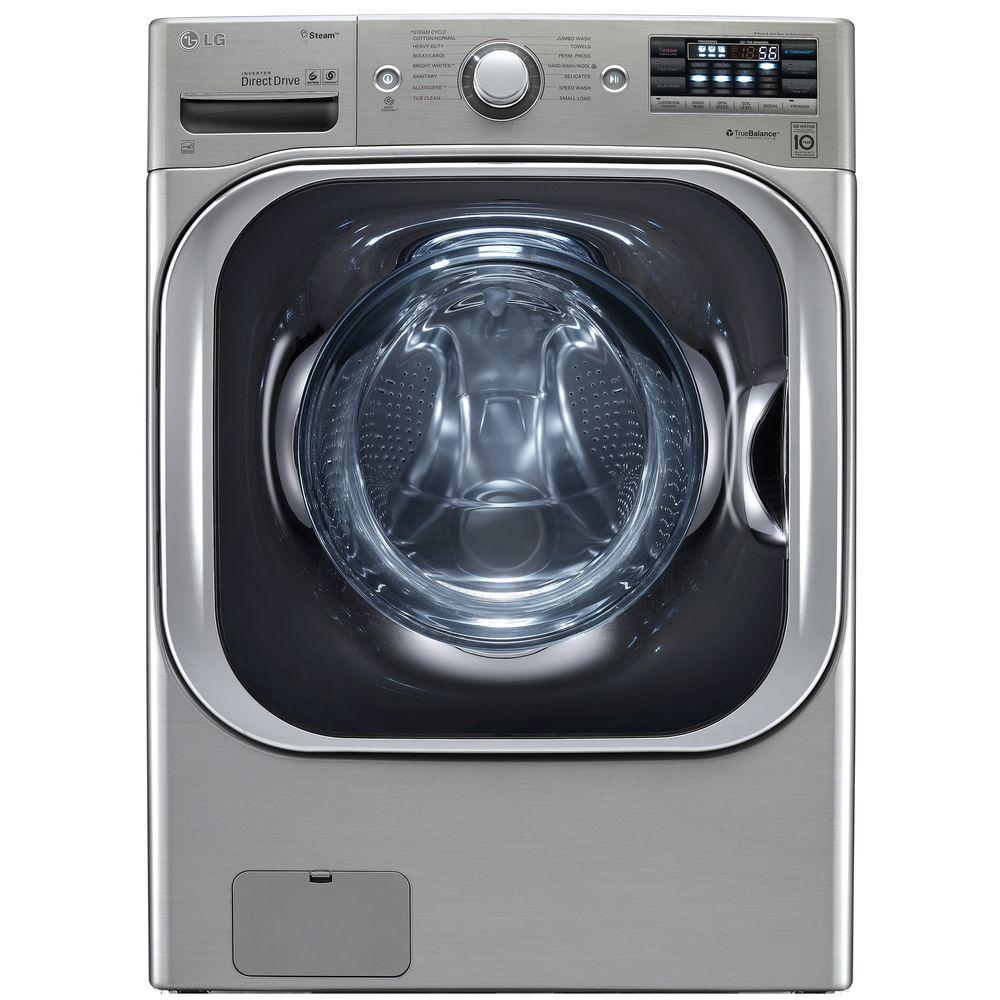 When it comes to household appliances, LG Electronics needs no introduction and its High-Efficiency Front Load Washer with 5.2 cu. ft. is what you need to tackle heavy loads. We are impressed by the TurboWash feature which cuts 30 minutes in every wash load and the steam technology eliminates any wrinkles, dirt, and odors. It also uses less water than the standard machines, so you save on both energy and water bills. The washer has been awarded the ENERGY STAR 2015 certification, which is the most efficient designation in the industry.
As the washer uses only the high-efficiency detergent, about two tablespoons per load, it does not create a lot of suds. Hence, there is not much pressure on the septic system. Furthermore, the immense capacity of the tub allows you to clean a lot of clothes in one go using less water, hence you don't need to use the machine frequently. The Inverter DirectDrive Motor comes supported by a 10-year limited warranty, so there's nothing to lose.
Product features and specifications
5.2 cu. ft. capacity
Weighs 225lb
Steam technology
Electronic control panel with dual LED
2015 ENERGY STAR
14 wash cycles
Truebalance anti-vibration system
Steam technology
6 Motion technology
10-year limited warranty
User/ Customer Reviews
Those who have upgraded to the big and new model are able to see the difference it brings in terms of large capacity, quick wash times, water savings, and less use of detergent. People find it useful to wash their comforters and bed sheets together in one cycle, instead of having to run several cycles. A few customers have mentioned that the washer is so quiet that they have to check to ensure that it's running.
Conclusion
This LG Electronics High-Efficiency Front Load Washer (shop now) is expensive for sure but when you look at the features, you can tell that they are worth the price. Overall, this washer is big enough to wash almost anything using less water and energy. It's clearly the best washing machine for the septic system.
---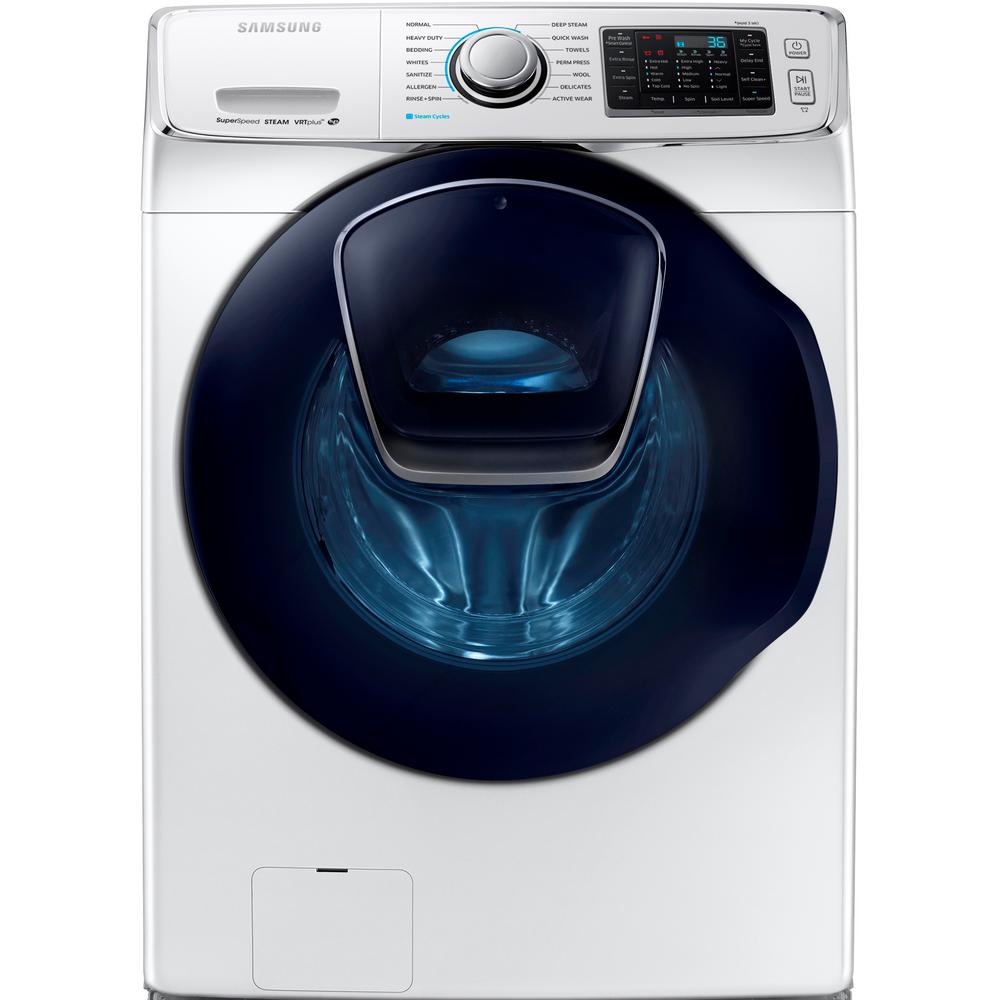 The 4.5 cu. ft Samsung washer is one of the most high-efficiency and energy-saving appliances you can buy to keep your septic system healthy. We love the convenient features such as the AddWash door to include any forgotten laundry even after the wash cycle has started. A full load can hold a lot of clothes together and takes about 36 minutes for a complete wash. The full combination of large capacity, AddWash, and SuperSpeed help in saving both time and energy. Another useful feature that saves water is Steam Wash, which eliminates the need to do any pre-treatment of stains.
If you are hard-pressed to find time for laundry, you will also not have time to maintain the washer. Hence, the Self Clean+ feature comes handy to keep the drum fresh and odor-free. We also love the 'Smart Care' functionality that allows you to troubleshoot any issues straight from your mobile phone. The Wi-Fi connectivity enables you to control the washer from anywhere, so it's a huge plus for busy professionals.
Product features and specifications
4.5 cu. ft capacity
Front Load Washer
Stackable Design
14 wash cycles
Stainless Steel Drum
5 temperature settings
VRT Plus Technology
Weighs 227lb
10 years warranty on DirectDrive Motor
User/ Customer Reviews
Those who have used standard machines in the past are extremely happy with how smoothly this thing functions even during the spin cycle, without being wobbly. Customers are also pleased with the ease of use, great looks, easy installation, and lots of features. The intuitive control panel that only adds as much water as needed and minimizes water use, is also highly appreciated by the users.
Conclusion
The super stylish design and high-end functionality of this washing machine make it a product you will not regret buying. The smart features and Wi-fi functionality takes the washer to another level, suitable for those who like to control appliances through apps. All in all, a smart and wise investment.
---
Tips To Prevent Washing Machine From Impacting Your Septic System
Washing machines are known to be the number one reason for septic tank failure. Hence, it is important to take measures to ensure that you do your laundry without damaging or blocking the septic. While buying one of the energy-saving washing machines for septic system mentioned above is an ultimate solution, here are some tips to do laundry safely with your existing washer.
Install a lint filter: These specially designed filters are designed to catch lint present in the waster expelled by your existing washing machine. The lint filter can be attached to the discharge hose of your appliance. You can easily install it yourself and reuse it too, but it should be emptied every two weeks depending on machine use.
Effluent filters: Again, these are specially designed filters designed to prevent the large pieces of dirt or debris from entering the drain pipe and causing a blockage. The effluent filter is installed at the back of the septic tank.
Save water by doing full loads: We recommend that you only do full loads and spread them out to avoid overloading your septic.  Also, consider using liquid detergent instead of powdered ones for less pressure on septic.
See Also:
Will Oil Paints Ruin A Washing Machine?
Can You Put Dishwasher Tablets In The Washing Machine
Can You Put One Item In The Washing Machine