5 Best Vacuums For Reaching High Places for 2023
Whether you have kids or live on your own with several pets in the house, it is always tough to find the time to thoroughly clean the house. While washing dishes and dusting furniture looks doable, the most challenging is cleaning those far-reaching places, such as cobwebs on the ceiling or layers of dust on the fan blades.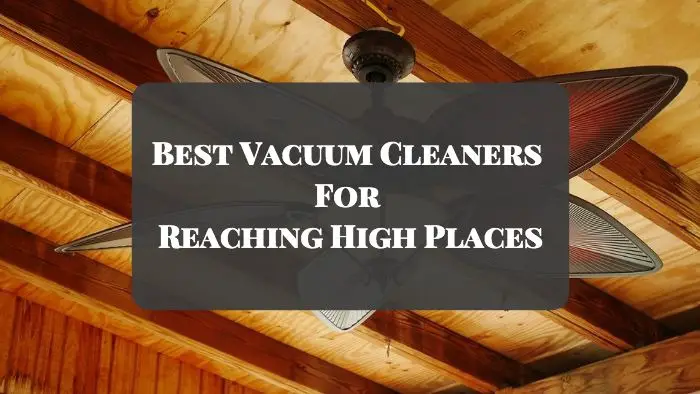 No matter how much you clean the lower part of your house, the work appears incomplete with so much dirt accumulated in the upper areas. This is when you need the best vacuum for reaching high places and ensure that the upper half of your house is also as clean as the bottom.
If you are in the market looking for a vacuum to give your house a thorough cleanup, it's natural for you to get confused with so many brands, models, and features. We know it can be stressful for you, hence we decided to take the stress out of your buying decision.
To make your choice easier, we have selected some of the best products from the lot, studied them in detail and compared them with each other. If you too busy to read this till the end, we strongly recommend the Tineco A11 Hero+ Cordless Vacuum Cleaner for its powerful suction capacity, sturdy built, and long run time.
| | | | | | |
| --- | --- | --- | --- | --- | --- |
| Features | Dyson BallUpright Vacuum | ProTeam Vacuum Cleaner | Dyson V8 Animal Pro | Eureka NEN110A | Tineco A11 Hero |
| Dimensions | 36.5 x 11.4 x 10.7 inches | 8.5 x 8.5 x 25 inches | 8.2 x 49 x 9.8 inches | 14.2 x 12.2 x 9.7 inches | 10.4 x 11.2 x 43.7 inches |
| Weight | 23.4 pounds | 11 pounds | 9.6 pounds | 8.29 pounds | 5.5 pounds |
| Attachments | 7 | 6 | 6 | NA | 3 |
| Style | Bagless with HEPA filtration | Corded | Cordless | Bagless corded | Cordless |
| Cord | NA | 50-ft | NA | 16 ft | NA |
| Run time | NA | NA | 30 mins | NA | 50 mins |
| Dust bin | NA | NA | 1.2L | 1.2 liters | 0.6 L |
| Warranty | 6 months | 3-year limited | 2 year | 1 year limited | 2-year |
---
Dyson needs no introduction when it comes to cleaning tools and their renewed Complete Upright Vacuum is an ultimate product that can help you reach those high areas. As it is manufacturer refurbished, there are limited or no signs of wear plus it comes with all the original accessories attachments such as Up Top Tool, Stair Tool, Reach Under Tool, and so on. The vacuum also comes with an instant release wand that is useful for high-reach cleaning and the long-reach hose helps in cleaning high up and under the furniture.
This bagless system includes HEPA filtration which means you can empty the bin by simply pushing the button to release the dirt without touching it. The lightweight of the vacuum makes it easy to maneuver and steer to hard-to-reach areas. When it comes to performance, we are impressed to find that it has the strongest suction power and Radial Root Cyclone technology helps in effectively removing large debris as well as microscopic allergens. Although a renewed product, it still comes with a 6-month manufacturer warranty.
Product features and specifications
Weighs 23.4 pounds
2-in-1 Combination Tool + Stair Tool
Mattress Tool
Stiff Bristle Brush
Tangle-Free Turbine Tool
Up Top Tool
Soft Dusting Brush
Reach Under Tool
Bagless with HEPA filtration
90-day Amazon Guarantee
User/ customer reviews
People who have used Shark and Hoover vacuums in the past are extremely elated with the performance of Dyson at sucking dirt and debris, along with pet hair. Those who have back issues find it easier to use and empty the bin when needed. Users are also impressed with the expandable hose that can reach the ceiling fan blades. A few customers have mentioned that although the hose is expandable, the strong suction makes it difficult to keep it that way.
Conclusion
If you are looking for a powerful and strong vacuum that can reach the challenging places and clean like a pro then consider buying the Dyson Ball Animal Complete Upright Vacuum. Although a refurbished product, it delivers an excellent performance. The numerous tools and accessories make it an ultimate cleaning tool for the entire house.
---
This is a super portable vacuum cleaner designed like a backpack to clean every corner of the house, including the hard to reach and high places.  It sports three times the capacity of a standard upright vacuum so it is capable of removing more dust and debris than you can imagine. Powered by a four-level advanced filtration with HEPA filter, this product improves the quality of indoor air and cleans carpets and rugs more efficiently. Equipped with a residential cleaning kit and a 50-foot power cord, it can clean almost anywhere in the house. 
The adjustable harness design of Super CoachVac (learn more) distributes the weight evenly for a better balance, hence you don't feel tired even after using it for several hours. When worn like a backpack, it reduces any chance of muscle fatigue or accidental contact. The unit responds and reacts to your motion as you vacuum around the house. It comes attached with an inbuilt tool belt that keeps the accessories easily accessible.
Product features and specifications
Measures 8.5 x 8.5 x 25 inches
Weighs 11 pounds
50-foot Extension Cord
10-quart filter
Multi-surface cleaning
Four Levels of Filtration
3-year warranty on parts, labor, and motor
Lifetime warranty on molded body parts
Carpet and Rug Institute (CRI) Certified Gold Rating
User/ customer reviews
People who use the product like it so much that they are loyal to the brand and would like to get a similar one if this one dies. This says a lot about the credibility of the product. Most users are happy with the suction power, sturdy construction, choice of attachments, and ease of use. A few customers have said that the hose keeps snapping off when the product gets old but it can be fixed by buying a new hose.
Conclusion
This biggest advantage of this residential vacuum tool is the design which makes it easy to wear like a backpack without hurting your wrists or shoulders even if you use it for entire house cleaning. Reaching the cobwebs on the high reach places is easier with this device. Overall, a cleaning tool that you will be happy to invest in.
---
When we set out eyes on the Dyson V8 Animal Pro, we immediately fell in love with the compact, lightweight, and stylish design. As the vacuum cleaner is cordless and extremely lightweight, you can easily carry it with you everywhere. The powerful suction capacity helps you remove dust, dirt, and pet dander from all hard to reach areas. The direct-drive cleaner does an excellent job of extracting dust from the carpet. There's also an extended hose that helps in reaching the high places to eliminate the use of a ladder.
The Dyson V7 can also be transformed into a hassle-free handheld vacuum cleaner to clean every corner of the house with ease. With a continuous 30 minutes of uninterrupted run time, the machine is capable of filtering particles that are as small as 0.3 microns. We love the hygienic dirt ejector that empties dust directly into the dust bin in a single action. Although slightly pricey, the product comes with additional cleaning tools and attachments worth $60.
Product features and specifications
Measures 8.2 x 49 x 9.8 inches
Weighs 9.6 pounds
Run time up to 30 minutes
Whole-machine filtration
Hygienic bin emptying
2 Tier Radial cyclones
75% more brush bar power
Convenient docking station
2-year warranty
User/ customers
People who have used this product are happy with the design and easy switch between a stick vacuum and handheld version. As the unit is lightweight and easy to maneuver, users with back problems find it easy to use. A few customers have cautioned about the battery life which lasts only about 8 minutes on the high-speed setting.
Conclusion
If you are looking for a stick vacuum that can be used in multiple ways to clean inside the house, far-reaching places, and even the car interiors then this is a great product. The vacuum is so quiet, you can use it without disturbing others. This is undoubtedly a product that's worth your hard-earned money! 
---
Just like its name, the Eureka NEN110A seems to be a priceless discovery for those who hate hard work but still want their house to look clean. With this innovative whirlwind canister vacuum, you can not only deep clean multiple types of floors but also remove cobwebs and dust from the hard-to-reach high places. The integrated airflow control plus 3 settings for carpet, hard floor, and upholstery, make this an ultimate cleaning tool. We like the bagless design and washable filters that can easily be reused when they get dirty.
With a total weight of less than 8 pounds, this whirlwind vacuum can be easily moved around the house, under the furniture, and over the stairs. The telescoping metal wand can be expanded to reach the corners of the ceiling, behind the ceiling fan, and so on. The cord is also long enough to allow you to cover a large area without having to find different power sources. Busy professionals will appreciate the time-saving features such as automatic cord rewind and quick-to-empty dust cup for enhanced efficiency.
Product features and specifications
Measures 14.2 x 12.2 x 9.7 inches
Weighs 8.29 pounds
2. 6 L dust cup
2-in-1 crevice tool
16-ft long cord
Multi-Surface Cleaning
Automatic Cord Rewind
Easy-to-empty Dust Cup
Cyclone Filtration System
Snap Fit Accessories
User/ customer reviews
Users are in general happy with the performance, which they find is powerful enough to clean a house with kids and multiple pets. However, several customers have cautioned about the hose being low-quality and fragile. Some people have also mentioned that the vacuum tends to be very loud, which can be repulsive for some.
Conclusion
If you want a decent and affordable vacuum cleaner that can get the job done quickly, and with ease then the Eureka NEN110A fits the bill. However, if you are looking for something superior and long-lasting then this may not be suitable for you.
---
If you have a large house and prefer cleaning at a stretch then the Tineco A11 Hero with 50 minutes long runtime is worth checking out. The cordless design makes its hassle-free to move around the house with the product and the expandable telescopic handle makes it easier to reach far and high areas on the ceiling, behind the wall hangings, photo frames, lights, pendants, and so on. The unit is powered by two detachable batteries that are capable of providing 20% more run time.
With a 450W digital motor, the vacuum gives solid and extreme suction power on the max mode and about 20-minutes of deep cleaning. It is capable of delivering high performance on the hard floor, carpets and far-reaching places. We like the compact shape and sleek design that makes it easier to store the vacuum cleaner. The dual charging wall-mounted bracket further makes it easier to keep the cleaner and accessories when not in use. Backed by a 2-years warranty, this product is certainly a no-risk purchase.
Product features and specifications
50 mins Long Runtime
20 mins deeper cleaning
450W digital motor
120W extreme suction power
unique crystal main body
4 stages of fully-sealed filtration system
3 accessories
easy-to-empty bigger dustbin
LED multi-tasker power brush
User/ Customers
People who have bought this product have all good things to say about its solid performance, superior build, ability to remove the battery for quick charging, easy docking, long run time and so on. As per users, it is slightly heavier than Dyson but that does not affect the maneuverability due to its sleek design. Customers have also mentioned that the vacuum makes a very low noise while running so there's not much disturbance.
Conclusion
This is clearly a well-built vacuum cleaner that performs as advertised and gets the job done with great efficiency. Most importantly it has an amazingly long-lasting battery life which makes it the best vacuum cleaner for large houses. Reaching the high places become a breeze, literally! We strongly recommend it.
---
Tips For Cleaning High Places In Your Home
Cleaning those nasty corners of the ceiling or fan blades can be both dangerous and challenging. Other hard to access and high areas include tall furniture, top shelves, wall hangings, lighting fixtures and so on. Here are some tips to help you reach those areas safely.
When you start cleaning the house, first do the high areas as you will be more fresh, energetic and alert, hence less likely to have any careless accidents. Also, if the dirt and debris fall on the floor, you can clean them all at once.
If you are using one of the best vacuum cleaners for reaching high places, they will probably come with an expandable hose. In case you need to use a step ladder to reach those corners, check well to ensure that it is properly balanced on the floor.
Engage the kids in the playroom or in any other room away from the working area to avoid any accidental hazard. For toddlers, keep them in an enclosed area so that you can keep an eye on them while cleaning.
Turn off the ceiling fan while vacuuming high areas so that the dust does not blow away. You may consider opening a window for fresh air.
Related Questions
How can I vacuum without attachments?
If you don't have suitable attachments for your existing vacuum cleaner, there are some everyday items you can use as a good substitute for the extension hose. We suggest using a toilet paper roll or paper towel roll and squeeze it tightly at the end of the hose to suck out dirt and debris.
What can I do to deep clean cabinet tops after vacuuming?
After you vacuum clean the high places in your kitchen, you may still need to do some wiping to remove grease and stains. We recommend using special grease-fighting dish soap and wet sponge to scrub the area and then wipe away with a rag.
Can I use a vacuum cleaner for painting and artwork hanging on the wall?
We suggest using the vacuum cleaner at the lowest setting to remove dust and debris collected over the frame. However, avoid using it on the artwork or painting. It's is better to use a soft brush or microfiber cloth for these delicate items.
Related Article:
Carpet Cleaning Tips To Remove Allergens From Home
6 Best Vacuum Cleaners For Under Bed
Corded Stick Vs Cordless Vacuums