What would you do if you want your favorite shirt ready to wear within minutes? Hanging damp clothes out to dry or iron it for hours is both a tiring and time-consuming task. It's certainly not a solution for an unplanned interview or a surprise date. That's when you need the best tumble dryer to avoid ironing.
By investing in the best tumble drying, you can not only cut down on your laundry time but also avoid hours of ironing chore. Besides ensuring that your clothes come out well-dried and wrinkle-free, they also feel luxuriant to touch.
Not sure which product to buy? Worry not, because our team has done the research for you and handpicked some of the best machines based on their pros, customer reviews, and comparison with other models. Read on to find our unbiased review of each product.
If you don't have the time to go through all reviews and need to purchase the best tumble dryer immediately, we recommend the LG Electronics Smart Stackable Front Load Electric Dryer that has 7.4 cu. ft. capacity. It is smart home enabled and works with both Alexa and Google Assistant to enable you to remotely control the device.  
| | | | | |
| --- | --- | --- | --- | --- |
| Features | LG Electronics Dryer | GE Electric Dryer | Samsung Electric Dryer | Whirlpool White Dryer |
| Capacity | 7.4 cu. ft. | 7.5 cu. ft. | 7.4 cu. ft. | 7 cu. ft. |
| Smart | Yes | No | No | No |
| Matching Washer | Front Load | Front Load | Top Load | Top Load |
| Weight | 123 lb | 120 lb | 121.3 lb | 124lb |
| Control | Electronic | Digital | Electronic | Tap Touch |
| Type | Electric Dryer | Electric Dryer | Electric Dryer | Gas Dryer |
| Drying cycles | 12 | 13 | 13 | 24 |
| Vent Type | Vented | Vented | Vented | Vented |
| Energy Star | Yes | Yes | Yes | No |
| Drum | Aluminized Alloy Steel Drum | Aluminized Steel | Powder-Coated Steel Drum | Powder-Coated Steel Drum   |
---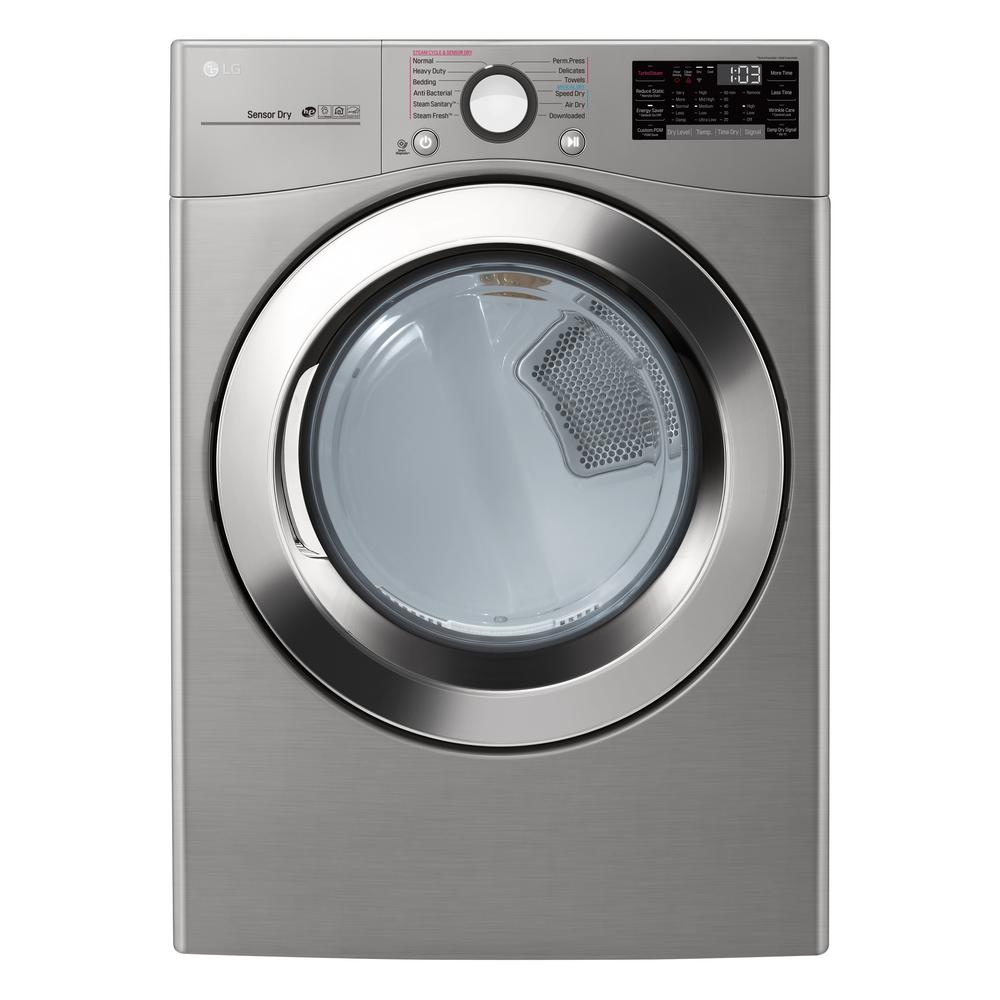 What's better than using a dryer that senses the moisture level of your clothes and adjusts the settings to make them perfectly dry? Kudos to LG Electronics for creating a tumble dryer that's not only great is appearance and controls but also delivers unmatched performance. If you live in a smart home, this is another smart-home-enabled appliance you can buy to operate and troubleshoot it remotely. The TrueSteam Technology uses the power of real steam to reduce the wrinkles and avoid the need for ironing.
When in a hurry, you just need to pop in a wet shirt and use the Wrinkle Care Option, specially created to minimize the creases and odors. With the SpeedDry Cycle, you can have your clothes dry and ready to wear in 15 minutes. The machine comes with an Energy Star certification, which means the dryer uses 20% less energy and reduces the impact on utility bills. As the drum is made from tough steel, it remains durable for years plus LG back up the motor with a 10-year warranty.
Product features and specifications
7.4 cubic feet
SmartThinQ technology
Dual LED Display
Compatible with Google Assistant and Amazon Alexa
Sensor Dry system
FlowSense Duct Clogging Indicator
SteamSanitary Cycle
SmartDiagnosis
LG LoDecibel motor
Adjustable Legs
10-Year Warranty On Motor
User / Customer Reviews
People are impressed by the huge capacity of the dryer which can easily accommodate a king-size comforter. Users find the quick-dry features, remote controls via app and Alexa-compatibility highly useful to get the work done without getting involved too much. As per the users, clothes come out really dry and without any wrinkles, so there's no need for ironing. A few customers have cautioned about the lint trap not designed properly.
Conclusion
If you are a busy person who prefers controlling appliances through mobile apps and gets frequent updates from Alexa and Google Assistant then this is a great product (shop now). When you are late for a date and there's no time to iron, you know whom to rely on! Overall, a product that gives you good value.
---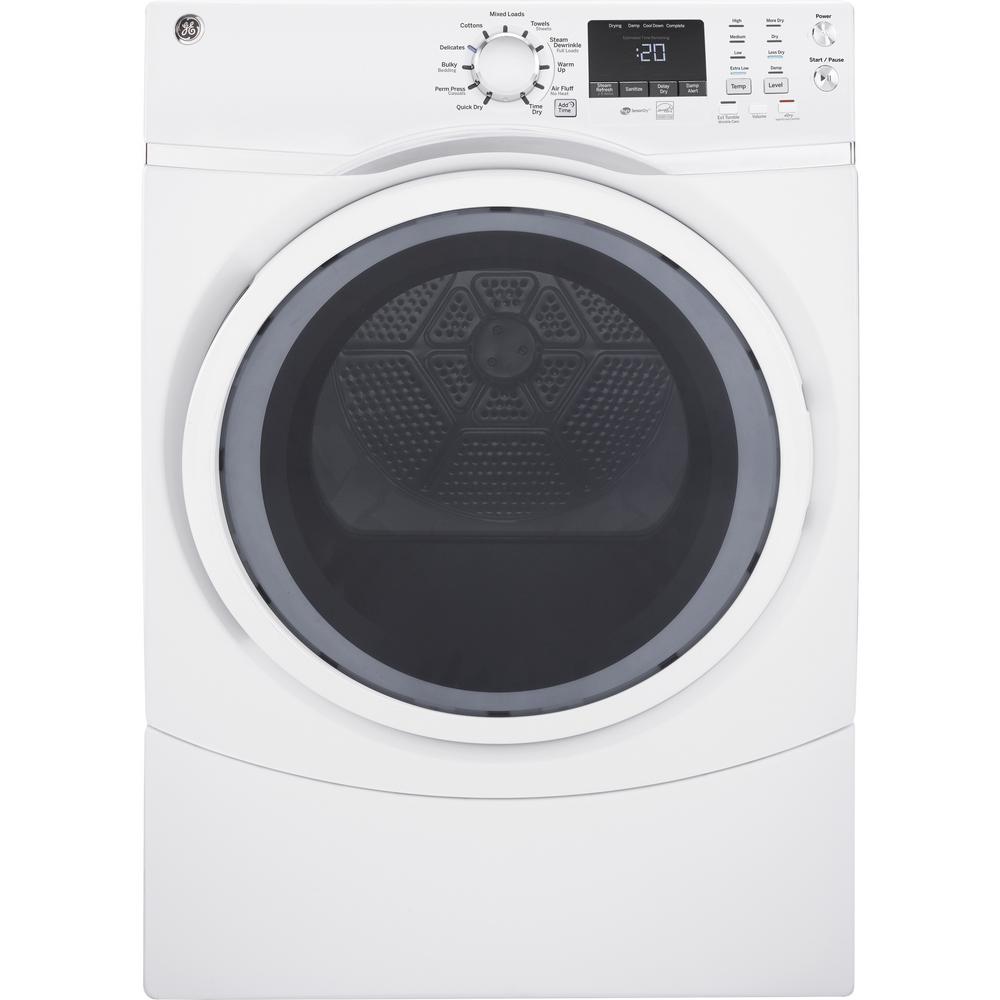 This front load electric dryer with steam comes from the family of GE appliances, known for providing exceptional quality and up-to-date technology. With a classic appearance and sturdy construction, this appliance is designed to be a practical solution for the entire family. The HE Sensor Dry senses the level of moisture in the drum and adjusts drying time accordingly to avoid any guesswork. Other options like Quick Dry and Damp alert are extremely handy to get the clothes dry and ready to wear.
We also like the Steam Dewrinkle and Steam Refresh features that use steam power to breathe life into worn/ stored clothes to reduce wrinkles and odors. The extended tumble option tumbles damp clothes without heat to prevent creasing or wrinkling. With a huge capacity of 7 cu ft, the machine can handle a large load and it can be easily stacked over the compatible washer model using the stacking kit to save space. The manufacturer stands behind the product and backs it with a 1-year limited warranty.
Product features and specifications
7 cu. ft. capacity
Weighs 120lb
Stainless steel drum
HE Sensor Dry
Energy Star certified
Sanitize cycle
Damp Alert
Aluminized Alloy Steel Drum
Adjustable Legs
1-year warranty
User/ Customer reviews
Most people are satisfied with the purchase of this simple dryer that is not over-engineered and comes with a large-lettered control panel and easy to understand instructions. Users are also happy with the huge capacity that enables them to dry large loads together. A  few customers have mentioned that the dryer makes a loud noise while running.
Conclusion
This GE Front Load electric dryer is well-built without any unnecessary bells and whistles. It aims at completing the job at hand in the most efficient way possible. Overall, we feel that the model comes with a good price to performance ratio.
---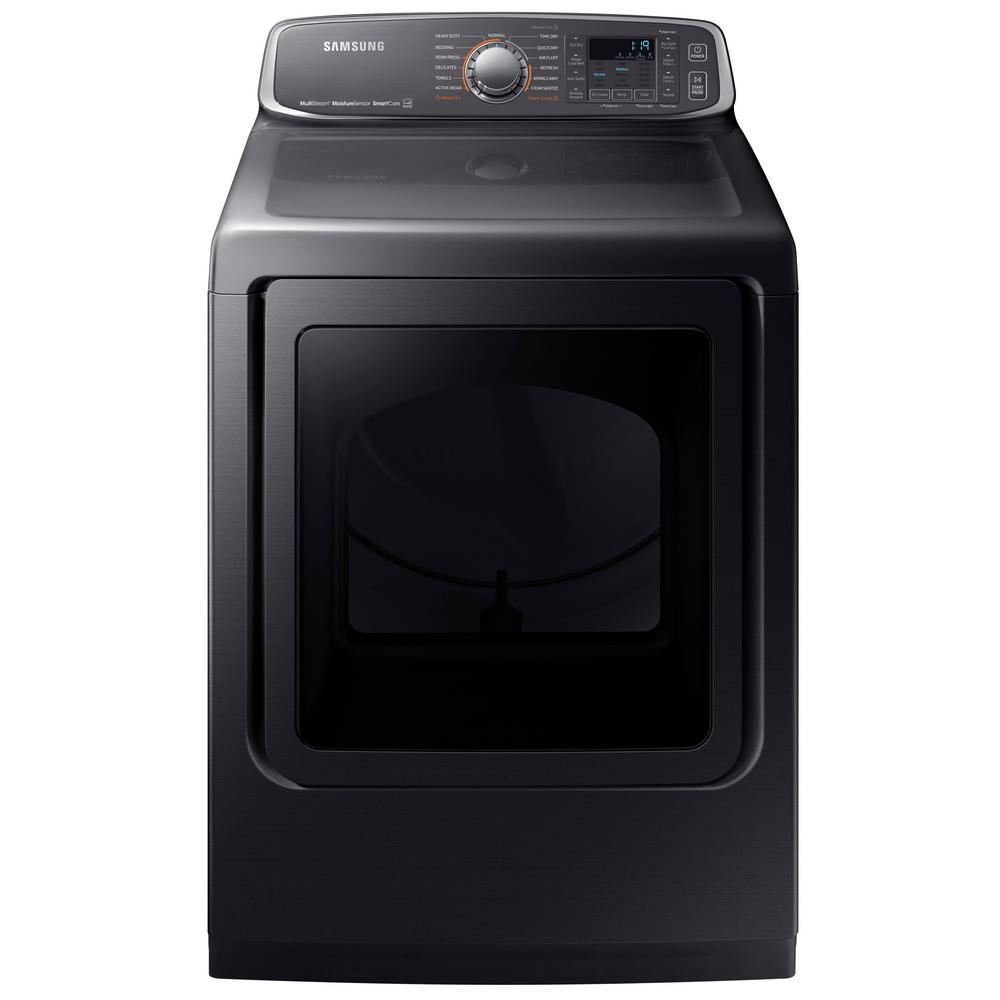 If you have a Samsung washer and are looking for a compatible dryer then check out the Samsung Champagne Electric Dryer with 7.5 cu ft capacity. It comes with advanced features like Steam Sanitize+ that helps in killing 99.9% germs and bacteria. The Multi-Steam technology helps in relaxing and straightening away the wrinkles to give your clothes an ironed appearance, without the need for ironing. The Sensor Dry cycle helps in adjusting the cycle time based on moisture level inside the drum. With the help of a smartphone app, you can easily troubleshoot any issues remotely from your mobile phone.
We are pleased to find that Samsung has also paid attention to the aesthetic value of the laundry room by offering products in beautiful colors and designs. Another innovative feature is the interior drum light that lets you spot those small items. There's a Wrinkle Prevent option that allows you to do extended tumble dry for your laundry to prevent creases on clothes. You also get a one-year manufacturer warranty on parts and labor.
Product features and specifications
7.5 cu. ft. capacity
Weighs 123 lb
13 drying cycles
Stackable design
Powder-Coated Steel Drum
Compatible with Front Load Washer
Champagne Electric Dryer
1-Year warranty on Parts and Labor
User/ Customer reviews
People like the aesthetic value this dryer brings to their laundry room without making it look monotonous and the huge capacity that can dry a king comforter perfectly. Users have also mentioned that the drying times are really fast and different cycles are capable of drying various types of clothes perfectly. Some customers have mentioned that the wrinkle prevents feature is good but not as effective when compared to the LG dryer.
Conclusion
With smart and advanced options in its kitty, the Samsung Champagne Electric Dryer (shop now) makes laundry times short and fun. The sensor does a great job of adjusting the temperature and other settings automatically so that you can focus on other tasks. Overall, a product that is easy to use for everyone.
Check Price Now
---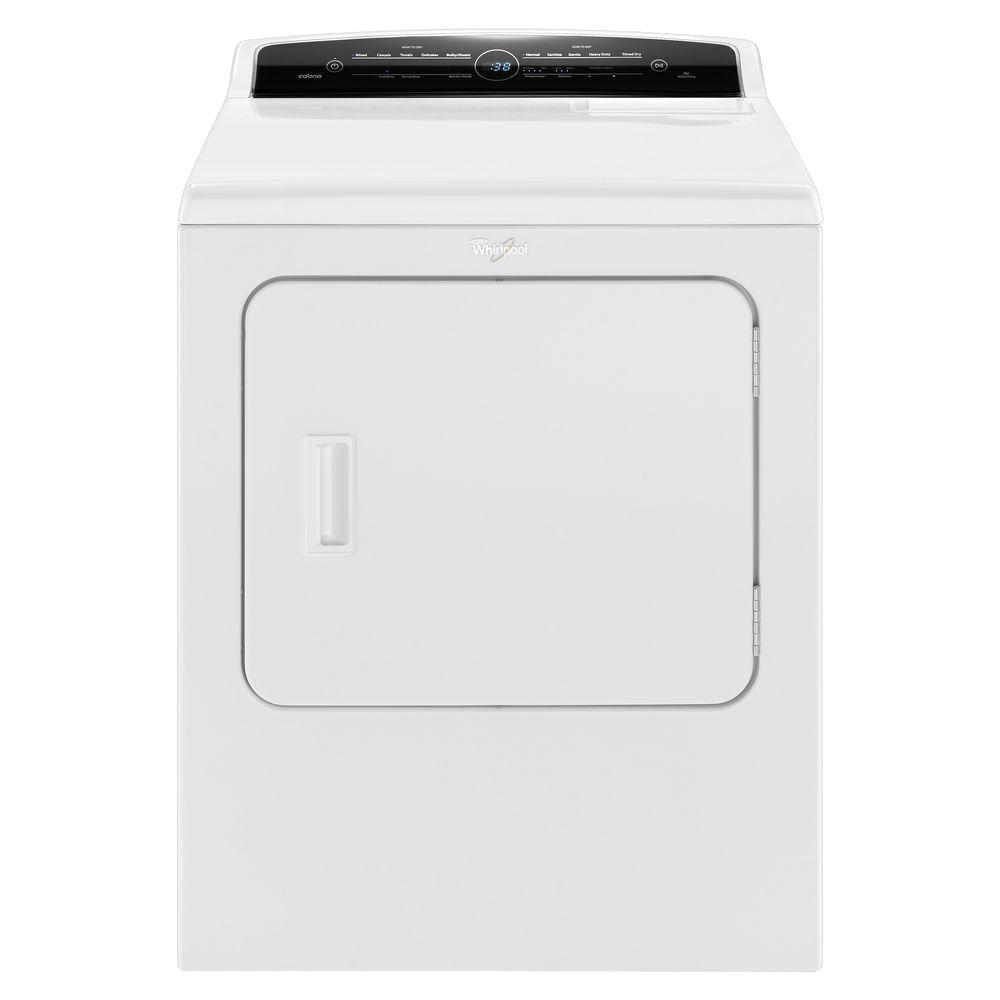 This is a 7.0 cu ft capacity high-efficiency white gas vented dryer from the house of Whirlpool. It comes with an advanced moisture sensing feature and uses three sensors to check the temperature of incoming and outgoing air, plus the moisture level of the clothes. It adjusts the settings accordingly to ensure that clothes don't come out damp or get over dried. The intuitive tap-touch control along with memory helps in saving you a lot of time in the laundry as it gives you direct access to the dryer functions.
We are totally in love with the Wrinkle Shield Plus option that tumble dries the clothes in every 5 minutes to prevent wrinkles from settling on the washed clothes so that you don't need to iron them at all. Other options like the Sanitize cycle helps in caring for your clothes and killing three types of bacteria to keep the drum contents germ-free. If you have issues with the tumble dryers being too noisy then you will be happy to know that it comes with a sound package to minimize the noise levels.
Product features and specifications
7.0 cu. ft capacity
124lb
Gas Dryer
24 Drying Cycles
120-Volt High-Efficiency
Advanced Moisture Sensing
Intuitive Touch Controls
Compatible with Top Load Matching
Adjustable End-of-Cycle
1-year limited warranty on parts and labor
User/ Customer reviews
There are mixed reviews from people who have bought the tumble dryer. Some users are full of praises about the huge capacity, great looks, intuitive controls, LED lights and ability to dry bathroom rugs. Others are not satisfied with the drying performance of the machine or the loud noise produced by it. A few customers have cautioned that the matching washer and dryer come in strikingly different off-white and bright white colors.
Conclusion
If you are looking for a compatible tumble dryer to go with your top load washer then this is a compact and stylish choice to make your laundry room looks great. The advanced moisture sensing and Wrinkle Shield features are specially designed to make this product one of the best tumble dryers to avoid ironing.
---
Tips To Take Good Care Of Your Tumble Dryer
The tumble dryers don't come cheap so it makes sense to take good care of your investment to ensure that it lasts longer. You don't really need to do a lot to maintain the appliance. A little care and awareness can go a long way to ensure that the machine delivers a smooth performance always.
While most fabrics can endure tumble-drying, make sure you check the labels before putting them in the drum. You may need to change your settings, opt for a different cycle, or reduce your load size to prevent any issues.
To get better and smoother performance, separate the fabrics according to their type before tumble-drying them. This can help you significantly save energy and reduce the drying time. It also ensures that fabric is dried at the right temperature.
Make sure you do not overload the tumble dryer and avoid putting a lot of heavy items like blankets and duvets together. Always let there be enough air to circulate or else the dryer may overheat.
After each drying cycle completes, clean the lint filters to keep the appliance running at its optimum efficiency level.
Depending on your use, clean the drum using a stainless-steel cleaner or white vinegar at least once every few months to keep the sensors working in the best condition. Check the user guide to find directions for removing the heat exchanger and cleaning it under a tap.
Related Questions
What are the main types of tumble dryers available?
There are two main types of tumble dryers – condenser and vented. The condensers are the easiest to install and they are also the most popular. They work by condensing the moisture that is collected when hot air is used in the drying process. Vented machines are comparatively cheaper but they use the same hot air drying method.
What are the top things to look for in a tumble dryer?
When buying a tumble dryer, look for features like sensor technology, space-saving design, heat pump, programming, drum size, drum material, energy star certification, and so on. You must also check the warranty on parts and motor.
How to get rid of bad smell in the dryer?
If you forgot wet clothes in a dryer, it may give a bad smell like mildew and mold. To get rid of the smell, dampen a towel with white vinegar and run a complete drying cycle. This will not only eliminate bad smell but also make the dryer look cleaner.
How often should you clean a tumble dryer?
If the machine comes with a moisture or heat sensor then you must clean it several times in a year. We recommend cleaning once every 2-3 months. However, this may depend on your frequency of use. If you run several cycles in a week then you may need to clean more frequently.
Related Article:
Easy Hacks On How To Clean A Washing Machine Naturally?
Can You Put Converse Shoes In The Dryer?
Can You Put Lululemon Leggings In The Dryer