4 Best Pressure Washer For Pool Deck 2023
Come Summer and your pool deck becomes the favorite hangout place for the whole family and even friends. So, it's natural for the deck area to get covered with dirty footmarks, mud, body oil, and even food stains. Some of these things dry up and become difficult to get rid of.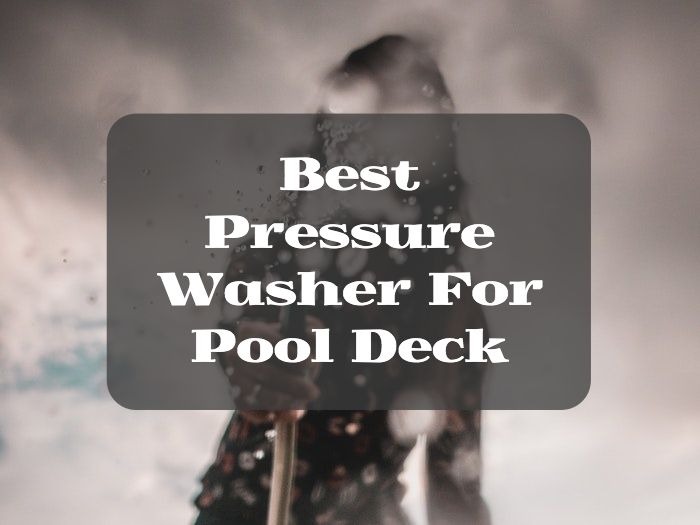 Regular cleaning of the home pool deck by a professional cannot be ignored, but it is also important to do some cleaning yourself. Breach front properties or houses in tropical areas may require more frequent cleaning than others. This is why you need the best pressure washer for pool deck.
This investment is not just limited to keeping your pool deck all decked up, but also works as a great tool for cleaning everything from driveways and garage floor to window shutters and patio furniture. You can practically use it on anything that collects dirt and debris, along with occasional bird poop, grease, oils, and so on.
The good news is that the best quality pressure washer is capable of cleaning away weeks, months, and even years of dirty buildup. After reviewing dozens of products, we found the following pressure washer and hard-floor cleaners are worth your time and investment. Read on to find our honest review of each product.
If you are in a hurry, consider buying the SIMPSON Cleaning ALH3425 Gas Pressure Washer as the product delivers a seamless performance at significantly less time. The unit is capable of up to 3600 psi and releases a powerful jet or water at 2.5 GPM to make dirty surfaces look like new again.
When you want a robust press washer that can clean large and dirty pool decks like a pro and restore its previous glory, you need the SIMPSON Cleaning ALH3425. This gas pressure washer is powered by a solid HONDA GX200 engine that comes with oil alert and an industrial-grade triplex plunger pump. It also comes with a monstrous hose that is non-marring, abrasion-resistant and connects quickly. We are impressed to find that the model has up to 3600 PSI at 2.5 GPM.
The equipment frame is made from lightweight aircraft-grade aluminum with a brushed aluminum tubing. The 10-inches pneumatic wheels make it easier to move the pressure washer on a large surface. There are five different quick to connect nozzle tips with varying angles 0°, 15°, 25°, 40° and one for soap. Each unit is thoroughly tested in the factory and some models may come with fuel/oil. The engine comes with a 3 years limited warranty and a 10-year limited warranty on frame.
Product features and specifications
Measures 30 x 24 x 21 inches
3600 psi (has 4200 option)
10" pneumatic wheels
Honda GX200 engine
AAATriplex plunger pump
5/16 in. x 35 ft
Gasoline-powered
5 quick-connect nozzle tips
User/customer reviews
People who have used the SIMPSON Cleaning ALH3425 find that the Honda engine is powerful enough to pump high-pressure water with incredible speed, delivering exceptional performance. Users prefer paying a bit extra for this monster because it saves them from spending the entire weekend cleaning the deck or patio. Few customers have mentioned that the accessories are not satisfactory as per the price of the product.
Conclusion
When you don't want to compromise with power and wish to get a weekend's job completed in a few hours, nothing works better than this gas pressure washer by SIMPSON Cleaning. At this price, you get an excellent bang for your bucks.
---
When it's time to tackle the tough dirt, debris, and stains, you need powerful tools like the WEN gas pressure washer, powered by a 208 cc 4-stroke OHV engine. This robust machine is capable of pumping 2.5 gallons of water per minute. It comes with five nozzles of varying degrees that can be quickly connected and a soap nozzle for deep cleaning. The axial cam pump comes with a reliable spray that helps in maximizing the unit's lifespan.
The sturdy pressure washer is not only well built, but also comes equipped with 12-inches wheels that never go flat, and effortlessly move on diverse terrains. The unit also comprises a quick-to-connect spray gun, a 30-foot long reinforced hose for large surfaces, and a soap tank where you can fill in the detergent solution. The manufacturer stands behind the product and provides a two-year warranty. Our team was also impressed to find that WEN has a solid customer support and skilled technicians ready to help you.
Product features and specifications
Measures 21 x 21 x 40 inches
Weighs 67 pounds
3100 PSI 2.5 GPM
Axial Cam Pump
12-Inch Wheels
208cc OHV Engine
30-Foot Hose
Soap Tank
5-Quick Change Nozzles
Onboard Nozzle Storage
42-Inch Spray Lance
User/ Customer reviews
Customers are thoroughly impressed with the WEN gas pressure washer as it helps them do a variety of residential tasks with ease. The big wheels allow users to effortlessly roll the machine over large surface and clean every corner, even the toughest of stains with the soap nozzle. A few customers have mentioned about having some issues with the carburetor but the customer support is willing to resolve any issues.
Conclusion
If you are looking for the best pressure washer for pool deck to deep cleanse the area and make it shine like new, this product by WEN (learn more) is worth considering. Overall, we feel that it is designed to help you perform your task with both precision and ease.
---
Simpson is a well-known brand when it comes to outdoor power tools, and when you have Honda's name attached to it, there you have a deadly combo. This gas pressure washer is powered by a HONDA GC190 engine and an axial cam pump to deliver an incredible performance. The five quick to connect nozzles come in varying angles to reach all corners of the surfaces you wish to clean.
The welded steel construction adds more power and the 10-inches pneumatic wheels are all you need to take it around a large surface. We love Simpson's commitment to quality as each product is functionally tested in their factory. Some units may even come with minimum residual oil/ fuel. The manufacturer stands behind the product and offers a 2-year limited warranty on engine, 5-years on frame, and 1-year limited warranty on pump.
Product features and specifications
Measures 34.8 x 21 x 23.2 inches
Weighs 65 pounds
3100 PSI 2.5 GPM
Powered by Gasoline
10-inch pneumatic wheels
5 Quick-connect nozzle tips
HONDA GC190 engine
OEM axial pump
25-ft abrasion-resistant hose
Users/ Customers review
Those who are using the product say that it was easy to set up with the instructions provided and operating it is also a no-brainer. People are happy with the tons of power and the robust engine that delivers an unbelievable performance. A few users have mentioned about leakages after some months of use or issues with the engine.
Conclusion
If you want real good pressure for cleaning, we would recommend that you don't think twice or waste your money after cheap pressure-washers. Buy this Simpson unit to get the best return for the investment made. Worth every penny.
---
If you have bought the Simpson pressure washer, increase its power, efficiency, and performance, by investing in this surface scrubber and cleaner (shop now). It is designed in a way to fit the standard 1/4-inch spray wand connections, stainless steel nozzles, and two high-pressure rotating jets for an amazing performance. We are happy to find that it can fit most gas-powered pressure washers with up to 3600 psi rating, however, you can only use cold water with it.
The impressive 15-inch diameter of the surface scrubber enables you to clean large and dirty surfaces such as decks, garage floors, patios, and driveways in less time. Our team was thoroughly impressed with the overall engineering and design that focuses on making the steel scrubber perform like a genius.
Product features and specifications
Measures 15 x 7 x 15 inches
Weighs 23.4 pounds
Two high-pressure jets
Stainless Steel nozzles
Rated up to 3600 PSI
1/4-inch QC spray wand
Cold-water use only
User/ Customer reviews
People are happy to have found a product that clean large surfaces without any chemicals and in less time than usually expected. However, many users have cautioned that this Simpsons unit does not work as expected and stops working after some time without any reasonable flaw/ issue.
Conclusion
The promise of Simpson is loud and clear, plus the surface cleaner looks well designed to be compatible with most reputed pressure washers. However, we feel Simpson's cleaner is not as good as it's gas pressure washer.
---
The biggest USP of this pressure washer by Commowner International is that the company claims it to be a product by the customers and for the customers. The manufacturer claims to have spent over 3 years developing this product based on customer feedback. It comes equipped with a trigger gun, safety switch, and brush motor that automatically shuts down when you release the trigger. The PSI falls within the range of 2200-3000 and the product comes with additional accessories such as an angled nozzle, a surface cleaner, a spinning turbo nozzle, foam bottle, and so on.
We love the foldable handle and flexible hose that makes it possible to clean different types of surfaces and large areas with ease. The product comes with five different quick-connect spray tips with diverse angles for car washing, cleaning gutters, removing dirt from the pool deck, patio, and so on. The four casters and telescopic handle further make it easy to maneuver the equipment over different types of surfaces.
Product features and specifications
CE, GS, ROHS and EMC certified
5 Quick-Connect spray tips
Flexible hose
Surface Cleaner
3000 psi and 2.2 GPM
Universal spray gun
Flexible 30-foot hose
Power cord storage
4 wheel removable cart
User/ customer reviews
Most users find the performance of this electric pressure washer much better than the gas-powered counterpart, plus the fact that it comes with so many additional parts that make the price agreeable. People are happy to find that this is made by an American company and the customer service interactions have been pleasant. Some users have also mentioned how easy it is to assemble the equipment and use it for different purposes.
Conclusion
Everything about this Commowner Electric High Power- Pressure Washer (shop now) spells quality and makes it one of the best pressure washers for pool deck money can buy. We like the way it has been designed with a lot of thought to make it compact, user-friendly, and easy to store. Although it is slightly more expensive, the features, attachments, and performance make it worth the money.
---
When you need to get your home pool deck ready for an unplanned party, nothing works better than a pressure washer to get the job done in a jiffy. The General Pump DCFSCP20GZ has the perfect blend of power and performance to give you perfectly clean patio, deck, and driveways in less time than expected. With a sealed bearing, plus an operating psi of 4,000 and GPM of 8, this professional cleaner is all you want.
We love the revolutionary make of the gun, designed in a way to reduce fatigue. The attached cleaner glides on the surface easily and cleans every nook and corner of the deck, garage, sidewalks, or patio area. The 20-inch cover made from the finest quality ABS material and metal parts made from anodized aluminum makes it a durable product.
Product features and specifications
Weighs 24 lbs
Up to 180* water temperature
Up To 4000psi
Full 20-inch cleaning path
Rugged ABS Cover
Compensating gun feature
User/ Customer Reviews
People are extremely happy with the performance of the product and the fact that it helps them save a lot of time. Some customers were able to buy the product at a better rate than the one offered at the local stores. A few users have mentioned that they have been using the product for several years without any issues, hence it is completely reliable.
Conclusion
When you want to get the best bang for your bucks, buy a product that has been tried and tested for years. General Pump has created a name for itself in the market with its dedication to quality and performance. The General Pump DCFSCP20GZ reflects the brand quality.
---
This 20-inch pressure washer attachment is designed to remove dirt and debris from large and flat surfaces such as pool deck area, patio, driveways, garage, and so on. It can handle a maximum water temperature of 212 degrees F, hence it is suitable for both hot and cold water applications. The product comes with a handle and trigger gun that features a female Quick Connect.
We were to happy find that the high-capacity surface cleaner that comes with non-marking wheels that makes it move around all types of surfaces with ease. The polypropylene construction further makes the product lightweight so it becomes easier to maneuver around with it. For best results, use a pressure washer that comes with a minimum 6.5 HP engine, 2000 PSI, and 3 GPM.
Product features and specifications
Measures 32.4 x 21.9 x 11.1 inches
Weighs 26.5 pounds
20 inches cleaning surface
2000-4000 PSI working pressure
10.5 GPM maximum flow
212° F maximum temperature
4 non-marking wheels
User/ Customer review
Those who have used the product have expressed their delight over how clean and streak-free the surfaces looked. Users like how well-built it is and the wheels attachment that allows to easily move the pressure washer from one place to another.
Conclusion
If you are looking for a good quality pressure-washer attachment that can be used on different types of surfaces with ease then check out this product by Erie Tools. At this price, this product gives you a good price to performance ratio. We recommend this product.
---
The third product in our list of best pressure washer for pool deck again comes from the house of Erie Tools, but this attachment is made from sturdier stainless steel material. This 21 inches long flat surface cleaner comes equipped with a dual-handle and trigger gun connected to an inlet female plug. The stainless steel construction is designed to handle the toughest abuse and still last long. It works great for cleaning all types of hard and flat surfaces including pool decks, patio area, and so on.
This versatile hard surface cleaner comes with four non-marking wheels that help in covering a large surface with ease and clean without leaving dirty streaks. It is capable of handling a maximum water temperature of 212 degrees F, which makes it perfect for both cold and hot water applications. To get the best results from this equipment, use a pressure washer that has a minimum of 6.5 HP engine, 2000 PSI, and 3 GPM.
Product features and specifications
Weighs 31.2 pounds
21 inches cleaning surface
Two nozzles with 25° spray angle
4 non-marking rubberized wheels
212° F maximum water temperature
Stainless Steel housing
3-10.5 GPM flow
Use/ Customer review
People who have large driveways are delighted to have a product that significantly reduces the time needed for cleaning such a big area. The wheels come handy to take the product around instead of pushing it everywhere, hence users find it worth the investment. Some customers have mentioned that the product is good, but the surface needs to be pre-treated before use.
Conclusion
If you have a large driveway or pool deck area, consider investing in this Stainless Steel Pressure Washer cleaner that promises to get the work done in half the time. Overall, we feel that this product brings for you the benefits of a high-quality hard-surface cleaner at an affordable price.
---
This pressure washer cleaner attachment from the Karcher family comes with the promise to give you quicker and cleaner results. It is capable of delivering a professional-level cleaning for an area of up to 15-inch wide. The two spinning nozzles are designed in a way to clean the flat surfaces up to four times better and faster than any standard spray nozzles. It is also compatible with gas power washers up to 3200 psi.
We love the ability of this pressure washer cleaner to give you professional-level cleaning without leaving any streaks on the surface. It comes handy to clean large areas such as patios, driveways. sidewalks, and decks. It also helps in cleaning the vertical surfaces such as home sidings and garage doors. Our team was also impressed by the plash-free skirt design that helps in keeping the user dry while cleaning.
Product features and specifications
Measures 15 x 6.7 x 15 inches
Weighs 3.8 pounds
Dual cleaning nozzles
Splash-free skirt
Two spinning nozzles
Users/Customers
Those who have used the product mention that the equipment scrubs the surface much better than a standard pressure washer. People are happy with the overall constructions and the sturdy ABS material with which it is made. The use of actual bearings in the place of Teflon washers is another reason why customers love this product so much.
Conclusion
If you want a good quality attachment for your gas-powered or electric pressure washer then consider buying this hard-surface cleaner by Karcher. With two spinning nozzles and a rotation speed of 1500 rpm, this product delivers an incredible performance. Overall, a good buy.
---
Related Questions
What is the ideal psi for cleaning pool deck?
You will need a psi range of 3100 to 4000 psi for the concrete pool deck. If you use hot water, you will be able to get similar results in less pressure (3000-3500 psi).
How to remove algae and mildew from pool deck?
For spot cleaning small areas, you may use a solution of water and bleach. For widespread algae and mildew growth, we recommend that you pressure wash the pool deck with hot water.
What's the best way to tackle stains on a deck?
Most pressure washers cleaners come with a soap nozzle that can be used to dispense detergent solution used to clean tough stains. For spot cleaning small patches, you may use a solution of detergent, water, and bleach.
See Also:
Can You Use Dish Soap In A Pressure Washer
5 Best Pool Brush For Pebble Tec