7 Best Rain Shower Head And Handheld Combo for 2023
Do you love getting wet in the rain? The feeling of tiny drops touching your skin, bathing your soul and refreshing your mind. What if you can recreate the same effect in your bathroom and have the privilege of using warm water when it's darn cold outside to get wet in the rain. Wouldn't that be great?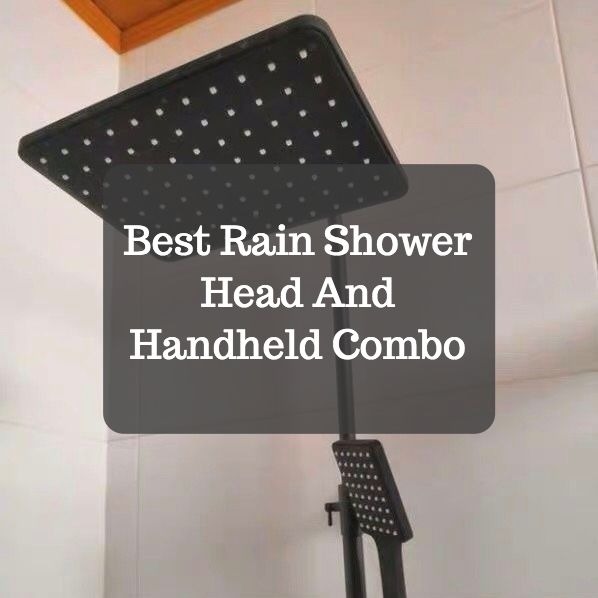 Yes, we are talking about the specially designed rain shower heads created to help you feel the joy of bathing in rain right at home. It has a kind of psychological effect on the mind, body, and soul to result in overall health benefits. It can help you de-stress and rejuvenate after a tiring day. It can also promote good sleep by relaxing your nerves.
If that encourages you to look for the best rain shower head and handheld combo then you have come to the right place. As there are a plethora of brands, models, and features available online, choosing one from a sea of products can be a tough job for house owners.
To make your task easier, our team has done the research work for you. We have spent hours reviewing, testing, and comparing products to come up with a few handpicked models. Read on to find our unbiased review based on product specifications, performance, and customer reviews.
If you are in a hurry to purchase, we would suggest that you choose Blue Ocean Rainfall Shower Head as it comes from an ISO certified company. It sports an impressive control panel and the shower head has 8 body massage nozzles for an ultimate bathing experience.  
| | | | | | | | |
| --- | --- | --- | --- | --- | --- | --- | --- |
| Features | EMBATHER | Blue Ocean | SR SUN RISE | SunCleanse | SunCleanse | DreamSpa | Moen 26008srn |
| Dimensions | 17 x 14.2 x 4.7 inches | 54 x 13 x 7 inches | 17.5 x 13.5 x 4.8 inches | 17.5 x 13.7 x 4.6 inches | 17.6 x 13.9 x 5.1 inches | 9 x 6 x 3.5 inches | 8 x 7.5 x 14 inches |
| Weight | 12.3 pounds | 31.2 pounds | 13.15 pounds | 15.2 pounds | 12.98 pounds | 1.8 pounds | 3.2 pounds |
| Style | Wall Mounted | Wall Mounted | Wall Mounted | Wall Mounted | Ceiling Mounted | Wall-Mounted | Wall-Mounted |
| Material | Brass | Aluminum Alloy | Stainless Steel | Stainless Steel, brass | Stainless Steel, brass | Premium ABS, Stainless Steel Hose | Mostly Plastic |
| Finish | Polished  Chrome | Polished  Chrome | Polished  Chrome | Nickel finish | Nickel finish | all-chrome finish | Brushed Nickel |
| Quality test | UPC Certification | ISO-9001 standard | UPC Certification | UPC Certification | cUPC certified | NA | NA |
| Type | 6 In 1 Luxury shower fixtures | 8 body massage nozzles | Dual Functional | Shower Combo Set | Shower Combo Set | 2 Way Diverter  | 6-Spray Shower Combo Kit |
---
This wall-mounted rainfall shower system comes from the house of EMBATHER and it is made of high-quality brass material. The sleek and stylish exterior wins our heart as it's designed to enhance the décor of any bathroom. Each item is UPC approved and they don't rust easily, hence they are low maintenance and last for long. With a multi-layer chrome finish, it gets a highly reflective and shiny metallic exterior that can resist corrosions, tarnishes and scratches. The shower holder that comes with the product can be highly adjustable to suit your needs.
Installation is a breeze and it takes just a few minutes by following the instructions to have the rainfall shower system up and ready to use. The main control is the top rotating button and the knob at the bottom controls the temperature. The water flow rate of the showerhead is good and the controls work well to reduce or increase the flow. We are impressed to find that the manufacturer stands behind the product with a lifetime guarantee and the customer support replies within 24 hours.
 Product features and specifications
Measures 17 x 14.2 x 4.7 inches
Weighs 12.3 pounds
Wall-Mounted
10 Inches Fixed Shower Head (hand shower)
16 Inches Shower Arm
Polished Chrome Shower System
Dual Function 6 In 1 Luxury shower fixtures
Brass And Non-toxic PVC
User/ Customer reviews
Customers can't stop raving about the attractive and elegant looks of this rain shower head and handheld combo kit. Most people are happy with how well-built the product is and the ease of installation. The operation is also pretty straightforward and there's the option to use both the rain shower and handheld shower together, which is highly appreciated.
Conclusion
If you are building an outdoor shower or remodeling an old one, the EMBATHER Brass Rainfall Shower System (shop now) is the perfect product to add functionality and enhance the décor. This is an investment that will last for long and give you good value for money.
---
If you want a complete resort experience right at home, opt for the Blue Ocean SPA392M Shower Panel (learn more). We love the revolutionary design that makes it one of the best shower panels in the market. The exterior body is made from high-grade aluminum alloy, chrome-plated brass hose, and tempered glass surface. There are several functions that include a hand-held showerhead, an overhead shower, a tub spout, and 8 body massage nozzles. There two extra controls that regulate the water temperature and control the functions.
This unique luxurious massage panel is designed for flat wall installation and it requires standard plumbing connection. The hot and cold water hose are connected directly to the water pipe fitting to give you an uninterrupted flow of water with good pressure. The minimum level of pressure is 28 psi and the maximum level is 72 psi. The water temperature is displayed on the panel powered by an AA battery. It comes backed with a one-year partial warranty.
Product features and specifications
Measures 54 x 13 x 7 inches
Weighs 31.2 pounds
Made from aluminum alloy
8 adjustable nozzles for water massage
Temperature display
Rainfall showerhead
Handheld shower head
ISO-9001 standard
1-year partial warranty
User/ Customer reviews
Most buyers have mentioned how easy it was to install the product and how good it blended with the bathroom remodeling project to make their home looks great. Several users have said that it gives them a spa-like experience and the jets can be used at once at different settings for a refreshing experience. A few unsatisfied customers have warned that there are is no warranty information or customer support details.
Conclusion
This is a wonderful investment if you want to increase the face value of your bathroom and add an extra bit of luxury to it. We would just like to warn that you and your family members may not want to come out of the shower. Overall, a great buy at this price.
---
If you are looking for a compact rain shower head and handheld combo that takes less space in the bathroom then check out the SR SUN RISE SRSH- D1203. This is a wall-mounted device that includes a 304 stainless steel shower hose and an L-shaped handheld unit made from brass. Both materials are high-grade and present a stylish appearance to the bathroom interiors. It is not only durable but also corrosion-resistant. It sports a ten-layer chrome plated finish which makes the overall product look spectacular.
The installation is easy with instructions clearly mentioned, and we love the fact that the installation is concealed with a brass-made shower bracket holder and pressure-balancing mixture valve. We are impressed with the high-pressure technology that provides consistent and powerful rain shower even when the water pressure is low. Advanced air injection technology not only maintains the pressure but also saves more water. The manufacturer stands behind the product with a lifetime warranty and it offers easy replacement within 5 years of use.
Product features and specifications
Measures 17.5 x 13.5 x 4.8 inches
Weighs 13.15 pounds
Made from high-quality brass material
High-density 304 stainless steel tube
Wall Mounted Rainfall Shower Head
L Style Brass Handheld Shower Head
304 Stainless Steel Shower Hose
Corrosion-resistant
Ten layer chrome plated finish
Lifetime warranty
User/ customer reviews
Most users have said that the shower system is extremely well built, good looking, and affordable. People find its simplistic design useful for compact bathrooms and it serves to be a great addition to any remodeling project. Customers find the installation part easy as the product comes with detailed instructions and mostly the end results have been greatly appreciated.
Conclusion
If you want a high-quality product at a reasonable price then you must check out the SR SUN RISE SRSH-D1203. This is a multipurpose combo unit that can be used as a showerhead, handheld head, and an extension hose if you wish to bathe the pets outside. Overall, it offers excellent value for money.
---
A shower unit in the house should match the height preferences of each family member and this is why we offer the SunCleanse Shower System. This is an adjustable wall mounted shower system designed to make everything extra comfortable. The shower arm extender can be installed at a preferred height so that every member of the family can enjoy a relaxing shower. When it comes to design, the showerhead sports a 12 inches square shape which is enough to cover the entire body. The L-shaped handheld shower is also simple yet elegantly designed.
The shower system combo unit is equipped with a double pressure air technology that ensures a consistent flow of water recreating a rainfall experience. With the mixer set up, you can not only enjoy a spa-like high-pressure shower experience, but it also saves water bills by 30%. The unique faucet design takes into account safety features and the pressure balance valve can stop the hot water flow immediately to prevent any burns. SunCleanse Shower System comes backed by a manufacturer warranty and 5 years of free replacement.
Product features and specifications
Measures 17.5 x 13.7 x 4.6 inches
Weighs 15.2 pounds
Wall Mounted Rainfall Shower Combo Set
Adjustable Shower System
12-inches adjustable shower arm extender
L-Style hand showerhead
304 stainless steel and brass
Concealed Shower Mixer Valve System
User/ Customer reviews
People who have bought the rain shower combo unit are completely in love with the way this thing looks in the bathroom and functions smoothly. It creates a constant pressure of water at different temperature settings, which is much appreciated by the users. Most users find the installation part easy with the instructions and parts included in the combo kit. Some people were able to install the unit even in 100-year old houses.
Conclusion
If you want to fall in love with your shower system and get rid of all work stress with a relaxing bath at the end of the day then this is a must-have. At this price, the SunCleanse Shower System is the best gift you can give yourself and your family members.
---
If you have a small shower area and prefer a ceiling-mounted system then check out this beautiful model from the house of SunCleanse. Made from high-grade stainless steel and brass materials, the product boasts an even wall thickness and powerful compression resistance. We love the gorgeous brushed nickel coating on the exterior and multi-layer electroplating. The showerhead is built in a way to prevent leakages and rusting to give your bathroom a luxurious interior. To further enhance the décor, shower bracket, shower arm, and mixer valve are installed concealed to the water pipe.
When it comes to performance, the shower system maintains a consistent pressure of water, and there are separate controls for rain shower and handheld. Installation is easy and the handheld can be kept 360 degrees to meet your needs. Safety measures have also been kept in mind while designing as there's a scald prevention function to set temperature limit and maintain it consistently for both hot and cold settings. This prevents any accidental burns. The manufacturer backs up the product with a solid five-year replacement on any part and 24 hours customer support.
Product features and specifications
Measures 17.6 x 13.9 x 5.1 inches
Weighs 12.98 pounds
Ceiling-mounted shower
Two Function Shower System
Dual functions valve control
12-inches rain showerhead
304 stainless steel and brass
Western Style
Multi-layered electroplating
User/ Customer reviews
Many users have mentioned that the showerhead makes them feel like they were in a five-star hotel as it provides nice warm water that soothes and relaxes the body. People like the design of the showerhead and ease of installation without the need for any extra tools or skills. Many customers feel that this is the best rain shower head and handheld combo set for a bathroom remodeling project.
Conclusion
If you don't want to comprise with fashion or function then consider buying the SunCleanse Ceiling Mounted Shower System where you will find both at its best.  At this price, this is the most gorgeous looking and reasonably priced shower head and handheld combo money can buy.
---
Great performance meets style with the DreamSpa Ultra-Luxury Rainfall Shower Head/Handheld Combo, designed to give you an opulent shower experience. It sports a highly fashionable square design and a gorgeous chrome finish that enhances the bathroom décor. The large rain shower head provides an impressive shoulder to shoulder coverage. The convenient push-button control gives a consistent and flawless water flow at the touch of a button. The attached handheld shower can be placed anywhere for easy reach and convenience.
This rain shower and handheld unit are designed in a way to help you experience an enjoyable high-power rain, luxurious waterfall, or aeration massage with just the push of a button. The handheld unit has an oval design with rub-clean jets for better cleaning. The all-chrome finish of the handheld head adds more style to the unit and makes it look perfect together. Installation is easy and can be done tool-free on any standard showerhead. The manufacturer stands behind the product with a lifetime limited warranty and no-hassle return.
Product features and specifications
Measures 9 x 6 x 3.5 inches
Weighs 1.8 pounds
Revolutionary push-button
Extra-large 4.75 Inch face
Premium all-chrome finish
High-fashion square design
Two-way water diverter
Stainless steel shower hose
Angle-adjustable overhead bracket
User/ customer reviews
Most users have said that the product feels a little plastic-y but it is okay for the price as it appears expensive, without looking cheap. The water pressure coming from the shower head feels really good and it gives you a nice drenched feeling that is highly appreciated.
Some people have commented that there are so many jets coming out of this one product that it creates a spa-like ambiance right at home. A few customers have cautioned that the shower unit does not last and starts rusting and leaking around the edges.
Conclusion
If you rate fashion over function and don't mind the cheap materials used to keep the price low then DreamSpa Ultra-Luxury rainfall shower is a good choice. It enhances the décor of your bathroom and adds a luxurious feel to it without breaking the bank. Although not the best in terms of quality, it delivers good performance at this price.
---
If you wish to upgrade your bathroom and enhance your shower experience without spending too much after fixtures, consider buying the Moen 26008srn. This round shaped shower head and handheld shower with a gorgeous nickel finish is beautifully designed to work with any standard shower fixture. We love the impressive spot-resistant finish that prevents any fingerprint or smudge to give a cleaner look to the showerhead and enhance the bathroom décor.
Another impressive feature is the magnetix docking system that detaches and retracts with ease, making it a snap to use even with your eyes closed. Those who fancy a rainfall shower system in their bath but lack the space to install a large square shower head can try this product. It replicates a similar rainfall feeling, just that the coverage area is comparatively smaller. The nozzles are beautifully arranged to give you a smooth and consistent flow of water.
Product features and specifications
Measures 8 x 7.5 x 14 inches
Weighs 3.2 pounds
Brushed Nickel finish
Water sense certified
Magnetix docking system
Spot Resist finish
6-Spray Hand Shower
Shower Head Combo Kit
User/ Customers
Those who have bought the Moen 26008srn shower head love the design and performance, plus the fact that the pressure can be selected to meet your needs. People are also happy with the magnetic holder that works great and adds more style and functionality to the product. There are some mixed reviews regarding the pressure and water flow, as some users did not find it adequate. A few customers have expressed disappointment over the shower heads primarily made of plastic material.
Conclusion
If you have a small bathroom and wish to make it look more stylish without spending a lot of money then the  Moen 26008srn is a great choice. It has a good design and some impressive features that make it a wonderful addition to your bathroom remodeling project.
---
Things To Look For In The Best Rain Shower Head And Handheld Combo​
Whether you are building a new bathroom from scratch or considering to revamp an old bathroom, there will be many things that you need to take care of. You would want the best of functionality and style, with good customer support from the manufacturer or seller. So, here are a few things to look into when considering a product.
Shower head design
Rain shower heads may come in various designs and sizes, so you need to choose according to the space available. If you buy a too large shower head for a comparatively smaller bathroom, it will result in a fiasco. Similarly, a very small shower head for a large bathroom will leave you wanting more.
You will also need to consider the kind of experience you want and how much you are willing to spend before buying a shower head. Ask yourself a few questions like what kind of shower head do you want, the connections at your home and which head fits well with the décor.
Type of shower head
When it comes to choosing shower heads, you will find a variety of options available. You can find wall-mounted, ceiling-mounted, and handheld versions. The products we have reviewed above are mostly combo units comprising of a shower head and a handheld unit.
Aesthetics
When you are remodeling a bathroom, aesthetic of everything you use to revamp it definitely matters a lot. While some people may think what's in a bathroom and why do looks matter, but trust me you will not only pamper yourself and impress your guests but also increase the resale value of your home by installing an aesthetically pleasing shower head.
Spray Settings
The standard rain shower heads are usually commonplace, but there are some high-end models that come with advanced spray settings. You can choose your preferred settings to replicate rainfall or mist. You may choose to have a powerful jet of rain shower or softer ones that give you a spa-like experience.
Pressure
This is a homework you need to do before you start looking at the models because your house should be able to provide adequate water pressure needed for the shower head. If the pressure is not compatible with the shower head then you will not get the optimal performance.
Eco-friendly
If you wish to contribute to saving the environment, we would recommend that you look for a shower head that helps you save on water. You can find several models that are marked as water-efficient and they can also, help with reducing your water bills.
Installation
In the past decade, the shower heads have evolved immensely and it's much easier now to install a massive shower head than it was several years ago. The products usually come with detailed instructions and necessary tools to get the work done with ease.
Price
The price of a product is generally not an indicator of the quality. However, if you get an expensive-looking large shower head at a throwaway price then chances are that the manufacturer has cut corners. We would suggest that you avoid products made from cheap quality materials, as they may look good but will not last long.
Related Questions
Can the shower heads get rust?
Yes, most shower heads made of metal are prone to rusting to some extent, unless you bought a product that is specially designed to prevent corrosion. If you notice rust or buildup on your shower head, create a solution of equal parts of hot water and white distilled vinegar. Submerge the showerhead in a plastic bag containing the solution and let it soak overnight. Next morning, remove it from the bag and wash it. Check to see that the pores are not clogged to ensure free water flow.
How often should I clean the shower head?
This will depend upon the quality of water you get from the municipality. Based on this, you may need to clean at least once a month or once in every three months. If you get hard water in your area, there will be higher chances of calcium buildups and this will call for frequent cleaning.

For more:
5 Easy Ways To Clean A Shower Head
4 Best Bath Mat For Outside Shower
How To Wash Shower Curtain Liner In Front Load Washer