Sleep is one of the most important basic things that we need for proper productivity. According to research, lack of or shortage of good sleep can lead to stress and health complications. The first step to enjoying your sleep is having a good bed and mattress. Therefore, in pursuit of good sleep, we may consider being creative like placing a futon mattress on a regular bed frame. 
So, is it okay to place your futon mattress on a bed frame? Unfortunately, no, placing your futon mattress on a regular bed frame can cause you more discomfort than by sleeping on the futon mattress itself.
A futon mattress is built for use as a couch and a bed. This means that their thickness is significantly smaller as compared to that of a regular mattress. Therefore, when directly placed on a bed frame the depressions of the frame can be felt through the futon mattress. In short, by the time you are done with your nap, you maybe twice more tired than you were before.
This article will look at why you cannot place a futon mattress on a regular bed frame, how to make a futon mattress comfortable and other futon mattress related questions.
Why You Cannot Place a Futon Mattress on a Regular Bed Frame
Apart from being uncomfortable, there are other reasons why you should not place your futon mattress on a regular bed frame.
Firstly, a futon mattress comes in different sizes and thicknesses. There is no one common size of a futon mattress. The thickest futon mattress is about 12 inches and the thinnest is 5 inches.
Therefore, unlike a regular mattress, it is difficult to estimate if the futon mattress will fit into a normal bed frame. Most times the mattress is either smaller or bigger.
Although people argue that you can place a box spring on the regular bed frame before placing the futon mattress, the argument still does not hold. The stiffness of the box frame is felt through to the futon mattress. Also, realize that due to the thinness of the futon mattress most of your weight is placed on the box spring, which is vulnerable to tearing easily.
Eventually, you may have to incur the cost of a lack of proper sleep and broken box spring. So to save you the hustle, consider using the futon mattress with its intended frame or on the floor depending on how it is designed.
However, if you insist to place the futon mattress on a regular bed frame, here are hacks you can use to make sure the futon fits
Install wooden slats into the four corners of the bed frame. To make them look natural, you can paint them just like the bed frame.
If you do not have a box spring, you can place wooden boards across the bed frames. A solid plywood wooden board is recommended.
How to make a Futon Mattress Comfortable
First, the only reason you may be considering placing your futon mattress on a bed frame is for comfort. However, since it is not recommended, we have gone the extra mile and looked for ways to make your futon mattress comfortable.
Just like with your regular mattress, you can use a mattress topper for the futon mattress. A mattress topper helps to make your mattress as comfortable as it can be.
Either slip the mattress topper inside the futon cover or place it on top of the mattress. Once the mattress topper is added, you can use a sheet to hide the topper and hold everything together.
Your futon mattress may be causing you all the pain because it is worn out. Therefore, unless you want to purchase a regular bed and mattress, which I highly recommend, you need to get a new futon mattress.
When purchasing a futon mattress, remember that each futon varies in terms of thickness and size. For the best sleeping experience, go for the thickest futon mattress. Thick futon mattresses have expanded life.
Apart from the thickness, be on the lookout for the materials making up the futon mattress. The best material is foam. It is comfortable and durable.
That said thou, be very careful with the size of the new futon mattress since you already have a futon frame. You want to make sure that the new mattress fits in the older frame well enough as a couch and as a bed.
Add a Wooden Slat under the Futon Mattress
Even if you have a futon frame, you should consider adding wooden slates to enhance the firmness of the futon mattress. The wooden slats also come in handy if you want to prevent the sagging if the mattress at the middle or around the edges.
Add a layer of Comforter on the Futon Mattress
One of the simplest ways to provide comfort to any mattress is by layering a comforter on top of the mattress. The comforter offers that extra layer of cushioning that gives you comfort.
Also, it provides an airy lightness which most people prefer. However, if you are allergic to any kind of fur, be careful about the type of comforter you use.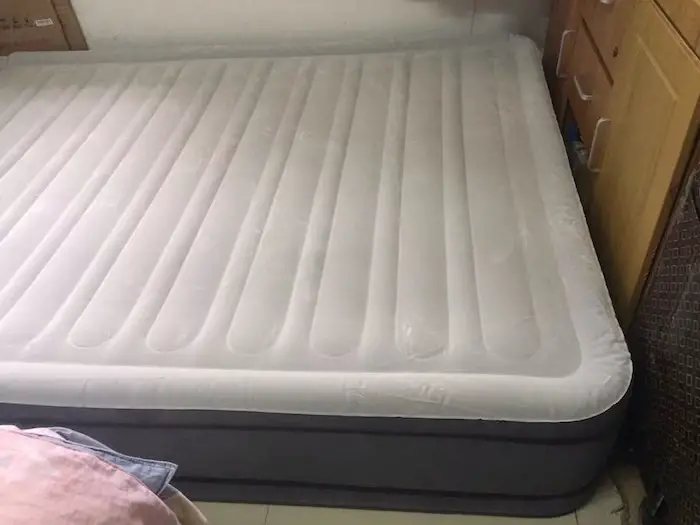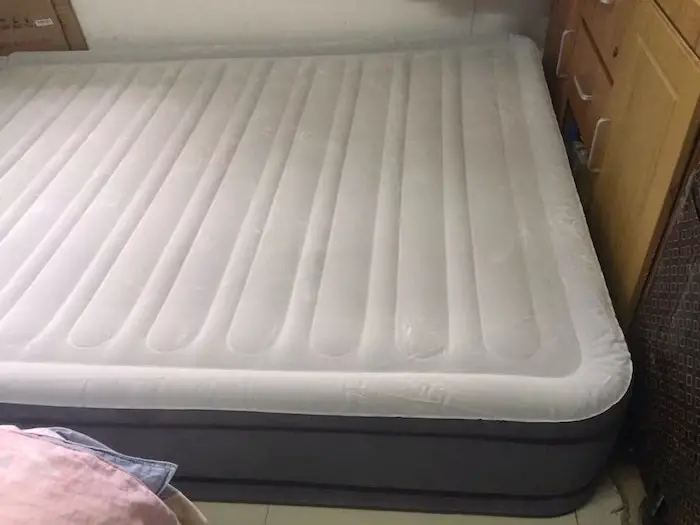 Futons are designed to be a few feet off the ground. As such, when used as a bed or couch, it may feel uncomfortable being that low. This may be fuelled by the coldness of the floor which may rise to the mattress causing respiratory problems 
The solution to this is purchasing an air mattress. Placing a futon mattress on an air mattress lifts the futon some few inches up. It also boosts the comfort of sleeping on the futon. Therefore, by purchasing an air mattress you have killed two birds with one stone.
When purchasing an air mattress look for one that inflates and deflates automatically. This reduces the work of moving it around when attending to your house chores. Also, look for an air mattress that will fit the size and design of your futon mattress.
Add a Feather Bed to the Futon Mattress
In case you allergic to a comforter due to the fur used in it, you may consider using a feather bed. A feather bed like this is like a comforter but it is used by sleeping on top of it instead of covering yourself with it.
A feather bed can come in handy to add that cushion, softness, and warmth of a futon mattress. It is usually divided into parts to prevent it from migrating to one side when sleeping.
Clean your Futon Mattress
After all is done, if you do not maintain the hygiene of your home and that of your futon mattress, then you are bound to find it uncomfortable.
Since a futon mattress can be used as both a bed and a couch, it tends to gather a lot of dirt and in a very short time. This emphasizes the need to clean it regularly (see how to clean it).
Related Questions
Can you place a regular mattress on a futon frame? 
Yes, you can use your regular foam mattress on a futon frame. However, with this arrangement, you may not be able to use the futon as a sofa due to the thickness of the mattress. So before executing this plan consider that the futon will remain in the position of a bed. 
Moreover, when using a mattress on a futon frame, the frame may require some additional short. You can use a box springs, to help reduce the weight of the mattress on the fame. Understand that some frames cannot support the weight of a mattress.
To determine if your futon frame can support the weight of your mattress, attempt to sit on the frame; if it folds at the stand, then it may not hold the weight of the mattress. In this case, you should consider purchasing a regular bed frame.
Is it okay to use a futon mattress regularly? 
Futon mattresses are designed to be used for sleeping and sitting just like the normal mattress is used for sleeping. Therefore, the effects of using a futon mattress may vary from one user to another depending on several factors.
For starters as mentioned above, futon mattresses vary in their thicknesses. However, futon mattresses are made of thin pillows covered to hold them together. As such, you cannot compare the thickness of a futon to that of a regular mattress.
This is where the misconception comes in, most people believe that using a futon for a long time may cause backaches and health conditions, this is not entirely true. The worst a futon mattress can cause is inadequate sleep.
To sum it up, use the thickest futon and implement the highlighted ways to make it comfortable. Incase the backaches persist, you may want to see a doctor who may advise on suing a regular bed among other treatments.