Gone are the days when you had to plan ahead before washing comforters, and it used to be a tiring and long day with a lot of mess and excess use of water. Not anymore! Thanks to the advanced technologies, the modern washing machines come with larger capacities and they use less water to wash comforters, duvets, and pillows.
While most washing machines today have a bedding cycle, the duvets or comforters you consider cleaner may be too delicate and expensive. There are some special models created to do a great job at washing larger delicate items. So, if you are looking for the best washing machines for comforters then you have come to the right place.
We know it's hard for an average customer to spend hours researching the pros and cons of each product to find the most suitable one. Hence, our team has made the task easier for you. We have spent hours reviewing dozens of high-efficiency washing machines with mega capacity and comparing them with the competitor products.
After hours of research, we have handpicked some of the best large capacity washing machines for you. If you don't have the time to read this till the end, we would recommend the 5.5 cu. Ft LG Electronics top load washer as it weighs comparatively less and comes with advanced features like smart home compatibility, steam function, and tier I energy rating. 
| | | | | | | | |
| --- | --- | --- | --- | --- | --- | --- | --- |
| Features | 1. LG Electronics | 2. LG Electronics | 3. LG Electronics | 4. LG Electronics | 5. GE | 6. Whirlpool | 7. Whirlpool |
| Capacity | 5.5 cu. Ft | 5.5 cu. Ft | 5.2 cu. Ft | 5.2 cu. Ft | 4.5 cu. ft. | 4.8 cu. ft. | 4.3 cu. Ft |
| Style | Top load | Top load | Front load | Front load | Front Load | Top Load | Top Load |
| Weight | 134 lb | 134 lb | 227.1 lb | 225 lb | 245lb | 140lb | 135lb |
| Wash cycles | 14 | 15 | 14 | 14 | 10 | 27 | 12 |
| Drum material | Stainless Steel Drum | Stainless Steel Drum | Stainless Steel Drum | Stainless Steel Drum | Stainless Steel Drum | Stainless Steel Drum | Stainless Steel Drum |
| Smart Home Enabled | Yes | Yes | Yes | Yes | No | No | No |
| Steam | No | Yes | Yes | Yes | No | No | No |
| Energy Rating | Tier I | Tier I | Tier III | Tier II | Tier I | Not CEE rated | Not CEE rated |
---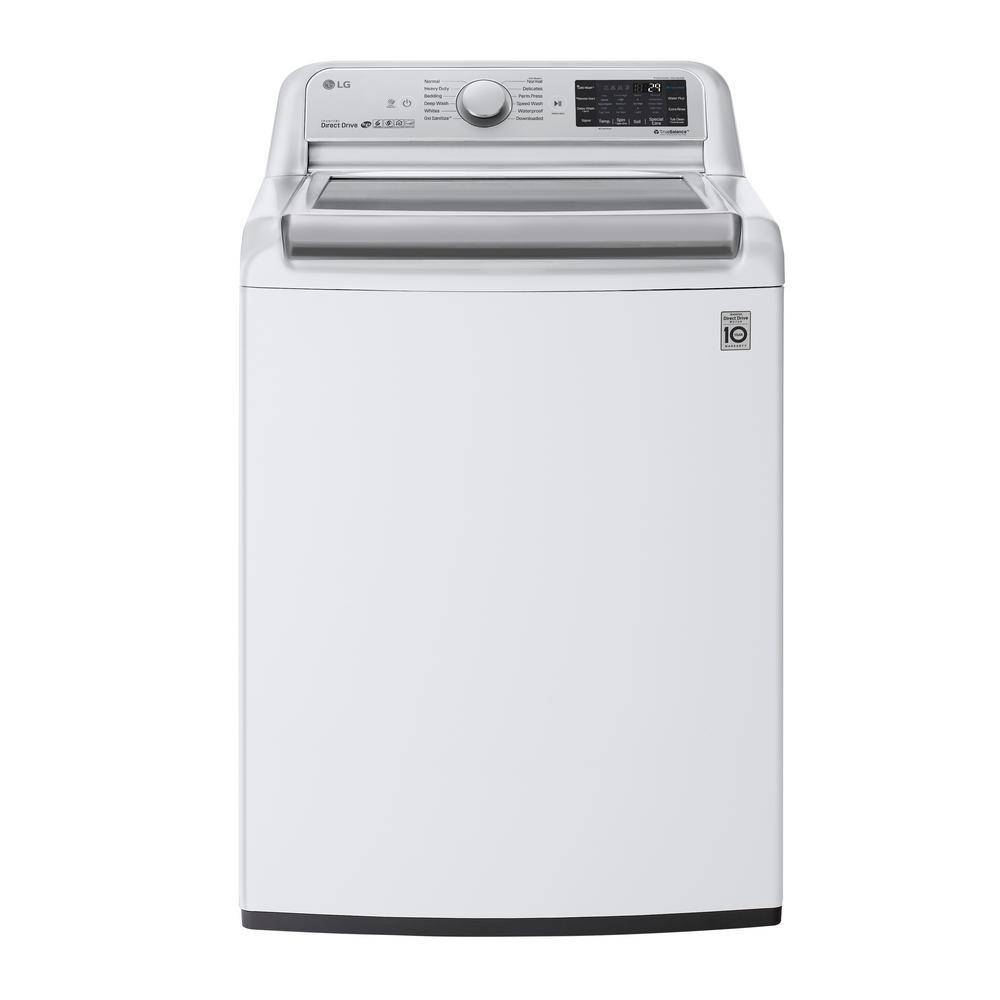 When it comes to cleaning comforters, duvets, and pillows, LG Electronics presents its high-efficiency smart top load washer that boasts a capacity of 5.5 cu. ft. The tub is made of corrosion-resistant stainless steel to avoid chipping, so unlike porcelain or plastic material, you don't have to worry about expensive fabric getting snagged. The dual-surface becomes smoother over time and the washer stays looking like new. Even if you wash multiple comforters, the machine uses 30% less energy and half the amount of water used by the standard washers.
With advanced technology like the TurboWash3D, it cleans the toughest stains and dirtiest comforters in a gentle way in less than 29 minutes. It not only saves time, but the ColdWash feature penetrates into the fabric to purge out dirt and gives you the benefits of cleaning with warm water while saving energy. We are impressed to know that the product is backed by SmartThinQ technology to enable users to control it with a mobile app. It is also compatible with Amazon Alexa and Google Assistant.
Product features and specifications
5.5 cu. Ft capacity
Top Load Washer
Stainless steel drum
Wi-Fi Enabled
Energy Star rating
Troubleshoot remotely with app
TurboClean Cycle
Direct Drive Motor
6 Motion technology
User/ Customer reviews
People with big families are completely in love with this washer as it is capable of washing a lot of clothes, multiple comforters, and duvets. Users are also impressed with the solid construction, mega-size tub, speed wash cycle, and several other features that make it a worthy investment. Most customers have mentioned that the product is easy to install and looks great in the laundry room.
Conclusion
This LG Electronics HE top load washer has everything it needs to be the best washing machine for heavy loads. Pair it up with the compatible dryer and you have your laundry perfectly sorted. It is a great investment for large families, and you certainly get what you pay for. A great buy!
---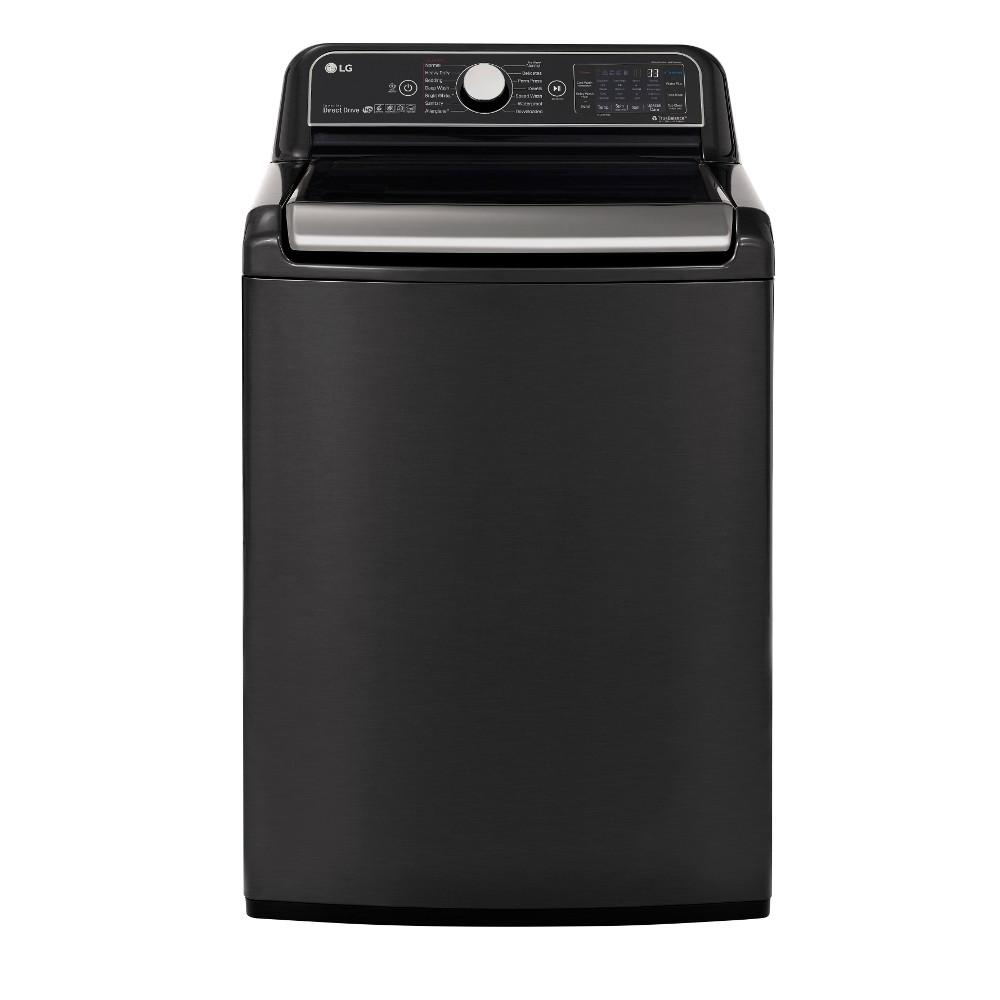 If you have pets who love to snuggle with you inside the comforter or you are too sensitive to dust and pollution then consider buying this LG smart top load washer. The large capacity of 5.5 cu ft easily fits a comforter and a full bedding set. It has sturdy construction with stainless steel drum and advanced features like TurboWash3D Technology that reduces the wash time by half to save both time and energy. We are impressed with the Allergiene Cycle that uses the gentle power of steam to remove about 95% of the dust mites, pet dander, and germs that are responsible for a wide range of diseases.
The top load washer is certified by the Asthma and Allergy Foundation of America (AAFA) as both asthma and allergy-friendly. With over 65 million Americans suffering from asthma and allergies, this high-efficiency steam washing machine proves to be a lifesaver. Besides eliminating dust mites, stains, dirt, and odor, it also removes wrinkles from your washed clothes. The product is also supported by SmartThinQ technology that enables users to control the washer remotely through a mobile app. You can also start or stop the load with your voice commands given to Google Assistant or Amazon Alexa.
Product Features and specifications
5.5 cu. ft. HE Mega Capacity
TurboWash3D and Wi-Fi Enabled
Energy Star rating
Allergiene wash cycle
LG SmartThinQ technology
TubClean Cycle
ColdWash technology
LG TrueBalance anti-vibration system
Noiseless operation
User/ Customer reviews
Those who have bought this LG washing machine are extremely pleased with the overall built, appearance, quality, and performance of the product. People are happy that it comes with several cycles that can also be customized to meet specific requirements. Several users have mentioned that they have experienced a noticeable difference in allergies and other symptoms after using this washer to clean comforters and bedding.
Conclusion
If you thought a large washer meant too much noise then you will be pleasantly surprised with this product that makes so less noise that you will hardly know it's running from the next room. The comforters and bedding not only come out cleaner but sanitized too. Overall, an investment you will be proud to make for the health of your family.
---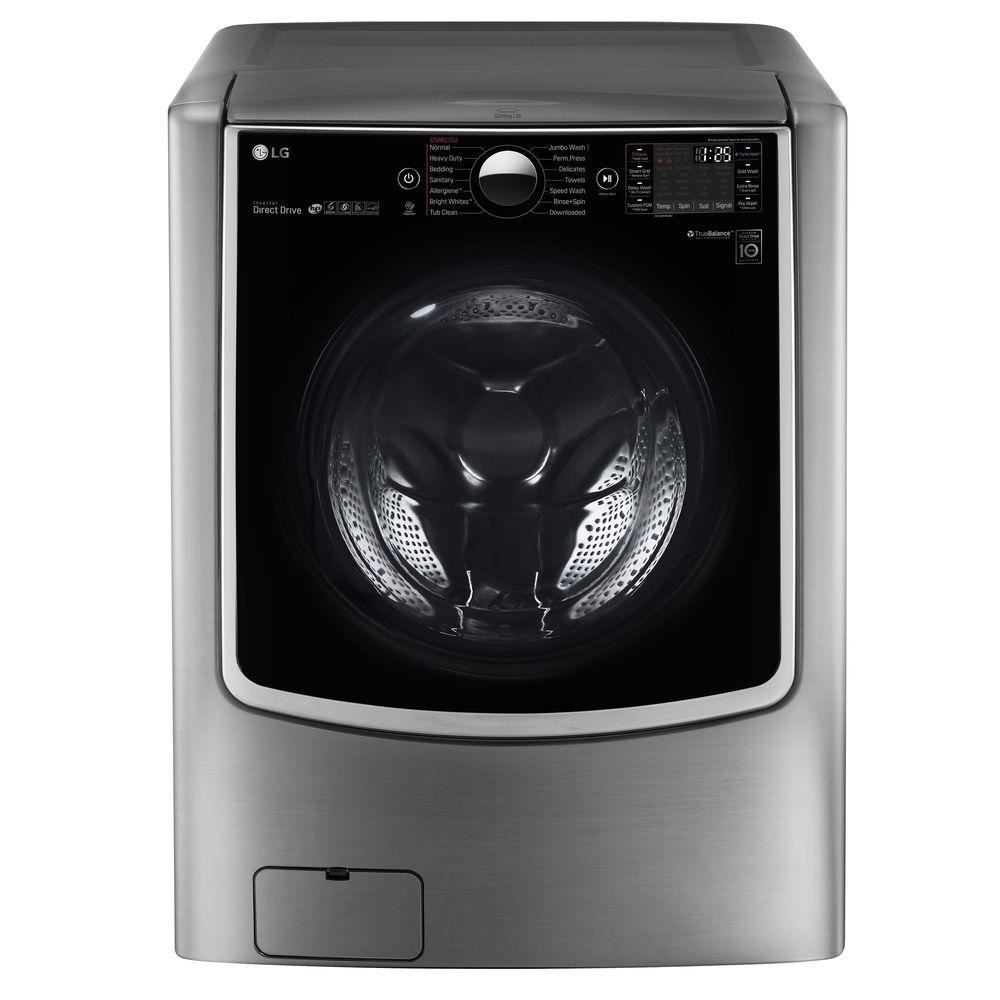 If you are looking for a washer to take care of your king-size comforter and bedding then check out this High-Efficiency front load washing machine. LG has once again proved that it knows what the customers want to make life good with its innovative design that makes the 5.2 cu. Ft capacity washer twin compatible. This means that you may add the LG SideKick pedestal washer to tackle two loads of large and small laundry together to save time and water too. The front door is angled by 6 degrees extra and elevated to make it easier to load and unload.
With the advanced TurboWash Technology, you can save up to 30 minutes per wash load, without compromising with the performance. Users can customize each wash cycle that combines the power of six different wash motions to give you a revolutionary cleaning experience. The load cycle can be monitored remotely using the smartphone app and you may also use it to find instant solutions to troubleshooting questions. We are impressed to find that the washer not only cleans comforters and bedding but also uses steam power to reduce pet dander and dust mites.
Product features and specifications
5.2 cu. ft. LG washer
LG TurboWash Technology
LG's SpeedWash Cycle
SmartDiagnosis feature
NFC Tag-On technology
Direct Drive Motor
Energy Star Rating
TrueBalance anti-vibration system 
Touch-on door control panel
User/ Customer reviews
Most users love the ability to wash heavy load at once and the washer's ability to sense how much water is needed to save on energy. People are happy that the washer does not make too much noise and if the wash load is out of balance, it adjusts the spin cycle accordingly. Both the machine and it's app are easy to install and users find it convenient to manage the intuitive control panel and mobile app.
Conclusion
 If you are looking for a washing machine that saves you time, water, and efforts when doing the comforters and bedding then consider buying this mega capacity washer by LG. The futuristic design, amazing control panel and seamless app control makes this washer a perfect addition for your smart home.
---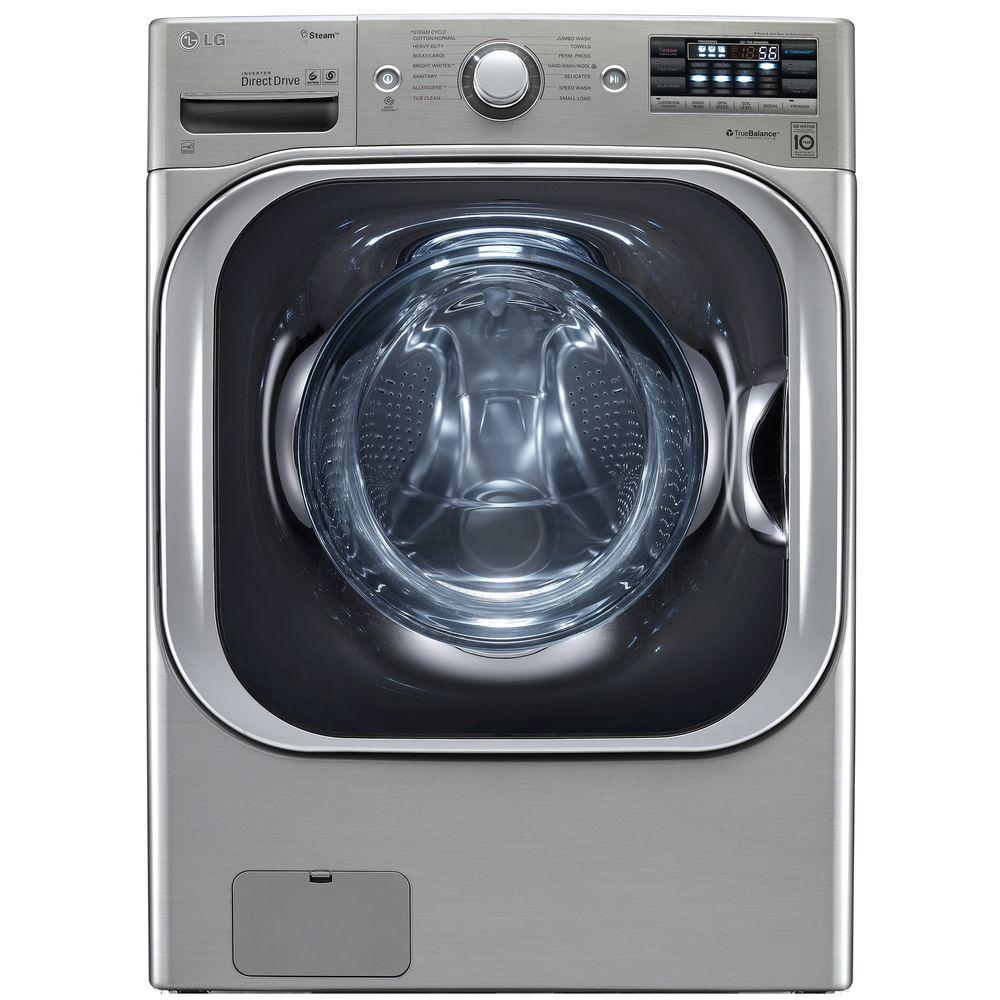 If you are a working woman who only has the weekend to tackle all the dirty clothes and bedding too, the LG high-efficiency mega capacity washer (shop now) can be a lifesaver for you. The ultra-large 5.2 cu. ft. capacity enables you to wash king size comforters in a single load and do regular loads 20 minutes faster than usual. If you wish to tackle two different loads at once, just attach the SideKick pedestal washer and you will be able to wash clothes and bedding together. The innovative TurboWash Technology saves you extra time per load so you get a lot of time for other things you love.
As the washer is wi-fi enabled, users get to control the wash cycle from anywhere in the house, plus the SmartDiagnosis app allows you to troubleshoot problems quickly. When it comes to performance, we are impressed with the powerful steam technology that penetrates the fabrics to eliminate germs, pet dander, odor, and dirt. This makes the washed comforters and clothes safer for allergy-sufferers. Despite the washer's ability to tackle a huge load, the truebalance anti-vibration system minimizes the vibration to give you quieter and smoother performance.
Product features and specifications
5.2 cu. ft. capacity
Stackable design
Energy Star rating
AAFA- Certified Allergiene
NSF-certified
Cold wash technology
10-year warranty on Inverter DirectDrive Motor
Life time warranty on drum
User/ customer reviews
Those who have used the product have noticed a huge difference in the way their comforters are cleaned in this mega capacity washer – they come out cleaner and smelling better. People who have a large family are impressed with the twin capacity to wash colors and whites separately. Users also like the ability to do small loads without wasting water or electricity. A few customers have said that they were sold on the allergy cycle.
Conclusion
This is a super capacity front load LG washer that is not only well-built and looks greats but also delivers an amazing performance. The manufacturer stands behind its product with a solid warranty promise, so you have nothing to lose. Overall, a well-built washer that gives you more than what you pay for!
---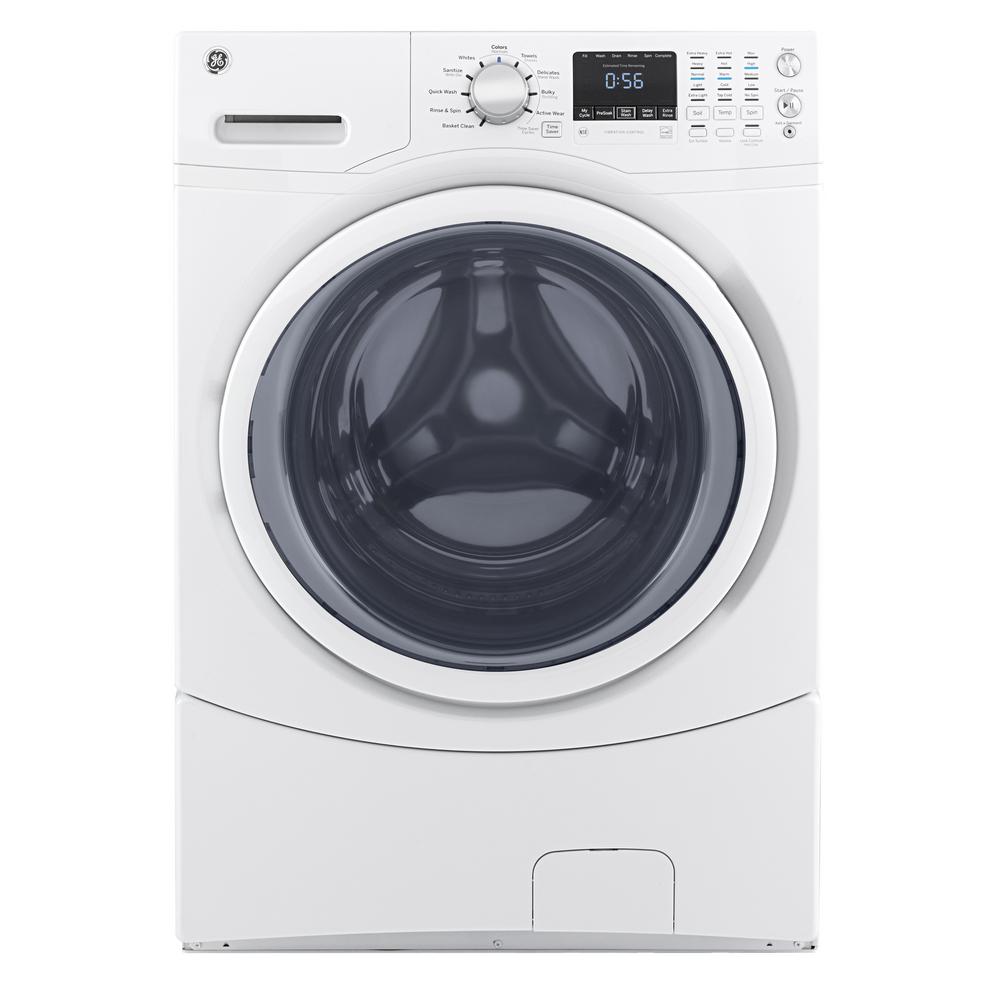 GE is America's most trusted brand for more than a century and we found this stackable front load washer one of the best washing machines for comforters.  It has a really good capacity of 4.5 cu ft that is good enough to accommodate comforters and beddings. The Sanitize with Oxi functionality uses Oxi additives to increase the cleaning power of your detergent and remove 99.9% of bacteria. With the dedicated wash cycle, you can easily clean larger items such as comforters, jackets, and blankets. Time saver adjusts the wash actions and water temperature to clean a full wash load in only 37 minutes.
Besides the numerous wash cycles, the machine also allows you to customize cycles and save your preferences based on your cloth-care requirements. There are sensors that will adjust the amount of water needed for every cycle to ensure that it uses only as much water as needed. Other than saving water, the washer also uses less electricity to run and the efficient cycles also save energy. Another feature we love is the Adaptive Vibration control that allows users to adjust spin patterns to match the location and floor type to reduce vibration.
Product features and specifications
4.5 cu. ft. Stackable design
Front load washer
Adaptive vibration technology
My Cycle technology
Energy Star qualified
Dedicated Wash Cycles
Extended periodic tumble
Limited 1-year warranty
User/ Customer reviews
People are impressed with the design and capacity of the washer, plus the ability to keep washed clothes fresh for up to 8 hours when you are away. For most customers, installation part was easy and they are happy with how clean the comforters and other clothes come out. A few users have said that the washer tends to make some noise in the spin cycle although it dries really well, and some people have said that the stacking kit does not look good.
Conclusion
If you are looking to upgrade your old washer and get a new mega capacity unit then this GE front load unit is a great choice. Those who tend to forget clothes in the washer will greatly benefit from the extended periodic tumble feature. Overall, we love the intuitive design, mega capacity, and features. A good investment indeed.
---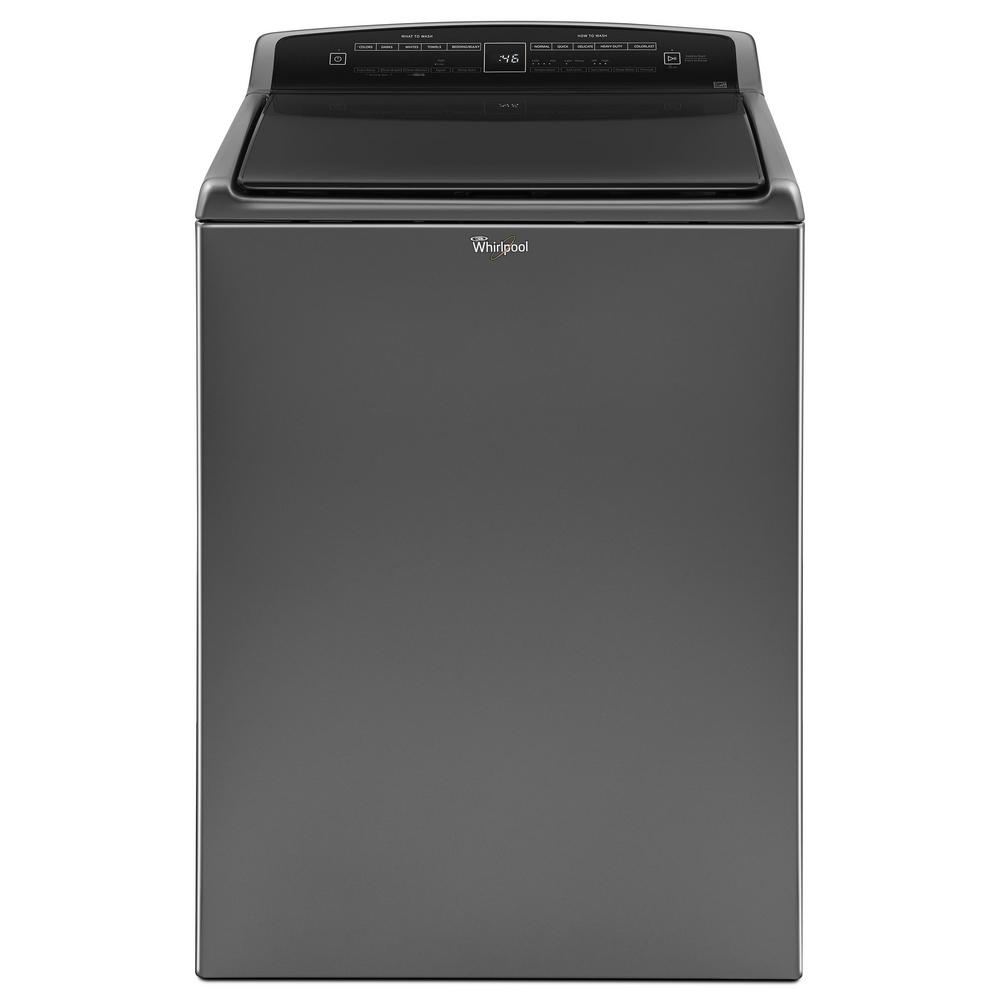 Do your kids or pets frequently soil the comforters and bedding? Cleaning them can be a pain in a regular machine so if you are considering a new washer then get this HE top loader by Whirlpool. It has a whopping capacity of 4.8 cu ft to accommodate large size comforters and other bedding items. The built-in water faucet enables you to prewash clothes inside the washer itself to remove any dirt and soil. We are impressed by the intuitive touch controls that allow users to select the right wash cycle or customize their own cycle based on specific fabric needs.
The top load washer delivers an improved cleaning performance with Active Bloom wash actions and Adaptive Wash technology that senses each load and adjusts water level accordingly. If your clothes are too dirty after a beach vacation or hiking trip, you may use the deep water wash option to rinse away loose soils. With increased spin speed, the washer completes a full load in less than 34 minutes and the clothes come out cleaner and drier. The pre-soak option also allows you to soak dirty comforters and clothes right in the washer tub to save water and reduce time.
Product features and specifications
4.8 cu. ft. High-Efficiency
Stainless Steel Drum
Top load washer
Up to 27 wash cycles
Built-in water faucet
Intuitive Touch Controls
COLORLAST cycle
Shock-absorbent technology
Energy Star rated
User/ Customer reviews
People are impressed with the numerous wash cycles that can be used to clean different types of load and the ability to customize specific cycles too. Those who had a front loader before this model find the design, built-in faucet, and usability of this machine much better. A few users have said that the tub is too deep and a short heighted person may have difficulty reaching the clothes at the bottom.
Conclusion
Everything about this robust and high capacity washing machine spells quality and optimum performance. From accommodating large loads and cleaning beddings to saving water and electricity, this washing machine scores high in every aspect. Overall, we think the exclusive and innovative features make this Whirlpool washer (learn more) worth buying.
---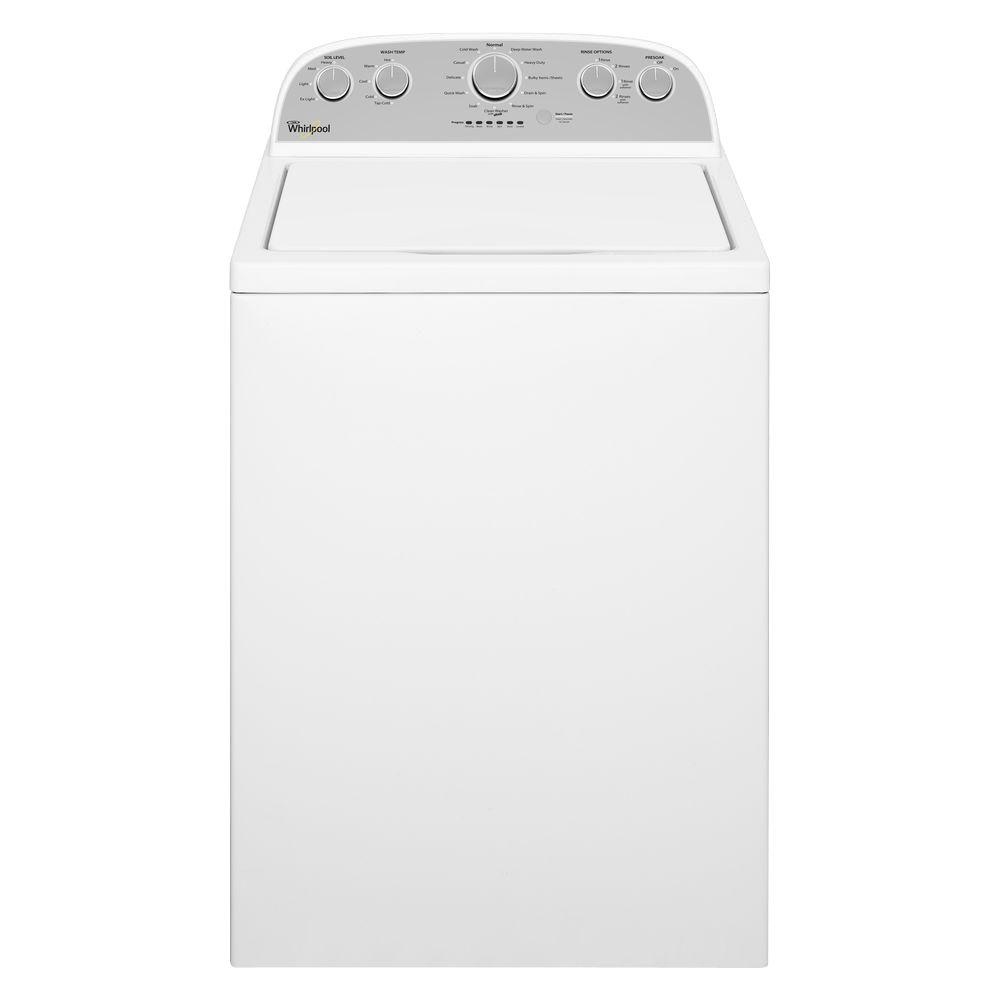 If you get a headache even at the thought of washing comforters then consider top-loading washing machine from the house of Whirlpool. With a large 4.3 cu ft accommodating capacity, pre-soak option, and intuitive controls, here's a washer capable of handling large loads without costing you as much as the expensive models. It comprises of a stainless steel wash basket that guides clothes gently and protects the fabric from getting snagged or frayed. There are 12 different wash actions that custom caters to the needs of each fabric that is detected.
For comforters, bedding, sleeping bags, pillows, and jacket, there is a special bulky items/ sheet cycle. Although we are doing this review specifically for the best washing machine for comforters, we would like to mention that this washer also includes a  Quick Wash cycle for smaller loads. You can do the small loads in less than 28 minutes and increase the spin speed so that they need less drying time. If the comforters or clothes are too dirty, you may choose the deep water wash cycle for a thorough cleanse. The machine also allows you to regulate the level of water so that you use only as much water as needed.
Product features and specifications
4.3 cu. ft. High-Efficiency
Top Load Washing Machine
12 wash cycles
Automatic water levels
Pre-soak option
Rear panel controls
Unique low-profile impeller
Up to 660 RPM
User/ customer reviews
People are extremely impressed with various things such as the auto-sensing ability and the lack of agitator, despite which clothes come out nice and clean. A few customers have cautioned that if you see a lot of suds in your machine, try reducing the amount of detergent used. Most users are happy with the performance, quick wash cycles, and less drying time needed.
Conclusion
If you are looking for a mega capacity washing machine to clean comforters without wasting too much water or breaking the bank to buy an expensive unit then consider this Whirlpool High-Efficiency top load washer. It works perfectly for a small to medium family and cleans large loads really well. Overall, this is a wonderful washing machine to save time and energy.
---
Guide To Help You Find Perfect Washing Machine For Comforters 
When you are looking to upgrade your washing machine, there will be many things that demand your attention today than it did ten years ago. While there are many advanced features and technologies built around helping you get the job done faster, clean clothes better, make them come out drier and save lots in terms of time and energy, we will discuss a few very important features.
Right size
Please bear in mind that full-sized washer can measure 24 to 30-plus inches in width and some may even have contoured fronts, so grab a tape and measure the space available. You should also consider the space needed for the door to open without banging the wall. If you have a narrow laundry space, your best choice would be a front loader with a stackable design for dryer.
Noise level
If the laundry room is on the upper floors of the house, make sure the flooring is well- reinforced to bear the weight of the washing machine. The large capacity unit is usually heavier so keep them in the basement if you can. You may want to consider a quieter unit that has low vibration to reduce the noise level during the spin cycle.
Tub dimension
If you want to wash comforters in the washer and you have a large family, you may want to consider buying a unit with larger tub dimensions. The tub may usually range from 2.45 cu ft to 5.6 cu ft. The front-load unit will mostly have a larger capacity as unlike a traditional washer, they do not have an agitator in the middle. You may also want to consider the various other programmable settings to make it easier for everyone in the family to do the laundry.
Budget
If you have a restricted budget but need a mega capacity washer capable of handling a large load then we would recommend that you don't go for the fancy features or trendy colors. You will save up to $200 simply by choosing a white model over colorful ones. While the top-load models are cheaper, they consume a little more energy to run so you may want to consider these factors.
Energy efficient
If saving on water and electricity bills is one your priority list when looking for the best washer for comforters, we would recommend that you opt for the front load units. Unlike the top load washers, the front load ones don't have to be filled up entirely for the wash or rinse cycles. Furthermore, you can save up to 30% more on utility bills.
Steam function
Those who have kids and pets at home may always have to fight with dander and stains, so we would suggest buying a front loader washer. These units usually come with a pre-soaking cycle, steam cleaning feature or special stain-remover to get rid of the stubborn dirt. There are also options to mix hot water with cold to dissolve the detergent quickly.
Delicate fabric
If you are concerned about the delicate fabric then consider buying a washing machine that does not have an agitator in the middle. In some high-end models, you may find nifty special cycles that are designed to clean some specific materials ranging from denim and towels to comforters and more. You may also want to look for some custom features such as adjustable spin speed, better stain removal, sanitizing cycle and so on.
Tips To Take Care Of Your Comforter While Washing
Remember to read the label and care instructions carefully before popping the comforter in the washer. If the comforter care instructions read 'dry clean only' then do not attempt to wash in a machine or else you may ruin it.
When cleaning a king-size comforter, avoid putting anything else in the washer as the comforter will take up most of the space available to get cleaned properly.
If the comforter has yellowed, pre-soak it in a solution mix of 1/2 cup of regular bleach and 2 gallons of cold water for 5 minutes before washing as directed by the manufacturer.
Make sure you use a mild detergent when washing comforters as harsh detergent or chemical smell may irritate the skin or cause allergies.
To sanitize your comforter and remove bacteria and germs, we suggest that you use warm or lukewarm water when washing your comforters.
Always use a delicate wash cycle when cleaning the comforters and bedding items. When running in a dryer, always run it in a low drying cycle and don't use iron.
Related Questions
Can I wash my goose down comforter in a washing machine?
Yes, you may but you need to ensure that you keep the settings right. Always set the washer on a delicate or gentle cycle with warm water. You may run an extra rinse cycle to remove any extra detergent from the comforter.
What detergent should I use to clean comforters?
We suggest that you use a mild liquid detergent to clean the comforters. However, make sure you check the wash instructions to see if there's anything pre-specified. Avoid using a fabric softener on your comforters as this can ruin the fluffiness.
How often should you clean your comforter?
Unless you have spilled something on the comforter or you have pets that make it dirty very often, you will be fine with cleaning just once or twice a year. To dry the comforter, choose a hot dryer setting and tumble dry a few times with tennis balls to keep it fluffy.
How to treat stains on your comforter
If there are stains on the comforter, dampen a soft cloth and gently rub on the stained areas. Sprinkle some baking powder on them and continue to rub with the cloth to lighten or remove the stains completely. Next, you can put the comforter in the washing machine to clean it thoroughly.
See Also:
Can We Use Washing Machine Daily
Can We Wash Blanket In 6kg Washing Machine?
5 Best Washing Machines For Baby Clothes