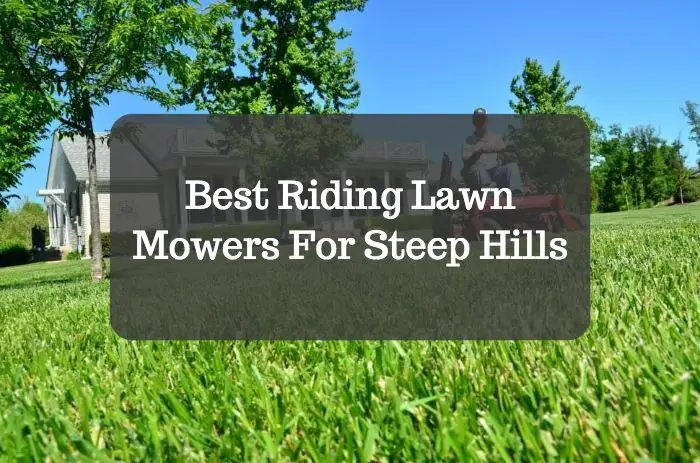 We are reader supported. When you purchase through links on our site, we may earn an affiliate commission. Also, as an Amazon affiliate, we earn from qualifying purchases.
Rolling lawns and steep hills are a landscaper's dream. They make your yard look more majestic than a flat surface can ever do. Although an uneven terrain looks gorgeous to the beholder, a lot of care and maintenance goes into it to ensure that it looks great every season.
You are here means you are one of the lucky few who live amidst lush greenery on a hill and close to nature's bounty. With the right tools and equipment by your side, maintaining a landscaped lawn that is built on hilly terrain or includes a small hill becomes an easy task.
If you are stuck with an old traditional mower then it's time to change and get one of the best riding lawn mower for steep hills. However, it's not an easy task to choose one product from a sea of various brands and models available. There are so many things you may need to consider before buying.
Our team has reduced the stress and confusion by doing a thorough market research for you. We have reviewed dozens of top-rated riding lawn mowers for steep hills, dug into their features, and compared with competitor products to come up with a few best models that are worth buying.
Read on to find the reviews of our handpicked products. For those who are in a hurry and don't have the time to read this till the end, we recommend that you opt for the Ariens IKON X 52 KAWASAKI This is a heavy gas-powered mower that weighs about 770 pounds and comes with a 23 HP engine and a 52-inches cutting deck.
Features
Husqvarna Z254
Ariens IKON X 52 KAWASAKI
Snapper
2911525BVE
Craftsman T225
Troy-Bilt
Ariens Zoom34
Husqvarna MZ61
XT1 Enduro
Dimensions
72 x 61.49 x 34.48 ins
77.5 x 63.4 x 40.9 inches
NA
71.8 x 51 x 47 inches
69.75 x 46 x 35.5 inches
37 x 42 x 64 inches
75.5 x 76 x 42 inches
67 x 56 x 43 in
Weight
542 pounds
635 pounds
NA
583 pounds
535 pounds
425 pounds
770 pounds
600 lbs
Engine
Briggs & Stratton Endurance Series
Kawasaki FR V-Twin
Briggs & Stratton Power Built 4-Cycle OHV Engine
NA
Briggs & Stratton Intek engine
Kohler 6000 V-Twin



Briggs & Stratton Endurance engine
Kohler V-Twin OHV engine
Power
26 hp
23 hp
11.5 HP
19 HP
19 HP
19 HP
27 HP
22-HP
Speed
6.5 mph
7 mph
NA
NA
5.2 mph
6 mph
8 mph
5.5 mph
Fuel
Gasoline-Powered
Gasoline-Powered
NA
Gas Powered
Gas Powered
Gasoline-Powered
Gas Powered
Gas Powered
Cuttin deck
54 inches
52 inches
NA
46-inches
46 inches
34 inches
61-Inches
46-Inches
---
When you want the best in style and performance in your riding mower for steep hills, the Husqvarna Z254 (see Amazon) stands out as a great choice. It belongs to the company's Z200 series of zero-turn mowers that are specially designed with innovative features to make lawn maintenance seem like a fun event instead of a chore. It comes equipped with a 26 HP Kohler engine to give you quick startups and a maximum speed of 6.5 MPH. It comes outfitted with a 54 inches reinforced steel cutting deck to clip grasses of all sizes and tackle any type of load.
This riding mower comes with a patent-pending park brake system that activates and deactivates automatically when the steering levers are moved inside or outside. It features an air-induction mowing technology that sucks air from the top and bottom end of the deck to deliver a superior quality cut. The external frame includes a reinforced steel stamped cutting deck which is made of sturdy steel for enhanced durability. The grass clippings can be mulched, bagged, or discharged to keep your lawn looking great.
Product features and specifications
Measures 72 x 61.5 x 34.5 inches
Weighs 542 pounds
Gasoline-Powered
26 HP Kohler engine
6.5 mph max ground speed
54 in. reinforced steel cutting deck
User/ customer reviews
Most people who have bought the product have said that it was much easier to understand the controls and start using it, plus it took half the time than their earlier traditional mowers. Users are impressed with the speed and precision with which it cuts grasses. People find that the zero turn mower does a better job going up a hill than coming down. A few users have cautioned that the seat is not very comfortable but it gets the job done faster so you will not be sitting too long anyway.
Conclusion
Everything about the Husqvarna Z254 screams quality performance and great power. The maintenance-free transmission makes this an easy mower to use season after season. When it comes to cutting grass, this Kohler-powered machine scores high.
---
If you are looking for quality riding lawn mowers, Ariens is a brand that has been around for several years making fine products like quality snow blowers and zero turn mowers. The Ariens 915223 is specially engineered to tackle the uneven terrains and steep slopes, so it secures second place in our list of best riding lawn mowers for steep hills. It is equipped with a premium grade 726cc Kawasaki FR Series OHV Engine capable of 23 horsepower. The rotating grass chopper screen ensures that the debris stays out even while working in the dirtiest conditions.
The dual hydro-gear Hydrostatic Drive System adds more power to the machine and ensures smooth operation without the need for shifting. It includes fan-cooled 10cc pump and wheel motors to deliver high-quality mowing experience. We are impressed with the first-class Cut Height Dial Selection and the ability to adjust the deck height using a mechanical foot lift. There are 13 optional cutting heights that allow you to get the perfect cut for a well-landscaped lawn. Besides the strength, durability, and easy maneuverability, it also takes care of user comfort with plush high-back seat and armrests.
Product features and specifications
Measures 77.5 x 63.4 x 40.9 inches
Weighs 635 pounds
3 Year Warranty
Plush High-Back Seat
Fully Tubular 3-Inch Frame
3-Blade Fabricated Mower Deck
300 LB. Max Towing Capacity
726cc Kawasaki FR Series OHV Engine
2.8 Gallons Fuel tank size
User/ customer reviews
There are mixed reviews about the product as some customers have said that they had no issues mowing steep hills and going down hills, others said you can't go more than 15-20 degrees. Most users are happy with the precision with which this thing cuts grass and delivers good power. The well-designed seams and sturdiness are also highly appreciated.
Conclusion
This Ariens 915223 (shop now) has been thoroughly tested, verified and certified to work perfectly on different conditions. The premium engine power and sturdy controls ensure that you get more out of each use. If you have a big lawn that requires clean-up frequently, this mower is a must-have.
---
Mowing your lawn should not take your entire Sunday and that's why you need equipment as powerful and smart as the Snapper 2911525BVE. It has a classic red exterior powered Briggs & Stratton Power Built 4-Cycle OHV Engine that adds durability and reliability to the machine. It comes with a ReadyStart Technology that gives you a quick and easy pull-start anytime you need it without choking the engine. You just need to turn the key and pull the start button to get going. Besides the powerful engine, it also comes with an anti-vibration system for smoother performance.
The Snapper 2911525BVE comes with user-friendly ergonomic controls that ensure everything is right at your fingertips, making this one of the most comfortable mowers to ride. It also comes with a well-design Hi-Vac mower deck which is like having a vacuum cleaner attached to suck all the grass clippings to give you a clean and neat lawn. We are also impressed with the superior debris management system that ejects and removes the clippings to keep debris away from the engine.
Product features and specifications
Briggs & Stratton Power Built 4-Cycle OHV Engine
Vertical Stand-on-Edge Capability
5-speed shift-on-the-go disc drive system
Disc Drive Transmission
User-friendly Controls
HI-VAC Mower Deck
3 Year Limited Warranty
User/ customer reviews
People are highly impressed with how well engineered the mower is and the fact that it reduces mowing time by half to get the job done faster. Most users have mentioned how easy it was to start the engine and go about the first mowing experience with the product after it arrived. The easy storage ability with vertical stand-on has also been highly appreciated by users.
Conclusion
Snapper is a renowned name in the industry of mowers and when you have to handle hills and slopes in your lawn, you need a powerful engine like the one by Briggs & Stratton. Overall, we feel this is a great product worth your investment.
---
When you want to conquer a large lawn with rolling hills with ease, check out the Craftsman T225 that comes from the house of a reputable company. The name 'Craftsman' is enough to ensure a quality performance and when it's equipped with HP Briggs & Stratton engine, you know it speaks power. The gas-powered engine helps you cover a large yard in less time and ready-start technology adds more efficiency to your job. There's no need to choke or prime. You just need to turn on the key and the engine will jump-start.
The Craftsman T225 also comes with a 46-inch deck for various tasks like trimming, cutting, and clipping grass in one easy sweep. It saves a lot of time in case of underside cleaning. We love the traction produced by the 15-inch front wheels and 20-inch rear wheels for easy and better clearance without slipping or skidding. The mow-in-reverse functionality further allows you to tackle the tough spots without pausing the motor. Besides the superior performance, the mower also includes plush seating with a supportive high back seat for enhanced user comfort.
Product features and specification
Measures 71.8 x 51 x 47 inches
Weighs 535 pounds
15″ x 20″ sturdy wheels
19 HP/540cc Briggs & Stratton Intek engine
2-year limited warranty
46-inch side discharge mowing deck
Mow-In-Reverse capabilities
Soft-touch steering and a mid-back seat  
User/ Customer reviews
Most users are happy with the superior built, power, and performance of the Craftsman T225, and the easy to access and use controls. People are impressed with the way gas-pedals work to act as safety to stop the mower immediately when you want. Several customers have praised the great packaging and the way it comes pre-assembled with only a few assembling needs.
Conclusion
If you are looking for a reputed brand and a model that will cater to your needs perfectly without requiring too much assembly or maintenance then the Craftsman T225 (learn more) is spot on. While the exterior itself is beautiful enough to fall in love with, the performance is equally enthralling!
---
When searching for the best riding mower for steep hills, we came across the Troy-Bilt 540cc riding lawnmower and couldn't help admiring its looks, built, and power. It houses a reliable 540cc Briggs & Stratton Intek engine capable of 19 horsepower  and a foot-pedal automatic transmission for enhanced control. We love the 46-inch durable deck that is capable of cutting large and thick grasses with ease and the mow-in reverse capability to tackle the difficult spots with ease. The manual power take-off adds more efficiency to the machine.
The soft-touch steering is thoughtfully designed for the comfort of users and the padded mid-back seat provides extra comfort to the rider.s The immense power from the Briggs & Stratton engine enables the machine to climb up the steep and sloppy hills, go over stones and grind any obstacles that come in the way. Even if your lawn has lumps and overgrown twigs, the Troy-Bilt has the power of cutting them like butter. We are also impressed with the several safety features such as dual-deck tires to prevent unwanted scalping, a parking brake system, and a gas pedal system.
Product features and specifications
Measures 69.8 x 46 x 35.5 inches
Weighs 535 pounds
single-cylinder automatic transmission
comfortable mid-back seat
StepThru frame
5 different positions
patented Soft Touch Steering Wheel
19 HP/540cc Briggs & Stratton Intek engine
2-year limited warranty
User/ customer reviews
Most users seem to be happy with the fact that the mower's paint looks like new even after several years and it delivers an uninterrupted performance. People who have hills in their lawn have confirmed that machine goes up and down the hills with ease, cutting all types of grasses and twigs that come in the way. Customers have also mentioned that the mower has considerably reduced their mowing time and they are now able to do a large lawn in half the time needed earlier.
Conclusion
The smooth operation of the lawn-mower makes it a dream to ride for anybody and the 5-position height adjustment takes full care of your comfort level. For the price, we feel that the lawn-mower is extremely well built and powerful. Overall, a great buy!
---
When we first looked at the compact and sleek form of Ariens Zoom 34 (learn more), we doubted whether it would be powerful enough to climb hills but our doubts were put to rest by the 660 CC Engine Power. Although the mower weighs less than standard zero turn mowers, the powerful professional-grade Kohler engine does an amazing job at cutting grass in half the time. It includes a 34-inch long and 12-inch thick deck made of steel to prevent damage by heat and corrosion. There are three sharp blades and 7 different height settings to help you perform the task with precision. 
The gas consumption of this mower is good as 2-gallons alone lasts for a quarter acre and still has some to spare for the mulching activities. It may take you a while to figure out the controls if you had a wheel-driven mower earlier but they are user-friendly. This is a real zero turn mower as the front legs turn very efficiently to give you an instant turn with zero radius. When used to mow on hills, the Ariens Zoom 34  delivers a fair performance and it comes backed by a 3-year warranty on engine.
Product features and specifications
Zero-turn mower
19hp Kohler 6000 Series V-Twin engine
34″ Stamped Deck
2 Spindles EZT Transaxles
2-gallon tank
User/ Customer reviews
People with hills, gates, and other obstructions in their lawn just love to sing praises for this zero turn mower that is well-built and sturdy. Some users have been using the product for over 10 years and it's still going strong for them plus the parts are easily available. A few users have cautioned that the riding mower may have some difficulty in very steep slopes due to lightweight but for others it does a good job on hilly terrains.
Conclusion
The Ariens Zoom Zero Turn Lawn mower is lightweight but boasts a solid construction which makes the unit highly durable.  If you have a lawn with various obstructions then we would recommend this mower. At this investment, you get a good price to performance ratio.
---
When you want your lawn mower to climb up steep hills, you really need to make sure it has the power and traction to go uphill. This zero turn riding mower from the house of Husqvarna is equipped with the robust Briggs and Stratton Endurance V-Twin engine capable of delivering 27 horsepower. The hydraulic wheel-drive further enables precise maneuvering with zero degree turn radius. It allows the mower to rotates on its own axis with no turning radius. We are impressed by the way this Husqvarna mover improves user comfort with rubber isolators for less fatigue and ergonomic seats for enhanced comfort.
The Husqvarna MZ61 comes attached with a 61-Inch fabricated cutting deck and a 9-bushel triple bag collection system to increase the mower's versatility and productivity. The various components such as hydraulic drive system,  oil/ filter maintenance, battery, and electrical systems are easily accessible to improve your productivity. Besides being well-built and robust, the intuitive operator interface offers an amazing mowing experience on all types of terrains. The Hour Meter gives service reminders to ensure that your mower stays in the best possible condition.
Product features and specifications
Measures 75.5 x 76 x 42 inches
Weighs 770 pounds
Intuitive operator interface
Heavy-duty steel frame
Commercial rated hydraulic system
Rugged fabricated steel deck
High back seat with armrests
61-Inch fabricated cutting deck
27 HP Briggs and Stratton Endurance V-Twin engine
Hydrostatic Gear Transmission
Pedal Assisted Cutting Deck Lift
3 blade cutting system
User/ Customer reviews
People who have used this riding lawn mower are extremely happy with the sturdy construction, controls, and comfort that makes mowing easier and faster. Users are impressed with the engine power although it takes a little time to get used to the zero turning. A few users have mentioned that going up hills and steep slopes is fine but you need to be careful when going downhill as it tends to slide.
Conclusion
The Husqvarna MZ61 is well-built for those who have a large lawn with trees and lots of leaves to tackle in the autumn season. It not only does the job faster but also with much precision. Overall, we feel that you get what you pay for. A great buy!
---
If you are specifically looking for riding mowers that do a great job at climbing hills, we would recommend the XT1 Enduro Series from the house of Cub Cadet. When we set our eyes on the mower, it impressed us with its bright yellow- black exterior and rugged features that spell power loudly. It houses a 22 HP Kohler 7000 Series V-Twin OHV engine that is solid, dependable and provides quick start-up. The 46-inch cutting deck comes with 12 diverse cutting heights ranging from 1-inch to 4-inches and there's also a stamped  12-gauge steel construction for enhanced durability.
The 16-inches turning radius enables you to maneuver around any obstacles in the lawn with ease. The high-back and padded seat provide enhanced comfort for the riders and the 10-inch incline design with two springs add more convenience. We love the safety features such as the four anti-scalp wheels that prevent any high-points of the lawn being damaged while mowing. LED lights provide the rider with improved visibility in all conditions. There's also a built-in high-pressure deck wash system to clean the mower after use.
Product features and specifications
Measures 67 x 56 x 43 inches
Weighs 600 pounds
46-inch stamped steel twin blade deck
Optimized steering system
22 HP Kohler 7000 Series V-Twin Engine
Tuff Tork k46 hydrostatic transmission
3-Year Unlimited warranty
User/ Customer reviews
Different users have used this on different types of plain, hilly, rugged terrain and around a lot of trees with great results every time. Most users have said that the machine provides a really good traction on the hilly regions but a few customers have cautioned that it may get stuck at times. A few customers have cautioned that it's easy to slip from the seat on steep slopes so remember to buy armrests.
Conclusion
This is a powerful and well-built riding mower designed to do a great job on different types of terrains. The engine delivers a flawless and powerful performance, while the hydrostatic transmission drive ensures a smooth operation. Overall, we feel that this riding lawn mower is the best fit for those who live in hilly regions.
---
Factors to Consider Before Choosing the Best Riding Lawn Mower for Steep Hills
While it's a pretty sight to have a beautiful landscape on a hilly terrain, you need the right tools and equipment to keep them in best condition. Here are some of the factors you need to consider before buying that perfect riding lawn mower for your property.
Robust engine
You need a tough bad boy to tackle a hilly terrain and steep slopes. Apart from a  powerful engine, it should also have good quality filtering and cooling systems to keep the engine in good working condition. You need to look for efficient oil filtering to ensure that your mower lasts for long.
Your lawn type
There are different types of lawn and it's hard to find a one mower suits all kind of unit. Hence, even if you have a hilly terrain, it will depend on how steep the slopes are, if there are too many trees or other obstacles. In case there are too many obstacles, you will need to invest in a zero-turn machine to enable the mower to propel forward smoothly.
Fuel cost and capacity
You can find both diesel and petrol powered riding mowers, but they slightly differ in terms of torque, capacity, and maintenance. The diesel engine is much preferred because it provides good torque and requires less maintenance. Petrol engines typically cost more in both usage and maintenance.
Size of Deck
This is a no-brainer still a very important factor to consider to enable you to perform the mowing task more efficiently and easily. We suggest that you look for a large deck in order to cover a much extensive lawn in less time.
Maintenance
Different mowers may have different maintenance requirements and we suggest you choose one with an efficient engine that can get rid of wastes easily. This will reduce the time needed for maintenance of mowers.
Ease of usage
Look for a mower that is user-friendly and has easy controls within reach. Please bear in mind that you need to get the work done efficiently and quickly so avoid a product that has complicated settings or controls. You should be able to assemble, change parts, operate and clean independently.
Safety Tips When Riding A Lawn Mower
Although a lawn mower looks easy to operate, it helps to have some experience if it's the ride-on type. Keeping a few safety things in mind can help you get the most out of your investment. Here are some safety tips that can be useful:
There are safety shoes designed especially for mowing jobs and you need them all the more when you are tackling a hilly terrain. Sandals can be risky as you are prone to tipping on steep slopes. We suggest buying a good pair of sneakers as they are a good option when doing the outdoor chores.
Riding a lawn mower looks like play to kids and they may feel excited to ride along with you. However, we strongly recommend you to not have children on board when doing the steep hilly slopes.

If you do have to carry kids along, take them while doing the flat portions. You should also keep kids away from the lawn while mowing as a sudden backward movement or loss of control may cause unexpected accidents.
When you cut the grasses and twigs, small particles may get air-borne and hit your eyes. As a result, make sure you wear a pair of goggles while mowing to protect your eyes.
Before you start mowing the lawn, do a quick inspection and remove any bottles, stones, or any other thing that may possibly obstruct the path. They not only hinder the free flow but may also damage the wheels.
Related Questions
What makes riding lawn mower a better choice over push mower?
If you have a large-sized lawn, using a riding lawn mower can reduce the time needed to mow by half and it also makes the cutting process a lot easier. Furthermore, you don't end up with muscle sore by having to push a lawn mower as it's comparatively easy to ride-on with better controls.
Related article: How To Clean The Underside Of A Riding Lawn Mower?
Which parts of a riding mower need to be replaced often?
Over the years of use, wear and tear may set in requiring you to replace several parts of the riding mower. Some of the frequently replaced pats include discharge cover, grass catcher, mower blades, and so on. If you notice any sign of deterioration or damage, check immediately to see if it needs replacement to prevent compromising with your safety.
Should I buy any extra mower attachments?
While some mowers come with attachments, you may need to buy them separately in a few models.  Examples are a grass bagger that may be used to maintain a lawn's health and reduce thatch accumulation. This also improves the absorption of oxygen and nitrogen, promoting the growth of grass in patches that have no grass.
How can I clean my ride-on lawn mower?
Most of the modern-day mowers come with a wash-out fitting to perfectly attach with your hose. To clean the mower, take it out to an open stretch of your lawn and use a pressure washer to clean the dirt and leftover clipping. Let the mower dry out completely before you store it away in the garage.
Related Article:
8 Best Self Propelled Gas Lawn Mower
Can You Pressure Wash A Riding Lawn Mower?
Will Mowing Wet Grass Ruin Lawn Mower
9 Best Lawn Mowers For Different Uses