7 Best Riding Lawn Mowers for Tall Grass in 2023
Tall grass and weeds growing in your lawn give out a poor impression of you and how much you care for the property. On the other hand, well landscaped and mowed lawns are not only a pleasure to behold but also create the right impression on your guests.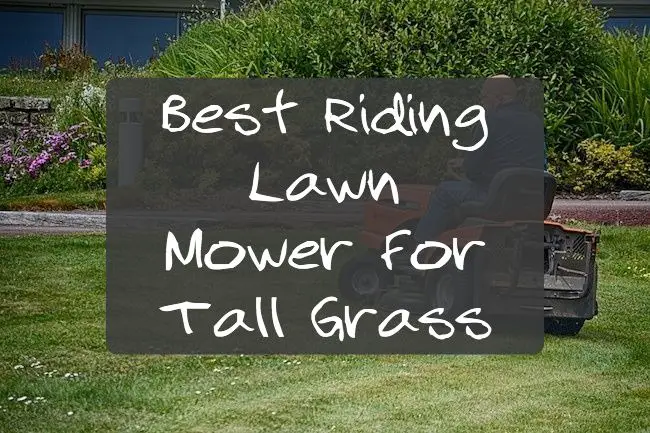 However, please bear in mind that finding the best riding lawn mower for tall grass is not easy because the requirements are slightly different from a standard mower. With so many brands and models available online, it's normal for amateurs to get confused.
To help you with choosing the perfect lawn mower for tall grass, we have reviewed some of the top models available in the market. We have compared their features and carefully inspected each product's pros and cons to find a suitable match for your needs.
For those who are in a hurry – the Husqvarna MZ61 Mower with its amazing 24 HP (Shop now), unmatched engine performance, and 4-year warranty is the perfect option for large size yard. For small yards, we recommend the Ariens Zoom 34 Zero Turn Lawn Mower as it delivers good speed even at just 19 HP.
Now, let's take a look at our unbiased review of the best riding lawn mower for tall grass.
Ariens has been around making top quality products like zero turn mowers and snow blowers. The Ariens 915223 IKON-X 52″ is one of their premium products that are sturdy, well built, and comes with a powerful Kawasaki engine. We love the bright orange body color with black and gray contrasts that look impressive when you use it on a sunny day.
The lawn mower comes assembled in the form of a crate and it takes about 42 minutes for the crate to open up and get started. It does a good job at cutting tall grass and also has plenty of power to ascend hills at a maximum of 15 degrees angle. Even if you run the mower at slow speed, you get good torque power to cut the tall grass.
Features and Specifications
Measures 78 x 41 x 64 inches
Weighs 871 lbs
Gasoline-Powered
Kawasaki engine
User/ Customer Impressions
Most customers who have bought the item are happy with their purchase as it mows the lawn and cuts tall grass perfectly. People like that the mower is easy to ride and the controls are simple to use. Some users have also mentioned that the mower operates silently without creating too much noise.
Users living in hilly areas have mentioned that it can do a 14-degree climb on small hilltops and the mower works great even at a lower speed. Some users have cautioned that replacement parts are not available locally, which could be an issue for some.
Conclusion
The Ariens 915223 comes (See details) powered with a solid engine and good battery power to give you excellent performance at mowing lawns and cutting tall grasses. If you are looking for a mower that will last and offer good value for money then this is a good choice.
---
If you are looking for something powerful yet stylish to cut tall grass then the Husqvarna Z254 promises to do the job spot on. It comes equipped with a 26 HP Kohler engine, cast iron blade mandrels, and a fabricated deck. It provides a maximum speed of 6.5 MPH and a park brake system activates or deactivates automatically as the steering levers move in or out.
The unit is driven by an air induction mowing technology that draws air from both the top and bottom regions of the deck to give you a superior cut. With this mower, you have the option to discharge, mulch or bag the clippings. We love the fact that despite being a powerful engine and solid construction, maneuvering the mower is easy and this makes mowing a big lawn real fun.
Features and Specifications
Measures 72 x 61.5 x 34.5 inches
Weighs 678 pounds
26 HP Kohler engine
Max speed of 6.5 MPH
Six-positions lever
Maintenance-free transmission
54 inches reinforced steel cutting deck
User/ Customer Impressions
People who have bought the mower are happy with the way the product comes well packaged with instructions on how to use it. One user cautioned that if you are using it for the first time, make sure you do on open ground so that you don't hit something. Most of the users are impressed by the speed and power delivered by the product.
Most people find it easy to set up the mower and find it easy to control, although it does need some fine tuning to meet specific requirements. A user says that the innovative features, cutting-edge design, and performance combine together to make lawn maintenance an enjoyable event instead of a boring chore, however, he also mentions that the machine takes time to do the job.
Conclusion
If you are looking for something less expensive but powerful enough to cut tall grasses and mow the lawn correctly then this is worth considering. The motor power is better than several other products in this category. Overall, this is a well-made lawn mower that does its job excellently.
---
---
When we first looked at the Greenworks PRO (see details), we got the first impression of a red beast on a mission. Backed by the powerful Briggs and Stratton gas engine, the lawn mower does a good job at cutting tall grasses and weeds in a larger yard. It features a 46-Inch cutting deck used for trimming, clipping, and cutting grass in one sweep.
We appreciate that the company has ensured the driver's comfort with a high-back cushioned seat and foot adjustable hydro-transmission. The mower can also be operated in reverse to easily cover the trouble spots. When it comes to durability, the Greenworks PRO looks long-lasting with 15-Inch front wheels and 20-Inch rear wheels for easy and better clearance.
Product features and specifications
Measures 71.8 x 51 x 47 inches
Weighs 583 pounds
46-Inch cutting deck
Briggs And Stratton 19 HP Gas Engine
Foot Hydrostatic Transmission
High-back cushioned seat
Durable Turf Saver Wheels
Quiet performance
2-year warranty
User/ Customer Impressions
The user feedback on Greenworks PRO is pretty impressive as most people are happy with the delivery, assembly, operation, and add-ons. People find the lawn mower easy to assemble and use for cutting tall grass and weeds, with satisfactory results. Users also appreciate that it comes filled with oil, so you can use it without any waiting time.
Those who have bought the mower are also pleased with the level of service offered by the customer support team. To give you the other side of the story – some people have complained about missing parts in the package while some others were dissatisfied with the quality of materials used in construction.
Conclusion
If you are looking for the best riding lawn mower for tall grass that operates smoothly and does not make a lot of noise while cutting then the Greenworks PRO fits the bills just right. It comes equipped with a plethora of features you will find in high-end products. All in all, this is a durable and reliable mower that delivers good performance at a reasonable price.
---
Next on our list is a semi-commercial lawn mower that comes equipped with a 24 HP Kawasaki engine that is both efficient and economic. It comes with a speed of 8.5 mph that enables the operator to mow larger areas in less time. The mower stays durable, smooth and pretty quiet throughout its use. The speed and maneuverability of the unit come without sacrificing riding comfort or cut quality.
When it comes to performances, the Husqvarna MZ61 (see details) delivers exceptionally with its fabricated 11″ gauge steel and triple-blade cutting deck that provides different cutting heights to the beast. The mower is also pretty easy to operate with pedal-assisted controls that are easy to reach without leaving the seat. The seat also has armrests and a cup holder for additional comfort.
Product Features and Specifications
Weighs 770 pounds
24 HP Kawasaki engine
Roll-over protection system (ROPS)
61 inches cutting deck
Fabricated 11-gauge steel cutting deck
A 9-bushel triple bag collection system
High-back seat with armrests
User/ Customer Impressions
Most people are happy with their purchase because this lawn mower is one beast of a product that delivers great speed and cuts tall grasses smoothly. According to one user, he mowed his 2.4-acre backyard in about an hour and a half. Another user has commented that the mower works perfectly even on steep hills and delivers a good performance.
While most people are impressed by the powerful Kawasaki engine, fantastic ergonomics and sleek controls of the lawn mower, there are some who find the equipment difficult to install. A user had a difficult time getting the mower out of the crate and getting it started. So, if you are a beginner then consider getting help from a professional.
Conclusion
If you own a large backyard and need a good engine to cut tall grass, weed, and do some mulching too, the Husqvarna MZ61 (see details) is a great choice. The product is not only well-designed but also very well built and equipped with smart features to give you a smooth experience. This is slightly more expensive than other models, but you get what you paid for.
---
If you are looking to up your game from a standard sit-and-ride mower to a zero turn mower then the Ariens Zoom 34 is a good option to consider. The solid construction and design of the mower give you the impression that it is built to last for long. It is powered by the premium 19hp Kohler 6000 Series engine that delivers unprecedented performance.
The oil-tank comes filled as a token of appreciation from the company and the tiny peepholes allow you to see how much fuel is left. The deck area is made of steel to provide protection from possible corrosion and heat impact. The 18-inch high seat adds comfort to the experience and the large tank ensures that you can mow a large area without needing to re-fuel up in between.
Product Features and Specifications
34-inch deck
19-horsepower
KOHLER 6000 series engine
18-inch seat
5-gallon tank
Max. Speed 6 mph
4-point deck hanging system
3 years limited warranty
User/ Customer Impressions
People who have bought this lawn mower are full of praises for this wonderful beast. One user has mentioned that he has been using this model for the last 12 years, and it's still going strong. People are happy with the speed at which this product mows large lawns filled with obstructions and superior performance it delivers every single time.
Everyone is pleased with their purchase and there are no negative impressions.
Conclusion
Ariens has been around for quite some time so the brand value carries a lot of weight. As expected, the product also meets the expectations of customers and leaves no stone unturned to impress the user. From speed and power to performance and comfort, this lawn mower is spot on.
---
When it's time to tame your unruly backyard, you need something that is powerful and highly durable like the Ariens Zenith 60 (60″) 23.5HP Kawasaki Zero Turn Lawn Mower. This POWERFUL mower come equipped with a punching 726cc Troy-Bilt Engine to tackle any type of lawn. The heavy-duty frame of the Mustang mower gives you durable and hassle-free performance.
We love the amazing zero turn maneuverability that helps you move through tight spaces and between trees with equal ease. There is an extra-wide 34-inch cutting deck that helps you create a wide path and the user-controlled reverse mower capability gives you the power of ultimate maneuverability. When it comes to comfort, the Mustang Fit is next to none with a high-back seat, ample legroom space, and dual suspension springs.
Product Features and Specifications
Measures 78 x 45 x 34.75 inches
Weighs 617 pounds
Gas Powered
8-position height adjustment
34-inch deck
726cc Troy-Bilt engine
2-year limited residential warranty
User/ Customer Impressions
Most of customers love this mower as it is easy to operate, and easy on the hands and arms while riding it, so you don't get any strains later on. If you have a large backyard then this lawn mower comes as a great addition to your garden equipment and tools.
People also love the 8-position height adjustment that allows them to change the settings to meet their specific requirements. So, that means different members of the same family can use the mower and still feel comfortable. What can be better than that?
Conclusion
Ariens Zenith 60 (60″) 23.5HP Kawasaki Zero Turn Lawn Mower looks stylish with its bright red color and delivers a performance to match its dashing personality. The manufacturer has taken care of each and every aspect to create a product that not only provides good performance but also gives you a lot of comfort. Overall, it is a product that well-deserves its place in our list of best riding lawn mower for tall grass.
---
Husqvarna has a legacy that is 300 years old and they have been consistently delivering performance mixed with style, and the Husqvarna Z242F is a perfect example.  The mower is driven by an 18 HP Kawasaki engine that gives quick startups and a maximum speed of 6.5 MPH. The hydrostatic and hassle-free transmission allows the product to cut in various conditions.
We love the park brake system (patent-pending) that activates or deactivates automatically as the steering levers move inward or outward. The ClearCut deck equipped with high-performance blades provides a high grade 42 inches cut and better bagging. The clippings may be mulched, bagged, or discharged as per the user's convenience.
Product Features and Specifications
Measures 75 x 41.5 x 34.48 in
42-inch ClearCut deck
18 horsepower Kawasaki engine
Max speed 6.5 MPH
Ergonomic control panel
User/ Customer Impressions
Those who have bought the Husqvarna Z242F are impressed with the sturdy construction and reliable design of the product which makes it highly reliable and long-lasting. Users that have used the lawn mower multiple times have commented that it's easy to use with user-friendly controls, and they have a great time cutting tall grass in their yard.
The only downside we feel some customers may feel is that the product requires assembly, unlike some other models that come assembled. It takes about 35 minutes to assemble the mower, which is easy for an experienced person but amateurs have to face some difficulty.
Conclusion
Although some people may feel that this product is slightly under powered, we feel that when you have a Kawasaki or Kohler engine, you can reach the same amount of torque with less horsepower. Overall, we feel that the Husqvarna Z242F looks great and delivers outstanding performance too. A great buy!
---
Things To Consider When Buying Lawn Mower For Tall Grass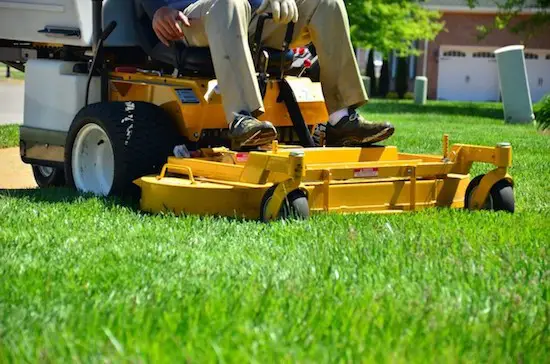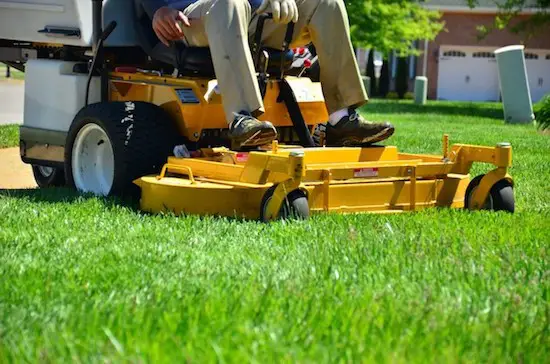 When you are in the market to buy a lawn mower for tall grass, all of the above are good options to consider. However, the one that's perfectly suitable for your needs will depend on various factors mentioned below.
1. Power
This is perhaps the most important of all the factors you need to consider when buying a lawn mower because it determines how efficiently the machine can cut grass. You will need to take into account how frequently your lawn needs mowing, depending on the weather conditions of your area, etc.  
Other important factors are the size of the lawn and the type of grass that grows in the region. For example, if your lawn is set in a hilly area where the mower needs to ascend and descend a lot then you will need equipment with a powerful and larger capacity engine.
2. Simplicity
No matter how complicated or beastly a lawn mower looks on the outside, it should have simple controls that are easy to use. Even if you are a beginner, you should be able to read the instructions and assemble the product (if assembling I needed).
As an operator, you should be able to understand and use the controls without having to read through the manufacturer's manual. The power transmission should also be efficient enough to make the mower an economical choice for you.
3. Bagging
The modern-day lawn mowers come with the ability to collect all the clippings in the separate bagging compartment, instead of dropping them. Thus, you are saved from the additional step of raking and this considerably reduces the time and effort needed for the job.
While the grass decays pretty fast and the clippings can become good compost in just two months' time, people prefer the option to collect the clippings in a bag to give their lawn a neat and tidy look.
Related Questions 
What to do if the mower does not start
If your mower does not start, check the spark plugs and carburetors, as these are often the biggest culprits responsible for such issues. Always ensure that the mower has enough fuels as they often break down if left unattended for more than a month. Worn out spark plugs may also cause similar problems.
How to ensure a long life for your lawnmower?
After you are done with your mowing job, take good care of your mower by cleaning it thoroughly before putting it away. Also, remember to drain and dispose of any stale fuel. Adding fresh gas will stabilize the engine and add years to your investment. If the carburetor gets clogged up, get it cleaned by a professional.
When does the engine start smoking?
When you see the smoke emitting from the mower turns from black to blue, and then becomes white, this means that the engine is burning oil. You must get the equipment serviced by an experienced mechanic. Similarly, if you see black smoke, this means that the carburetor is clogged and the combustion of fuel is incomplete. In this case, you must clean the carburetor and fuel filter.
Is it okay to cut tall grass when wet?
Wet tall grass is hard to cut as they tend to bend, plus they also strain the mower causing the engine to overheat. However, this depends a lot on the capacity of mowers. Some powerful models with good cutting decks and sharp blades are good at handling wet lawns. For average models, we would recommend that you wait until the grass dries up before using the mower.
What is the best time to mow the lawn?
We would say there are two best times of the day – the first is the mid-morning hours between 8 and 10 am, when the morning dew has dried and the sun is not too unbearable. The second time is late afternoon, between 4 and 6 pm, when the temperature has cooled and there's still enough light to complete the task.
See Also:
Will Mowing Wet Grass Ruin Lawn Mower
Can Lawn Mower Get Wet
5 Best Mowers For Zoysia Grass
9 Best Lawn Mowers For Different Uses