5 Best Smart Garage Door Openers With a Camera for 2023
Are you someone who constantly worries about strangers and thieves trespassing your property while you are away? Do you keep forgetting whether or not you have locked the garage door properly? Are you obsessed with the small appliances and gadgets around the house?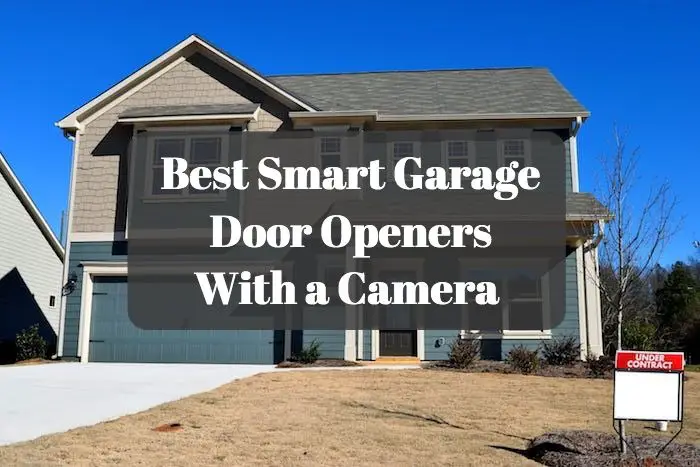 If the answers to the above questions are 'yes' then what you need is a smart garage door that opens and shuts down automatically. You can also check the status with your smartphone app, adjust the settings and do lots more from anywhere.
One of the best uses of a smart garage door is that it can be easily linked with other smart devices in their house.  So, as you enter a home and command the door to open automatically, the house lights will also turn on for you. For more security, you may look for garage door openers that come with a built-in camera.
To help you choose the best smart garage door opener with a camera, we have reviewed some of the best selling models carefully handpicked by our review team. We have spent hours studying and analyzing their features in details, and comparing them with rival products.
If you are in a hurry to place an order then we would suggest that you go with our editor's pick – Alcidae Garager 2 (learn more) which is lightweight yet extremely powerful. It has all advanced features like built-in camera, motion sensors, night-vision, 2-way audio, and more at a reasonable price. 
---
When it's a matter of garage security, Chamberlain is a prominent name in the market and the B6765 video smart garage opener is one of their best selling products. It comes equipped with an advanced and built-in motion-activated high definition camera that is capable of streaming videos from the garage straight to your smartphone. The camera may be adjusted manually to 360 degrees to get a better view and the night-vision lens can also be adjusted to provide enhanced clarity in low light conditions. It also comes with two-way audio to enable live connectivity between your garage and mobile phone.
As the garage door is powered by Chamberlain's Max Lift Power System, it delivers a powerful lifting force that is nearly equivalent to 1 ¼ horsepower. The strong and steel-reinforced belt drive promises to give you years of reliable and smooth performance. We are impressed by the unrivaled Security that safeguards against hacking and the anti-theft protection ensure that the door stays locked. It comes with simple wireless programming that enables step-up within seconds and does not require any electrical connectivity for functioning. Even when the light is out, the built-in battery backup helps the wireless system to run smoothly.
Product features and specifications
Measures 26.8 x 13.4 x 8.1 inches
Weighs 38.1 pounds
120 volts
Two 3-button remotes
Wireless Keypad
myQ and Secure View
Two 3-Button Remotes
Real-Time Notifications
Built-in Camera
Corner to Corner LED Lighting
Motion Detecting Control Panel
Customer/ User reviews
Most users have said that the smart garage door opener is easy to install according to the instructions provided and it can be easily synced with the app. People love the peace of mind they get from watching their garage from any corner of the world and the quick alerts on the app whenever the door open or shuts relieves them from worries.
Conclusion
The quality of Chamberlain products (shop now) is unquestionable and the advanced technology makes it a must-have to keep your property safe from intruders. The ability to connect the product with other smart devices in the house further gives more power to the user. Overall, we feel that this is a small price you pay for your family's security and your peace of mind.
---
You bought a top-class vehicle but feel unsure to leave it in the garage while you are out of town or you constantly feel like you've left the garage door opened. Get the eufy Security Garage-Control Cam E110 Door Opener which is built to keep an eye on your garage and prevent any intruder from getting into your property. It comes with an in-built IP camera that allows users to detect any motion within the garage and secure it from anywhere. The internal HD camera features 720P resolution and equipped with the infrared LEDs, it works best as both day and night vision camera. This garage door opener can be easily synced with other smart devices in the house to make it work with Alexa, Android smartphone, or iPhone.
We love Asante's zero monthly cost storage and an integrated memory card that allows you to store footages. You can download the videos at any time using the wireless device. If the memory gets full, the videos will be overwritten and you will be able to download or view the new ones. Another impressive feature of this garage is the music light show that enables you to add drama to the space. Asante's night vision allows you to see clearly even in low light conditions and the voice control function allows you to give voice commands to Alexa.
Product features and specifications
Measures 4 x 3.9 x 2 inches
Weighs 1.51 pounds
IR motion sensor
Zero cost storage
Support up to 2 garage doors
HD 720P resolution camera
Access management
Voice control and widget control
Supports Alexa, Android, IOS system
HD streaming video
Clear night vision
Customer/ user reviews
Users are impressed with the high-quality performance of this garage door opener that sends live updates unlike other products that often send delayed messages due to internet issues. People are also happy with the ease of installation. The clarity of the images clicked by the built-in camera is also highly appreciated by the users.
Conclusion
 If your job requires you to stay out of town frequently and you are always bothered about your garage then this door opener with camera is the right fit. It works great with Alexa and phone systems to give you updates right on your smartphone so you can go anywhere with a free mind.
---
When you are away and feel that uneasiness regarding the safety of your luxury vehicle, the one tool that comes handy is the Asante 99-00900. The product is designed in a way to control up to two garage doors which is a bonus. With the app on your mobile phone, you can get an instant live view of your garage and even download videos in a flash. You also get unlimited cloud access with the app so you can check clips from old days whenever you need them. The night-vision infrared lights ensure that you can easily keep an eye on your garage area even when the light is dim.
The installation work needs to set-up and run this product is extremely easy. After you have synced the smart devices, you can receive SMS and email notification whenever the garage door opens or closes, however you will need to get the optional sensor that does not come with the kit. The Asante SmartHome app promises to improve your experience and give you real-time streaming of videos. You may also grant access to your family members or friends to keep a check on garage activities.
Product features and specifications
Measures 4 x 4 x 1 inches
Weighs 2.85 pounds
Covers 5000 square feet area
Asante SmartHome app
Controls up to two garages
Infrared night vision
Receive Email or SMS notification
Quick-Start Guide Guide
Compatible with Android and iOS
Customer/ user reviews
People who have used the garage door opener with surveillance camera say that the installation part was really easy and everything you need for the wall mount is already provided. Users have also praised the clear picture quality and some said that the videos were better than expected. A few customers have cautioned that the camera goes offline when the product takes automatic updates.
Conclusion
If you want to have control over your garage area even when you are in the office or not in town, this garage door opener by Asante is a good choice. The features are very well thought of and the app does a good job at keeping you wirelessly connected with your garage activities. Overall, a wise investment for your peace of mind.
---
The makers call this a complete garage solution as it serves both the purpose of a remote garage door opener and a surveillance tool. The Alcidae app allows you to operate the garage door from any location. It also sends you an alert or notification to your mobile phone every time there's a sound of motion detected in the garage. Anything like alarms and sound of dog barking is instantly picked up by the tool. We love the lightweight, compact design and sci-fi look that beautifully blends with your garage interiors. With the magnetic base, you can easily attach it to the garage door so there's no mounting hassle.
The installation work is a breeze and automatic wi-fi pairing allows you to quickly add devices to the network. With the two-way audio function, you can easily speak to your family using the in-built speaker and mic. The night-vision feature also allows you to keep a check on your garage activities when it's dark inside. You may also grant access and share the wi-fi camera with your family members and friends if needed. The product is also compatible with Google Assistant and Alexa so you can give voice commands to open and shut the garage door.
Product features and specifications
Measures 2.3 x 2.3 x 3.3 inches
Weighs 1.14 pounds
Two-way audio
Grant remote access
Night vision
Smart alerts and notifications
30 day Free trial
7 days of cloud video Playback
Alexa, Google Assistant compatible
Customer service
Customer/ user reviews
People call it a great device that installs easily and does a good job at monitoring the garage space and controlling the activities inside. Users have said that the app is also easy to set up and connect with Alexa or Google Assistant. A few users have said that it would be nice to have alerts for opening/ closing doors separated from the motion detectors.
Conclusion
We feel that Alcidae Garager 2 is indeed a complete garage solution that offers much more than you expect from it. With great features, good compatibility, and solid customer support, this is the best solution for the security of your garage. It gets a full 5 from us.
---
Momentum NIRO wi-fi enabled garage door opener promises to help you reclaim your peace of mind by enabling you to control the open/ close of the garage door from anywhere. It is compatible with a mobile app that allows you to get a live video feed on your smartphone using the built-in HD camera. With the 110 degree viewing angle, you can easily zoom in the camera to take high-quality pictures and record videos. The two-way audio with built-in mic and speaker enables you to talk and also listen to anyone in the garage. Thus, you can stay in touch with your family and control all activities within the garage from anywhere.
As an advanced garage door opener, it comes with smart motion sensors to enable the users to get alerts when any motion is detected within the garage. The IR Motion Sensor gets rid of false activation and promises to give you accurate alerts every time. The HD night vision with built-in infrared also ensures that you can see whatever is going on inside at any time of the day or night. When the camera detects motion, you can immediately get alerts and notifications on your connected device. The Momentum app for Android 5.0+ and iOS 9.0+ does a great job at displaying the multiple feeds of the camera.
Product features and specifications
Measures 3 x 0.9 x 3 inches
Weighs 5.3 ounces
HD 720P resolution camera
Infrared LED lights
110 degree view angle
360 degree pivot hinge
Magnetic base
Mounting kit
128GB micro SD card slot
5Ghz or 2.4Ghz Wi-Fi network
Customer/ User reviews
Most customers find it extremely easy to use the app and control the garage door remotely from anywhere. The device records three-days activities of the camera without the need for any SD card or paid storage service. People have said that it gives them peace of mind knowing when their partner gets back home from work and when the kids or pets are there in the garage. A few users had pairing issues because it needs a little technical knowledge to do it rightly.
Conclusion
Everything from the picture quality, sound, and videos are absolutely great. The garage door opener looks smart and the settings allow you to match your needs. If you find yourself constantly worrying about whether or not the garage door is closed, this is one gadget that will put your worst fears to rest and let you concentrate on your work or enjoy holidays.
---
Buying Guide: Best Smart Garage Door Opener With Camera
All the garage door openers that we have reviewed above have been carefully selected based on their design, functions, and features. However, every person's needs may vary and differ from others hence it's important to create a checklist of the things to look for. Below, we have listed down a few things that you may want to consider based on your requirements:
Design
The type of garage door you have will determine the power needed to lift it. For example, 0.5 horsepower is enough to lift most of the garage doors. However, if you have a really heavy wooden garage door then you may need a ¾ horsepower model. Most of the openers are designed to work comfortably on the 7-foot high doors.
Compatibility
If you have a smart home system installed, look for an opener that is compatible with the smart automation systems. Look for a product that can connect with Alexa and Google Assistant. Is there a battery backup system to save you in case of a power outage?
Safety
You need to take care of safety and security issues because a garage door can be really heavy and accidents may happen if the installation is not done properly. As a result, the doors should be able to retract back automatically if there's anything obstructing its path. You may want to look for motion sensors to detect if there's anything at the bottom.
Security
Additional security features can help you prevent any break-ins and unauthorized access to the garage. Just like a password-protected document, your garage door opener should stay locked unless you turn on the access. In some cases, only you should be able to grant special access to friends and family members.
Related Questions
How can you make your garage door opener smarter?
If you wish to make your garage door opener smarter, we would suggest that you install the sensor kits (if the model does not have already) or add-on controllers. Some measurement devices such as a Bluetooth sensor, laser, wired open/close sensor can help to track and record the position of the door.
What's an easy way to increase security?
To further increase the security of your home, we would suggest that you install a few motion-sensor outdoor lights like this to quickly detect and alert is someone is hanging outside the home or garage. You may also install a security camera outside the garage to keep an eye on anything suspicious happening outside.
Related Article:
How To Set Up A Smart Home With Alexa – Beginner's Guide
3 Best Smart Thermostat Compatible With Alexa
5 Best Smart Garage Door Openers With A Camera