5 Best Snow Blower Gloves For 2023
Clearing the driveway is a necessity, but who wants their hands to go numb in the cold or feel the frostbites? No one! Thank God there are the best snow blower gloves that are properly insulated to keep your hands warm and make this winter chore a bit easier.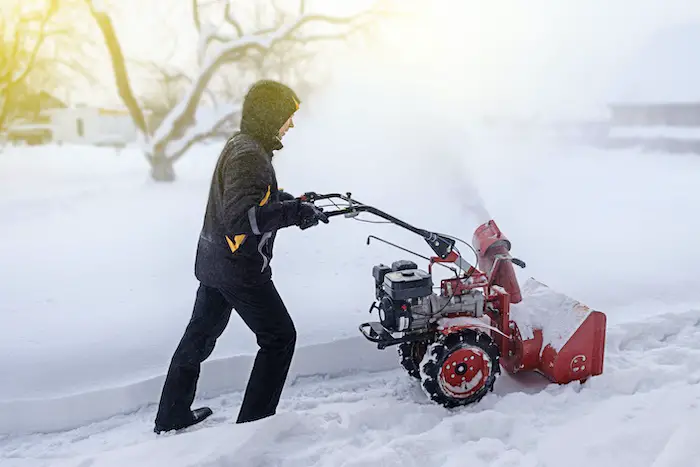 Besides keeping the hands warm, these winter gloves also provide a good grip without interfering with the maneuverability of hands while clearing the walkway. They also have waterproof capabilities that help in keeping your hands dry and prevent slipping.
Some products are touchscreen compatible to help you types text messages and make calls without having to remove gloves. A few others have specially designed wrist cuffs to ensure that water and cold air does not get inside to make you uncomfortable.  
So, if you are in the market to look for that perfect snow blower gloves, expect to feel confused due to a variety of options available. Relax because our team of reviewers has spent hours to do the homework for you and we have created a list of the best snowblower gloves based on extensive research.
Quick Summary
When you need more warmth than what fleece can provide, check out the VELAZZIO Thermo1 Battery Heated Gloves with 3 heating levels and controls to keep your hands warm.
The Midwest Gloves & Gear Snow Blower Gloves comes with a long extended gauntlet cuff to keep snow, ice, and lake water out during winter. It is waterproof and provides a good grip.
Showa Atlas 460 Vinylove Insulated Gloves are made from high-quality double-dipped oil-resistant PVC for better insulation. Besides keeping your hands warm and comfortable, it also resists oil, chemicals, and solvents.
When you don't want to take chances and want something foolproof, the AutoCastle Heated Gloves for Men Women Rechargeable Waterproof gloves is a perfect choice. Battery-powered with 3 level heat settings, buckle-style hook and loop fastener make it one-of-its-kind.
With microfiber lining inside and a stretchy fleece cuff, the Carhartt Women's Quilts Insulated Breathable Glove feels like a second skin on your hands. It lets you work with ease and the water-resistant ability keeps your hands dry and happy.
Best Snow Blower Gloves: Things To Consider
Gloves may seem to be an unimportant thing to fuss about, but you know what – when you are outside working with your snow blower in a chilling winter morning, you will be glad you spent some time looking for the best pair of gloves. So, here are a few important things that you must consider.
Choose the right insulation
From battery heated gloves to fleece or Thinsulate, there are a wide range of options available when it comes to choosing the type of insulation. One of the most common options for winter gloves is boa acrylic, however, Thinsulate is used in most snow blower gloves.
Thinsulate works just like fleece to remove moisture and keep your hands dry. Some of the modern snowblower gloves are battery heated to keep your hands warm, but these are expensive.
Waterproofing
Water or moisture is the last thing you would want on your skin on a freezing workday, worse if it penetrates through your snowblower gloves. With moisture seeping in, your hands will feel cold and unable to move freely to clear the walkway or driveway.
Hence, we suggest that you look for snowblower gloves with built-in water resistance to protect your hands when working in wet and slushy conditions. Having proper insulation in a pair of gloves will help you maintain dry and happy hands.
Getting the right size
When buying a pair of snowblower gloves, you need to select the right size to get a perfect fitting. If the gloves are too tight, you will be uncomfortable while working with the device. It can restrict the movement of hands and even leave your wrists exposed.
On the other hand, if the gloves are too loose then your fingers will have space to move inside, making it hard to get a good grip. It can also allow more air to enter from the loose ends, making your hand feel cold.
Grip factor
When it comes to the best snow blower gloves, the grip is always a point of discussion. In this case, the grip does not have to be too firm but enough to let you maneuver around the walkway or driveway with the snow blowing equipment.
Touch Compatibility
This is yet another essential factor because you can't imagine stepping out of your home without your mobile phone. When working in a cold environment, you may want to wear gloves but they make it possible to use a touch screen. Hence, look for special gloves built in a way to let you use your smartphone touchscreen.
Maintenance
This is yet another important factor to consider when you are looking for the best quality snow blower gloves. Are they washable? Can you wash them in a machine or they must be hand washed?
These battery heated gloves are powered by a hi-capacity 5V rechargeable battery and includes an inbuilt carbon fiber heating panel for long-lasting warmth, even in temperature as low as -20°F. It also features a premium 3M Thinsulate insulation for optimum heat retention, lightweight comfort, and dexterity.
VELAZZIO Thermo1 (see Amazon) sports intelligent control with 3 heating levels that ensure a proper balance between the heat required and desired working hours. The outer shell is made of durable moisture-wicking fleece and Fan-Tex membrane to keep your hands dry at all times.
What we like:
Preheat function saves energy and heats gloves at full power for 5 mins before switching to a medium setting
Touchscreen compatible fingertips let you use your mobile the phone even with the gloves on
Works great for people suffering from Raynaud's, arthritis, stiff joints, and bad circulation
They offer quick and efficient customer support to people in case of any problem
What we don't like:
Low and medium settings are not adequate to beat the cold when the mercury drops too low
The batteries do not last for a full day without the need to charge
---
With 100% PVC coating and ThinsulateTM Insulation, it's what you need to keep your hands dry and warm in wet and cold conditions. It features a waterproof sandy finish to wick away moisture and a rough grip to give you good control over the snowblower.
The glove design features a long extended gauntlet cuff to keep out ice, snow, and water while clearing a walkway or skiing. It also does a great job of working waterfowl and field dressing deer. As the gloves have a Thinsulate lining on the inner side, your hands stay warm even if you do not wear a set of fleece gloves underneath.
What we like:
Feels very warm and waterproof, reaches up to the elbows
They are sized large to fit over your jacket sleeves
The gloves are heavily insulated throughout with a fleece like material
Thick rubber comes with a rough-textured surface to prevent slipping and provide a good grip
What we don't like:
Not suitable for people with thin hands and also not very durable
---
The Atlas 460 from the house of Showa comes with a 100% acrylic pile lining that does a great job at keeping cold air and moisture off your hands. It has an insulated lining that flexes with the glove to minimize hand fatigue caused by working in cold environments.
There is a chemical-resistant and waterproof double dipped PVC coating on the outside. It is well-textured to give you a good grip, when dry or wet. Besides keeping your hands warm, these gloves also keep your hands comfortable and flexible enough to clear a large walkway or driveway with ease.
What we like:
They are quite tough and relatively warm for a PVC glove
Saves the skin from any hazardous solvents and wet concrete
Price makes them easily affordable for the long term
They are insulated and work well in moderately cold temperatures
What we don't like:
Snow may get in at the wrist area
---
The rechargeable Autocastle Heated Gloves (see more) are made of 60% polyester and 40% lambskin, making it wind-resistant, waterproof, and breathable. The inner parts are made of a soft cotton insulation layer that comprises of heat elements and a pair of rechargeable lithium-ion batteries.
3 heating levels strike a balance between the amount of heat needed and desired working hours. Besides keeping your hands warm, the gloves also ensure good blood circulation for more comfort along with warmth when working for long hours outdoors in a chilly environment.
What we like:
The quality and workmanship are very impressive
Although slightly bulky, it is nice, warm and water-resistant
The heating system is good and noticeable even on the lowest of the 3 settings
The grip is good to have control on the snowblower
Fabric is soft and comfortable
What we don't like:
Not long-lasting, it goes out of shape after some months of use
---
Carhartt High Dexterity gloves are made of 100% Polyester, and they give you the accuracy of a bare hand, protection, comfort, and durability while working. There is a buckle closure to keep the gloves secure and prevent the hands from slipping while you work with a snowblower.
Each pair of gloves features a channel quilting and dry-max waterproof inset. It has a recycles ripstop taffeta shell that features quilted stitching and reinforcements. It gives you a good grip on wet and dry surfaces. The gloves can be hand washed to clean when they get dirty.
What we like:
Keep hands warm and dry, prevents cold wind from entering
They look nice and does the work just fine, enabling you to work for long hours outdoors
The textured surface gives you a good grip on the snow blower handle
What we don't like:
They don't run true size, the fingers are short so you may need to get a bigger size
---
Final Words
We hope the information provided in this article helps you choose the best pair of snowblower gloves to help you step out in the freezing temperature to clear the driveway. While this will not make this tedious chore any enjoyable, the gloves will definitely make it less troublesome.
With well-fitting and water-resistant gloves, you can not only keep your hands cozy and warm inside, but also wick away moisture to keep it dry. The bonus part is that a pair of good quality gloves can also double up as your skiing or snowboarding accessories.
See Also:
5 Best Snow Blower For Wood Deck
4 Best Snow Shovel For Pavers
5 Best Snow Shovels For Cars