Welcoming a bundle of joy is a beautiful blessing and also the biggest responsibility as there are so many things that need your attention. From ensuring proper nourishment of the baby to maintaining good hygiene are essential for a healthy and happy family.
Diaper leaks, spit-ups, and milk stains can come up many times, making a new mommy feel surprised at the heap of dirty clothes accumulated throughout the day. A new baby in the house also means you need to make a lot of adjustments and investments to adapt to the changes in your life.
Finding the best washing machine for baby clothes is one of the several decisions you will make, and there are many things that you need to consider. From using a safe detergent and gentle mode for baby's delicate clothes to drying features and portability, you need to check them all.
We know life gets exhausting as new parents hence we have stepped in to help you out in this situation. We have done the homework of reviewing, comparing, and analyzing dozens of washing machines for baby clothes to help you choose the one that works best.
Read on to find our unbiased reviews on each product handpicked by our team. If you are in a hurry to order, we suggest that you go with our editor's pick – Giantex Mini Twin Tub Washing Machine (see Amazon) that runs both wash and spin cycle to give you clean clothes within minutes.
---
This portable washing machine by Wokez (see Amazon) claims to make life with newborns a tad easier. It is a bucket-styled foldable washer designed especially for small clothes such as underwear, underpants, baby clothes, socks, and so on. Practically, you can use it for anything that you wish to wash separately to avoid cross infection.
This foldable bucket has a thickness of only2.16 inches after folding. It comprises of ultrasonic high-frequency vibration that causes numerous micro-level bubbles to excite and explode in water. It creates an instantaneous high pressure up to 1000 times that oscillates, emulsifies, and removes dirt from clothes.
Due to its foldable design, the bucket can be stored easily when not in use. It can also be taken with you on vacation or business trips. As it's made of eco-friendly and durable PP and TPR materials, it inhibits the growth of bacteria and does not break easily.
Product features and specifications
Measures 13.4 x 13.4 x 3.1 inches
Weighs 1.3 Kilograms
Foldable design
Ultrasonic high-frequency vibration
Non Corrosive Durable
Portable and Lightweight
User/ Customer reviews
Most users have said that the machine works really well and the spin time takes about 30 minutes to give you clean clothes every time. People find the suction ability good and foldable design lets you carry it wherever you go. A few customers have warned that it can be a little loud not very disturbing.
Conclusion
If you are looking for a light and portable baby washing the machine you can easily carry with you when traveling then this is a great option. Good capacity, easy operation, and sturdily built to make this unit a good investment for new parents. Overall, it offers good value for money.
---
Sometimes big things come in small packages, isn't it? This small and portable mini washing machine proves it right, as it not only saves space but also helps you save water and money. Due to its portable nature and easy carry handle, you can take the washer anywhere with you.
There is no need to connect the washing machine to any water source, and when not in use, you can simply store it away discreetly. It comes with a wash timer than runs for 15 mins and there are High/ Low settings to help you do laundry as per your requirements.
We are impressed with the ease of use – just fill the machine with water, add soap, and close the lid to wash delicate baby clothes easily. We suggest that you follow the instructions provided in the user manual carefully. It delivers reliably clean baby clothes at any time you need.
Product features and specifications
Measurements 13 x 10 x 13 inches
Weighs 8 pounds
10 Liter capacity
Hi / Lo program settings
Wash cycle for up to 15 minutes
Enclosed instruction manual
User/ Customer reviews
Most people have said that this portable washing machine is easy to use with simple buttons, but this is not a substitute for a real washing machine. Several users have mentioned that this is only suitable for small loads like baby clothes. A few users have said that this saved them a lot of money and time from having to go to the Laundromat.
Conclusion
People who need to do a lot of washing frequently can benefit greatly from this washer because it's so lightweight that you can carry it with you. As Seen On TV Wonder Washer (see Amazon) is great for washing medical scrubs or delicate baby clothes separately. Besides new parents, people living in apartments, senior living houses, RV boats, camps, and guest houses can greatly benefit from it.
---
This strong and portable washing machine comes with a spin dryer so you can wash baby clothes and have them dry faster. It comprises of two tubs – one for washing (7.9lbs capacity) and one for spinning (4.4lbs capacity). Due to its compact size, it can save a lot of space and fit into a RV truck or camping sites.
Setting up the Twin Tub Washer Machine is easy as it does not have any plumbing requirements. You just need to give access to water and drainage. The product comes with all essential parts needed for installation, except water and detergent. You just need to add dirty clothes, detergent, water, and set the machine to wash mode.
The wash cycle for the appliance runs for up to 15 minutes on either soft or normal wash mode. The spin cycle can run for a maximum of 5 minutes so you can have clothes ready to wear within minutes. It comes with a FREE added Lint Filter that can be placed in the wash section to collect debris.
Product features and specifications
Measures 23.62 x 14.96 x 27.17 inches
Weighs 24.2 pounds
Easy to use
FREE added Lint Filter
Compact and lightweight
7.9lbs wash and 4.4lbs spin capacity
User/ customer reviews
Many users have mentioned that they were pleasantly surprised by the amount of load this tiny washer can take. Some people even said that it looks expensive but is actually very affordable and saves a lot of time too. A few customers have also lauded how easy to use this machine is and the user manual makes it easier for beginners.
Conclusion
If you want a twin tub machine that can take a lot of loads (say for soiled clothes of twin babies), this is one of the best solutions available. This Portable Washing Machine TG23 (shop now) is not only durable and strong but also highly portable and capable of cleaning dirty clothes within minutes. Overall, this is a good investment that will last for a long time.
---
This is a fully-automatic washing machine from the house of COMFEE' (see Amazon). It comes equipped with 5 different programs (Normal, Heavy, Soft, Rapid, and Soak) and 3 water levels to let you adjust your settings as per your needs. You can customize your wash program by choosing a load size, rinse time, wash time, and spin time.
Due to its compact design, the top load washing machine can be stored easily in your cabinet, dorm, RV, and even your bathroom. The design also includes wheels and handles for portability and easy movement. If you have a small household with restricted space, this washing machine is a perfect fit.
The washing machine comes with a transparent lid design to allow you to clearly see the water level and washing conditions. The product includes a rust-resistant steel inner tub, water inlet, lint filter, and ain pump that lets you get rid of dirty water easily. The powerful motor spins at 700RPM and saves about 87.5% energy while running.
Product features and specifications
Measures 18.1 x 17.7 x 31.5 inches
Weighs 44.1 pounds
0.9 Cubic Feet Capacity
Free Standing installation
Stainless Steel, Plastic
Water inlet hose, Converter included
User/ Customer reviews
Users are in love with this portable and compact laundry machine that has a beautiful external appearance and so easy operation that even the elderly can use it. Several users have said that the load capacity is small yet it can handle about 10-15 clothes at a time. People are impressed to find that the machine does not make a lot of sound while running.
Conclusion
This is a well-built and sturdy full-size washing machine you can use for cleaning dirty baby clothes. With smart electronic controls and LED display, the machine delivers exceptional performance. With its small size, compact design, and lightweight, this is one of the best washing machines new parents can buy.
---
When you want to do a lot of laundry but do not want to make frequent trips to the Laundromat or sacrifice space, this portable mini compact machine works like a charm. It is so easy to operate and uniquely designed that you not only save time but also a lot of space.
The machine comes with a large washing tub with 11 lbs capacity and you can run the rinse cycle for the desired time (maximum 15 minutes). The spinner dryer capacity is about 6.6 lbs (maximum 5 minutes), which is half the capacity of the washer so you need to spin twice to dry all clothes.
This lightweight and portable twin tub washing machine come with a 260W washing power and 110W spinner power to help you clean the dirtiest of clothes with ease. It comes with a filter net on the side to easily filter out lint and debris while washing clothes. As the package includes all the essential items for assembly, it does not take a lot of time to set up.
Product features and specifications
Measures 31 x 27 x 16 inches
Weighs 28 pounds
Easy to operate
Effort and energy saving
Top load twin tub compact design
Separate timer control settings
User/ Customer reviews
This product has been called by customers a life changer for small apartments and on the performance front, it is capable of removing the toughest stains. Most people are impressed with the sturdy construction, unique space-saving design, and great performance. A few users have warned about the machine making noise but this can be fixed by balancing the machine using a sponge.  
Conclusion
This is one cool, cost-effective, and carefully designed washing machine that comes with decent load capacity, and energy-saving features. It has a transparent lid allowing you to see the whirlpool effect in the vortex. In terms of design, performance, and price, the Giantex twin tub washing machine gets a thumb up from us.
---
Tips For Effortless Baby Laundry
Read the care labels on clothes carefully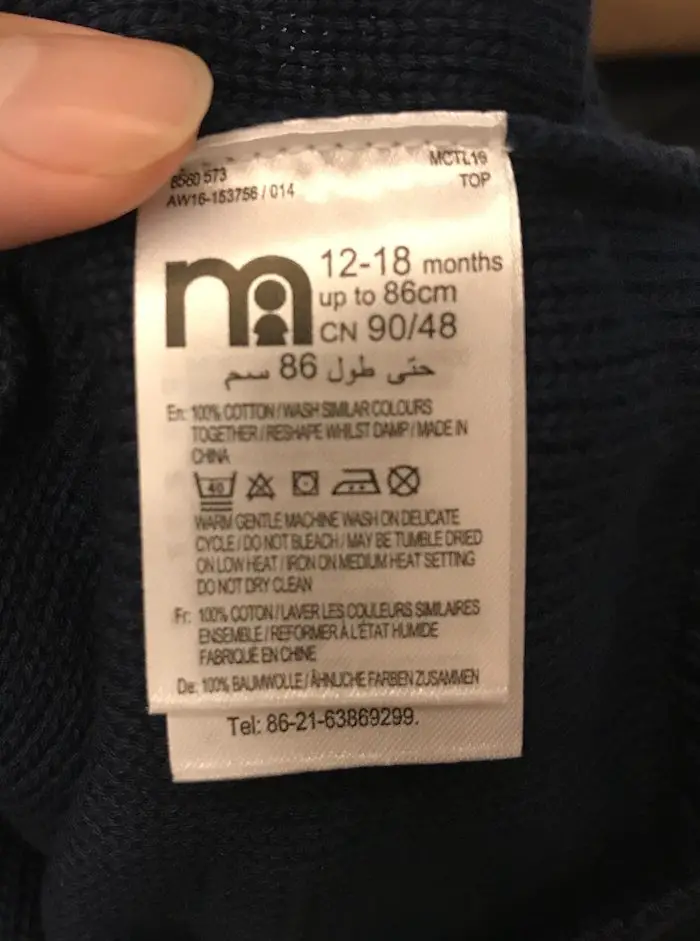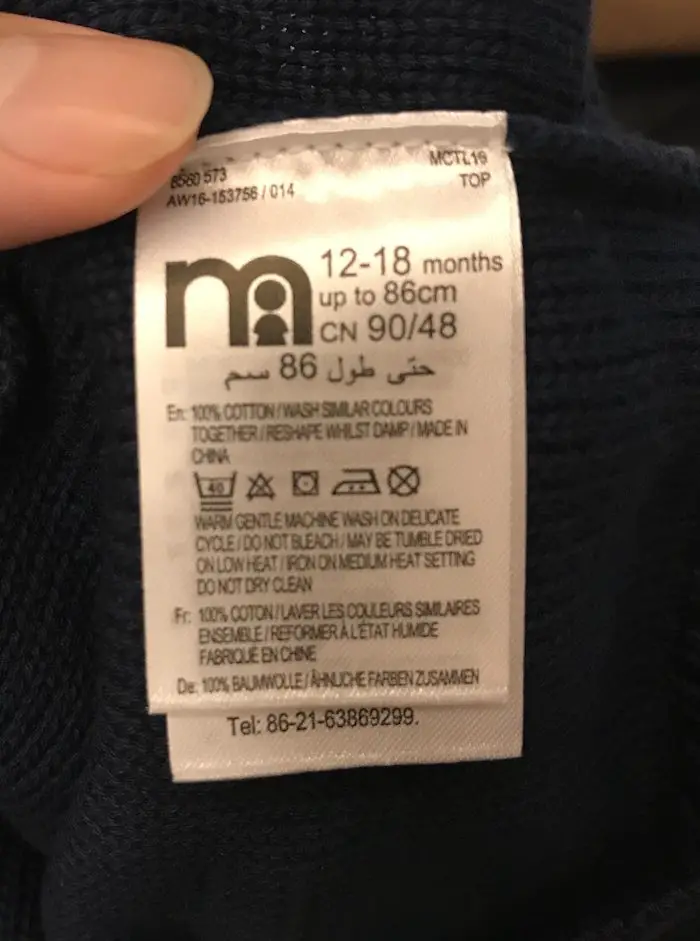 This is another extremely important tip because baby clothes are delicate and need special care. You must always read the care labels attached to every garment before the first wash. As most baby dresses are made of cotton, we suggest that you use a Cottons wash setting. If the infant has a sensitive skin, make sure you use safe non-allergic detergent while washing.
Don't forget to remove tags and stickers
Your baby will receive many clothes as gifts from family and friends because little ones to outgrow them quickly. Before putting any dress into the washer, make sure you remove any tags, stickers, and labels. Leaving stickers on a new dress before washing can damage certain materials and leave an ugly mark on cute outfits.
Have a separate laundry hamper
With so many things going in your mind and lack of rest, it's easy to lose track of when baby's clothes washing is due. You may not want to wake up in the middle of the night to find that you only have one last clean onesie left. Diaper leaks are common so maintain a separate baby laundry hamper so that don't get lost amid adult clothing.
Invest in a good dryer
If life gave you a pleasant surprise in the form of twins or maybe triplets, we suggest that you invest in a good quality dryer. Needless to say, you will have a lot of laundry to handle even in the middle of the night. With a dryer, you can have bedsheets and baby clothes dry in about two hours.
Always use a fragrance-free detergent
You will find several brands that offer special and safe laundry detergents for babies and young toddlers. These detergents and soaps comprise of a milder formulation for the delicate skin of babies to ensure that they do not get irritated or aggravated.
See Also: 5 Best Dishwasher Detergent For Samsung
Related Questions
What setting is ideal for newborn clothes
To wash newborn clothes, we suggest that you set the temperature at 30 or 40 degrees Celsius. Washing delicate clothes at a lower temperature will keep the garments safe and also save you energy.
Which detergent is best for baby clothes
We suggest you to use a non-biological detergent when cleaning newborn clothes to protect the delicate skin of babies. The non-biological detergents do not contain any stain-busting enzymes that can cause skin irritation or allergies.
See Also:
5 Best Laundry Hampers For Wet Towels
Dishwasher Pods Vs Laundry Pods (Here's The Difference)
How To Clean An Alpaca Blanket