No wonder, buying a washing machine for your home is a big investment to simplify your laundry routine and make the lifestyle more convenient. With so many different brands and models of washers in the market, determining which product fits your needs correctly may be trickier than you think.
Besides various the need for various wash cycles, space-saving design, and innovative features, you may want to look for a washing machine that can take heavy loads like bed sheets, comforters, and blankets. Having a washer and home and still going to the Laundromat for heavy clothes is not a good idea at all.
So, what do you do when working with a budget too?
Look for the best washing machine for blankets in your budget. Even if the washer costs slightly more than what you have in mind, we would suggest that you go for it as this investment today will save you several dollars in the long run.
With a little thinking, analysis, comparison, you can save yourself the headache of going to the Laundromat every time for washing blankets. We know it's confusing to pick that one product from a list of top-rated washers available online.
Relax and breathe easy! Our team of reviewers has done all the homework for you and carefully shortlisted a few washing machines that are perfect for washing heavy loads. Read on to find a review of each.
In this article, you will also find valuable information to help you choose the right washing machine that not only fits in your space but also does a good job of washing blankets.
Quick Summary
If you need a washing machine with a large load capacity, digital controls, and built-in wi-fi to control and monitor the laundry from anywhere, you must check out the GE 5.2 Cu. ft. High-Efficiency Top Load Washing Machine.
The LG 4.5 cu. ft. High-Efficiency Ultra Large Smart Front Load Washer helps you save 30% energy with just half amount of water for washing blankets. It can also be controlled via Amazon Alexa and Google Assistant.
We love the Late Lid Lock feature in Amana 3.5 cu. ft. White Top Load Washing Machine that allows users to add dirty clothes later. It also requires less detergent and water.
The Maytag 6.0 Cu. ft. Metallic Slate Top Load Washing Machine lets you remove the toughest stains and Delay Start gives you the benefit of reduced energy rates.
Things To Consider When Choosing Best Washing Machine For Blankets
The performance of the washer is the most important criteria of all, and it must be efficient at handling the basic washing jobs. You may want to look for the latest technology such as automatic water control, sensing, pre-treatment, and so on.
The second most essential factor is the load capacity of the washer. So, if you have a family of six or more people, it should be capable of taking bulk clothes and even heavier items such as blankets, bedsheets, comforters, and so on. There should be separate wash cycles for light, medium, and heavy loads.
Affordability of a product determines the easy accessibility, but you should also take into account the washer's service life and durability. When investing in a high-end washer, you may want to check the warranty and even get an extension if possible to keep your investment safe.
Besides cleaning your dirty clothes well, the washing machine should also conserve energy and reduce water waste to keep the bills in check. It should also fit into the space available so that you don't end up with laundry taking too much space in your apartment.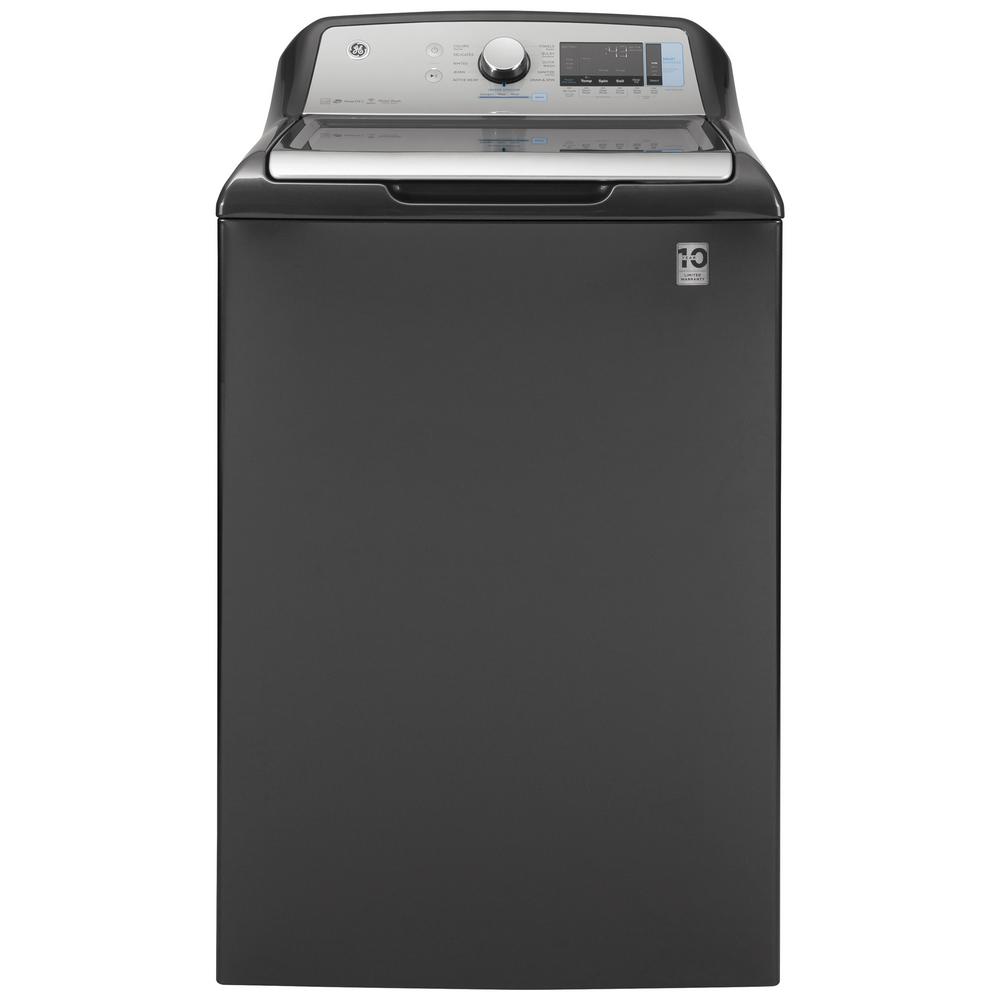 This 5.2 cu. ft. HE top load washing machine by GE (see more) comes with the most up-to-date technology and excellent quality to make your life simpler. The appliance sports a timeless look and features a SmartDispense Technology that can accommodate up to 48 lbs. detergent and dispense only as much required.
The top load washer features a Power Prewash that ensures even the most soiled clothes get perfectly clean in just a single wash cycle. For stains in specific areas, you may pre-treat the clothes in the water station that dispenses detergent and water at your desired temperature.
What we like:
Built-in Wi-Fi to monitor and control laundry from anywhere
Deep Fill to customize your water-fill levels with just one touch
QuietWash ensures a reduced vibration for a quieter wash
Multiple rinse options for ultimate flexibility
Comes backed by a 10-year warranty
Digital Touch Controls to adjust laundry settings
What We Don't Like:
The machine shakes loudly when it spins
Sometimes it has balancing issues
---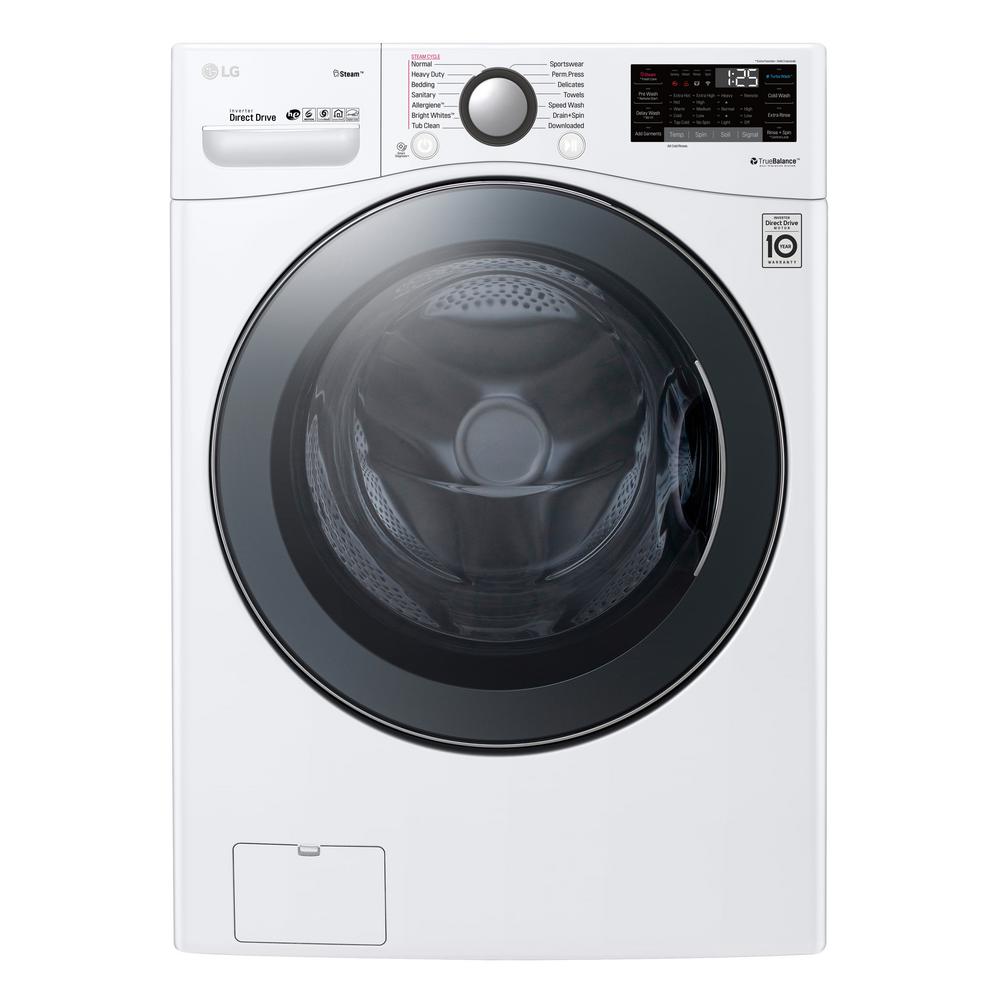 The LG Ultra Large Capacity washer promises to help you get more done at a faster rate with the TurboWash 360 technology. The SmartThinQ technology simplifies your wifi-enabled laundry by allowing you to start the appliance with your voice command via Amazon Alexa and Google Assistant.
Besides helping you save time, the LG 3900 Series also lets you breathe easy with the steam technology removing 95% of the common household allergens. It is equipped with an LG Direct Drive Motor, 6Motion technology, and six different wash cycles that work best for all types of fabric.
What we like:
Clean heavy loads in less than 30 minutes
Free app available for Android or iOS device
Certified asthma and allergy-friendly
Uses 30% less energy and half amount of water
10-year limited manufacturer warranty
What we don't like:
Loud sound of water coming from the dispenser
Washed clothes do not smell as fresh
---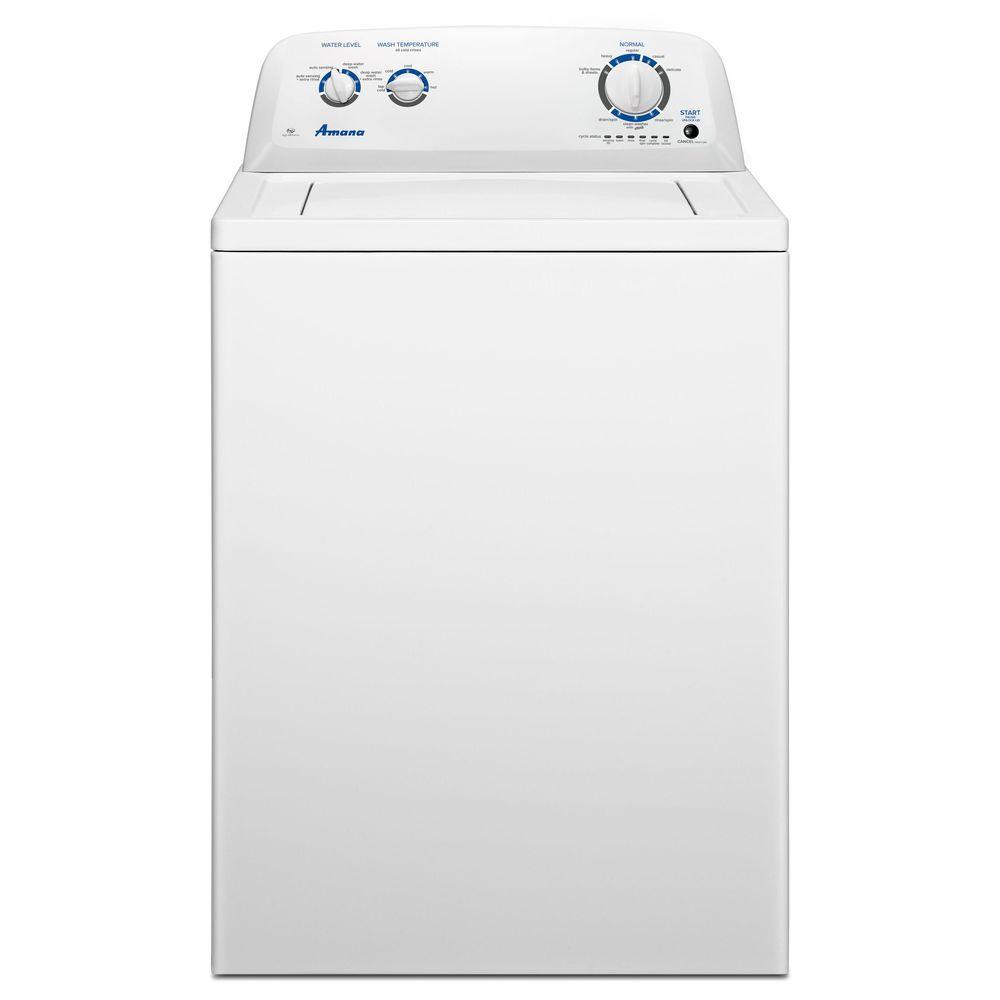 The third name on our list is Amana 3.5 cu. ft. White Top load washer (learn more) that features a Dual Action Agitator that rolls clothes at the bottom of the wash basket to get it thoroughly clean. It houses a sturdy and durable Porcelain tub that prevents any snag and 8 wash cycles let you clean delicate clothes to heavy blankets with ease.
There is a rear control panel that gives easy and convenient access to all cycle options and settings. We are impressed by the automatic load size sensing technology that tells you the right amount of water to use for each cycle based on the soil level. With six different temperature settings, you get the ideal temperature for each load.
What we like:
Feedback-Status Indicators provides regular updates
Delicates Cycle with a slower spin speed cleans delicate items
Late Lid Lock lets you add missed items before Spin Cycle begins
Requires less detergent and water wastage is also less
The machine is simple and easy to use
What we don't like:
---
Maytag POWERWASH system is one of the best in the industry and you find this is Maytag Metallic Slate Top Load washer (see Homedepot) with a capacity of 6.0 – 6.4 cup. ft. capacity. The PowerSpray improves the cleaning action by re-circulating water and detergent in a way to treat the toughest stains with ease.
The POWERWASH agitator is capable of tackling any wash load size with efficient and concentrated cleaning performance. It comes equipped with a stainless steel wash basket that wicks away any traces of moisture away from washed clothes. It is also tough enough to resist wear and tear for many years to come.
What we like:
Delay Start gives you the advantage of reduced energy rates
Built with accents that include LED Interior basket lighting
Use the Deep Fill option to add extra water
Sanitize cycle with Oxi helps you get rid of 99.9% of bacteria
Energy Star to consume less energy
What we don't like:
It is louder than other washing machines
Sometimes you need to manually pre-wet the heavy loads
---
Tips To Clean Blanket In A Washer
The best method for washing a blanket largely depends on its design, including the type of filler and fabric. Weighted blankets with plastic pellets or microbeads are usually safer for machine washing, but you must still check the manufacturer's instructions.
Most household washing machines can easily accommodate blankets weighing up to 20 pounds, on a gentle cycle with mild detergent and cold water. You must avoid using bleach as this can damage blanket's fibers over a period of time.
Similarly, you must also avoid using fabric softeners that may create buildups, giving your blanket a rough feel. If there are small stains on the blanket, we suggest that you go for spot-cleaning with a solution of laundry detergent and warm water.
Investing in a good quality duvet cover can also save your blanket from getting too dirty, hence require less washing. You can just remove the duvet cover and toss it into the washing machine when it needs cleaning.
Final Words
While all the above washing machines can take a heavy load, we suggest that you choose wisely based on your specific requirements. For example, someone who lives in a colder region or those who have kids and pets at home will be at a higher risk of stains and pet dander.
Others can be happy with a washer that can take a heavy load at times and not require extensive stain treatment. There are several brands and models to choose from, but the above list of best washing machine for blankets is created to take the stress out of your decision making.
See Also:
Can We Wash Blanket In 6kg Washing Machine?
How To Clean An Alpaca Blanket
5 Best Wool Blankets For Bushcraft