Washing Machines are one of the life's bare necessities these days, however, we can't ignore the amount of power these electrical appliances consume. Besides the hefty electricity bills, they also leave their impact on the environment.
As responsible citizens and human beings, it's our duty to ensure that we use the least possible resources for our convenience. When looking for a new washing machine, there may be various features and parameters in your mind, but one of the most important should be the energy consumption.   
We know finding the best washing machine for electricity consumption along with considering the various other factors is not an easy task. Some things are better left to the experts. Our team has spent several hours reviewing and comparing different models to bring for you these five handpicked models.
If you are in a hurry to purchase and don't have the time to go through the detailed reviews then we recommend the Samsung HE Front Load as it comes with an amazing load capacity to do a lot of laundry at once. It also falls under Energy Efficiency Tier III and consumes about 94kWh/year.
---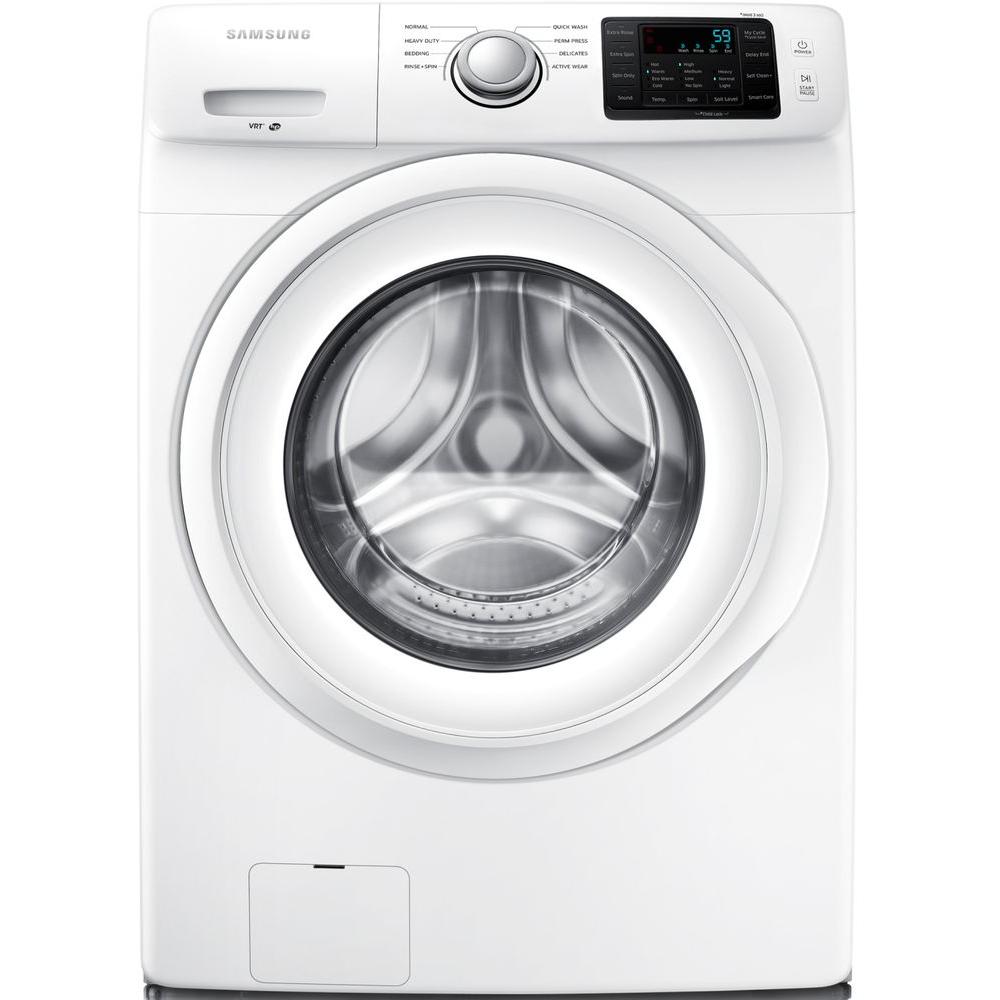 This HE front load washing machine from the house of Samsung is designed to help you save both time and energy by fitting more into every load. The 4.2 cu. ft. capacity ensures that you can do a week's laundry at once or clean the clothes of a large family. The Diamond Drum works your clothes gently to remove the stains and the self-clean mode keeps it well sanitized. With the Vibration Reduction Technology, the machine hardly makes any noise, hence you get a quiet operation with every cycle.
If you are running out of time, the washer even lets you do a faster spin with a maximum speed of 1200 rpm. There are 8 preset wash cycles programmed to cover all the washing needs of your family. You can choose from the four temperature settings such as warm, hot, eco-warm, and cold. There are also 4 spin settings and 3 soil settings. Despite so many features, this Samsung HE front load washer consumes only 94 kWh per year. It is an Energy Star certified model that saves electricity with every use.
Product features and specifications
4.2 cu. ft. capacity
Advanced Vibration Control
High-Efficiency Detergent
VRT technology
Diamond drum design
4 Temperature Settings
4 Spin settings
3 Soil Settings
Flexible Installation Options
1-year warranty on parts and labor
User/ Customer Reviews
People who upgraded to this model after their old washer died to say that the machine hardly gets the clothes wet but they come out clean like new, using very little water and need less dry time too, hence it eliminates the need for a dryer or ironing clothes to dry them. People love the design of the washer and its ultra-quiet operation. A few users have also mentioned that it does a great job at removing cat/ dog fur from clothes using less water and detergent.
Conclusion
If you are looking for a HE washing machine (learn more) to give you all the thrills of an expensive high-end machine but still consume less electricity then the Samsung High-Efficiency Front Load Washer is the right choice. At this price, you get great performance and save energy, but make sure you follow the instructions well and use only a compatible stackable dryer if needed.
---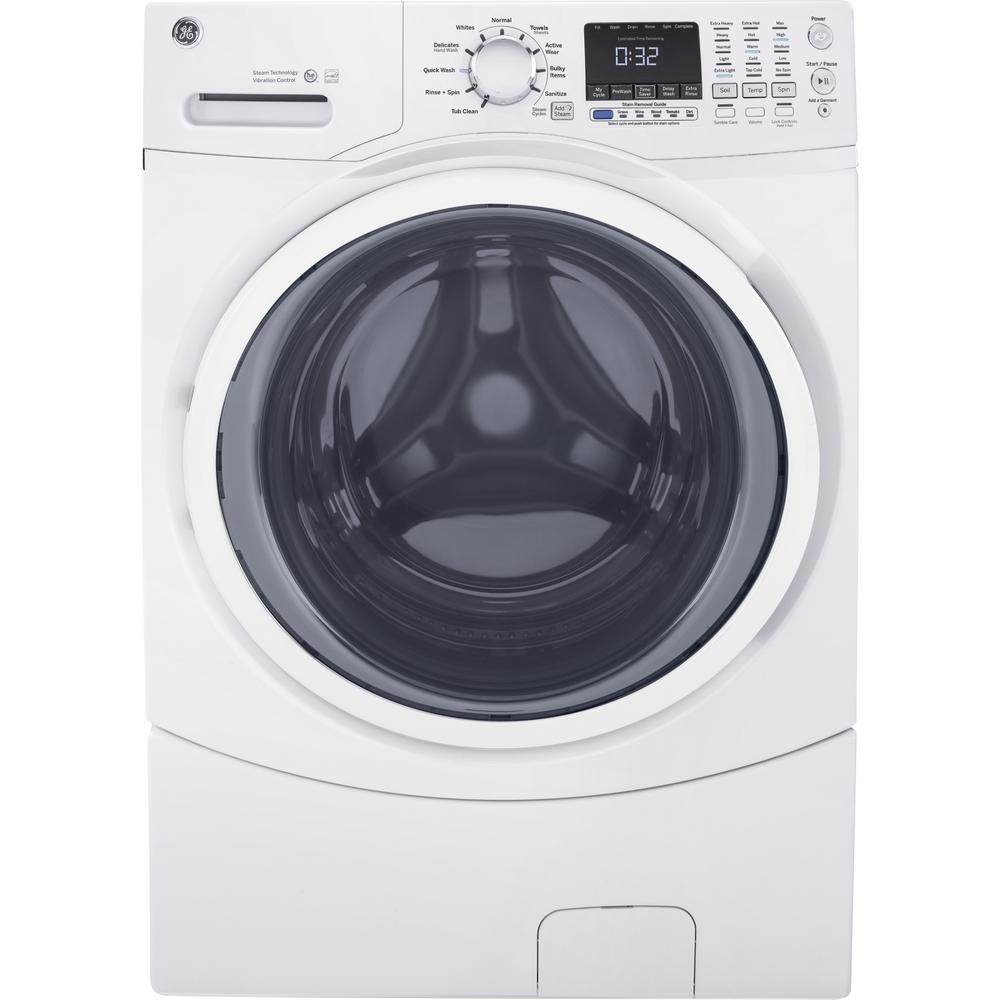 GE is synonymous with quality and they believe in bringing the most updated technology and features for their customers. Their machines are advanced and have a timeless appeal, yet they are practical in terms of use. The 'time saver' feature enables you to do a full load of dirty clothes in just 37 minutes, thus you save time as well as energy. This model is one of the most energy-efficient washing machines with an Energy Star certification that meets the federal guidelines for electricity consumption.
Besides reducing electrical consumption, this GE High-Efficiency washing machine also decreases the use of water while cleaning a full load. The Quick Wash feature enables you to do a complete load of less soiled clothes so that you save water. For dirtier clothes, you may use the Steam clean that penetrates through the fabric to clean and remove stains inside out. We love the fact that the manufacturer stands behind the product with a 10-year warranty on Direct Drive Motor.
Product features and specifications
4.5 cu. ft. capacity
Internal water heater
Time saver
Steam clean
1300 RPM spin speed
Tumble Care
10 wash cycles
Energy Star qualified
Limited 1-year Warranty
User/ Customer reviews
People are extremely pleased to find a washer that can clean King size comforters without consuming too much electricity or water. Users can't stop marveling at how so many clothes come out so clean despite using less water. A few users have cautioned that the machine makes some real noise while spinning but it's not annoying. Some customers downright like the fact that this machine is made in America.
Conclusion
We believe this model to be one of the best washing machines for electricity consumption because the company keeps on upgrading its technology. It comes with some of the smartest features and falls under Energy Efficiency Tier Rating I.
---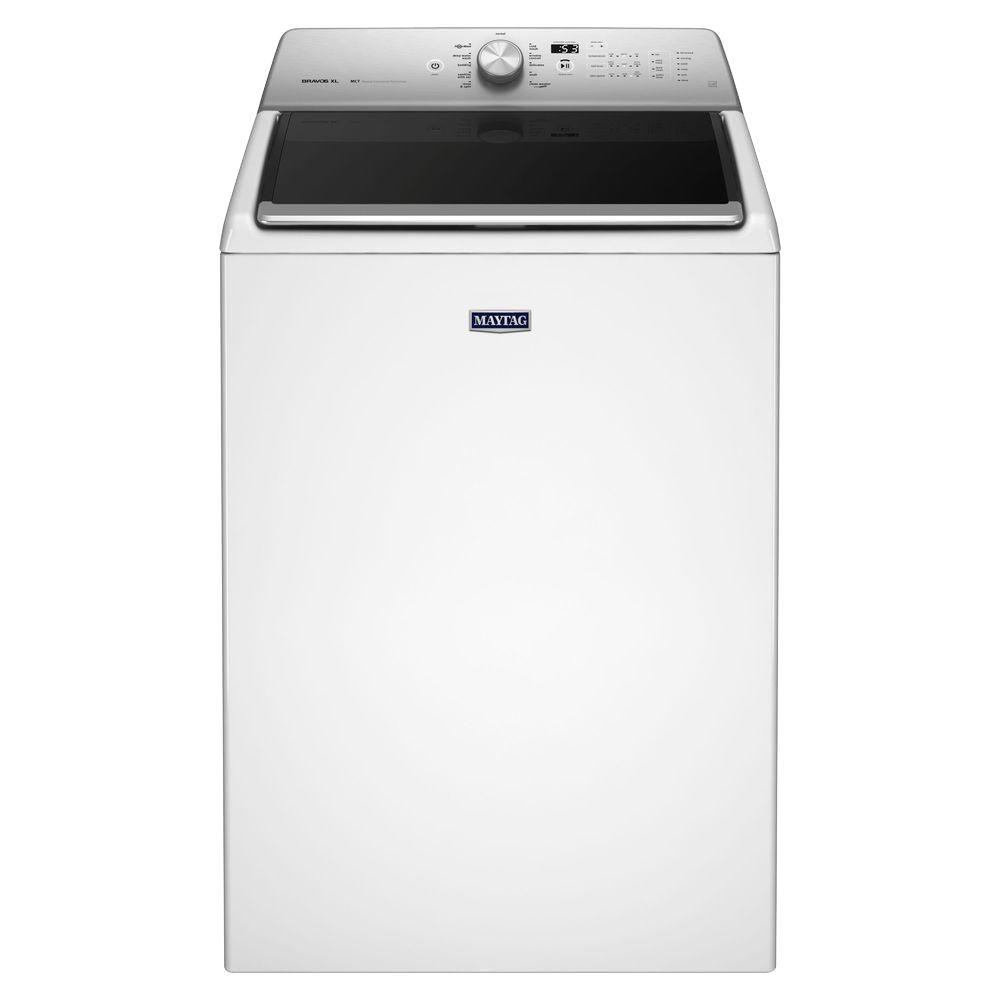 If you want to tackle the toughest stains left by pets on your comforter or ensure that your kid's soiled clothes come out clean like new, Maytag's HE top load washer comes handy. With an incredible capacity of 5.3 cu. ft., this washing machine is capable of cleaning the clothes of a large family in less time. The PowerWash cycle is designed to give you exceptional cleaning performance for every load. The model is Energy Star qualified, hence it helps in conserving the natural resources by using 30% less energy and also saves money on electricity bills. This helps you make an overall impact on the environment. 
We are impressed by the smart options such as 'Delay Start' that enables you to set the washer to start at a later time. This gives you time to match your schedule and take the best advantage of reduced energy rates wherever applicable. It also comes with automatic water level sensors that adjust the settings and water use based on the load size, thus helps save resources. The manufacturer stands behind the product and offers a 10-year limited warranty on the stainless steel wash basket and direct-drive motor.
Product features and specifications
5.3 cu. ft. capacity
Weighs 134 lb
Impeller Type
Touch Controls
11 wash cycles
Energy consumption 187 kWh/ year
Stainless Steel Drum
Power 120 Volts
10-Year Limited Parts Warranty on Motor
User/ Customer reviews
The users of this HE washing machine are extremely happy with the energy, they save on their laundry, and some even mentioned about a reduction in electricity bills after they upgraded to this machine. People with large families are impressed with the high capacity that enables them to do a week's laundry at once. It not only saves them electricity but also water and time.
Conclusion
If you are concerned about the impact your washing machine has on electricity bills then we would recommend that you switch to an Energy Star rated machine. This Maytag High-Efficiency White Top Load Washing Machine does a great job of cleaning clothes efficiently without breaking your bank with hefty electricity bills.
---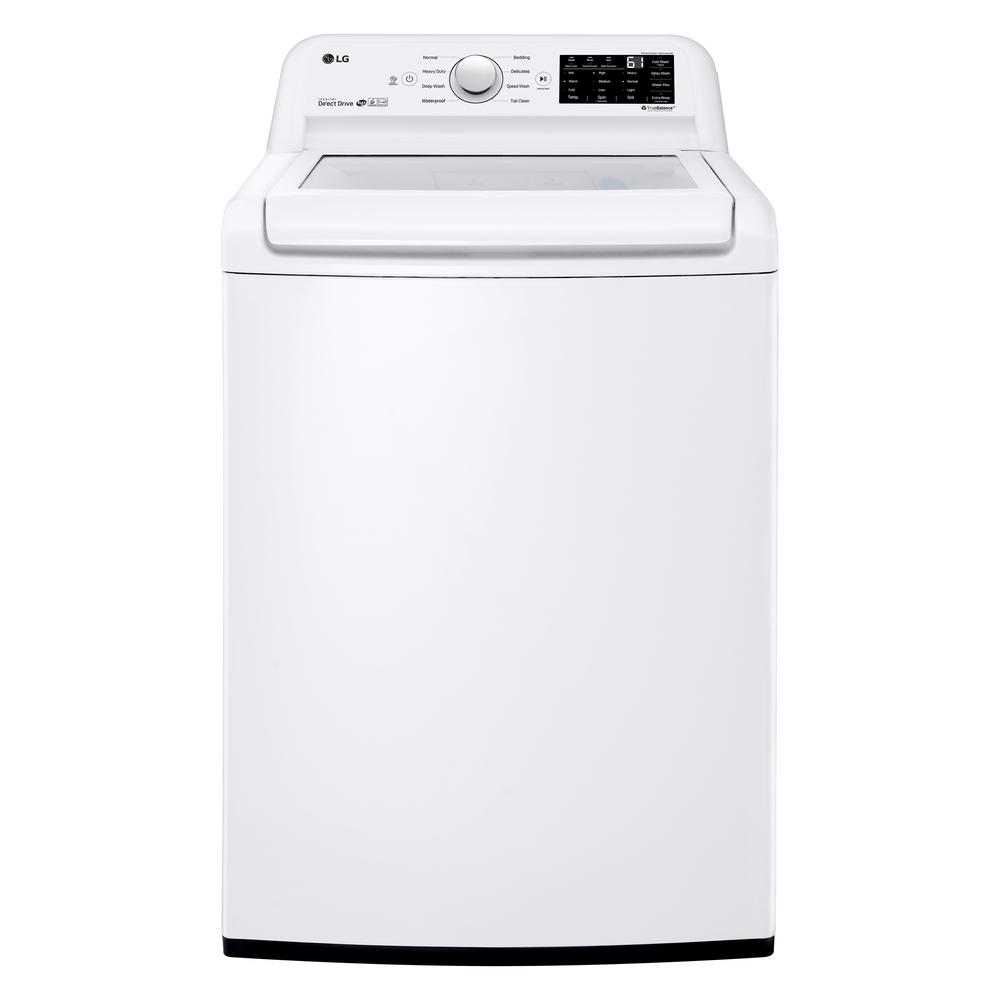 If you are a fan of top load washers but still want to save energy and time on every wash cycle then check out this LG 4.5 cu. ft. HE Ultra model. With a huge capacity like that, the washer uses considerably less water and electricity to do a full load of soiled clothes. The TurboDrum technology brings on the agitator to clean clothes without any damage. Despite the powerful motor, you will hardly know that the washer is on from the next room. The TrueBalance anti-vibration system ensures that the machine creates less noise and vibrations.
We love the LG 6 Motion technology that lets you choose up to six different wash motions that are designed to help you get your clothes cleaner. When you don't have the time for a full wash cycle, you can save both time and energy by selecting the SpeedWash Cycle that can do small loads in 15 minutes.  The washer comes with an Energy Star rating which means the machine uses 30% less energy and about half the amount of water used to convert into savings on electricity bills. 
Product features and specifications
4.5 cu. ft. capacity
Weighs 134.5 lb
Dual LED Display
TurboDrum Technology
Energy Star Rating
LG Direct Drive Motor
TrueBalance anti-vibration system
LG LoDecibel motor
LG Direct Drive Motor
10-year limited warranty
SpeedWash Cycle
User/ Customer Reviews
People love intelligent features such as the cold wash cycle that helps them save on electricity bills and the sensors that adjust automatically so that water is not wasted. Users like the fact that despite being an advanced machine with lots of features, the washer is easy to use and the installation team is great.
Conclusion
If you are an LG loyalist and a fan of top loaders then this is a perfect combination to buy. The washer not only looks great in the laundry room, but also comes with a lot of advanced features designed with the objective to help you save water and time.
---
Tips To Save Electricity Consumption On Your Washing Machine
While the type of washing machine you use plays an important role in saving energy, there are several other factors that can cut down on electricity bills. Here are some laundry tips that can bring about a great change and reflect savings on your bills.
1. Pre-soak the stains
If there's a stubborn stain that has baked upon your clothes, don't rely entirely on the washer to eliminate them as this might require running wash cycle more than once and using twice the energy. We recommend soaking the stains in cold water for at least 30 minutes before washing to save electricity.   
2. Do full-loads
We are all guilty of running a cycle with a handful of clothes that use the same amount of energy. To save electricity, wait for a full load even if this means doing a week's laundry at once.  Make this a habit and you will see a significant reduction in electricity bills.
3. Remember to switch off the power
This is another important tip for saving both energy and money. When the appliance is connected to a power source, it continues to suck energy even if it is not running. So, remember to flip the switch to discontinue the power supply when the appliance is idle.
4. Short cycle for less dirty clothes
If you have clothes that are not too soiled or you have worn them just once and wish to freshen them up then do a short cycle instead of a regular one to save energy. You may find options like eco-cycle or fast-wash – select them and the savings will add on.
5. Decrease weekly loads
If you wash clothes multiple times a week, keep a track of how many loads you do in a week and reduce the number to cut back on energy use. Ask yourself – are these clothes are dirty enough to wash or you can use them one more time. This will also save your physical energy and make clothes last longer.
Related Article: Where To Store Your Worn (But Not Dirty) Clothes – 11 IDEAS
6. Wash clothes at specific times
There are some energy companies that charge different rates for peak times and controlled load usage. Some models come with features like 'Delay Start' that allows you to set a specific time for the wash cycle to start, thus take advantage of the controlled rates. If you are using solar power, you may use energy during the day when the sun shines at its mightiest.
Related Questions
How much electricity is consumed by a washing machine?
A washing machine typically consumes 400 to 1300 watts for running a wash cycle. The models that come with Energy Star rating use about 500 watts. About 80% of the energy consumed by washers is used to heat water hence we recommend using a cold cycle.
Which is the best washing machine for electricity consumption – top load or front load?
The front-load washers consume less energy than the top loads because the former is capable of washing more clothes in a cycle. The top loaders usually consume slightly more energy, but if you must buy the later, there are many Energy Star rated machines out there to help you save electricity.
What are the disadvantages of buying a front loader?
You need to bend in order to add clothes to a front loader. They often tend to take more time to wash clothes than a top load washer and may develop a musty smell if not cleaned properly.
Related Article:
Easy Hacks On How To Clean A Washing Machine Naturally
5 Best Washing Machines For Baby Clothes
Can We Store Water In Washing Machine