18 Blanket Storage Ideas For Living Room
As the mercury drops and you feel the chill during cold winter evenings, all you may want to do is to curl up under a soft and warm blanket to keep cozy. It's always better to have more pillows, blankets, and rugs in the living room so that the entire family and even Scooby can stay comfortable indoors.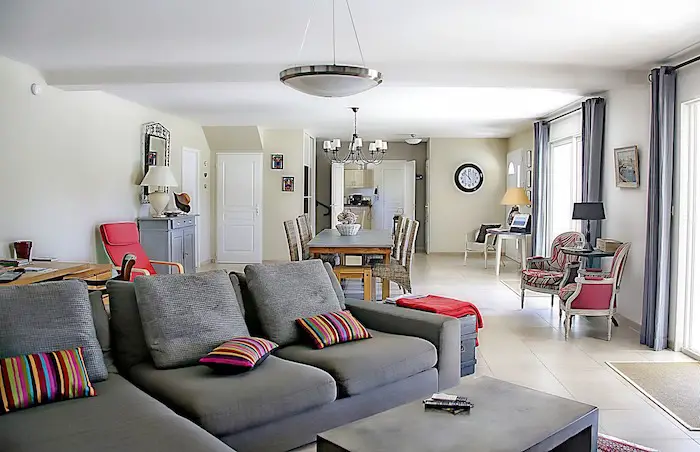 Most people tend to leave the blankets on the sofa or couch, thus giving an untidy appearance to the living room. The biggest challenge is to arrange the blankets neatly so that they don't lay scattered in the living room yet stay within hand's reach.
 As the weather changes and it gets sunny outside, you may want to find suitable blanket storage solutions to hide them away until next winter. While we always have those large chests or under bed storage where we may stack the blankets, finding something that is both functional and decorative is a great bonus.
Depending on where you live, you may need the blankets for about five months or so in a year. They become a storage nightmare for the remaining days. The drape-over-couch method is boring and outdated. You can convert simple things lying in the garage or attic into an attractive vessel to store blankets.
In this post, we will discuss some stylish blanket storage ideas for the living room to help you keep your space well organized and polished. This way you can not only keep the winter stuff organized but also use them as a smart means to increase your style quotient.
1. Wall Ladder Or Blanket Ladder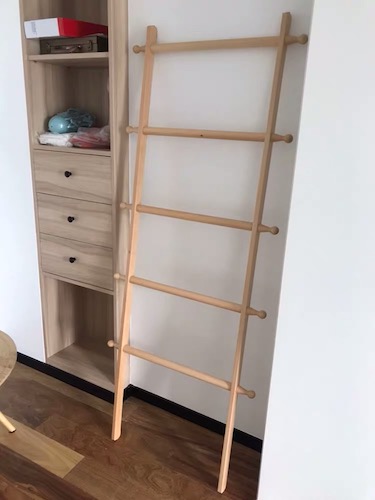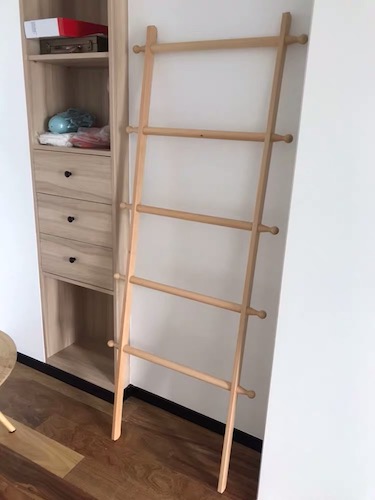 Do you have an old ladder lying in the backyard and you don't know what to do with it? Give it a fresh coat of paint and prop it up against the wall in the living room to have a decorative blanket storage solution ready to use. If you don't already have a ladder, get it online (see details). They are affordable and great for hanging blankets in a stylish manner.
While most people will do the prop-it-against-the-wall or vertical method of propping a decorative ladder, give this a twist and hang a vintage ladder horizontally on the wall. This is a chic and artistic way to display your colorful quilts and blankets. Whether vertical or horizontal, keep the ladder close to the sofa for easy access.
2. Hanging Ladder
If you are into the idea of propping or hanging a full ladder in the living room, consider using a three-tier rustic wall hanging ladder like this one. They lend a rustic and vintage look to the room. If you wish, give it a coat of paint to complement the interiors.
 You can hang the ladder on any wall surface in the living room, bathroom, or bedroom. Use the product to hang your towels, blankets or quilts in a stylish way. It not only enables you to display what you have but also stay organized and de-clutter the mess in your living area.
3. Blanket Rack
Have you ever seen one of those towel drying racks that help you avoid keeping wet towels on the sofa or bed? You can use contemporary towel racks like this one to store blankets too. Stylish and compact in design, these racks don't take up a lot of space and seamlessly match with any décor.
Most of the blanket racks are typically made of bamboo wood or metal, hence they are durable and reliable to use. As they are highly portable, you can keep them in the living room, besides the couch or place them close to the bed. They are not only attractive storage solutions but also enable you to display your quilts and blankets.
4. Towel Rods On The Door
Do you want to keep it simple and easy? If you live in a small apartment, propping or hanging a ladder may not be a feasible solution. To save some space but still arrange your blankets and quilts neatly, it's important to choose something that's sleek and compact like a towel rack.
You can hang a towel rack on the wall, closer to the couch for easy accessibility of blankets and quilts when needed. Display and store multiple blankets in style without having to sacrifice a lot of wall area. You may also hang them behind the door to hide from the eyes and save space on the wall.
5. Towel Racks
Similar to the towel rods, the multi-level towel racks also come handy to store and organize the blankets neatly. They work best for lighter blankets because the racks may not be able to accommodate the thick and heavy ones. Just roll up the blankets and fit them into separate racks for easy accessibility.
The stylish curves of the towel rack add value to the décor of your living room and make the best use of odd spaces. Hang them vertically on the wall using the easy-to-follow instructions and they don't consume a lot of space. This is also an amazing storage solution for condos, dorms, apartments, and camps.
6. Wall Mounted Hanging Towel Basket/ File Organizer Rack/ Freestanding Magazine
Most of the houses have them but we rarely consider them for storing blankets and quilts. Hang them in the kid's room and they can be an amazing organizer to keep baby towels, blankets, quilts, diapers and so on. They can also be hung on the wall in the living area to give your interior a chic and modern feel.
The open design allows you to see what is inside the basket, hence it serves as a great means to display your blankets. Besides being a space saver and effective storage solution, it also adds to the décor of any room.
7. Display Cabinet Or Console Table
If you have a large and spacious living area then you may consider investing in an urban and chic looking display cabinet like this one. We suggest cabinets with open shelves for easy accessibility and viewing. They not only help you arrange the blankets neatly but also display your collection in a beautiful way.
 A display cabinet is a highly functional yet decorative piece of furniture you can keep close to the couch or in the entryway or hallway. If you have a console table, it can also be used in a similar way to arrange the blankets neatly. Just roll them up and place them side by side for a neat and stylish look.
8. Shoes Organizer
The shoe organizers comprising of mesh pockets can be used for storing multiple things other than the shoes. You can hang them in the bathroom to store toiletries or keep them close to bedroom vanity to organize cosmetics and jewelry.
Shoe organizers can be hung on the door or wall to give you ample storage space to keep the blankets. Neatly roll the blankets up and put inside the mesh pockets to create colorful and decorative art. Besides being an item of display, this will help you keep your living room clean and blankets within easy reach.
9. Ottoman
With city houses shrinking in size, it's become imperative to look for furniture that offers storage solutions. Ottomans with storage are a great tool that can be put to multiple uses. The classic storage bench can be kept in the living room, bedroom, or entryway.
The storage space is enough to hold extra pillows, blankets, and quilts. Ottomans are easily portable and highly accessible too. Just fold them up and stack inside the ottoman storage to tidy up your living area. When needed, an ottoman can also serve as a stylish coffee table.
10. Futon Chair Bed
Futon chair beds look stylish and go well with any type of décor in apartments and dorms. Besides offering a comfortable seating space in the living room and making up for an extra bed when guests drop in, they can also be converted into a lounger or used for storing multiple blankets and quilts.
Buy a model that comes with built-in futon drawers (see my reviews) to keep blankets neatly organized away from the eyes but still highly accessible. The minimalistic armless design saves space and are perfect for small areas. We would recommend a futon with solid wood construction instead of the cheap metal ones for durability.
11. Storage Table Or Side Table
A functional yet stylish storage table or side table can be a useful addition to your living room. Make the best use of corner spaces or odd areas in the living room to accommodate a side table with a shelf or rack at the bottom. This storage space can be used for keeping multiple blankets and quilts handy in those bone-chilling winter evening.
These tables can easily fit into small spaces and serve as an extra space to keep your drinks or useful things at the top. You may display a flower vase or decorative items on the top and hide or display them in the lower rack, as you please. Some models may include a cabinet or drawer.
12. Baskets And Boxes
You don't have to spend a lot to create stylish storage solutions for your living room. You may use old baskets and boxes, jazz them up a bit and use them to keep blankets and quilts. If you are willing to splash some cash, get one of the woven storage baskets that can also be used as seats.
These baskets come in versatile shapes and designs to suit every type of home décor. You may keep them in the living room, bedroom, or office to create an extra seating space and storage area. It's a great solution to keep the blankets handy in one place.
13. Rolling Chest
This is one of my favorite among the blanket storage ideas for the living room as rolling chests (see details) offer the benefits of a chest with easy portability due to wheels. So, unlike a traditional and heavy chest, it is not stuck to a corner of the house. You can move the chest to any corner of the room with ease.
The chic models come with engineered wood construction and a great finish. The plank on the top may be converted into an extra seating area or a coffee table to keep your drinks. They not only add a rustic appeal to the décor but also add a much needed extra storage space in winter.
14. Floating Shelves
Floating shelves are one of the must-haves in modern interior design and they are extremely popular for their stylish looks and functionality. They add to the chic décor and also add storage space without taking up any floor area. They make maximum use of the real estate available on the walls.
You can roll up the blankets and keep them on the shelves for quick accessibility and also create a neat look. Alternatively, you may fold them and stack one over the other, whichever style you please. Colorful blankets rolled together to add to the visual appeal and also make it easy to reach out for one before snuggling into the couch.
15. Convert Blanket Into A Pillow
Yes, there are manufacturers always on the lookout to understand what the customers need and give it to them and these blanket-pillows seem to be a similar creation. Perfect for travel, these cute products can also be used at home as one of the blanket storage ideas for the living room.
You can fold the blanket and put the pillowcase to turn the blanket into a nice pillow or cushion that you can keep on the sofa. When it gets cold, just remove the case and pull over the warm and cozy blanket for comfort. It really can't get un-messier than this!
16. Firewood Log Hoop/ Wood Storage Rack Holder
If you live in a colder region, you will definitely have a fireplace in your home and storage space to keep logs of wood. Get a couple of those stylish log wood racks and use an extra holder to store rolled-up blankets and quilts. You get the idea? – Blankets rolled up like logs of woods!
This will not only resolve your blanket storage problems but also add more personality to your home décor. The racks are mostly made of water-resistant and rust-proof metal, plus they are powder coated to match with the interiors. Try this to make your living room look neat and artistic.
17. Metal Coat Rack Stand
I know what you are thinking – we keep them in the foyer area, entryway or bedroom. Yes, but these versatile metal rack stands can also look pretty as a blanket holder in the corner of your living room. Hang your blankets on the rods to display them neatly and keep away from the couch when not needed.
When you are about to snuggle into the sofa, pull out of one of those warm and cozy blankets to feel comfortable. Unlike a cabinet or chest, these racks don't take up a lot of space but add a lot of character to the décor. 
18. Other Blanket Storage Ideas
If you brainstorm more ideas, I am sure you can come up with more interesting options to store your blankets. A good option may be to keep an extra chair when you can roll and keep all the blankets and quilts in one place. You may also fold and spread multiple blankets over a box to make a comfortable seating space.
Related Questions
How To Keep Blankets Smelling Fresh?
Many times people store multiple blankets in baskets or storage bins but use only one o two regularly. I suggest tucking a perfumed dryer sheet between the folds of the not-so-frequently used blankets and comforters to keep them smelling fresh. Another option is to wrap a bar of scented soap in a tissue paper (acid-free) and keep it inside the closet to get rid of unpleasant odor.
How often should I clean the throw blankets?
Throw blankets are the ones you use to snuggle comfortably under it in winter evenings. If you use them daily, chances are they will get pet dander, skin sheds, food stains and so on. Wash them once a month or twice if you have kids and pets at home. Just put them in the washing machine with usual detergent and run on a gentle cycle for best results.
How to make your blankets fluffy like new again?
To make your old blankets fluffy again, wash them in a long cycle with white vinegar and no other laundry detergent. The vinegar will loosen the buildups and make the fiber fluffy. Vinegar also helps in treating stains and removing bad odor.
How to drape a blanket on the couch?
When you are in a hurry and don't have the time to put away the blanket, drape it on the couch to avoid a cluttered look in your living room. Just fold the blanket into half, and again into the second half. Drape the folded blanket on the arm of the sofa or one corner to create a neat and comfy look.