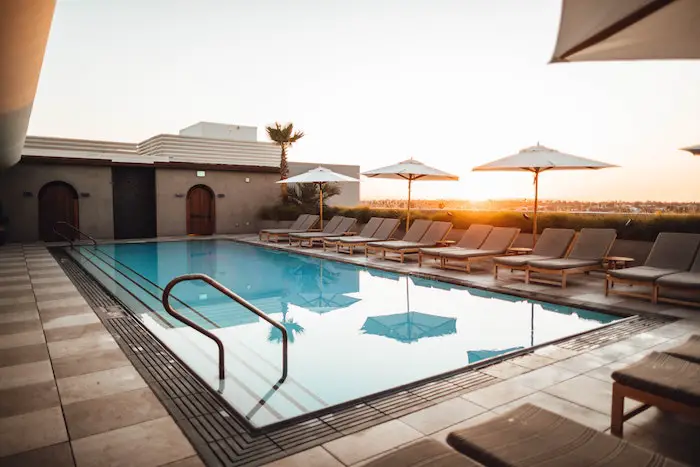 We are reader supported. When you purchase through links on our site, we may earn an affiliate commission. Also, as an Amazon affiliate, we earn from qualifying purchases.
An outdoor pool in the middle of a lush green garden with trees lined around it sounds like a dream, doesn't it? Just as it's a great privilege to live in such luxury and enjoy such a home, you also can't ignore the fact that having such features requires a lot of maintenance.
An outdoor pool with trees around it means that there will be lots of dry, fallen leaves in the pool, and it will require regular cleaning, usually on a daily basis. Thankfully, there are smart tools for cleaning swimming pools to reduce the time spent keeping the water clean and free of leaves and debris.
1. Pool Leaf Catchers
Pool leaf catchers are undoubtedly one of the best means to ensure that your outdoor swimming pool looks welcoming and clean. Some of the finest manufacturers make advanced pool leaf catchers that are designed to work quickly and easily. Here are some that will make this chore far more simple:
ProTuff Silt & Leaf Rake Bundle: This is a two-item combo unit designed to take care of all different sizes of leaves. It comprises a medium-mesh leaf rake and a fine-mesh silt rake. The incredibly strong aluminum alloy frame is durable and does not bend under pressure, and the double-stitched nylon bags work better to make the cleaning process nearly three times faster than usual to keep your pool clean.
Leaf Master – The Ultimate Leaf Bagger with Brushes: This unit comes with a large-capacity debris bag and works best for vinyl and concrete pools. This set is capable of efficiently removing pine needles and other types of debris from the pool bottom. There is also a 15-inch-diameter vacuum to get the job done faster.
Poolmaster 28316 Leaf Vacuum: In the premium collection range, we have the Poolmaster 28316. This product has a convenient, larger size compared to other products, making it very capable of picking up leaves and all other gunk that drops to the bottom of an in-ground pool. There is no setup required, either. You just need to plug the vacuum up to your garden hose, and it'll get the job done.
Pentair R211084K Clear Leaf Trap: This one might look a little complicated to use, but it is actually very easy to work with. This unit fits the Pentair "Kreepy Krauly" pool and spa automatic pool cleaners with ease. There is a handle for user convenience, and within minutes, you can have clean and debris-free water in your pool without disturbing your peace of mind.
2. Pool Skimmer
Now, if your beloved pup also loves swimming in the pool with you, there will also be finer strands of hair that will need to be filtered out as well. For this, you need efficient pool skimmers that can clean up the pool water and remove animal fur and any other harmful materials that can cause buildup.
Here are some of the best pool skimmers available:
PoolSkim Pool Skimmer and Pool Cleaner: This is an award-winning automatic pool skimmer that self-adjusts to the water level and reduces the workload on the filtration system by removing the finer debris. It connects to a 1.5-inch threaded outflow return jet, so the cleaned water flows back into the pool.
U.S. Pool Supply Ultra Fine Mesh Pool Leaf Skimmer Net: This is an efficiently designed manual model to trap pet hair and fur. The fine mesh is capable of catching the finest strands of hair or fur, and the easy maneuverability makes it possible to clean all corners of the pool with ease. It comes backed by the manufacturer's one-year satisfaction guarantee as well.
Trulica Spa and Pool Skimmer: Made by Triluca for their Pro Series, this spa and pool skimmer does a great job at filtering out any sand, silt, and other fine particles that find their way into your pool. It features a great-quality, finely woven mesh to take care of the smallest debris in the water. It also has a large mouth for ease of use and a polycarbonate handle for comfort.
Fine Mesh Pool Silt Net Rake: This well-engineered mesh net rake makes it easier to take on the small and large debris in the pool. It works three times faster than the average net for catching leaves and skimming off pollen, too. The mesh is reinforced; hence, it does not tear up with regular use. The unlimited free replacements make it a good value for the money as well.
3. Pool Brush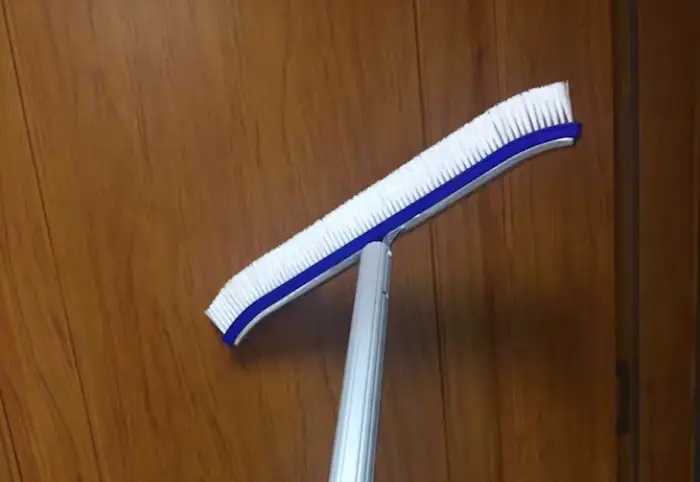 Ensuring that your PebbleTec pool looks well-maintained and neat is easy with the help of that perfect pool brush. Besides removing dust and debris, it also cleans and prevents the buildup of bacteria and algae. Here are some of the best products worth checking out:
Oreq 22″ Pro Animal Pebble Brush with Grit Bristle: This is a wide-toothed pebble brush that covers a large area in one go. The ends are curved, making it easier to clean the area around the steps, too. The brush has good quality bristles that do the job perfectly, and you can notice the difference immediately after use.
AquaAce Premium Combo Bristle Pool Brush: Whether you have a concrete or a PebbleTec pool, this is a nice upgrade compared to your regular pool brushes. It can scrub out the most stubborn green buildup from the walls of your pool so that the water looks clean and inviting. Made from sturdy materials, it stays strong and durable for a long time, too.
The Wall Whale Classic Swimming Pool Brush: The design of this pool brush mimics a huge whale tail fin, hence the name. The brush has strong yet gentle bristles that do an efficient job at cleaning PebbleTec and concrete pool floors and side walls. The tail propels the brush against the wall, allowing you to clean with 10x more force, too.
4. Vacuums
The automatic and advanced vacuum cleaners for pools house powerful motors that provide the kind of suction capacity needed to remove debris and dirt from the ground and walls of the pool. Here are some of the best vacuums for cleaning a pool:
Dolphin E10 Automatic Robotic Pool Cleaner: This is a hassle-free way to clean your above-ground swimming pool. This unit has a top-load filter basket and is a perfect solution for pools up to 30 feet in diameter. It has advanced filtering and floor scrubbing capabilities to clean your pool in just 1.5 hours and render it sparkling clean and free of debris.
PAXCESS Automatic Pool Cleaner, Robotic In-Ground/Above Ground Pool Cleaner: This is an advanced and efficient automatic pool cleaning system. It is controlled by an intelligent computer program, so it does not require manual supervision, meaning you can just automate the cleaning process and walk away. There are 3 settings—1 hour, 2 hours, and 3 hours—that you can choose from that can be used to thoroughly clean the bottom and side walls of your pool.
AIPER Cordless Robotic Pool Cleaner: This automatic pool cleaner houses powerful dual-drive motors (50 watts) that enable it to traverse effortlessly to the bottom of a pool. It houses a large-capacity, 5000mAh rechargeable battery that can last up to 90 minutes. There are two wide suction nozzles that pull out the different sizes of debris and insects, too.
Hayward W3500 Aquabug Above-Ground Pool Vacuum: This cute-looking pool cleaner is designed to automatically remove debris from the bottom of all sizes and shapes of above-ground and in-ground pools. It has a unique turbine system that helps the Hayward suction cleaner to move across the pool quietly. Installation is easy and can be done within 10 minutes without the use of any tools as well.
5. Pressure Washer
The pool deck area also requires regular cleaning to remove the buildup of body oils, filth, dirt, bacteria, and plenty more. With the help of pressure washers, you can easily remove the dried-up bird poop, oils, and grease that make the deck area unsightly.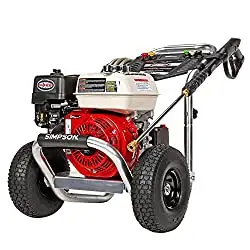 SIMPSON Cleaning ALH3425 Aluminum Gas Pressure Washer: Powered by the HONDA GX200 engine, this aluminum, gas-pressure washer from Simpson delivers a powerful performance. The unit features an aircraft-grade aluminum frame with brushed extruded aluminum tubing. There are 10″ premium pneumatic wheels that make the vacuum easily portable, too.
WEN PW3100 3100 PSI 2.5 GPM 208cc Gas Pressure Washer: This unit houses a powerful 208 cc, 4-stroke, OHV engine that can pump 2.5 gallons of water per minute. For general use, we recommend using the 30W4-stroke engine oil. There are five quick connect nozzles included as well: 0°, 15°, 25°, 40°, and a soap nozzle. With its 12-inch wheels, it is easy to move the unit from one place to another, too.
Simpson MSH3125 MegaShot 3100 PSI 2.5GSM Gas Pressure Washer: This premium quality pressure washer unit houses a powerful Honda GC190 residential engine. It is easy to assemble and convenient to use. It works great for cleaning decks, patios, house siding, and outdoor furniture, and it can also be used for prepping your home exterior for painting. The 10-inch premium pneumatic tires ensure ease of maneuverability on all surfaces.
Simpson Cleaning 80165 Steel Surface Scrubber:  With its 1/4-inch QC connection, you can easily connect this unit to most spray wands. It offers ten times more coverage than a standard nozzle; plus, the two high-pressure rotating jets provide a quick and streak-free cleaning. The powder-coated stainless-steel nozzles and steel shroud provide protection against corrosion as well.