Even if you think from the head when it comes to buying shoes, it's easy for your collection to become unmanageable. I don't blame you because I am aware of the predicament we face in our daily lives. Sure, you have a good pair of boots but you can't wear that to work.
Boots will also not go with your gym attire. Then, what to wear to a wedding, to the beach, a beach wedding,  a casual date or night out? You undoubtedly need several pairs of shoes to go with different dresses and occasions.
While it can be a joy to expand your shoes collection, storing them can be a pain, particularly if you live in an apartment-style house. Furthermore, we tend to get emotionally attached to our favorite shoes even if they don't fit us anymore.
They are large, clunky, and hard, so you need to put on your thinking caps to find an intelligent way to store them properly. In this post, I will share with you some interesting ideas on how to organize your shoes and boots without having to buy a ready-made rack or storage solution.
Let's take a look at some of the best ideas to store your boots, sneakers, sandals, and shoes neatly without having to spend a dime.
1.Old Wine Crates
Don't throw away the old wine crates because you can turn them into a nice shoe organizer without having to buy anything. Stack them one above another and there will be enough space to accommodate all your shoes, even the ones you will be buying in the future.
You may create separate sections for every family member or divide the shoes based on the ones you wear more often and those that are less frequently used.
2. Shoe Boxes
Keep your shoes in the boxes they came in and stack them one over the other. This method works for houses that have ample storage area. Print out small pictures of your shoes and attach them to specific boxes so that you don't need to open them all to find your favorite beach flip flops.
3. Wooden Pallet
Look in the garage or around your house to see if you can find a wooden pallet with slits to hold your shoes. These are items that mostly lay unused in some corner of the garden or garage. Give it a refreshing coat of paint and nail it vertically on the wall to keep your shoes organized at one place.
4. Pegged Coat Rack
I am sure many of you may have an extra and unused pegged coat rack stacked up somewhere in the house. Use them to keep your boots organized. You may also use any type of cloth or coat hangers to hang all your shoes and sandals at one place. Fix them at the back of your bedroom door to keep the shoes away from sight.
5. DIY PVC-Pipe Shoe Rack
The PVC-pipes can be put to good use by turning them into a beautiful and contemporary shoe rack. To get started, cut them into equal sizes and then use a commercial glue to stick them together in any pattern you want, depending upon the place you want to keep them.
You may use a primer to color the exterior of your new PVC-pipe shoe rack. Place it in any corner of the house or you may also hang it on the wall to save floor space. So, there you have a beautiful shoe rack ready to keep your collection organized.
6. Old Ladder To Hang Your Heeled Shoes
Almost every house has an old ladder that we often think of discarding and then put it back into the garage hoping to put it to some good use. Well, now is the time my friend. Take it out of the storage and dust off the grime and dirt. Give a fresh coat of paint and use it to hang your sandals.
Besides helping you hang the sandals and flip-flops at one place, displaying them together also saves you time when looking for a particular pair.
7. Use Old School Lockers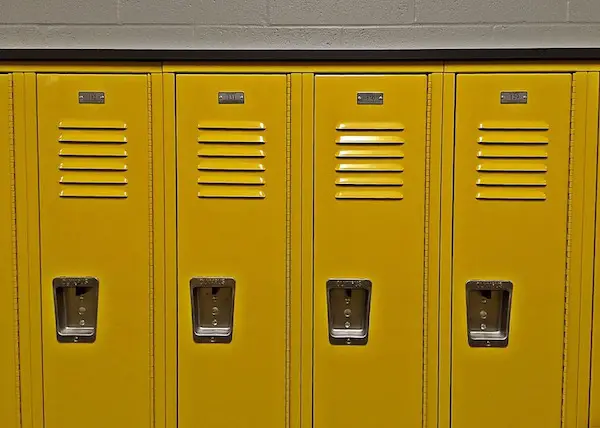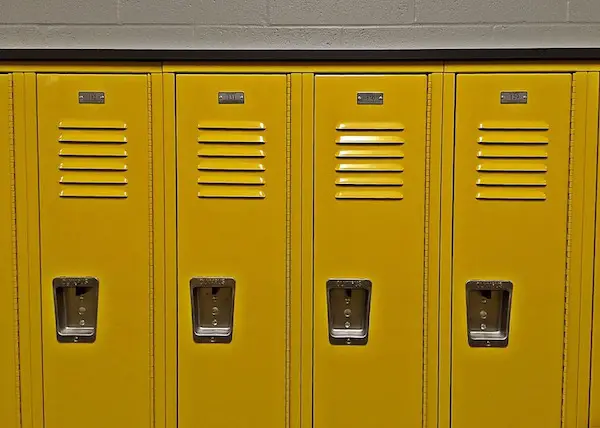 Shoe fetish is not just for women, but young boys and men can also have a huge collection that sooner or later goes out of hand. Those old school lockers can be converted into shoe organizers so you can keep the gym shoes and accessories at one place and party shoes in the other. Similarly, you may have separate sections for office shoes, hiking boots and so on.
8. Store Shoes In Buckets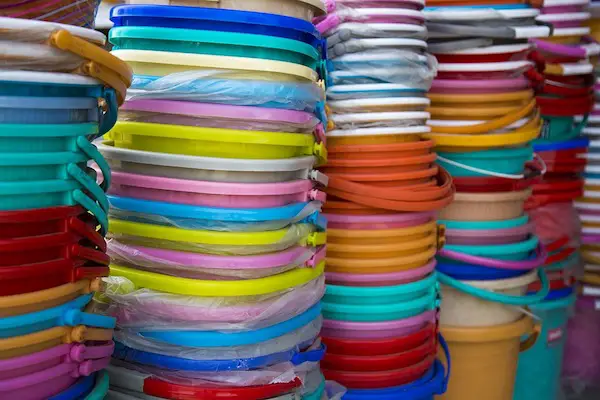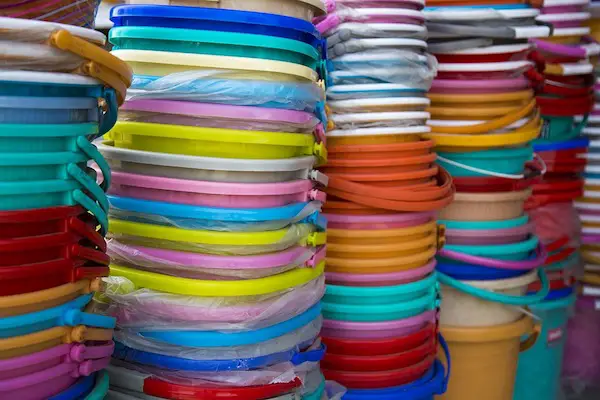 If you are a meticulous house organizer, old buckets can be a good solution to store shoes belonging to different members of the family. So, there can be separate shoe buckets labeled for mom, dad, George, and Emma.
This is a quick and easy solution that keeps shoes off the ground, without being scattered around the house. It also does not take a lot of storage space and your old buckets are put to good use. For aesthetics purpose, you may use colored sheets and chart papers to decorate the buckets.
9. Keep Shoes In Wine Boxes
I know these are not the most durable solutions but they can still save you a lot of space and put those wine boxes into good use. The compartments are big enough to accommodate your summer shoes and strappy sandals until the weather is sunny again. As these wine boxes don't cost you a thing, you can replace them with new one's next year.
10. Hanging Flip Flips In Old Clothes Hanger
Flip-flops with colorful straps and big flowers on the top are cool summer wears. You probably can't have enough of them but storing them can be a big issue. If you don't like stacking them in a mountain storage system, get creative and make tidy hanging storage for them.
For this DIY project, you will need to raid your wardrobe and find some of the flimsiest hangers you can find. They should be easy to bend with your hands or with the help of pliers. Eliminate the bottom section completely and curl up both sides to round up the sharp edges.
Your flip flop hanger is ready to use but if you want to pretty them up, do a few extra steps.  Apply a fresh coat of paint on the old hangers and let them dry. You may also add a nice ribbon or bow to beautify your closet area.
11.Stack Them On A Staircase
The corners of the staircases are usually unused. You can stack up your shoes and boots to save space and stay organized. The only trouble with this method is that cleaning the house becomes more time consuming as you will need to remove each pair to clean the entire area.
12. Make Wooden Shelves In Your Garage
While you may have a large shoe collection, some of them may be seasonal and they can be stacked away. For example, you may store away the boots and shoes when it's time for sandals and flip flops. Similarly, keep the summer shoes away when the temperature starts to fall.
Use discarded wood to make wooden shelves in the garage that can be used as a storage place for shoes that are not used in the season. This can save you from the clutter in the house and make space for other things.
13. Bath Towel Rails
If there are unused bath towel rails in the house, you can convert them into shoe organizers as they can easily accommodate your daily wear clogs, canvas shoes, etc. This helps in keeping your daily wear shoes off the ground and free up the floor area.
14. Keep Shoes Under A Covered Bench
If you have a slipcovered bench in the house, you can hide your shoes beneath it. The advantage of organizing your shoes in this way is that you have a seat to sit and wear your shoes.
15. Large Picture Frame
Do you have a worn-out large picture frame? What once made your house look beautiful can still be put into some practical use. Put it under a closet and the backside of the frame can serve as a slide-out rack to organize your shoes without buying a thing.
16. Laundry Bags
You may hang old laundry bags on a room divider or screen to use it as a shoe organizer. If you have good stitching and sewing skills, you may decorate the cloth bags to make them look cute.
17. Alternate Shoes To Fit In More
When organizing your shoes in a rack, keep each pair facing opposite to each other to save more space and fit in more shoes. The same rule applies when storing shoes in plastic pouches and cloth bags.
18. Woven Laundry Baskets
If you have an extra laundry basket like this in the house, use it to store your shoes. You may use just any type of woven or plastic basket to store your flip flops and slippers. Put the basket under the table to keep them away from sight.
19. Old Toy Boxes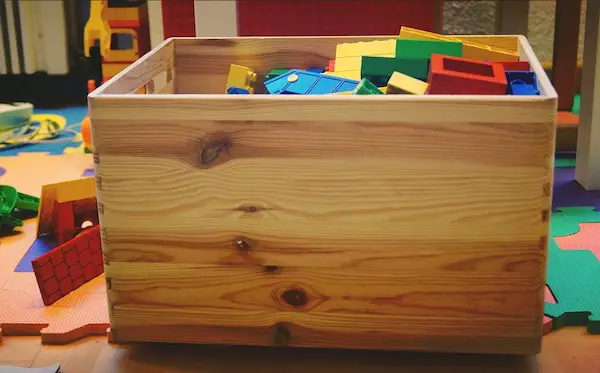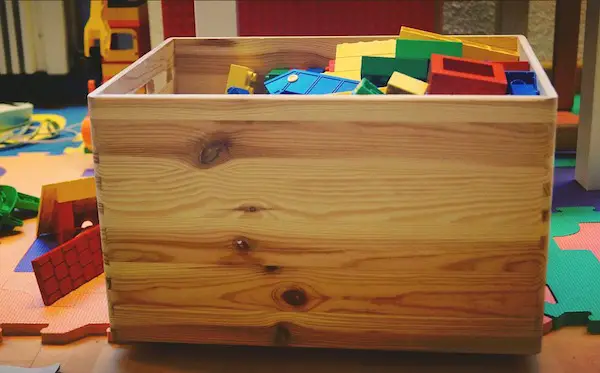 The kids have grown up and the toy box or playing table just lay forgotten in some corner of the house. Give away the toys that can be re-used and discard the broken ones. You may keep the special ones on the shelf to remember the good times.
Convert the old toy box into a shoe organizer and if you have time for a small DIY project, create compartments using cardboard so that you have separate sections for summer, winter and regular wear shoes. Old kid's tables can also be converted into a nice shoe rack with a little bit of creativity and patience.
20. Tension Rods
If there are old tension rods lying around the house, install them at the bottom part of a closet to create an efficient organizer for your shoes. The top ones may be used for storing the heeled sandals and the lower rods may be used to keep sandals and shoes.
21. Store Them In Rolling Crates
Rolling crates may be a convenient place to accommodate all your shoes in one place. As they are attached with wheels, you can roll and take the crates to any part of the house.
22. Paint Cans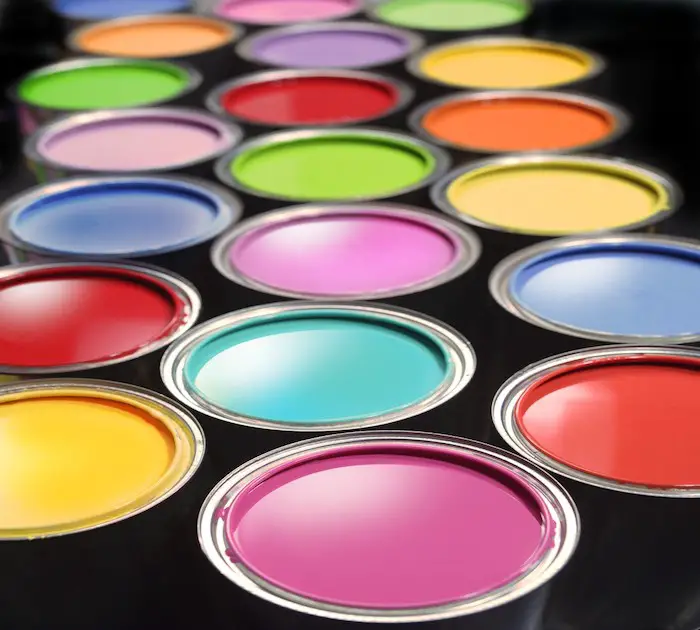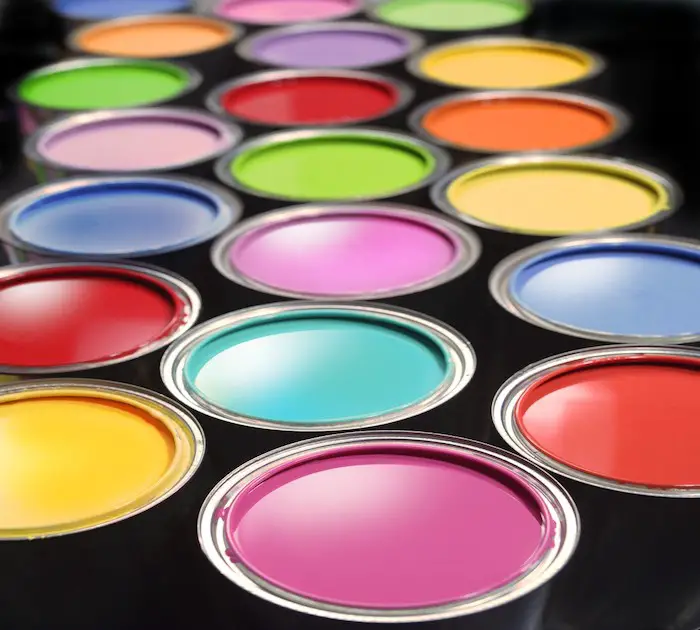 Don't throw away the paint cans after you get your house newly painted. They can be used in different ways such as indoor planters, flower pots, and even shoe organizers. For this DIY project, you will need medium-sized paint cans that can easily accommodate a pair of shoes. Remove the lid and handle.
You may paint the outside walls of the paint can to make them look good. Now, nail the paint cans to the wall, beneath a shelf or rack to save space. You have a nice shoe organizer ready to use.
23. Curtain Rods
If you have recently moved to a new house, then you probably have extra pieces of curtain rods lying somewhere in the house. Install a wooden plank and fix the curtain rod on it. You may use the extra curtain rings to hang baby shoes and keep your house organized.
24. Hide Beneath A Bedskirt
Do you have one of those old hanging shoe racks made of flimsy plastic that look shabby over the door? How about installing them beneath the bed skirt to enjoy storage space without compromising with the aesthetics of your house.
You need some creativity to cut these pouches and install them under the bed cover in a smart way to keep your shoes off the floor and away from the sight until you need them.
25. Clever Way To Use The Old Shoe Rack
 Is that old and shabby shoe rack spoiling the foyer area of the house? If it's standing in a corner, consider hanging it up on the wall to make more space to keep the boots below it. Hang a curtain to cover the shoe organizer and use a ribbon tie to add a touch of grace to the space.
26. Storage Ottomans
If you live in a city-style small apartment, you probably have storage ottomans like this as a part of your practical furniture. You can convert them into neat shoe organizers to prevent them from being scattered around the house.
27. Metal Garden Grid
You thought that cheap garden grid was useless! Glam it up with a coat of paint and bring it into the house to serve as a contemporary shoe rack. You may keep it inside the house, beside your closet or in the entrance area to hang the shoes that your family members frequently use.
28. Magazine Racks
Those old magazine racks may have lost their charm in the digital age when everything is available on your Smartphone, but you can still put them to use. Bring out those old racks that once adorned the living areas and convert them into brilliant shoe organizers.
Hang them on the wall to make the maximum use of narrow vertical spaces beside the closet or anywhere in the house.
29. Plumber Pipes
The copper pipes can not only add storage area for your shoes but also add a dash of old-world charm with its rustic appeal. You may install the plumber pipes in the entrance or in the odd areas of the house to create space for storing the shoes that are frequently used.
30. Shoes On A Display Case
Sounds strange, doesn't it? But, if your branded shoes are worth hundreds of dollars then it's worth displaying your expensive collection too. You can keep the finest pairs of sandals on a bookshelf or display case to save space and take care of your investment.
As these special shoes are meant for occasional use, you don't have to worry about messing up with the shelf regularly. They not only paint a pretty picture but also serve as a great conversation starter about the place where you bought them and the brand they belong to.
31. Wooden Dowels
This style of shoe organizer works best for rainy or winter boots. They can be kept in the entrance area of the house, just beside the main door. Stick the boots on the dowels to avoid carrying dirty tracks inside the house. Hanging them also helps the wet boots dry faster.
32. Board Strips
This is another easy DIY project where you may install board strips inside the closet to make space for hanging your heels. You may nail or screw them on the wall to make space to hang several heels together on a single strip. This shoes organizing tip works best for smaller and narrow spaces.
Related Questions
What's the best way to organize shoes?
Before you start implementing any of the above-mentioned storage solutions, make sure you divide your collection into different categories – the shoes you wear regularly, the ones you use occasionally, and the ones that are rarely used (stilettos and snow boots).
How to make your leather boots shine?
Protect your leather boots from water stains by applying a coat of waterproof polish. If you still get ugly water stains, wipe your leather boot with white vinegar. To remove the scuffs, make a paste of baking soda and scrub on the affected area. Wipe off with a damp cloth.
How to remove liquid stains on suede boots?
If your suede boots get a liquid stain, apply some talcum powder on it and let it sit overnight to absorb the moisture. Brush off the debris next morning. Avoid using polish or any damp cloth to clean a suede boot as this may create irreversible damage. You may use pencil erasers to remove stains and buff off the dirt with a dry cloth.
See Also:
15 Ways To Declutter Your Home And Get Organized
How To Organize Your Clothes Closet By Type And Color?
5 Easy Steps To Organize Your Kitchen Utensils
How To Organize Your Shoes Without Buying Anything?