When exploring international cuisine, some dishes appear to be very much alike. A few alterations to the recipe can make it completely different from another, though. This is never more prevalent than in the case of jambalaya and paella.
While both look the same, the difference between jambalaya and paella is that jambalaya is a Cajun/Creole dish and paella is a classic Spanish dish. They do share some ingredients, but paella takes much longer to make than jambalaya. Additionally, jambalaya tends to have more vegetables than paella, too.
The following information in this article will elaborate on what exactly both of these delicious dishes are as well as how to make them. Trying them out yourself is the best way to see how they're both so similar and yet completely different.
Comparison Chart
| | | |
| --- | --- | --- |
|   | Jambalaya | Paella |
| Cuisine Type | Creole/Cajun | Spanish |
| Meats | Andouille sausage Chicken Shrimp Bacon Pork | Chicken Rabbit Shrimp Clams Lobster Duck Sausage Snails |
| Seasonings | Cayenne pepper Salt Pepper Garlic powder Onion powder Cumin Thyme Paprika | Rosemary Saffron Salt Pepper Oregano Paprika |
| Rice Type | Long grain rice | Short round rice |
| Vegetables | Green bell peppers Onions Garlic Green onion Canned tomatoes Carrots Okra Chilies | Peas Lima beans Canned tomatoes Artichoke hearts Green beans Onions Garlic |
| Fats | Vegetable or canola oil Butter | Olive oil |
| Method | Stove, Oven | Stove |
| Cooking Time | About 1½ hours | About 2½ hours |
What is Jambalaya?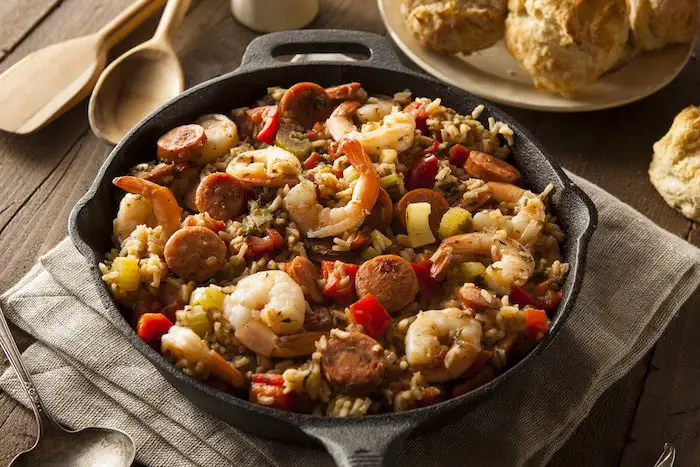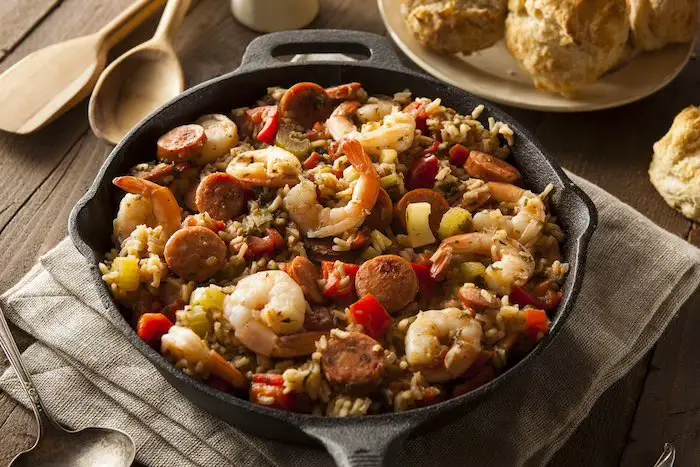 Jambalaya is a Cajun/Creole dish from Louisiana. It combines West African cuisine with French and Spanish influences. It has ingredients like sausage, rice, pork, chicken, and seafood often included in the recipe; the meat choice is up to the chef.
Jambalaya also contains a bunch of vegetables. The more traditional options include vegetables like onions, celery, and green bell peppers. However, vegetables like carrots, garlic, okra, tomatoes, and chilies are not unusual either.
What makes Jambalaya most unique is the very particular blend of Creole seasonings used during the cooking process. The most traditional seasonings incorporated into the dish are thyme, cumin, cayenne pepper, paprika, salt, pepper, onion powder, and garlic powder. Occasionally, people will use other spices like curry or turmeric as well.
How Do You Make Jambalaya?
The recipe included below is one possible version of the traditional dish.
Items You'll Need:
Measuring cups
Spoons
Knife
Cutting Board
Can opener
Spatula and/or large spoon
Large skillet or Dutch oven (must be able to go from stove to oven)
Large bowl
Medium bowl
Small bowl
Ingredients:
12 prawns or shrimp (large, raw, peeled, and deveined)
4 garlic cloves (finely chopped)
2 green bell peppers (cut into ½-inch pieces)
2 celery stalks (cut into ½-inch pieces)
1 onion (cut into ½-inch pieces)
10 oz. chicken thighs (skinless, boneless, and cut into 1-inch-thick pieces)
7 oz. Andouille sausage (cut into ⅕-inch thick slices)
6.5 oz. crushed canned tomatoes
6 oz. smoked bacon
2½ cups chicken stock (salted)
1 cup green onion (sliced, set some aside some for garnish)
3 tbsp. Cajun/Creole spice

½ tsp. salt
½ tsp. black pepper
½ tsp. cayenne powder
1 tsp. onion powder
1 tsp. garlic powder
2 tsp. thyme (fresh, chopped; OR 1 tsp. dried)
4 tsp. paprika (sweet or smoked)

2 tbsp. tomato paste
1¼ cups long grain rice (uncooked)
1 tbsp. vegetable or canola oil (organic and GMO-free)
1 tbsp. butter (unsalted)
Instructions
As you begin chopping and preparing the vegetables, meat, and spices, preheat the oven to 350°F. Use the small bowl to mix together the Creole spice mix.
Heat the oil in your skillet over medium-high heat.
Add the bacon and cook for 30 seconds or until the fat begins to melt.
Add the sausage and cook until everything turns golden (about three minutes), then let it sit in the large bowl.
Add the chicken and cook until most of the pink is gone, then add it to the sausage and bacon.
Sear the prawns for about 1½ minutes on each side and transfer them to the medium bowl.
Add the butter, garlic, onion, celery, and green bell pepper. Simmer for a few minutes until tender.
Add the rice, making sure that you coat every single grain in the oil and butter.
Add the tomato paste, chicken broth, canned tomato, and the Cajun spice mix.
Allow this to cook for five minutes, stirring well, and then add the contents of the large bowl.
Continue cooking until you see starchy bubbles, then skim the surface of the pan. Stir again making sure all of the rice gets submerged into the sauce.
Cover with a lid and transfer the pan to the oven. Bake this for 30 minutes.
Remove the pan from the oven, uncover it, and stir well.
Add the prawns and green onion, stir again, replace the lid, and cook for three more minutes in the oven.
Remove it from the oven again, take off the lid, and gently stir.
Let it cool for 10 minutes, then top it with the green onion.
What is Paella?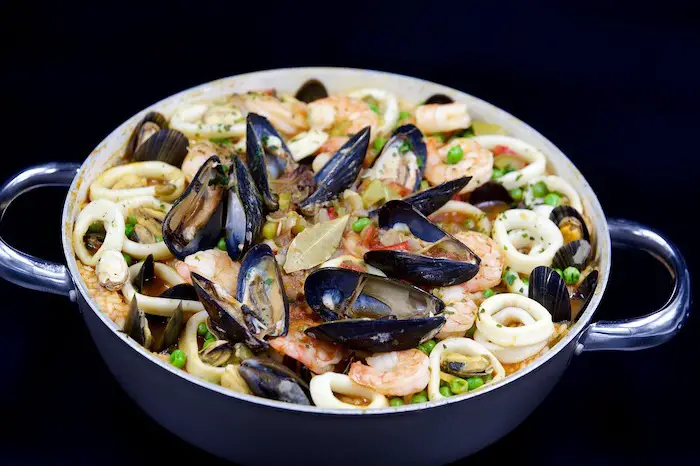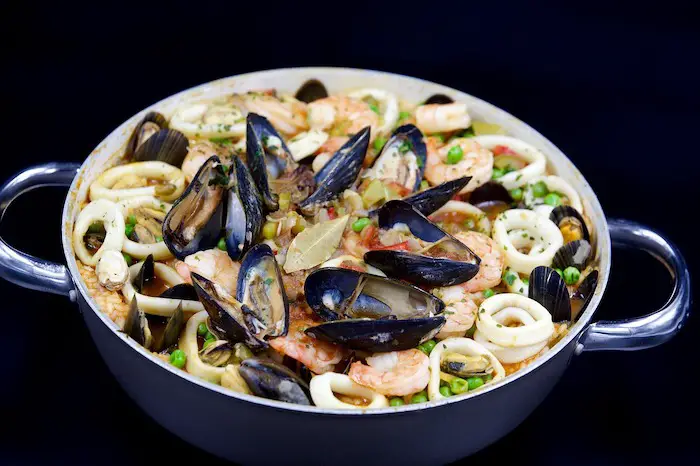 Paella is a traditional Spanish rice dish. It used to be that people cooked it in a cast-iron skillet over an open fire. Some of the more common ingredients used in paella are chicken, rabbit, duck, green beans, round rice, and lima beans. However, some people will also include artichoke hearts, shrimp, seafood, or even snails.
The paella seasoning's base is comprised of saffron and rosemary along with other ingredients such as onion powder, garlic powder, and sweet red pepper. However, the chef can choose any kind of meat or veggie he or she desires when making the dish. Regardless, the base must always have round grain rice with rosemary and saffron.
How Do You Make Paella?

Paella takes a little longer to make than jambalaya, but the recipe listed below is a more modern take on the traditional dish.
Items You'll Need:
Cutting board
Knife
Measuring spoons
Measuring cups
Large paella pan or a shallow, wide skillet
Spatula and/or large spoon
Small bowl
Large bowl
Ingredients:
3-lb. fryer chicken (cut into 10 pieces)

1 tbsp. paprika (sweet or smoked)
2 tsp. oregano (dried)
Paella 

2 Chorizo sausages (sliced thick)
1 dozen clams (littleneck, scrubbed)
1 lb. shrimp (jumbo, peeled, deveined, tails removed)
2 lobster tails
4 cups Arroz Redonda (or other short, round grain rice)
¼ cup olive oil (extra virgin)
Salt and pepper (to taste)
1 onion (diced)
4 garlic cloves (chopped)
15 oz. whole canned tomatoes (drained and crushed)
6 cups water (warm)
1 pinch saffron threads (generous)
2 pinches rosemary (dried)
1 bunch parsley (fresh, chopped; set some aside for garnish)
½ cup peas (thawed from frozen for garnish)
Lemon wedges (for garnish)
Instructions
Use the small bowl to combine the oregano and paprika. Fully combine the two, then rub this all over the chicken and allow it to rest for an hour in the fridge.
Prep the chorizo, onions, garlic, and parsley. Clean the clams, lobsters, and shrimp as well. You may even slice lemons at this point.
Heat your pan with the olive oil on medium-high heat.
Sauté the chorizo until golden brown, and put it into the large bowl.
Add the chicken with the skin on the surface of the pan, and brown it on all sides. Add salt and pepper, then remove it from the pan to place it into the large bowl with the chorizo.
Sauté the garlic, parsley, and onions for no more than three minutes on medium heat.
Add the tomatoes and cook until slightly caramelized. (This makes a sofrito.)
Stir in the rice, mixing it so that the sofrito covers it entirely. Afterward, pour in the water. Allow this mixture to simmer for 10 minutes. Be sure that you gently shake the pan to cook the rice evenly and so it absorbs the liquid.
Return the contents of the large bowl to the pan along with the saffron threads, rosemary, clams, and shrimp. Tuck them into the mixture, and simmer for about eight minutes.
While this simmers, shake the pan—don't stir. Do this every so often until the rice is al dente, about 15 minutes more.
During the last five minutes of cooking, when the rice is clearly expanding in the pan, add the lobster tails.
When you notice everything appears to be fully cooked, turn up the heat for 40 seconds until you smell the rice toasting at the bottom of the pan.
Remove the pan from the stove and allow everything to settle for about five minutes. Garnish with peas, lemon, and parsley.
See Also:
6 Ways Remove Grease From Spaghetti Sauce
How To Make Hot Pockets Taste Better
How To Toss Wings In Sauce?
Cast Iron Vs. Regular Pans: What Are The Differences?