Do you spend a lot of time in the kitchen baking cookies, brownies, cakes, and other tasty treats for you and your family? Baking enthusiasts like you deserve a KitchenAid mixer to have you cooking like a pro chef while keeping the kitchen spotlessly clean.
Anyone looking for a KitchenAid mixer will come across two important options to choose from; the Professional 5 Plus and the Classic Artisan Series.
Let's get one thing straight; KitchenAid mixers don't come cheap. When you consider the type of investment you're making, you'll undoubtedly want to know what the market has to offer and put your money in the right place. This post discusses the KitchenAid Professional 5 Plus Vs. the Classic Artisan Series to help you make an easy choice.
Both the Professional 5 Plus and the Classic Artisan Series have a lot of similarities; however, some considerable differences make each one a unique and desirable device in its own right.  We suggest that you read below to see how each of these kitchen must-haves stack up against each other.  
We recommend the KitchenAid Professional 5 Plus over the Artisan Series for those in a hurry, as the former has better motor power than the latter. The Artisan Series' tilt neck bowl design also tends to come loose, and the head bobs out badly while mixing.
KitchenAid Professional models feature a bowl-lift design which is much nicer and offers greater functionality. Having said that, let's take a more detailed look at the review of each model.
Let's face it; color coding in the kitchen is important to most of us. And if you are looking for the perfect shade in stand mixers to blend with your kitchen décor, then Artisan has the solution for you. These units come in a plethora of colors to choose from; there is something for every taste and décor preference. Besides the aesthetics, the Artisan mixer also has a lot more going for it.
The Artisan stand mixers have a stronger motor and a larger bowl than the classic versions. It's no wonder that some people call it the more evolved and enhanced version of the classic model. The Artisan lets you bake more, knead larger quantities and work efficiently with denser dough.
Artisan stand mixers definitely outshine earlier models, and that reflects in the price tag too. It is also slightly heavier than the Classics but less than a Professional Series model.
We love the fact that unlike the earlier Classic versions of KitchenAid, the Artisan stand mixer comes with a pouring shield that perfectly fits around the bowl. It also turns out to be useful when you are mixing light ingredients such as powdered sugar or flour that tends to fly out of the bowl.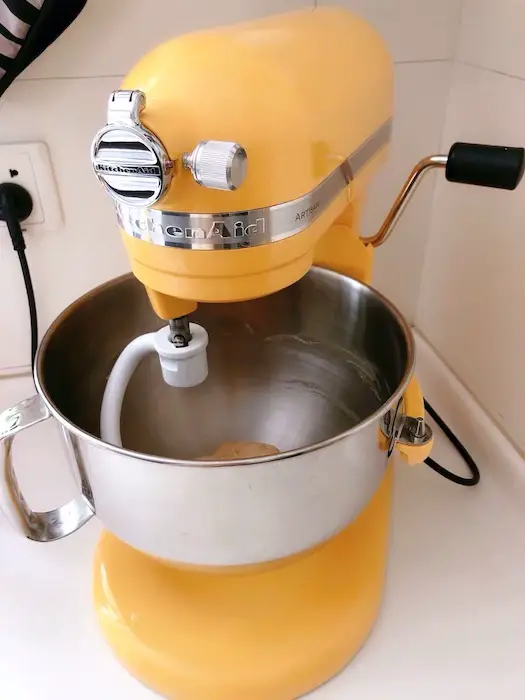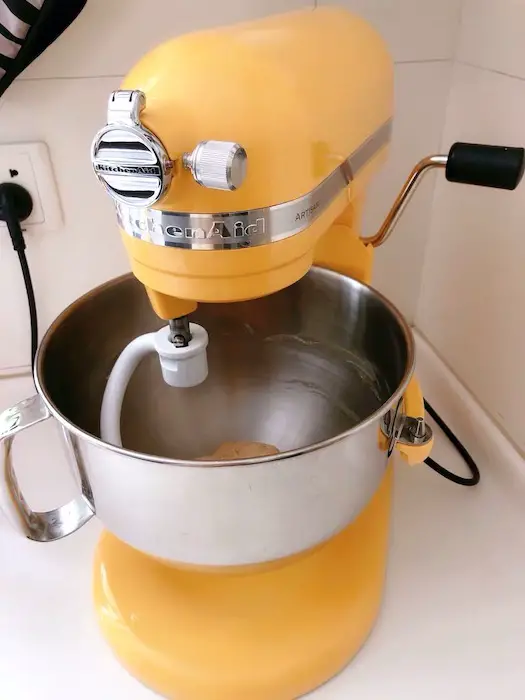 The shield makes the unit safer to use and ensures that the ingredients stay within the bowl, making it easier to clean up after cooking is done. Let me give you a quick tip here – if you have a Classic version of Kitchen Aid, you can always get the shield separately.
Product features
Measures 14.1 x 8.7 x 13.9 inches
Weighs 22 pounds
10 speed settings
Tilt-head design
Over 20 colors available
5-quart stainless steel bowl with handle
59-Point planetary mixing action
Power hub (Over 12 attachments)
Advantages
Comes in more than 20 color options to choose from
325-watt motor capacity that can knead denser dough and batters
Slightly larger bowl than previous versions to give you more space to mix
Bowl comes with an ergonomic handle, making it convenient to pour liquid
The tilt-head design lets you add ingredients easily while mixing
Includes useful attachments like a coated flat beater, wire whip, and coated dough hook
Comes backed by a 1-year manufacturer warranty
Downsides
Motor functions fine but tends to struggle under heavy loads
5-quart bowl is big but maybe not large enough for people cooking for several people
More pricey than the Classic version, but still cheaper than a Professional 5 Plus
Customer Reviews
People find this a slightly heavy but well-built stand mixer that can make various doughs, including pizza, bread, cookie, pancake, and even pie dough. Users find the 5-quart stainless steel bowl sturdy and adequate in capacity to mix several ingredients for making different types of dishes.
A few customers have warned that the outer body of the attachments leaves a powdery residue on the dough, so that's something to be aware of. While customer support is friendly, they don't cover a lot under warranty.
Conclusion
The KitchenAid Artisan Stand Mixer (shop now) is the perfect piece of must-have kitchen equipment for passionate cooks who love to experiment with new recipes and enjoy using denser ingredients when baking. This mixer can handle a lot of dense items and make decent quantities of dough – enough for a small to medium family.
The best part about the KitchenAid Artisan stand mixer is that the model comes in a wide range of exciting hues that stylish people will appreciate. Overall, we feel that this is a good investment for anyone who loves cooking and has a small family of 4-5 members.
---
The KitchenAid Professional stand mixer is the perfect piece of equipment for cooking enthusiasts and avid entertainers too. Love to cook for family and visiting friends? The KitchenAid Professional Stand Mixer is for you. This upgraded, advanced model has everything and anything that you think is lacking in the Artisan or Classic models.
Although the bowl size is the same, the motor capacity is incredibly higher, making it capable of handling denser ingredients in larger portions. Compared to the Artisan or Classic models, the Professional 5 Plus can knead dense doughs and produce large batter portions at once.
The multipurpose hub attachment comes with a hinged hub cover for easy add/removal of the attachments used to enhance the capacity of the stand mixer. While this certainly adds to the impressive capabilities of the mixer, it also adds about $100 dollars more to the price tag. 
Another difference between the Artisan and Professional models is that the latter is heavier by about 3 pounds, so this is not a unit that you will want to move around with. Also, pay attention to the size and ensure that you have enough space on your kitchen countertop before committing to this bulky machine.
The biggest and most prominent difference between the two models is probably the bowl design. Although they are the same in terms of capacity, the Artisan series has a tilt-head design while the Professional features the bowl-lift design.
The bowl-lift design has a sturdier construction without any extra hinges required for the head-tilt. Thus, it can perform the hardest tasks, including kneading and mixing large amounts of ingredients at a time. You may not notice any difference in light mixing but will certainly feel it when working with thick dough.
On the downside, the KitchenAid Professional 5 Plus calls for some more effort when you need to add ingredients or change the attachments. You need to shift the bowl up and down using a lever and remove it from the sides too.
Features
Measures 14.63 x 11.31 x 16.5 inches
Weighs 25 pounds
450-watt motor
5-quart polished stainless steel bowl
All-steel gears and all-metal construction
Advantages
Bowl has a nice handle for grip and making pouring easier
It houses a powerful 450-watt motor
An adequate-quart bowl that can handle a lot of ingredients and multi-use
Not as many colors available as the Artisan
Attachments include a flat beater, spiral dough hook, and a wire whip
Less vibration due to the bowl-lift design
Kneading is more powerful
Backed by a 1-year manufacturer warranty
Downsides
A heavier mixer model, making it difficult to store or move
This is pricier than the Classic or Artisan classes
Bowl-lift design makes changing attachments and adding ingredients time-consuming
Customer reviews
Most users looking for a mixer want to achieve the dream of added convenience and functionality to their cooking and baking without any frills. A few customers say that this product is more about performance than styling because you are limited in terms of colors.
People who find it hard to knead dense batter or dough in any other mixer are relieved to find something that can save them from going through the trouble. Despite the high price, users who need a more powerful mixing unit are more than happy to pay for it.
Conclusion
If you frequently use a stand mixer to make the dough and grind tough ingredients, then the KitchenAid Professional 5 Plus Stand Mixer is a good choice. As it comes equipped with a more powerful motor, it can be run for a longer period and churn out batches of dough with ease.
---
Final Verdict
As mentioned above, the KitchenAid Artisan and the KitchenAid Professional 5 Plus appear to be almost similar to average customers or novices. However, if you dig deeper and unearth the finer details, it becomes evident that the Professional 5 Plus is superior in terms of power and performance.
They also differ quite noticeably in price because the additional capabilities add to the total cost of the Pro 5 Plus. If you have a small family and need to mix small batches of food for special events or occasions, the KitchenAid Artisan is perfect for your needs.
On the contrary, if you tend to do a lot of cooking and frequently host get-togethers, you will need a mixer with a powerful motor and better performance, like that of the KitchenAid Professional 5 Plus Stand Mixer (shop now).
See Also:
KitchenAid Pro 500 Vs KitchenAid Pro 600
KitchenAid Professional 5 Plus Detailed Review