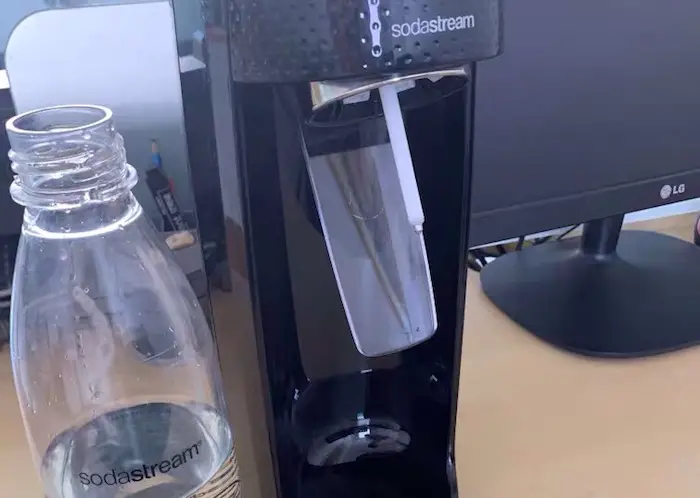 We are reader supported. When you purchase through links on our site, we may earn an affiliate commission. Also, as an Amazon affiliate, we earn from qualifying purchases.
Are you looking for the best home appliance to convert ordinary tap water into bubbling, sparkling, and flavored soda beverage? Besides the joy of customizing your favorite beverage and always having a new bubbling drink in the refrigerator, the reusable plastic bottles generate less waste. Hence, they are eco-friendly too.
If you have chosen SodaStream to bring home the fountain of never ending sparkling drinks then you have made the right choice. But, wait, you are still not done. SodaStream is undoubtedly one of the biggest brands that make use of this revolutionary new technology, but you need to choose between their two bestselling models – Jet and Fizzi.
Those thinking of getting a new soda maker often get caught in the battle of Sodastream Jet Vs Fizzi, and find it difficult to decide which gives the fizziest and tastiest carbonated water. Our team has done the homework to take guesswork out of your purchase decision. We have spent hours analyzing their differences, pros and cons to help you pick your drinkmate.
In a hurry?
We feel that the SodaStream Fizzi (shop now) has an edge over the Jet model.
| | | |
| --- | --- | --- |
| Product | Sodastream Jet | Sodastream Fizzi |
| Dimensions | 10 x 5.5 x 17 inches | 5.5 x 8 x 17.5 inches |
| Weight | 4.93 pounds | 3 pounds |
| Colors | Black and Silver | Black, White, Light Blue , Rose Gold |
| Type | Basic Soda maker | Advanced soda maker |
| Bottle connection type | Twist lock | Snap lock |
| Cylinder size | Works with 60L | Works with 60L cyclinders |
| Cost of beverage | About $0.25/ l | About $0.18 /l |
A Little Bit About What They Have In Common
Before getting into the differences between Sodastream Jet and Fizzi, let's take a quick look at the things that are common between them. Each starter kit comprises of a water maker housing, along with a refillable CO2 cylinder, and a reusable water bottle. They are sturdy in construction and have a compact shape to easily fit into any modest countertop space.
Both the models do not require batteries or power from an electrical source to achieve consistent infusion from the CO2 bottles. Thus, they are both non-electric and eco-friendly when it comes to sourcing their carbonation. At the back of the CO2 cylinder, there is a protruding push-button release that allows easy replacement.
One of the biggest selling point of these soda maker models is that they come with interchangeable canisters. Both of them use the same refillable CO2 cylinder. Although both the models have a small footprint on the countertop, they need a foot and half of overhead clearance space. Both Jet and Fizzi accept proprietary bottles created by SodaStream for its entire line of products
Sodastream Jet Vs Fizzi: The Differences
Now that we have covered the preliminary similarities between the two models belonging to the same family, let's take a look at the major differences between the two. The Jet includes a water maker, 2 60-liters carbon dioxide cylinders, 3 one-Liter Carbonating bottles, fruit flavors – raspberry and mango.
The Sodastream Fizzi comprises of a water maker machine, 2 60-liters CO2 cylinder cartridge, 3 one-Liter source carbonating bottles, fruit flavors – lime and orange. On a closer review of the working mechanism of each soda maker, we found that even though they both use push-to-release mechanisms for canisters, it's comparatively easier to replace the canisters in Fizzi.
In the Fizzi product line, the customers get to choose between a white or black colored beginner kit. The Jet model on the other hand is only available in a Black and silver color scheme. Appearance wise, Fizzi is more aesthetically pleasing with a bumpy, textured surface, while Jet is flatter and more simplistic in its approach. The later has a more contemporary feel to it.
The Fizzi soda maker uses a hinged connector that enables the CO2 cylinder to be twisted to fit into the housing before putting it in the right place. In the Jet unit, the front portion along with the top can be pushed outwards to get that right angle to connect with the cylinder.
Let's look into each aspect, features, benefits and downsides of the two models more closely to appreciate the differences between them.
This energy-efficient and lightweight carbonation unit promise to make perfectly fizzy drinks for you at home at the push of a button. It does not require any power from any electrical source of battery. The juice flowing from the attached C02 cartridges is enough to get it going.
The product comes with a BPA-free plastic water bottle instead of a glass carafe as a part of the manufacturer's strategy to keep the prices down. You may use the bottles to instantly carbonate your drinks and turn plain boring water into sparkling drinks.
Features and benefits
We love the simple, sleek and sturdy frame of the soda maker. The biggest USP of this product is that it brings minimalism and simplicity together for those who are knew into soda making.
The Jet attracts customers with its reasonable price tag and ability to get the job done, instead of a host of features. As the company rarely makes any products that cost less than 100 bucks, this is a welcome change for those who are seeking a soda maker at an affordable range.
Despite its affordability, the manufacturers have not compromised with the main function and capability of the appliance. It is extremely efficient at making carbonated beverages using a full-sized cylinder. Every refill of the cylinder gives you 60 liters of fizzy drinks.
Downsides
While we like the simplicity and practical function of the SodaStream Jet, we feel that it lacks an effective and automatic bottle locking mechanism. It has a primitive-style holder and you need to screw in the bottle safely into place. Some users find this a nuisance leading to unwanted messes.
Beginners love the practical and innovative design of the Jet, but those who already have a hang of it, prefer models that come with a snap-to-lock mechanism, like the SodaStream Fizzi. Unfortunately, the Jet also lacks customizable carbonation settings that you can find in the higher-end models.
Before the invention of SodaStream kits, making soda from the comfort of one's home was unimaginable. People had to get the carbonated drinks in prepackaged cans and bottles at the restaurants or stores.
Although the SodaStream Jet has made it easier for the masses to afford a soda maker to create their own fizzy drinks, the lack of customization leaves the seasoned users wanting more.
Who should get the SodaStream Jet
Those who do not want to invest a lot of money or those who are not sure how often they will use a SodaStream should choose the Jet. The unit comes with basic features and is very simple to use. It is also more affordable and produces the same quality of sparkling water or carbonated beverages as any other SodaStream machine.
See Review from Others
---
Although the Sodastream Fizzi belongs to the same family, this model is an improvement and upgrade over the Sodastream Jet. From design, features, performance, and the flavor of carbonated drinks you get from this unit, they appear to be superior in many ways.
The biggest and foremost advantage of using a Fizzi is that you get to make your own customized sparkling and flavored beverage at the fraction of the cost. You may use plain tap water, boiled water, or even the bottled water to make your drinks. Adding flavors can further enhance the taste of your homemade drinks.
Features and benefits
Despite fancy features and a sporty design, the soda maker takes only 17.5 by 8 by 5.5 inches of kitchen counter space to accommodate the unit. It's so lightweight and portable regardless of the sturdy construction that you can carry it with you at picnics, camping, or family outings.
On the Sodastream website, you can find a list of water bottles that are compatible with this soda maker. However, our team found that you can actually use any ordinary bottle with this unit. Weighing 6 pounds, the unit comes in black and white color combination. It is powered by pressurized carbon dioxide canisters.
More than anything else, we love the innovative snap-lock design that gives fizzy an airtight seal when working with any type of bottle. You will need to hit the carbonating button between 5-10 times depending on how fizzy you want your beverage to be.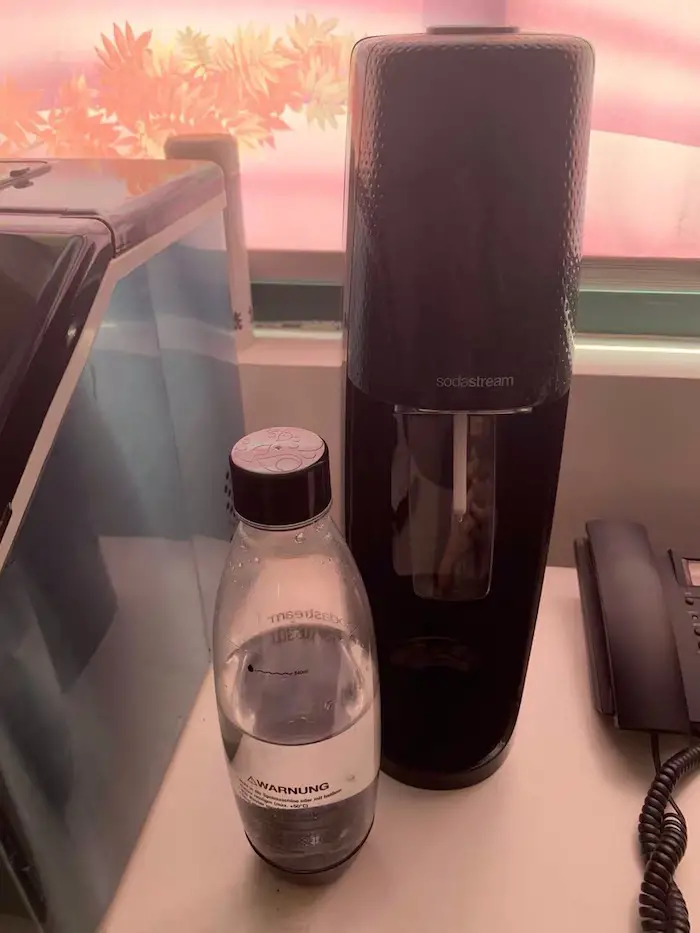 If you hold the button for longer, the fizzier your drink will become. Maybe this is from where the unit gets its name Fizzi. At times, you may not be in the mood for that fizzing sound and want something gentler and less noisy and that's where the silencer valve comes into play. It decreases the pressure to lower noise.
Downsides
Many customers have said that the user manual that comes with the unit is quite basic and does not give proper explanations for issues. The saving grace is that there are not many things that you may go wrong with. So, if you have used a soda maker before, you will not need the user manual any way.
Some users have said that it takes some time to get used to pushing that carbonator button, followed by the classic trials and errors. Most importantly, this is no fully automated starter kit. You still need some practice about the amount of pressure and how much fizzy is enough to get that perfect drink.
Who should get a Fizzi
If you want a starter kit capable of making sparkling water quickly and producing an array of flavored beverages then Fizzi is a great choice. You may add different types of fruit juice, syrups, or flavors to come up with any type of seltzer or soda you prefer. With Fizzi, you can keep your drinks healthier by cutting back on sugar and using the natural fruit juices instead.
Review from Others
---
Which Is Better – SodaStream Jet Or Fizzi
As both the Jet and Fizzi are starter kits, they are designed to keep the beginners in mind. Most of the differences between them are cosmetic in nature. Based on the above comparisons, analysis, and understanding, we feel that the SodaStream Fizzi has an edge over the Jet model.
The Fizzi sports a slightly smaller profile due to which it takes comparatively less counter space than the Jet. It also sports a more stylish texture with four color options to choose from. When it comes to the replacement of canisters, the Fizzi lacks the depressed buttons but the back panel is still easier to operate.
Another unique feature that makes the Fizzi stand ahead of the Jet is the 60-liter CO2 canister that comes with the unit. It allows you to make more carbonated drinks than the Jet before you need to refill the cylinder.
Benefits Of Using Sodastream Jet Or Fizzi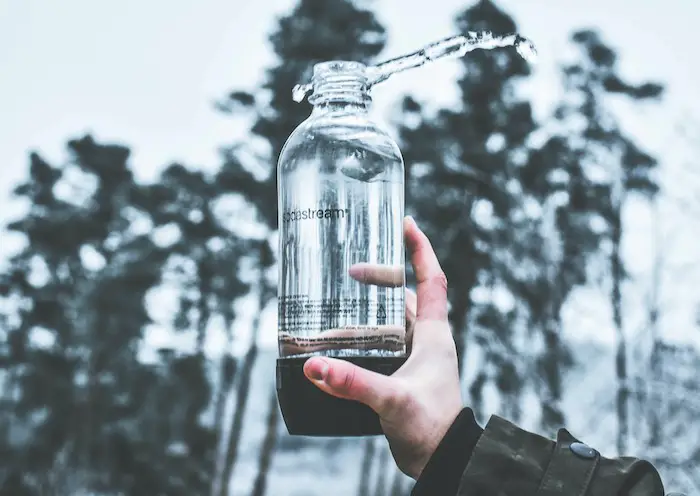 Homemade fizzy drinks
Unlike getting a pre-made soda from the store, you get to make your own homemade fizzy drinks infused with the flavors you prefer. You may enjoy the sweet fruit flavors, root beers, traditional colas, or simply a glass of sparkling water.
Easy to use units
With Sodastream you get to make your own carbonated beverage at home without the use of any complicated equipment. With the simple design and functionality of the unit, you get full control over the quality and quantity of your drinks, every single time.
Easy to replace cartridges
As SodaStream has become one of the wildly popular soda makers in the world, it's easy and inexpensive to find a replacement for carbon dioxide cartridges.
Control of ingredients
It gives you full control of the ingredients that go into your favorite beverages, so you can cut back on the items that you want to avoid. The best part is you can have refreshing sparkling water at any time to quench your thirst.
Save money
Homemade soda is a much better alternative than the regular soda or sugary beverages available in the stores. With just one refill cartridge you can make 60 liters of sparkling water and save money on the pre-packaged drinks. It also reduces the wastage of plastic bottles as you get to use the reusable water bottles.
New and creative drinks
Be more creative and use natural flavors from fruit juices to make new and exciting drinks. You may also use extracts or syrups to give tap water a robust kick of flavors that cannot be paralleled with any store-bought soda.
Cut back on sugar
You can cut down your intake of sugar linked with various health issues by making your own fizzy drinks using the SodaStream. There is a wide range of flavors that taste great but contain less sugar.
Related Questions
Should I use filtered water in SodaStream Jet or Fizzi
In several countries, tap water may contain varying levels of chemicals that are not safe for consumption. Hence, we suggest using filtered water that is free of impurities but has the vital minerals intact. Using a SodaStream unit will give you a cleaner, crisper, and better-tasting water.
How to clean SodaStream units?
One of the biggest advantages of using the SodaStream units is how easy they are to use and maintain, Both Jet and Fizzi don't need to be cleaned frequently, however, the efficient design makes it much easier to rinse, clean and wipe them when needed
See Also:
4 Best KitchenAid Spiralizer Attachment
KitchenAid Professional 5 Plus Vs Artisan
KitchenAid Pro 500 Vs Pro 600: Which Is Better?