Dark chocolate is a food of the gods! Its rich yet creamy dark flavors are incomparable to anything else on Earth, so it's not uncommon for chocolate addicts to have a stockpile of dark chocolate in their homes. If your chocolate can survive your midnight cravings, what else can you do with your 90% cacao dark chocolate besides scarf it down?
You can do almost anything with dark chocolate, regardless of its percentage of cacao content. Whether you have a candy bar, cocoa powder, nibs, or morsels, there are nearly endless possibilities when it comes 90% cacao dark chocolate. You can easily include this delicious substance in ice cream, truffles, breads, tinctures, and so much more. 
While it may be more interesting to talk about what you can't do with 90% cacao dark chocolate, the list below contains five things you can do.
Overview of What to Do with 90% Cacao Dark Chocolate
Glorious Ganache Truffles
Bananas Over Dark Chocolate Bread
Malbec Dark Chocolate Ice Cream
Dark Chocolate Whiskey Tincture
Dark Chocolate Fondue
1. Glorious Ganache Truffles
This simple recipe is a fantastic treat to make with your 90% cacao dark chocolate. Read below to learn what you'll need before beginning and how to properly make it.
Items You'll Need:
Serrated knife
Cutting board
Measuring cups & spoons
Cookie scoop or coffee scoop
Medium-sized, heat-resistant bowl with a cover
Medium-small bowl
Large cutting board
Small saucepan
Whisk
Wax paper
Sifter
Storage plate
Ingredients
1⅓ cup 90% cacao dark chocolate (candy bar, broken into pieces)
½ cup heavy cream
½ cup cocoa powder (any degree of dark chocolate)
Instructions
Chop your 90% cacao dark chocolate candy bar into pieces, and put these pieces into the heat-resistant bowl.
Pour the cream into the small saucepan, and put it on medium heat. Warm it until just simmering but not hot to the touch, right before the boiling point.
Pour the heated cream over the dark chocolate pieces, and let it rest for three to five minutes.
Afterward, whisk these together until smooth and creamy.
Cover and put the mixture into the fridge for two hours. This will allow the mixture to set.
With the medium-small bowl and a sifter, sift the cocoa powder.
Cover the large cutting board (or another flat surface) with wax paper, and pour the sifted cocoa powder over it.
Take the ganache out of the fridge and use a cookie scoop or coffee tablespoon scoop to make balls. Form each into a smooth shape using clean hands.
Drop each truffle into the cocoa powder and roll until entirely covered, then set them on a storage plate.
Keep them covered in the fridge.
---
2. Bananas Over Dark Chocolate Bread
Banana bread is fabulous in and of itself. When you include 90% cacao dark chocolate in the recipe, it's a dream come true!
Items You'll Need:
9×5 bread loaf pan
Large bowl
Fork
Measuring cups & spoons
Mixing spoon
Whisk
Spatula
Ingredients
1½ cups ripe bananas (three to four, mashed)
1 cup 90% cacao dark chocolate morsels
½ cup dark chocolate cocoa powder (unsweetened, sifted)
½ cup light brown sugar
½ cup granulated white sugar
½ cup almond oil (canola or vegetable)
2 eggs (large)
½ tsp salt
1 tsp baking soda
1 tsp vanilla extract
1¾ cups all-purpose flour
Instructions
Set the oven to preheat to 350°F. Meanwhile, grease the bread pan and/or line it with parchment. Ensure all sides are covered.
Mash the bananas with a fork in the large mixing bowl, ensuring there are exactly 1½ cups of mashed banana. Use more bananas or unsweetened applesauce if you're short on this amount.
Whisk the banana with the eggs and vanilla, then blend in the sugar and oil.
Follow this with all of the dry ingredients, being sure to now use the spatula.
Fold in the chocolate chips, and pour the mixture into the bread pan, smoothing it out so that it's even.
Cover the top of the batter with more chocolate chips.
Bake for 75 minutes or until a toothpick runs through the bread clean. The center will puff up with a visible crack down the middle.
Cool the bread for 30 to 45 minutes, then slice and enjoy.
---
3. Malbec Dark Chocolate Ice Cream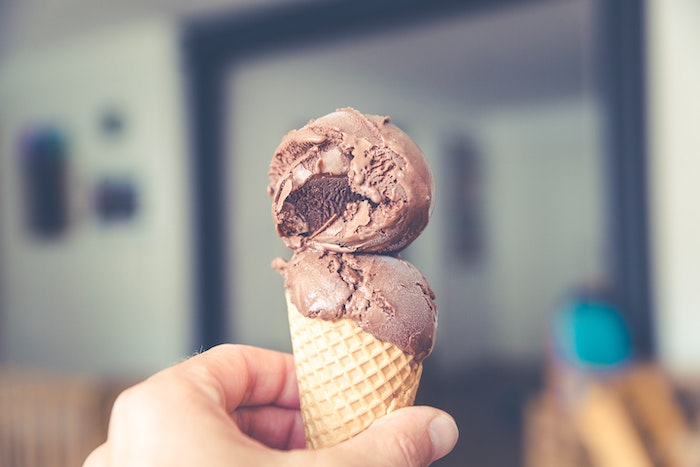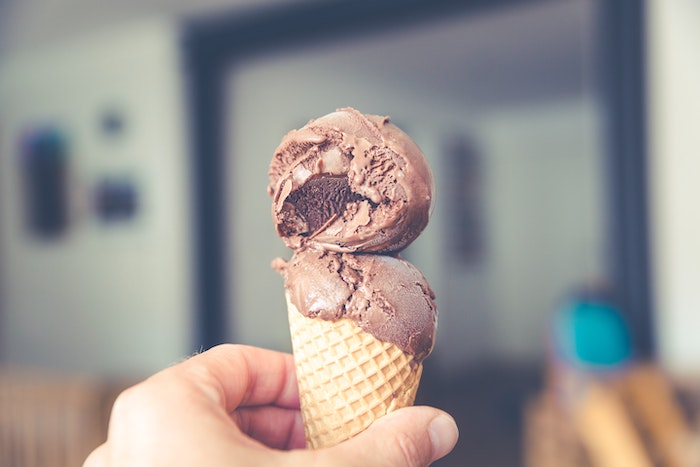 For wine and chocolate lovers, this dreamy no-churn ice cream is a fabulous dessert and use for your beloved chocolate.
Items You'll Need:
Measuring cups & spoons
2 small saucepans
Large bowl
Whisk
3-cup capacity freezer-safe container with cover
Ingredients
1½ cups Malbec wine
1¼ cups double cream
⅔ cup 90% cacao dark chocolate (candy bar or morsels)
½ can condensed milk
Instructions
Reduce the Malbec on medium heat until there's about six to eight tablespoons left. Allow this to cool.
Break the chocolate and melt it in another small saucepan until runny and smooth but not hot. Stir frequently.
Whisk the cream and milk together in the large bowl until stiff peaks appear.
Fold in the melted chocolate and reduced Malbec until well blended.
Pour this into your freezer-safe container and cover tightly. Freeze for six hours.
---
4. Dark Chocolate Bourbon Tincture
For a something a little different, try infusing your favorite bourbon with 90% cacao dark chocolate.
Items You'll Need:
2 clean, sterile mason jars
Measuring cups & spoons
Fine mesh strainer
Ingredients
12 oz bourbon (90 to 95 proof)
½ cups 90% cacao dark chocolate nibs
1 oz simple syrup (optional)
Instructions
Measure the nibs, pour them into one of the mason jars, and follow this with the whiskey. Seal tightly with the lid.
Set the jar in a cool, dark place for two to seven days. Agitate the jar every day at sunset.
Use the fine mesh strainer to separate the nibs from the whiskey, and pour your remaining mixture into your other clean, sterile mason jar.
Add simple syrup (if using), and store this in the fridge.
---
5. Dark Chocolate Fondue
For dipping your favorite fruits in dark chocolate, fondue is always a good way to go.
Items You'll Need:
Medium saucepan
Measuring cups & spoons
Stirring spoon
Fondue pot or chafing dish
Skewers (for dipping fruit)
Ingredients
2 cups heavy cream
1 tbsp vanilla extract
½ tsp salt
1 cup 90% cacao dark chocolate chips
¾ cup semi-sweet dark chocolate chips
1 tbsp brandy or bourbon
Instructions
Over medium heat in a medium saucepan, combine the vanilla, cream, and salt until simmering.
Remove and stir in all chocolate and liquor until smooth and melted.
Pour into the fondue pot on low heat, stirring occasionally.
With skewers, dip your fruit into the sauce and enjoy!
See Also:
Do Lemon And Chocolate Go Together?
Does All Soy Sauce Have MSG?
7 Uses For Leftover Turkey Brine
10 Ways To Make Thai Food Spicy