6 Qt Vs 8 Qt Instant Pot: Here are Differences
Whether you live alone, are a working parent who needs to cook food for your family, or are a member of a large family, an Instant Pot is a must-have. After all, it can cook any meal 70% faster than the conventional method. When buying one for your kitchen, the first thing that probably comes to your mind is the size – 6 qt or 8 qt?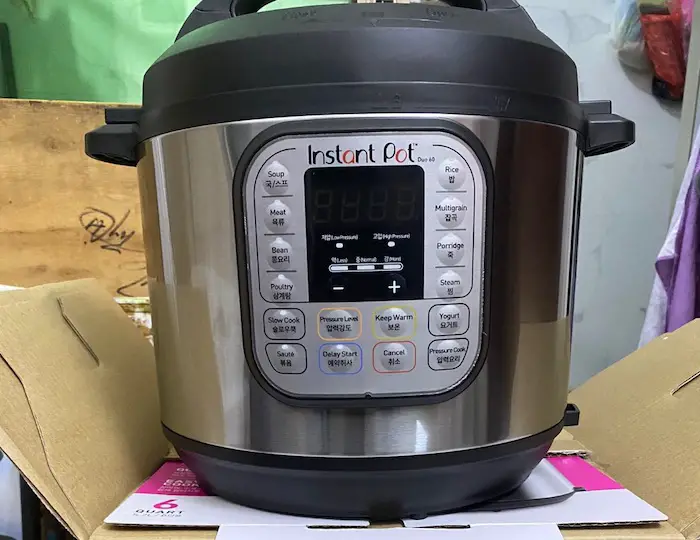 Anything smaller will not be practical as you do not want to stuff food in there, and a pot that is too big for the food you're making will cook the food less efficiently. In this article we will discuss the 6 qt Vs 8 qt Instant Pot. Let me begin by saying that there are a lot of differences between the two other than just the size.
Even though the Instant Pot craze started in 2010, it has come a long way from its humble beginning. Today, you can find Instant Pots of various sizes with a wide variety of features. We will discuss some of the other models and features further down in this article, however, the first thing we will look at is how to choose the ideal size for your needs. Instant Pot
Instant Pot – 6 qt vs 8 qt
These pressure cookers are called Instant Pots for a reason – they help you cook food almost instantly. Today, you can not only cook food but also make yogurt, steam vegetables, and a lot more with the advanced options.
You don't have to be an expert cook to make your meals right in an Instant Pot. You just need to follow the recipe closely to cook yourself a delicious treat in no time. Not just that, you can also set the timer so that there is a hot dinner ready when you get home every day.
Choosing the right size to meet the purpose for which you're purchasing it in the first place is extremely important. Instant Pot Let's begin with helping you choose the most suitably sized Instant Pot for your kitchen.
Size of the pot
If you are a small to a large family who often hosts guests, a 6 qt pressure cooker may be enough to cook food for 4 to 6 people. The size is adequate to cook a large bird such as a chicken or a turkey. The 8 qt pressure cooker may be too big for your needs.
However, if you have a larger family who also frequently hosts extra people, then an 8 qt pressure cooker would be the right choice. Let's not forget there are a few sizes between 6 qt and 8 qt so make sure you choose wisely.
Most recipes call for a 6-quart pressure cooker, so it is a more useful option unless you really need something that can cook for many people. The one downside of owning an 8-quart Instant Pot is that it will take up a lot of space and you can't use it daily if you have a small family.
No matter the size, you must not change the cooking time given in the recipe or else you may end up ruining the dish.
Coming to pressure
If you guessed that the 8-quart Instant Pot will take longer to come to pressure than the 3-quart or 6-quart unit, then you would be right. However, once the pot comes to pressure, the cooking time remains the same. Therefore, you will not find too much of a difference in total cooking time.
It takes an average of 5-10 minutes for a 6-quart Instant Pot to come to pressure, depending on how much food is in the pot and whether it is at room temperature or frozen. If you are using an 8-quart Instant Pot with a lot of food or frozen food, then it's going to take longer.
Wattage
The wattage of your Instant Pot also creates a difference as it determines how quickly the pot can come to pressure and the amount of heat that it can produce. The 6-quart models are typically 1000 watts while the 8-quart models are 1200 Watts.
Diameters of the pot
Another important difference between 6-quart and 8-quart pressure cookers is the diameter of the pot. For a 6-quart model, the diameter is 8.5 Inches while for an 8-quart model, the diameter is 9.25 Inches. This is directly related to the number of ingredients the pot can accommodate.
Amount of water you need to add
As most of the Instant Pot recipes online are meant for 6-quart pot, you need to make sure that you make required adjustments when using an 8-quart pot. In a 6-quart model, you will need only 1 cup of water while in an 8-quart model, you will need 1.5 cups of liquid.
Remember to add water or liquid carefully because frozen meat, chickpeas, or some vegetables like zucchini may release a lot of water as they cook. You should adjust the amount of water you add to the pot accordingly.
Many people ask us whether or not it is okay to use a thawed chicken in a recipe that asks for a frozen one. Our answer is no, because the recipe provides its measurements for a frozen chicken so adding thawed meat may not yield the same results.
Models Available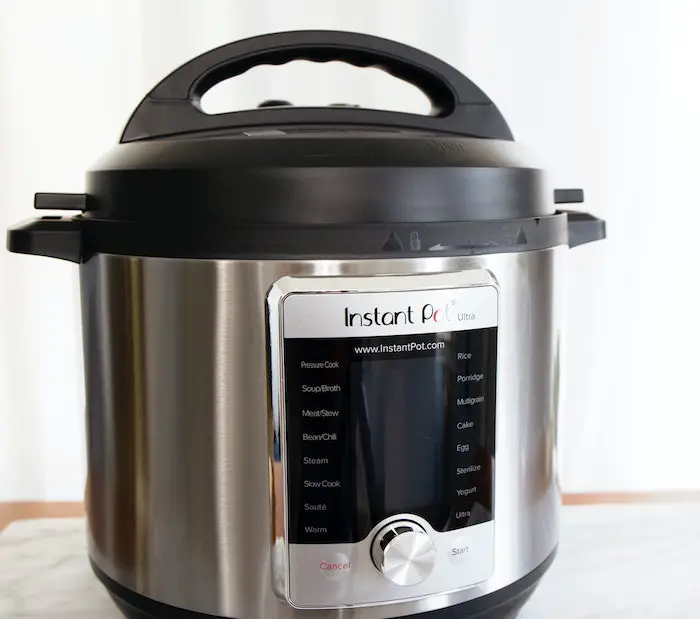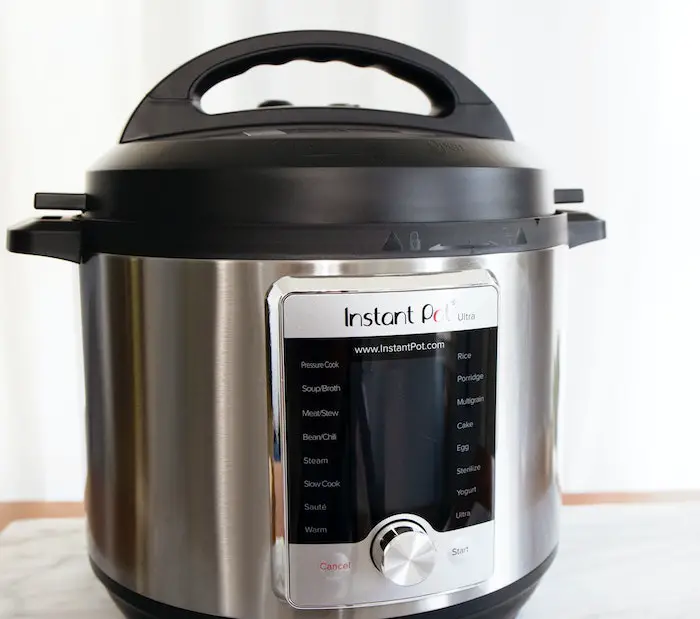 The most popular Instant pots you can find in both 6-quart and 8-quart sizes are Duo, Duo Plus, Duo Nova, Ultra, and Pro model. The bestselling of them all is the Duo model which is a 7-in-1 version that serves as a pressure cooker, slow cooker, rice cooker, steamer, yogurt maker, steamer, and sautéer.
Later came the Duo Plus, an evolution of the Duo with two additional functionalities making it a 9-in-1 Cooker. The new features now let you make cakes, make yogurt, sterilize, and other combinations of functions.
With the newer and upgraded versions of the Instant Pots, you can now schedule your meal from away home so that it is ready at any time you want. It gives you a full smart experience including an advanced display screen to help you program the cooker.
6 Qt or 8 Qt – Which One Should I Get?
This will depend on a few things such as the number of people in your house or how many people you plan to cook for regularly. While both the 6-quarts and 8-quart sizes are strong candidates, you will also need to consider what you will be cooking. Here is a list of things you should consider:
How many people will be eating?
Will you be doing batch cooking?
What type of recipes you will be making?
Do you want leftovers for the next day?
To sum up, if you have a large family of 4-6 people then a 6-quart Instant Pot (shop now) should be enough for you. However, if you need to have some extra space for special recipes that take up more room or you frequently have guests visiting you then you may opt for the 8-quart size.
The 8-quart may also come in handy for those who prefer to do a large batch of cooking on Sunday so that they can freeze the food and eat it throughout the week. It also works for large quantities of chicken stock or soup that can be eaten slowly.
Related Questions
What are Instant Pot smart programs?
Depending on the model, there could be various built-in smart programs such as Pressure Cook, Slow Cook, Sauté, and Keep Warm. Some of the fancier models may also come with some additional programs like Sous Vide, Broil, Dehydrate, Air Fry, and more.
What are the different accessories I can buy for my Instant Pot?
To make your Instant Pot more useful, get some nice accessories such as a steamer basket, trivet, steamer rings, extra sealing rings, mini mitts, egg bites pan, and so on. 
See Also:
Can You Stop And Restart A Slow Cooker
6 Best Roti Makers In The USA
6 Best Air Fryers For Indian Cooking In USA