11 Best Spin Mops 2023 – Reviews & Buyer's Guide
Inventions in the house cleaning industry have made it easier to clean floors, windows, cars, and rooms in houses. Spin mop designs are among the inventions. It does not matter whether you are cleaning your own house or if you do it for commercial purposes. Cleaning crews are today making money from creations such as spin mops, which are fast and efficient. House cleaning is at times a hard task, but with the right spin mop, it is fast and easy.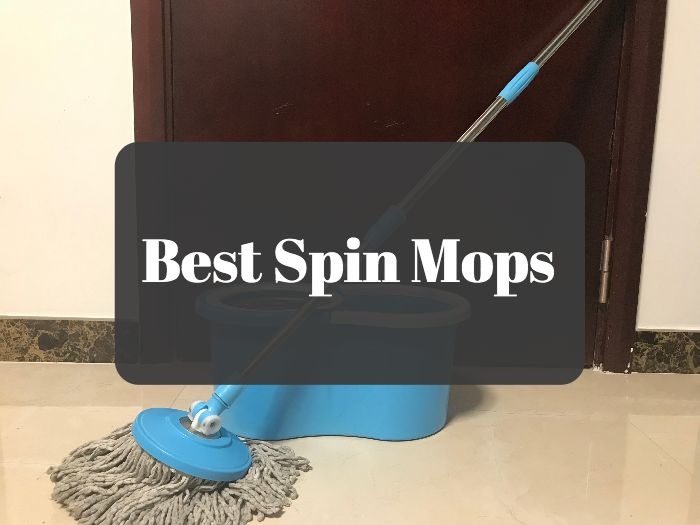 Now, the market is flooded with spin mops. Each manufacturer claims to be offering the best product. It can be confusing deciding what model to buy. That is why guides such as the 11 best spin mops 2023 exist. It intends to help you decide select mop to buy. It has reduced the number of brands so it can be easier making a purchase decision, without having to read long literature.
11 Best Spin Mops Comparison Chart
11 Great Spin Mops
This well-constructed spin mop from the house of Mopnado makes it to the top of our list of 11 best spin mops money can buy. The two microfiber mop heads already make this brand worth considering. Mopnado has three parts that are the mop heads, a scrub brush attachment, and a cleaning solution dispenser. We appreciate the 180-degree swiveling mop head that makes it easier to clean under the furniture and hard to reach areas. The self-wringing system makes it a great tool that you can use to get hassle-free cleaning in less time.
The Good
1. This high-quality mop has an extended length to prevent users from straining their backs. The over 50-inch handle takes care of that.
2. Mopnado's mop plates give you an easier time rinsing the mop head. The spin mechanism helps a lot with this. If you are looking for high-quality mop product, this is the model to buy. It is also highly mobile considering it comes with big wheels and two handles.
3. The stainless steel design keeps the product elegant at all times. This is unlike plastic and aluminum mop products that tend to get dull over time. The steel is long lasting ensuring you get value for your money.
4. This mop works perfectly on several kinds of floors such as concrete, laminate, tile, and hardwood. You can also use it on windows as long as you remember the lock. The heads can be machine-washed.
The Bad
1. Watch the bottom neck as it may break. Its several parts may be confusing at times but once you master how to use it, it is very comfortable.
User Expeience
Most users are happy with the performance of Mopnado stainless steel spin mop. That is why it has a high rating. With $50, you acquire this magnificent tool.
---
This unique spin mop bucket comes from the house of Oshang, a brand that is known for quality and perfection. The body is made from high-grade stainless steel and constitutes of a premium microfiber mop head for cleaning. The patented rinse-and-wring technology enables you to clean with ease, without having to bend or push a heavy mop and bucket around. It works great on hardwood, stone, tiles, and concrete floor to clean within a fraction of time. The product comes backed with one-year manufacturer warranty and 30-days return policy to take the risk out of your purchase decision. Let's take a closer look into the good and bad of the mop system.
The Good
1. The spin mop head can rotate 360° to clean the hard-to-access corners and even reach under the furniture to give you a thoroughly cleaned surface. The swivel joints pivot 180° to easily mop across any direction without the fear of flipping over.
2. The mop head is made from synthetic yarn that helps in gathering dust, grime, dust, and release dirt when rinsed with water. Furthermore, microfiber material resists staining so the mop does not look dirty.
3. The featured splash guard that comes with the unit doesn't let the dirty water splash out of the bucket, so the mopped area or your clothes do not get dirty.
4. The mop handle and bucket are both made from thick and sturdy stainless steel, hence they can withstand vigorous use without breaking or bending.
5. The adjustable handle has a length of 63.2" along with the mop head attached to the stick. It works perfectly for cleaning the corners, windows, wall, and baseboard.
The Bad
1. The mop bucket can hold only 4 inches of water so this does not offer a feasible solution for large houses with big kitchen or bathroom. User needs to change the dirty water often.
2. The handle is not good enough for taller people and the absence of wheels means you need to lift the bucket every time to take it from one place to another.
User Experience
Users love the product for its amazing microfiber mop pad that cleans like a dream without getting any stains on it. Overall, a good product, worth buying.
---
The one thing that will make you love this brand is the simplistic design with bonus features like hands-free wringing. It comprises of just a bucket and mop to get the job done by reaching the smaller spaces and hard-to-access areas with ease. We like the black and red color combination with a no-frills exterior. The adjustable telescopic handle makes it easier to use the product. Microfiber mop head effectively cleans all surfaces and can be washed in the machine. What's more? It works both as a wet and dry mop for cleaning.
The Good
1. The microfiber does an excellent job by thoroughly cleaning surfaces. The wringing mechanism makes this product great. The bucket has in built wringer that makes it possible to have hands free wringing. The foot pedal helps with the wringing process, as it starts the wringing and gives users the ability to determine the amount of moisture to use at any specific time.

2. No one wants splashes when cleaning. That is why O-Cedar manufacturer included the splashguard. It keeps every solution inside the bucket.
3. This is easy to operate brand. It has a very simple design. You do not need to struggle with it to get it working. Its $34 price tag is quite affordable and reasonable considering its performance.
4. The product is good for your kitchen. The microfiber will reach the tiniest and smallest spaces and corners. The mop leaves no marks behind giving your surface a fresh, clean look. It has a strong aluminum handle to take you through several cleaning sessions.
The Bad
The plastic used in making some parts is not durable. This causes you maintenance costs or replacements.
User Experience
Users praise this spin mop for being user-friendly, efficient, and having a great cleaning system. Generally, they are all pleased with O-Cedar.
---
When you want a product that delivers thorough cleaning, easy washing, and quick-drying, the Tsmine Spin Mop Bucket System comes handy. The unique system of this product makes it different from the traditional spin mops. Made of sturdy 304 stainless steel, it is not only highly durable but also delivers an efficient performance. The unit comes equipped with six microfiber spin mop refills head, so you don't need to buy extra mop heads in 1-2 years. The super-thin microfiber features amazing absorbent ability, which works perfectly for different types of flooring such as hardwood floor, compound floor, tile floor, marble floor, and plastic floor. Let's take a look at the good and bad aspects of the product.
The Good
1. It features a much effective spin wringing performance than the units that work with pedals. The head not only stays drier but this also saves effort.
2. It comes with an improved and upgraded handle that enables the mop head to dry soon and deliver a noiseless operation.
3. The unit comes with two wheels, one carry handle, and one pull handle to provide extra convenience to the disabled people who cannot carry heavyweight. It also features a detergent dispenser and drainage plug to drain out the dirty water.
4. The telescoping handle can be extended and adjust up to 61 inches, so you don't have to bend down while cleaning. People with back pain will find this feature useful.
5. The mop head works great for both dry and wet use. It can also be used for cleaning windows, boats, cars, shower stalls, RVs, etc
The Bad
1. Instructions provided in the user manual are not very clear. Some of the pictures do not match the parts so it might take a little while to set things up but it's easy nevertheless.

2. Every time you dunk the mop in the bucket, you will need to lock the handle. This may be annoying for some people who like to dunk and rinse frequently.
User Experience
At this price and level of performance, the Tsmine Spin Mop Bucket System is definitely worth buying.
---
The Goplus spin mop is on our list of best spin mops for a reason. Its magic mop says it all. It saves time, water and energy. The mop works on a completely different mechanism. Instead of the foot pedal, it uses the centrifugal force to dry the mop head. The product comes with two compartments – a bucket and wringer. From dry to wet dirt, this mopping system can handle all that with ease. The labor-saving construction minimizes the effort needed for mopping and also cuts down the cleaning time to half.
The Good
1. Goplus is suitable for a variety of places including floors lobbies, doors, cars, bathrooms and kitchens. It has very thin microfiber strands that clean surfaces quite well.
2. It offers comfortable mopping as the handle is adjustable. This way, you are not restricted to one position, which can be tiring.
3. Goplus does not need a power source to operate. You can clean any time you want as long as you have water and a great cleaning solution. There will be no cases of electric shock.
4. At no single time will your hands be in contact with water nor will water splash on you.
The Bad
The spinning mechanism only works if the handle is in an upright position.
User Experience
Despite many users appreciating the performance of this spin mop, some complain of its spin mechanism being inefficient. For others it is the noisy operation while for some it is poor quality.
---
With its innovative design and user-friendliness, Hapinnex Easy Spin secures a sixth position in the list. The self-balanced bucket, splash guard, and pedal movement nullify the risk of water leaks or issues with mechanical components. The entire unit comes across as thoughtfully designed with a mop head that can be replaced with different style and designs to suit the type of cleaning you are doing. This is perhaps that one cleaning equipment you need to mop different areas of the house with ease.
The Good
1. Happinex does well as a dry and wet mop. This makes it ideal for dusting and getting rid of hairs, as well as cleaning surfaces. No marks are left after cleaning. With the spin bucket, you are in a position to decide how wet the mop should be.
2. The mop microfibers are durable, and gentle on surfaces. You are allowed to machine wash the fibers. If you feel they are worn out after extensive use, it is always good to find a replacement.
3. Cleaning using Happinex is very simple. Mix water and the cleaning solution and you are good to go.

4. It is every easy assembling the spin mop once you buy it. There are instructions in case you are stuck. There is no pedaling, therefore saving you more energy. The liquid drain hole takes care of spilling.
The Bad
Few things cost Happinex great performance and rating. For instance, it is not sturdy enough when filled with water. If you look at the bucket, it is segmented into two and the bottom is a beat shaky when using. Besides, the handle is also too short especially for tall users, which could cause back issues over time.
User Experience
As usual, few users will complain about products. Happinex as its own share of that. However, many of them are satisfied with the mop that is why it is considered among the best spin mop brands.
---
Even though the Michao stands last in our list of best spin mops, the amazing features, and great functionality makes it a winner. What I like best about the product is that it covers every aspect of cleaning. The product sports a cool appearance, something that you would like to carry with you to vacation. The integrated drain plug makes it easier to use and the sturdy wheels add mobility so that you can carry it with you around the house without much effort.
The Good
1. The spin mop is light making it portable and easy to move around with. It also lasts longer ensuring you enjoy its services. About movement, you should thank the large wheels, handle and telescoping pole. They make work a lot easier.
2. You can always elongate the handle to a maximum of 55inches. This reduces fatigue and backaches as well. The handle is made of stainless steel making it look spectacular. It is also durable.
3. You can always readjust the handle position to reach any spaces you want to be cleaned. The handle rotates to help with this. There is an inbuilt cleaning solution dispenser. It gives you an easier time cleaning and helps prevent spills.
4. You do not use any foot pedals or batteries when you buy Egoflex. As you wait for your order to be delivered expect a box with three microfiber heads, a chenille mop pad, a scrub brush, one bucket, a mop pole, a dispenser and instruction sheet/ manual. All the components are high quality.
The Bad
You may experience some difficulties opening the drain. Besides, it is not that fast thus inappropriate when you are in a hurry or if you dislike slow tools.
User Experience
Users applaud the fact that Egoflex cleans floors well. However, there are few complaints regarding its efficiency and user-friendliness.
---
When you wish to cut the cleaning time in half, we suggest that you check out this MASTERTOPFloor Spin Mop Bucket System with Wringer Set. This is a self-wringing spin mop system to clean the floor quickly and hassle-free. You just need to add detergent in a built-in removable soap dispenser to prepare a mopping solution, soak the mop in it, wring well and start cleaning. The portable and compact design includes a stackable bucket to save space, and wheels at the bottom to make it easier to move around the house with a bucket.
The Good
1. It comes with a swivel joint that rotates 360° degrees and pivots 180° degrees to enable you to access the hard-to-reach areas. This enables you to clean quickly in all directions without straining your hands.


2. As the mop head is slim, it can be easily moved under the closets, furniture, and home appliances for easy cleaning.

3. The dehydrate bucket helps in draining the liquid so that mop comes out dry without any drips to ensure that It does not create any mess while cleaning.

4. This self wringer mop can be separated into two buckets, one for cleaning and others for spinning action, which helps in saving space when using it and storing it too.
5. The product comes with one soap dispenser holder and two super absorbent microfibers to enable you to clean all types of floors.

The Bad
1. A few customers have warned that the buckets are thin and the wheels are pretty small, making it not suitable for large houses.

2. The locking mechanism in the handle does not keep the pole extended for long
User Experience
The product is well-built and smartly designed to take the stress out of mopping. While the stainless steel part is sturdy and durable, the plastic buckets are thin. Overall, a user-friendly and good deal for clean homes.
---
When you want a durable and sustainable mop and spin bucket set, check out this product from the family-owned Libman company. Made in the USA since 1896, this spin mop and bucket carries a rich legacy that is over a century old. Users are impressed with the great design and absorbency capacity that enables them to clean larger homes quickly and easily, plus the drying feature is also highly appreciated.
The Good
1. Their all-in-one mopping kit comes attached with a stainless steel spin chamber and stainless steel mop handle with locking lever to enable you to adjust the length as per your convenience.
2. The stainless steel spin chamber allows you to control the wetness or dampness of the mop based on how many times you push the handle down.
3. The chamber also dries the mop quickly after use wringing all the excess water out of it. The splash guard protects your clothes from getting dirty water.
4. Despite its solid and sturdy stainless steel construction, the mop is lightweight enough to let you work for a long time without straining your hands.

5. The mop head is machine washable so cleaning after use is not a hassle. Just pop it into the washing machine and you have a clean mop again.
The Bad
1. A few users have warned that the handle is not durable enough and broke after a few months of use.
2. Some people have also said that the level locking mechanism did not work properly for them.

User Experience
The Libman Mop and Bucket Spin system is a trusted design created after several testing and trials for better user-friendliness. Overall, we feel that this product is well-built to deliver a good cleaning performance at an affordable price.
---
The LETTON 360 Spin Mop Bucket does a great job at cleaning all types of floors including wooden, stone, concrete, laminate and vinyl floors. The well-designed and washable mop head helps you reach all corners, saving labor and backache. Customers love the self-balancing feature that ensures water does not spill out of the bucket. Other features like a refillable detergent basket and enhanced portability due to wheels are also highly appreciated.
The Good
1. On the exterior, this spin mop bucket sports a cool color combination and smart features like retractable pull handle, two large wheels, and a carry handle.
2. Made from sturdy stainless steel material, the spin bucket, and mop handle are extremely durable.
3. The telescopic mop handle can be extended to up to 60 inches so that you can mop the floor without having to bend too much.

4. The low-profile pivoting mop head attached with a rotatable mop plate to angle easily and reach hard to access areas under furniture, bed, and other corners.

5. There's a spin cycle in the dryer basket that helps in removing water out of the mop to get the preferred level of dampness for different types of floors.

The Bad
1. The spin mop is good for small apartments but not suitable for cleaning big houses and offices.

2. Spinning water out of the mop can get noisy after some time.

User Experience
The product comes with easy to understand instructions on how to use the spin mop. Overall, a great investment you will be glad to make.
---
When you don't want to spend the entire day mopping the house, check out the MASTERTOP Stainless Steel Spinning Mop and Bucket that promises to make the cleaning job fun and quick. This is undoubtedly one of the highly efficient spin mops that money can buy. The construction is sturdy for long term use and the design is efficient to ensure safety. The mop can be used for both wet cleaning and dry cleaning of your home, office, or commercial buildings.
The Good
1. With the self-wringing system, you can remove the excess water from the mop head to save both time and effort while cleaning the floor.

2. The spin bucket, plate, wringer, and handle are made from high-quality 304 stainless steel, which is both unbreakable and rustproof.

3. To enhance portability around the house, the bucket comes with two big wheels, a carry handle, and a pull handle.

4. The manufacturer stands behind the product with 2-year warranty, technical support and 30-days return no questions asked.

5. The 360-degree rotation mop head helps in cleaning under the bed, furniture and appliances with ease. It includes 6 pieces washable mop heads that last for long.
The Bad
1. The pull handle is not convenient if you are a short heighted person. It is only suitable for tall people.
2. Some people find it difficult to wring the cotton mop head whose strands collapse when wet, making it smaller in size.
User Experience
Some people find it difficult to wring the cotton mop head whose strands collapse when wet, making it smaller in size.
---
Key Things to Consider Before Buying A Spin Mop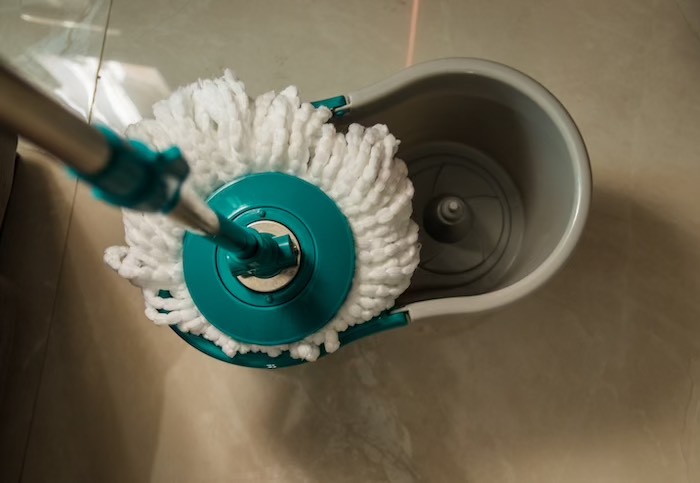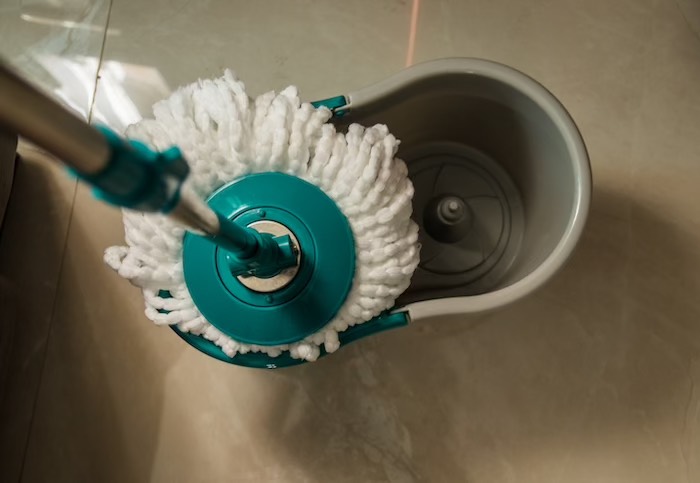 Before looking at the top spin mop models, there are certain factors to keep in mind about mops. These are:
Space size
How big is your house or the house you want to clean? The bigger it is the bigger the spin mop you should buy. If there are large-sized rooms, you will need a spin mop with a larger mop head to get the work done quickly, and for smaller rooms, you will be better off with small size mop heads.
Design and construction
Cleaning is no cakewalk and you will probably be dragging this mop to every corner of the house, so make sure it has a sturdy construction that can last for long.  The product should be able to survive reasonable use and give users good value for money without bending or breaking.
Material
Choose a product that uses the highest quality raw materials for building different parts of the spin mop kit. An all-plastic model is not good, as it is bound to crack and even leak. The mop head should be made of microfiber fabric that is gentle on floors and absorbs liquid quickly. There are some models that come with scrub pads or other materials for heavy-duty cleaning, so choose accordingly.
Ease of use
Who wants a spin mop that's hard to use? Choose a product that comes with clear instructions, is easy to assemble, and operate. You should be able to clean the mop head with ease so that dirt does not get accumulated in it. A good quality product should also be easy on your hands and let you mop effortlessly.
Price
Affordability is key but do not forego quality for the sake of saving some cash. If you choose a fragile and cheap model that's below $30 then it will probably not last for long. If you buy a model that costs above $60, it will probably come with lots of accessories and features that may complicate a simple task.
Spin mechanism
There are basically two types of spin mechanisms – lever on the handle or foot pedal. While both perform well, it will boil down to the user's preference. Many people believe that the foot pedal system is more convenient to use, but the choice is yours.
Telescopic handle
This is another important aspect that you may want to consider when looking for a spin mop. Get a mop head attached to a telescopic handle so that you can adjust it according to your height. This helps you do the house cleaning without the fear of getting a backache by the end of the day.
Pivoting head
What's the use of mopping if you can't clean under the furniture or hard to reach areas? Look for a model with a pivoting mop head that is flexible enough to get into tight spaces and corners to keep the house clean.
Mop bucket on wheels
If you have a big house, taking the spin mop bucket from one place to another can be tough. Wouldn't it be easy to have a bucket that moves on wheels? There are many models that come with attached wheels to move them around conveniently. The wheeled models feature a rotating mop head that allows you to scrub in the 'figure 8' pattern.
Drain Plug
This is added convenience you may want to look for in a product. A drain plug is a machine that allows you to get rid of the nasty water with ease. There is no fear of splashing the dirty water while trying to lift the bucket to empty it.
Washable mop head
I would suggest that you look for a product that comes a washable mop head that can be easily cleaned in a washing machine (see my previous article). Some manufacturers provide an extra mop head with the product. If not, at least choose a brand that has good customer support so that you can get a replacement mop head when needed.
Scrubbing accessories
If a spin mop kit comes with scrubbing accessories, you have all tools needed for a thorough cleaning. You will need a scrubber to get rid of the stubborn stains or spills that have dried on the floor. After you are done scrubbing, just clean the area with a microfiber mop.
Cleaning solution dispensers
When you are up for deep cleaning the house, you may want to add some soapy solution or liquid detergent to the water. There are spin mops that come with a built-in soap dispenser to let you add the cleaning solution to water whenever needed.
Splash Guard
This is one of my favorite features to have in a spin mop bucket because it can be frustrating to get a nasty splash of dirty water on your clothes or cleaned surface. The splash guard prevents this and keeps the water in its place.
Agitator
This is another useful feature that comes handy when you are cleaning a really dirty area. The bucket comes with a built-in agitator that helps in getting rid of the excess dirt and just dust off the mop head when it's too covered with the nasty stuff.
Steps To Use A Spin Mop Correctly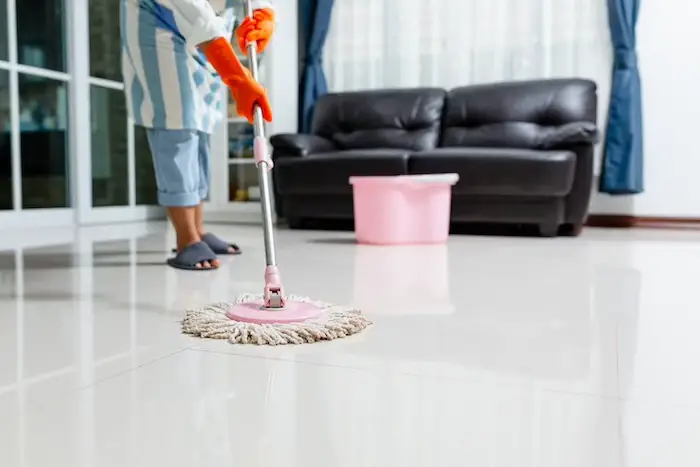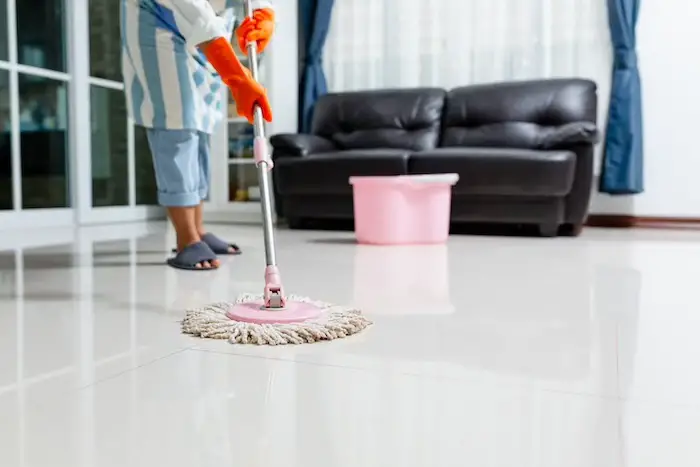 If you look online, you can find a plethora of spin mop brands that come with different instructions but they all do the same thing. Regardless of the spin mechanism or pattern of the mop head, here are the few basic steps that can help you mop the floor correctly.
First, spray the floor with a cleaning solution and let it sit for a few minutes. When you move your mop across the surface, the stubborn dirt will lose enough to be cleaned with ease.
Next, fill the mop bucket with water and add a cleaning solution if you wish to deep clean. Alternatively, you may just damp clean with water.
Put the mop head into the water or solution (water and soap) and put it inside the spinning basket to get rid of the extra water. Repeat this step whenever the mop head gets dirty and needs rinsing.
Based on the type of model you buy, you will either pump the mop handle or use the foot pedal to activate the basket's spin functionality.
I have created an article that provides step-by-step instructions on how to mop floor and take special care of the different types of floors, check it out.
Tips To Make The Most Out Of Your Spin Mop
Don't restrict the use a spin mop to your house floor only. You may also use it to clean the shower stalls and bathroom walls.
Be careful about the type of floor you clean with a spin mop. Tile floors can handle some amount of moisture but hardwood can get damaged, hence you need a dry mop for it. Vinyl and laminate floors are best cleaned with a damp mop only.
A good mop is known by the way it angles easily in hard to reach areas to remove dirt and dust from all corners of the house. However, you must remember to hold the handle upright while spinning in the bucket or rinsing the head.
Hold the mop handle at a 45-degree while mopping to clean more effectively and spare your back too. Make sure the mop head is properly fanned out for easy cleaning. Give it a quick spin before putting it on the floor to make the strands fall in place nicely.
Angle the handle to reach the corners and beneath the furniture, but make sure the mop head stays flat on the surface for effective cleaning.
Besides cleaning the floor, you can also use the microfiber mop head to wipe up spills, dry a wet car seat or a wet bathroom floor.
Related Questions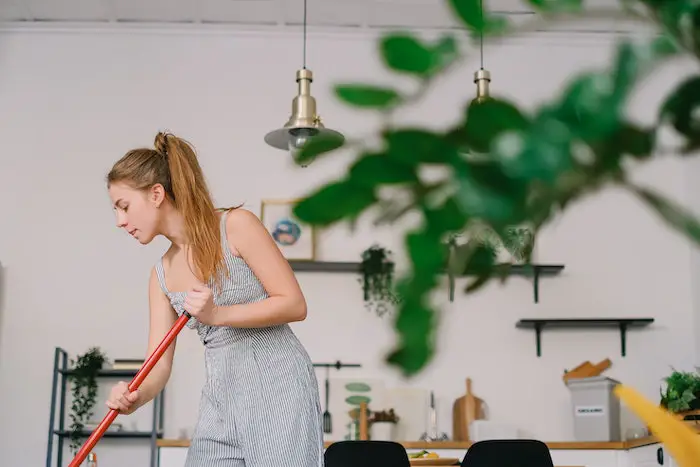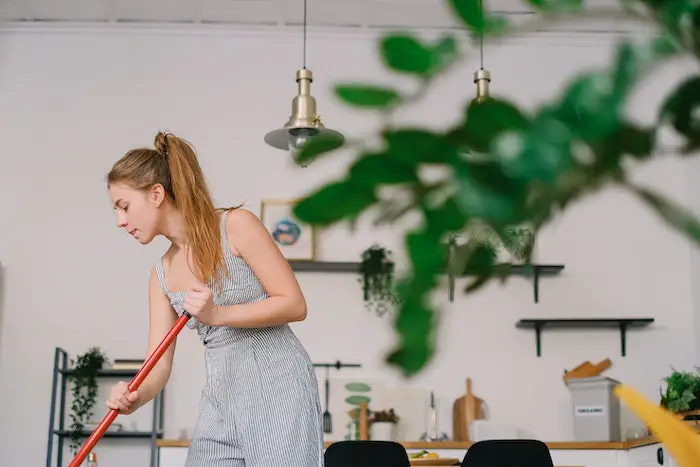 Q1. Can I use the Spin Mops on all types of floors?
A. Yes, you can. The spin mop head is made of soft and absorbent materials that can be used on all types of floors – ceramic tiles, laminated floors, wooden floors, linoleum floors, vinyl floors, and marble floors, etc.
Related Article: 10 Tips For Mopping the Floor (must have a look, this is really helpful)
Q2. Should I use a specific type of floor cleaner with the Spin Mop?
A. No. One of the biggest benefits of using a Spin Mop is that it can be used with almost all types of floor cleaners. You may continue using the same floor cleaner that you use used to. However, if you wish to go chemical-free then choose a cleaner made of water and vinegar to get great results.
Q3. Is the mop head durable? How long does it last?
A. This will largely depend on usage. On average, it will last for 6 to 12 months.
Q4. Can I wash the mop head?
A. Yes, it can be hand washed as well as machine-washed to keep clean. To wash in the machine, use the gentle cycle and then follow with air-drying.
Related Article: My Detailed Guide on How to Clean a Mop Head?
Q5. Can I use the Spin Mop in both dry and wet conditions?
A. Yes, the spin mop head is made of soft microfiber material that can be used on various types of surfaces without causing any scratches. You may use it not only as a wet mop but also a dry mop to clean pet's dust and hair. It can also be used as a car mop.
Q6. Will Spin Mop cause streaks or leave behind residues on the floor?
A. As the spin mop is made up of high-quality absorbent material, it does not cause any streaks or leave any residues. You get a clean and sparkling floor every time.
Q7. What is the recommended length of the mop handle? Can you adjust it?
A. The mop handle can be adjusted and extended to match your height. The average length works for everyday domestic use. It has a telescopic handle, which can be extended to 56 inches and can be easily adjusted to any length.
To adjust the height, you simply need to unlock the handle, then adjust the height as per your needs and then lock t back again. Please remember that you need to unlock the mop head in order to let it spin in the winger.
Q8. What is the right size of the mop head?
A. The mop head is composed of soft microfiber that measures about 14 inches in diameter
Q9. What are the features that make Spin Mop different from other products?
A. The biggest benefit of Spin Mop is that it does not come with a foot pedal as you can find in other spin mops. This helps in preventing any potential slips that may be risky. The extra durable handle is made of aluminum alloy that is SGS certified and can sustain more than 60,000 pushes. The mop is almost virtually indestructible.
Q10. Is there any product warranty available?
A. Yes, the spin mop manufacturer (Learn More) offers a one-year warranty from the date of purchase. The warranty period covers the products against defects related to materials and craftsmanship. You may also use the Spin Mop in compliance with the instructions provided in the manual.
Spin Mop Tips and Tricks by Mopnado
Conclusion
With a guide on the best spin mop in the market, you are in a position to buy the right mop for your household or office. Make sure you consider the mentioned factors at the beginning of the article to make better, more informed purchase decisions. No mop brand lacks flaws. Human beings make them all. Weaknesses tend to exist but each brand has strengths or say pros. However, the flaws are minimal and should not prevent you from buying any of the seven mops. The mops come with great features that outweigh their few cons.
Therefore, identify one or two brands that best fit your needs and invest in them. Get to see how well the brand works through firsthand experience. It really does not matter the spin mop you choose. What matters is how well it cleans your surfaces.