What an ultimate pleasure and sense of satisfaction it is to see your pancakes, burger patties, sandwiches, and crepes flip without sticking to the surface of your pan. However, choosing the right non-stick pan for your family is easier said than done because there are so many factors that play a part in determining which product is the best for your household.
You will need to consider a lot of things, such as the number of people in your family, the frequency of use, and even the foods and temperatures you'll most often be using before choosing a nonstick frying pan to cook. To be sure you can cook enough food in one batch for your whole family, the pan should have enough depth as well as an adequate diameter and enough space on its cooking surface, too.
The 12-inch nonstick frying pan is considered the standard size that's best suited for families with multiple household members. To make your purchasing choice even easier, we have scoured the internet to find eight of the best 12" nonstick frying pans for 2022. We have reviewed and compared numerous products to find the most suitable ones to present to you today.
Read on to find complete reviews of each of the products handpicked by our team. If you are in a hurry to order, we suggest that you go with our editor's pick: the CAROTE nonstick frying pan skillet with its eco-friendly granite construction, extended bottom design, Bakelite handle, and ability to cook well with far less use of oil.
The first product on our list is the All-Clad 4112NSR2, made from three bonded layers of stainless steel and responsive aluminum. Due to its classic tri-ply construction, this frying pan cooks really fast and also distributes the heat evenly to sear, sauté, and simmer with ease.
As the frying pan has a flat base and flared sides, these features allow for easy flipping and tossing of the foods you prepare with it. The stainless-steel construction also ensures maximum durability of the product, and the riveted stainless-steel handles are properly secured to give you a safe and stylish grip.
The All-Clad 4112NSR2 frying pan is compatible with all cooktops including induction, broilers, and even oven temperatures of up to 600°F. Taking care of the frying pan is easy as it is dishwasher safe, but you can also use mild detergent and a sponge to make the mirror-polished surface look brand new by hand.
Product features and specifications
Measurements: 20.75in. x 12.5in. x 4.38in.
Weight: 4 lbs.
Made from stainless steel
Bonded, engineered, and assembled in the USA
Five decades of excellence
Compatible with all cooktops
User/Customer Reviews
Those who have used this product have said that the nonstick surface worked really well while it lasted. People have also said that the pan is well-made and sturdy, although it is a bit on the heavier side. A few customers have warned that the nonstick coating starts flaking off after a few months of use and that the warranty is not very useful.
Conclusion
The All-Clad 4112NSR2 stainless steel tri-ply bonded nonstick frying pan is a good-looking and well-made product while it lasts. However, after some time, the polished and coated surface may start to deteriorate, so follow the instructions closely and use the pan with care. Overall, this is a good investment if you don't plan to use it regularly.
---
The next product on our list is the Tramontina professional frying pans, which is specially designed and manufactured to conquer the extremes of a professional kitchen. These high-quality pans can be easily adapted to suit the needs of home and non-commercial use as well, and they are compatible with electric, gas, and ceramic glass cooktops.
These pans work perfectly for sautéing, scrambling, and searing your favorite recipes. Made from commercial-grade, heavy-gauge aluminum material, the heat distributes quickly and evenly, making your food cook faster without sticking to the surface or the sides.
The nonstick interior of this NSF-certified cookware also helps to release the food when you're done for effortless cooking and transfer of your meal to your plate, and cleanup is extremely simple as it is dishwasher safe, too. This pan has a riveted stainless-steel handle to give you additional support as well, and there is also a versatile and removable silicone soft-grip handle cover.
Product features and specifications
Weight: 2.77 lbs.
Heavy-gauge aluminum construction
Stainless steel handle
NSF-certified
Removable silicone soft-grip handle cover
Works with gas, electric, and ceramic glass cooktops
High-performance, reinforced, PFOA-free, and nonstick
User/Customer Reviews
Those who have used this frying pan have said this is one of the best nonstick skillets they have ever owned. People have mentioned that this frying pan is easy to clean and a joy to use as well. A few customers have warned that the manufacturer does not stand by its lifetime warranty promise and that the service and support need improvement, though.
Conclusion
The Tramontina professional frying pans are practically designed to help you cook with ease, and they require much less maintenance compared to competitors' products. However, there may be some design flaws making it not perfectly suitable for all users. Despite those shortcomings, this product turns out to be an excellent and versatile pan that helps you cook well without burning your food.
---
If you are looking for a 12.5" nonstick frying pan with a lid, this option from MSMK is a perfect fit. It features a 'Tuff Limestone' coating, specially developed by the US and Germany to add in artificial diamond and silicon to maximize the pan's nonstick properties.
With a 4mm-thick smooth stainless-steel bottom, this nonstick frying pan allows a more professional-quality, even heat distribution to avoid users burning their food. The pan has even been upgraded from 450°F baking to 700°F drying, and it also has a heat-resistant and comfortable handle to help it stay cool during handling.
We love the weight-saving design and non-slip surface that makes it easier to pick the pan with less effort. This heavy-duty cookware is also compatible with all cooktops and is designed to avoid scratching up the glass stovetop for those who have one in their kitchen. It also comes backed by a lifetime manufacturer warranty to give you peace of mind.
Product features and specifications
Measurements: 23.6in. x 13.7in. x 4.7in.
Hard anodized grey color
Safe for the dishwasher
Aluminum materials
Professional heat distribution
700°F limit for oven safety
Ergonomic, stainless-steel handle
Rapid heating induction cooking
User/Customer Reviews
People are full of praises for this nonstick pan that sticks to its promise of food not sticking to the sides or bottom regardless of the variety of dishes prepared in it. Users have mentioned that the handle always stays cool no matter how many times you heat the food except for when you put it inside the oven. A few customers have warned that the bottom of the pan is not flat though, and this impacts the ability to evenly cooking one's food.
Conclusion
The MSMK lidded frying pan is a great option for those who aren't striving for professional quality cooking and are simply wanting a reliable piece of cookware for their homes. Although it may not stand up to its promise of perfectly even cooking and heat distribution, this is still a great product due to its versatility on cooktops as well as for use inside of an oven. Overall, we feel this is a great option for those who only need to occasionally use a large frying pan in the home.
---
The next product on our list is the Calphalon Signature hard-anodized nonstick frying pan, which is designed and engineered in the US. It comes with a 1.5-times more durable nonstick interior to ensure effortless food release even with the most delicate foods you may be cooking.
This pan features a durable, PFOA-free, 3-layer nonstick surface that can withstand the rigors of professional cooking as well as regular use in the home. It is strong enough to withstand the impact of metal utensils, and the hard-anodized exterior is dishwasher-safe as well. It provides a professional level of precision during cooking and is designed to last for a long time.
With its heavy-gauge, hard-anodized aluminum construction, the Calphalon frying pan heats evenly to give you precise cooking and performance unlike any other. It can even be used inside of the oven, safe up to 500°F. We love the safe stainless steel long handles that stay cool on the stovetop, too.
Product features and specifications
Weight: 6.63 lbs.
Hard-anodized nonstick cookware
3-layer nonstick interior
Ultra-sturdy Construction
Oven-safe up to 500°F
Professional-level precision
Dishwasher-safe
User/Customer Reviews
Those who have used this product have said that this is a lovely-looking pan that does the job as promised. However, you shouldn't expect it to last too long as the nonstick coating eventually starts coming off with regular use. A few customers have mentioned that it did not last more than 6 months, so this product is clearly meant for basic rather than professional cooking.
Conclusion
The Calphalon Signature hard-anodized nonstick frying pan is a good-looking and well-designed product that lets you cook a variety of dishes without letting the food stick to the bottom or sides. However, do not expect this pan to last for a lifetime. It works great while it lasts and delivers a great value during that time. Overall, this offers a good price to performance ratio.
---
This CAROTE nonstick frying pan skillet finds its place in the fifth position in our list. Made from eco-friendly, nonstick granite material, this frying pan is SGS and EUROFIN approved. As this is 100% free of PFOS and PFOA, this frying pan ensures that your daily cooking is both healthy and safe.
This frying pan is compatible with both stovetops and induction cooking, providing a quick and even heat distribution. It comes with a Bakelite handle that is comfortable to hold and stays cool while you are cooking. The extended bottom design lets your cookware heat up faster compared to other traditional cookware, too.
We love the fact that this nonstick frying pan requires less oil for cooking and ensures that food does not stick to the sides of the pan. Made from durable die-cast construction, maintaining this cookware is also easy as you simply need to wipe it with a towel or rinse it with water and then wipe.
Product features and specifications
Durable die-cast construction
Super easy to clean up
Eco-friendly, granite nonstick material
SGS and EUROFIN approved
Reduces unnecessary fat intake
100% free of PFOS and PFOA
User/Customer Reviews
Most users have mentioned that these are very unique and functional pans, and there is no need to be alarmed by their rough surface. People have also said that these skillets perform exactly as advertised and that they are easy to clean up as well. A few customers have warned that these frying pans are not worth the price due to black dust that comes out from the pan.
Conclusion
The CAROTE nonstick frying pan is a good-looking and well-designed product that cooks eggs and other foods perfectly without worrying about any of it sticking to the sides. This nonstick pan is easy to clean by simply hand washing it with the help of a sponge or cloth. Overall, we feel that these nonstick pans are totally worth the money spent.
---
The OXO Good Grips hard-anodized, PFOA-free nonstick frying pan has a durable and hard-anodized body that delivers amazing heat conduction and scratch resistance, even better than aluminum. It features a three-layer, German-engineered, nonstick coating that offers an effortless performance requiring less oil.
The solid glass lid included with this pan makes it easier to check the food while it is in the process of being cooked. The sturdy stainless-steel handles are covered with stay-cool, non-slip silicone for your convenience. The pan is oven-safe as well, up to a temperature of 390°F or 200°C.
Taking care of this OXO frying pan is easy as you only need to do a simple hand washing of the pan to keep it clean after every use. This frying pan is compatible with most stovetops except for induction ones. Every last bit of the food wipes off nicely from this German-engineered coating though, so it's definitely worth the investment if it's compatible with the stovetop you have at home.
Product features and specifications
Weight: 4.65 lbs.
Made in China
OXO Good Grips handle
Oven-safe up to 390°F/200°C
Hard-anodized construction
Heats quickly
Three-layer, PFOA-free, and German-engineered
User/Customer Reviews
Those who have bought this product have said that these are real nonstick frying pans that work like a dream when it comes to making eggs. They have also stated that washing them after use is a breeze and makes cleanup easy. However, a few customers have cautioned that you must not expect these frying pans to last forever as they tend to deteriorate after some time and frequent use.
Conclusion
The OXO Good Grips hard-anodized, PFOA-free nonstick frying pan looks great and works as advertised when it comes to preventing your food from sticking to the bottom or sides of the pan. Although it won't last forever, it will generally still last you a while if you take good care of it. Overall, this nonstick pan delivers a good value for the money.
---
The next product on our list is the All-Clad E7859064 HA1 hard-anodized nonstick frying pan, a kitchen must-have that features a flat base and flared sides. Due to its adequate size, it is easier to flip and toss the foods you make on this pan compared to other options and without letting the coating stick or flake into your food.
Made from durable and heavy-gauge, hard-anodized, aluminum coating, this nonstick frying pan comes with three layers of safe, PFOA-free nonstick material. It is capable of delivering an unparalleled release of food, enhanced durability, and optimum scratch resistance.
This All-Clad E7859064 pan (see Amazon) is compatible with all cooktops, including induction. Its anti-warp, stainless-steel base is easy and safe to use even in an oven up to 500°F. It is perfectly secured with riveted stainless-steel handles to give you a secure and safe grip. The manufacturer backs up the product with a limited lifetime warranty, too.
Product features and specifications
Weight: 4.89 lbs.
Aluminum material
Compatible with all cooktops
PFOA-free coating
Limited Lifetime Warranty
Easy to clean
Dishwasher-safe
Anti-warp, stainless-steel base
User/Customer Reviews
Many people have said that these nonstick frying pans look great and that the coating works well as expected. However, a few customers have also pointed out that the handles have a design flaw: the pan is hard to balance, and if you do not get the right grip, your food may fall off the pan. Some users who did not have any problems with the handle design have even found these pans to be life-changing due to their amazing quality.
Conclusion
The All-Clad E7859064 HA1 nonstick frying pan is absolutely amazing with its smooth, nonstick surface and sturdy handle, even though some people find it hard to balance. We would suggest that you read all of the customer reviews, and if you still feel like you can manage using the product even with the handle concerns, go ahead and get it. Overall, this product is a good buy!
---
Last but not the least, we have the MICHELANGELO stone frying pan set, featuring an elegant 12" frying pan that is nonstick and includes a unique, granite-like interior. This product is ultra-nonstick and scratch-resistant, improving both the sturdiness and cooking performance of the item.
This nonstick pan should ideally be used over low to medium heat along with minimum use of oil or butter to ensure a healthy diet. The classy marble surface is made of all-natural colors in the coating, and the ergonomic stay-cool touch handles add more beauty to your kitchen.
Made from professional-grade aluminum alloy, this frying pan conducts heat quickly and evenly with very specific temperature control. It is non-toxic along with being PTFA-, PFOA-, lead-, and cadmium-free, so it's ideal for home cooking. These pans are also safe to use inside the oven up to 450°F.
Product features and specifications
Weight: 4.99 lbs.
Non-toxic, PTFA-free, and PFOA-free
Ultra-nonstick and scratch-resistant
Heats quickly and evenly
Versatile performance
Classy and elegant design
User/Customer Reviews
Several users have chosen this product largely because of the product's stylish appearance. Many people have said that they were pleasantly surprised with how well the nonstick coating worked though, allowing them to flip their eggs with ease. The key is to not use very high heat. Customers are also happy with how easy it is to clean the frying pan after use, too.
Conclusion
The MICHELANGELO stone frying pan set (shop now) is designed to look good on your stovetop and compliment your kitchen. These pans come with their own lids, and some people wish they came with removable silicone potholders. With a fantastic nonstick surface and amazing ergonomics, this product is certainly one of the best things you can buy for your kitchen in 2022.
Buying Guide: Things to Consider When Looking for the Best 12" Nonstick Frying Pans for 2022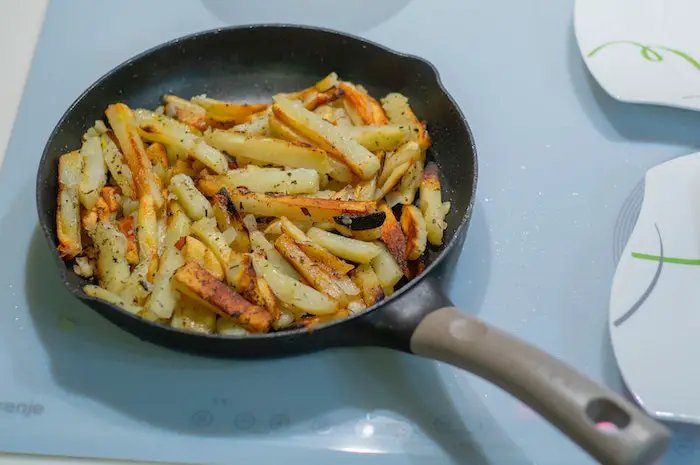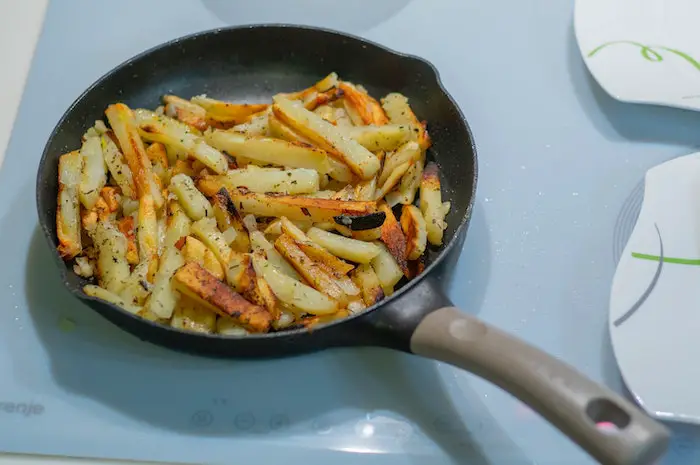 While the products reviewed above are carefully selected after in-depth analysis and comparisons, you may still need to narrow down your search even further. In this buying guide, we discuss the factors you need to consider when buying a nonstick frying pan.
Let's take a look.
Material
These nonstick pans are made of base materials that can help consumers to understand how well they can expect certain products to maintain, conduct, and respond to heat. The lightest and most sought-after of all metals is aluminum, known for conducting heat well while also being compatible with all cooktops (including induction).
The next popular choice is stainless steel, but these products tend to be heavier. They do have a more substantial thickness that makes them less vulnerable to dents and dings, though. Another good option is copper as it has a superior heat conductivity and is extremely responsive to heat changes. The interior is typically made from polytetrafluoroethylene (PTFE4), hard-anodized aluminum, and ceramic.
Size
Another important factor to consider when buying frying pans is their size. If you want a skillet to cook breakfast for one or two people, a small-sized, 10-inch pan should be enough. This will ensure that it's roomy while at the same time not too bulky to store.
Handles
If you are buying a 12-inch pan, this larger size is not just meant for frying eggs alone, so it may be used for cooking a lot of other types of food. We suggest that you find a product that includes a very firm handle that is bolstered with strong rivets for creating balance and allowing for easy maneuverability.
You may also want to choose stainless steel handles if you often cook by placing your skillets in a hot oven. Silicone or Bakelite handles usually remain cool to grip, but they cannot always bear the high temperatures of the oven, so you'll need to be sure to check the materials' limitations before using them in such a way.
Traditional Nonstick
Polytetrafluoroethylene (PTFE4) is also referred to as Teflon, and this is the most popular coating used in traditional nonstick cookware. The pans that are coated with PTFE are easy to use and clean, but eventually, the coating goes away with regular use. The deterioration of the PTFE coating is the primary issue in this case, so it is recommended to not use high-heat cooking for traditional nonstick pans.
Ceramic
The ceramic coating found on some nonstick pans is made from silica, which is closely associated with beach sand. The interior of these pan is either sprayed or dip-coated, and then it is cured by high-firing inside an oven or kiln. Where there are three coatings in a traditional nonstick pan, the ceramic ones are fine with just one coat to save time and energy.
Ceramic cookware sold in the US and Europe are required to stick to the regulations that prohibit lead or cadmium presence. The biggest downside of ceramic is that the material is more vulnerable to developing surface cracks and losing its nonstick property faster due to its fragility when compared to PTFE.
Hard-Anodized Aluminum
The next option is hard-anodized aluminum cookware, which is different from the PTFE and ceramic surfaces in the way that it's layered as a part of the pan and not simply a coating. This material uses an electrochemical process to harden soft aluminum and make it stronger than stainless steel with an oxidized top layer.
The topmost layer is nonstick and feels tougher than the applied nonstick coatings. Hard-anodized aluminum is capable of withstanding higher temperatures and resisting scratches from metal utensils as well. It also does not react with any acidic foods, which is a huge plus. This is the most durable form of nonstick surface as it does not flake or chip like the others.
Different Brands
After you are done making decisions about the material, size, handle needs, and coating options, the next important factor to consider is the brand that you will choose.
Let's take a look at some of the most important ones.
T-Fal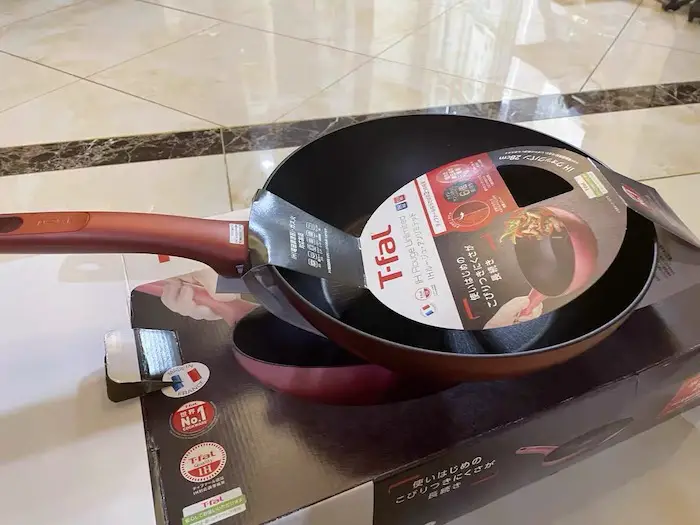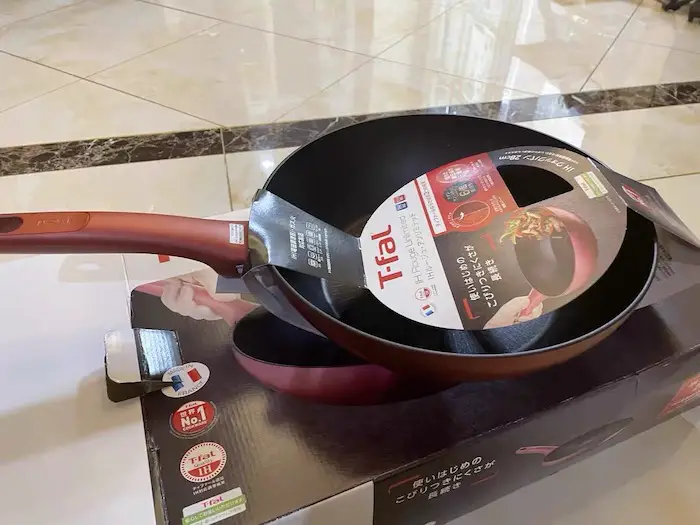 Founded in the 1950s, this is a popular French cookware brand that goes by the name Tefal, taking its name from the combination of Teflon and aluminum. They are known for manufacturing high-quality and budget-friendly nonstick cookware that can be used for several years. Their product line includes cookware, single pans, and specialty pieces like grill pans and woks.
Calphalon
This is an Ohio-based brand that produces premium-quality cookware. They are known for inventing hard-anodized aluminum cookware with the help of a method inspired by the aerospace industry. The biggest selling point of this brand is the mid-range price points that make it a much more popular and attainable brand for home chefs.
OXO
One of the most commonly found brands in stores is OXO. They are a well-known brand with reliable products that are guaranteed to ensure even cooking temperatures as well as long-lasting durability. Their multiple layers of nonstick and damage-resistant coatings mean that any OXO product you choose to purchase for your kitchen will be easily able to hold up to regular use.
Carote
Carote is a unique brand that's known for its granite cookware and frying pans. Their choice to utilize granite for their primary material used in all of their products makes their frying pans incredibly nonstick and a wonderful replacement for iron cookware. Carote cookware is recognized for being long-lasting thanks to its resistance against rust, acidic foods, and scratches compared to products that may have easily damaged nonstick surfaces.
All-Clad
With its headquarter in Pennsylvania, All-Clad is a well-known brand that is trusted by both amateur and professional cooks around the world. This is a premium cookware manufacturer that is known for its cladded stainless-steel lines. They also offer stainless-steel nonstick and hard-anodized nonstick options for their products.
Caraway Home
Although this ceramic-centric brand is comparatively new to the cookware industry, they have made waves with their products' aesthetically pleasing and sturdy designs along with their excellent performance. Their biggest advantage is that you can use Caraway's cookware on almost any type of cooktop (including induction).
Best Tips for Taking Care of Your Nonstick Frying Pans
Here are a few things to keep in mind when using and maintaining your nonstick cookware.
You should read the instructions carefully to find out whether or not you can use metal spatulas and brushes on your nonstick cookware.
Make sure you do not overheat your pan because each coating has its maximum temperature, so read the manufacturer's manual carefully.
Just like overheating is not recommended, similarly, you must also not cool the pan's surface abruptly with cold water either. Allow the pan to cool down slowly.
Lastly, make sure that you use soft sponges and alkali-free cleaning agents for cleaning purposes, and do not rub the pans together.
Related Questions
Is it safe to put a nonstick pan in the oven?
Yes. Nonstick pans are usually safe for low and medium temperatures, and some more modern products can stand even higher heat. Please note that traditional PTFE coatings are generally safe to a maximum of 400°, and ceramic coatings can withstand higher temperatures. Hard-anodized cookware can sustain temperatures between 400° to 500°, depending on the brand.
Is it safe to use nonstick pans on a gas stove or induction stove?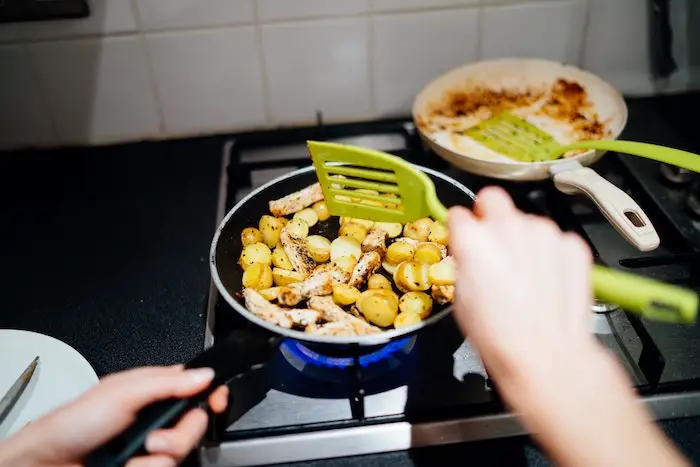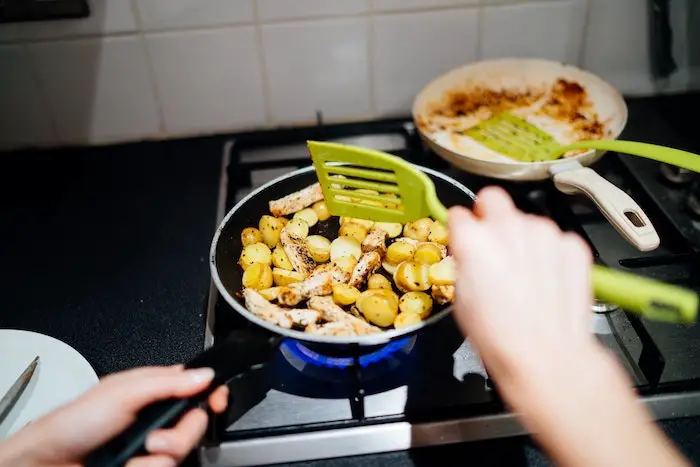 Yes. Most nonstick cookware works fine on different cooktops such as gas, electric, and halogen cooktops. However, we suggest that you check the manufacturer's instructions to be fully sure that they will work well for whichever purpose you are intending to use your pan for during cooking. The most common material used for making nonstick surfaces is aluminum, and it is not induction-friendly on its own. For this type, you'll need to make sure that it has a stainless-steel base at the bottom to be compatible for this type of cooktop.
Are nonstick pans dishwasher-friendly?
Yes. Most nonstick pans are dishwasher-safe. However, we still suggest that you to stick to hand washing to prevent the risk of any damage and make your pan last longer. In general, it is easy to clean these nonstick pieces of cookware with the help of mild dish soap and a non-abrasive scrubber to get rid of any debris.
How long do nonstick pans last?
Nonstick frying pans usually can last up to five years. However, the real lifespan of your pan will depend on the type of coating it has and how you take care of the pan. Please keep in mind that nonstick cookware wears out faster than copper, stainless steel, or enameled cast iron pieces, so they will need to be replaced at some point.
If you treat your nonstick pans properly, this can help to extend the life of your cookware. You will need to avoid overheating your pans as the excess heat can break down the nonstick coating, and you must also avoid using sharp or metal utensils on the insides as this may cause flaking or cracking.
Do you need to season nonstick pans?
In most cases, you are not required to season nonstick pans before their first use, but there may be some exceptions to that theory. For some products, you may need to "re-season" the pan in order to restore its nonstick properties. To do that, you will need to heat up canola oil in the pan, leave the oil on the pan until it cools, and then wipe with a paper towel. You may also use ghee or butter to re-season the pan, but avoid using cooking sprays as this may cause buildup to occur.
See Also:
8 Top Pressure Canners For Glass Top Stove
20 Things That Go Well With Mozzarella Sticks
Cast Iron Vs. Regular Pans: What Are The Differences?
How To Clean Outside Of Pots And Pans?
8 Top Meat Grinders For Raw Dog Food