Sitting near the fireplace and watching the snowfall from indoors can be a magical experience. However, it won't be long when your driveways and walkways will be covered in heaps of snow presenting you with a nightmare when you try going for work the next morning.
Shovels might work for the stairways and a small patio but for an open driveway, nothing compares to a fast, powerful, and effective snow blower. Again, there are different types of blowers designed to tackle the two main types of snow – light and fluffy, and heavy and wet.
In areas where you get a light, dry, and fluffy snowfall, it is much easier to remove the snow with a shovel or less-capacity snowblower. However, if your area has giant wet snowflakes falling from the sky, you will have a thick, icy sheet of cloud next morning and this needs a powerful snow blower.
If you fall in the second category, you will require a two-stage snow blower that is more powerful and efficient. So, today we will help you chose the best 30-inch snow blower capable of tackling the thick and huge sheets of snow without giving you a backache or headache.
We understand that "best" may hold a different meaning for different people and there are so many things to consider before buying a suitable two-stage snowblower. Hence, our team has carried out an extensive research to present you with a list of top-rated 30-inch snow blowers worth considering.
Read on to find our unbiased product reviews based on hours of research, analysis, and comparison between the products. Don't forget to check out our buying guide and tips at the bottom to get better clarity on which product would suit your specific requirements perfectly.
If you are in a hurry to purchase, rely on our expert's advice and choose Troy Bilt Arctic Storm that houses a 357 cc engine and has an oil capacity of 37 oz. This gas-powered two-stage blower is capable of handling both light and heavy snowfall so one product can sort out your winter blues.
| | | | | | | |
| --- | --- | --- | --- | --- | --- | --- |
| Features | Troy Bilt Storm | Ariens Deluxe | Troy Bilt Arctic Storm | Cub Cadet | Ariens Deluxe | Snow Beast |
| Weight | 279 lb | 259 lb | 352 lb | 299 lb | 276 lb | 345 lb |
| Engine | 357cc | 306cc | 357 cc | 357 cc | 306cc | 302 cc |
| Power | Gas | Gas | Gas | Gas | Gas | Gas |
| Oil Capacity | 37 oz | 20 oz | 37 oz | 37 oz | 32 oz | 48 oz |
| Start Type | Electric | Electric | Electric | Electric | Electric | Electric |
| Traction | Wheel Drive | Wheel Drive | Wheel Drive | Wheel Drive | Wheel Drive | Wheel Drive |
| Type of Snow | Heavy, Wet | Heavy, Wet | Heavy, Light, Wet | Heavy | Light | Heavy |
---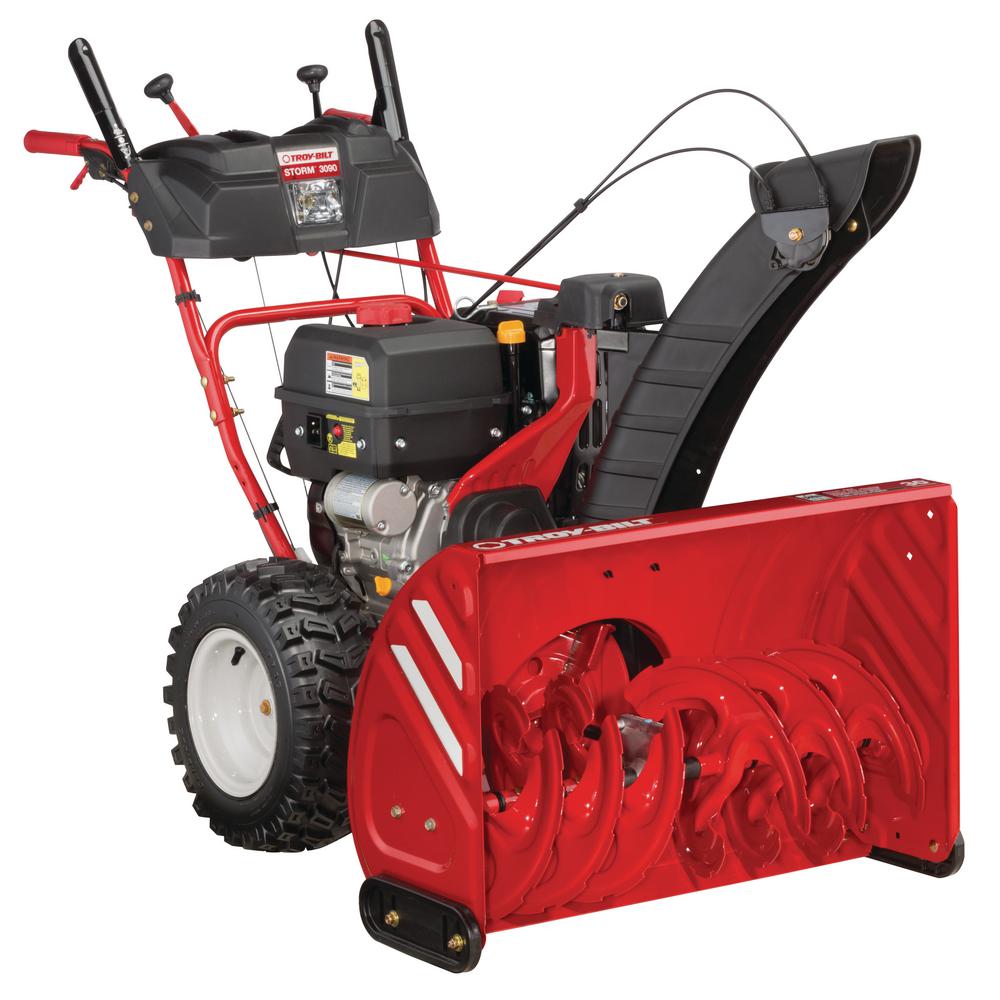 Troy-Bilt is a reputed brand that produces lawn mowers, snow mowers and tillers of excellent-quality and their Storm 3090 stands up to the expectations we have from this company. This is a two-stage self-propelled snow blower that houses a 30-inch clearing width and 12-inch serrated steel augers for enhanced efficiency. It houses a robust Troy-Bilt 357cc OHV engine with a quick electric start to eliminate the need to pull cords to start a cold engine. You can choose from the six-forward and two-reverse speed options to suit your specific working needs and the extended chute design helps in throwing snow farther.
We are impressed by the trigger controlled power steering that ensures a quick and easy speed adjustment and the clutch clock which adjusts the chute controls as needed without disturbing the drive. The airless tires provide great traction and you don't have any issue of flat-tires, hence no maintenance needed. The automatic in-dash headlight is a great addition that ensures good visibility even when the light conditions are not that good. Another feature we absolutely love is the heated handgrips to save you from cold. The manufacturer stands behind the product with a two-year limited warranty.
Product features and specifications
30 inches clearing width
357cc Troy-Bilt electric start engine
Two-Stage Clearing System
Self-Propelled System
One-Hand Operation
Maintenance-free airless tires
Electric Start
Gas Snow Blower
Power Steering
Crank Chute Control – 200-degree adjustment
Heated Hand Grips
User/ Customer reviews
People who have upgraded to the Storm 3090 are impressed with the immense power and ease with which they can maneuver such powerful equipment. Elderly users are happy to find a machine that is capable of removing different types of wet, dry, and thick snow in a large yard in half the time and without any struggle. Customers also love the easy controls, quick installation and heated handgrips which liberate them from having to wear hand gloves.
Conclusion
If you are looking for a well-built and sturdy snowblower that enables you to throw the snow far and clear your driveway quickly then consider the Storm 3090. At this price, you get more than what you expect from a 30-inch snow blower. A great investment for people living in regions that get heavy snowfall.
---
Do you constantly live under the fear that your snow blower won't start when you need it badly? Get rid of the fear by upgrading to the Ariens Deluxe 30 EFI, a powerful two-stage snow blower that features electronic fuel ignition that removes any carburetor-related issues leading to non-functioning of the machine. Besides ensuring that the snow blower starts quickly and easily, it also provides better fuel efficiency with the integrated engine diagnostics and delivers a constant RPM power. When you have a thick and dense sheet of snow on your driveway, the 30-inch clearing width helps in clearing the area in less time with a few passes.
We are impressed with the powerful 306cc Ariens AX snow engine that gives your machine a quick start-up even when there is old fuel. The auto-turn system comes handy for the weak and elderly to effortlessly steer the snow blower and maneuver it around in all types of snow conditions. With the 205-degree remote chute rotation, you can throw snow at a far distance. There is a large-sized halogen headlight that provides proper illumination even in the low light conditions for enhanced safety. The heavy-duty gear case made from cast iron and alloy steel gears add more durability to the machine. It also comes backed by a 5-year manufacturer warranty making this a no-risk purchase.
Product features and specifications
306cc Engine
30-inches clearing width
Two-stage gas-powered blower
Electronic Fuel Ignition
120-Volt electric push button
In-dash halogen headlight
205° remote chute rotation
Dual-belt auger drive system
5-year warranty
User/ Customer reviews
People who have used this snow blower almost every day in winter season have mentioned that the engine starts with a single pull every time, without requiring the electric start feature and it takes significantly less time to remove thick snow. Various users have used the snow blowers on different types of surfaces including ones with gravel stones. A few users have cautioned that the assisted turning takes some time to get used to but it's a helpful feature.  
Conclusion
In regions where winter can be really harsh and mornings have thick blankets of snow covering your patio, yard, and driveway, this Ariens Deluxe comes across like a life savior. At this price, this one of the most robust and well-built snow blowers money can buy.
---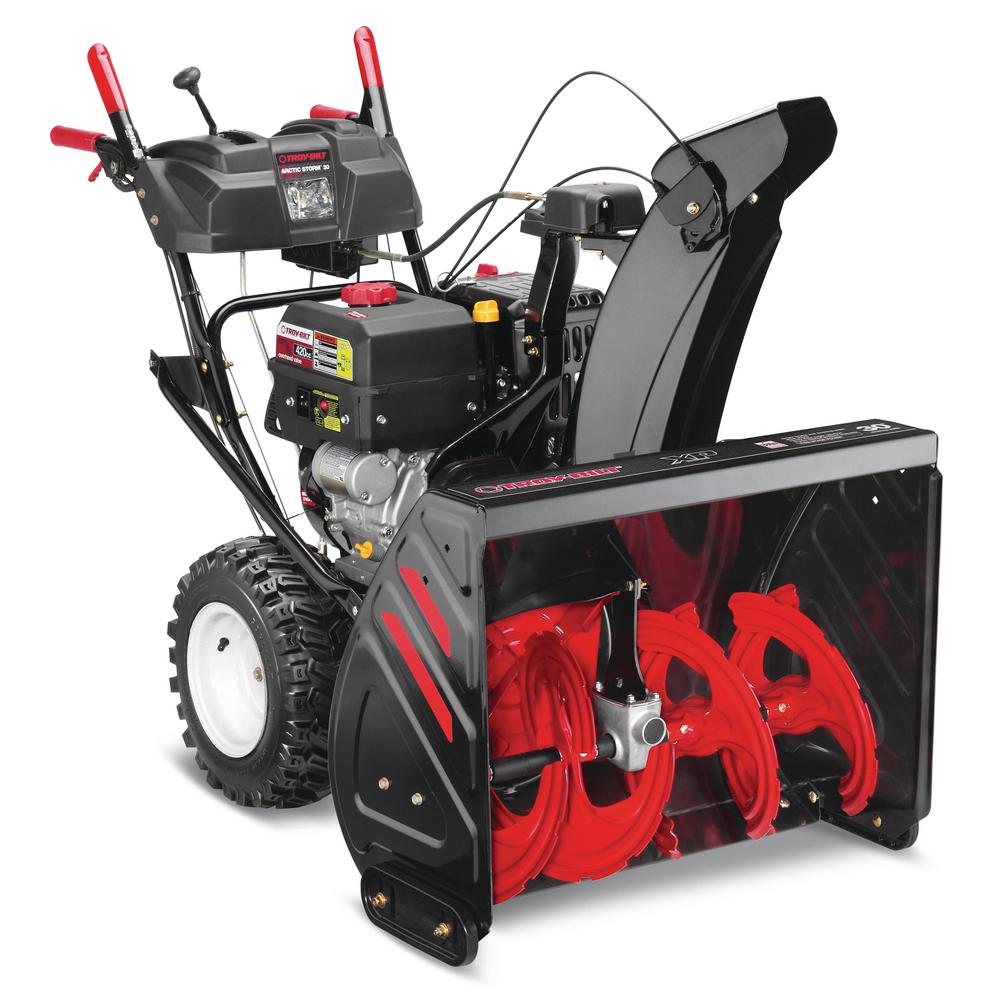 Aptly named as the Arctic Storm 30, this snow blower comes with a 357cc Troy-Bilt electric start engine and serrated steel augers to cut through the wet, heavy, deep, and drifted snow with ease. This self-propelled drive system includes a Touch 'N Turn power steering which gives you ample speed control and enhanced maneuverability. Users can handle the snow blower with just one hand and use the other hand to adjust the pitch and chute using a two-way joystick control. The reflective stripes and in-dash headlight improves visibility in low light conditions while the heated hand grips provide comfort in cold weather.
We are impressed with the 30-inch clearing width that enables users to break-up the hardened ice and snow in fewer passes. You can adjust the four-way adjustment chute to discharge snow as per your preference. The well-built high arc steel chute is designed in a way to discharge the snow far away from the operator. We also like the rugged X-Trac snow tires that are designed to offer improved traction and easier steering on the snowy pathway. The manufacturer stands behind the product with a 5-year limited warranty to cover the damages and repair needs.
Product features and specifications
16 in. x 6.5 inches snow tires
357cc Troy-Bilt electric start engine
4-way electric chute control
Touch 'n Turn power steering
Made in the USA
Electric start
Heated hand grips
Two-way clearing system
Self-propelled system
Just One Hand Operation
User/ Customer
People find this snow blower easy to assemble and use, while the powerful engine helps in tackling the worst snow storms with ease. Users have mentioned that the levers built for turning the machine are easy to handle and the chute control is also pretty good. A few customers have cautioned that the positioning of the headlight is not perfect and it may be obstructed by the chute depending on the direction you are going.
Conclusion
If you don't want to be stuck with an engine that does not start or takes several pulls to roar then you must consider investing in this Arctic Storm 30. This well-built and sturdy snow blower has immense capacity to tackle really bad snow storms effortlessly. Overall, we can only say that you will fall in love with snow once again with this product by your side.
---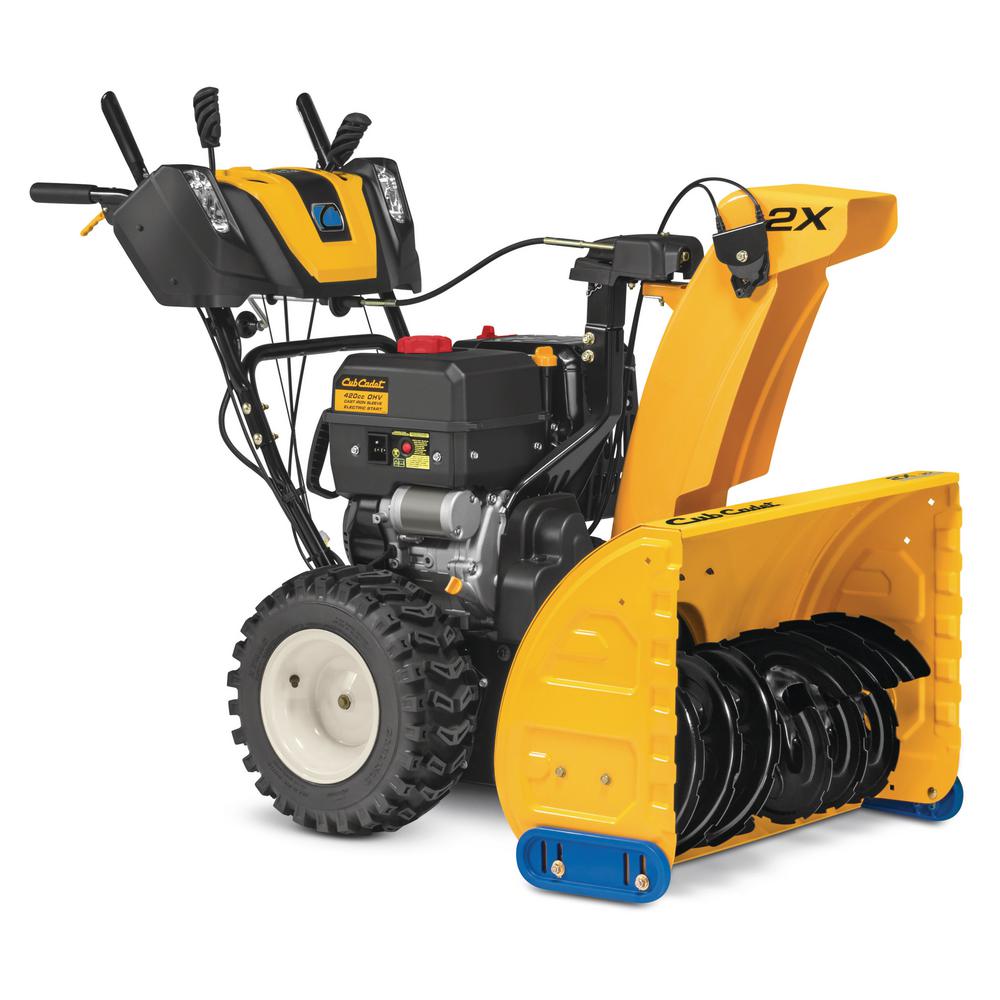 Cub Cadet – the name says it all and this powerful gas snow blower is designed to deliver superior performance even when the conditions are tough outside. Equipped with a 357cc OHV 4-Cycle engine, this two-stage snow blower comes with a remote chute control to enable you to quickly change the direction in which you want to throw snow. It is powered by a Zero-Turn Posi-Steer that allows you to enjoy single-handed effortless turning so that you can easily maneuver areas of all shapes and sizes. We are also impressed y the 12-inch serrated steel augers and shave plates that help in cutting through hardened snow and ice with ease.
The single push button electric start ensures that you don't have to sweat it out pulling the cord on a cold winter morning. You just need to attach an extension cord to have your snow blower roaring in no time. The forward and reverse speed further helps you maneuver around better and clear the snow at your own pace. The brighter and broader dual LED lights enhance visibility in low light conditions, enabling you to remove snow even before dawn or after dusk. The X-TRAC tires give you better traction even in the harsh weather conditions and the chute lets you throw snow at a 40-feet distance. The manufacturer covers the product with a 3 year limited residential and 1-year limited commercial warranty.
Product features and specifications
30-inches clearing width
21-inches intake height
Zero-turn posi-steer
200° hand crank chute
2X two-stage snow blower
Heavy-Duty Gear Box
Cool Blue Skid Shoes
Trigger-Control Power Steering
Push-Button Electric Start
357cc, OHV 4-Cycle engine
16 in. x 6.5 in. tires
User/ Customer reviews
Most users have said that they were able to start the snow blower in the first pull even in the coldest mornings and the chute was able to throw snow at a good distance. People are happy that the two bright headlights enable them to work at any time of the day and the two triggers allow users to disengage the left or right wheel for easy and quick turns. A few users have cautioned that the self-propelled feature did not work for them.
Conclusion
This two-stage self-propelled snow blower is just what you need to clean the driveway in half time otherwise needed. Everything about this machine spells heavy-duty and the effortless turning feature makes it a dream to operate. Overall, it gives you a good price to performance ratio.
---
When you want the snow to stay out of your walkway or driveway to clear up fast we would recommend the Ariens Deluxe which is capable of throwing snow at a 50-feet distance with its 205-degree chute rotation. The snow blower comes equipped with a 306cc snow engine that delivers great power to cut through the toughest ice sheets and give you a fast snow-clearing action. The electric start at the push of a button comes as a bonus for the frosty and chilling mornings when you are not in the mood to pull, and we especially love the hand warmers designed to give you a bit of comfort and warmth.
When it comes to durability, the Ariens Deluxe looks like it is built to last for long. It includes a heavy-duty cast-iron case and gears made from alloy steel. The l-3 synthetic gear oil also adds more life and durability to the product. The 14-inches three-blade impeller and a serrated steel auger help in pulling the snow to clear pathways quickly. It also comes fitted with a large in-dash halogen headlight to enable users to remove snow even in low light conditions and work safely in the evening and early morning hours.
Product features and specifications
306cc Engine
205° chute rotation
2-Stage snow blowers
Electric Start
Auto-Turn Steering
18-inch clearing depth
120-Volt electric push button
In-dash halogen headlight
Self-propelled snow blower
User/ Customer reviews
People who have wider driveways are extremely satisfied by the performance of this snow blower as it shoots the snow at a 40-50 feet distance. Users have mentioned that the machine is easy to install and the controls are also simple to understand and use. Most users have been able to use the auto-steering and other features well, however, a few customers have cautioned that the machine jerks side to side in case of any uneven resistance.
Conclusion
If you are looking for a snow blower that is powerful enough to cut through thick snow in a large and wide yard in less time, the Ariens Deluxe (shop now) is a great choice. With the ability to throw snow at a distance of up to 50 feet, this is one of the most recommended 30-inch snow blowers for regions where the snow fall can be crazy.
---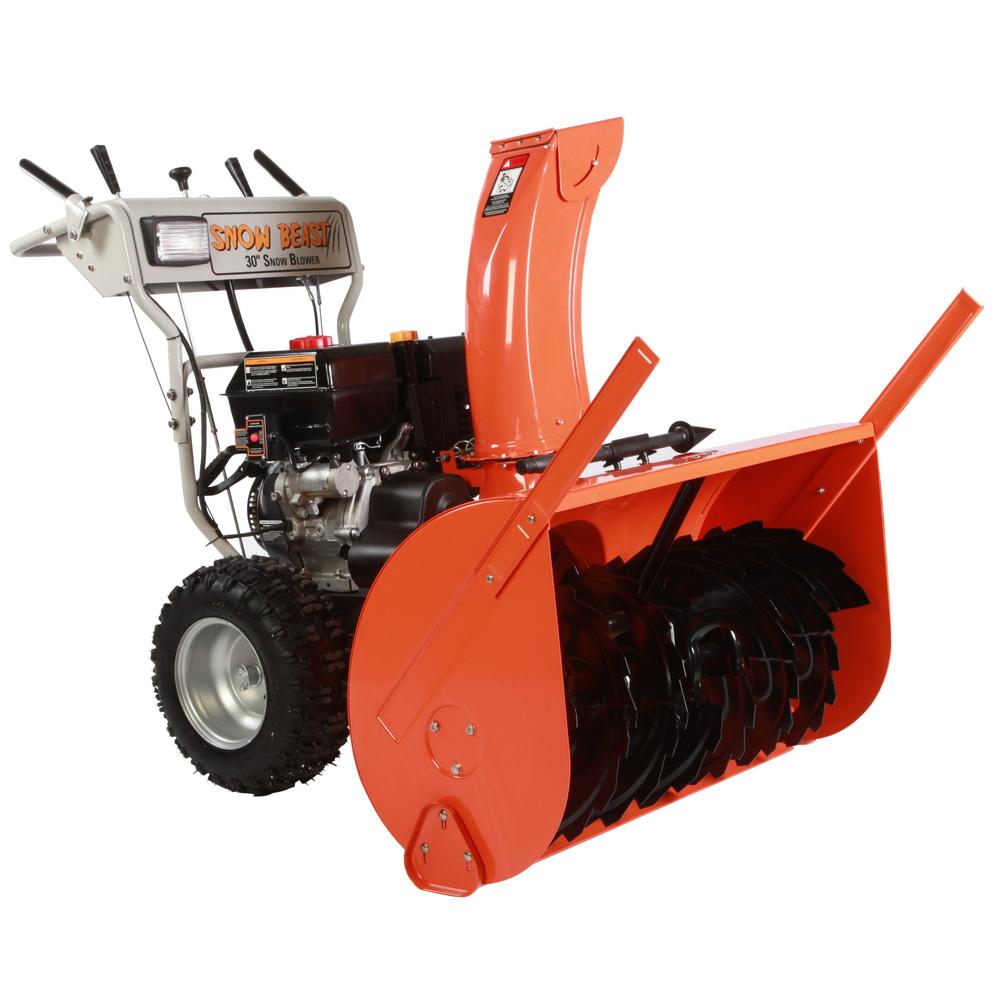 To start with, we must admit that we love the name 'Snow Beast' and upon a closer review we discovered that this thing is no less than a beast. It is powered by a robust 302 cc, 11 HP 120-Volt engine that is capable of removing a colossal bank of snow in a single pass to clear the pathway. The 16-inch solid steel impeller adds on more power to the engine to pull in the wet and sluggish snow that is then discharged at a distance of up to 50 feet. We are impressed with the quick electric start, six forward speed, and chute rotator that make this machine one of the best in class to keep driveways, garden and yard clean.
We love the all-steel construction of the snow blower, stainless steel hardware, and galvanized components with three bearings to provide more durability and prevent corrosion. Despite being extremely sturdy and robust equipment, the controls are easy and simple to handle for anyone. The 6-inch diameter discharge chute enables you to throw snow at a good distance and the well-designed snow tires provide greater traction on different types of surfaces. Our team was also impressed to find that the manufacturer stands behind the product with a 5-year limited warranty on gear case, 3-year limited consumer warranty, and a 30-days risk-free purchase.
Product features and specifications
1.5 fuel tank capacity
120-Volt Electric start
All-steel construction
Operator controlled chute
302cc engine with the 3 blade
30 in. W clearing path
16 in. x 6.5 in. snow tires
6 in. diameter discharge chute
6 forward and 2 reverse speeds
User/ Customer reviews
Most users have mentioned that the machine came well-packed with a hardware kit needed to assemble the unit which was up and ready to use in no time. While customers have highly praised the sturdy steel construction of the product, a few people have mentioned that the welding on the auger housing is sloppy at places and needed to be fixed. Some customers have also mentioned that the product did not come with any instructions on how to use it.
Conclusion
This is a powerful commercial-grade snow blower (learn more) with bonus features such as clean-out tool and drift cutters to deliver an incredible performance. The sturdy construction of the unit spells quality performance loud and clear. Clearly, this is one of the best 30 inch snow blowers money can buy.
---
Types Of Two-Stage Snow Blowers
The 30-inch snow blowers belong to the two-stage category and they come in different capacities and equipped with different features. When choosing a snow blower, you will need to consider the maximum amount of snow fall your region receives, the area you typically need to clear, and your budget among the various other things. Based on these, the two-stage snow blowers may be of 3 types:
Entry-Level
If all you want to do is remove the deep pile of snow then you can't go wrong with an entry-level snow blower that can perform better than any single-stage unit or electric blower. They are designed to attack the deep snowdrifts including that white mountain at the end of the walkway/ driveway without being too expensive an investment. Consider them more as an economy level blower with the basic features and components.
Mid-level snow blowers
These are slightly bigger and beefier two-stage snow blowers that are equipped with a more powerful engine and capable of throwing snow 10-feet distance farther than their entry-level ones. Most models come with extra features like interlocking controls and headlights to improve the performance. While all components are still not professional-grade but they are comparatively more durable. You can expect to find aluminum gear cases and steel chutes.
Professional-grade snow blowers
These are limited-edition models that you will not find outside the local hardware store as they are made in less quantities. This exclusive and extremely sturdy equipment typically comprises of high-quality components, solid steel frames, and cast-iron gear cases. You will find them in addition to the above features such as halogen headlights, remote deflectors, interlocking controls, and so on. Although slightly more expensive, you know that you get superior performance.
Advantages Of Buying A 2-Stage Gas Snow Blowers
In a single-stage snow blower, the auger simply cuts through the snow, collects it and blows out of the discharge chute. As the machine is not self-propelled, the auger does not contribute to moving the snow blower forward on the driveway or walkway.
The advantage with two-stage gas snow blowers is that the auger designed to suck-up the snow does not come in contact with the driveway or walkway. This means you can carry on with your snow blowing even on the gravel-built or stone-built pathways. A downside of this is that a thin layer of snow will still be left behind.
Other benefits of two-stage snow blowers are that they have a significantly larger clearing width, ranging anywhere between 20 to 36 inches. They mostly come equipped with engine-driven wheels to enable you to propel the gas powered snow blower forward, making them much easier to use.
When you are in the market looking for a two-stage gas blower, you will need to look into all the options available and the difference between them. For example, the low-end models are the typical boys in the category and they are different from the high-end models that act like men. While the low-end machines come with a horsepower of maximum 5.5. hp, the high-end machines can go up to 9hp.
Cost is an important factor you need to consider when buying a two-stage snow blower and the good news is that it is possible to find a low-cost no-frills machine that does the job you want. When shopping ahead of time, it's important to do your homework and make a list of features you really need in your device.
Related Questions
How much of snow can a snow blower typically handle?
The single-stage units are capable of handling 8-inches of snow, while the second-stage units can easily handle up to 16 inches of snow. If the region where you live gets a lot of snowfall, you will need to invest in a powerful second-stage blower.
What is the minimum inches for which you need a snowblower?
If there is two-inches of snow over the ground, you will need to use a snow blower as it won't be possible to remove it with a shovel. With a blower, you not only reduce the time needed for the task but also minimize the effort put into it.
What's the difference between a snowblower and snow thrower?
The single-stage snow removal units are termed as snow throwers and they function by simply picking up the snow in a single motion and throwing it out of the chute. Single-stage typically refers to snow thrown in a single movement. The snowblower, on the other hand, refers to two-stage snow removing equipment.
Related Article:
5 Best Snow Blower For Wood Deck
6 Best Leaf Blowers On Wheels
6 Best 30 Inch Snow Blower Reviews