If you have kids and pets, we don't even want to get started about the amount of dirt, mud, bacteria, pet dander and other allergens that trail into your home every day. Other than that, you have to constantly deal with occasional food spills, pee-stains, throw-ups, bedwetting, pet spray, and so on.
Simply removing the dirt, mud, and food stains may not be enough, and you will need a washer capable of sanitizing the fabric inside out. How would you get rid of the bacteria, germs, and allergen thriving on the very dirty garments? How to remove bad odor from such clothes and make them smell good?
We suggest buying the best washing machine for heavy soiled clothes because they are specially designed to tackle such issues. With features like deep clean, extra rinse, presoak, sanitize, and allergen removal, they have the ability to not just remove dirt, stains, and mud but also disease-causing germs.
If you are in the market looking for a washer that has these features then it' not an easy task to choose one product out of so many options available. To take the stress out of your buying decision and help you be spot-on with your choice, we have shortlisted the top-rated products for you.
Our team has spent hours reviewing the different washing machines and their features, comparing them with competitor products to hand-select a few models for you. Read on to find our unbiased reviews of the products to help you choose the one that perfectly suits your specific needs.
Those who don't have the time to read this till the end and need to purchase immediately can buy the GE Smart Diamond Gray Front Load Washing Machine. It has an adequate 5.0 cu. ft. capacity, stackable design, steam cycle, wi-fi, smart-control, tier-I energy efficiency, and a good number of wash cycles.
| | | | | | |
| --- | --- | --- | --- | --- | --- |
| Features | GE Front Load | LG Electronics | GE Diamond | Samsung HE | Bosch 800 |
| Weighs | 246 lb | 227.1 lb | 246 lb | 227 lb | 160 lb |
| Capacity | 4.8 cu. ft. | 5.2 cu. ft. | 5.0 cu. ft. | 4.5 cu. ft. | 2.2 cu ft |
| Stackable | Yes | No | Yes | Yes | Yes |
| Steam | Yes | Yes | Yes | Yes | No |
| Wi-Fi | Yes | Yes | Yes | Yes | Yes |
| Smart Home | Yes | Yes | Yes | Yes | Yes |
| Energy Efficiency | Tier I | Tier III | Tier I | Tier II | Not CEE rated |
| Voltage | 120 Volts | 120 Volts | 120 Volts | 120 Volts | 220 Volts |
| Wash cycles | 12 | 14 | 12 | 14 | 14 |
---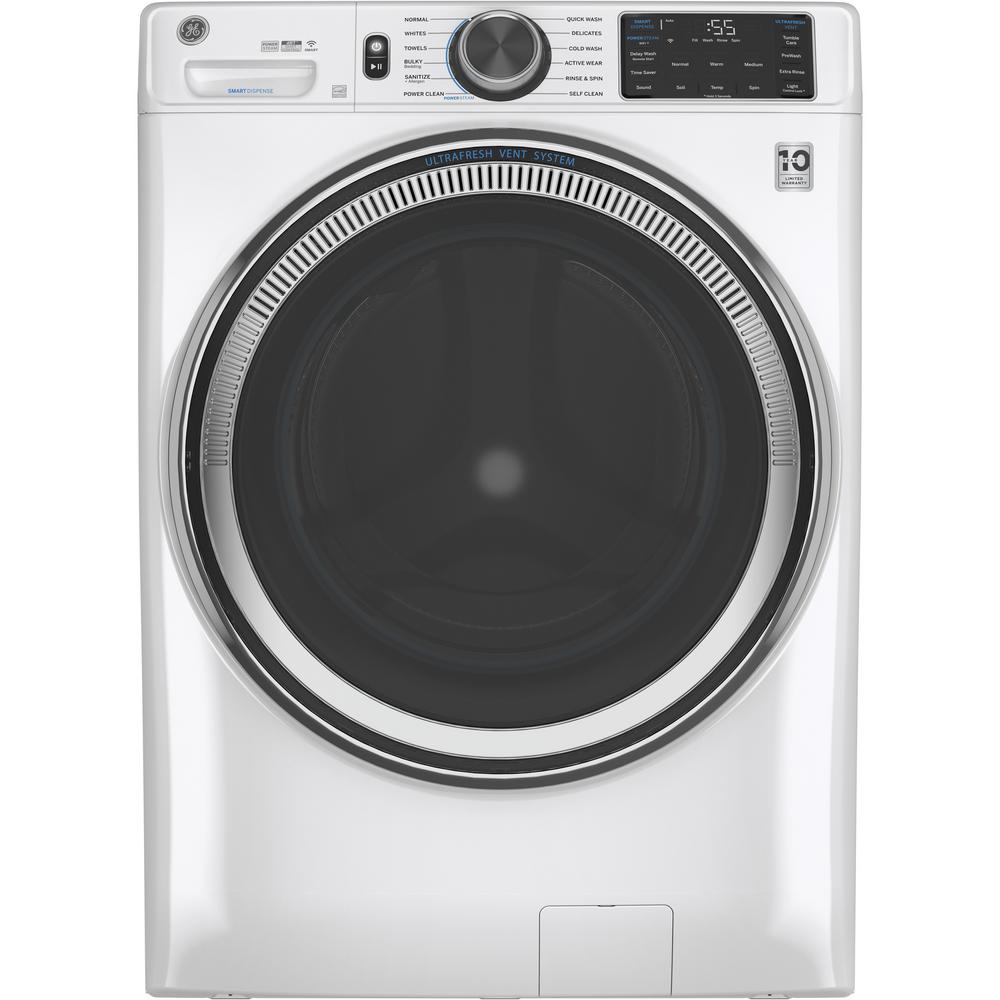 This front load washer by GE is well-built with easy controls and a LED panel right on the top of the washer to help you adjust your settings. It comes equipped with the latest technology to handle heavily soiled clothes and get rid of bacteria and bad odor too. GE is not only one of the most trusted brands in the USA, but is known worldwide for its highly practical and advanced appliances. The Power Clean Cycle gives you additional wash action to remove tough stains and deliver clean clothes. Another useful feature is the sanitize + allergen cycle that kills bacteria and germs to disinfect the fabric.
The washer has a built-in water heater that aids in raising the water temperature to get rid of tough stains. The antimicrobial technology provides protection against odor-causing bacteria, so no matter how soiled or smelly the dirty clothes are, they come out looking and smelling good. We also like the UltraFresh Vent System which keeps the excess moisture away to prevent odor and keep the washer clean and dry. A built-in wi-fi connectivity gives you real-time notifications and updates regarding the washing cycle plus enables you to control the laundry from anywhere.
Product features and specifications
Measures 28 in.x 39.75 in.x 32 in
Kills 99% of bacteria and allergens
SmartDispense Technology
dBT Patented Dynamic Balancing Technology
Flexible reversible door
Power Steam technology
Quick wash cycle
True 32″ Closet Depth
Limited 1-year appliance warranty
User/ Customer reviews
People are impressed with how well this washer sits in their laundry room and looks great with its reversible doors and smart features. Users love the Smart dispense function that enables you to add detergent in advance and the machine uses only as much needed, thus saves you from wastage. The machine's ability to balance the load so that each item is cleaned thoroughly and less noise during operation are also highly praised by users.
Conclusion
This is a front-load automatic washer you will love to use as it is wi-fi- enabled to reduces stress associated with washing very dirty clothes. When you are dealing with soiled and smelly clothes, the extra rinse and sanitize cycle serves as saving grace in making them both clean and good-smelling. Overall, this washer is a great investment for a small to medium families.
---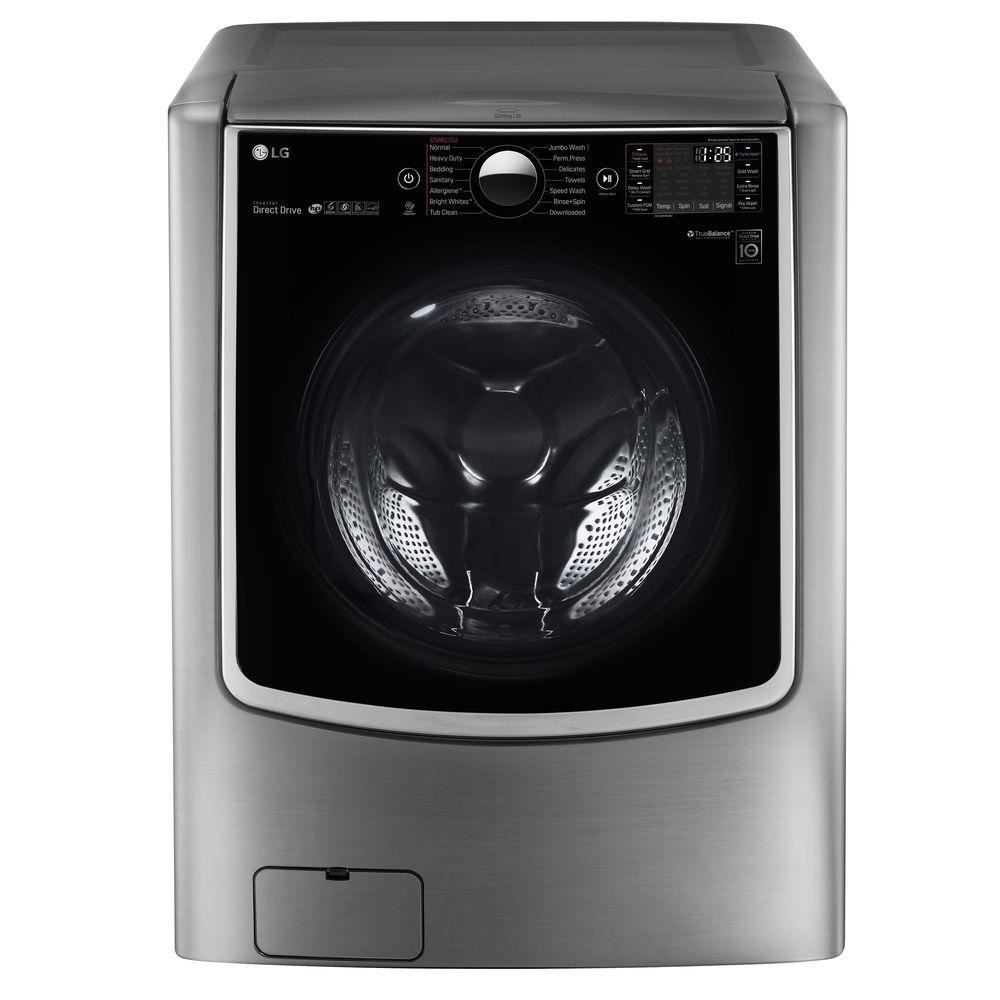 When you need a washing machine with the mega capacity to handle a lot of heavily soiled clothes, check out this smart front load washer by LG. With a capacity of 5.2 cu. ft., it has the capacity of washing dirty King-size comforters and bedding items in a single load. The innovative TurboWash technology gives the same cleaning performance for big loads and also reduces the wash time to save time and energy. Steam cleaning technology also does an incredible job of penetrating the fabric gently and removing dirt, stains, odor, and wrinkles. For very stubborn stains, select the Super Clean cycle that increases the water temperature to 158°F for improved performance.
Pet owners will love the Allergiene Cycle that uses steam power to reduce 95% of pet dander and allergens from delicate fabrics. If you have a small load of very dirty clothes that needs to be done quickly, you don't have to wait for more soiled clothes to add on. Just run the washer on Speedwash cycle to get clothes super clean in 15 minutes, plus you can also handle two loads at a time with LG SideKick pedestal washer. Besides being an Energy Star rated and low-noise producing washer, the model is also wi-fi enabled to work with Amazon Alexa and Google Home.
Product features and specifications
5.2 cu. ft. capacity
Dual LED Display indicators
Dial-A-Cycle controls
TWIN Wash compatible
Direct Drive Motor
NFC Tag-On technology
Energy Star rated
6 wash motions
SmartDiagnosis on phone
ColdWash technology
10-year limited warranty
User/ Customer
Users love the large tub that saves them time and helps cleaning a large load of dirty clothes in less time and using less water too. People also like the sensing features which adds water only as much needed and also extends the spinning cycle to make less noise when there's more load. While most customers are happy with the awesome looks, ease of installation, great features and efficient use of energy, some have mentioned that the bottom leaked and support was not quick.
Conclusion
LG is not a new name in the industry of cleaning appliances and their washing machines (shop now) come with innovative technology and the latest features to deliver optimum performance. The large tub size and lots of settings enable users to clean big loads of very dirty clothes quickly. Overall, this washer is a wonderful appliance for a medium to a large family with kids and pets.
---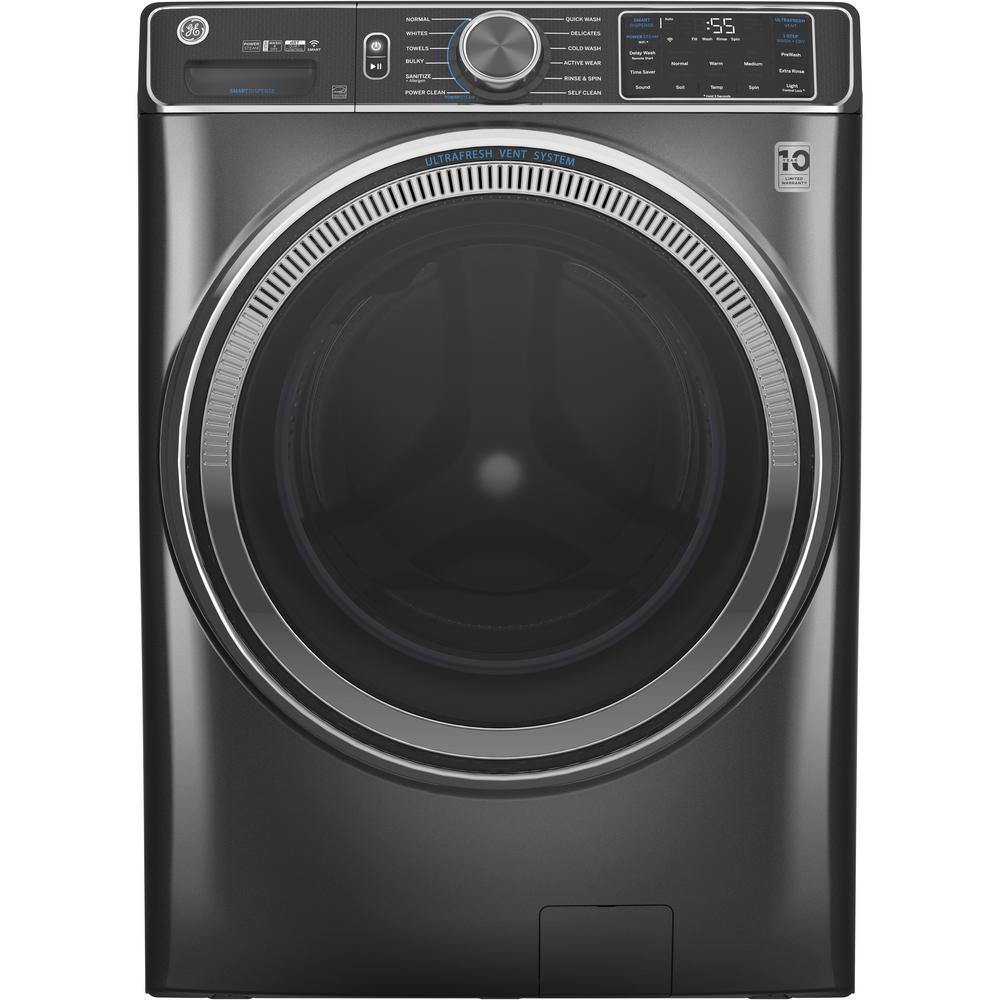 When you want your heavily soiled clothes to come out clean and quick, here's the Smart Diamond Front Load Washing Machine from the house of GE. The shining metallic gray exterior appears classic and looks great in the laundry room. It goes well with any décor. The 5 cu ft capacity allows you to clean a lot of clothes at once and the Power Clean cycle gives you extra wash action to remove the stubborn stains. PowerSteam function goes deep into the fabric to loosen tough stains while the revolutionary Sanitize cycle kills 99% of bacteria, germs, and allergen. The microban antimicrobial technology is also built into a dispenser, gasket and draining system to provide protection with each load.
The washing machine comes with a smart dispenser that can stock up to  32 loads of detergent that is dispensed automatically depending on the sensors to prevent wastage. If you have a small dirty load to wash, save water and energy by running the 1 Step Wash and Dry cycle that gives you clean and almost dried clothes to prevent the use of a dryer. Besides cleaning the very soiled clothes, the washer also features the UltraFresh Vent System with OdorBlock to remove excess moisture and keep your washer clean and smelling fresh. With the integrated wi-fi technology, you can get updates on the wash cycle on your mobile phone and control laundry from anywhere.
Product features and specifications
Measures 39-3/4 in. x 28 in. x 32 in.
Weighs 246 lb
Stackable design
Diamond Gray
12 Wash cycles
Works with Google and Alexa
Microban antimicrobial technology
Dynamic Balancing Technology (dBT)
Limited 1-year appliance warranty
User/ Customer reviews
Most people who have bought the product are in love with the sense of pride and sophistication it brings to the laundry room. Users with a large family find it convenient to be able to clean a large load of soiled clothes in less time, using less water. Tiny details like LED light inside the tub, wi-fi connectivity, and less noise operation are also highly appreciated by users. People also find the machine easy to install and use by all members of the family.
Conclusion
With the GE 5.0 cu. ft. Smart Diamond (learn more) in the house, you can be rest assured that your laundry is fully sorted. Whether you have a basket full of heavily soiled clothes or a few very dirty ones that need immediate attention, this machine has you covered. At this price, you get good value for money.
---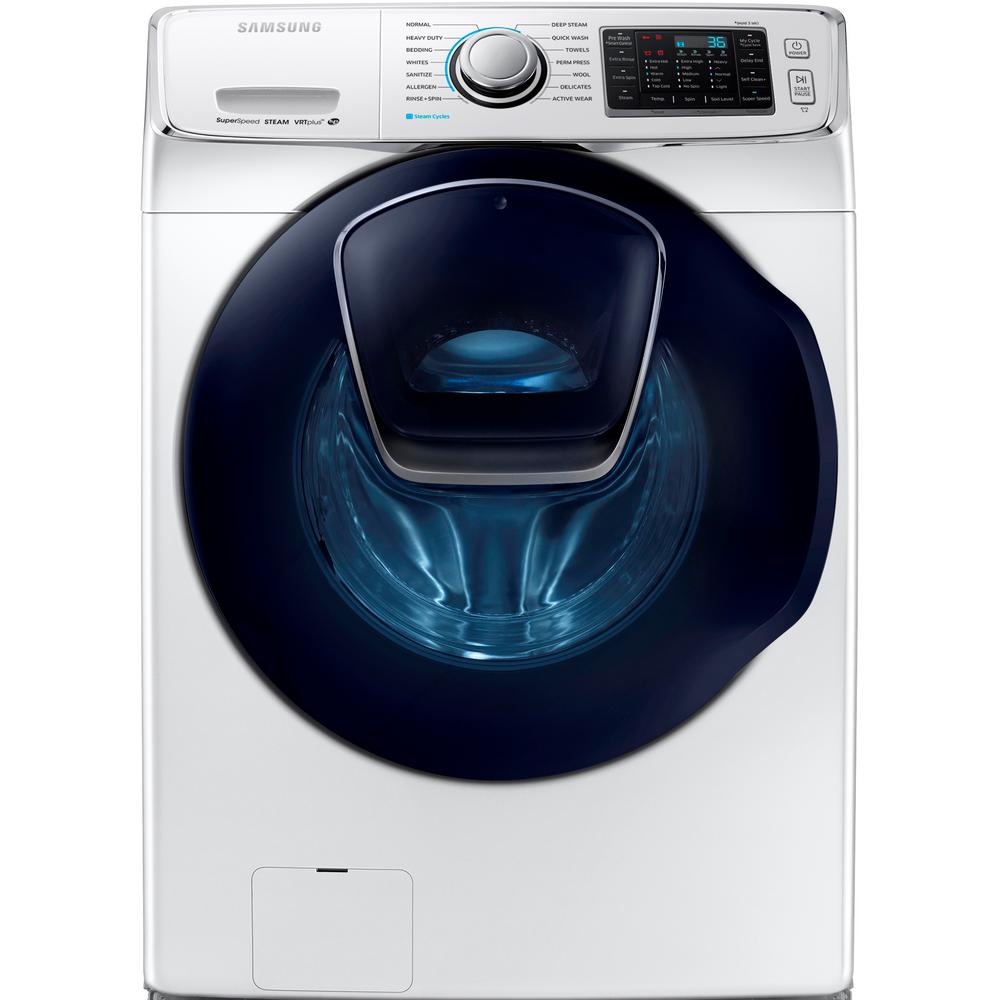 If you are a Samsung fan or someone who forgets to put all dirty laundry at once and wishes to an add a few while it's running, this Samsung HE front load washer can be a good choice for you. The 4.5 cu. ft. allows you to clean a lot of dirty clothes at once using less water and the Diamond Drum design extends the clothing life by treating the clothes more gently. If you forgot to add a few dirty clothes earlier, the AddWash features save you from having to do the cycle ones again for the leftover clothes. With the SuperSpeed cycle, you can clean a full load in as less as 36 minutes, thus save water, time, and electricity.
The power of steam enables you to get rid of the stubborn stains and caked over dirt without the need for pre-treatment. Instead of releasing steam from above, this washer generates it from the bottom to saturate each cloth item and provide a deep cleanse. The built-in water heater increases the water temperature for superior cleaning performance. With 14 different preset wash options, there is something to meet the diverse family needs. The Smart Home functionality enables users to remote control the washer settings via a smartphone app, and VRT Plus Technology cuts back the noise by 40% to ensure a noise-less operation.
Product features and specifications
4.5 cu. ft.
VRT Plus Technology (Reduces noise 40% more)
1300 RPM Maximum Spin Speed
Internal Water Heater
Wi-Fi Connectivity
14 Preset Wash Cycles
Diamond Drum Design
Direct Drive Motor
Energy Star Certified (Tier II)
User/ Customer reviews
Most people have said that no matter how dirty, smelly and stained clothes you put into the washer, they always come out clean and smelling fresh. Users also found that the machine stays balanced during the spin cycle even with a full load and does not make a lot of noise. People also rave about the ability to add forgotten dirty clothes long after the cycle has started. A few customers have complained that the machine is really short and you need to keep it over a pedestal or stand to make it work.
Conclusion
If you have to work on a budget but you need all the features of an expensive high-efficiency machine then this Samsung Front Load Washer fits the bill just right. With a large capacity, it also has the ability to steam clean very dirty clothes and give you an amazing performance. Overall, we feel that this product offers a good price to performance ratio.
---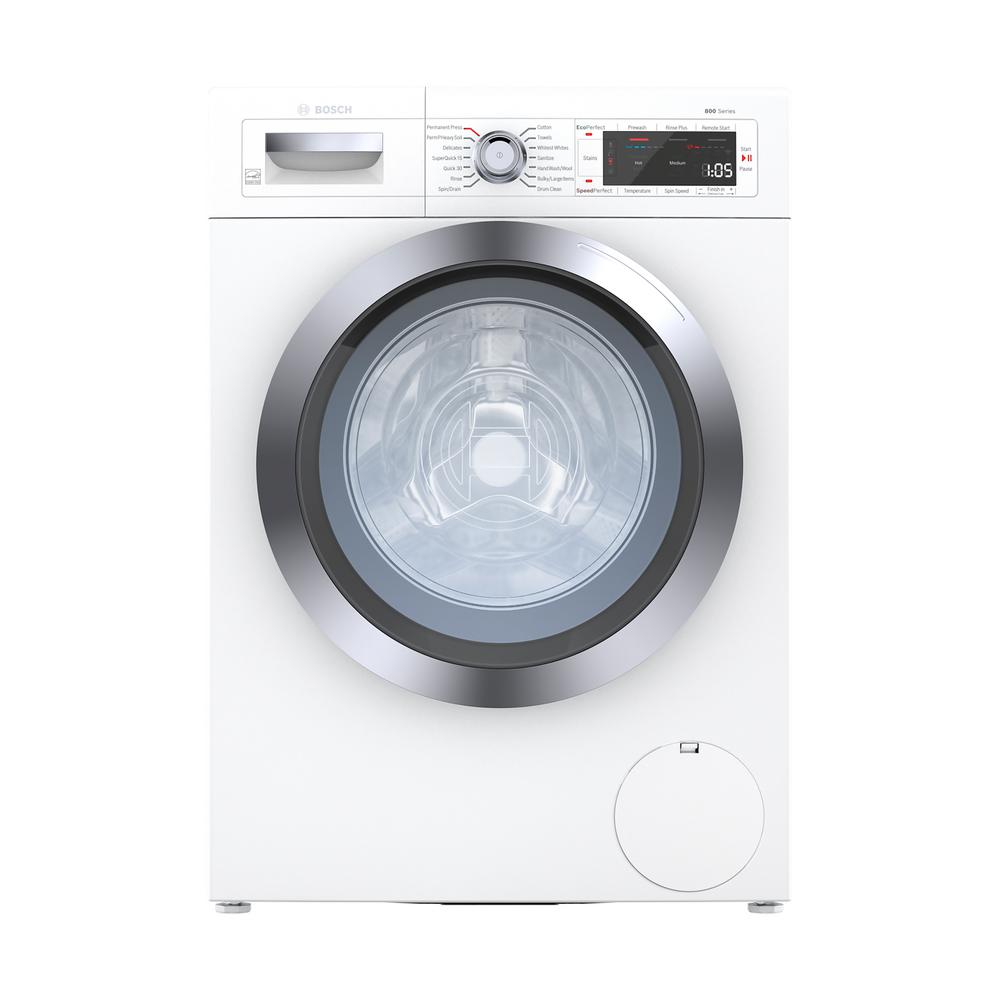 Don't let the 2.2 cu ft capacity fool you because even with that number the washer is capable of washing 16 bath towels at once, so it can do a fairy large load easily. We are impressed to find the intuitive sensor-controlled washing program settings that allow you to adjust water quantity depending on the soil level. There are 14 different preset wash cycles such as heavy soil, stains, bulky large items, rinse plus, prewash, SpeedPerfct and so on. The Sanitize cycle enables you to heat water up to 170°F to kill the harmful bacteria and germs along with fighting stains, dirt, and dander. If you are not sure about which cycle to choose, just go with the EasyStart option which recommends the best program for you.
The washer's stainless steel drum has a wave-shaped structure to give you a powerful but gentle wash delicate fabrics to heavily soiled bedding using only as much water as needed. We like the electronic controls with easy selection and an LED display that tells you how much time is remaining. You can also control your Bosch washing machine remotely via washing machine or tablet to operate it from anywhere, although this will depend on the wi-fi connectivity. The 24-hour delay start timer also adds a lot of conveniences allowing you to start the washer as per your schedule.
Product features and specifications
2.2 cu. ft capacity
Weighs 160 lb
EcoSilence motor
Stainless-steel drum
Energy Star qualified
24-hour delay start timer
14 wash cycles
Wi-Fi enabled
Stackable design
ActiveWater technology
User/ customer review
Customers are happy to find a washer that is gentle on their clothes but still does a great job at removing stains and cleaning heavily soiled items. Users have also remarked that it consumes less water and detergent to deliver optimum performance, plus the audible finish signal informs them when the cycle ends. A few users have cautioned that the washer is slower compared to the other competitor units.
Conclusion
When you don't want to compromise with quality and want nothing but the best washer for dirty clothes, this Bosch 800 High-Efficiency unit works perfectly. Although slightly more expensive than other products in the market, we feel that the quality construction, appearance, and wash cycles are well worth the price you pay for it.
---
Tips For Choosing The Right Wash Cycle For Clothes
When it comes to cleaning clothes in a washing machine,  we are often confused about which cycle will suit best. When do we call a cloth less soiled or heavily soiled? What are the other things to keep in mind when choosing a cycle and what do the cycles mean? Here are a few tips to help you out:
No matter which type of washing machine you choose and whether you put a delicate fabric, large bedding, or heavily soiled clothes, there are 3 things you will need to choose – water level/ load size,  water temperature for rinse/ wash cycle, and cycle settings.
The first thing you choose is the load size and this depends on the quality of clothes, you wish to clean and this is directly related to your washer's capacity. In general, a small load means one-quarter of the total capacity, medium load is half full, large load means over half full, and super large load means full capacity.
Water temperature will depend on the type of clothes you wish to clean and to prevent them from fading, shrinking, or stretching. We suggest you use cold water for dark-colored and delicate fabric; warm water or permanent press or synthetics; and hot water for white cotton fabric.
Choosing the right cycle is extremely important because the washing and spinning pattern differ depending on the settings. When you have lightly soiled clothes or delicate fabric, the wash cycle will be different from when you are washing heavily soiled clothes. Here are a few options to consider:
Delicate cycle: As the name suggests, this is for delicate fabrics like silk lacework, and lingerie. It involves low speed of tumbling and agitation, plus a shorter wash cycle to prevent stretching and snagging.
Speed wash or Rapid wash: This involves a quick wash cycle for the last-minute cleaning or a special shirt or an urgent lot of clothes. It features high spinning to require less drying time. It is not suitable for heavily soiled clothes.
Permanent Press/ Wrinkle control: This cycle is mostly used for colored clothes, blended fabrics, and synthetic fabrics. It involves a medium speed wash cycle, low-speed spin, and rest period to remove wrinkles.
Soil level: In some washing machines, you will find soil level settings to enable you to adjust it according to how dirty your clothes are. If you choose a low soil level, the agitation will be less and this is suitable for less dirty clothes. For heavily soiled items, we suggest you choose a high level for more agitation.
Steam cycle: Most of the high-end washers these days come with a steam cycle that does not contribute in washing clothes. Instead, it uses the power of steam to straighten the wrinkles and freshen up a particular garment.
Whites : Again, as the name suggests, this cycle is especially for the bleachable white clothes and the machine may dispense liquid bleach at the right time to whiten your whites. It usually involves a high-speed wash and spin cycle.
Heavy duty: This wash cycle usually works best for heavy-duty items such as towels, jeans, and bedding items. It may also work for heavily soiled clothes containing too much dirt, pet dander, or stubborn stains.
Sanitize cycle: This cycle again works on heavily soiled items often filled with germs and hot water is used to kill 99% of the bacteria and germs to prevent diseases. After an illness, it is essential to clean the worn clothes and bedding using this wash cycle.
See more: 7 Best Washing Machine For Comforters
Related Questions
How to clean heavily soiled, stinky and oily and sheets?
To remove body oil stains and bad odor from bedsheets, we recommend that you add detergent, liquid dishwashing soap, hot water, a little borax, and 1/3 cup of distilled vinegar in your washer's fabric softener dispenser.
What care should you take when washing soiled clothes of sick person?
If someone was very sick, wear gloves when handling such clothes to prevent the infection from spreading. Put the soiled clothes in the washing machine and run a cold pre-wash rinse cycle first and then wash in a hot cycle with water temperature more than 60 degrees (as much the fabric can bear) to sanitize. Don't soak these clothes.
Can I put poopy clothes in the washer?
Thankfully, yes. It's safe to put poopy clothes including baby diapers, linens, and blankets in your trusted washing machine. Just make sure that you use a mild detergent that's safe for baby and use hot water, preferably over 60 degrees to kill bacteria and germs. 
See Also:
Can We Wash Blanket In 6kg Washing Machine?
Can We Use Washing Machine Daily
Can We Store Water In Washing Machine